CRISTIANO FILIPPINI'S FLAMES OF HEAVEN 'THE FORCE WITHIN' (LIMB MUSIC/SUBURBAN)
Italian guitarist/producer/composer CRISTIANO FILIPPINI released a couple of instrumental solo albums in the past 10 years besides performing with an Epic Symphonic Orchestra in Italian opera houses and churches, but eventually it was time do something more with his talent. The result is this first album under the moniker CRISTIANO FILIPPINI's FLAMES OF HEAVEN, which was released through LIMB MUSIC in November 2020. The idea started in 2018 and led to this massive project, because a lot of other musicians are involved on this album, including members of bands like ARTHEMIS, SHINING FURY, HOLLOW HAZE and the singer of TEMPERANCE, Marco Pastorino. Mastered at the famous Finnvox studios by the legendary MIKE JUSSILA (STRATOVARIUS, NIGHTWISH...), this is a wonderful huge sounding record that combines the best of Neo-Classical Melodic Metal and 80s/90s Melodic Hardrock, with sometimes memories of classic LABYRINTH and VISION DIVINE, and superb songs like Far away and Against the hellfire are sensational uptempo Neo-Classical Melodic Hardrocksongs with a sorta 90s kinda feeling (SONATA/STRATOVARIUS). Back in the 1990s in especially Japan this mixture was very popular, with bands like STRATOVARIUS, SONATA ARCTICA, KAMELOT, VISION DIVINE, LABYRINTH and such reaching superstardom over there. In Europe there was less coverage by the press, but in the underground these bands were also quite popular, which always brings my thoughts back to a legendary concert of KAMELOT/SONATA ARCTICA in an old Montmartre Theater Hall in Paris, France in the early 2000s when the crowd went completely crazy during both concerts, in contrast to calmer Dutch gigs of these bands. 20 years later there are not that many bands creating this particular style, but this excellent debut album of CRISTIANO FILIPPINI's FLAMES OF HEAVEN is an exception to the rule and dare I say that it is even perhaps the finest release in this genre since the early 2000s! Other highlights besides the 2 mentioned songs are Dying for love (80s keys, soaring guitarsolo and a catchy hook/melodic chorus, basically this is classic AOR/Melodic Rock that is close to SHY/80s MALMSTEEN), the ballad Missing you (with a SCORPIONS guitarsolo), the keyboardfriendly uptempo Moonlight phantom and Lightning in the night (excellent Melodic Power Metal like LABYRINTH, WONDERLAND and SONATA ARCTICA combined). Without a doubt, this is a highly recommended album to any fan of Neo-Classical European Melodic Hardrock/Metal in the style of KAMELOT, STRATOVARIUS, SONATA ARCTICA, LABYRINTH etc. etc. , which is thanks to superb songwriting, an excellent production/sound, picture perfect musicianship and of course the lovely vocalwork of Marco. You get a lot of value for your money, because it has a playing time that almost reaches 70 minutes, so make sure not to miss this wonderful CD. Check out more on them at: https://www.facebook.com/cristianofilippinisflamesofheaven/
(Points: 8.9 out of 10)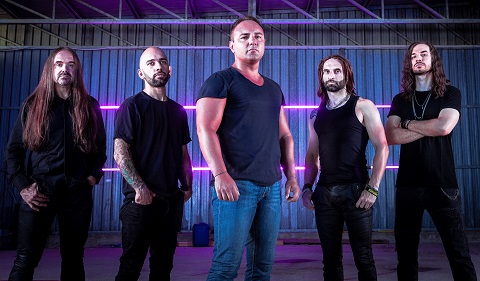 FLAMES OF HEAVEN
is the band of
Italian guitarist/producer/composer CRISTIANO FILIPPINI. His latest album The force within is a wonderful record that melts AOR/Melodic Rock with neo-Classical Italo Power Metal, which you can read in the review above. I had an interview with Cristiano...

Personally speaking I was not familiar with you, can you first tell us more about yourself?
First of all thank you for the interview. I am a symphonic epic composer for orchestra, but my dream has always been to form a hard rock and metal band, but it was not easy to find the right members. Marco Pastorino contacted me in the 2011 after the release of my solo epic works….but we needed 7 years to find the other guys. I needed the best i could and the perfect fit for CF's Flames Of Heaven and fortunately after a lot of time i've found them.
So you're a classical music performer...
Not exactly…i am an epic symphonic composer for orchestra…. I don't play on stage..but i was forced to join that music field due to my troubles in order to find other great players for a metal band. I have to say honestly that almost 10 years working in symphonic music helped me a lot to grow as a musician and to manage the orchestra also in the metal field.
How and when did you get involved in the metal scene?
I started to compose metal since i was 16 years old…it was very natural for me…i'd say that i started to get into the metal field as a pro in the 2011…but the official debut was last November with the CF's Flames Of Heaven and "The Force Within".
Which bands/artists influenced you for creating this wonderful album The force within?
First of all thank you for the compliment. My goal was to create a mix between hard rock/aor of the 80s and power metal., so i'd say Europe, Survivor, Helloween, Iron Maiden, Virgin Steele, Savatage, Stratovarius, Rhapsody (Of Fire) and Nightwish.
SURVIVOR is one of my favorite bands ever, great to hear that! How did you get in touch with the other musicians on the album?
Well, Marco Pastorino contacted me after my solo epic symphonic works in the 2010/11. Surfing on Google, Youtube and Facebook i got in touch with Michele Vioni (one of the best guitarists in the world and the most viewed on Youtube)..he was teaching in a town near my home and i decided to meet him and become his pupil. After few weeks i asked him to join the band. He suggested me Paolo Caridi and Giorgio Terenziani as drummer and bassist (two oft he best musicians in Italy and abroad in their own instruments)…they are his friend and ex bandamates in "Killing Touch" with Michele Luppi. So it was very easy to get in touch with them and to finally form the band. They joined us with a lot of enthusiasm.
How do you describe the music style yourself on this first album?
It is a mix between aor/hard rock from the eighties and european metal and a bit u.s. power metal, with a lot of electronic music influences and symphonic epic arrangements (with a real orchestra). The mix and the mastering is very clear and powerful at the same time. Matias Kupiainen from Stratovarius did the mix and Mika Jussila for the Mastering is a legend so it was very easy to have a great sound.
What are the plans for the future for this band/project of yours, live touring and/or more albums?
Well during these years i composed more than 4000 minutes of music so i have just to pick the right songs, tunes, riff, ideas…the composing sessions for the next album have already started…i guess to release it in the 2022…about the live..what can i say? I think that our normal life could restart in the 2022 so i think the live concert too….if there is interest in CF's Flames Of Heaven and interesting proposals..why not consider it?
What do your covid days look like since we are all going into a lockdown here in Europe?
It is a bit changed of course but we all tried to do our best…i used and i will use these "strange" months to study, composing and to improve all my skills…hoping that the problems will be fixed in not more than one year at 100%....
Back to the album, what do you consider the strongest songs?
I think that in "We Fight For Eternity" you will find almost all the elements of CF's Flames Of Heaven sound…
Finally, a few short questions:
- Favorite band of all times: Virgin Steele
- Favorite album of all times: Iron Maiden "Somewhere In Time"
- Favorite music genres: Aor '80 and Power Metal
- Best concert ever seen (and/or played yourself): Virgin Steele in Florence
- First bought record (or CD): Iron Maiden "Piece Of Mind"
- Last bought record (or CD): Nightwish "End of an Era"
- Most precious moment in your life (could be non-music related): i hope some moments in the future..but i'd say when i decide to become a pro musician.
- 2020 is...challenging but made us stronger and much more ready to appreciate what we had and still have now….a lesson for the future.
- 2021 will be...bit better than 2021 but similar….
Good luck with your music career in the future
Thank you my friend for everything and for the support!!!!