HOT NEW REVIEWS
Deborah Crooks 'Beauty everywhere' (Independent/USA Import)
Out of California comes singer/songwriter Deborah Crooks, who sent me her latest album Beauty everywhere, which is a mini-CD. It was produced and arranged by Art Khu (Jacqui Naylor, Art Khu Quartet) and mixed by Shawn Alpay (Emily Jane White). Musicians on the album are Kwame Copeland (acoustic guitar, backing vocals), Mike Stevens (drums), Ben Bernstein (bass), and producer Khu (piano, organ, acoustic and electric guitars). The music is a mix of Americana and Roots Rock, usually calmer and quite laid-back, but here and there uptempo and then it sounds at best, such as the catchy Overseas and faraway, although the semi-ballad Found is also quite nice. There are influences from Lucinda Williams, Rosanna Cash, Stevie Nicks and such to be heard and vocally speaking Deborah has sorta an own kinda tone, reminding a bit of the 1970s singer/songwriter way of singing (Carole King), although somehow she also reminds me of Tiffany (her voice!). More info and sound samples can be found at: https://www.cdbaby.com/cd/deborahcrooks8 and http://deborahcrooks.com/
(Points: 7.8 out of 10)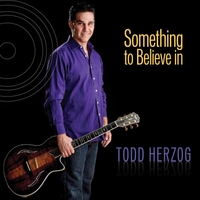 Todd Herzog 'Something to believe in' (Independent/USA Import)
Now here we have a sensational release from a fabulous singer called Todd Herzog, of whom we already reviewed a long time ago a record (http://www.angelfire.com/az2/strutter8/HOTNEWREVIEWS9.htm). Now he's back and I am glad to be in touch with him again as well, because the AOR fans really need to hear his beautiful voice. Todd is coming out of Phoenix, AZ, released quite a few albums in the past and has more or less a Jewish religion touch to his music. Anyway, 14 years ago I was already impressed by his voice, but thought his music was a bit too soft. Once you get older yourself you will understand that it doesn't matter if the music is calmer and not as rocking as you want it to be, so my view has changed and especially this new album blew me away by it's incredible high quality of music. Todd has a perfect AOR voice that sounds like a cross between Dennis DeYoung, Tim Feehan and Freddy Curci, while the music is more or less westcoast-AOR-poprock like it was made in the late 80s/early 90s, reminding me of David Kuhn, Freddy Curci, Tim Karr, Jimmy Davis, Bryan White, Don Lewis, Van Stephenson, Mark Spiro, Jeff Paris, Stan Bush (very much like his laid-back record Higher than angels), Dennis DeYoung, Roger LaPointe, Kyle Vincent, Tim Feehan, Mitch Malloy, Jimmy Harnen... This is singer/songwriter AOR/Westcoast at it's very best and there are some amazing pearls on this album, such as the uptempo AOR tunes Returning to who I am and Over time and the bluesy Wade in the water (a la Venice). Do not expect a lot of rocking tunes here, but if you want to hear some good clean old fashioned yet still refreshing sounding picture perfect vocals sounding calmer AOR/Westcoast, then make sure to check out this little gem from Todd Herzog. Towards the end of the record, the songs become a little sappy Christian pop orientated, which is a pity. However, due to the fact that the beginning of the album features a lot of great tunes and Todd has a superb voice, it is still a highly recommended album! More info at: http://toddherzog.com
(Points: 8.2 out of 10)
Ivory Tower Project 'How much more?' (Guerilla Records/USA Import)
In the past we reviewed the band Ivory Tower Project several times and their history goes back to a time when AOR/Pomprock was the most popular music style in the USA. Now in 2017 the band releases a new album titled How much more?, which also contains a lot of re-recorded old tunes of the band. The music is still pure late 70s/early 80s AOR/Pomprock a la Styx, Zon, Trillion, Thrills and Tycoon. Especially the titletrack How much more? is a classic AOR/Pomprocksong that could well be lifted from a late 1970s/early 1980s record and sounds dangerously close to the classic Tycoon song Such a woman, if anyone remembers that of course! Anyway, the band consists of Mark Regula (Vocals, keyboards, acoustic guitars, percussion, bass, drums) and Tony Novarro (Guitars, back vocals, bass, percussion, drums, engineer), with as guest musicians Ivan Elias: Bass (formerly with Patty Smyth & Scandal), Richie Cannata: Sax (formerly with Billy Joel), Tex Prothro: Saxophone, flute, Mike Carbone: Drums, percussion, Joey Bruno: Electronic Drums, percussion, Frank Vella: Back vocals and Tyrone Johnson: Bass. 14 songs are included and as mentioned the music fits right into that classic US AOR/Pomprocksound and only the lead vocals are sounding less stronger than the mentioned acts. Nevertheless, fans of acts like Styx, Zon, Trillion, Thrills, Air Raid, Roadmaster, REO Speedwagon, Rose, Citadel and such will absolutely love this record, which has quite a lot highlights, such as the earlier mentioned titletrack, the Kansas/Styx ish lengthy epic The ides of March, Burning, Please tell me and the catchy Survivor/Shelter ish pure AOR tune Way too late (still my favorite Ivory Tower Project ever, was already released in the past). The guitarwork is sensational in classic early 80s style and so we can highly recommend this release to anyone who wants to go back in time and hear catchy hooks and memorable choruses like the AOR/Pomprockbands in the USA used to give us way back in the late 1970s and early 1980s. Check it out for yourself at: https://www.cdbaby.com/cd/ivorytowerproject and http://www.ivorytowerproject.com/
(Points: 8.0 out of 10)
Kaprekar's Constant ' Fate outsmarts desire' (Nineteen 73/UK Import)
Kaprekar's Constant is a band formed around songwriters/multi-instrumentalists Al Nicholson and Nick Jefferson, whom are joined by the legendary sax/flute player David Jackson of Van Der Graaf Generator. his daughter Dorie Jackson (Francis Dunnery) and drummer Phil Gould of Level 42. Together they created an epic lenghty progressive rock adventure titled Fate outsmarts desire. Without a doubt, this is a high quality record that has similarities to bands like Pink Floyd, Alan Parsons Project and such 1970s UK based sympho/progrock. Also Van Der Graaf Generator similarities can be heard of course and what makes it all so interesting is the diversity, because each of the 6 included tracks has a different approach. Little shell for example even introduces some jazz influences, but the absolute highlight is the beautiful progdream epic Halsands, which tells the story of Devonport and reminds me a bit of Pendragon and IQ, a lovely 14 minutes counting tune. If you're looking for challenging progresssive rock and still some traditional typical UK neo-prog, then look no further than this release. More info at: http://www.kaprekarsconstant.com/
(Points: 8.4 out of 10)
Carry Illinois 'Garage sale' (Independent/XO Publicity/UK Import)
6 tracks are on the CD of the band Carry Illinois, whom are formed female singer/Guitarist Lizzy Lehman. The line-up further consists of bassist Andrew Pressman, drummer Rudy Villareal, guitarist Darwin Smith and keyboardist Derek Morris. The music is slightly rocking, but in a sorta college rock direction that reminds me of the legendary The Pretenders and even Anouk. There's some soul in the vocals, but musically alternative pop/rock comes around most of the time. It's best to check it out for yourself at: http://carryillinoisband.com/
(Points: 7.4 out of 10)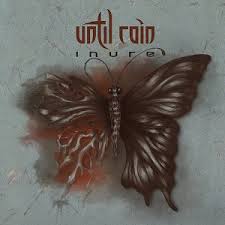 Until Rain 'Inure' (Sensory/Laser's Edge/Bertus)
Inure is the 3rd album of the progressive metal band Until Rain. They hail from Thessaloniki, Greece, were formed back in 2008 and recently a new vocalist Cons Marg (known for his work with Arjen Lucassen's Epic Choir) joined the band. The line-up also consists of keyboardplayer Lef Germenlis, guitarist Theodore Amaxopoulos, bassist Linus Abrahamson (Andromeda and Constancia), drummer Matthew Vella and backing vocalist Donna Zed. The new record was mixed/mastered by Daniel Cardoso of Anathema in Lisbon, Portugal and sounds massive! The music is edgy progressive metal, sometimes sounding very complex and dark, but still always featuring some lovely melodic parts. Cons is a great singer and despite a few times we can hear some growling, it never becomes annoying. Opener Progressus in idem starts a bit agressive and features some growls, but following track New world function shows us a sensational melodic progressive metal side with lovely vocals and a beautiful chorus in the style of Pagan's Mind, Andromeda, DGM, Vandenplas and such. 9 tracks are included in total and the high level of the beginning is continued until the very end of the album. Other highlights are the epic and very diverse Because something might happen (some cool pomprock keys towards the end), the fantastic semi ballads This fear (a la Threshold) and A tearful farewell. If you're a dedicated progmetal fan, then make sure not to miss this little gem! More info at: https://untilrain.bandcamp.com/
(Points: 8.3 out of 10)
Scarved 'Lodestone' (Sleaszy Rider Records/Sonic Rendezvous)
Scarved is a Belgian female fronted band formed in 2012 and Lodestone is their 2nd release. The band is formed around ex-members of the legendary band Tails Blue, a progressive rockband with a long history (http://www.belgianmetalhistory.be/html/bands/tails/tails.html) and a female singer called Caroline Verboven, who started in the early 2000s as the singer of a dance act. Musically speaking Scarved is all about melodic heavy rock in the style of Doro, with a touch of heavy bluesrock as well. The vocals are not superstrong and most of the material is a little bit standard. Not saying it is bad what we get to hear, because Scarved is a more than decent heavy rockband, but apart from the song Heart of rock'n'roll, none of the songs grabbed me. Nevertheless, fans of female fronted rock might want to check out Scarved at: http://www.scarved.be/
(Points: 7.1 out of 10)
Heylel 'Shades of time' (Interstellar Cloud/Portugal Import)
Ky Fifer is the name to remember here, because this singer/songwriter from Oregon, USA sings on 1 song on the CD of the Portuguese band Heylel. That particular tune is the titletrack and it simply sounds fabulous, a beautiful melodic progressive rock tune, sounding a bit like Enchant, including superb vocalwork by Ky. More info on him at: http://kyfifer.com Too bad he didn't sing all tunes, because the rest of the record features different vocalists, who don't reach the incredible high level of Ky. Nevertheless, the music of Heylel offers enough interesting moments, mixing elements of progressive rock, doom metal and psychedelic rock. The result is a nice little record, with also very good vocals by Ana Batista, who sings on quite a few songs and some great guitarwork can be heard as well, just check out Fallen angel for example. Imagine a mix between B.O.C., Black Sabbath, Devil's Blood and Enchant, then you might have Heylel. In the end, even with various lead singers, it is a strong little record, although the production could be a little bit better. More info can be found at: https://www.heylel.net/band
(Points: 8.1 out of 10)
Maheekats 'Songs from the woods' (Independent/USA Import)
When I saw the cover of the band Maheekats from California, USA, I thought this was a heavy gothic/doom kinda band, but they are actually quite soft and pure 80s orientated alternative poprock a la The Pretenders and Til Tuesday. Especially opener Lady in space is a step back in time to 1983 or something. Following track Shotgun is slightly more Gothic, a bit The Cure ish actually. 4 more tracks can be found on the band's latest album Songs from the woods. They are also described as dreampop, but I think it's best to just call them Maheekats, a duo formed in 1999, around Craig James Leigh Camp (drums, bass, guitar and keys) and Clara Efrona Hembree (vocals and guitar). Other highlights are the midtempo When lightning strikes (a little Kate Bush ish) and Eureka. Quality stuff for sure, so go check them out at: http://www.maheekat.com/
(Points: 8.2 out of 10)
Traumer 'The Great Metal Storm' (Fastball/Soulfood)
In the 2000s there was a huge wave of Brazilian melodic symphonic power metalbands that all followed the footsteps taken by Angra. The label Megahard Records once sent me 50 discs of 50 different Brazilian bands and they all sounded the same. Despite it was of a very high level actually and better than all the Japanese copycats, it became boring on the other hand. Actually after 10 years of silence, it's nice to hear a new Brazilian band playing this style again. Nothing new and far from original, The great Metal storm by Trauma is a very decent record you definitely need to check out if you're a die-hard Labyrinth, Angra and Stratovarius fan! As mentioned, it's all done by the numbers, but thankfully at a decent level, so you will most certainly enjoy this release if you're a fan of mentioned acts. More info at: https://www.facebook.com/TraumaOfficialPage/
(Points: 7.7 out of 10)
Jive Mother Mary 'Home is where the heart is' (Teenage Head Music)
Formed in 2005, the band Jive Mother Mary from Burlington, North Carolina, USA already released 3 records before Home is where the heart is, their latest effort on which they have worked on the past 2 years. The included music is typical southern fried rock like only American bands can produce, sometimes reminding of a cross between The Black Crowes and Lynyrd Skynyrd (Feeling fine), yet also here and there with a classic country-rock crossover westcoast ish tune a la The Eagles (Planes, trains). Quality stuff for sure, although don't expect a sensational release, because therefore the songs are a little bit too standard. More info at: https://www.jivemothermary.com/
(Points: 7.8 out of 10)
Greasy Tree 'Greasy Tree' (Teenage Head Music)
Greasy Tree is a Power Rock trio in pure 1970s style, with a strong bluesy touch on their recently released debut album. The band is formed around Jacob Brumley (Drums/Vocals), Cameron Roberts (Guitar/Vocals) and Red Dorton (Bass/Vocals) and with the help of Pete Matthews (Evanescence, Devon Allman, and Paul Simon) and Toby Vest of High/Low Recording Studios out of Memphis, TN, the first record grabs back to the times when bands like Free, Cream, Bad Company and such were the big names in the music business. For a debut, they do deliver a high quality record and a few songs are without a doubt belonging to the finest new classic rock around these days. For example the catchy Let love go is a great tune that would make Free and Bad Company pride if they had this song in their repertoire. Stones/Them influences can also be traced (Sweet sugar), while a song like Goin' home is sounding like a real classic rocksong! The band also offers some lengthy tunes such as the groovy Greasy, which also focuses on long classy 70s guitarsolos, so we definitely have an interesting band here. On the other hand, you can also hear that they can improve and future records will only become better and better. If Thunder, Rival Sons, Free and such are your favorite classic rockbands, then do check out Greasy Tree at: http://www.greasytree.com/
(Points: 8.2 out of 10)
Them Dirty Roses 'Them Dirty Roses + Trouble' (Teenage Head Music)
Formed in 2012 in Alabama, the band Them Dirty Roses eventually moved to Nashville and now have a CD out that features both their EP's, the same titled debut and follow-up Trouble. They consist of brothers Vocalist/Guitarist James Ford and drummer Frank Ford, completed by guitarist Andrew Davis and bassist Ben Crain. Without a doubt, Them Dirty Roses is taking things to a very high level, sounding like the next big thing in classic rock. They are clearly influenced by The Black Crowes, Lynyrd Skynyrd and Badlands influences are also notable. This is the kind of rock that was popular just before grunge and alternative rock took over around 1991. The past few years we have seen more bands hitting it big time with this classic groovy, bluesy southern (hard) rockstyle, with Rival Sons being one of the best ones so far. However, if you put on the song Shake it loud and proud, then you will definitely be hooked, while Beers cans and tire swings are a wet dream for fans of Lynyrd Skynyrd. Everyone will agree that this band has got all it takes to become the next big thing. It might not be that original, but the result is very impressive and highly recommended to fans of Thunder, Vintage Trouble, Black Crowes, Rival Sons and Lynyrd Skynyrd! Check them out at: http://www.themdirtyroses.com/
(Points: 8.5 out of 10)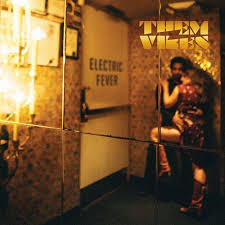 Them Vibes 'Electric fever' (Teenage Head Music)
Imagine Hanoi Rocks and Rolling Stones recording an album together in classic rootsy rock and roll style, well then you have Them Vibes as result. This Nashville based band was founded in 2013 and quickly started to make themselves a name in the American music business. Formed around singer-songwriters Brother Love and Alex Haddad, the band recorded their new album Electric fever together with lead guitar player Kyle Lewis, Nashville producer Bobby Holland, drummer Sarah Tomek (Steven Tyler, Maggie Rose, Loving Mary, Raelyn Nelson) and bassist Judd Fuller (Rodney Adkins, Buck Johnson of Aerosmith). It's one of those albums that contains nothing but radio hits, with the big Stones/Hanoi Rocks/Aerosmith comparisons of course, but also an own approach to that classic rock and roll sound and more importantly, these guys are never sounding dated, because this is the kind of music you can also hear every now and then on the radio, rootsy vintage rock that sounds groovy and catchy. Highlights include opener Shoot the messenger (hello Hanoi Rocks), Love will never fade away (70s Aerosmith style, also interesting for fans of modern bands like Temples and even Wolfmother, yet Them Vibes sound less heavy and psychedelic, but they have the same kinda 70s vibe can be heard) and the lovely melodic Comin down on you. Definitely a highly recommended band that might be the next big thing if they are lucky to get attention from the UK and European Press and are put on the major festival line-ups. Meanwhile, check them out at: http://www.themvibes.com/
(Points: 8.6 out of 10)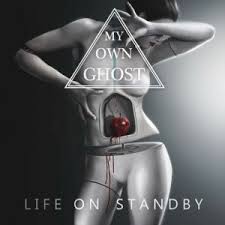 My Own Ghost 'Life on standby' (Secret Entertainment/Bertus)
My Own Ghost are coming out of Luxembourg and were founded in 2013. They have already released an album titled Love kills in 2014 and are now following it up with Life on standby, which was produced by Hiili Hiilesmaa (HIM, Apocalyptica, Amorphis a.o.) and mastered by Svante Forsbäck (Rammstein, Sunrise Avenue, Bullet For My Valentine a.o.). The band's line-up consists of vocalist Julie Rodesch, guitarist David Soppelsa, bassist Joe May, guitarist Fred Brever and drummer Michael Stein. Julie has a strong voice and this record is definitely focused on bringing catchy radio-ready tunes that sound modern and melodic, actually quite close to Delain and Nemesea. It's somewhere between melodic rock and typical bombastic female fronted gothic rock, with a slight electronic touch here and there. Strong catchy vocal melodies and memorable choruses are the name of the game here and My Own Ghost are doing it very well from start to finish, with as highlights the midtempo Life on standby, the uptempo Everytime I break (Paramore meets Halestorm), Alive and 10 weeks of summer (both pure Within Temptation, very catchy uptempo melodic rocker) and When love is not enough (even a bit Dante Fox!). Not really original, but who cares if they are doing it at a very high level, so go check them out at: https://www.myownghost.com
(Points: 8.3 out of 10)
Jardier 'Jardier' (COMRADFILM/Hemifran)
Not so much info on this band from Slovenia, but they released this same titled debut album a few years ago, but it landed on our desk recently, so here is a small review on it. It's a pretty good typical modern sounding Indie Folk record that rocks here and there as well and without a doubt, this band sounds ready for the big masses. Formed around vocalist/guitarist Alex Raztresen, guitarist/keyboardplayer Jure Pohleven, guitarist Borut Perše, bassist Dejan Slak and drummer Andrej Zavašnik, it surprises me that now 2 years after it's release, this band is still not a household name, but on the other hand I can only judge their album release and not their live performances. The album is a definite recommendation to fans of the countless bands that are nowadays making a similar style, which combines strong vocals (a bit reminding me of Bono actually!) with catchy melodies and a bombastic semi-rocksound that takes the best of Indie, Folk and Americana, think of a mix between Fleet Foxes, The Killers (minus the new wave influences), Kings Of Leon (minus the rock elements) and Mumford And Sons (minues the bluegrass influences). Good job and recommended to check out at: http://www.jardier.com/
(Points: 8.1 out of 10)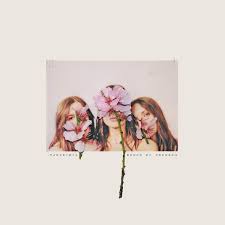 Paradisia 'Sound of freedom' (Long Branch Records/DGR Music)
"I am a huge fan of such beautiful female harmonyvocals!" That was my first thought when hearing the first seconds of the debut album of the band Paradisia from London, UK. They have performed as support act for Bruce Springsteen, Paolo Nutini, Birdy, Tom Jones, Michael Kiwanuka and many more, so they have already built a name in the live circuit and now it is time to release an official record. The band consists of Sophie-Rose Harper (vocals), Anna Pesquidous (harp) and Kristy Buglass (vocals, keyboard) and the included music is comparable to Webb Sisters, Joseph, The Staves, The Corrs and First Aid Kit. The songs are a combination of lightweight dreampop with even Fleetwood Mac similarities (the fantastic summerhit Idea of you) and quite a lot indie folk and a little semi-rock, but it's the soulful vocals in combination with the tripple harmonyvocals that make this record a highly recommended album. One of the rockier songs is Keep on preying that even recalls a sort of early 80s female fronted AOR/Poprocksound, including a catchy hook a la Pat Benatar! All together it's even a very diverse record that at first sight sounds a lot like the mentioned acts, but if you listen further you can hear so much more. The angelic voices however absolutely steal the show and need to be heard by every dedicated music fan out there! It is a pleasure to listen to from start to finish to this lovely record and many times you're completely hooked. I am personally already looking forward to catch these 3 girls live on stage somewhere, because they absolutely deliver on their sensational debut album Sound of freedom and I wonder how it will go down live, so remember the name Paradisia! More at: http://paradisiaofficial.com
(Points: 8.8 out of 10)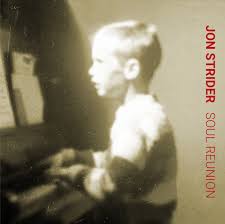 Jon Strider 'Soul reunion' (New Sky Records/Hemifran)
Originally from California, but as of 2002 the singer-songwriter/guitarist and record producer Jon Strider is settled in Malmo, Sweden. He has worked with quite a lot musicians, including the legendary Eddie Money, Walter Egan, Mink DeVille and countless others. Soul reunion is Jon's 8th solo album and it took 4 years to make, so it has got to be something special. Thankfully it sounds like a very decent record that combines a lot of music influences, sometimes sounding like Billy Joel's New York state of mind (Love is real), but here and there also reminding me of Robert Palmer and westcoast meets jazzy pop and a little blues is also notable sometimes. It's a great melting pot and because Jon is a superb vocalist, almost every genre suits his voice. Highly recommended album to check out if you like old school singer/songwriter pop/rock with a soulful touch, like Van Morrison meets Billy Joel meets Robert Palmer, then you have to check out Jon Strider! More info at: http://www.jonstrider.com/
(Points: 8.4 out of 10)
Husky Tones 'Who will I turn to now?' (Independent/Hemifran)
Out of Bristol, UK comes the duo Husky Tones, consisting of female drummer/singer Victoria Bourne and guitarist Chris Harper whom are delivering their 2nd album with this Who Will I turn to now? At first sight the music is quite raw bluesy rock orientated in the style of The White Stripes a little bit, sounding damn good actually. However, during a few songs the band get a little experimental and also more acoustic orientated, such as during The Island of Barbed Wire where they almost sound like a stripped down punkband, thanks to the somewhat extraordinary vocals of Victoria. She has a rather unique voice, kinda reminding of the legendary Siouxsie And The Banshees somehow. The band is really at their best during the slow big beat semi-blues/garage rock tunes, such as the awesome titletrack. More info at: https://www.huskytones.com
(Points: 8.2 out of 10)
Hometown Marie 'Wild side' (Independent/Hemifran)
Only 4 songs are on the 2nd EP of the Swedish band Hometown Marie, a somewhat commercial sounding pop/rock band in typical American style. They could well be a major label signed American band with their radiofriendly country crossover melodic poprock that sounds like a mixture between Tom Petty, Bryan Adams and Bruce Springsteen. Done quite perfectly, so go check out these rockers at: https://www.facebook.com/hometownmariesweden/
(Points: 8.1 out of 10)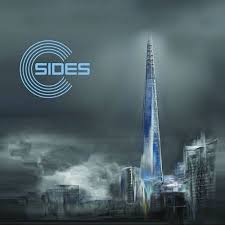 C-Sides 'We are now' (Nineteen-73 Artist Promotions/UK Import)
We are now is the 2nd album of the Welsh progrockband C-Sides. I am not familiar with their debut, but this new record is definitely recommended to the progfans out there, because it presents us high quality progrock that is not too complex. The melodies are very important, both instrumentally an vocally speaking. Rush meets 80s Yes could be a good description, but also sometimes Enchant passes by. The band is formed around guitarist Martin Rosser (ex-Magenta), bassist Jay MacDonald (Sankara), drummer Allan Mason Jones (ex-Magenta) and vocalist Allen McCarthy. 9 songs are included and not a single dull moment to be found. Remarkable are the strong harmonyvocals that sound like a cross between Asia, Yes and GTR. Check it out for yourself at: https://www.facebook.com/CSidesUK
(Points: 8.4 out of 10)
Lhea 'Blue violet' (Independent/Argentina Import)
Out of Argentina comes Lhea, who sent me her solo debut record Blue violet. She used to sing with arena new rock (2002), an Argentinean hard rock band whom opened for renowned artists such as Ronnie James Dio (Rainbow, Black Sabbath, Dio) and Richie Kotzen (Poison, Mr. Big). Anyway, with this record she goes into an 80s AOR/Melodic Rock direction, especially on songs like The answer's still no and Love me, love me (a la Vixen). Lhea's vocals are not without an accent, so you don't have to mind her way of singing the words. I think she might be better off when singing in her native Spanish language. The 8 included songs are pretty good actually, definitely in the style of Vixen, Laos, Robin Beck, Fiona and such, even instrumental sounding strong (good guitarwork of Lhea), but vocally it is not reaching that level I'm afraid. Who knows in Spanish it might sound better, but if you're still interested to check out Lhea, please go to: https://www.lheablueviolet.com
(Points: 7.3 out of 10)
The Music Therapy Experiment 'Genius Equus' (Independent/Australia Import)
Now this album starts with a fantastic almost Santana like melodic instrumental rock/fusion tune. Thankfully it continues this way and so we have something of interest here. The Music Therapy Experiment comes out of Australia and they sent me their debut album Genius Equus. The instrumental (except on 1 song) band mixes jazz/fusion with progressive rock and a touch of melodic rock, sorta Steve Vai ish. 13 full songs we can enjoy the high quality musicianship of it's 2 members, multi-instrumentalists John Kline (guitar, bass, keyboards, vocals) and Mark Christianson (drums, bass, keyboards). They did a great job and I can highly recommend it to especially the guitarfreaks among us, because John Kline is a fabulous guitarplayer. Check out more at: https://store.cdbaby.com/cd/themusictherapyexperimen4
(Points: 8.3 out of 10)
Ayden Jacobs Band 'Ayden Jacobs Band' (Independent/Canada Import)
Singer/songwriter/Guitarist Ayden Jacobs was kind enough to sent me his debut mini-CD, which features besides Ayden also bassist Andy Narsingh (David Barrett Trio) and drummer Mike Thorne (Saga). He picked up the guitar when he was just 4 years old and his first guitar teacher was the legendary Earl Johnson of Moxy. The result is a nice little EP that features 3 hard rocking tunes that feel like the 1970s/1980s, like Moxy, early Coney Hatch and a bit of Van Halen. The guitarwork is picture perfect, with some great shreding going on and fantastic guitarsolo's in the classic rock style. Ayden's vocals are good enough for this type of rock, but it's his guitar playing that makes him really standout between the rest. For a starter, this EP is a nice introduction to a very young and talented Canadian musician. who might become the next guitar hero in the near future. Be sure to check him out at: http://www.aydenjacobs.ca/
(Points: 8.0 out of 10)
Mr. Mac 'Shadowbox' (Independent/USA Import)
Mr. Mac is the name of the project of guitarist/vocalist Dan McLaughlin from Hawaii, USA. 10 songs are on the album Shadowbox and I am more impressed by Dan's guitarwork than his somewhat mediocre vocals. The music is a mixture of 70s singer/songwriter and classic rock, sometimes in a sorta Neil Young style. Not bad at all, with quite some great tunes actually, but as mentined the vocals are not that strong I'm afraid. Check it out for yourself at: www.mrmac808.com
(Points: 7.4 out of 10)
Born 53 'A talent unrecognized' (Big Note Production/Hemifran)
A talent unrecognized is the 5th album of the Swedish band Born 53. Their debut was released in 2005 and through the years they developed an American orientated rootsy rock style that is clearly influenced by Bob Dylan. Their previous record was even a Bob Dylan covers album, but now they present us a collection of great originals. The music is rootsy rock with Americana influences, sometimes quite diverse actually, but always bringing strong melodies. The vocals are male-female shared, where the female singer sounds almost like Grace Slick as one can hear on the Jefferson Airplane ish folk influenced Forgetful heart. A little Tom Petty comes along in the catchy middle of the road ish poptune Looking for Marie Jones. On the other hand, the band also throws in songs that sound like Neil Diamond meets Johnny Cash (Forgive). Not bad at all, this Swedish band is recommended to check out at: https://www.facebook.com/Born53
(Points: 8.1 out of 10)
Third Love 'About you' (Independent/Austria Import)
Out of Austria comes the 5-piece band Third Love, whom deliver a nice female fronted pop/rock album that sounds a bit like 80s The Pretenders, so somewhat quirky with indie pop elements. 10 songs are included on their debut About you, which is in Austria quite a success since it's release in early 2017. Check it out for yourself at: https://www.facebook.com/thirdlovemusic/
(Points: 7.3 out of 10)
Son Of The Velvet Rat 'Dorado' (Fluff & Gravy/Hemifran)
You wouldn't believe it, because when listening to the album Dorado, it sounds like the latest singer/songwriter sensation from the UK or USA, but Son of the Velvet Rat is an Austrian band. They are formed around singer Georg Altziebler and accordionist Heike Binder, Albrecht Klinger (bass), Michael Willmann (drums) and Kolja Radenkovic (git, trumpet) and are already quite known in Austria. With this new record on the American label Fluff and Gravy Records, they are ready to become known internationally speaking and without a doubt, the result is indeed a must to check out if you're a fan of Leonard Cohen, Tom Waits, Johnny Cash, Bob Dylan, etc. It might not sound original and quite depressing, it is all done at a very high level and therefore highly recommended to fans of mentioned acts. More info at: https://www.facebook.com/sonofthevelvetrat
(Points: 8.3 out of 10)
The Warning 'XXI Century blood' (Independent/Mexico Import)
Out of nowhere comes a sensational new band from Mexico. They are called The Warning, were formed in 2013 around 3 young sisters, Daniella, Paulina and Alejandra Villareal and XXI Century blood is their debut album. The music is very American orientated, dangerously close to Orianthi, Paramore and such, but done at a very high level. For a starting band and when looking at the band photos, they are very young and already sound very promising. The vocals are quite good, instrumental they sound perfect, the material is very catchy and memorable, while the production of their independently released record is very impressive as well. This could easily have been an American major label release. Songs like Shattered heart, Our mistakes and Runaway are instant winners for the fans of melodic female fronted (hard) rock. Check them out at: https://www.thewarningband.com/
(Points: 8.1 out of 10)
Anthony Rosano and the Conqueroos' (Independent/USA Import)
1970s bluesy Classic Rock is the name of the game here on the 3rd album of Anthony Rosano and the Conqueroos. The band consists of Anthony Rosano - Guitar and Vocals, Paul Warren - Bass, Scott Smith - Drums and J.B. Bustillos - Sax, Harp, Vocals, and together they definitely deliver pure high class musicianship in the best tradition of BB King, Cream, Robert Cray Band and the blues side of Led Zeppelin, with a very slight Southern Rock touch during a ballad like Long Island Sound. Recommended to the classic rockfans out there! More at: https://www.conqueroos.com
(Points: 8.2 out of 10)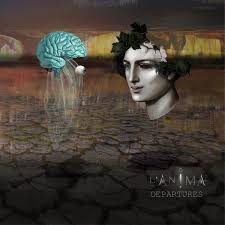 L'Anima 'Departures' (Nineteen 73 Promotion/UK Import)
From out of nowhere comes the sensational debut album of L' Anima, which is the brainchild of London-based musician Pedro J. Caparros Lopez (Breed 77). Together with the superb lead singer Andy Mitchell (The Yardbirds), guitarist Mauro Paderni, bassist Luca Forlani and drummer Iban Sanz, a picture perfect progressive rockalbum has been recorded and after listening to it a few times in a row, the conclusion is that it should be in the album of the year lists of any progfan out there at the end of 2017! This is progressive rock the way it should sound like, including lovely melodies, strong vocalwork and precise guitarwork and not an endless string of complex instrumental bravery. It's best comparable to let's say Mystery and Enchant, so keen on bringing those memorable melodies and especially the first couple of songs, such as Point of no return, Path to Sirius and Gema, they represent L'Anima at their very best. It sounds timeless and could easily also attract fans of Muse when you listen to the modern My dying cell or Hold out. Do not miss this album if you call courself a dedicated progfan! More at: https://lanimaofficial.com
(Points: 8.7 out of 10)
Jan Daley 'The way of a woman' (Log Records/Hemifran)
Not really original what we get to hear, but of a very high level for sure, because Jan Daley has a lovely voice. You can listen to her all night without getting bored and the music is very smooth jazzy pop, which sounds very close to Barbara Streisand and this is absolutely not a bad thing. 11 songs are included and about half of the tunes are originals and the other half are covers. This is one of those albums you can easily put on as background music and nobody will complain, as it sounds really good, but on the other hand it might get unnoticed easily as well, which is a pity, because Jan is actually a really good singer. Fans of Streisand will absolutely love this... More at: http://www.jandaley.com
(Points: 8.1 out of 10)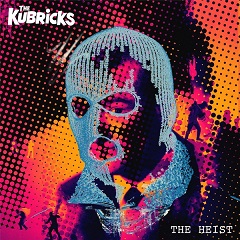 The Kubricks 'The heist' (Skallywag Records/UK Import)
It's funny sometimes that you receive albums that sound so perfect for the masses it is surprising to see they haven't been discovered yet. For example the band The Kubricks and their latest album The heist, which is basically a melting pot of Ska, Reggae and clever Pop/Rock. At first sight with all the horns included and references to Madness, Squeeze, The Clash and even UB40, not exactly my cup of tea as a rocker. However, these guys are doing it so well you instantly learn to love them, especially during songs like D is for danger, Break of day or Morning after, as this kind of material should go down well just perfect in today's music business. Festivals love a band like this, which is still very diverse, because they switch from Ska to Reggae very easily and throw in pop rhythms and melodies as well, so it is accessible to everyone. If radio or tv picks a song from this album, it could easily become a megaseller and The Kubricks might then get their breakthrough, which they deserve, because their album sounds very fresh, exciting and catchy, bringing back cheerful trumpets, completely the opposite of the modern hi-tech sound of most festival bands at the moment. Check them out at: https://www.thekubricks.com/
(Points: 8.6 out of 10)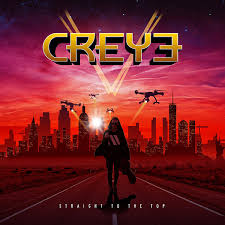 Creye 'Straight to the top' (Independent/Sweden Import)
AOR/Melodic Rock and Sweden have always been good friends, ever since the day Europe released their legendary The final countdown album 30+ years ago. We have seen countless releases in this genre and every now and then a new band appears that recalls the classic 80s AOR/Melodic Rocksound. Heat was one of them sometime ago and they became quite sucessfull in Sweden and what followed was a bunch more similar sounding acts and Creye is another band that follows the footsteps of Heat. I have to admit that it doesn't sound original and it is all very close to Heat, but who cares if it is done at such a high level. You have 3 songs here, the uptempo Straight to the top, the midtempo Never too late and a cover of one of the finest AOR songs ever recorded in music history (Robert Tepper's No easy way out). The material is deadly catchy, picture perfect AOR with hooks, choruses, soaring guitars and great vocals (Art Nation singer Alexander Strandell). No objection your honor, as this is AOR exactly the way we love to hear it, so we can sing-a-long all night! Hopefully a full record soon (Frontiers Records signed them recently), meanwhile check out Creye at: http://www.creyesweden.com/
(Points: 8.0 out of 10)
Lynne Hanson 'Uneven ground' (Song Shop Records/Hemifran)
The Canadian singer/songwriter Lynne Hanson has already released quite a few albums and Uneven ground is her latest one. Without a doubt, this is beautiful music that everyone will enjoy, which is mostly thanks to the strong vocals of Lynne. The music is sometimes quite laid-back, but here and there also rocking, taking influences from blues, folk, country and pop. Fans of singer/songwriter pop/rock music will love this for sure, as lyrically Lynne also delivers nice stories to explore. Bonnie Raitt, KD Lang, Shawn Colvin, Amanda Marshall and such female artists are probaby the best comparisons to draw here. Definitely recommended to check out at: https://www.lynnehanson.com/
(Points: 8.1 out of 10)
Todd Anthony Joos & The Revelators 'The burden' (Cellar Records Recording/USA Import)
Todd Anthony Joos (Lead vocals, guitar, mandolin, keys and bass) is a multi-instrumentalist from Illinois, USA and together with The Revelators (AJ Hauser - guitar, mandolin, Patrick Stramka - Drums and Gage Munnich - Bass Guitar) he has been playing and recording for over 10 years now. Latest album release is The burden, a good strong rockalbum that combines Classic Rock and Southern Hardrock quite perfectly, sounding like Blackfoot meets Glenn Hughes, It's done very well actually and a semi rocker/ballad such as Truth and lies is quite a sensational song. Todd is a singer with a soul and I can easily recommend The burden to fans of mentioned styles and acts. More at: https://www.revelatorsrock.com/
(Points: 8.2 out of 10)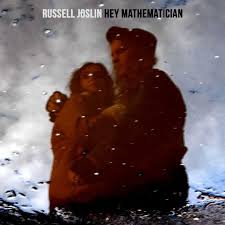 Russell Joslin 'Hey mathematician' (Independent/Hemifran)
Singer/songwriter folkrock perfection is a nice description of the 4th studio album Hey Mathematician of London based singer-songwriter Russell Joslin. What sets him apart from the countless others are the strong melodies and folk influences that can be heard quite a lot during the album that in total contains 14 tracks. However, also vocally Russell is sounding somewhat different, as he has an own kinda melancholic voice that is hard to compare actually, which makes it quite interesting of course. Elevate me (smoke) and Water for blood are for example songs that rock without rocking (only missing the electric guitars), if you understand what I mean, being great uptempo sing-a-long singer/songwriter pop-folk-rockers. On the other hand, Russel also slows things down and goes back to classic acoustic folk during a song like Billy's funeral. Yet even in this song the harmonyvocals bring some beautiful pop melodies upfront during the chorus and this way it is all throughout the album, sometimes in a calm campfire ish direction, but at other times slightly more rocking and band based. For me personally, the song We Are 40 Now has got to be the most appealing song of 2017, since this is the year I reached that age. The song itself is a sorta late 60s/early 70s uptempo psychedelic hippie area sing-a-long tune that lyrically speaks about a midlife crisis at 40, but for me that definitely isn't the case! Anyway, this is a highly recommended folkrock album to check out at: http://www.russelljoslinmusic.co.uk/
(Points: 8.5 out of 10)
The Spiritual Machines 'Awake alert alive almost' (Would Work Sound)
Out of L.A. comes The Spiritual Machines, a sci-fi kinda epic band/project that combines different genres, symphonic rock, new wave and classic rock, yet the most interesting is the beginning of the album, because it starts with a cover of the Blue Oyster Cult classic Don't fear the reaper. It is done in a complete different style, which doesn't sound too bad actually. The overall feeling of this album is very modern, with similarities to Muse and The Editors, so quite bombastic hi-tech based danceable retro new wave, although here and there it also goes into a calmer direction and recall Alan Parsons Project lyrically speaking. It's a mix of all kinds of styles actually, because a song like The wreckoning even reminds me of classic U2 and early Simple Minds! Ultravox sometimes also comes to mind and at one point you might get lost in all these various directions, but the 2 members of The Spiritual Machines (Evan Frankfort and James Grundler) definitely know how to bring quality music. It's an epic adventure that starts quite relaxing with the BOC cover, but becomes quite bombastic later on and needs repeated listens to really understand what they want to achieve. Interesting album to explore further at: https://thespiritualmachines.bandcamp.com/album/awake-alert-alive-almost
(Points: 8.2 out of 10)
Siamese Smile 'False awakenings' (Independent/Germany Import)
The German band Siamese Smile brings us a high quality mixture of Alternative Metal and a Progressive Metal, sounding very melodic and bombastic on their new album False awakenings. Not much info on this band, but the material is very catchy and to the point most of the time, so with a sorta melodic pop/rock choruses included, but the whole package is more alt/prog metal based, a nice combination actually as if The Rasmus and Vandenplas joint forces! Recommended to check out at: https://siamesesmile.bandcamp.com/
(Points: 8.1 out of 10)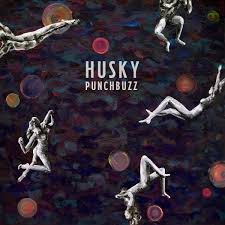 Husky 'Punchbuzz' (Ambassy Of Music/DGR Music)
Now this is the album Bear's Den should have released as their new record was my first thought when listening to this lovely new record of the Australian band Husky. I discovered both bands a few years ago when they more or less also sounded somewhat similar and both were new to the music scene. However, recently Bear's Den released a very disappointing more hi-tech based album, so forget all the praise around Bear's Den, because Husky is a much stronger band nowadays. Husky has kept the lovely lush melodic indie folk/poprock style and sound now in 2017 at their very best on this 3rd record Punchbuzz. If you like to hear music in the style of the good old late 60s/early 70s days, let's say like a cross between Blue Oyster Cult's Don't fear the reaper, The Byrds, Calexico minus the horns/Mexican influences, a lot of Fleet Foxes and with Simon&Garfunkel harmonyvocals, yet sounding fresh and up-to-date for modern taste, then look no further than this brand-new sensational Husky album. The band is at their best during the uptempo pieces that feature some lovely hooks and memorable choruses, such as Ghost, Shark Fin, Late Night Store and especially Splinters In The Fire and Walking In Your Sleep. It might not sound too original and to some perhaps a bit safe around the corner, Husky is doing it just perfect and deliver one of the best indie poprock albums of 2017! Check them out at: http://www.huskysongs.com/
(Points: 8.8 out of 10)
Mogwai 'Every country's son' (Rock Action/PIAS/DGR Music)
So many bands out there and so little time to keep up and I have known Mogwai for quite some time now, but never really checked them out in-depth. However, now they have a new album coming out which was sent to me for review, so I can finally really explore this interesting band from Scotland. Funny thing is that the band is named after the famous Gremlins character and have already released 8 studio albums since their formation in 1995 and during that period they have accomplished quite a lot, including prodviding music for a documentary of Leonardo DiCaprio. About time to get to know Mogwai on their massive sounding new record Every country's son. The music of the band is Post-Rock, actually a mixture of mostly instrumental epic dark sounding almost proggy rocktunes and a few songs that feature vocals with a slight Indie-Rock direction, sounding quite melodic all-together. 11 songs are included here and it sounds like an epic album that you need to listen to over and over again, as you discover something new everytime, which is of course for the all-round music fan very interesting. Even fans of Muse, Porcupine Tree and even Pink Floyd will like Mogwai and it surprises me that they haven't had their massive major arena breakthrough yet, because their music is simply crying out for attention in the sense of high quality (mostly instrumental) music that just needs to be heard! Make sure to check out this band's new album a.s.a.p. More at: http://www.mogwai.co.uk/
(Points: 8.3 out of 10)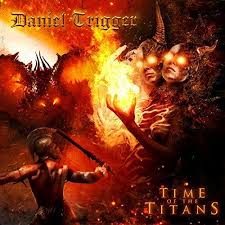 Daniel Trigger 'Time of the titans' (Independent/UK Import)
Time of the titans is the 3rd album multi-instrumentalist/singer/songwriter Daniel Trigger, who hails from the Midlands (UK). The artwork looks like an 80s Yngwie Malmsteen record, while the included melodic hardrock is pure 80s inspired and reminds me of a cross between Dokken, Scorpions, Velocity and a better version of Phil Vincent. Proceeds from sales of the album will be split between three charities: Marie Curie Cancer Care, Dementia UK and the Diana-Award Anti-Bullying Campaign. All together the result is very impressive, especially since this is an independent release. Highlights are the uptempo Promised land, the midtempo I was a titan and the Progmetal ish Rain. Actually the whole CD sounds really perfect, not just the major production, but also instrumental and vocally it is top-notch and besides, Daniel has a great voice. Most of the material will absolutely appeal to fans of classic 80s melodic hardrock. Without sounding dated, this is the way we want to hear it, big time hair metal choruses that make you long back to the days when the Sunset Strip brought you great new bands on a weekly basis. A better version of the earlier mentioned Phil Vincent is a fine description here. Hear for yourself at: www.danieltrigger.bandcamp
(Points: 8.3 out of 10)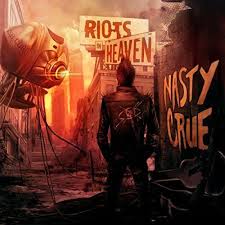 Nasty Crue 'Riots in heaven' (Independent/Poland Import)
I was a little sceptic when I saw the bandname and the somewhat rough appearance of some of the bandmembers, because I honestly though this was going to be a second-rate amateuristic glampunk affair. However, the contrary is what we get to hear on the CD Riots in heaven of the Polish band Nasty Crue. This band is playing high class Melodic Heavy Rock, with very strong vocalwork and catchy choruses in the style of Praying Mantis. Hero, Make some noise, Friday Night Fever and Cabin in the woods are the best examples of perfect uptempo melodic heavy rock sounding songs that grab you right away and thankfully the whole CD is a lovely melodic affair to check out if you like the aforementioned Praying Mantis, H.E.A.T., Last Autumn's Dream, Treat, Eclipse, Zeno... Some background info on Nasty Crue learns that they were originally a tribute to 80s Hair Metal band like Steel Panther, The Poodles, Wig Wam and such, but their full-length debut album Riots in heaven is definitely much more than that. Of course it owes a lot to 80s Hair Metal for it's sing-a-long choruses and soaring guitarsolo's, but somehow the band sounds more interesting and comes across as a professional Scandi ish Melodic Heavy Rockband with even some AOR influences (the keyboardfriendly Johnny and Mary) and a high pitched singer (J.J. (Jøn Jøndrensen)) who can really sing (!). The album has a massive sound, thanks to the mixing and mastering by Alessandro Del Vecchio (Joe Lynn Turner, Glenn Hughes, Fergie Frederiksen...). Do not miss this melodic rock gem at: https://www.facebook.com/JJ.nastycrue
(Points: 8.5 out of 10)
Sound Storm 'Vertigo' (Rockshots Records/Bertus)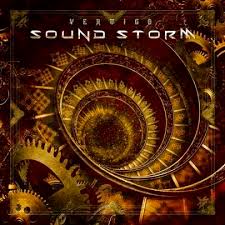 Formed in 2002, the Italian band Sound Storm has already released 2 full-length albums and are now presenting us their finest record so far, because new album Vertigo sounds massive and highly professional. None other than Joost van den Broek (Epica, Ayreon, Xandria…) took care of the editing, mixing and mastering and he definitely did a great job. I need to admit that we're not going to hear something completely different here that absolutely hasn't been done before, but that is almost impossible nowadays. Instead we get to hear very impressive bombastic melodic symphonic power/progressive metal like Kamelot, Vision Divine and Labyrinth. Included are the big choirs and epic neo-classical influences like Rhapsody introduced more than 20 years ago. Important are the vocals in the sound and I have to say that the band's lead singer Fabio Privitera has a very good voice which easily reaches the level of the Labyrinth/Vision Divine singers. Forsaken is a really great tune that takes a slightly different approach, introducing some Anthrax ish speed metal influences, yet combined with a deadly catchy chorus. Also the midtempo progmetal of Original sin should be mentioned with it's haunting big anthemic chorus. And although at first sight I thought this was going to be a typical Italo Power Metal from start to finish, the material is definitely more diverse than that, because epic progmetal songs are also included, with as one of the highlights closing track The last breath that reminds me a bit of Pagan's Mind. In the end, this is a melting pot of all kinds of Metal styles, however sitting most of the time in the bombastic neo-classic melodic prog/power metal corner and that's when fans of Kamelot, Rhapsody and Labyrinth need to act quickly, because it might just be one of the finest releases in this genre since the mid 2000s when so many classic albums were released by mentioned acts, so make sure to go for this one as well! More at: http://www.powerofsoundstorm.com
(Points: 8.4 out of 10)
Next door to heaven 'Exit Station' (Independent/Russia Import)
A pity that I don't have any information at all on this Russian band Exit Station and the fact only 1 song is included on their demo CDR is not making it easy to make a lengthy review. However, they do need coverage, because Exit Station from St. Petersburg has a massive sound and a great female singer (Daria Mazunova). The music of the same titled song is a lovely midtempo melodic epic bombastic progmetal affair that reminds a bit of After Forever and Epica. Can't wait for a full-length release, meanwhile check out more at: https://nextdoortoheavenband.com/ourmusic/
(Points: 8.1 out of 10)
Soul Seller 'Matter of faith' (Tanzan Music)
Out of Italy comes Soul Seller and has been creating music since 1999, also releasing several albums meanwhile. Now there is a new album in the shape of Matter of faith, which was produced by Alessandro Del Vecchio (Joe Lynn Turner, Glenn Hughes, Fergie Frederiksen...). The included music is very cliche tingled, but nevertheless catchy melodic rock in the style of Eclipse, Heat, The Poodles, Lionville, The Magnificent, Danger Danger... The only issue is the fact that the vocals are not really strong and that's a pity, because the songs itself are not bad at all. Of course if you don't mind the accent, which somehow has a sorta German kinda vibe (Scorpions, Axxis, Angel Heart...), then you can easily have a listen to this melodic rockalbum, but don't expect it to be the next sensation. More at: www.soulseller.it
(Points: 7.7 out of 10)
Otherkin 'OK' (Rubyworks/DGR Music)
OK is the debutalbum of the Dublin, Ireland based band Otherkin and they are about to breakthrough after their first couple of successfull festival performances. Musically they play typical Garagerock with a raw punky twist, so nothing that new under the sun here. On the other hand, they are doing it as good as for example The Strypes, with the same kinda energy and enthousiasm, which should guarantee fans for sure. 12 rocking tunes can be found on the album and if you're interested in Garagerock the old retro way, with massive The Kinks and Them influences, well then Otherkin is definitely worth checking out. I'll bet live this band will go down very well, but like many other Garage rockbands, their studio albums are most of the time offering some nice punchy rock, but nothing really sensational. I would not say this is the greatest album in rock of the past few years, but with a tune like '89, Otherkin show their love for writing a classic rocktune! Check them out for yourself at: http://www.otherkinok.com/
(Points: 7.9 out of 10)
James Vincent McMorrow 'True care' (Believe/DGR Music)
The Irish singer/songwriter James Vincent McMorrow is definitely a name that pops up many times in the media. He released his previous album We move less than a year ago, but due to it's success, including charting in many countries, he probably didn't want to wait too long with a new record. Personally not a big fan of this calm singer/songwriter ish music that is mostly focused around James' high pitched voice. Combined with some light weight hi-tech beats, 15 songs in a similar style is a bit too much I'm afraid. It will definitely appeal to a lot of musicfans, because it isn't bad at all, this record is in general however not going anywhere, ending up sounding like the singer/songwriter unplugged/hi-tech version of Coldplay...
(Points: 6.1 out of 10)
Low Roar 'Once in a long long while' (Nevado Records/DGR Music)
Back in 2010 the Californian musician Ryan Karazija moved to Iceland to start a project on his own titled Low Roar. 7 years later he releases the 3rd album and musically speaking you would think Ryan is Icelandic, because it follows completely the minimalistic lo-fi hi-tech popsound of some of the island's popular acts such as Sigur Rós, Ólafur Arnalds, Björk and that American guy who also emigrated to Iceland, John Grant. 12 songs are included and I would call this music perfect background music with a sorta Twin Peaks vibe. The music is sounding quite dark and melancholic most of the time. Bones however is a beautiful melodic duet with the fantastic female singer Jófríõur Ákadóttir and definitely one of the highlights. In it's genre, this album is definitely a highlight. If you're a fan of Sigur Ros, Bon Iver and such, then you really need to check out this release!
(Points: 8.0 out of 10)
Discipline 'Captives of the wine dark sea' (The Laser's Edge/Bertus)
The American band Discipline celebrates it's 30-year anniversary in 2017 with the release of their 5th album Captives Of The Wine Dark Sea. The band was quite popular in the prog/sympho scene back in the 1990s, but went on hiatus for a while. Every now and then new albums and a lot of live recordings have been released. However it is in 2017 that the band is making a real comeback with the release of a new studio album. The music of the band is quite complex, jazzy prog that sounds like 1970s Genesis, Van der Graaf Generator and King Crimson, sorta arty progrock. However, opener The Body Yearns on their new album sounds a bit like Kayak, but following track Life Imitates Art is dangerously close to Peter Gabriel fronted Genesis. The instrumental jazzy S follows and the band completely changes it's style during Love Songs (almost Steely Dan meets Beatles meets JJ Cale ish tune with a bluesy twist) and the 70s rocker Here There Is No Soul. Back to the complex 70s art-prog-jazz mixture on the final 2 songs, The Roaring Game (pure jazzy fusion prog instrumental) and Burn The Fire Upon The Rocks (very 70s based 14 minutes counting epic piece with also vocals, Kansas a bit, but more sounding like Pink Floyd). This closing track is definitely the highlight, a great tune that is almost pomprock near the end with those 70s synths! Without a doubt, a quality record, but sometimes a bit too complex and also instrumental based. Although I draw a lot of similarities, the band has an own sound that is very laid-back actually. It's hard to be original these days, but in a way Discipline manages it, which could be due to their 30-year experience as a band in the underground and merging all kinds of influences along the way. Final thing to add is that you should not confuse this Discipline with the Punk/Oi band from Eindhoven, The Netherlands! Check out the Chicago based Discipline at: http://www.strungoutrecords.com
(Points: 8.0 out of 10)
White Woods Rock 'White Woods Rock' (Independent/Denmark Import)
White Woods Rock is a rockband from Copenhagen, Denmark and they are making their debut with this same titled album. Musically speaking they play alternative pop/rock that fits somewhere between Tom Petty and Mike Tramp, with a Seattle overdose. What they are doing here is quite nice and the 9 included songs are most of the uptempo rocking, with actually quite catchy choruses to sing-a-long in a Keep on rockin' in the free world sorta direction, with as highlight Falling. Check for yourself at: http://www.whitewoodsrock.com
(Points: 7.9 out of 10)
Mark Ripp and The Confessors 'Under the circumstances' (Independent/Hemifran)
Mark Ripp comes out of Canada and has been in the music business for a very long time now and Under the circumstances is his latest effort. Musically speaking this is perfect Americana/Roots-Rock inspired by the likes of Springsteen, Petty, Hiatt and such. However, when listening to songs like I'm 99, Lose my way or the more laid-back tunes Everything is made in China or Hey little guy, it all reminds me somehow of Golden Earring! Anyway, the result is a very nice record to check out if you're into classic rootsy rock in pure American style, although Mark himself is Canadian. More info at: https://store.cdbaby.com/cd/markripptheconfessors
(Points: 7.9 out of 10)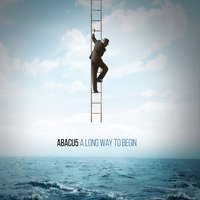 Abacus 'A long way to begin' (Independent/USA Import)
Out of Dallas comes a rather sensational band called Abacus, who combine progressive rock with melodic rock and they are doing it exceptionally well. The band was formed in 2011 and A long way to begin is their debut. The band is formed around Randy White (Vocals), Samuel Holder (Lead Guitar), Adam Manning (Bass/Vocals) and Eric Petrinowitsch (Drums/Vocals). All together they somehow remind me of a cross between Tall Stories, Diving For Pearls, Enchant and Kik Tracee. There's a sorta very early 1990s melodic rock approach to be heard, with strong vocalwork (both lead and harmony) and catchy choruses to make the material sound quite memorable. Uptempo melodic rockers Say what you want, Tightrope (superb!) and From the fire are definitely very close to Tall Stories, early Tyketto and Diving For Pearls, while Blow you away, Darker shade of gray and Wonder have choruses that do remind a lot of Enchant or even Jellyfish (such as during closing track Exactly). I think by now you'll get the picture what Abacus is all about. Along with great guitarwork and a big production/sound quality, this is actually a highly recommended independent album! From start to finish high quality melodic rock with a slight prog touch. Do not miss this awesome album, so go check them out asap at: https://abacu5.hearnow.com
(Points: 8.8 out of 10)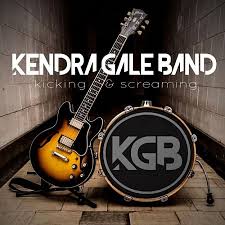 Kendra Gale Band 'Kicking and screaming' (Independent/Canada Import)
The Kendra Gale Band comes out of New Brunswick, Canada and is a bluesy rock duo consisting of vocalist/guitarist Kendra Gale and drummer Warren Beatteay. Kendra released 3 solo-album before joining forces in 2012 with Warren and Kicking and Screaming is their 3rd record together. Without a doubt, we are dealing here with quality stuff, because the bluesy rock of Kendra Gale Band sounds very impressive, owing a lot to the fantastic vocals of Kendra. No less than 16 songs are included and thankfully no dull moment anywhere on this CD. The music is bluesy rock, yet with a sorta melodic rock approach and vocals in the classic Vixen/Laos department. Best comparison would be the legendary Alannah Myles for sure. The material is quite diverse, ranging from uptempo rockers to midtempo tunes, slow bluesy and some boogie as well, with the occasional ballad ish song too. Definitely recommended to fans of picture perfect female fronted rock! More at: http://www.kendragale.com/
(Points: 8.2 out of 10)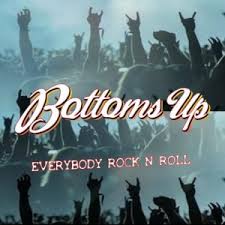 Bottoms Up 'Everybody rock n roll' (Independent/USA Import)
The Southern New Hampshire, USA based band Bottoms Up consists of real veterans of the 80s Hardrock scene, although they never made it big with their bands back then. Working their way through the 90s, Bottoms Up started in 2004, with a couple of releases so far. They have been the direct support act for Judas Priest, Scorpions, Vince Neil (Motley Crue), Jethro Tull, Peter Frampton and shared the stage with members from LA. Guns, Quiet Riot, Black Sabbath, Dio, Jason Bonham Band, Giuffria, Dokken, The Pat Travers Band, Rainbow, The Tracii Guns Band, Enuff Z' Nuff, Britny Fox, Pretty Boy Floyd, Mass, PopEvil & more. The band's line-up consists of Eddie Jean - Guitar & Vocals, Brent " Wildman" Enman - Bass & Vocals and Jéan "Boomer" Grenier - Drums & Vocals. Musically speaking it is no surprise that it's pure late 1980s Hair Metal/Melodic Hardrock orientated and thankfully done very well. Yes, it sounds like a record from 1987, but in a good way, especially during catchy uptempo melodic rockers such as I don't know my name and Be my girl, reminding of the good old days and bands like Firehouse, Know Illusion, Strutz, Rock Candy... There's also some Van Halen ish hardrock included, some Crue references here and there and as closing track an acoustic 80s Power Ballad a la Extreme and Mr. Big (I was the one). Enough for the Hair Metal fan to check out asap at: https://www.bottomsupband.net and https://www.facebook.com/bottomsupofficialpage/
(Points: 8.1 out of 10)
Novo Amor 'Bathing beach' (Believe/DGR Music)
The opener of this promo EP is the song Carry you, a beautiful haunting melancholic song that sounds like a winner and somehow I imagine it to be the background music to a beautiful scene in a movie a la Boyhood. Anyway, back to reality, 4 songs are included here and they are more or less a sneak preview to 2018 when Novo Amor will release their full-length debut record. There is already a lot of attention in the music business around the band, with millions of streaming through Spotify. Actually Novo Amor isn't a band, because it is the brainchild of one man only, Ali John Meredith-Lacey, from Wales. He released his debut EP in 2014 and now follows it up with another EP Bathing beach. The music is sorta melancholic indie folk, very calm, but quite beautiful with mostly high pitched vocals and a sound not too far away from Damien Rice and Bon Iver. Besides the movie reference it also makes me think of Wales indeed, as I was there in 2016 and this music fits perfectly the nature scenery over there. Looking forward to his debut full-length in 2018, but for now check out more at: https://www.novoamor.co.uk/
(Points: 8.3 out of 10)
John Smith 'Headlong' (Barp/DGR Music/Universal/Sony)
Headlong is already the 5th album of the British singer/songwriter John Smith, but the first time I ever get to hear his music. John has a lovely soulful voice and the music is calm melodic singer/songwriter pop with also a soul touch. It's strange that he isn't that well-known yet, because he has the kinda voice which should wet the appetite of fans of John Mayer, Ed Sheeran, Jason Mraz, James Morrison and such. The 11 included songs on his new album are most of the time picture perfect singer/songwriter radio pop pieces, so who knows he will have a major hitsingle in the summer of 2017! There's also a sorta folky touch to be heard as well, so it's not as smooth pop based as the mentioned similar sounding vocalists. Imagine a mix of the mentioned voices with the folk of let's say Tim Buckley and John Martyn, then you have John Smith. Check him out asap at: http://www.johnsmithjohnsmith.com/
(Points: 8.2 out of 10)