HOT NEW REVIEWS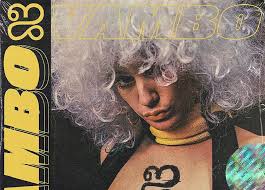 VAMBO 'VAMBO' (GOLIATH RECORDS/UK IMPORT)
Now these guys from London, UK surely know how to sound like it was still the late 1980s, because their same titled debut sounds like a classic US major label album release from that period. It has that groovy well-produced Hair Metal/Melodic Hardrock sound like a cross between DEF LEPPARD 'Hysteria', WARRANT, some VAN HALEN and especially WINGER, with very melodic clean vocals and catchy choruses. VAMBO was formed in 2014 by Jack Stiles (vocals), Pete Lance (guitar), James Scott (bass) and Steve Price (drums), and I believe this is their official debut CD. I am really impressed by this album that has a perfect sound which is very authentic and super melodic. Why why why is like we're listening to classic WINGER circa his first 2 albums, and basically a lot of the songs follow this style. Here and there we can hear more influences and similarities from Rock's glorious past. The sensational Cry woman is even pushing the sound a bit towards TRIUMPH/CONEY HATCHish Canadian AOR meets FREEish 70s soulful bluesy melodic rock, and on this song we can hear what an incredible singer Jack is! He sounds like a cross between JANI LANE, KIP WINGER and CARL DIXON, making him a true winner for fans of the classic 80s Hair Metal/Melodic Hardrocksound! Classic Rocking guitarsolo's can also be heard, such as during the start of Dancing with the devil, which is a superb classic 80s AOR/Melodic Rocker with a killer chorus that is dangerously close to CONEY HATCH and just a little bit of the very first TEN album. Besides the aforementioned songs, other highlights on this sensational debut album of VAMBO are the lovely midtempo melodic rock/aor anthem Running in circles and the groovy Camouflage. Do not miss these guys if you call yourself a fan of 80s Melodic Hardrock, because they are the biggest surprise in this genre in 2020! More info at: https://vamboofficial.com/
(Points: 8.7 out of 10)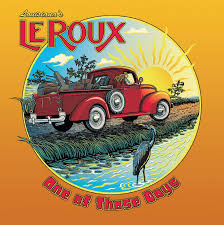 LOUISIANA'S LE ROUX 'ONE OF THOSE DAYS' (GULF COAST RECORDS/USA IMPORT)
The first time I heard the So fired up album of LE ROUX about 30 years ago, I was hooked for life, because that record is still one of the finest Classic AOR albums ever produced. Quite soon after I heard So fired up, I wanted to get to know everything this band ever did, because LE ROUX already had released a bunch of albums prior to So fired up. They started as a Southern Rockband in the 1970s, but developed themselves into a Westcoast/AOR band as the years went by. Their line-up also changed here and there, with the late FERGIE FREDERIKSEN on vocals on that classic So fired up record. It was almost unbelievable that album did not gave them the huge JOURNEY/SURVIVOR success, because eventually Fergie left and went to TOTO, and after a short split up of the band, LOUISIANA's LE ROUX continued to perform and they are still doing so nowadays. They went back to their roots and never looked back again, so the main focus was playing a mixture of Southern Rock, Blues, Westcoast and a little bit of Soul. As mentioned the line-up changed through the years and a few albums have been released during this period between So fired up in 1983 and now, but in 2020 they release their official comeback album as LOUISIANA's LE ROUX. It is titled One of those days and thankfully it features quite a lot old members of the band. The line-up on this new album consists of Tony Haselden – vocals, guitars, Rod Roddy – vocals, keyboards, synthesizers, Jim Odom – guitars, Nelson Blanchard – keyboards, vocals, Mark Duthu – percussion, Randy Carpenter – drums, Jeff McCarty – vocals and Joey Decker – bass, backing vocals. I don't know where they find their new singer, but about 10 years ago he joined LE ROUX, and on this new record Jeff is definitely shining with his amazing soulful range, so he fits perfectly. There are guest appearances of ex-LE ROUX member LEON MEDICA on bass, Blues guitarist TAB BENOIT and on backing vocals we can hear BILL CHAMPLIN (CHICAGO) , BOBBY KIMBALL (TOTO) and several others, while the production was done by the legendary JEFF GLIXMAN (MALMSTEEN, KANSAS, GARY MOORE, etc.). The music is perhaps not so interesting for the die-hard AOR fans, because it has nothing to do with So fired up, but this new album is nevertheless a sensational healthy mix of Blues, Southern Rock an Westcoast, with the superb soulful vocals of newbie Jeff. 10 songs are included, starting with the titletrack One of those days, which immediately grabs your interest, because this is a lovely 6 minutes counting prime-time summer friendly midtempo Westcoast/AOR tune with superstrong vocals and a sound that reminds us of the glorious 1970s, quite close to ORLEANS for example. Next track No one's gonna love me is more soulful and slightly poppier, with a sorta STEVIE WONDER vibe, yet also with lovely twin-guitarsolo's a la WISHBONE ASH. Lucy Anna picks up the classic Southern Rock meets Westcoast meets bluesy New Orleans sound, with it's huge catchy chorus, it is one of the highlights here. Don't rescue me is a very cool Southern Rocker with strong guitarwork, it is akin to classic BLACKFOOT, LYNYRD SKYNYRD and DOOBIE BROTHERS, also featuring big harmonyvocals during the catchy soulful chorus. After all is a pure classic Soul Ballad in the style of SAM COOKE, LEON BRIDGES, CURTIS HARDING... , with brilliant singing of JEFF MCCARTY, who also reminds me a bit of GLENN HUGHES. Following track Nothing left to lose is a great Southern Rocker, while The song goes on is a fantastic laid-back DOOBIE BROTHERS meets SANTANA kinda semi rocker that combines blues and southern rock with a New Orleans soulful vibe. The most AOR based song is Lifeline, which is of course a new (lengthy) version of the So fired up featured classic tune. It now sounds like a rather cool Westcoast pop/rock song with superb vocals of Jeff again, this time reminding me a bit of FM's STEVE OVERLAND. After the instrumental Sauce piquante, the Soulful Pop/Gospel ballad New Orleans ladies closes the album quite nicely, reminding me a bit of PAUL CARRACK and BOB CARLISLE, with amazing vocalwork. One of those days is a huge surprise and without a doubt, this is a fantastic return of the legendary LOUISIANA's LE ROUX! Check out everything you need to know about this lovely record at: https://www.leroux.band/
(Points: 8.7 out of 10)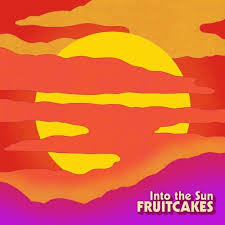 THE FRUITCAKES 'INTO THE SUN' (PIAS/SWITZERLAND IMPORT)

Formed in 2011 as a trio, the Polish band FRUITCAKES deliver quite a masterpiece with their 3rd album Into the sun. As soon as the album starts, I immediately feel we are onto something really good and very interesting. Opener Wherever is a calmer 60s influenced Progressive/Psychedelic pop/rock tune with a certain melancholic approach, but also very melodic lead- and harmonyvocals that almost touch the classic CROSBY, STILLS, NASH & YOUNG territory. The music is more going into the atmospheric late 1960s THE BEATLES meets PINK FLOYD direction. They are doing it so well, it almost makes you think you're fooled here and we are listening to a re-issues of an old classic from 50+ years ago! FRUITCAKES is however a real new band consisting of Jakub Zwolan on electric guitar, Przemyslaw Bartos on bass, Luki Tymanski on drums and Tomasz Zietek on vocals. Luki is by the way the oldest son of film score composer Ryszard 'Tymon' Tymański and Tomasz is a well-known actor who has starred in films such as 'Corpus Christi', which was nominated for the Academy Award for foreign films! Back to this new album of their band FRUITCAKES, it is a fantastic adventure that continues the described sound of the first song right until the end with Words of love. There is not a single weak moment to be found, which is thanks to the superstrong vocals of Tomasz, as well as the laid-back feeling of the 3 musicians in the band. They really sound like the perfect cross between THE BEATLES, THE BYRDS, PINK FLOYD, CAMEL and CROSBY, STILLS, NASH & YOUNG, although if you like for example TAME IMPALE's last record or even FLEET FOXES, then you will also surely love this sensational new album of FRUITCAKES. This could well become a classic in the future to come and maybe one of the greatest prog releases of the past few years! More info at: https://www.facebook.com/TheFcakes/

(Points: 8.8 out of 10)





JOHN VERITY 'PASSION' (VAVOOM RECORDS/UK IMPORT)

British singer/songwriter JOHN VERITY has a very long music history (50 years!) and is perhaps best known as performer for memorable classic AOR/Melodic Rocksongs during his time with legendary acts like PHOENIX, CHARLIE and VERITY in the 1970s and 1980s. When hearing the opening cut of his new solo album Passion, I connected immediately with him again, because this is a superb uptempo 80s Classic Melodic Rock with a lovely catchy chorus in the style of CHARLIE, PRISM and VERITY. John however is a real bluesman actually and most of the rest of the material on this new album is high class Bluesrock orientated, but thankfully they do sound very impressive as well. 8 songs are included in total and the bluesrock does remind me a bit of classic GARY MOORE, although John is a better singer than Gary was. Songs like Sand in my pocket, Bad boy or The open road are all well-crafted Bluesrockers that will not only appeal to GARY MOORE fans, but they are also highly recommended if you like for example JOE BONAMASSA, WALTER TROUT and such real bluesrock performers. I am so glad John is still alive and kicking and for me personally it's been a while since I last heard his voice and to hear him sing as good as on his new solo album Passion, it immediately gives me the motivation to get back in his catalogue to enjoy much more of this great singer! More info at: www.johnverity.com

(Points: 8.3 out of 10)


L.A. TAKEDOWN 'OUR FEELING OF NATURAL HIGH' (CASTLE FACE RECORDS/USA IMPORT)

Whoever said that instrumental music was boring should have a listen to the 3rd album of L.A. TAKEDOWN. Although it is not entirely instrumental, the main portion of Our feeling of natural high is filled with instrumental music that is best described as a mix between 1970s Krautrock (TANGERINE DREAM) and 1980s Sci-Fi movie soundtracks (THE TERMINATOR) or Retro-Wave (MAGIC SWORD) with a sorta Japanese City Pop influence added as well. The result is very impressive and a pleasure to listen to from start to finish. L.A. TAKEDOWN is the band or project of L.A. based musician AARON M. OLSON, who gathered a bunch of musicians to help him create this sound. There is also a guest appearance of the Japanese singer YUKIHIRO TAKAHASHI of YELLOW MAGIC ORCHESTRA. 8 long songs are included and if I have to point out the highlights mine would be Sunset report (a superb sensational uptempo 80s influenced AOR/Symphonic Rocker that feels a bit like ASIA), Top down, heater on and Hugs on the beach (both perfect 80s City Pop sound) and the vocal featured closing track When it's over. Quite a surprising release and definitely an album you need to have in your collection! Check out all at: https://latakedown.com/

(Points: 8.6 out of 10)


JULIAN TAYLOR 'THE RIDGE' (HOWLING TURTLE INC/ITS ALL HAPPENING)

In contrast to most other releases that have been postponed due to the corona virus, Canadian singer/songwriter JULIAN TAYLOR decided to release his new album earlier than planned. Julian comes out of Toronto and played in the popular band STAGGERED CROSSING in the 2000s, but after that band broke up in 2007, he has built a solo career. His music is melancholic country/Americana pop/folk with a focus on memorable melodies that clearly make you think of long gone summerdays. The ridge is his 6th album so far and without a doubt, this is a sensational and really beautiful album. Julian's voice is crystal clear and a blessing to listen to. The only pity might be that there are only 8 tracks on the album, so it's a rather short record, but thankfully the music is of a constant high level from start to finish. Opener and titletrack The ridge is a fantastic uptempo Americana popsong that sounds like a perfect cross between CALEXICO and JOHNNY CASH. Next song Human race slows things down and is a beautiful calmer pure 1970s melancholic Country pop tune that reminds me a lot of DAN ENGLAND and JOHN FORD COLEY, although I even think fans of DANNY VERA will appreciate this. It's not enough is a very strong melodic semi-ballad that is basically radio-ready and very memorable during the catchy chorus. From the other 5 songs I would like to point out the amazing calmer JAMES TAYLOR ish Be with you, where you can hear what a fantastic singer Julian is. And also the JOHNNY CASH ish Ola, let's dance should be mentioned. I cannot believe this Canadian singer/songwriter has not yet reached a bigger audience outside Canada, because he definitely deserves that. Do not miss this superb Canadian singer/songwriter at: https://juliantaylormusic.ca/


(Points: 8.7 out of 10)



NOTORIOUS 'GLAMOURIZED' (SLIPTRICK RECORDS/NORWAY IMPORT)

When looking at the songtitles of the debut CD of the Norwegian band NOTORIOUS, it's like we are back in 1985, because back then songs with titles like Friday night, Run for your life, Tonight and Have a good time were quite normal to appear on any given Hardrock/Metal release. However, it's 2020 and nowadays we don't see such songtitles much anymore until this CD popped up! Thankfully, the included music is of a high level and done the way it needs to sound, because basically this is Party/Glam Hair Metal in the best 1980s style, with clear influences from MOTLEY CRUE, POISON, TIGERTAILZ and with a bit of 80s SCORPIONS (especially the KLAUS MEINE kinda voice), a lot of STRYPER and there's also Melodic Hardrock influences included in especially the guitar department (hello YNGWIE MALMSTEEN!). Combine all these bands, then you're close to NOTORIOUS, a band from Bergen, Norway, whom are formed around Chris Hoüdini - lead vocals, Nikki DiCato - lead guitar/backing vocals, Andy Sweet - bass/backing vocals and Freddy Kixx - drums. Glamourized is a tribute to those long forgotten 80s days with 10 catchy mostly uptempo Partyrock anthems. Highlights are Flying high, Notorious, I walked in and Run for your life, while the keys, soaring guitars and super melodic chorus of Summer night make this song a dream for the Melodic Rockfans out there (80s BON JOVI/H.E.A.T. style). However if you miss those days of MOTLEY CRUE, POISON, PRETTY BOY FLOYD, STRYPER, then look no further than NOTORIOUS! More info at: http://www.notoriousofficial.com



(Points: 8.4 out of 10)




LETTUCE 'RESONATE' (ROUND HILL RECORDS/USA IMPORT)





Out of Boston comes the band LETTUCE, whom have been active since 1992 and actually started back then at the famous Berklee College of Music. The band's music is groovy Funk in the classic 1970s style of EARTH, WIND & FIRE and TOWER OF POWER, yet most of the time instrumental. It took them some time to release a debut album, but since 2002 they release every now and then a new album and Resonate is their 7th so far. Their line-up consists of Erick "E.D." Coomes – bass guitar, Adam Deitch – drums, percussion, Adam "Shmeeans" Smirnoff – guitar, Ryan Zoidis – alto sax, baritone saxophone, tenor saxophone, Eric "Benny" Bloom – trumpet and Nigel Hall – vocals, Hammond B-3 organ, Clavinet, piano. When hearing such lovely groovy tunes like Blaze, Good morning mr. Shmink or Ndugo, you can't help to get up and dance, as this is fun music the way it used to be made. There's also a lot of classic Soul and R&B influences and actually sounds a bit like an instrumental version of popular new bands like MONOPHONICS, THE BLACK PUMAS and ALTIN GUN, with the horns added in pure EARTH, WIND & FIRE style. One of the absolute highlights is the superb Silence is golden, which has such a strong melody that is carried by a sorta Shaft like sound, very 1970s, but also Moksha needs to be mentioned, as this song has a light Arabic touch and sounds like a cross between ALTIN GUN and TAMIKREST. The only thing one can hope is that next time more vocals are added, because when you hear such a terrific groovy Westcoast-Neo-Soul vocal tune such as Remember the children, which is as good as for example THE BLACK PUMAS or YOUNG GUN SILVER FOX, you want to hear more and more of such vocal songs. The band's diversity should also be praised, because a song like House of lett is basically pure Funk-Disco a la CHIC! All together, these guys exactly know what they are doing and anyone into groovy classic 1970s Funk with some influences of other genres as well, please do check out this sensational album! More info at: https://www.lettucefunk.com/

(Points: 8.6 out of 10)




THE DML CONSPIRACY 'AN ACT OF DEFIANCE' (SONIC SMACK RECORDS/USA IMPORT)

Straight out of the underground scene of Houston, Texas comes THE DML CONSPIRACY, an original AOR/Melodic Rockband with a sound I heard a lot throughout the 90s independent US melodic rockscene, which was of course musically speaking based on the 70s/80s Classic Radio/AOR Rock format in the USA and influences by acts like JOURNEY, BON JOVI, AEROSMITH, HEART, STARSHIP, BOSTON and such. They have already released quite a few albums and their latest is An act of defiance and I have to say it sounds very good actually and with 14 songs included in total there's a lot to enjoy here. The band is a 7-piece band with shared female/male vocals and the full line-up consists of Dodd Michael Lede - Lead Vox & Guitar, Shawna Cole - Lead & Backing Vox, Landyn Lyerla - Guitars & Vox, Lance Stephens - Guitars, Steve Green - Keyboards & Vox, Shawn Carr - Bass and Marty Flynn - Drums. The music is pure Melodic (Hard) Rock with a focus on catchy hooks and melodic choruses, with a healthy mix of uptempo and groovier midtempo rockers, of which the best are So over it (uptempo AORish rocker with a very strong melodic chorus), California (fantastic pure uptempo classic 80s AOR that even reminds me of MICHAEL MORALES, NELSON, PHIL VINCENT and the 1990s MTM MUSIC releases!), All I need (midtempo fun melodic rocker like a mix between INNUENDO, NELSON and early 90s BON JOVI, with strong harmonyvocals), The full affect (uptempo summer-friendly AOR/Poprock that sounds like a cross between early 80s RICK SPRINGFIELD, 3 DOORS DOWN and NELSON) and Memory interrupted (very strong uptempo catchy Melodic Rocker with soaring guitars like FIREHOUSE meets NELSON). This is definitely a huge surprise and although it might not be original and to some of you might sound a bit dated, the AOR/Melodic Rockfans surely will like this album a lot, especially if you follow the MTM, FRONTIERS, ESCAPE MUSIC kinda releases the past 25 years and are familiar with NELSON and INNUENDO, then you must check out this album a.s.a.p.! Do not miss this band, for more info go to: https://dmlconspiracy.com/

(Points: 8.4 out of 10)


KAIJIN SOLO 'UNIVERSAL LOVE' (FOGHORN RECORDS/AUSTRALIA IMPORT)

Out of a small town north of Sydney, Australia comes KAIJIN SOLO, a singer/songwriter/guitarist, who sent me his 5 tracks counting solo album, which musically is a nice melodic rocking affair with a rootsy rock vibe. Opener Universal love is a slightly more complex and calmer affair, but next tune Spirit on the wind is a very strong catchy uptempo rootsy melodic rocker that sounds like a cross between NEIL YOUNG, NOISEWORKS and MIDNIGHT OIL. Kajin has a raw and quite raspy voice, but it makes his music therefore sound rawer and at times even going into a TOM PETTY ish direction, especially during the Americana acoustic tingled uptempo pop/rocker Into the dream. The other 2 songs are the uptempo rootsy melodic rocker The republic and the latin influenced pop/rocker Sunshine. Definitely a high profile artist with a sound that is universal and I would definitely recommend KAIJIN's music, so please go check out more info on him at: https://www.facebook.com/kaijin.solo

(Points: 8.0 out of 10)

MAIN ST. REVIVAL 'MAIN ST. REVIVAL' (INDEPENDENT/CANADA IMPORT)

Out of Ottawa, Canada comes MAIN ST. REVIVAL, a band with a very strong high quality melodic rootsy classic rocksound that is based around catchy hooks and melodic choruses, combined with slightly rawer lead vocals and in the end they are sounding like a perfect cross between BRUCE SPRINGSTEEN, DAVE MATTHEWS GROUP, SONS OF BILL, DAWES, THE JAYHAWKS and TOM PETTY. The band was formed just recently and in 2019 they released their debut album. The band is formed around Doug Wallace, Alan Charlton and Erik Hertzberg and basically you'll get a really nice tight radiofriendly melodic pop/rocksound that reminds me of the earlier mentioned artists. Best songs are the uptempo rockers Night rider, I wouldn't worry, Wild one and Rescue me and I am safe to say that you will like this band a lot if you're into any of the mentioned bands. Done very well and go check them out at: https://www.mainstreetrevivalband.com/music

(Points: 8.3 out of 10)

LANNON 'GUIDE ME THROUGH THE DARK' (INDEPENDENT/UK IMPORT)

Out of London comes LANNON, a band formed in 2009 and consisting of Johnny Icon (Vocals), Lucien Yorg (Guitars), Lzi Hayes (Bass) and Igor Jankovski (Drums). It took some time for them to release an album, but in 2017 they managed to release their debut Guide me through the dark. The included material is of a very high level and their modern brand of melodic heavy rock with nu-metal riffs will therefore definitely appeal to fans of bands like LIFE, ALTER BRIDGE, THREE DAYS GRACE, SHINEDOWN, DISTURBED, so it is clearly focused on the American way of rock which is loaded with catchy melodies and choruses to sing-a-long with. The production/sound is major label ish, so this could been indeed signed to one of the bigger American labels. The only pity might be that the band sounds a lot like the American bands and there is not yet an own identity, but the upcoming new album could bring some change in that, because the preview was already very impressive. Nevertheless, this 7 tracks counting album is still a highly recommended album for fans of aforementioned acts, with as highlights the fantastic Chameleon, Living hell and Firefall. Most of the songs are in a similar midtempo American modern melodic heavy rocking style, so perhaps with a bit more diversity in tempo, it would already make a difference to get noticed betwee the countless other bands in this genre. For example the semi-ballad The return shows the band in a very emotional direction and basically this is a wonderful tune that sounds just a little bit different than the rest. Despite not having an own identity yet, this album still sounds really sensational and I can't wait to hear and review their new album soon, especially since there are guest appearances by musicians from PENDRAGON, ANATHEMA, MINDFEEDER, SECRET SPHERE and more! LANNON are definitely one of the better bands in this genre, with a strong potential to further grow and eventually compete with the established acts. Check them out at: http://johnnyicon.net/lannon

(Points: 8.5 out of 10)

ANDERS ERIKSSON 'MAN ON FIRE' (INDEPENDENT/USA IMPORT)

The name ANDERS ERIKSSON did ring a bell somehow, but I could not really connect it with a name in the past, but when searching on the internet I found out that I reviewed his album Within reach 23 years ago! I think I'm now really getting old, but still not tired of hearing new music, because Vancouver based singer/songwriter ANDERS ERIKSSON sent me 2 of his albums he released in the past 5 years. The mini-CD Mother paradise and new album Man on fire and both feature excellent catchy Melodic Hardrock, with some AOR/Melodic Rock influences, basically in the classic Canadian style of HAREM SCAREM, HONEYMOON SUITE and also reminding me a bit of of MITCH MALLOY, PAUL LAINE and even TYKETTO. Anders has a strong voice and the material sounds really good here! Highlights on the mini album are the superb catchy uptempo melodic rocker Mother paradise (HONEYMOON SUITE/HAREM SCAREM ish) and closing Melodic Rockballad Situation (a la MITCH MALLOY and the very first HAREM SCAREM). The new album Man on fire continues this style and offers many more great tunes, such as How many mountains (lovely catchy uptempo melodic rocker in the style of the very first HAREM SCAREM classic!), The way I feel (very catchy sing-a-long chorus, Melodic rock gem!) and the beautiful AOR ballad For less than stellar crimes. Here and there, we can also hear a few modern touches, so it doesn't sound dated at all and is therefore slightly different than the earlier mentioned bands (especially during Still the same). The catchy choruses and hooks however are definitely a dream for the melodic rockfans among us! It's really great to see a comeback from such a talented musician and I can easily recommend his albums to fans of the mentioned bands! More info at: http://www.anderseriksson.com/

(Points: 8.5 out of 10)

DANNY VERAS 'UNDER THE INFLUENCE' (INDEPENDENT/USA IMPORT)

As soon as I saw the name DANNY VERAS I was likewise thinking of our own Dutch artist DANNY VERA, but with the S in addition, we have a completely different musician here. DANNY VERAS is coming out of Fort Lauderdale, Florida and he was kind enough to sent me his album Under the influence. Danny was born in Brasil a few days before I was born (1st of May 1977) and travelled all over the world to sing in all kinds of clubs, events, playing and recording with bands and on his own. Under the influence features a couple of well-known musicians helping him out, such as producer/guitarist PAUL SABU, who wrote a few songs, WHITE SISTER vocalist/bassist DENNIS CHURCHILL DRIES and PETER IN DE BETOU (known for involvement on at least 1000 records in the Swedish pop/rock/metal business!), who did the mastering. The result is a great Melodic Hardrockalbum, which consists of originals (mostly written by Paul) and a lot of covers (BEATLES, TURTLES, SCORPIONS, BON JOVI, ANIMALS...). Done very well, with a great original like the melodic rocker Blinded, but also strong melodic rocking covers of classics such as Daytripper, Happy together, Send me an angel, Wanted dead or alive and We gotta get out of this place. Hopefully a future release will see more originals than covers, because Danny is surely able to sing very well and I would love to hear more original material. Meanwhile, more info at: http://dannyveras.info/

(Points: 8.3 out of 10)

SARAH WALK 'ANOTHER ME' (ONE LITTLE INDIAN RECORDS/KONKURRENT)

In 2017 the L.A. based singer/songwriter SARAH WALK released her debut album Little black book and now 3 years later follow up Another me is released. Sarah has an amazing voice that perfectly fits the music, which is very melodic and melancholic and despite most of the songs are quite calm, there is something about Sarah's voice which makes it impossible to resist listening to the full album. She is a graduate of Berklee College of Music (ST. VINCENT, AIMEE MANN, MELISSA ETHERIDGE and DREAM THEATER among many others are also alumni) and her new album is a lovely adventure to experience. What do I want? is a lovely midtempo pop/rock that builts up from calm to explosive towards the end of the song, and it showcases perfectly the wonderful vocal skills of Sarah. The very calm piano-led dreampop of Another me (fix myself), On the outside and Same road sound a bit like WEYES BLOOD, while Nobody knows has a more uptempo approach. Not a single weak moment on this album and surprisingly, this could secretly become a very succesfull album, because it features almost non-stop beautiful melodies thanks to the sensational melodic laid-back way of singing by Sarah. There is also enoug variety to keep the attention, because the simpler piano only Crazy still is followed by the exciting and haunting Take me as I am, where producer LEO ABRAHAMS (DAVID BYRNE, BRIAN ENO, WILD BEASTS) clearly paves her path into a more adventeruous direction due to the complex drums, but Sarah always holds on to her beautiful melodic voice and makes this song an absolute winner! Thinking man's high quality modern day popmusic, dreamy, melancholic, somewhat dark, but always hynpotical and almost cinematic, this is how to describe SARAH WALK's 2nd album and for more info go to: https://sarahwalk.bandcamp.com/album/another-me and http://www.sarahwalkmusic.com/

(Points: 8.7 out of 10)

SNEAKS 'HAPPY BIRTHDAY' (MERGE RECORDS/KONKURRENT)

Out of the Baltimore–Washington metropolitan area comes SNEAKS, an act formed around EVA MOOLCHAN. She mixes hip-hop, post-punk, and queer black feminism on her latest album Happy birthday (out in August 2020). Influenced by anything between NIRVANA, ROBYN, BRITNEY SPEARS and LIL MAMA, her album goes into various directions musically speaking, although here and there it is a rather cool 80s post-punk/wave/pop/funk/disco mixture album like we can hear in for example the uptempo opener Do you want to go out tonight, which is a strong uptempo piece. The funky disco influenced Faith follows nicely and is somewhat reminding actually of the very early 1990s (DEE-LITE). There's also some rapping going on and Scorpio on your side and Slightly sophisticated drift into pure 80s influenced hi-tech where Funk meets Breakbeat dance in a somewhat complicated post apocalyptic world, which is actually quite fascinating! It is one of those albums you want to hear if you want to hear something completely different! more at: https://www.sneaksband.com/

(Points: 7.7 out of 10)

KELLY LEE OWENS 'INNER SONG' (SMALLTOWN SUPERSOUND/KONKURRENT)

Out of Wales comes KELLY LEE OWENS, who releases her 2nd album with Inner song. The album took quite a number of years to finish and now due to the corona virus it was even postponed. However, Inner song will eventually be released in late August 2020 and so we can discuss her new album. One of the surprises here is the appearance of JOHN CALE (founder of VELVET UNDERGROUND) as guest singer on the song Corner of my sky. Although John is known for being a musician who experiments and found a way to get into electronic music, Kelly's music is definitely going really into electronic music, because Inner song is an old school Techno album that reminds me of the early 1990s. On is back for example is classic early 90s Techno, yet with a poppy undertone and lush vocals added to give it a modern touch. It's actually like an intelligent mixture between SPEEDY J and ENYA if you can imagine that! Techno how it used to sound, old school and really cool, while vocally it's melancholic and hypnotitical, sorta dreaming off to another world. Jeannette is another such an uplifting beat song with the classic techno feeling. Most of the songs follow this style actually, sometimes a bit more laid-back like during Re-wild, while the standout song is L.I.N.E., which is a very calm relaxing almost 80s type of slow tune R&B pop (JANET JACKSON!!!), with very strong vocals as well and a really great tune! It's a retro sound that will in the clubs definitely make an impact and you can check it for yourself at: https://www.kellyleeowens.com/

(Points: 8.1 out of 10)

WARGIRL 'DANCING GOLD VINYL RECORD' (CLOUDS HILL/GERMANY IMPORT)

Out of Long Beach, California comes the band WARGIRL and they are described as "world garage rock disco", but there is much more than meets the eye for sure. In fact, they seem to blend a lot of genres, going from rock to disco and still cover everything in between. The band consists of Samantha Parks, Enya Preston, Tamara Raye, Matt Wignall, Erick Nieto, and Jeff Suri, and Dancing gold is their 2nd album. It was produced by MARK NEILL (who worked on the production of THE BLACK KEYS' Brothers) and the band's guitarist Matthew. I was lucky enough to receive the vinyl LP version of the album and I must say it couldn't sound any better than this! Dancing gold is a sensational record that offers from start to finish really strong diverse material. Opener Drive and also next track Dancing gold are lovely midtempo slightly funky rockers with a very catchy groovy beat, strong soulful female vocals and memorable choruses, overall sounding kinda like a calmer LARKIN POE, with a touch of late 70s danceable Soul/Funk. It rocks more than I expected and I must say it is quite sensational actually, with superb female vocals and the kind of rhythms you don't hear much in today's rockscene. Earlier this year DE WOLFF and BLACK PUMAS put out records in this style, which is more or less groovy soulful funky rock. The only difference here is that WARGIRL is female vocals of course. Hang on is going for a more uptempo quirkier approach and in the end feels like a late 1970s disco influenced poprocker that rocks just a bit more than DONNA SUMMER and BLONDIE did back in the day. 2069 is another 1970s influenced funky disco tune that is probably the poppiest song on the album. Pretend is a very cool hit potential driven funky pop/rock song that feels like like a laid-back chilling summer song with even a sorta Westcoast/Fusion kinda beat and especially the bass takes an important role in this song, making it sound like the CHIC song that was never recorded! Side-B of the record opens with Echoes that goes for that classic beat again like earlier mentioned when talking about DE WOLFF (Tascam tapes) and BLACK PUMAS, which is done so well, you would actually think this is a song from the funky mid 1970s 'Shaft' area. Echoes is definitely another hit potential song that could easily be played on the radio! It somehow looks like the album gets better and better while it continues, because also the following midtempo groovy funky rocker D.B.M.D. (Don't bring me down) has that classic 1970s vibe. Whatcha say also has this soulful R&B influenced rocking vibe a la LARKIN POE and even a bit BETH HART. More going the funky disco route is I told ya and closing track Cry is a very nice 60s influenced R&B ish shuffle ballad like a mix between THE SUPREMES and DUFFY. Concluded, WARGIRL has delivered an album that should be heard a.s.a.p., because despite a lot of comparisons I mentioned, they do have an own face and makes them standout between the masses. Check them out at: https://cloudshill.com/artists/wargirl/

(Points: 8.6 out of 10)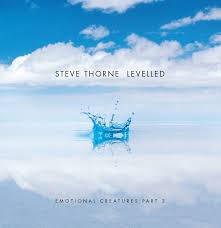 STEVE THORNE 'LEVELLED - EMOTIONAL CREATURES PART 3' (NINETEEN 73 PROMOTION/UK IMPORT)
If there is one artist whom in another lifetime or period in time of music history could have become a major star it must have been STEVE THORNE. In the 1970s Progbands like GENESIS, YES, PINK FLOYD, ALAN PARSONS PROJECT and KAYAK scored massive hitalbums and throughout the 1980s MARILLION, PETER GABRIEL, IT BITES, CUTTING CREW (and also YES and GENESIS of course) and such scored a string of succesfull hitsingles one can still hear nowadays, but somewhere in the 1990s these so-called hit potential Progpopsongs slowly died sadly. It was actually progacts making intelligent melodic poprock material suitable for airplay, but with the turn of the decade the progbands started focusing again on more complex prog that was by 1995 old-fashioned in the eyes of the masses. Of course it was still created and for example a band like JADIS, KINO, PORCUPINE TREE and countless others also had that hit potential with a lot of their songs, but radio just didn't play them anymore. Back to STEVE THORNE, because he has released 5 wonderful albums since 2005 and now comes up with perhaps his finest album, which is part 3 of his epic adventure Emotional creatures: Levelled, which is his 6th CD in total. The minute you put on this CD you can hear an incredible musician with a voice that reminds me of PETER GABRIEL and the music is a mix of KAYAK, PINK FLOYD and ALAN PARSONS PROJECT's song orientated Progressive Poprock with here and there a rockier affair (World salad surgery), but most of the time it has that beautiful relaxing feeling you had in the past when the aforementioned acts were played on the radio. Just listen to Rainy day in New York or Psalm 2.0 and you can hear something incredible that absolutely needs to be heard by any fan of real music. The vocals of Steve are simply stunning and the melodies he creates are impossible to stop listening and so this CD does not have a single dull moment. It's music of the highest level and what more can I say than to highly recommend this sensational record that belongs to the top 10 of albums released in 2020 and could possible become Progalbum of the year! Must-have for fans of KAYAK, IQ, PENDRAGON, PINK FLOYD, PETER GABRIEL... You can call it Neo-Prog, Progressive Pop/Rock or whatever, but I think it's best to just blindly purchase this album, because it will not get any better I think (no, not even the new AIRBAG can beat this record!). Prog's best kept secret should be unlocked with this new album of Steve! More info at: https://www.steve-thorne.co.uk/
(Points: 9.0 out of 10)
THE WOODEN FACES 'FLYING THE WRONG WAY TAPE' (GENTLEMEN RECORDINGS)
There was a time in my 25+ years of reviewing music when I received tapes almost daily. Most of them were demo tapes from small bands all over the world, but also the labels sent out promotional tapes before the CD was officially released. Times changed and eventually we are now living in a digital world for the big masses, but thankfully Vinyl Records made an incredible return and even the good old fashioned Tape is slowly making a recovery after a long period of inactivity. In fact, there are now actually bands that only release some of their material on Tape only. THE WOODEN FACES for example recorded their new album seperately for the digital computer and analog as in releasing it on Tape, so when you would listen to both recordings, you might discover the difference in recording music nowadays and like it was done in the past. Their tape was sent to me, which is of course great, because I am now able to listen to a brand-new Tape with new music created in the good old analog way by the Sunderland, UK settled band THE WOODEN FACES. The music is very melodic and has a strong 1990s approach, so clearly reminding me of those 90s tape days! There's some NEIL YOUNG influences going on, although vocally THE WOODEN FACES are better and songwise more melodic, and there's much more to discover if we pick out the highlights. Edge of town is a really cool Americana ish pop/rock tune like CALEXICO, Trust me has a 90s US College Rock vibe a la R.E.M. and Flowers of regret has a certain TOM PETTY orientated heartland poprocksound. Give your love away is a very melodic tune, a sorta midtempo Melodic Rocker with some similarities to THE SMITHS and STEREOPHONICS. The speed of the sound of loneliness is a country/rockabilly ish uptempo tune, very catchy and melodic and quite different than the rest, which was definitely more akin to Alternative/College Pop/Rock. For loving you is one of the strongest songs on the album, because this THE SMITHS ish midtempo rocking song has a very catchy melodic chorus and a cool rocking beat. I swear that I had not read anything regarding their biography or influences, but somehow the ones I mentioned are also their big influences! If this is interesting for you, check them out at: https://www.gentlemenrecordings.com/product/the-wooden-faces-flying-the-wrong-way/ and https://www.facebook.com/thewoodenfaces/
(Points: 8.3 out of 10)
CAROLINE BREITLER 'COURAGE' (INDEPENDENT/SWISS IMPORT)
Not so much info on this album, but it starts with a rather catchy uptempo Melodic Hardrocksong titled Land of hope, which is followed by a very strong uptempo AOR rocker titled Lay your body down, so it sounds very promising from the beginning. Courage is the debut album of the Swiss singer/songwriter CAROLINE BREITLER, who gathered a lot of musicians around her, such as Mike Malloth (Drum), Andreas Caplazi (Keyboard), Nino Lentini (Guitar), Doug Campbell (Guitar), Tom Gasser (Bass) and producer Alessandro del Vecchio (HARDLINE). Caroline sang a duet with the legendary MARC STORACE of KROKUS on a TV show and has been in bands and projects throughout the years. However, Courage is her first official album release and I must say it sounds quite impressive! The music is very 1980s orientated Melodic (Hard/Pop) Rock/AOR of the FRONTIERS RECORDS school and reminding me of ROBIN BECK, FIONA, JODI BONGIOVI, JACKIE BODIMEAD, ANGELA AND THE RUDE, although on a few songs it's a little poppier (ROXETTE). A lot of the included songs are uptempo rockers, but there is also an 80s Power Ballad available in the shape of Church, which sounds like a cross between HEART's Alone, ROXETTE's Listen to your heart and BONNIE TYLER's Total eclipse of the heart, with also that classy guitar solo. Besides the aforementioned first 2 songs other highlights are Judgement day (best song, a fantastic uptempo high class AOR rocker like RACHEL RACHEL, WITNESS, LAOS, HEAT...), Sparkle in the dark (catchy uptempo hookladen AOR with classy 80s chorus, even a bit DANTE FOX, COASTLINE, ALYSON AVENUE) and closing track Lights go down (a duet with a great male singer, starting as piano ballad but it develops into an AOR Rockballad that might sound a bit cliche tingled, it definitely is a strong tune nevertheless). The material might not be really original, but on the other hand the performance and strong vocals of Caroline are definitely making it a winner for the fans of 80s female fronted AOR/Poprock. More info at: https://www.carolinebreitler.com/
(Points: 8.4 out of 10)
NEW NEKTAR 'MEGALOMANIA' (SIREENA RECORDS/ON STAGE RECORDS/GERMANY IMPORT)
The addition of NEW to the NEKTAR name says it all, because we are dealing here with a different version than the legendary German Kraut/Progrockband NEKTAR we all know from the past. Nevertheless, NEW NEKTAR also has members with roots in NEKTAR, because Klaus Henatsch was the keyboardist for the past 11-years in NEKTAR and along with Alex Hoffmeister on guitars, NEKTAR's recent bassist Tom Fry and NEKTAR founder Roye Albrighton's own son Che Albrighton on drums, the connections with NEKTAR are clearly present here. The music is less kraut and also not entirely progrock either, because it is more classic rock based with prog elements. I have to say that the vocals are not the strongest point of NEW NEKTAR and they should have used a real lead singer. Anyway, the music is quite nice and the 8 included songs are wlel done, with as highlights Where Do We Go To (great AOR/Melodic Rockballad), Smiling Face (nice sympho-semi rockballad) and Intermezzo 2 (nice jazzy proggy light). The other 5 songs are lengthier progressive classic rocksongs with some great instrumental passages. The album already dates back to 2018, so hopefully soon a new album will be released, but meanwhile check out this different version of NEKTAR at: https://nektarband.com
(Points: 7.6 out of 10)
RAINIUM 'SOUNDS OF BERLIN' (INDEPENDENT/SWISS IMPORT)
German guitarist RAINER KRENZKE managed to get the legendary MICHAEL VOSS on lead vocals for his first album of RAINIUM. Michael is of course known for being involved with a lot of bands and releases in the Melodic Hardrockscene, such as MAD MAX, CASANOVA, DEMON DRIVE and many more. Together with the English guitarist JAY PARMAR (EDEN'S CURSE) and bassist MARCO TARDANICO (ELA) they recorded Sounds of Berlin. You might wonder where the drummer is, but Rainer is paying tribute to his city Berlin by using the (techno) beats he heard in Berlin as drums, which actually is only notable during a few songs, because overall it still sounds like there is a drummer playing! Anyway, the music is typical German Melodic Hardrock in the CASANOVA/BONFIRE/VICTORY style. Although 12 tracks are included, it's actually 8 as we don't count the short intro and 3 different versions of those 8 songs. Perhaps nothing new is happening here, it still is a very nice melodic hardrock affair, with such great songs like Two friends, Sounds of Berlin, Farewell and the co-female vocal fronted Right here right now (ILONA SCHNITTCHEN). Fans of mentioned bands/MICHAEL VOSS should definitely check out this album at:
(Points: 8.3 out of 10)
WET WILLIE 'WET WILLIE/WET WILLIE 2' (BGO RECORDS/UK IMPORT)

The Alabama, USA based WET WILLIE is one of many bands that got signed to a major label in the rocking 1970s, scoring a rare hitsingle and releasing a lot of records before splitting up and like everything in life itself, at a certain moment in time the band got back together again in the 1990s and still play live every now and then. Anyway, their first 2 albums for CAPRICORN RECORDS have now been re-issued onto 1 CD, with a nice extensive booklet with all info on the band. The band's music was typical 1970s Classic Rock as we call it nowadays, mixing British bluesy rock with the Southern Rock of the US and belting it out with soulful vocals. Think of a mix between FREE, HUMBLE PIE, FOGHAT and LYNYRD SKYNYRD, with a certain slight touch of Soul in the vocal department. The 2nd album Wet Willie 2 from 1972 rocks a bit more than their debut from 1971, but overall we have here a great mixture of rockers and (semi) ballads, with as highlights Dirty Leg, Spinning Round, Rock And Roll Band, Grits Ain't Groceries and Shotgun Man (the rockers) as well as Faded Love, Pieces and It Hurts Me Too (the semi-Southern fried rockballads). The band also throws in some classic Boogie influenced old time rock and roll here and there, such as during Keep A Knockin' and Shotgun Man that reveal LITTLE RICHARD influences. All together it's good to see this band getting attention again through this CD, because their original albums are harder to find these days and WET WILLIE is definitely a band you should check out if you're for example into the current Southern Bluesy rocksound of bands like RIVAL SONS, BLACKSTONE CHERRY, BLACKBERRY SMOKE, etc etc. Available through: https://www.bgo-records.com/product/wet-willie-wet-willie-ii
(Points: 8.3 out of 10)
MR. FOX 'MR. FOX/GYPSY' (BGO RECORDS/UK IMPORT)
In the early 1970s Folkrock was a new sub-genre and bands like FAIRPORT CONVENTION, STEELEY SPAN and LINDISFARNE were the major acts whom really shaped the sound of Folkrock. Eventually they were also the few ones surviving the electronic/producer driven 1980s period and perform in one or the other way again throughout the world as an original Folkrockband. I saw members or even a full band of these aforementioned bands live a couple of times in recent years. However, when we go back to the early 1970s when Folkrock was at their peak, many other less known bands were active and one of them was MR. FOX. This band was formed already back in the 1960s by Bob and Carole Pegg, who gathered a bunch of musicians around them in the following years and recorded 2 albums as MR. FOX. I would not say these are classics in the Folkrock genre, but I do think if you like bands such as FAIRPORT CONVENTION, STEELEY SPAN and LINDISFARNE, then you certainly must check out these well-remastered 2 albums of them on the CD which BGO RECORDS released. This is prime-time Folkrock in its best tradition, with great story telling songs like The Hanged Man, The Gay Goshawk, Rip Van Winkle, Salisbury Plain, The Ballad Of Neddy Dick, Aunt Lucy Broadwood, House Carpenter and Elvira Madigan. There's many to read and hear here, so if you call yourself a folkrock fan, then you must check this out at: https://www.bgo-records.com/product/mr-fox-the-gipsy/
(Points: 7.3 out of 10)
SOUTHSIDE JOHNNY & THE ASHBURY JUKES 'THE JUKES/LOVE IS A SACRIFICE' (BGO RECORDS/UK IMPORT)
There are countless acts in music history whom never had a big breakthrough, but they had enough regional success to continue as a band for many decades. Especially in the USA there are a lot of acts that were very popular in one particular state, but virtually unknown in the rest of the world. BENNY MARDONES, SUGARCREEK, ROADMASTER, MICHAEL STANLEY BAND and also SOUTHSIDE JOHNNY & THE ASHBURY JUKES, TODD HOBIN, STEVEN VAN ZANDT are a few examples. Most of them started in the 1970s, recorded a lot of records during the 1970s and 1980s, but eventually went independent and focused on playing sold-out gigs in their home states during the 1990s and beyond. SOUTHSIDE JOHNNY (real name JOHN LYON) and his band THE ASHBURY JUKES was a little more well-known throughout the world, because Southside had a BRUCE SPRINGSTEEN connection. He once was in a band with him in the early 1970s and Bruce also wrote songs for him on his early albums. Anyway, back to this particular re-issue of 2 of his albums on 1 CD, he recorded both in the late 1970s/early 1980s with THE ASHBURY JOKES, and BGO RECORDS did a great job here in making them sound fresh up to today's standards. The band had the real New Jersey working class Heartland Pop/Rocksound which was a mixture of blue eyed soul, R&B, THE BEATLES and plain good 50s old rock and roll. BRUCE SPRINGSTEEN and SOUTHSIDE JOHNNY are probably the founders of this genre, which eventually gave birth to a lot of other acts in the New Jersey area. BON JOVI, TOM PETTY, NICK GILDER and MICHAEL STANLEY are just a few more popular names that more or less gained popularity with their own brand of New Jersey Heartland Rock, but it's Bruce and Southside whom basically are the Godfathers of this sub-genre. Listening to these 2 great albums of Southside, it is remarkable to see why he didn't sell millions of records, because the music is definitely the perfect American rocksound of the late 1970s/early 1980s. Actually if it wasn't for Bruce to become the next big hero with his Born in the U.S.A. album a few years later, I think Southside could have become the next big rocker of the 1980s. The THE JUKES album is the first one here and this 1979 album was definitely very close to BRUCE SPRINGSTEEN or MICHAEL STANLEY's sound, yet a bit more uptempo and rocking than them. The other album on this 2-CD set is the fantastic Love is a sacrifice, which gave Southside an own face and is a bit more going into the early 80s American AOR direction. He and his band were at his best during the uptempo pieces, such as All I Want Is Everything, I'm So Anxious, Living In The Real World, I Remember Last Night, Why, Restless Heart and On The Beach. Also here and there a ballad was done (Love when it's strong and keep our love simple) and as mentioned some AOR songs are also included on Love is a sacrifice (the midtempo SURVIVOR ish Murder and the AOR ballad Long Distance for example). I'll bet a lot of you are not that familiar with these albums and now there is a good opportunity to check them out and buy this CD through: https://www.bgo-records.com/product/the-jukes-love-is-a-sacrifice/
(Points: 8.5 out of 10)
KOOL & THE GANG 'SIX ALBUMS 1979-1984 ON CD' (BGO RECORDS/UK IMPORT)
KOOL & THE GANG will for me personally forever be remembered as the band I saw live in concert the same day I met my love of a lifetime! This legendary band was extremely popular in the early 1980s and eventually followed up EARTH, WIND & FIRE as most popular Disco/R&B/Funkband at the time. Anyway, a total of 6 albums were released in their most popular period of 1979-1984 and all of them have been carefully remastered and released now on 3 CDs by BGO RECORDS. These are the albums Ladies' Night, Celebrate!, Something Special, As One / In The Heart and Emergency. Before 1979 they were already quite active, but Ladies' night became their first breakthrough with hits like Ladies' night and Too hot. What followed were a string of hitsingles takes from these 6 albums, of which we all know songs like Celebration, Good Time Tonight, Get Down On It, Joanna, Fresh, Misled, Cherish and Tonight. The only album which was less successful is As one, which also saw a slight music change of the band, because up until that album it was really pure 70s based Funky Disco R&B like EARTH, WIND & FIRE, but from 1983's In the heart on there were clear 80s influences slipping through (like MICHAEL JACKSON also did on Thriller the same year) such as the rocking guitar on Misled. They actually became a more Soulful pop/rockband on these last 2 albums and as already mentioned it gave them a huge push in the top 40 markets with many successful hitsingles. After this period, they didn't achieve the success anymore, but until this day they still perform live, with even 4 of the original members in the line-up, including of course founder ROBERT "KOOL" BELL. Great to see them finally get a perfect triple-CD set that covers their most popular period. Great packaging with lots of rare pictures and additional info on the band, so it is definitely a recommended CD Digipack for the fans and people who are unfamiliar with this underrated band. Available through https://www.bgo-records.com/product/ladies-night-celebrate-something-special-as-one-in-the-heart-emergency/
(Points: 8.5 out of 10)
BRIAN BARNHOUSE 'HERE TODAY' (INDEPENDENT/USA IMPORT)
When That 80s song opens the new album of BRIAN BARNHOUSE, a multi-instrumentalist/singer/songwriter from Nebraska, USA, it is clear that he knows what he is doing. The song is a tribute to the classic 80s Hardrock/Hair Metalsound combining in the chorus Jessie's girl, Sweet child o' mine and Nothin' but a good time, while the song itself is a great 80s BON JOVI ish uptempo Melodic Rocker. We reviewed Brian's earlier albums and now here is his 4th solo album titled Here today. The included 10 songs are basically pure 80s AOR/Melodic Rock in the style of SURGIN, DANGER DANGER, 80s BON JOVI, TOBRUK, MICHAEL BORMANN, PAUL LAINE, MITCH MALLOY etc. etc. Highlights are such strong uptempo melodic rockers like Take me as I am, Here today (very close to PAUL LAINE's debut Stick it in your ear), Holding out and Peace of mind. It might not sound as huge as the classic 80s major label releases, Here today is definitely still an enjoyable record I can highly recommend to all the fans of 80s AOR/Melodic Rock out there! Check out all on Brian at: http://brianbarnhouse.net
(Points: 8.1 out of 10)
LORRAINE JORDAN 'SEND MY SOUL' (HAZELVILLE MUSIC/XANGO MUSIC)
Singer/songwriter LORRAINE JORDAN from Wales has been in the music business for quite a long time now, with several releases on her own, but she also played alongside acts like THE WATERBOYS, LABI SIFFRE, RICHARD THOMPSON, THE CHIEFTAINS… Send my soul is her 5th studio album and contains as she describes it herself Celtic Soul. Together with co-producer and her partner DEBBIE DIKCINSON (who sadly passed away in March 2019) as well as lot of musicians, she recorded this very strong album in 2018. 12 songs are included and this is one of those beautiful albums you can listen to from start to finish without pressing the skip button. Lorraine has a fantastic voice and her light Celtic/Folk ish Melodic Pop/Rock is a pleasure to listen to. Songs like Heavenly voices, Say it now and especially Desert sands are very strong 'catchy' melodic driven pop/rock songs that might appeal to a lot of people. This is music from the heart, with a lot of emotion and thanks to Lorraine's wonderful vocals, a must to hear for people who long for melodies and stories told in each and every song. You could compare it to for instance KT TUNSTALL and countless other female artists, in case you really want a comparison. However, LORRAINE JORDAN has her own identity and I would definitely recommend this Send my soul album to anyone out there! More info at: www.lorrainejordan.net
(Points: 8.4 out of 10)
RECUERDO 'LE VALENTINE' (ALFA PROJECTS/XANGO MUSIC)
Not so much information on this release from 2019, but RECUERDO hail from Italy and are a 4-piece act formed around accordeon player VALENTINA CESARINI, vocalist VALENTINA ROSSI, guitarist PIERLUCA CESARINI and Flute/Cajon/Percussion player ALESSANDRO AURELI. The included music on their album Le valentine is Gypsy-Flamenco-Tango-mixture Jazz with extraordianry and quite superb vocals of Valentina. She has an amazing voice that give the melodies of each and every song a new dimension. It's hard to describe with words, but this is beautiful music that cries out to be heard live in a intimate setting. Check for more info at: www.alfamusic.com
(Points: 8.0 out of 10)
CESARE PASTANELLA AFRODIASPORA 'THE ROUND TRIP' (ALFA PROJECTS/XANGO MUSIC)
The round trip is as the title of the album already predicts a real round trip and in this case around the world of the past centuries, telling the stories of the journey of African slaves, deported to America in the past centuries as a work force, and the return in the form of Afro-American culture to the continent of origin. The included music is a mixture of World Music and Pop melodies sung by a wonderful female singer. The line-up on The round trip is Rosanna D'Ecclesiis: voice, Nando Di Modugno: acoustic and synth guitar, Francesco Cinquepalmi: double bass, electric bass, Venezuelan cuatro, background vocals and Cesare Pastanella: percussions, voice, background vocals. 12 songs are included and both lyrically and musically speaking, they take you on a very interesting journey that reveals so many different music influences. For example if you listen to a song like Cimarron, Cesare has created a song that takes the African and Cuban influences into a whole new direction when combining it with a catchy melodic chorus, same goes for the Samba influenced Fina estampaa and both these songs could easily become huge radiohits!. You can pick up traces of smooth Jazz and Spanish guitar in a lot of songs and combined with the African/American influences, the result is very impressive and enjoyable from start to finish. Laid-back and learnful is what this is The round trip is all about! SADE meets STING might be worth mentioning here, but actually there is an own style notable and therefore it's best to check it out for yourself at: http://www.cesarepastanella.com/progettieng.htm
(Points: 8.3 out of 10)
THE DEMON RIND 'SOMETHING NICE I WANT TO TELL YOU' (INDEPENDENT/XO PUBLICITY/USA IMPORT)
Out of Seattle comes the band THE DEMON RIND and at first sight I was a bit uncertain what this was all about, because I actually was looking for the bandname, because it said Kwab Eugene Copeland on the album cover, but this singer/songwriter/musician from Seattle is in reality the man behind THE DEMON RIND, a project which also features a lot of other musicians. Something nice I want to tell you is the 3rd album and musically speaking it is a rather unique sounding record that has influences from Indie, Singer/songwriter, Prog and a bit of dark psychedelic folk, all in a pure 1970s style. The good thing here is the diversity and this is also due to the fact that a lot of singers and musicians are involved. Musically it is quite interesting actually and after a couple of songs it feels like you're in the middle of a Rock Opera from the 1970s. The diversity in singers also makes it interesting to keep listening, because between the 13 songs we can hear some strong material for sure. Take a bit of NICK CAVE, some 70s PINK FLOYD, a little FLEET FOXES and some cool improvised Prog/Jazz/Fusion, then you might end up with this album. Highlights are the melodic female vocal featured Lonely this evening, the Proggy I don't think, the uptempo rocking Luck has some kind of face and the best song Son in law, which has strong melodies and a sorta melancholic folkrock meets indie sound as if THE SMITHS got stuck in a fight with NICK CAVE while watching STEELEYE SPAN in the 1970s. Although BAD COMPANY and BLACK SABBATH were mentioned by the band, I could not hear such similarities, but it's definitely a must-have for the fans of 70s experimental music. It's best to check out this for yourself to make up your mind at: https://thedemonrind.bandcamp.com/releases
(Points: 8.0 out of 10)
MARMALADE KNIVES 'AMNESIA VINYL RECORD' (ELECTRIC VALLEY RECORDS/ITALY-USA IMPORT)
It is always a joy to receive a vinyl record of a new album release and in this case it concerns the sensational new instrumental band MARMALADE KNIVES. They are coming out of the mountains of Santa Cruz, California and were originally formed by guitarists Clinton Wilkins and Justin Spivey whom were later joined by bassist Mark Robinson, drummer Kyle Herrenkohl (of SF acid-folkers TABERNACLE), and keyboardist Nathan Warrick (of APACHE DROPOUT). Together they worked on the material for their debut album Amnesia the past few years and the final result was produced by Adam Kriney (of THE GOLDEN GRASS/LA OTRACINA). 7 songs are included in total and basically this instrumental journey takes you into different styles with the rockgenre, although it is clearly influenced by the 1970s rocksounds. There is a lot of diversity going on, because a prog meets classic rock meets doom description is easy to make for this instrumental album.
The band also goes for a somewhat groovier sound here and there with the awesome The best laid plans, but also very proggy during the lengthy Rivuleting and even a bit more uptempo straight-ahead Classic Rock ish with Xayante. Ez-ra basically sums up all the aforementioned styles into one song, so starting calm with a nice funky bass, getting groovier as the song progresses before eventually turning into a midtempo Classic Rock meets Progrock kinda adventure. A lovely song basically and perhaps the finest song on the album, although closing track Astrology domine at almost 10 minutes of playing time is also a highlight for especially the Progrockfans, but the BLACK SABBATH ish Doom guitar riffs might also appeal to fans of the Stoner/Doom genre and the guitarsolo's here are marvelous. At the moment instrumental bands are becoming very popular and in this case, MARMALADE KNIVES should also be in your collection as they definitely belong to the better instrumental bands right now. Check them out at: https://evrecords.bandcamp.com/album/marmalade-knives-amnesia and
(Points: 8.6 out of 10)
STARING INTO NOTHING 'LOVE' (SIN/ANTARES GROUP/GLASS ONYON PR/USA IMPORT)
Actually I had never heard of the Southern Californian band STARING INTO NOTHING before, but when listening to their new album Love it is clear that we are dealing here with a high quality band. Founders of the band are Steve Rogers (keys and vocals) and Kurt Barabas of UNDER THE SUN (bass, vocals and guitars) and Love is their 2nd album. It was produced and mixed by Ronan Chris Murphy (KING CRIMSON, STEVE MORSE, ULVER) and features a very impressive line-up of guest musicians such as Gregg Bissonette (DAVID LEE ROTH, SANTANA, ) on drums, Victor Bisetti (LOS LOBOS) on percussion, Mike Keneally (ZAPPA, STEVE VAI, JOE SATRIANI) on guitars, Trey Gunn (KING CRIMSON) on Warr Guitar, Dave Nachmanoff (AL STEWART) on background vocals/acoustic guitar and Danny T. Levin (IGGY POP, VAMPIRE WEEKEND, TWENTY ONE PILOTS) on horns. The vocals are in the typical British way of Prog/Indie singing, which is somewhat calmer (like for example IQ, PENDRAGON, but also THE SMITHS and such), because it is without the over-dramatic American kinda high pitched screams. This gives the music a very relaxing feeling and we can pick up quite some similarities throughout the 12 included tracks. Opener Winter is a calmer melodic progressive rocksong that sits nicely between CAMEL, KAYAK and ALAN PARSONS PROJECT, with lush melodies and a laid-back sound. Following track Spring speeds up the tempo and is basically a dream come true for the fans of late 1970s US Pomprock and 1980s ASIA, as this a glorious mixture of picture perfect Symphonic AOR and Pomprock, sounding like a cross between YES, STARCASTLE, ASIA and AVIARY. Summer is a completely different style again, because here we go into a smooth 1970s Westcoast-lose harmonyvocal driven Popsong a la STEELY DAN, with some Horns to give it even a sorta CHICAGO ish funky approach. Speeding up again on the following track Autumn, a nice Symphonic rocker in the YES style. The thin line is pure 80s ASIA uptempo Sympho-AOR, done very well and quite catchy so-to-speak, while semi-ballad Beautiful delusion slows things down very nicely. Highlights further on the album are The ties that bind and Find our way back (both uptempo pieces like ASIA meets ALAN PARSONS PROJECT) and the Westcoast ish Symphonic semi ballad/rocker Ashes that sounds like STEELY DAN meets YES. Definitely a very interesting and very diverse release which is highly recommended to fans of mentioned bands! More info at: https://staringintonothing.bandcamp.com/album/love and https://www.staringintonothing.com/
(Points: 8.4 out of 10)
OGD 'THE BIG GAME' (OGD MUSIC/GLASS ONYON PR/USA IMPORT)
OGD stands for the names of the 3 musicians in the New York based band OGD. The trio consists of Derek Olivero (Guitar, Lead Vocals), Bobby Gavin (Drums, Vocals), and Dave De Ranieri (Bass, Vocals), and The big game is the band's official debut full-length album. It was produced by master drummer Jerry Marotta (PETER GABRIEL, PAUL MCARTNEY, JOHN MAYER) and features some beautiful artwork by HUGH SYME, who is known for creating covers of bands like DREAM THEATER, RUSH, AEROSMITH). The album contains high quality music that is a mix of slightly groovy modern American (melodic) Altrock and Progressive Rock. 10 songs are included and all together it sounds quite impressive and very professional. Opener Young love starts already quite modern, but in a good way and following track Sweet life shows an interesting mix of funky groovy alternative rock and progressive rock like RUSH meets TOOL meets RED HOT CHILI PEPPERS. And actually the album continues this way until the end, with a healthy mix of modern, groovy rock and prog rock rhythms like RUSH also did on their last couple of studio albums, but OGD goes a bit more American modern rock here and there, and they do not have any lengthy instrumental passages. Other highlights are The word, Innocence ran (awesome song with a great guitarsolo and lovely melody like a calmer FOO FIGHTERS meets FLYING COLORS) and Setting sun. The Progrockfans who like their prog to sound a bit more modern and straight-ahead should check out OGD, but the regular rockfans also might want to find out more about this quality band at: https://ogdband.com/
(Points: 8.2 out of 10)
DAVID SANCIOUS 'EYES WIDE OPEN' (NBS/SERAPHIM MUSIC/GLASS ONYON PR/USA IMPORT)
DAVID SANCIOUS is a multi-instrumentalist from New Jersey who played with the legendary bands of BRUCE SPRINGSTEEN, SOUTHSIDE JOHNNY, JACK BRUCE, STING, PETER GABRIEL and many more, while also being active as a solo musician for over 40 years, releasing his EPIC RECORDS solo debut way back in 1975. Now 45 years later a great new solo album was released a few months ago. Eyes wide open is the title and the included songs were written over a long period, probably from somewhere in the 1980s up until very recently, which makes it a very diverse sounding album that balances between old school Fusion-Jazz-Westcoast and some modern R&B influenced pop/rock with a bluesy touch. 8 songs are included and David himself is handling the vocals, piano, organ, synths, guitar, while a few guest musicians helped him out on the drums (including WILL CALHOUN of LIVING COLOUR). Opener Eyes wide open is a sensational old-school 70s inspired groovy Westcoast pop/rock song with some cool keyboardwork. Following track In the middle of the night combines Piano-Jazz-Pop melodies with DAVID BOWIE kinda vocals and a modern almost SEAL ish vibe, so it is completely different than the first song. Urban psalm #3 is a semi-instrumental tune with parts taken from a Martin Luther King Jr speach, David's vocals and students, sounding bit like something GARY CLARK JR. could have come up with. If has that cool late 1980s/early 90s kinda Fusion/Westcoast/Jazz/Blues vibe we heard a lot in those days, kinda like ROBERT CRAY, GEORGE BENSON, ROBBEN FORD, a very strong relaxing tune for the hot summer days we are currently facing (August 2020). The other 4 songs are instrumentals and are basically mixing relaxing laid-back Jazz/Fusion/Westcoast with light bluesy guitar riffs. Nice album from David and I am personally quite interested now in his past work. Check out more on him at: http://www.davidsancious.com/
(Points: 8.5 out of 10)
DAVE SCHOEPKE 'TESSELLATED RESONANCE' (INDEPENDENT/GLASS ONYON PR/USA IMPORT)
Now time for something completely different, because drummer DAVE SCHOEPKE is known for his work with JETHRO TULL legend Martin Barre, as well as THE WILLY PORTER BAND, but on his solo albums it's all about drums. Tessellated Resonance' is his 2nd album, following up 2019's Drums On Low. The included music is only featuring the drumming of Dave himself, so it might take some time to get into, but depending on the circumstances, this album should be put on as backing sounds when you're longing for a natural environment while you're sitting inside somewhere. The whole idea of Dave is also just that and I think he succeeds with this new album. It's not nature alone, because he logged over thirty hours of field recordings of nature, traffic and other sounds from the environment in an attempt to capture content both natural and manmade. Combining this with a new way to use his drum equipment in a completely different set-up and performance, he comes up with an unique sounding album that might even appeal to World Music fans I think. Not done before so often I think, this is an album that will especially appeal to the drummers among us whom are interested to know how they can use their drums differently than what they are used to and come up with something new and still sound very organic. More info at: https://daveschoepke.com/
(Points: 8.0 out of 10)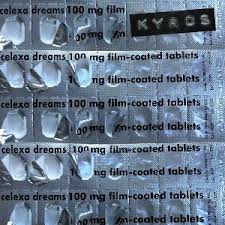 KYROS 'CELEXA DREAMS' (NOVA/WHITE STAR RECORDS/UK IMPORT)
Out of London comes KYROS, a band formed in 2012 with already a couple of releases in their discography and Celexa dreams is their new 2020 album that should please a lot of people out there, because musically speaking it combines elements from the glorious 80s prog/sympho/pop/AOR past and current modern new wave/synthpop/poprock/prog sound, and basically everything in between as we discover when listening to their fantastic 10 new songs. They are formed 4 young musicians (Adam Warne on Keys/Vocals, Joey Frevola on Guitars/Vocals, Peter Episcopo on Bass/Vocals and Robin Johnson on Drums) and it is a joy to listen to this album over and over again as it has so much to offer. Opener In motion is a superb sensational 80s inspired massive sounding Neo-Progressive Pop/Rocker with Symphonic and Pop elements, kinda like IT BITES, MR. MISTER or even Canadian bands like PLATINUM BLONDE, SHY TALK and THE ARROWS did 35 years ago. The overall fresh sound is huge, with a focus on AOR/Popmelodies, Miami Vice/JAN HAMMER/80s YES ish keys/synths and a somewhat groovy rhythmic drums/percussion approach that simply breathes the 1980s, but also with one foot in the modern age of bands like FROST or HAKEN. I am extremely excited about this band and I can absolutely already say now that along with HAKEN, KYROS belong to the best of a new generation of intelligent Progressive Pop/Rockbands to emerge from the UK. Rumour continues the style of the opener, perhaps a little more hi-tech, reminding me a lot of classic 80s SAGA, yet it could also appeal to fans of the current New Wave sound of bands like THE EDITORS, BLOSSOMS and SLOW READERS CLUB. To keep up this immense high level seems impossible, but KYROS definitely does it all the way until the very end, because After Rumour, they bring us 8 more songs that balances between the aforementioned bands, but a description like FROST meets HAKEN seems most accurate I think. Other highlights are the amazing 11 minutes counting In vantablack, the progtastic Two frames of panic (FROST!) and the lovely super melodic chorus driven Sentry that touches the classic Neo-Progsound of bands like KINO, PALLAS and ARENA. The band also goes more experimental during the lengthy Technology killed the kids 3 that mixes TOOL, HAKEN and FROST, with even some aggressive vocals here and there. And instrumental they throw in every possible pop, rock, prog and wave style in the song UNO attack that would make DREAM THEATER jealous! I think we have here one of the best new Progrockbands out there, so everyone who is longing for something new and exciting should get this band KYROS' new album Celexa dreams a.s.a.p.! More info can be found at: http://www.kyrosmusic.com/
(Points: 8.9 out of 10)
FOREVER VENDETTA 'NEW DAY RISING' (INDEPENDENT/UK IMPORT)
Out of Swansea, Wales comes FOREVER VENDETTA and they deliver a very strong debut album in the shape of New day rising. The included music is Classic Melodic Hard/Heavy Rock in the style of WHITESNAKE, HEAVEN'S EDGE, ICON, XYZ, DOKKEN, JADED HEART, BANGALORE CHOIR and such. They do it at a very high level and combine that classic attitude of big guitar riffs and catchy melodic choruses like it was done some 30 years ago by countless US bands that were signed to the major labels. FOREVER VENDETTA are independent and on their first album their late 1980s/early 1990s Americanised sound really sounds impressive. The band is formed around Chris Tippett - Vocals, Guitar, Liam Alonzi - Bass, Leigh Fuge - Guitar and Gareth Hunt - Drums, and actually they have been around for a while now, because during the early 2010s they played support act for legendary bands like LA GUNS, TIGERTAILZ, ENUFF'Z'NUFF and such, but it took them a long time before releasing an official first full-length album. If we go through the tracklisting of New day rising, the highlights are the crunchy opener Come alive, the superb laid-back melodic bluesy XYZ/WHITESNAKE ish Just can't quit you, the midtempo Roll it on back and the awesome closing tracks Not your hero and New day rising that sound like a cross between SKID ROW and classic WINGER. The artwork of the album looks very nice and all together this is definitely recommended to fans of the afforementioned Melodic Hardrockbands of the golden era of this genre (1987-1993). More info at: https://forevervendetta.co.uk/
(Points: 8.1 out of 10)
THE INSUFFERABLE PAUL SCOTT 'RADIO STATION EXTENDED PLAY' (FOGHORN RECORDS/AUSTRALIA IMPORT)
The Australian singer/songwriter PAUL SCOTT (aka THE INSUFFERABLE PAUL SCOTT) releases a rather nice EP titled Radio station, which musically is a sorta modern pop/rock that sounds quite catchy actually, especially during the uptempo tunes Chasing shadows and The collapse. Paul is a multi-instrumentalist, but got help from a few guest musicians to make it sound a bit more like a band, although the music sounds like a cross between DAVID BOWIE and JAMES BAY. Hopefully soon a full-length record of this talented musician. More info at: https://medianews.foghornrecords.net/the-insufferable-paul-scott-new-ep-radio-station/ and https://pabloscience.bandcamp.com/
(Points: 8.1 out of 10)
GARETH KOCH 'CODE BLUE' (FOGHORN RECORDS/AUSTRALIA IMPORT)
Somewhere else we reviewed the act called STEVE KILBEY and GARETH KOCH and the latter is also releasing a mini-CD on his own now. Gareth is settled in Australia and is an ARIA Award winning performer, composer and songwriter. The music included sounds quite dark and reminds me a bit of NICK CAVE, with a bit of the last few DAVID BOWIE records. Done quite well, but I think a future full-length album will tell us more, but if interested please go to: https://garethkoch.bandcamp.com/album/code-blue
(Points: 7.8 out of 10)
GALATEA 'APSARA' (FOGHORN RECORDS/AUSTRALIA IMPORT)
Ancient Medieaval Celtic Opera Music is what we get to hear on the album Apsara of the Australian band GALATEA. What they are doing on this mini album is very impressive and something you don't hear that often. Female lead singer MICHAELA ARCHER, who is actually a classical soprano, which can be heard very clearly on the 5 songs. Other musicians in the band are Rachel Whealy on Cello; Gabrielle Laura Steele doing Viola and guitar by Guiseppe Zangari. The result is impressive and should touch the hearts of FLOOR JANSEN I think, although unlike the NIGHTWISH bombastic Sympho-Metal, the music of GALATEA stays in the ancient classical medieaval Opera music based around a guitar, cello, violin and of course the amazing vocalwork of Michaela. More info at:
(Points: 7.6 out of 10)
YARGOS 'THE DANCING MERMAID'' (STF RECORDS/GERMANY IMPORT)
The German band YARGOS has an interesting history, because formed in 1973 (!!!), they were once the band featuring the amazing lead singer ANDREW "MAC" DERMOND, who later became the THRESHOLD singer. He was a superb singer, but sadly died from kidney failure. Now many years later YARGOS is back with a new album and likewise with a new singer, namely BECKY GABER. The music on The dancing mermaid is of a reasonable level, Melodic Progressive Metal with some cathy choruses and nice bombastic Symphonic influences like KAMELOT. However, what bothers me a bit there is some strange growling to be heard here and there, which makes it quite hard to listen to the whole album. Not saying this is bad, because a song like Mine complete is a very decent Melodic Prog/Power Metal piece, but overall this is not an album which will make an impact I'm afraid. The songs are just ok for what they are, but it's all been done before countless times at a higher level, so this surely isn't a new AFTER FOREVER, EPICA or NIGHTWISH. Nice to check out for sure, but don't expect memorable sensational tunes... More at: https://www.facebook.com/pg/yargosband/about
(Points: 7.7 out of 10)
UPPERTOWN 'CREEP'S ROOM' (INDEPENDENT/USA IMPORT)
UPPERTOWN is a husband and wife rockband from Minnesota with an album that sounds like a rawer version of WHITE STRIPES and actually has a lot of 1970s rock influences. The band is only featuring vocalist/guitarist ROB HUDSON and his wife BECCA HUDSON on drums, whom together play 1970s inspired heavy rock that has besides the WHITE STRIPES similarities also has clear references to bands like MC5, BLUE OYSTER CULT, ZZ TOP, the very first few KISS albums, ALICE COOPER, THE DICTATORS, THE ROCKERS and BLUE CHEER, so pretty much classic American Rock and Roll. Rob has a real rocking voice and songs like Ok boomer and Ima rat are basically classic rock and roll the way it was done many decades ago, so for a new act this is definitely very interesting and a must to check out if you like aforementioned bands. They are also looking to raise $2500 to finish covering the costs of putting out their debut album Creep's Room. The 2 musicians have one child with special needs and with a single-income household, a bunch of extra money would be very welcome and here is where you can make life easier for them, because they play pretty good classic American Rock and Roll! More info at: https://uppertown.hearnow.com/
(Points: 7.8 out of 10)