HOT NEW REVIEWS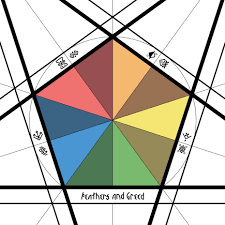 FEATHERS AND GREED 'FEATHERS AND GREED VINYL RECORD' (VINYL RESERVAT RECORDS/GERMAN IMPORT)
Out of Hannover comes the talented band FEATHERS AND GREED, who are releasing their debut album with this same titled vinyl record. The band is formed around Jacob Jordan (Cello), Luca-Yannik Gierth (Vocals, Rhythm Guitar), Lukas Hagemann (Percussion, Vocals), Marek Feddern (Lead Guitar, Vocals) and René Kretschmer (Percussion). 9 songs can be found on this album, which was recorded during the summer of 2019 and the most interesting there here is that it is not a full-blown massive sounding rockalbum, but a calmer sorta stripped melodic progrockalbum that actually reveals a lot of diversity. After the short intro Tiny creek, we are heading into the beautiful calmer Sharing is caring, which features amazing harmonyvocals during the catchy chorus that remind me of CROWDED HOUSE meets a calmer ENCHANT/SPOCK'S BEARD, while the song itself is stripped down acoustic tingled Progressive Rock orientated, yet with a lot of influences from other music genres (World Music and a Spanish guitar for example) in a way THE BEATLES also did over 50+ years ago. I think they have a come up here with a sound that will appeal to a lot of music fans out there, because it touches calmer progrock and also stripped melodic rock, but as already mentioned, it is open for any other music style as well, although it is clear that FEATHERS AND GREED's sound is always based around melodies (both vocally and instrumentally) and that's where they get my approval for sure! This lovely vinyl record is filled with wonderful back-to-basic music from start to finish, with as other highlights besides the aforementioned Sharing is caring, the fantastic progrocker Winding stair (a la AIRBAG), Angry (a great groovier acoustic tingled melodic rocker that sounds a bit like the very early 90s, reminding me of a stripped version of bands such as EVERY MOTHER'S NIGHTMARE and KING'S X!!!) and closing epic Galaxies I (progrock heaven!). Make sure not to miss this little hidden gem, because it may be overlooked since it was released in late December of 2019 and that would be a huge miss for anyone into quality melodic music! More info at: https://feathersandgreed.com and https://feathersandgreed.bandcamp.com/album/feathers-and-greed
(Points: 8.6 out of 10)
CLEMENT OURY 'LA TETE DANS LE MUR' (VLAD/INOUIIE DISTRIBUTION/VEEV COM/FRANCE IMPORT)
CLEMENT OURY is a French multi-instrumentalist and on his album La tete dans le mur he uses all kinds of object and instruments to create a rather obscure and original sound. Actually it's an interesting instrumental release that has a bit of an 1970s Krautrock kinda feeling a la CAN/TANGERINE DREAM, yet with also influences from World Music, Baroque, Chamber Music and Jazz. The music is exciting and adventureous, with as highlights Un an Apres and Autour de la table. There's a lot to explore and here and there it might sound a bit awkward such as during Miniball brass duo. More info can be found at: https://www.facebook.com/ouryclement/
(Points: 8.0 out of 10)
ANTONIO PLACER SEXTET INVITE ANTONIO CAMPOS 'TROVAORES' (ALMA MUSIQUES/AUTRE DISTRIBUTION/VEEV COM/FRANCE IMPORT)
Galician singer/multi-instrumentalist ANTONIO PLACER lives in France and along with his sextet and guest Fado singer ANTONIO CAMPOS he recorded the album Trovaores. This album is filled with World Music that combines Fado, Jazz and Hispanic or Gaelician poetic themes. The result is a summer friendly mediterranean kinda album that makes you long back to the days before corona, when we went on holiday and enjoyed all the great food, people and atmopshere of the Southern European way of life along the coasts of Portugal-Spain-France-Italy-Croatia-Greece. There will come a time again and meanwhile you can enjoy this CD for old time's sake. More info at: https://www.facebook.com/antonioplacerofficiel/
(Points: 7.5 out of 10)
KEITH TIPPETT 'THE MONK WATCHES THE EAGLE' (DISCUS MUSIC/PROPER/UK IMPORT)
The monk watches the eagle is a very original album that contains a recording that took place at the Norwich Cathedral in 2004 and features several singers (soprano, alto, tenor, baritone) as well as a saxophone quartet. It was recorded by the BBB back then and now released on CD. It's a sorta dark Opera/Classical Music meets Avantgarde-Jazz, very experimental with several choirs reflecting a dangerous tone that almost feels like a suspense thriller or horror movie. Well done and perhaps not for eveyone's taste, but recommended if you want to hear something completely different. More info at: www.discus-music.co.uk
(Points: 8.3 out of 10)
COLLAPSE UNDER THE EMPIRE 'EVERYTHING WE WILL LEAVE BEYOND US' (FINALTUNE RECORDS/BROKEN SILENCE/CREATIVE ECLIPSE PR/GERMAN IMPORT)
Heading over to Germany with the duo COLLAPSE UNDER THE EMPIRE, which was founded in 2008 by CHRIS BURDA and MARTIN GRIMM. So far they have released 8 studio-albums and their new album Everything we will leave beyond us (their 9th) is quite an enjoyable release that contains a great instrumental mixture of Post-Rock, Progrock and Synthwave. In fact, this is instrumental prog/post-rock of an incredible high level, right up there with the much praised LONG DISTANCE CALLING. COLLAPSE UNDER THE EMPIRE add this interesting Synthwave touch here and there and there's not a single dull moment on their new sensational album. Highlights include Red rain, Resistance and the lengthy titletrack Everything we will leave beyond us. They take you on this wonderful journey through a rocking synth landscape that feel very atmospheric and also reminds of PORCUPINE TREE's instrumental moments, yet crossed with the afforementioned LONG DISTANCE CALLING and a bit of MAGIC DANCE as well. Highly recommended to the fans of high quality instrumental rockmusic with a deeper meaning! More info at: https://collapseundertheempire.com/
(Points: 8.7 out of 10)
CORECASS 'VOID' (GOLDEN ANTENNA RECORDS/BROKEN SILENCE/CREATIVE ECLIPSE PR/GERMAN IMPORT)
Interesting release from a Hamburg based musician and compisor called ELIMOR LUDDE. She creates a very dark cinematic atmosphere with her music that is sometimes beautiful and classical music based when she plays her harp, while at other times it is going more extreme guitar noise orientated, although most of the time it has a certain Krautrock kinda approach a la CAN. It is very experimental, but also quite interesting and really taking you this adventure of Elimor, exploring dark atmopsheric sounds with lighter classical music and that beautiful sound of the harp on especially Void 1 and Void 3. She is a very talented multi-instrumentalist, playing many different instruments on this excellent album, including the harp, accordion, electrical guitar, digital synths, etc, while she even screams once, but overall it is instrumental music we get to hear and it is done really well. Check it out for yourself at: https://corecass.bandcamp.com/
(Points: 8.3 out of 10)
THE OUTLAWS 'LIVE AT ROCKPALAST 1981 CD +DVD' (MIG MUSIC/GERMAN IMPORT)
The 19th of August 1981 was a great day to be at the famous Loreley, Germany, because there was a festival that featured THIN LIZZY, 38 SPECIAL and THE OUTLAWS. The legendary American Southern Rockband THE OUTLAWS now gets a CD/DVD release of this legendary concert they gave at one of the most beautiful outdoor venues in the world! Thankfully I have been there twice to witness some great festivals, so I can imagine how it went down there some 40 years ago with THE OUTLAWS and when watching this fantastic DVD you can see it now in picture. These southern rockers were right up there with the great other bands in this genre, such as LYNYRD SKYNYRD and ALLMANN BROTHERS BAND, with 3 lead singers whom sang great harmonyvocals and of course the triple-guitarwork that made them one of the great live bands out there back then. They were active in the 1970s and early 1980s, but I believe that after they went the AOR direction they eventually split up somewhere halfway the 1980s. Some of the members already went their own way (HENRY PAUL and RICK CUA) before that, a few died sadly (BILLY JONES and HUGHIE TOMASSON) and despite they more or less reformed 20 years later around the mid 2000s, none of the current members played in the band we can see/hear on this new DVD/CD, which featured Freddie Salem (guit./voc.), Hughie Thomasson (guit./voc.), Billy Jones (guit./voc.), David Dix (drums) and Rick Cua (bass). I think if you want to really see most of the original THE OUTLAWS, then you should check out this awesome newly released Live CD/DVD of their legendary concert from 39 years ago, which has been released by the German label MIG MUSIC. 10 songs were played that day during the 1 hour lasting performance, including the classics There goes another love song, Ghost riders in the sky, Hurry sundown, Angels hide and a 20 minutes counting version of Greeg grass and high tides. It's so much fun watching this highly underrated band in action back in 1981, so any fan of Southern Rock should check out this perfectly captured legendary concert. Available through: http://www.mig-music.de/
(Points: 8.5 out of 10)
SPEED STROKE 'SCENE OF THE CRIME' (STREET SYMPHONIES RECORDS/ATOMIC STUFF/ITALY IMPORT)
I was not familiar with the Italian band SPEED STROKE before I received their 3rd album Scene of the crime for a review, and I must say I am not disappointed at all! The band was formed in 2008 in the Bologna area and have rapidly built up a reputation in the Italian rockscene. They are by now one of the better sounding bands playing classic 80s American Hair Metal. Opener Heartbeat is a cool faster uptempo melodic heavy rocker with party/glam/sleazerock influences as well, basically very 1980s sounding. The following 9 songs dig deep into the late 1980s/early 1990s US Major label Hair Metal sound of bands like SKID ROW, WARRANT, AEROSMITH, MOTLEY CRUE, BRITNY FOX, GUNS'N'ROSES and such. The highlights on Scene of the crime are After dark (uptempo melodic hardrocking tune that even reminds me a bit of TESLA and GREAT WHITE somehow), No love (semi classic late 80s Power Ballad that has a cool middle section that reveals latin/salsa influences), Red eyes (catchy uptempo 80s melodic (party/classic) rocker like PRETTY BOY FLOYD meets MOORE/LYNOTT's 'Out in the fields', including soaring guitarsolo) and closing track Hero no.1. Concluded, these guys have delivered a great classic Hair Metal/Glamrockalbum that sounds like a serious version of STEEL PANTHER. Go check them out at: https://www.speed-stroke.com/
(Points: 8.3 out of 10)
EDENYA 'SILENCE' (INDEPENDENT/FRANCE IMPORT)
The French band EDENYA started in 2017 and they are now making their debut with Silence. The band is formed around Elena/Vocals, Remi/Vocals and guitarist/keyboard/pianoplayer Marco, while on this album they also get help from drummer/bassist Julien Perdereau. 8 songs are included and as soon as Elena is singing on the opener The promise, it feels very good. This song is a beautiful camer somewhat melancholic melodic progressive rocksong with STEVIE NICKS/MAGGIE BELL ish vocals and haunting melodies, while overall it sounds like a mixture between PINK FLOYD and WITHIN TEMPTATION. Next track Sabrina is quite stunning and very melodic, reminding me somehow of classic 80s MIKE OLDFIELD, although a bit more proggy/folksy and also akin to MOSTLY AUTUMN or RENAISSANCE/FAIRPORT CONVENTION. After only 2 songs we can already conclude that EDENYA is a high quality band with an own identity, although of course the aforementioned comparisons are definitely possible. Other songs to mention here are the lengthy calmer progrock meets postrock orientated tracks Will the demons win? and titletrack Silence. Check out this great band at: https://www.facebook.com/Edenyaband and https://edenya.bandcamp.com/track/silence
(Points: 8.4 out of 10)
THE BEAUTY OF GEMINA 'SKELETON DREAMS' (TBOG MUSIC/ALIVE/SWISS IMPORT)
THE BEAUTY OF GEMINA is a popular underground Swiss band, which was formed some time ago and they have already released 9 studio-albums, but this is the first album I ever get to hear from them. Their latest album is titled Skeleton dreams and besides band leader/songwriter and mastermind Michael Sele on vocals and almost all other instruments, we can also hear bassists Philipp Kung and Andi Zuber as well as drummer Mac Vinzens. 14 songs are included on this new album and when listening to the awesome opener A night like this, it feels a lot like classic late 1960s THE DOORS crossed with a bit of classic Gothic Rock (calmer THE CULT) and a part BLUE OYSTER CULT (in a song like Dark Suzanne), so it is sounding dark and melancholic, but still with some very nice melodies. It continues this style and THE DOORS in an 80s Gothic Rock jacket is definitely the best description, but also here and there are memories of MARK KNOPFLER/CHRIS REA/CHRIS ISAAK during a song like Naked and even DAVID BOWIE fronting THE CURE could be said when hearing Apologise. A combination of a few different worlds here, because also a tiny bit of progrock a la PINK FLOYD can be heard, while dark JOHNNY CASH ish singer/songwriter is also part of the game here (Friends of mine), so concluded we can say that this is not bad at all and definitely recommended to check out at: https://thebeautyofgemina.bandcamp.com/
(Points: 8.3 out of 10)
ORESUND SPACE COLLECTIVE 'FOUR RIDERS TAKE SPACE MOUNTAIN' (SPACE ROCK PRODUCTIONS/GERMAN IMPORT)
We already did a review of a previous album of the Danish band ORESUND SPACE COLLECTIVE, and now they have another record out titled Four riders take space mountain. Musically speaking no changes and so once again we can hear high quality instrumental music that is a mix of all kinds of styles, although overall you could label it as 1970s Spacerock. 4 songs are on the album, which features Jonathan Segel / violin, guitar, Mathias Danielsson / guitar, Hasse Horrigmoe / bass, Dr Space / synthesizers, Mats Orbation / guitar, effects, KW Westman / keyboard, Jonas Berge / organ, synth, guitar and Alex / drums. The result is one big adventure through the fields of the experimental and improvising 1970s, when Progressive Rock was king and introduced us all these strange sounds via the synthesizer and/or keyboard. If this was released in 1975, then it would be a classic by now. The 4 songs are lengthy and offer so many beautiful melodies and especially closing track Descent to Reality is an interesting song, because it is a unique mixture of Indian raga and progressive rock, with just a synthesizer (Dr Space), sitar (KG), violin (Jonathan), bass (Hasse) and drums (Tim). The album was recorded between 2014 and 2016, but for this kinda music that's no problem at all, because this is timeless music and in the case of ORESUND SPACE COLLECTIVE it couldn't sound any better. Definitely a big recommendation to fans of instrumental progressive/spacerock in classic 1970s style, with a lot of room for improvisation. More info at: https://oresundspacecollective.bandcamp.com/album/four-riders-take-space-mountain
(Points: 8.5 out of 10)
DOCTORS OF SPACE 'FIRST TREATMENT' (SPACE ROCK PRODUCTIONS/GERMAN IMPORT)
Besides the elsewhere reviewed ORESUND SPACE COLLECTIVE album, on the same label we have DOCTORS OF SPACE. This project is formed around Dr Space (Oresund Space Collective, Black Moon Circle, Aural Hallucinations) and Dr Martin Weaver (Wicked Lady, Dark). Although the music is not that much different from ORESUND SPACE COLLECTIVE, the overall approach here is a bit too experimental sometimes (especially closing track Into the oort cloud), although it still not far removed from progrock, spacerock krautrock and such 1970s experimental music. Done very well, I have a slight preference for ORESUND SPACE COLLECTIVE, but if you somehow find them not experimental enough, then DOCTORS OF SPACE is a must to check out at: https://doctorsofspace.bandcamp.com/album/first-treatment
(Points: 7.7 out of 10)
CELESTIAL BURST 'THE MAZE' (INDEPENDENT/FRANCE IMPORT)
Out of France comes the sensational Progrockband CELESTIAL BURST and their debut album is titled The maze. They were formed back in 2012 and are situated around Alexis Lustenberger/Lead Guitar, songwriter, composer and Kenza Laala/Lead Vocal, songwriter, while the final song on the album has a big surprise, because ANNEKE VAN GIERSBERGEN (solo and ex-THE GATHERING) sings on this song, which is the titletrack. Anyway, there are 6 songs in total on the album, and thankfully also Kenza is able to sing very well, so it doesn't make such a difference who of the 2 ladies sings actually. The included material is of an incredible high level, very relaxing atmospheric melodic progressive rock with a 1970s approach a la PINK FLOYD and PORCUPINE TREE, yet here and there with a rockier part, although most of the time it stays in this calmer mode. It's music to relax and just listen, because each and every song has lovely melodies, with as absolute highlights Obedience (beautiful calmer piece a la PORCUPINE TREE/PINK FLOYD), First flight (midtempo rockier tune like KATE BUSH meets THE GATHERING) and of course Anneke's vocal led The maze (which has a heavier uptempo part at the end). Make sure not to miss little gem, more info at: https://celestialburst.com
(Points: 8.4 out of 10)
PETER CARLSOHN'S THE RISE 'OUT OF THE BLUE' (PCM MUSIC/SWEDEN IMPORT)
Bassplayer PETER CARLSOHN comes out of Sweden and has been in the music business for over 50 years now. He is best known as the bassist for the legendary Christian Rockband JERUSALEM, but now releases his first solo-CD titled Out of the blue, on which he sings himself. Besides Peter, other involved musicians are Stephen Carlson – Guitar, Lars Carlsohn – Guitar, Svenne Jansson – Keyboards, Michael Ulvsgärd – Drums and Cutta John Kåre Gullestad – Backing/co-lead vocals. 10 songs are included in total and musically speaking it is an 80s inspired typical Swedish Melodic Hardrockalbum, not too far away from JERUSALEM actually. After a somewhat calmer start with the semi melodic rocksongs Holy ground and Why, third track Sing the song is the first song that gets your feet from the ground in a very positive way, because this is a fantastic slightly faster uptempo 80s inspired Melodic Heavy Rocker with a catchy chorus and a soaring guitarsolo, kinda in the spirit of 'Out in the fields' - GARY MOORE, PRETTY MAIDS and MAD MAX, so very 80s Hardrock European orientated. The bluesy ballad Shine your light follows, while the midtempo sing-a-long I want it all is a nice catchy tune. You are my life is uptempo melodic rock that somehow reminds me of DOMINOE and other German late 80s Melodic Hardrockbands, including also the classic 80s guitarsolo. Peter's voice is quite raw and very basic, so no high pitched vocals can be heard here, neither the clean ''musical" AOR kinda voice, but instead you get to hear a real rough but interesting voice to listen to. Next track Gloria slows things down to a calmer pop/rock direction a la LARRY NORMAN. The midtempo melodic rocker Kiss from above is reminding me of that other Swedish Christian Rockband from the 80s, namely LEVITICUS, although the chorus also has a bit of similarities to RETURN. The titletrack Out of the blue is a nice uptempo melodic rocker with a catchy chorus a la MAGNUM and The dream closes the album in a nice smooth calm direction. Concluded, a nice record and anyone familiar with JERUSALEM might want to check this out. More info can be found at: https://petercarlsohn.com/
(Points: 8.2 out of 10)
VARIOUS ARTISTS 'THE SOUND OF TRUE NORTH AND STONY PLAIN' (TRUE NORTH RECORDS/LINUS ENTERTAINMENT/FACTOR/CANADA IMPORT)
The Canadian record label TRUE NORTH RECORDS is the oldest independent record label in Canada and they were kind enough to sent me some of their albums, of which The sound of True North and The sound of Stony Plain are 2 interesting compilation albums that contains in total 20 songs by 20 different acts from Canada that are mostly signed to TRUE NORTH RECORDS. Without a doubt, these are 2 high quality records with a lot of interesting releases, and musically also quite diverse. Most interesting ones on these compilation albums are the acts BUFFY SAINT-MARIE (nice), CRAIG CARDIFF (quite good), LEEROY STAGGER (great), JEREMY BENJAMIN (very good), MATT ANDERSEN (sensational!), SASS JORDAN (legend!), DUKE ROBEBILLARD (nice!) and COLIN JAMES (another legend). We have done a few reviews now (including the wonderful album of CRYSTAL SWAWANDA), but hopefully soon we will review more releases of this label, because they have a lot to offer we hardly hear of in Europe. More info at: https://truenorthrecords.com/
(Points: 8.5 out of 10)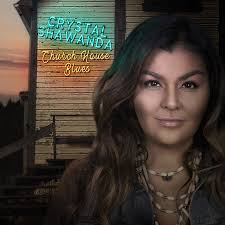 CRYSTAL SHAWANDA 'CHURCH HOUSE BLUES' (TRUE NORTH RECORDS/LINUS ENTERTAINMENT/FACTOR/CANADA IMPORT)
It's quite fascinating this powerhouse female singer from Canada has not yet had her big break, because with a voice like her, she should be massive all over the world! CRYSTAL SHAWANDA has been active in the music business since 2008, released quite a few albums that charted well in homeland Canada, where she also won several awards. However, she actually started as a countrysinger in Nashville, but thankfully switched to blues eventually and her new album Church house blues is a sensational album in the world of Blues! She got help from Louis Winfield (drums), Darren James (drums), Dave Roe (drums, JOHNNY CASH), Michael Dearing (bass), Jonathan Nixon (bass), Hinkie Hamilton (bass), DeWayne Strobel (guitar), Peter Keys (keyboards, LYNYRD SKYNYRD), Jesse O'Brien (keyboards), Dana Robbins (sax), Miqui Guitierez (sax), Stephen Hanner (harmonica) and the McCrary Sisters (backing vocals). 10 songs are on the album and there's not a single dull moment to be found. Opener Church house blues is an uptempo funky bluesy rocker, while following track Evil memory slows things down and is a lovely slowtempo soulful bluesy ballad in the style of BETH HART, both vocally and musically. The groovy relaxing Move me is a lovely tune, while Rather be alone is almost pure Gospel meets Blues, with amazing vocals of Crystal and a precise guitarsolo. When it comes to love is back to SAM COOKE ish slowtempo melodic Soul R&B old school, also reminding me of LEON BRIDGES and especially YOLA CARTER. This song is definitely the most hit potential, a definite radio-ready tune with a catchy chorus you will easily remember. The lovely uptempo rocking Hey love is up next, and Blame it on the sugar follows that same uptempo route, with a certain old school Motown vibe. Bigger than the blues is another deadringer for fans of BETH HART, with Crystal belting out every piece of soul she has in her heart to make it sound as authentic as possible. I can't take it is another slow R & B old school Bluesy tune like YOLA CARTER again. Closing track New Orleans is sinking is one of the finest songs, a slow heavy raw dirty mean blues rocker with superb vocals once again, like BETH HART and JOE BONAMASSA doing a song together, but then perhaps even better! Without a doubt, this is one of the finest 'Blues' albums of 2020! Make sure not to miss this album, so for more info go to: http://crystalshawanda.co
(Points: 8.9 out of 10)
THE MAHONES 'UNPLUGGED' (TRUE NORTH RECORDS/LINUS ENTERTAINMENT/FACTOR/CANADA IMPORT)
Out of Ontario, Canada comes the Irish/Celtic Punkband THE MAHONES. They were formed in 1990 and have ever since built up quite a reputation. Their music fits right between THE POGUES and DROPKICK MURPHYS. Their current line-up consists of Finny McConnell - Lead Vocals, Guitar, Mandolin, Songwriter, Katie McConnell - Accordion, Vocals, Michael O'Grady - Tin Whistle, Vocals, Sean Ryan - Bass, Vocals, Guillaume Lauzon - Drums and ex-DROPKICK MUPRHYS' Scruffy Wallace - Bagpipes. Unplugged is their 12th album and as the title predicts, it's a stripped album and a real good one, as you can clearly follow the lyrics and what Dublin born singer FINNY MCCONELL is singing about. What is very surprising is the guest appearance of SIMON TOWNSHEND on acoustic guitar and harmonyvocals on one of the songs, because he is the younger brother of PETE TOWNSHEND of THE WHO, and I once bought a great 80s vinyl record he did with MOVING TARGETZ, an AOR band. Anyway, back THE MAHONES, this is typical Irish/Celtic Punk the way we know it, singing along to uptempo happy hymns, only it's unplugged here and that shines a whole new light on their classic tunes. Check out all on this legendary band at: https://www.facebook.com/TheMahones
(Points: 8.0 out of 10)
BRUCE COCKBURN 'GROWING IGNITES' (TRUE NORTH RECORDS/LINUS ENTERTAINMENT/FACTOR/CANADA IMPORT)
50 years ago the Canadian singer/songwriter BRUCE COCKBORN released his debut album on the same label as this new record Growing ignites. I am a bit unfamiliar with his earlier work, but this new album is a lovely instrumental acoustic guitar tingled album with a focus on classic folk and blues melodies. Bruce is a legend in the Folkrockscene and I think this album will also find it's way to his fans. He usually also sings, but this time he choose to keep it instrumental and somehow it works, because the included 11 songs are all little masterpieces. Check out more info on Bruce at: http://brucecockburn.com
(Points: 8.3 out of 10)
MEMOREMAINS 'THE COST OF GREATNESS' (INDEPENDENT/FINLAND IMPORT)
Out of Finland comes MEMOREMAINS, a female fronted band with a modern sounding catchy Melodic Popmetalsound that fits somewhere between a more polished AMARANTHE, NIGHTWISH and AMBERIAN DAWN. The style Popmetal (or Discometal as mentioned on the CD) was used in the past by Hair Metalbands, because they connected commercial radio hits with a rocking 'metal' ish guitar, and RATT was one of those bands that was labelled this way in the 1980s. Now a few decades later it is used by this band, and actually they have a point, although it is perhaps better to describe their music as catchy radiofriendly uptempo Melodic Rock with a focus on memorable choruses and the AOR keyboards upfront, kinda like what AMBERIAN DAWN is also doing. Anyway, I think they have a lot of great tunes to offer here, despite it might not all sound really original. The sound/production is huge and it surprises me this is just an independent release, because it could well have been on a major label. The band was formed not that long ago and The cost of greatness is their debut album. Their line up is Vocals – Johanna Ahonen, Keyboard – Mikko Kujanpää, Guitar – Aleksi Mäkelä, Bass – Aapo Timonen and Drums – Eemeli Timonen. Songs like Eternal flame, Bring it on, Riot in the crowd and Pounding heart (you can't get closer to the 1980s than this, even reminding of NENA/KIM WILDE's Anyplace Anywhere Anytime!) are great uptempo pieces that almost feel like the AOR/Melodic Rock we usually get to hear from Sweden (bands like ONE DESIRE, H.E.A.T., NIGHT FLIGHT ORCHESTRA...), yet with female vocals. I am quite safe to say that live on stage and on the radio MEMOREMAINS will do a good job with their catchy music. Most remarkable song is the lengthy closing track, which is the titlesong, an epic tune that reveals their love for NIGHTWISH and Prog combined with one of the strongest choruses on the album! Check them out at: https://www.memoremains.com
(Points: 8.3 out of 10)
ELECTRIC MUD 'QUIET DAYS ON EARTH' (INDEPENDENT/GERMAN IMPORT)
I was personally not familiar with ELECTRIC MUD, but they have definitely made an impact on me with their new CD Quiet days on earth. They are a duo consisting of Hagen Bretschneider (music conception, bass, video editing) and Nico Walser (guitars, keys, fretless bass, noises, drum programming, co-composing) and are situated in Hanover, Germany. They have already released a few records before this new one, but it's my first experience with this interesting duo. The music they are playing is instrumental calmer 1970s inspired Neo-prog/Krautrock in the style of ELOY, CAMEL, PINK FLOYD, TANGERINE DREAM, KLAUS SCHULZE... It's actually a journey you go through and a really amazing one I can assure you! The 79 minutes are split over 15 songs and it's building to a climax several times, with calmer Nature/New Age/Ambient parts and wonderful Progrock/ Krautrock moments. It's really beautiful and a joy to listen to the full album that makes you dream about a different time and age, and you really feel connected to natural beauty when listening. Normally that happens with New Age music, but here it's as already mentioned several times combined with Progressive Rock, Krautrock and a bit of Synthwave. A wonderful adventure you need to experience yourself for sure and perhaps one of the finest surprises this year in instrumental music, as it is very diverse with elements of the instrumental landscapes of prog, new age and synthwave. If we have a walk through the songs, this album should actually be seen as one long experience with many wonderful moment, such as Quiet days on earth and Adventures in a liquid world (both with a lovely guitarsolo and melodies a la classic PINK FLOYD/CAMEL), Wading through the waters of time and Durance (both with heavy synths, almost synthwave), calmer parts with a romantic feel (Eyes watching skies), exciting moments with a bit of suspense (Foggy postcard from a barren land) and lovely pure 1970s Prog (Sleeping under a green desert tree). It's all present and without a doubt, a must-have for fans of high quality instrumental music. More info can be found at: https://electricmud.bandcamp.com/album/quiet-days-on-earth
(Points: 8.7 out of 10)
MANEZ 'MANEZ ETA KOBREAK' (KALIPTA PRODUCTIONS/XANGO MUSIC)
MANEZ is the artistic name of singer/songwriter/percussionist THIERRY BISCARY, who is accompanied by a vocal and brass band called KOBREAK on his first solo CD Manez eta kobreak. It's all about melodies here and Thierry has a great voice to sing them in 13 diverse songs. The first song Zapetagilea starts calm and quite melancholic, but the cheerful following Xarpota brings the Spanish/Latin uptempo rhythm. Actually when listening to this wonderful album, you can hear so many beautiful melodies that really give you that feeling you're in the area where Thierry is coming from, which in this case is the San Sebastian/Spain and Biarritz/France area (Basque). Other highlights are 100 alargunen dantza, Libertimenduetan and Soaz amodioa errateriano. Some of the songs are accepella and very emotional, while there's also a lot of fun uptempo moments. Nice World Music album and more info at: https://biscary.bandcamp.com/album/manez-eta-kobreak
(Points: 7.9 out of 10)
JUHANI VALKAMA 'KOTIIN' (ECLIPSE MUSIC/XANGO MUSIC)
I have reviewed more albums with Finnish lyrics in the past, but it's always a challenge due to the language barrier. However, when listening to the album of JUHANI VALKAMA, I feel a lot of joy and happiness, because it really is a wonderful album. The album Kotiin he released is featuring wonderful melodic calmer music with a light jazzy meets bluesy feeling, some Latin influences, quite some late 1970s Westcoast/Pop/AOR and crystal clear laid-back singing, with a certain 1970s melodic soulful pop/rock approach like STEELY DAN and LITTLE FEAT to finish it off, but believe me there's a lot more to explore here. The musicians on the album are Juhani Valkama - vocals, keyboards, Tapio Ylinen - guitars, bass, mandolin, Simo Haapala - drums, Elina Valkama - vocals, saxophone, Mikko Löytty - bass and Miia Lepola - vocals. There are many highlights to be found, such as Kottin, Kaksi kaunokaista (quite superb, with lovely melodies and great guitarwork a la STEELY DAN), Karsivallisyytta (sensational pure Westcoast-AOR, breezy as the summer and like an excellent Finnish version of JAY GRAYDON, LEE RITENOUR and such), Abasverus, Ei ole myohasta (lovely uptempo AOR/Poprock), Ei muuta jaettavaa (uptempo Americana ish) and the semi melodic rocking ballad Exodus. It's not entirely a Fusion/Westcoast/Pop affair, because during a song like the uptempo Pelkoa paiin, the sound is more traditional almosy Gypsy kinda (with a Finnish language/schlager ish touch), but with still guitarwork to give it a modern approach and thanks to Juhani's wonderful vocals, every included song is a joy to listen to, no matter if it's moving a bit more into a jazzy direction, a traditional Finnish/World Music way or the Westcoast/AOR/Fusion/Pop vibe! Check all info on his new album at: https://eclipsemusicrecordlabel.bandcamp.com/album/kotiin-2
(Points: 8.6 out of 10)
BARCELONA GIPSY BALKAN ORCHESTRA 'NOVA ERA' (SATELITE K/BGKO/XANGO MUSIC)
Formed in 2012, Nova era is the new album of the BARCELONA GIPSY BALKAN ORCHESTRA. The permanent members of BGKO are vocalist Margherita Abita (Italy), clarinetist Daniel Carbonell (Spain), accordionist Mattia Schirosa (Italy), double bassist Ivan Kovačević (Serbia), guitarist Julien Chanal (France) and percussionist Stelios Togias (Greece). In addition are various musicians contributing, giving the overall sound on each album an interesting diversity. The music is typical uptempo Gypsy Music orientated, yet with many other musical influences, including Klezmer music, Jazz Manouche, and Roma music. The female vocals are very strong and as already mentioned, the musicians come from different regions in the world and therefore the sound changes everytime during the 13 included songs. A great adventure through the Mediterana, Latin America and other parts of the world. You can check more on them at: https://www.facebook.com/BarcelonaGipsybalKanOrchestra/
(Points: 8.0 out of 10)
MARCO MEZQUIDA 'TALISMAN' (SGAE/XANGO MUSIC)
Out of Spain comes piano/keyboardplayer/componist MARCO MEZQUIDA and together with Martín Meléndez - cello and Aleix Tobias - bateria, he recorded a great instumental piano-led album that is quite challenging, although the music is mostly jazz orientated. Of course it's easy to make comparisons to BILL EVANS, but Marco has his own style and that is quite nice to listen to. Definitely a quality release and recommended to fans of instrumental jazz-piano music with some improvisations, sometimes calm and at other times more experimental. You can hear it for yourself at: https://marcomezquida.bandcamp.com/album/talisman
(Points: 8.0 out of 10)
SSUE FEATURING PAT THOMAS 'BAMBAYA FIRE' (SCRATCH STUDIOS/UNIVERSAL/XANGO MUSIC)
SSUE is a talented young female singer with an incredible soulful voice and in Ghana she recorded just before the pandemic this interesting 6 tracks counting album that explore World Music, Latin beats and African Rhythms, with as result a catchy little record with songs that could easily become hits. The sound is rich due to the use of a full band (guitar, keys, drums, bass) and an additional horn trio. She has a wonderful voice that lifts up the material to higher places and it really swings from start to finish here. The songs really make you smile and you can easily have a good time while listening. The professionality is also clear due to the use of so many musicians (Ekow Mbrah Otchere (saxophone), Luis Emmanuel Gyima (trombone), Joseph Amankwa Twum-Baah (trumpet), Apau Samuel Awuku (Guitars), Emmanuel Addai (Drums), Michael Laryea (Percussion), Godbless Buabin (Keyboards) and David Aidoo (Bass)) as well as the fact the EP was recorded at Black Note Studio in Accra, Ghana, it was produced by Lahai Samurai (Sierra Leone) and Mobeatz Bangr (Chicago, USA), mixed by Zapp Mallet (Ghana ) and mastered by Kai Blankenberg at Skyline Tonfabrik in Dusseldorf, Germany, and finally, Kofi Amoakohene and Henry Holdbrook-Smith were the Executive Producers. A lot of people involved and all delivering all they could and the result is happy fun music with a carribean meets african kinda feeling, with a jazzy touch here and a pop sensibility (especially Should I is a lovely tune!), while of course SSUE shines as a marvelous singer you desperately want to hear live. We will have to wait a while for that, but you can meanwhile check out more at: http://ssuemusic.com/discography/bambaya-fire/
(Points: 8.5 out of 10)
CRUEL EXPERIENCE 'SEASONS CASSETTE TAPE' (SANTA VALVOLA RECORDS/ITALY IMPORT)
During the 1990s I received daily many demo tapes, yes real tapes! Eventually it completely vanished when the CDR was introduced, but thankfully fast forward to 2020 and I received the 2nd cassette tape. It's a great 5 tracks counting high quality tape from Italy and the included music is British Post-Punk in the style of LIFE, FONTAINES D.C., A MURDER CAPITAL and such, with a touch of fuzzy guitar based Garage Rock as well. CRUEL EXPERIENCE is doing it very well and songs like Burden and especially Smile and Alley are great uptempo Post-Punk/Garagerockers with strong vocals and also great use of their instruments. They were formed in the city of Lucca back in 2013 and have already released a few EP's before launching this awesome sounding cassette tape titled Seasons end. I am pushing the play putton, the pause button, rewind it a few times, I think I'm in love again with the cassette tape and it's all thanks to this Italian band CRUEL EXPERIENCE! Check them out at: https://cruelexperience.bandcamp.com/
(Points: 8.4 out of 10)
TURNING VIRTUE 'BEAUTIFUL' (TURNING VIRTUE MUSIC/USA IMPORT)
Not so much info on this band, but as soon as I listened to the first song of their 2nd album Beautiful, it is clear TURNING VIRTUE from Buffalo, New York is a high quality band, with a crystal clear Melodic Progressive Rocksound that reminds me a bit of ENCHANT. This is how progrock should sound like and actually TURNING VIRTUE was already active in the 1990s, but after a long pause, they reformed a few years ago and released their official debut, which is now followed by Beautiful. The band is formed around DAVID KARCZEWSKI (vocals, guitars, keys), DPA (bass), MARK HELLENBACH (guitars), MARK ZONDER (studio drums), ROB THURMAN (live drums) and TIM PALMER (additional guitars/keys). Mark is of course best known as FATES WARNING drummer, so it is understandable we are dealing here with an interesting band. Back to the album, there are 7 songs included, and it all starts with the beautiful calmer progrock song Postulate, while the next track Trapped in the system is heavier and more complex proggy, a bit like KING'S X meets SPOCK'S BEARD. One in the same slows things down again, although this is a slightly experimental and modern song with even some rapping going on as well as a female backing singer. Bridge toward home is a superb piece of original Progressive Rock, with many tempo changes and after a few minutes a great melodic RUSH ish Pomprock chorus and some cool keyboardwork reminiscent of the 1970s. Zero gain and Come to me azure calm things down to the ENCHANT ish direction again, both wonderful melodic tunes. Closing track Eyes of the beginning is another great melodic progrocker with a superb catchy chorus and some lovely soaring guitars. Concluded, this is a recommended hidden progrock gem you need to check out at: https://turningvirtue.bandcamp.com/releases and http://www.turningvirtue.com
(Points: 8.5 out of 10)
DOUGLAS LEE 'FALLING DOWN STAIRS' (INDEPENDENT/IT'S A LIE MEDIA/USA IMPORT)
Out of L.A., California comes the talented performer/composer DOUGLAS LEE, who releases his debut album with the CD Falling down stairs. Douglas is playing musical glasses, guitar, koto, shamisen, organ, analog synthesizers, melodica, marimba, electric vibraphone, jaw-harps, tuned gongs and chimes, aprés baschet sound sculpture, suikinkutsu, vinyl manipulation, noise and soundscapes, while on this first album he is joined by Scott Doherty - rhodes piano, Sarah Kramer - trumpet, Heather Lockie - violin, Paul Pate - clarinets, saxophones and flutes, Robert Petersen - double bass, Danny Ursetti - drums and a few other guests. The album was co-produced by Michael Rozon (MINISTRY) and the result is a lovely original instrumental album that sounds quite relaxed actually, but is different than anything else you heard before, because Douglas is influenced by Nino Rota, Angelo Badalamenti, Miklos Rozsa and Carl Stalling, Themes is equal parts 40s Film Noir soundtrack, Romani gypsy music, Shibuya-Kei Japanese pop and 30s Shanghai cabare. Actually it has sometimes memories of a QUENTIN TARANTINO movie or a film noir, especially when you hear a song like Raid on the purple river. The Japanese influences can be heard very clearly in a song like Jeminor's lost night in Kakarta, while a song like Montgomery's trek is a jazzy tune. Zarseilles lowrider is one of the most beautiful instrumentals of the past few years, with a certain 1970s kinda feeling. No weak moments at all and the diversity makes this a recommended instrumental album to check out at: https://douglaslee.bandcamp.com/album/themes-for-falling-down-stairs
(Points: 8.4 out of 10)
THE ELWINS 'IV' (PINK EYE RECORDINGS/CANADA IMPORT)
Out of Ontario, Canada comes the rockband THE ELWINS, who were formed back 2006 and have so far released 3 albums. IV is therefore likewise their 4th album of this band that is formed around singer and guitarist Matthew Sweeney, drummer Travis Stokl, guitarist/keyboardist Feurd and bassist/singer Frankie Figliomeni. In those 14 years they built up a reputation and this new album is a strong modern rock sounding album with plenty of lovely melodies. The band's sound combines elements of Indie, Melodic Rock and Powerpop, with a slight British pub meets post-punk retro vibe, such as can be heard on the sensational Rockin' the horse. 13 tracks are included in total, and other highlights include Her be the one (a bit like TEENAGE FANCLUB), Giving up on yourself (fantastic uptempo melodic catchy powerpop, almost like early 1980 RICK SPRINGFIELD) and Take me all the way. Overall they remind me quite a lot of DAWES, THE JAYHAWKS, SON OF BILL and such. The vocals are really great, clean and melodic, while the music is close to melodic rock meets powerpop/college-rock, so the focus is clearly on radio-ready melodies. Check them out for yourself at: https://wearebusybodies.bandcamp.com/album/the-elwins-iv
(Points: 8.3 out of 10)
THE PICASSOS 'THE PICASSOS' (RENEGADE SOUNDS/CANADA IMPORT)
The Canadian label RENEGADE SOUNDS brought us a lot of wonderful AOR/Melodic Rock releases in the past, and now a new album has been released. The band is called THE PICASSOS and their same titled debut is a great Melodic Rockalbum with some very catchy tunes! It's actually a mini-album from this Canadian band, which is a duo compromised of singer/guitarist/keyboardplayer/programmer CAM VAN AS and ROB BEGG (guitars/bass), and I'm not sure if this is a real new band, because their sound is dangerously close to the classic late 1970s/early 80s Canadian AOR/Melodic Poprocksound of PRISM, HARLEQUIN and such. The 2 musicians met each other in 1987 and must have written the material on this album back then, because all 6 tracks are catchy hookladen AOR/Melodic Rock orientated, with superb vocals, lovely melodies, soaring guitarsolos and all that made this such an enjoyable sound 35-40 years ago. I felt in love with the songs I'll take maybe, I'm not in love and Living in the past. Songs that sound like the early 1980s when AOR/Melodic Rock and Powerpop were ruling the airwaves in the USA and Canada! Highly recommended if you like that classic sound! More info at: www.renegadesounds.com and https://thepicassos.hearnow.com/
(Points: 8.5 out of 10)
SEAN O'BRIEN 'VARIOUS ALBUMS VINYL RECORDS + CDs' (FIRST COLD PRESS/USA IMPORT)
Out of Calfiornia comes singer/songwriter SEAN O' BRIEN, who kindly sent me his vinyl records and cds he released during his 40-year music career, It all started for him with the Powerpopband MEANTIME, and the vinyl record Two for one he released with them in 1981, it contains brilliant early 1980s uptempo catchy Powerpop/Poprock in the style of THE JAM. 11 tracks are included, of which the highlights are Indifferent, Is there someone out there?, Two for one (excellent early 80s brilliance Powerpop) and Tight fist. I believe this vinyl release is a re-issue of their 1981 EP along with unreleased songs, and all I can say is that it's a must-have for fans of that classic early 1980s Powerpopsound! Guitarist Russ Tolman later formed the band TRUE WEST (I have somewhere a record of them) and vocalist/guitarist Sean O'Brien later formed the band DENIM TV and a few other bands. Eventually he went solo and released quite a lot albums, of which My colors dark was sent to me on vinyl record. This album was recorded with the band HIS DIRTY HANDS and released in 2019, and it contains catchy melodic punky powerpop with a folkrock touch as well. Highlights are opening rocker Master of the slow burn, the titletrack My colors dark (a lovely 1960s/1970s Powerpop piece with a THE BEATLES ish chorus), the CREEDENCE CLEARWATER REVIVAL ish Hilarious, the catchy 80s Powerpoprocker Trying to stop (like THE JAM meets THE STYLE COUNCIL) and the superb Three snakes caught (a la THE UNDERTONES). Sean has a strong voice and easily combines the best of singer/songwriter, powerpop and a tiny bit of folkrock (JOHN LENNON solo meets THE BEATLES meets THE JAM meets THE UNDERTONES would be a nice description) on this great album! He also sent me 3 other CDs, namely the 1992 release Too personal, Risk profile from 2014 and a 1985 recorded concert CD from his former band DENIM TV. He did a lot of great stuff, that is clear, and you can check out all on him at: http://www.seanobmusic.com/my-colors-dark-2019
(Points: 8.4 out of 10)
SCATTERFACE '2020' (ECHOZONE/BOBMEDIA/GERMAN IMPORT)
When looking at the frontcover, I thought this was going to be either 80s AOR, 70s/80s Funk/Disco or the current Synthwave. 2020 by SCATTERFACE is closest to Synthwave, yet with a Gothic touch as well, and here and there a melodic rock guitarsolo, but they're not shy from Industrial Metal either. However, when the thrird song Null is playing, it's like we're suddenly into high class catchy Melodic (Power) Metal in the style of HELLOWEEN and EDGUY, and basically this is quite a sensational tune. The diversity of this album is unbelievable, but the good thing is that it's all done very well. SCATTERFACE is formed around Chris Techritz – Vocals, Tamara Radler – Vocals, Vitali Bull – Guitar, Sebastian Michaelis – Guitar, Paul Curtis – Bass and Jake Curtis – Drums. 2020 is the debut album, and it sounds very modern, combining Industrial Metal, Gothic and Synthwave, with as mentioned before, also some steps into Melodic Power Metal. 16 songs can be found and it's not bad at all what we are hearing. There's so much diversity going on, it will keep you entertained from start to finish, with as other highlights besides the afforementioned power metal tune, the melodic WITHIN TEMPTATIONish sympho-gothic melodic rock piece Lust 2, the lovely melodic rockballad Snowflake and the calmer beauitul Path of the sun. After a while, the album drifts into a symphonic gothic metal meets melodic progmetal adventure when listening to songs like Endless rain and Secret rooms, with even some cookie monster vocals a few times (We all float). Overall, SCATTERFACE is hard to compare, but that's not a problem at all, because their diversity is making them interesting enough to check out at: https://www.facebook.com/Scatterface.Music/ and http://www.scatterface.com/
(Points: 8.0 out of 10)
THANATEROS 'INSOMNIA' (ECHOZONE/BOBMEDIA/GERMAN IMPORT)
The German band THANATEROS released 4 albums during the 2000s, but they took a break in the 2010s and now they are back with a very strong new album titled Insomnia. The included music is catchy Melodic Folk/Power Metal with somewhat raw/rough vocals and memorable melodic choruses, especially during great uptempo pieces like Wait for me, The lost king, Shine0 and From the pain. A total of 17 tracks is included, although the last 4 are instrumental version of some of the earlier 13 tracks. The band is formed around Ben Richter/Vocals, Programming, Chris Ryll/Bass, Chris Lang/Guitars, Christof Uhlmann/Violin and Marcus Hotz/Drums. This is one of those albums that might pass you by, which is a pity, because it is definitely a recommended record to check out: https://thanateros.bandcamp.com/album/insomnia
(Points: 8.1 out of 10)
J. PETER SCHWALM & ARVE HENRIKSEN 'NEUZEIT' (RARENOISE RECORDS/UK IMPORT)
The German electro-acoustic composer J. Peter Schwalm and Norwegian trumpeter Arve Henriksen joined forces and recorded a nice calmer instrumental album that is electro-jazz orientated with a focus on beautiful melodies created by the trumpet. Done very well, this is a very nice relaxing album to enjoy on a late evening. More info at: https://jpeterschwalm.bandcamp.com/album/neuzeit
(Points: 8.0 out of 10)
THE END 'ALLT AR INTET' (RARENOISE RECORDS/UK IMPORT)
Allt ar intet is the 2nd album of THE END, a band formed around Swedish saxophonist Mats Gustafsson (Fire!, The Thing), Norwegian saxophonist Kjetil Møster (Møster!, Zanussi 5), Ethiopian-born vocalist Sofia Jernberg (Fire! Orchestra, PAAVO), Norwegian guitarist Anders Hana (MoHa!, Ultralyd), and Norwegian drummer Børge Fjordheim (Cloroform). Together they create extremely experimental freestyle jazz/prog on the 6 included songs of their new album. Especially during songs like Intention and release and the titletrack Alllt ar intet it gets really experimenta. If BJORK and SINEAD O'CONNOR would sing and scream on a KING CRIMSON record, this could be the result. I am quite open-minded and I have heard a lot albums in my life, but this THE END is the most experimental piece of work I have heard, except perhaps maybe the side-project of FAITH NO MORE, MIKE PATTON with JOHN ZORN. If you're a fan of such experimental extreme music, then this recommended to check out at: https://endisnear.bandcamp.com/album/allt-r-intet
(Points: 7.7 out of 10)
WORLDSERVICE PROJECT 'HIDING IN PLAIN SIGHT' (RARENOISE RECORDS/UK IMPORT)
The London, UK based WORLDSERVICE PROJECT is a freestyle punk-jazz band formed around Dave Morecroft – Keyboards / Vocals, Ben Powling – Saxophones, Arthur O'Hara – Bass / Vocals and Luke Reddin-Williams – Drums / Percussion. They have already released 4 albums in the past, so Hiding in plain sight is their 5th so far and I must say it is a sensational instrumental (except for some Italian speaking parts) record that feels like the perfect mix of progressive rock and jazz, with not only experimental moves, but also room for beautiful melodies in each every song. These melodies are created by the sax, keys and addtiional trombones (guest Kieran Mcleod), and especially during the songs Deeper, Pomped-up Freddie and The kipper and the pork pie (proggy with arabic rhythms), it all sounds perfectly fine for both prog and jazz fans. ELP meets ESP might be a nice description here, but actually WORLDSERVICE PROJECT has a sound on their own, and it is one to listen to for sure if you're not yet familiar with their music. Check out more at: https://worldserviceproject.bandcamp.com/album/hiding-in-plain-sight
(Points: 8.4 out of 10)
KAURNA CRONIN 'ALOFT IN BLUE' (INDEPENDENT/HEMIFRAN/SWEDEN IMPORT)
Out of lovely sunny Adelaide, Australia comes KAURNA CRONIN, a talented multi-instrumentalist/singer/songwriter with a nice little album titled Aloft in blue. Besides Kaurna on Vocals, Guitars, Harmonica, Piano, Synth, Drums and Percussion, other involved musicians are Tom Kneebone on Electric Guitars, Kiah Gossner on Bass, Matt Morison on Piano, Organ, Synth and Lauren Henderson on Backing Vocals. Kaurna has a strong voice and his songs are melodic and friendly, situated between Singer/songwriter and classic 1970s Westcoast/Pop. All 10 included songs bring us beautiful melodies, with as highlights Glass road, The part of me I let you see, Give your love to a stranger and the uptempo rockier Roses can be blue. Kaurna has this typical British tone in voice, despite he is from Australia, kinda reminding me of AL STEWART somehow. Anyway, this could perhaps be one of the better singer/songwriter albums of 2020! More info can be found at: https://kaurnacronin.bandcamp.com/album/aloft-in-blue
(Points: 8.3 out of 10)
FAY HIELD 'WRACKLINE' (TOPIC RECORDS/PROPER MUSIC DISTRIBUTION/UK IMPORT)
Wrackline is the 4th album of the English Folk singer/songwriter FAY HIELD, who sings/writes songs in the classic British traditional folkstyle. She used to be in several bands during the 1990s and 2000s, with whom she also recorded albums, but since her solo debut album in 2010, she has quickly built a name under her own name. Her music is as mentioned clearly old style traditional Folk music and on Wrackline she gets help from Rob Harbron (guitar, convertina, harmonium, percussion, vocals), Ewan MacPherson (vocals, harp), Ben Nicholls (contrabass, vocals) and Sam Sweeney (violin, nyckelharpa, percussion, vocals). 12 songs are included and most of the songs follow the same direction, which is calm, acoustic tingled traditional Folk that feels really good and pleasant to listen to. Fay's voice is unique and should be heard by the masses. There's not a single dull moment to be found here and the fact that Fay did not go a commercial AMY MCDONALD direction here tells a lot about her will to bring back the classic traditional Folksound to the public, just like it was some 50 years ago. Check out more on Fay at: https://fayhield.com
(Points: 8.3 out of 10)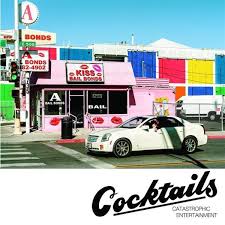 COCKTAILS 'CATASTROPHIC ENTERTAINMENT VINYL RECORD' (ALIEN SNATCH RECORDS/GERMAN IMPORT)
When listening to the first couple of songs of the new album Catastrophic entertainment of the band COCKTAILS, it's like we're back in time to the year 1980, because this kind of fun catchy uptempo Melodic Powerpop/Poprock was around that year the most popular genre in the Western musicworld. It was more or less the period when there was a transition from late 1970s UK Punkrock, early 1980s NWOBHM/Hardrock, early 1980s US AOR/Poprock to 1980s British New Wave. Powerpop took a bit of all these genres and added some Pop sugarness to make it radio-ready whike still rocking out uptempo most of the time. I hear so many similarities that I could fill a full page, but I guess if you're into for example MOON MARTIN, RICK SPRINGFIELD, THE KNACK, THE ROMANTICS, THE BOYS, 4 OUT OF 5 DOCTORS, NOVO COMBO, THE SHOES, 20/20, THE RECORDS, DWIGHT TWILLEY, CHEAP TRICK, THE ONLY ONES and such, then you're safe and well here.
COCKTAILS are coming out of San Francisco and Catastrophic entertainment is their 3rd album so far. The band's line up consists of singer/songwriter Patrick Clos, lead guitarist Joel Cusumano, synth/vocalist Lauren Matsui, bassist Rob Goodson, and drummer Phil Lantz. Their sound is so authentic that you might almost believe we are listening to a remastered 1980 record, but believe me that COCKTAILS is a real new band with brand-new songs that just recall the long-forgotten days of all those aforementioned acts. 11 songs are on the album, of which opener Bun E. Carlos is pure 1980 uptempo Powerpop, while the following uptempo Powerpop tune Nobody's going to the movies reveals some slight AOR/Poprock influences, thanks to the lovely soaring guitarsolo and superb catchy chorus. The album continues with likewise another catchy uptempo Powerpop affair in the shape of Janeland. Then we get to hear great female vocals (I think Lauren sings here) in the fantastic quirky early 1980s US female fronted Melodic Poprocker Love is gone that sits nicely between BLONDIE, SUE SAAD & THE NEXT, early 80s PAT BENATAR and SPIDER. Washoe county follows in the classic Powerpop direction again, while Side-A closes with Never be alone, a quirky Powerpop tune a la early THE CARS.
Side-B opens with one of the few uptempo Powerpop tunes that actually reveals a tiny bit of early 90s retro college rock/psychedelic poprock of bands like TEENAGE FANCLUB, THE POSIES and JELLYFISH, which can also be heard on the following ballad ish Buried alive. One of my favorite songs follows, because Waiting on the summer is an incredible catchy early 1980s US Melodic Poprocker that sounds like the perfect cross between RICK SPRINGFIELD and THE CARS during the hard rocking' anthemic chorus! This song also recalls the 90s retro punkpop sound of bands like WEEZER, FOUNTAINS OF WAYNE, THE CLICK FIVE and such. COCKTAILS would be a perfect fit for the International Pop Overthrow Festival, which is held each year (pre-corona) all over the world. I visited the wonderful Liverpool edition in 2019 and hopefully in the future I will be able to do it again! Anyway, the album continues with another excellent catchy uptempo Melodic Powerpoprocker titled Those changes that recalls the late 1970s Punkpop sound of THE BOYS and THE UNDERTONES. The album closes with Take it back, an early 90s deadringer for fans of TEENAGE FANCLUB!
Concluded, this is a highly recommended Powerpop album that sounds like a cross between all the mentioned acts, although actually COCKTAILS has an own identity that happens to be quite sensational! Check it out for yourself at: https://aliensnatch.bandcamp.com/album/cocktails-catastrophic-entertainment
(Points: 8.6 out of 10)
O.A.K. OSCILLAZIONI ALCHEMICO KREATIVE 'NINE WITCHES UNDER A WALNUT TREE VINYL RECORD' (INDEPENDENT/GOOD FELLAS/ITALY IMPORT)
The Italian Progrockband O.A.K. was formed way back in 1993 by multi-instrumentalist/singer/songwriter JERRY CUTILLO, who was kind enough to sent me their new album Nine witches under a walnut tree on vinyl record. The packaging of the record is really nice and since this is the 3rd part of a trilogy, it should be seen as a conceptional record about likewise nine historical witches. Jerry plays and sings a lot on his own, but he is assisted on the album by Jonathan Noyce (Bass), David Jackson (Sax), Daniele Fuligni (Grand Piano), Tetyana Shyshnyak (Soprano and Backing vocals), Cristiana De Bonis (Backing vocals), Gerlinde Roth (Spoken words), Marta Perozzi (Backing vocals) and Eclisse di Luna (Backing vocals). The resulting album is a diverse strong record that captures the true 1970s sound when prog, sympho and folkrock were very important musicstyles for major recordlabels. Now in 2020 most musicians that play this kinda mix are either connected to one of the very few prog labels out there or they release the music independently, which is also the case with O.A.K.´s new album. 9 songs are included in total and opener Chlodswinda starts very interesting, combining influences from World Music, Folk and Progressive Rock, with strong diverse arrangements throughout the 6 minutes counting song, while still presenting a lot of pleasant melodies. Following Gioconna is a combination of 1970s ish uptempo Progressive/Symphonic Rock/Krautrock with soprano female vocals during the calmer middle section. Dame harvillers is a beautiful theatrical melancholic Progressive Rocksong like FISH and PETER GABRIEL meets ELOY, but then with Italian lyrics of course. The instrumental Janet Boyman follows and is a very nice folk/progrock tune, while side-A closes with Franchetta Borelli, which is one of the highlights on the album, because this is a lovely semi-instrumental tune that combines 1970s progrock with 1970s fusion/jazz, kinda like JETHRO TULL meets BOB JAMES, with of course the Italian lyrics. I have to say that Jerry has a nice calm voice, so to speak that he doesn't do any weird singing thankfully and just adds his voice to his lovely instrumental efforts throughout the album. This is very clear on the opening song Polissena, a lovely instrumental synthesizer driven 70s Symphonic pop/rocksong that sounds like a cross between CAMEL and KAYAK. Following Donna Prudentia is one of the most melodic songs on the album, a beautiful emotional semi-progrock ballad with a lovely diverse use of instruments throughout the song. Nadira is a floaty 1970s inspired Symphonic Folk adventure that even recalls memories of FOCUS, FAIRPORT CONVENTION and RENAISSANCE. Closing the album is a 1970s German sung Kraut/Progrocksong that recalls memories of ELOY, KRAAN, GROBSCHNITT and such legendary bands (also JETHRO TULL and GENESIS a bit). It is one of the more fun/cheerful tunes on the album, with also a folky touch and as mentioned the German singing voice of Jerry, which he does remarkably well! Concluded, this is an interesting album you need to listen to a few times before making up a good judgement. However, once you passed that station, you will discover a lot of beautiful music here that is sounding very authentic and recalls the days when prog ruled the world in the 1970s! More info at: http://www.oaksound.com/it/
(Points: 8.5 out of 10)
ALMOST DEAD MEN 'A BRILLIANT FUTURE WASTED GROWING UP VINYL RECORD' (BOGUS RECORDS/OPEN MIND RECORDS/SWEDEN IMPORT)
The Malmo, Sweden based band ALMOST DEAD MEN are all about rock on their album A brilliant future wasted growing up, and then I mean dirty raw gritty rock and roll like it was done in especially the 1970s. Although they are influenced by DR. FEELGOOD, DEAD BOYS and THE DICTATORS, which you can clearly hear likewise, I could smell a lot more here. Side-A seems to be a bit calmer, because Side-B of the vinyl record they sent me, this is a more rockier affair. Imagine a mix of HERMAN BROOD, LOU REED, GOLDEN EARRING and THE DICTATORS, then you're quite close I think, Anyway, the band's line up consists of Sören G Andersson, Lead Vocals, Matts Bergkvist, Drums, Magnus Larsson, Guitar, Vocals, Jan Sandred, Bass, Vocals and Tom Stenström, Guitar, Vocals. 12 songs are on the album, which starts with Queen of the bar, a catchy STATUS QUO ish uptempo rocker, with a boogie rhythm and a rootsy rock touch like ROLLING STONES. The no-nonsense Classic Hardrocksound of AC/DC, KROKUS, DIRTY LOOKS and ROSE TATTOO is captured on the catchy following uptempo rocker Pretty thing. These first 2 songs are very short (around the 2:20 minutes in length), but it doesn't really matter since they rock hard and will definitely bring a smile on your face! The calmer rootsy bluesy rocker Cruising around sounds quite laid-back and raw, while the uptempo rocker In for the kill is a great classic rocktune that reminds me a bit of GOLDEN EARRING somehow. The titletrack A brilliant future wasted growing up follows and is one of the more melodic tunes on the album, because this is a lovely radio-ready catchy Powerpop/Poprocker. Side-A of the vinyl record closes with another cool Classic Rock guitar riff driven tune titled Here she comes, which has very raw vocals that almost sound like LOU REED, while the song itself has some memories of ROLLING STONES and THEM.
Side-B starts with the strong uptempo punky Classic Rocker City boy that reminds me a bit of BILLY IDOL in his early 1980s period. The NEW YORK DOLLS ish Glamrock meets HERMAN BROOD's WILD ROMANCE rock and roll can be heard in Guttersnipe, while Let's go is back to classic late 1970s uptempo Punkrock with memories of their heroes of THE DICTATORS crossed with a bit of THE RAMONES of course! Hot nurse is a fun uptempo classic rootsy rocker, the short Fight! is a cool late 1970s uptempo melodic punkrocker, and the album closes with the melancholic gritty DR. FEELGOOD/THE CRAZY WORLD OF ARTHUR BROWN/GRATEFUL DEAD (and a tiny bit of BLUE OYSTER CULT when ERIC BLOOM is singing, as well as THE DAMNED/THE DOORS/THE CULT) orientated dirty mean dark slightly Gothic ish rocker Rider, which is also the longest and most interesting song on the album (almost 6 minutes!). No-nonsense and just rocking out, that is the name of the game here most of the time on the debut album of the Swedish band ALMOST DEAD MEN. They do a great job for sure and I can recommend it to anyone who wants their rock to sound a bit edgy, raw and gritty like in the 1970s. More info can be found at: https://www.almostdeadmen.se

(Points: 8.3 out of 10)
WHITE WALLS 'GRANDEUR' (TENTASOL RECORDS/ROMANIA IMPORT)
There are quite a few bands called WHITE WALLS, but this one comes out of Romania and as we don't get many bands from that country, it is quite interesting to learn about this strong and impressive Progmetalband called WHITE WALLS. They were kind enough to send me their latest 2 albums, of which Grandeur has been recently released independently. The band released their debut 10 years ago and it's good to see them develop into a high quality band in 2020 with this new album. The band is formed around Alexandru-Eduard Dascălu (Dasu) – guitar, Eugen Brudaru – vocals, Șerban-Ionuț Georgescu – bass and Theo Scrioșteanu – drums. Their sound is clearly Melodic Progmetal orientated, with yet a slightly extreme part due to the cookie-monster growls a few times, especially during the beginning of the album. Thankfully they are not that disturbing and especially during songs like Home Is On the Other Side,
Holy Worse and Velvet (lovely chorus) there are some beautiful melodies to be heard. However when they drop almost entirely the growling during the 2nd part of the album it sounds even more impressive. Songs like Starfish Crown, Month's End, The Descent and The Slaughter (Marche Funèbre) are therefore the best songs and then we can hear great melodic clean vocals/choruses driven pure Melodic Progmetal a la DGM. This is definitely by far the finest Romanian Metal release I heard so far, so go check them out at: http://www.whitewalls.ro

(Points: 8.1 out of 10)
A LIGHT WITHIN 'EPILOGUE' (INDEPENDENT/USA IMPORT)
The Kansas, USA based band A LIGHT WITHIN has not released a full-length record so far, but only a few EP's and their latest release is another EP, which is entitled Epilogue. The band's line up consists of Jeff Irvine – Guitar, Josh Bennet – Guitar, Nick Sloan – Drums, Kyle Brandt – Vocals, keys and Andy Schiller – Bass, and they present us dark melodic Progmetal with also some light Gothic influences. The vocalwork is quite strong and during a song like Chemical drive we can hear lovely mid tempo melodic prog metal a la PSYCHOTIC WALTZ, with haunting melodies, a bit darker and also EVERGREY comes to mind. There is also some light screaming here and there, a touch of 90s post-rock, 80s gothic as well here and there, although overall it is Progmetal and the highlight is the fantastic closing track An Educated Gentleman. If you're starting to become interested, please check them out at: https://alightwithin.bandcamp.com
(Points: 8.4 out of 10)
THE ALEX BUTTER FIELD 'PSYCHEDELIPOP' (SUBURBAN POSER RECORDS/USA IMPORT)
Out of New Haven, Connecticut, USA comes THE ALEX BUTTER FIELD and Psychedelipop is their debut album. The included music is clearly influenced by classic 60s psychedelic/garage rock and 70s powerpop, and they are doing it really well, sounding quite authentic. The band is based around Hank Hoffman: Vocals, 6- & 12-String Electric Guitars, Electric Sitar, keyboards, Melodica, Tom Smith: Drums, Percussion, Invaluable Moral Support, Andy Karlok: Bass, Dean Falcone: Electric & Acoustic Guitars, Sitar, Keyboards and Scott Amore: Keyboards, Percussion. 7 songs are on their first album and without a doubt we are dealing here with a quality band with memorable tunes. If we go through the highlights, I need to mention a song like Candy's got it, which is a pure 1960s catchy uptempo Powerpop tune that is not far removed from the classic THE HOLLIES and THE SEARCHERS. Pit of fire is also a sensational tune that captures once again the 1960s psychedelic pop/rock sound, this time akin to THE KINKS. Another highlight is the strong uptempo Powerpop of Radiating so quietly. It's all done so well that THE ALEX BUTTER FIELD is a highly recommended band to anyone who wants to hear new music in the style of the good old classic 60s garage pop/rock (and a bit of 70s powerpop too), with a focus on catchy hooks and memorable choruses. More info at: https://thealexbutterfield.bandcamp.com/album/psychedelipop
(Points: 8.3 out of 10)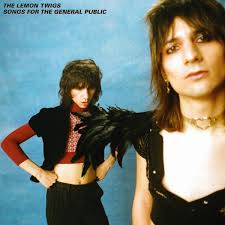 THE LEMON TWIGS 'SONGS FOR THE GENERAL PUBLIC' (4AD/BEGGARS GROUP)
Out of New York comes THE LEMON TWIGS, a band formed in 2014 and now releasing their 3rd album with Songs for the general public. They are situated around the brothers Brian and Michael D'Addario, who both are vocalists, songwriters and multi-instrumentalists. Live they are joined by a few other musicians, but on this new record they did almost everything on their own, although here and there a few guests musicians also appear. Brian and Michael produced it themselves at the famous Electric Lady Studios in New York, and we can find 12 strong songs on the record. Opener Hell on wheels is basically pure early 1970s Glitter/Glamrock like a mix between DAVID BOWIE, ROLLING STONES, T-REX and ALICE COOPER. Following song Live in favor of tomorrow is quite a change in style, because this is catchy early 1970s uptempo Powerpop a la THE RASPBERRIES, with a touch of THE HOLLIES and a lot of cheesiness, but in a good way, as if we're listening to a a classic poptune from 1973. No one holds you (closer than the one you haven't met) also has that British late 1960s/early 1970s sorta psychedelic pop/rocksound, sounding like a classic once again, kinda like a mix between 10CC, THE BEATLES and ELO, with a cool quirky keyboardsound added as finishing touch. The band is doing it all so perfect, you would really believe this is some sorta re-issue from a 1970s record, but it's brand new music that sounds as authentic as possible. Thankfully the whole album keeps the incredible high level of the first 3 songs, with as other higlights Fight (catchy sing-a-long bubblegum powerpop/rock), Moon (if THE WINGS would team up with SUPERTRAMP and do a song of ELTON JOHN it could sound like this!) and the slightly late 1970s Punkrock inspired Leather together. There is also a lot of variety going on, with a few calmer songs as well, such as closing track Ashamed that smells a lot like THE BEATLES in their late 1960s period.Concuded, this is an excellent band with one of the most authentic and long-forgotten 1970s Powerpop/Rock/Threatrical Pop melted sound I have heard in a long time. If anyone out there recalls the band TRICKSTER from the 1970s UK Pop/Rockscene, well then look no further, because THE LEMON TWIGS is yours! Go check them out at: https://thelemontwigs.com/
(Points: 8.6 out of 10)
U.S. GIRLS 'HEAVY LIGHT' (4AD/BEGGARS GROUP)
U.S. GIRLS is coming out of Toronto, Canada and is based around American musician and record producer Meghan Remy, who formed her band/project back in 2007 and has so far released quite a few records. Heavy light is released in the middle of the pandemic, so it will be hard to promote it live around the world. That's a pity, because the album has a lot of potential crowdpleasing hitsongs. Although her music is called Experimental Pop, when listening to the opening song 4 American Dollars of Heavy light, it sounds quite strong and accessible actually. On the other hand U.S. GIRLS has an own identity, because we can hear mostly a combination of catchy pop melodies with a groovy rhythmic/danceable pop/rock vibe, but there's also room for a sorta singer/songwriter kinda pop/rock direction here and there, a sorta 1960s THE SUPREMES meets an African tribe kinda song (State house) and even some spoken-word parts a la SUZANNE VEGA. Concluded, there is a lot going on here, but it's always based around strong 'pop' melodies, with as other highlights Overtime (reminds me of HAIM), Born to lose, And yet it comes, Woodstock 99 (even a bit ELLEN FOLEY ish late 70s Power Ballad) and the epic bombastic semi-proggy The quiver to the bomb. Don't miss this talented musician, who is by the way helped by a lot of musicians on this new album Heavy light. More info at: http://yousgirls.blogspot.com

(Points: 8.3 out of 10)
MUZZ 'MUZZ' (MATADOR RECORDS/BEGGARS GROUP)
MUZZ is a new so-called supergroup formed around INTERPOL singer PAUL BANKS, drummer MATT BARRICK (THE WALKMEN, FLEET FOXES) and multi-instrumentalist JOSH KAUFMAN (BONNY LIGHT HORSEMEN, DAY OF THE DEAD, THE NATIONAL). The resulting same titled debut album is a mix of those bands, so it's combining Dreampop with Indie Pop/Rock and here and there also singer/songwriter 70s pop/rock. 12 songs are on the album, which starts dark, calm and melancholic, but when the tempo changes to uptempo, we get to hear a sensational Indie Pop/Rocker (Red western sky) in the style of THE WAR ON DRUGS, FLEET FOXES, BEAR'S DEN... A song like Everything like it used to be sounds a lot like DAVID BOWIE, and along with the aforementioned song Red western sky, these are the radio-ready tunes that could bring MUZZ fame and fortune. However, as also already mentioned, the band goes sometimes a bit too much into that lesser friendly darker calm direction, which even touches NICK CAVE musically and vocally speaking (especially Broken tambourine for example). Gladly they also know a few times how to get back to a more psychedelic rock affair, which can be heard at best during a song like How many days or All is dead to me, where we can hear comparisons to THE DOORS. Although you need to get used to those mostly calmer dark melancholic pop/rocksongs on their debut album, it's all done very well and interesting enough to check out at: https://muzztheband.bandcamp.com/album/muzz
(Points: 8.3 out of 10)
BING & RUTH 'SPECIES' (4AD/BEGGARS GROUP)
Out of New York City comes DAVID MOORE, who started his band or project BING & RUTH back in the mid 2000s and the new album is titled Species. The band started with 11 members, but now in 2020 the only other members besides David on Combo Organ are bass player Jeff Ratner and clarinetist Jeremy Viner. Recorded in the desert of Texas, the included music of these 3 musicians is instrumental sorta Ambient meets Kraut like STEVE REICH meets TANGERINE DREAM and KLAUS SCHULZE. It's quite hypnotic and almost like a Trance, with the minum use of instruments that also play monotone rhythms throughout the 7 included songs. Done very well, this feels like the background music to an exciting documentary about planet earth. On the other hand you have to appreciate such music, because it might not appeal to everyone I think. You can hear more at: https://bingandruth.com/
(Points: 8.0 out of 10)
PERFUME GENIUS 'SET MY HEART ON FIRE IMMEDIATELY' (MATADOR RECORDS/BEGGARS GROUP)
PERFUME GENIUS (aka Michael Alden Hadreas is an American singer/songwriter/pianoplayer and his new album Set my heart on fire immediately is described as 'an art rock and pop album that features elements of baroque pop, art pop, synthpop, funk, alt-pop, shoegaze, ambient, psychedelic, R&B, acoustic pop, disco, swamp rock, chamber, doo-wop, industrial, and heartland rock!!! That's even more different musicstyles than there are actual songs on it! Anyway, Perfume is a talented singer/songwriter with a voice and sound that fits right between JOHN GRANT, RUFUS WAINWRIGHT and DUNCAN LAURENCE. It's artistique Baroque Chamber Pop with a dark side and also ambient melancholic parts throughout the album. It takes some time to understand what Perfume is doing, but when the more accesable third song Without you is playing, we can actually hear a rather catchy pop/rock tune that sounds like a modern take on classic JOE JACKSON material. The material included is very diverse and reveals the earlier mentioned musicstyles here and there. If you like the earlier mentioned artists, with an ambient, almost new age kinda approach, then you're safe with the album of PERFUME GENIUS. Personally I would have loved to hear more uptempo tunes, such as On the floor and Without you. Nevertheless, it's quite a decent record and for more info you can go to: https://perfumegenius.org/
(Points: 7.7 out of 10)
EVERYTHING IS RECORDED 'FRIDAY FOREVER' (XL RECORDINGS/BEGGARS GROUP)
Friday Forever is the second album from multi-artist project EVERYTHING IS RECORDED. Leader of this project is producer/recordlabel owner of XL RECORDINGS, Richard Russell. The album takes on a multi-lensed perspective of a classic night out, although the diversity of musicstyles is mainly situated around R&B, a bit of Neo-Soul, some Ambient and a lot of cool-down Hip Hop, so it's not exactly the kind of music we usually review. I'll bet some of these songs will do well on the national radio, and every now and then we can hear a nice melodic Soulful R&B old school style, such as Dream I never had, and also the idea behind the album is very original. Nevertheless, it's something completely different here and only interesting for the fans of modern R&B/Hip-Hop and such...
(Points: -)
LEGION 'REDEMPTION' (ROCK COMPANY)
It must have been the mid 1990s when I received the first couple of albums from the American multi-instrumentalist/singer/songwriter PHIL VINCENT and now 25 years later he still releases new albums, not only solo recordings, but also under different band/project names, where he gets a little help. However, most of the time he does everything on his own, especially on his solo albums. Anyway, he releases quite a lot nowadays, because I received a package with 3 new albums of him. The first one is under the bandname LEGION, which he recorded together with guitarist Vince O'Regan, Irv Parratt on keys, Andy Pierce on drums and Gav Cooper on bass. Their new album is titled Redemption, and this is a great 80s melodic metal inspired album, with as highlights Run, Face to face (the good old DOKKEN meets FIFTH ANGEL style Phil sounds like on most of his albums) and closing track Holy man. Melodic and keen on classic guitar riffs and solo's, this is a nice album for sure, which likewise is a must-have if you're familiar with PHIL VINCENT's vocals/music, because it is never far removed from his earlier work. More info at: https://rockcompany.nl/
(Points: 8.1 out of 10)
TRAGIK 'FAITH HEALER' (ROCK COMPANY)
And here we have American singer/songwriter/multi-instrumentalist PHIL VINCENT on another new 2020 album, which in this case is his band TRAGIK, which features besides Phil also bassist/guitarist DAMIAN D'ERCOLE and drummer DIRK PHILLIPS, while VINCE O'REGAN (guitar) and the legendary JANNE STARK (guitar) make a guest appearance. The included music is strongly 80s influenced American Melodic (Hard) Rock like it was done 30+ years ago. Phil does a good job once again, although the first couple of songs are not so strong as the rest of the album. Thankfully when track number 4 comes around, we dive into a great selection of songs, of which the highlights are the catchy superb AOR/melodic rocker Hanging by a string (featuring an excellent catchy dut-dut keyboard driven chorus, perhaps the finest song Phil has recorded in his career!!!), Tell me why, Don't know what to believe and the uptempo PRAYING MANTIS ish Do it again. Another recommended album to PHIL VINCENT fans! More info at: https://rockcompany.nl/
(Points: 8.2 out of 10)
PHIL VINCENT 'TODAY, TOMORROW, YESTERDAY' (ROCK COMPANY)
2020 also brings a new solo-record of American singer/songwriter/multi-instrumentalist PHIL VINCENT. The album is titled Today, tomorrow, yesterday and Phil does almost everything on his own here, except for the lead guitar, which is played by VINCE O'REGAN. The included music is classy 80s orientated AOR/Melodic Rock, with catchy choruses and soaring guitarsolos, with as highlights Pictures (uptempo AOR), Flying high (BOSTON meets BON JOVI), Same mistake and Loser in the end. Another recommended PHIL VINCENT record and musically speaking his closest to the AOR/Melodic Rock of his first couple of albums from 25 years ago! More info at: https://rockcompany.nl and www.philvincent.com
(Points: 8.2 out of 10)
KHAIMA 'OWING TO THE INFLUENCE' (BARHILL RECORDS/GERMAN IMPORT)
Take a bit of 80s DEPECHE MODE ish Gothic Rock, 90s Post-Rock, modern Progrock a la PORCUPINE TREE and a touch of classic Doom Metal, then you might have a cocktail named KHAIMA. This band from Saarbrucken, Germany is melting these influences nicely together, although in the end they could also be seen as TOOL ish modern Progmetalband on their debut album Owing to the influence. The band is formed around Sven Hill – Vocals, Toufik Bougherara – Guitar, Jo Rauber – Bass, Andreas Becker – Keyboard and Markus Scherer – Drums. 9 songs are on the album and it all sounds very professional and quite melodic actually, yet with a darker melancholic take on the included music. Not a single weak moment and a lot to enjoy here for sure, just listen to songs like Blomback, Assimilation and Parasomnia, all wonderfully displaying the earlier described combination. Fans of Post-Progrock like TOOL meets PORCUPINE TREE meets OPETH be aware, because this KHAIMA is heading your way! Don't miss their first album, which you can check out at: https://khaimamusic.bandcamp.com/album/owing-to-the-influence
(Points: 8.3 out of 10)
FLARES 'SPECTRA' (BARHILL RECORDS/GERMAN IMPORT)
Spectra is the new album of the Saarbrucken, Germany based band FLARES and I have to say it sounds sensational. Musically speaking it is semi-instrumental Progressive Post-Rock like a cross between LONG DISTANCE CALLING and PORCUPINE TREE. It seems the band now introduces vocals for the first time, but as I am not familiar with their earlier work, I cannot ccompare, but everything sounds crystal clear here. It's modern and melodic in all it's aspects and also the vocals of MIKE BALZER, who also plays synths, it sounds quite strong. 7 songs are on the CDR I received, with a total length of barely 30 minutes, so that would be the only negative remark to add, because after hearing the album, you want to hear much more of this talented band. The band is formed around Bassist Dmitro Fedoruk, Bassist/Drummer Christian Schönlaub, Guitarist Christian Detzer, Keyboardplayer/Vocalist Mike Balzer and Light machinery/percussion player Tobias Weber. The result is a lovely album and it definitely puts them right up there with the mentioned bands, although also fans of OCEANSIZE, MOGWAI, BOARDS OF CANADA and such need to check out this band at: https://flaresmusic.bandcamp.com
(Points: 8.5 out of 10)
NEAL CASAL 'FADE AWAY DIAMOND TIME' (NOT FADE AWAY/KLANDERMAN PROMOTION/BERTUS)
The legendary American singer/songwriter/guitarist NEAL CASAL sadly died in 2019, but his music lives on and here we have a 25-year old anniversary re-release of his album Fade away diamond time. The included music is a lovely mix of Americana, Blues and SInger/songwriter, with beautiful vocals of Neal and overall a very relaxing vibe. 12 songs are on the debut CD, which was produced by JIM SCOTT (TOM PETTY, WILCO, JOHNNY CASH) and from start to finish this is an enjoyable journey with many highlights. It's quite amazing Neal never became as big as for example JOE BONAMASSA, RYAN ADAMS or KENNY WAYNE SHEPHARD, because his music is quite splendid and fills the gap between Americana and Blues Rock with a lot of pleasant melodies, both vocally and instrumentally. The best songs are Free to go, Leaving traces, Detroit or Buffalo (almost a Southern Rock ish classic) and One last time. Neal played with a lot of other musicians, artists and bands, such as RYAN ADAMS, GOSPELBEACH, BLACKFOOT, CHRIS ROBINSON BROTHERHOOD, etc. , while also releasing a lot of solo records. He is therefore a praised musician in the Americana and Blues/Rock world, although solo he did not become as big as he should have been with his own material, because this album alone is a classic record! It's good to see his own music lives on through this re-release.
(Points: 8.7 out of 10)
THE GHOST OF PAUL REVERE 'GOOD AT LOSING EVERYTHING' (ROCKSNOB/KLANDERMAN PROMOTION/SONIC RENDEZVOUS)
Out of Portland, Maine, USA comes THE GHOST OF PAUL REVERE a band named after a historical American figure from the American Revolution of the 18th century, although PAUL REVERE is also a 60s rock musician. Anyway, the band releases their 3rd album with Good at losing everything and without a doubt, this is a lovely pure Americana record in the style of THE AVETT BROTHERS, with also a touch of Bluegrass like we know it from a band such as MUMFORD AND SONS, and there's also some Southern Rock and Bluesrock here and there. The band consists of Max Davis [vocals, banjo], Sean McCarthy [vocals, bass], and Griffin Sherry [vocals, guitar] and Charles Gagne [drums]
The album starts with a short Gospel harmonyvocal, but titlesong Good at losing everything changes quickly into a great midtempo Americana piece with also influences from Folk, Southern Rock, Blues and Soul. This is real American music with influences from all the genres that made this country such a great experience through music history when travelling throughout all the states. The songs are sometimes calm and back to basic, but at times the band goes for a rockier uptempo direction, such as during the lovely melodic Two hundred and twenty six days, the superb catchy midtempo Travel on (Southern Rock ish like LYNYRD SKYNYRD meets KID ROCK), the melodic One of these days and there's also pure Blues in the song When can I see you again. Definitely a recommended album if you want to hear a mixture of the classic American musicstyles Blues, Americana, Southern Rock and Bluegrass. More info at: https://www.ghostofpaulrevere.com
(Points: 8.4 out of 10)
RANDALL BRAMBLETT 'PINE NEEDLE FIRE' (NEW WEST RECORDS/KLANDERMAN PROMOTION/PIAS)
I was not familiar with the American singer/songwriter/multi-instrumentalist RANDALL BRAMBLETT yet, but his 12th solo album Pine needle fire is definitely showing he is an established musician. He is already 72 years old and worked with legendary musicians such as BONNIE RAITT, GREGG ALLMAN, STEVE WINWOOD and more, while also delivers a solo record every now and then. Pine needle fire is a nice bluesy rock record with that old spirit like JOHN HIATT, BB KING, GREGG ALLMAN and even a bit of VAN MORRISON. One of the highlights is the beautiful relaxing Even the sunlight, with it's subtle smooth touch a song to play more frequently, and also Built to last has that kinda feeling. Another song to listen is the lovely slightly melodic rocking Another shining morning and while you're spinning the album don't forget to hear the excellent soulful rocking Don't get me started. Randall is not entirely focused on Blues, because he takes influences from other musicstyles as well, such as Americana, Melodic Rock, Westcoast, etc., which only a true musician is able to blend together perfectly! Check out this well-seasoned musician at: https://randallbramblett.com/
(Points: 8.3 out of 10)
GRAINNE DUFFY 'VOODOO BLUES' (INDEPENDENT/GERMAN IMPORT)
Although the Irish singer/songwriter/guitarist GRAINNE DUFFY has already built quite a reputation with her 4 earlier albums, she should have been huge by now, because her powerful soulful voice in combination with her excellent blues rock originals, it is right up there with other female singers in this genre, such as BETH HART, JOANNE SHAW TAYLOR, ANA POPOVIC, etc. Her new album Voodoo blues once again shows her amazing vocal skills, while she also plays the guitar very well. Other involved musicians on Voodoo blues are guitarist PAUL SHERRY, bassist DALE DAVIS, drummer/hammond organplayer TROY MILLER and backing singer RONAN MORGAN. There are 10 songs on the album and musically speaking it is actually quite diverse with a mixture of slower, midtempo and uptempo pieces. Some of the highlights are opener Voodoo blues, Roll it (a fantastic catchy uptempo rocker) and the midtempo rockers No matter what I do (a little bit reminding of ALANNAH MYLES) and the 70s groovy rocker Tick-tock. After corona Grainne should do a full tour and show the world what an exceptionally wonderful and talented singer/musician she is. More info at: https://www.grainneduffy.com/
(Points: 8.7 out of 10)