HOT NEW REVIEWS
TEMTRIS 'RITUAL WARFARE' (AURAL MUSIC/WORMHOLEDEATH/UK IMPORT)
Formed all the way back in 2000, the Sydney, Australia based band TEMTRIS has already released 4 albums, but this 5th album Ritual Warfare is the first one I get to hear and review. Without a doubt we are dealing here with a high quality traditional melodic (power) metal band formed around Anthony Fox on Guitar, Genevieve Rodda on Vocals, Nik Wilks on Bass, Nicholas Bolan on drums and Nadi on guitars. 8 songs are included and musically this is prime-time classic melodic metal with a focus on classic melodic twin-guitarwork, high-pitched vocals of the incredible singer Genevieve and a pure late 80s sound, yet without sounding dated at all. If 80s US Melodic Power Metal a la QUEENSRYCHE, AGENT STEEL, HEIR APPARENT and such are your favorite acts, then you absolutely need to check out this sensational band. Everything sounds picture perfect here, with as absolute winners the uptempo One For All, Seven Sins Of Man and Forever and the midtempo Tempus Aeturnum, but any song will be loved by fans of the aforementioned bands. Check out the sensational Aussie band TEMTRIS at: https://www.reverbnation.com/temtris
(Points: 8.6 out of 10)
BABA WAZO 'ANIMAL' (LA BELLE ELECTRIQUE/INOUIE DISTRIBUTION/VEEV COM/FRANCE IMPORT)
Here we have an exciting French trio called BABA WAZO formed around Basile Théoleyre (vocals, guitar, trumpet), Maximilien Helle-Forget (keys) and Benjamin Colin (drums, percussions) with a very strong and impressive upcoming EP CD release titled Animal. They combine French Chanson, World Music, Jazz, Electro and a bit of Westcoast-Pop, resulting in a very relaxing smooth summer sound that can be heard 5 exciting songs here (excluding the short prelude). The material is lightweight, very melodic and thanks to Basile's excellent vocals an enjoyable adventure to experience. Beautiful songs like L'Esprit Cavalier and Paresse could easily become huge hits if only radio would pick this up! You can check out more info on this exciting French band at: https://www.youtube.com/watch?v=a8-D9K3BpPg and http://veevcom.com/baba-wazo-presente-animal/
(Points: 8.5 out of 10)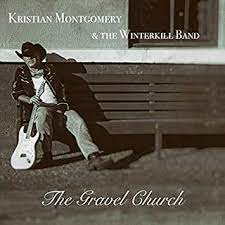 KRISTIAN MONTGOMERY & THE WINTERKILL BAND 'THE GRAVEL CHURCH/PRICE OF POVERTY' (INDEPENDENT/USA IMPORT)
Out of Massachusetts, USA comes the extremely talented KRISTIAN MONTGOMERY, who was kind enough to send me his latest 2 CDs. The music on these albums is very diverse and reflect all kinds of rock and roll, a mash-up of Americana, country, Blues, Classic Rock, etc, done quite excellent with superb vocals of Kristian and he has a great ear for song orientated material. The Gravel Church is from 2020 and has as highlights the melodic rocking (semi) ballads Polly Amorous, That Bird Won't Fly and You're New, the beautiful calmer indie singer songwriter Hjertebygger, A Life Like This (a bit BEATLES ish) Take You Home (midtempo melodic bluesy/southern rocking a la VAN ZANT/LYNYRD SKYNYRD) and the uptempo country crossover rock ish She's No Cadillac, while as closing track we can hear the Irish classic traditional Auld Lang Syne. The new, 2021 released album Price Of Poverty starts rockier with the superb slowtempo bluesy southern rocker They'll Remember My Name. Following Tired Of Being Tired is calmer, while the uptempo Working Hands has some clear country and rockabilly influences. A Warm Grave is a lovely calmer southern rocking ballad. Next track Don't Call Me Baby is a great catchy uptempo rocker, even a bit reminding me of DANNY VERA somehow. Things slow down again during the following southern flavored calmer ballad Soul For A Soul, while the midtempo rocking That Kind Of Love will be interesting for the fans of classic rock/melodic rock/southern rock, as it reminds me quite a bit of classic VAN ZANT/LYNYRD SKYNYRD again. A bit more uptempo, but in the same lovely classic rock/southern melodic rockstyle is the fantastic I'll Find My Way Home. American Fire has again the country/rockabilly/steel guitar touch a la DANNY VERA, while closing track Just Driving Around also has that same approach. No fillers to be found on these 2 wonderful super diverse records that contain every piece of classic rock, blues and country you can imagine, all sung perfectly by the amazing KRISTIAN MONTGOMERY, who absolutely delivers a breakthrough! Check him out at: https://kmwkb.com/
(Points: 8.6 out of 10)
TO HELL WITH TRADITION 'STITCHES' (INDEPENDENT/GERMAN IMPORT)
Out of the beautiful German city of Heidelberg comes the talented multi-instrumentalist ACHIM HOFMEYER, who delivers his debut as TO HELL WITH TRAITION. It starts calm with Bridges, while the following uptempo Powerpopish tunes The Climb and Rewrite remind me of classic JOE JACKSON crossed with a modern touch of THE KILLERS or KEANE, both crystal clear polished catchy radio-ready fun songs with lovely melodies. And so it goes on throughout the rest of the album, sounding very British and featuring in total 14 strong songs. Towards the end of the album it all gets a bit less uptempo, so the best material is definitely during the beginning. Nevertheless, Achim is a very talented musician, who can sing quite well in a typical British way, so definitely recommended to check out at: https://www.achimhofmeyer.com/tohellwithtradition_en/
(Points: 8.0 out of 10)
VARIOUS ARTISTS 'EDO FUNK EXPLOSION VOLUME 1' (ANALOG AFRICA/GERMAN IMPORT)
ANALOG AFRICA returns with another great compilation of rare African music from the past. This time it concerns music recorded back in the 1980s in the Nigerian state of Edo, and it's capital city Benin city. There was a lively vibrant scene back then and I don't think many people outside of Nigeria are familiar with this kind of music, which was called Edo Funk. This was a mixture of Western 80s keyboard dominated popmusic and African traditional music, which as a result was very interesting and quite exciting. 12 songs from that period have now been collected together and released as Edo Funk Explosion Volume 1. If we have a look at the highlights I need to mention the catchy keyboard dominated song Popular Side of AKABA MAN AND THE AFRICAN PRIDE and the fun Caribbean style music songs by SIR VICTOR UWAIFO AND HIS TITIBITIS and OSAYOMORE JOSEPH AND THE ULELE POWER SOUND. A few of the songs by the same artists at the beginning of the album as well as AKABA MAN AND THE NIGIE ROCKETS are more traditional African music orientated, while there is quite some funky 70s groovy and even Reggae to be heard as well, because OSAYOMORE JOSEPH's My name Is Money is quite close to BOB MARLEY. Some songs are quite lengthy and also have that 70s groovy funk disco touch, although the true Edo Funk sound does have its charm reflecting clear African music influences and featuring a cool 80s synth touch. If you want to hear something completely different, then go for this highly recommended compilation CD, which by the way has a very interesting extensive well-written booklet inside. Its available through www.analogafrica.com
(Points: 8.3 out of 10)
VARIOUS ARTISTS 'CAMEROON GARAGE FUNK' (ANALOG AFRIKA/GERMAN IMPORT)
ANALOG AFRICA deliver once again a sensational compilation CD filled with rare African music from the past. This time it concerns 16 songs recorded back in the 1970s in the country of Cameroon. Its already the 32nd compilation CD of the label and as mentioned, it is loaded with lovely quality music that probably not many people are aware of. Thanks to ANALOG AFRICA we can hear a lot of fantastic rhythmic music with a groovy 70s vibe, kinda like SANTANA, but then in the shape of rare acts like JEAN-PIERRE DJEUKAM and JOSEPH KAMGA. Absolute highlights are the JAMES BROWN / BLACK PUMAS kinda mixture of LOS CAMAROES (their song Esele Mulema Moam is superb!), LOUIS WASSON ET L'ORCHESTRA KANDEM IRENEE (lovely!), JOHNNY BLACK ET LES JOKERS and PIERRE DIDY TCHAKOUNTE (superb!). The Cameroon music scene was very diverse, because NDANGA ANDRE DESTIN (jazzy Caribbean), CHARLES LEMBE (pure Cuban Latin jazz of an excellent high level), PIERRE DIDY TCHAKOUNTE (French singing, JAMES BROWN similarities again, with a lot of 70s soul and very well done) and the pure 70s funky African rhythmic WILLIE SONGUE ET LES SHOWMEN. There is actually very little pure African traditional music to be heard here, but that makes it so interesting, because there was so much diversity going on 50 years ago in the music scene of Cameroon, so anyone who likes to know more about this unknown scene from back then, please check out this lovely compilation CD at: www.analogafrica.com
(Points: 8.5 out of 10)
CITRUS LOVER 'CITRUS LOVER' (INDEPENDENT/USA IMPORT)
The band CITRUS LOVER is coming out of the San Francisco Bay area and is a trio comprised of Sidhartha Rai (Vocals & Guitar), Alex Remiticado (Drums) and Joshua Venegas (Vocals & Bass). Their music is pure late 1960s/early 70s orientated psychedelic classic rock with memories of bands like THE DOORS, CANNED HEAT, BLUE OYSTER CULT, JEFFERSON AIRPLANE, etc. etc. 7 songs are on the album, of which opener All In The Mind is a great slow THE DOORSish psychedelic rocker. The following uptempo Weeping Sky is as close to the early 1970s as you can get, a fantastic pure melodic classic rock tune! Then a slight interesting change in direction, because the relaxing vibe of Tired reveals some soul and 70s funk influences, kinda like we have seen in the past few years by bands such as BLACK PUMAS and DE WOLFF. The next song Give Me A Shade has a touch of 90s Shoegaze somehow, even a bit reminding of TEENAGE FANCLUB. Brailleman gets back to the groovy funky sound like DE WOLFF and BLACK PUMAS again, while Gold is a great uptempo classic rock/psychedelic rocker like CANNED HEAT, THE DOORS and GRATEFUL DEAD. Closing track Father Time is another great groovy classic rock tune with a lot of soul and some lovely guitarwork. I feel this CITRUS LOVER has a bright future, because this kind of rock is very popular nowadays, so make sure to check them out at: https://www.citruslover.band/
(Points: 8.5 out of 10)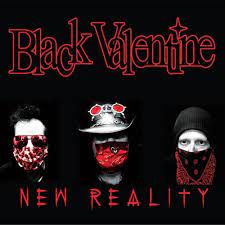 BLACK VALENTINE 'NEW REALITY' (INDEPENDENT/USA IMPORT)
New Reality is the 6th album of the L.A. based band BLACK VALENTINE. They are formed around Frank Yanno on Guitar and vocals, Jesse Wolff on Drums, and Duke Carpenter.on Bass, and they have a very tight high quality sound that combines the best of the past classic rocksounds. The band's new album is a collection of songs written and recorded during the Pandemic that expresses the range of emotions we all felt like Isolation, Loss of Identity, Change, Political Divisiveness and Attacks on our Democracy, Manipulation fueled by Social Media, Riots, Police Reform, and more. Basically it is the New Reality we all around the globe have been facing sadly, but thankfully the included music is very impressive and showing that BLACK VALENTINE is a band to watch out for in the near future. Better The Devil You Know for example is a superb midtempo classic melodic rocker with a strong chorus and lovely soaring guitarwork. It feels like the good old 1980s for sure, yet with a modern raw edge to it. The superb Crown of Thorns features even more sensational guitarwork, while the song itself is an early to mid-90s ALICE IN CHAINS ish tune. Other highlights are Adverbs (lovely PHIL VINCENT/DOKKENish melodies during this almost FOO FIGHTERS kinda semi melodic rockballad), New Reality (uptempo 90s melodic hardrock, like HAREM SCAREM meets Y&T meets TEER meets TALON meets CONEY HATCH) and the semi melodic rockballads Together Apart and Baby, Don't You Cry (OZZYish). Actually there is no weak song to be found among the 12 included and to my surprise it seems that guitarist Frank has been singing for the first time on a BLACK VALENTINE record and he definitely does a great job, so we look forward to future releases of this sensational band! Check out this band at: https://www.blackvalentinemusic.com/product-page/new-reality-cd
(Points: 8.6 out of 10)
ASTRAKHAN 'A SLOW RIDE TOWARDS DEATH/ASTRAKHAN'S SUPERSTAR EXPERIENCE' (MELODIC PASSION RECORDS/SWEDEN IMPORT)
The Swedish band ASTRAKHAN is very ambitious, which is partly due to the corona pandemic, because they sent me 2 albums they released in 2020 and 2021. First there is the 2020 album A Slow Ride Towards Death, which is their 3rd studio album so far. The band consists of vocalist Alexander Lycke, guitarist Johan Hallgren (PAIN OF SALVATION), drummer Martin Larsson and bassist Per Schalender (ex-PAIN OF SALVATION, ex-ROYAL HUNT) and musically speaking this album is filled with high quality melodic progressive metal with a slightly dark doomy melancholic approach, yet also loaded with superb melodies and incredible vocalwork of the talented Alexander. They remind me a bit of EVERGREY and CIRCLE OF SILENCE, so a bit theatrical here and there, groovy guitar orientated and featuring catchy melodic choruses. One of the absolute highlights is the sensational Youtopia, an amazing song that easily reaches the level of the aforementioned bands. ASTRAKHAN is definitely a band with a huge potential and besides their own original strong material, the band also worked through the years on a side-project that featured the band and several guests to perform the Jesus Christ Superstar in its entirety live on stage and eventually that happened, of which Astrakhan's Superstar Experience is the resulting CD. MATS LEVEN is one of the guests to perform as JESUS, and I have to say that the band did a great job, especially since it was recorded live. Personally I am always more interested in original work, because their 3rd album A Slow Ride Towards Death must not be overshadowed by this rock opera project, because therefore it contains too many memorable songs that you definitely need to hear! Check out everything on this band at: https://astrakhan.bandcamp.com/ and https://melodicpassion.com/artists/astrakhan/
(Points: 8.5 out of 10
JOHNNY O'NEIL 'TRUTH OR DARE' (INDEPENDENT/USA IMPORT)
Out of the Minneapolis area comes JONNY O'NEIL, a singer/songwriter/guitarist with a sensational solo debut album titled Truth Or Dare. Johnny plays guitar, bass and sings, while the other musician in his 'band' is Joachim Baecker on drums (RATTLIN' BONES, JACK DOUGLAS, MICK RONSON, FUNHOUSE…). There are several other guests, including backing singer BRIAN BART (DARE FORCE) and keyboardplayer DANNY PEYRONEL (UFO, TARZEN, HEAVY METAL KIDS…). Johnny is also a member of DARE FORCE, the legendary 80s Melodic Rockband and the material on Truth or Dare is a mixture of old never-before released DARE FORCE songs, new tunes, an acoustic piece Johnny wrote when he was 16 years old and a BEATLES cover (Revolution). The result is a great rocking album that feels like the good old 80s melodic us hardrocksound, such as can be heard very clearly during the uptempo Comin' For You, which is even a bit RATTish, but there's also groovy and bluesy Classic Rock to be heard and if you're familiar with DARE FORCE you will more or less know what this sounds like. Johnny has a great voice and the songs are very strong, with as other highlights the lovely opener Snake In The Grass, the GUNS'N'ROSES ish Tell me What You Think You Know and the pure 80s melodic rocker Red Suns In The Sky. If you want to hear a mixture of old school 80s US Hardrock and bluesy classic rock, then check out this awesome album at: https://www.johnnyoneil.com/
(Points: 8.4 out of 10)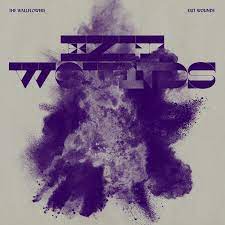 THE WALLFLOWERS 'EXIT WOUNDS' (NEW WEST RECORDS/KLANDERMAN PROMOTION)
If you're the son of an absolute legend, you usually follow the same path and in the case of singer/songwriter/guitarist JAKOB DYLAN, he formed a solo project/band called THE WALLFLOWERS back in 1990. Jakob is of course the son of BOB DYLAN, and without a doubt, he is also gifted in writing a memorable tune here and there, which could already be heard on the first 6 albums of THE WALLFLOWERS. Jakob has a much stronger voice than his dad and musically it's also more melodic and uptempo based than Bob has ever been! In-between the past 30 years Jakob also performed under his own name for a short while, but during the pandemic a new THE WALLFLOWERS album has been recorded. Exit Wounds is the title of this wonderful new album, which might as well be Jakob's finest effort so far. Together with BUTCH WALKER (the legendary producer and musician behind many acts, such as SOUTHGANG, MARVELOUS 3, PINK, WEEZER, TAYLOR SWIFT, KATE PERRY…) as producer and several guest musicians, Jakob recorded 10 strong new songs as THE WALLFLOWERS. After a calm start with the beautiful melancholic Maybe Your Heart's Not In It No More, the following Roots And Wings is a fantastic relaxing midtempo rootsy Americana/Westcoast ish melodic pop/heartland rocker in the style of classic TOM PETTY crossed with a bit of BRUCE SPRINGSTEEN and BRYAN ADAMS. Following songs I Hear The Ocean and The Dive Bar In My Heart are even more going into the SPRINGSTEEN direction, with great typical The Boss ish Heartland rocking choruses. The calmer country/Americana ballad Darlin' Hold On is a very nice duet with SHELBY LYNN, while the uptempo rockier Move The River is a wonderful catchy hookladen melodic tune that could almost be classified as classic AOR/Melodic Rock, reminding me a bit of the legendary BENNY MARDONES. Following calmer singer/songwriter orientated songs I'll Let You Down and Wrong End Of The Spear have clear BOB DYLAN ish similarities, while Who's That Man Walking 'Round My garden is a cool catchy uptempo guitar driven Powerpop/Poprocker (very much like 90s BRYAN ADAMS) and closing track The Daylight Between Us is a very nice calmer SPRINGSTEENish epic melancholic singer/songwriter/Americana semi-ballad. Concluded, this is a sensational and highly recommended diverse new album of THE WALLFLOWERS! Do not miss it! More info can be found at: https://www.wallflowersmusic.com/
(Points: 8.7 out of 10)
THE PINK STONES 'INTRODUCING… THE PINK STONES' (NORMALTOWN RECORDS/KLANDERMAN PROMOTION)
Out of Athens, Georgia comes the sensational new band THE PINK STONES, who deliver their debut album with Introducing… The Pink Stones. Their sound is clearly American, with a focus on 70s orientated 'alternative' Country-Rock, yet with also a touch of South Georgia Southern Rock and a tiny bit of Psychedelic Classic Rock in a way reminding of a mixture between POCO, BLACKBERRY SMOKE, ALLMAN BROTHERS BAND and GRAHAM PARSONS. The band is formed around Hunter Pinkston - Vocals, guitar, bass guitar, harmonica, percussion, Will Anderson - Piano, organ, vocals, Adam Wayton - Bass guitar, Logan Brammer - Guitar, pull-string guitar, vocals, John Neff (DRIVE-BY TRUCKERS)- Pedal steel guitar and Jack Colclough - Drums, percussion. The beautiful artwork of the album already makes it a pleasure to put on the disc and from start to finish we are straight back 50 years in time when all of the major labels signed similar acts. Highlights are the catchy uptempo 70s southern country rocker Barroom Blues, Let's Sit Down and Miss Wind Turbine. The vocals are sometimes a bit going into the nasal NEIL YOUNG direction, but THE PINK STONES are definitely more melodic and song orientated, so all together it's a very nice debut we have here. Check it out at: https://thepinkstones.bandcamp.com/album/introducing-the-pink-stones and https://www.thepinkstones.com
(Points: 8.3 out of 10)
RILEY DOWNING 'START IT OVER' (NEW WEST RECORDS/KLANDERMAN PROMOTION)
RILEY DOWNING is a Missouri, USA based singer/songwriter who also worked with bands like THE DESLONDES and TUMBLEWEEDS in the past, but is now releasing his solo debut Start It Over on NEW WEST RECORDS. Riley is a gifted singer/songwriter/guitarist who is helped by John James Tourville (fiddle/pedal steel guitarist, also of THE DESLONDES), producer Andriija Tokic (ALABAMA SHAKES), Dennis Crouch (mellotron, JOHNNY CASH, DOLLY PARTON), bassist Jack Lawrence (JACK WHITE, THE RACONTEURS), keyboardplayer Jeff Taylor (ELVIS COSTELLO, GEORGE STRAIT), Peter Keys (Mellotron, LYNYRD SKYNYRD), drummers Meg Coleman (YOLA) and Jimmy Lester (LOS STRAIGHTJACKETS) on his first solo album. The included music is a melting pot of typical American music styles, such as country, blues, folk, Americana and a little bit of rock and roll, yet with a dark melancholic approach. JOHNNY CASH is therefore the best comparison, because Riley not only sings in the same low octave as Johnny, but also musically it is in a similar direction. Highlights are the more uptempo rockier orientated pieces such as Deep Breath, Good To See Ya and the superb Never Coming Home. This is one of those albums you put on and it then immediately gives you the feeling you're driving on the highway somewhere in the USA. Job well done and for more info please go to: https://www.rileydowning.com/
(Points: 8.1 out of 10)
JAN VAN BIJNEN 'MODEST MAN' (HOWLIN' CHICKEN RECORDS/KLANDERMAN PROMOTION)
The Dutch multi-instrumentalist/singer/songwriter JAN VAN BIJNEN is a gifted musician, because he plays a lot of instruments (guitars, dobro, mandolin, mandola, pedalsteel, banjo, ukele, bass, double bass, piano, hammond organ, vibraphone, drums, percussion) and sings and writes all of the songs on his co-produced debut album Modest Man. Through the years Jan built up an impressive career by doing session work and production for countless huge Dutch artists, but as of 2016 he founded VERBRAAK / VAN BIJNEN along with fellow multi-instrumentalist JOOST VERBRAAK, who co-produced and played on Jan's solo album, so all together he also wants to get recognition besides his session/production work. Modest Man is a great calmer Americana/Singer/Songwriter orientated album featuring 10 strong songs that clearly shows the incredible talent of Jan as a musician and singer. The music is perfect for late night summer evening settings when everything calms down and you want to hear such relaxed music as on this album, which here and there reminds me of SIMON & GARFUNKEL (Foodstruck Kinda-Love) crossed with NEIL YOUNG and a lot of RYAN ADAMS. Recommended album to fans of singer/songwriter and Americana music. More info at: http://about.me/janvanbijnen
(Points: 8.0 out of 10)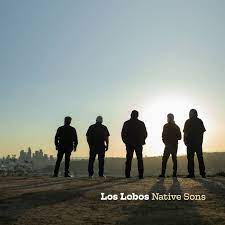 LOS LOBOS 'NATIVE SONS' (NEW WEST RECORDS/KLANDERMAN PROMOTION)
The legendary L.A. based LOS LOBOS are best known for their incredible 80s hit La Bamba, but they have been recording and performing music since 1973, so there's much more out there from them! Native Sons is a new album, which is a tribute to all their influences, which include all kinds of music, although roots-rock, singer/songwriter, soul and tex-mex rock are definitely their favorite genres to combine. The band is nowadays still consisting after all these years of original members David Hidalgo - vocals, guitars, Louie Pérez, Jr. - vocals, guitars, Cesar Rosas - vocals, guitars, bass, Hammond B3 organ, Conrad Lozano - vocals, bass and the 1984 joined Steve Berlin - saxes, midisax, keyboards. During the pandemic LOS LOBOS recorded this new tribute album, their 17th studio album overall, and it contains 12 cover songs and 1 new original song. The material is very diverse, ranging from cheerful tropical Tex-Mex salsa rock and roll (LALO GUERRERO's Los Chucos Suaves) to excellent soulful Melodic Rock (THEE MIDNITERS' Love Special Delivery) to superb classic R&B influenced Soul Pop/Rock (BARRETT STRONG's Misery) to 70s groovy Rock (BUFFALO SPRINGFIELD's Bluebird/For What It's Worth) to purest singer/songwriter L.A. Westcoast (JACKSON BROWNE's Jamaica Say You Will and their own original Native Son) to Rockabilly (PERCY MAYFIELD's Never No More) to 60s Rock and Roll (DON&DEWEY's Farmer John) and even a cover of the THE BEACH BOUS classic Sail On, Sailor. They pay tribute here to the best L.A. has brought the past 70 years by covering all kinds of legendary musicians/bands and musically speaking LOS LOBOS shows that no matter which music style they do (rock and roll, Tex-Mex, country, zydeco, folk, R&B, blues, brown-eyed soul, and traditional music such as cumbia, boleros and norteños), they can do it all very easily and Native Sons is therefore a sensational album everyone will love, because there's so much diversity going on. Check it out for yourself at: https://loslobos.bandcamp.com/album/native-sons
(Points: 8.8 out of 10)
JOHN HIATT WITH THE JERRY DOUGLAS BAND 'LEFTOVER FEELINGS' (NEW WEST RECORDS/KLANDERMAN PROMOTION)
The American singer/songwriter JOHN HIATT has a long music history that started back in the early 1970s and gave him a megahit during the 1980s with the classic Have A Little Faith In Me. Of course he released and wrote many more songs on his 20 solo albums and also people like BB KING, BOB DYLAN, BONNIE RAITT and countless others recorded songs he wrote. Now 50+ years after he first walked into the historic RCA Studios to start his music career, he entered the same building during the pandemic to record 11 new original songs along with THE JERRY DOUGLAS BAND. The result is this new JOHN HIATT album, on which he sounds as good as ever. Musically speaking his typical cocktail of blues, jazz, singer/songwriter and American is sung perfectly by John with his unique voice. His voice and music is as unique as for example RANDY NEWMAN, RY COODER and VAN MORRISON, so I think the insiders will then understand what this new record is all about. John shows that at the age of 68 years he is still able to write great new songs and despite the absence of drums, you can feel the honesty, but also the fun and easiness John had together with Jerry's band to record this wonderful new album. Check out more info at: http://www.johnhiatt.com/
(Points: 8.2 out of 10)
T. HARDY MORRIS 'THE DIGITAL AGE OF ROME' (NORMALTOWN RECORDS/KLANDERMAN PROMOTION)
Due to the pandemic the complete music industry was hit hard when it comes down to performing music live on stage, but on the other hand, the amount of newly recorded music was incredible and still continues to do so. Once its hit and go for live shows again, it will probably take some time before we get another wave of new music. T. HARDY MORRIS is another musician who was about to release a new album and then start touring in the early months of 2020, but corona decided something else and so now we are looking at an album that took some time to record and finish. The Digital Age Of Rome is a very personal album of T. HARDY MORRIS, a singer/songwriter/guitarist from Athens, Georgia, who in the past played in the bands DEAD CONFEDERATE and DIAMOND RUGS, but also worked on a solo career of which this new album is his 4th so far. There's a long list of guest musicians on the album, including DRIVE-BY TRUCKERS drummer Brad Morgan and singer/songwriter FAYE WEBSTER. The included music is quite dark and melancholic, especially during the beginning, but during the lovely titletrack The Digital Age of Rome, Shopping Center Sunsets, the catchy 80s ish Love Takes and Just Pretend Everything Is Fine (JOHN COUGARish) and the strong TOM PETTYish rocking First World Problems also quite melodic and very hit potential actually. The album gets better and better after playing it several times and especially during the 2nd part T. Hardy gets quite sensational. Overall you could compare the light rocking singer/songwriter/alternative indie rock style to RYAN ADAMS crossed with a touch of late 1960s psychedelic pop/rock (THE BYRDSish), here and there 90s TEENAGE FANCLUBish College Rock, but T. HARDY MORRIS actually has an own identity, yet with a modern Indie Poprock approach also slipping through (a la TAME IMPALE, THE WAR ON DRUGS, FLEET FOXES and BEAR'S DEN), so it will appeal to a lot of people I think. Check out all info on this talented musician at: https://thardymorris.bandcamp.com/album/the-digital-age-of-rome
(Points: 8.5 out of 10)
WILLIAMSON BROTHERS 'WILLIAMSON BROTHERS' DIAL BACK SOUND RECORDS/KLANDERMAN PROMOTION)
Alabama based Multi-instrumentalists/Singer/Songwriting brothers BLAKE and ADAM WILLIAMSON are best known as members of the band LEE BAINS III & THE GLORY FIRES. Ever since they went into the music business, they have been active, but this marks their debut as the WILLIAMSON BROTHERS. The same titled debut album is filled with catchy early 90s US Indie/Powerpop/College-Rock in the style of DINOSAUR JR., TEENAGE FANCLUB, THE JAYHAWKS, THE POSIES and such. Opener Take Back The Summer sets the record straight, as this is a very catchy fun uptempo summer friendly poprocker/powerpopsong that also has a bit of CHEAP TRICK as comparison. Following I Hate It Here is going for a slower Indie pop direction, and the rest of the album continues this mixture of calmer slower indie pop songs and uptempo 'almost early 80s sounding' Powerpop rockers, such as the fantastic God For Government, Pressures On, and This War. Definitely a good album to check out if you're into any of the aforementioned acts. More info at: https://williamsonbrothersal.bandcamp.com/album/williamson-brothers
(Points: 8.1 out of 10)
GLEN FOSTER AND FRIENDS 'FEELIN' ALIVE' (INDEPENDENT/USA IMPORT)
The Canadian musician/singer/songwriter GLEN FOSTER was reviewed by us in the past, and he now kindly sent me his new album Feelin' Alive!. This album contains recordings that took place during the past corona period. In total 16 songs are included, and it is divided in 4 parts that were recorded live and in the studio at various locations on several dates in 2020 and 2021. Glen played a solo show, a duo show with MAGGY AND THE FALCON, a show as GLEN FOSTER GROUP and finally there is some bonus material that was recorded in the studio. Although the sound quality is not really perfect, the joy and emotion of Glen's music is definitely appealing and shows a great singer/songwriter playing in various settings at his very best. Check it out for yourself at: https://glenfoster.ca
(Points: 7.5 out of 10)
PLATENS 'OF POETRY AND SILENT MASTERY' (ART OF MELODY MUSIC/ATOMIC STUFF PROMOTION/ITALY IMPORT)
I remember it well reviewing the debut album of PLATENS, an Italian band formed around the brothers DARIO (vocals, guitars, bass, keys) and ALEX GRILLO (drums), who released their debut album back in 2004 on FRONTIERS RECORDS. Fast forward to 2021 and their 3rd album Of Poetry And Silent Mastery is released, this time on the ART OF MELODY MUSIC label. Musically speaking it is pure Melodic Rock/AOR with a focus on catchy hooks and memorable choruses, which can be heard right from the start with the fantastic midtempo Conspiracy that sounds like a cross between CITA/GUILD OF AGES and JADED HEART, so it is clearly 1990s based with a lot of orchestral and keyboard arrangements. Following Wait For Me is uptempo melodic rock at its best, reminding me a bit of FAIR WARNING, ZENO, TNT and even a calmer VISION DIVINE/LABYRINTH during the catchy chorus, so there's a bit of Italo Power Metal to be heard as well, although the tempo stays in the AOR/Melodic Rock field. So far so well, and thankfully the full album is loaded with such lovely soaring guitar vs rich keyboards driven 90s Melodic Rock/AOR with catchy hooks and strong memorable choruses. Other highlights are Easily (very catchy uptempo melodic rock with a fantastic pure AOR chorus a la WORK OF ART/HEAT), the uptempo melodic heavy rockers Paralyzed and Open Arms and the 80s dut-dut keyboard driven uptempo early BON JOVI (Runaway) ish Where The River Flows. Concluded, a great return from this Italian band! More info at: https://www.facebook.com/platensmusic/
(Points: 8.4 out of 10)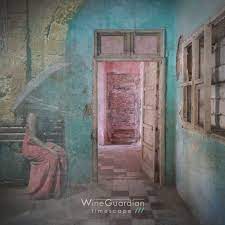 WINE GUARDIAN 'TIMESCAPE' (LOGIC IL LOGIC RECORDS/ATOMIC STUFF PROMOTION/ITALY IMPORT)
The Italian band WINE GUARDIAN was formed back in 2008 by Lorenzo Parigi (Lead Vocals, Guitar), Stefano Capitani (Bass, Backing Vocals) and Davide Sgarbi (Drums, Backing Vocals), and now 13 years later they have released their 2nd full-length album entitled Timescape. Musically speaking we are clearly heading into high quality melodic progressive metal with mostly clean vocals by the fantastic sounding Lorenzo, who can also play the guitar as a JOHN PETRUCCI kinda guitar God! The music reminds me a lot of DGM, though here and there a bit edgier and rawer (a few growls can be heard), although the beautiful melodies in each and every song make it a pleasure to listen to. The band has definitely released a lovely picture perfect melodic progmetal album that will be loved by the fans of the genre. Not a single weak moment to be found during the 7 long tracks counting new CD, of which the absolute highlights are Little Boy, the instrumental Magus and the SAGA meets QUEENSRYCHE ish Digital Dharma, but I also need to add here the superb calmer YESish closing track 1935, which is the clear calm moment between the mostly prog metal orientated material. Concluded, WINE GUARDIAN is a highly recommended band to fans of the melodic prog metal sound! More info at: https://www.wineguardian.it
(Points: 8.7 out of 10)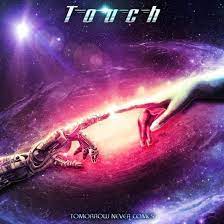 TOUCH 'TOMORROW NEVER COMES' (DEKO ENTERTAINMENT/USA IMPORT)
One of the most surprising and anticipated comebacks was definitely the announcement of TOUCH releasing a new album after an absence of 40 years! The back in 1978 New York formed TOUCH was only active for a very short while, but their 1980 released same titled debut album was an absolute classic Pomprock/AOR gem that is even now 4 decades later one of my personal favorite albums of all times. It is basically a perfect 10! Although they recorded a 2nd album in 1982, which was never officially unreleased, the band split up sometime later. Thankfully many years later FRONTIERS RECORDS released all the unreleased TOUCH material along with the classic debut in a fantastic 2-CD set package, resulting in a renewed interest in the legendary short-lived band. However, we had to wait before a corona pandemic would hit the world before real dreams would come true, because all 4 original members (Mark Mangold (songwriter and keyboards), Glen Kithcart (drums), Craig Brooks (guitars/vocalist) and bassist/vocalist Doug Howard) reunited in 2020 and started working on a new official album. Tomorrow Never Comes is the title of this new album and I am so glad to see that we are finally able to hear new material of TOUCH, and more importantly, it was also recorded by the true original line-up of the classic debut album! There is no classic like Don't You Know What Love Is to be found on this album and of course it is absolutely impossible to reach the insanely high level of their 1980 debut album, because looking back now, that record is one of the finest pieces of music ever created! On the other hand, there's still enough to enjoy here for the TOUCH and Melodic (Pomp) Rockfans in general. Opener Tomorrow Never Comes is a fantastic start, because this is a lovely uptempo Melodic Rocker with a catchy chorus and it shows that these 4 guys can still create new original music in the classic TOUCH style. Following Let It Roll is even more going into the classic TOUCH style, although it needs to be added that vocally speaking hitting those high notes is not as easy as it was on their debut album. On the other hand, TOUCH had and still has the privilege of various vocalists within their line up! Swan Song has many classic 70s Prog and US Pomprock influences, and is the longest and probably most exciting tune on the album. Try To Let Go has clear LED ZEPPELIN-Physical Graffiti influences, a great midtempo heavy rocker with a 70s vibe, while the catchy ultra-melodic AOR chorus does 'touch' the classic TOUCH record for sure! Fire And Ice is a fine mid 80s type uptempo melodic hard rocker, sounding quite good overall, although nothing really spectacular compared to the other songs and somehow reminding me of TOUR DE FORCE (remember them?). Following Trippin' Over Shadows is a very good laid-back midtempo early 80s AOR/Westcoast ish song, while Frozen Ground is a superb midtempo Classic AOR/Pomprocker with a lovely catchy chorus that is perhaps one of the strongest of the entire album! Lil Bit Of Rock N Roll is as the title predicts a typical 70s rock and roll tune, so no complexity and just having a good time like in the old days! Next track Glass is a nice midtempo prog/pomprocker, while Scream At The Sky is a slowtempo THE BEATLES influenced psychedelic proggy early 70s rocking piece. Wanna Hear You Say is back to classic late 70s/80s uptempo AOR/Melodic Rock with a fun catchy chorus to sing-a-long to and closing track Run For Your Life is a nice BOSTONish uptempo melodic rocker. TOUCH is back on track here for sure and just like the new records of STYX and DENNIS DE YOUNG, the pandemic gave us a lot of great new original high quality music in the classic 70s US Pomprock style and that's what we have been waiting for all those decades from these heroes and all of this is definitely thanks to this terrible virus!
(Points: 8.6 out of 10)
TEN YEARS AFTER 'NATURALLY LIVE' (FAST WESTERN RECORDS/DEKO ENTERTAINMENT/USA IMPORT)
TEN YEARS AFTER is a legendary long-time running British Blues/Classic Rockband that are close to 60 years now in performing and recording, although they took long pauses during several decades (especially in the 1980s). Of course their main leader ALVIN LEE died 8 years ago, but 2 of the original members (keyboardplayer CHICK CHURCHILL and drummer RIC LEE) are still present in 2021 and along with the 2014 joined members MARCUS BOFANTI (vocals, guitars) and bassist COLIN HODGKINSON, the band keeps on performing. Marcus is a real joy to listen to, both vocally and his guitar playing is of an incredible high level, so you could almost call it the MARCUS BOFANTI BAND playing mostly old TEN YEARS AFTER songs and thankfully they do this extremely well, which can be heard on this superb live CD that was recorded on the 24th of March 2018 in Erfurt, Germany. The sound and performance is amazing and show that with Marcus on board, this band has a bright future ahead of them. 15 songs are included in total and at times they do remind me a bit of GOLDEN EARRING and WISHBONE ASH besides of course TEN YEARS AFTER and RORY GALLAGHER. Not a single weak moment and fingers crossed we will be able to catch this band live once covid restrictions are over, because they sound really sensational nowadays, perhaps better than they have ever been! This new live CD is available through: http://www.ten-years-after.co.uk/
(Points: 8.7 out of 10)
GRAEME SCARFE 'ON TRACK… PETER GABRIEL – EVERY ALBUM, EVERY SONG' (SONIC BOND PUBLISHING/UKIMPORT)
PETER GABRIEL is a real legendary singer/songwriter who is thankfully still with us and with a career he has had, it was only a matter of time before a full book would be written about it. His time in GENESIS during the 1970s was obviously very interesting and helped to shape the way for the future of Progressive Rock. His solo adventure began quite quickly actually and still continues to do so, because the book On Track… covers all his solo albums, including his recent ones, which are then again actually made up of older material. Nevertheless, Peter has always delivered high quality material that even kept his progfans interested, even during the 1980s when he flirted with popmusic. Anyway, such a character as Peter is unique and I doubt if we ever get so many characters in the music world like we had during the 1970s. Many have left us by now, but Peter is still with us and the book by author GRAEME SCARFE is a well-written book to read while listening to Peter's extensive catalogue, because the 142 pages review all of Peter's solo albums, every song he recorded solo between 1977 and 2021 is reviewed in detail. Graeme did a great job here and definitely a recommend read! The book is available through: www.sonicbondpublishing.com
(Points: 8.0 out of 10)
FORGOTTEN GARDEN 'BROKEN PIECES' (INDEPENDENT/UK IMPORT)
Out of the North of England comes the sensational FORGOTTEN GARDEN, a duo formed around Danny Elliott (all instruments except drums) and Inês Dias Rebelo (vocals). Inês originally comes out of sunny Portugal and she has a beautiful voice, while the 4 songs on the debut EP Broken Pieces are lovely calmer melodic dreampop/rock orientated with a focus on 'dreamy' melodies. Opener Snowflakes is one of the absolute highlights, because this is a sensational melodic uptempo pop/rocker with lush vocals of Inês. She sounds magical during the titletrack Broken Pieces, a calmer song with acoustic guitars only. Not a single weak moment to be found and when listening to this fantastic duo, I think it's only a matter of time before they will be picked up by a major label and release a full-length album. Without a doubt, a magical combination is what this FORGOTTEN GARDEN is all about and more info can be found at: https://screamliterecords.bandcamp.com/album/forgotten-garden-broken-pieces
(Points: 8.4 out of 10)
FERAL GHOST 'SPEED OF LIGHT' (RHINESTONE RECORDS/UK IMPORT)
Speed Of Light is the 2nd album of the London FERAL GHOST. It is the follow-up to their 2014 debut A Gathering Storm. The band consists of Danny Warwick – vocals, guitar, Chloe Hunter – vocals, percussion, Andy Watt – guitar, Lisanne Otten – keys, Marino Donati – bass and Paul Castleman – drums, and together they create catchy 70s inspired polished melodic soft pop/rock with a strong focus on crystal clear vocals, catchy hooks and melodic multi-layered close-harmonyvocal driven choruses like it was done by British major label signed bands about 45-50 years ago. When they go for the most smooth poppy direction (such as during It's Been A Long Time My Friend and Speed Of Light), SMOKIE does come to mind, but FERAL GHOST rock harder and are therefore interesting for the melodic rockfans. Highlights among the 12 included tracks are the lovely uptempo melodic rockers Roll The Dice, The Lighthouse, Say It's Not Too Late (AORish) and the midtempo melodic rocking closing track Here We Go Again. I personally think there are chances to become even more interesting, because when listening to the midtempo epic Pomprocker The Mirror, we get to hear a really sensational and rockier band than on the rest of the CD when they even remind me a bit of STYX! In the end, this is quite a surprising release that sounds very cheerful and summer-sun-ready! Back in 1976 this could have been a guarantee for many hitsingles, while now it might be a bit harder, although it will probably find its way to the fans of polished melodic pop/rock. More info at: http://www.orcd.co/feralspeedoflight
(Points: 8.2 out of 10)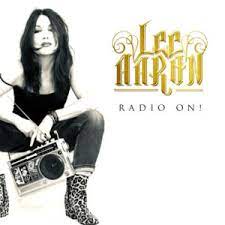 LEE AARON 'RADIO ON! VINYL RECORD' (METALVILLE/PIAS)
The legendary Canadian vocalist LEE AARON returns with one of her finest albums in decades! A few years ago we interviewed her and also reviewed her previous (hard) rock album Fire And Gasoline, and while listening to the new vinyl record Radio On! I am quite eager to do another interview with one of the finest female voices around, because this new LEE AARON vinyl album is sounding very good. Ever since the early 1980s, when she released a string of sensational records (such as the classic album Metal Queen) in the Hardrock/Metal direction, she has been part of my music collection, and when she released her 1987 same titled album, she even moved into classic AOR territory. Throughout the 1990s she slowly expanded her music horizon and went into a jazzy and bluesy direction, but during the mid-2010s Lee went back rocking again and now in 2021 she releases a very strong classic rock album that is as good as her classic albums from the 1980s. Together with bassist Dave Reimer, drummer John Cody (PRISM), guitarist Sean Kelly (HELIX, CRASH KELLY, GILBY CLARKE), and Lee herself on vocals and keys, LEE AARON recorded Radio On! Produced by MIKE FRASER (AC/DC, AEROSMITH, VAN HALEN), from start to finish this is a great album that is also musically quite diverse, yet with a strong focus on classic rock overall. Lee's vocals are still incredible after all these years and as I already mentioned, she beats almost every other female rock singer around nowadays, even at her age, and besides, she still looks very well as well some 40 years after she went into the music business. I received the beautiful vinyl record edition, which comes in various colors, while the packaging is done in a gatefold edition that contains all the information and lyrics of the 12 included songs, but also has great pictures of Lee and her old transistor rocking' radio that has stickers of her favorite rock acts from the past, such as THE RUNAWAYS, HEART, AC/DC, THE BEATLES, THE GUESS WHO, THE WHO, etc. It all starts with Vampin', a nice midtempo classic rocker with those lovely fantastic vocals of Lee, it reminds me a bit of ALANNAH MYLES, CHRISSY STEELE and HEADPINS, so a real Canadian female fronted rocksong. Following Soul Breaker is a superb uptempo catchy 80s AOR/Melodic Poprocker with a great catchy chorus and some very fine 80s orientated guitarwork, kinda sounding like a cross between HEAPINS and TORONTO. Cmon is more or less in the same direction, yet perhaps even more going into classic Canadian Poprock territory like early BRYAN ADAMS, PRISM, HARLEQUIN and a touch of very early PAT BENATAR. Mama Don't Remember is a nice classic rocker that has a slightly simpler STATUS QUOish meets bluesy approach, but this song also reveals a bit of JOAN JETT/THE RUNAWAYS influences sneaking in when we get to the chorus. Titletrack Radio On is up next and this is another catchy melodic poprocker that sounds like a cross between early 90s BRYAN ADAMS and late 80s JOAN JETT. I think by now you will ask yourself why this album reminds me of so many other acts and artists from the past when discussing the songs and not just mention it sounds like LEE AARON herself, well, this is a big compliment, because it shows the diversity and authenticity of this lovely sounding vinyl record! Radio On! might be the most Canadian rock record I have heard in ages! Anyway, back to the album, Soho Crawl closes side-A of the vinyl record, and this is a nice CHEAP TRICKish early 80s Powerpop/Poprocker.
Side-B opens with the sensational Devil's Gold, which is something completely different, because this is a marvelous semi Southern Rockballad with a very relaxing vibe, kinda LYNYRD SKYNYRDish. It's a beautiful song that just feels really good and is showing a different side of Lee. Russian Doll is sadly one of the few weaker songs on the album, because this is a somewhat simpler boogie woogie rocker, while Great Big Love is a nice groovy slowtempo bluesy rocker. Wasted is an interesting song that starts as an acoustic ballad with Lee singing at her very best and quite emotional actually, but develops into a great groovy Hardrock song like early LEE AARON meets 70s HEART. Had me at Hello moves into the same direction more or less, with again 70s HEART similarities. Closing track Twenty One is a beautiful AORish ballad with a singer/songwriter feeling, quite calm compared to the rest, but a very nice ending to a great comeback album of this superb legendary Canadian female singer. Soon an interview with Lee and for now, go get this lovely vinyl record and check out her website for more info at: http://www.leeaaron.com
(Points: 8.7 out of 10)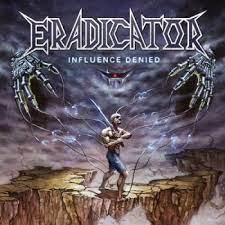 ERADICATOR 'INFLUENCE DENIED VINYL RECORD' (METALVILLE/PIAS)
METALVILLE RECORDS is great German record label that is quite diverse musically speaking. I received a couple of great Thrash Metal records on vinyl record, namely GODSLAVE and this ERADICATOR. I was not familiar with this German band, but when you receive their new album on a vinyl record, it is definitely interesting to dive into this band. The sound of the record is massive and basically they are playing pure late 1980s Bay Area Thrash Metal in the style of bands like TESTAMENT, DEATH ANGEL, ANTHRAX and such. The full package is complete here, because everything sounds perfect. This band has a great singer with a melodic clean voice, the songs are melodic enough to stick in your memory and the diversity of the songs is just enough to keep the interest and with the fantastic (twin) guitarwork it all feels very authentic. The band released their debut The Atomic Blast back in 2009 and Influence Denied marks their 5th album so far. Their line up consists of guitarist/vocalist Sebastian Stöber, bassist Sebastian Zoppe, drummer Jan-Peter Stöber and guitarist Robert Wied, and together with producer Sebastian Levermann (ASPHYX, ORDEN ORGAN, BRAINSTORM) ERADICATOR recorded a lovely classic late 80s Bay Area orientated Thrash Metal record. It's full speed ahead most of the time, with in total 10 fast uptempo pieces that seem to have no compromise or whatsoever and are therefore highly recommended if you're into bands like XENTRIX, FORBIDDEN, DEATH ANGEL, early METALLICA, TESTAMENT, etc. etc. Highlights are Driven By Illusion, Hate Preach, the lovely Echo Chamber and Mondays For Murder, and basically this is the way Thrash Metal used to sound and needs to sound like, so make sure to get a copy of this vinyl album a.s.a.p. if any of the aforementioned bands are up your alley. Check them out at: https://www.eradicator.de/index.php/de/
(Points: 8.4 out of 10)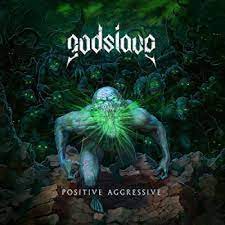 GODSLAVE 'POSITIVE AGGRESSIVE VINYL RECORD' (METALVILLE/PIAS)
In the slipstream of the great new ERADICATOR vinyl record comes another lovely Thrash Metal vinyl record on METALVILLE RECORDS. It concerns the German band GODSLAVE and their 6th album Positive Aggressive, which is a concept record by the way. The band is formed around Thomas Pickard – vocals, Bernhard Lorig – guitar, Manuel Zewe – guitar, Michael Koch – bass and Tobias Huwig – drums, and they go the extra mile with their Thrash Metal, because somehow their new album sounds just a bit better than most of the other Thrash Metal albums released nowadays. This is partly due to the superb pure Metal vocals of singer Thomas, but also the guitarwork is of an extremely high level. This is pure 80s Thrash Metal with tempo changes, gang vocals and a focus on melodies throughout each and every song in both the vocal and instrumental passages, and a lot of diversity, because there are obvious influences from other Metal styles as well to be heard. If we have a look at the album's highlights, we can inform you what is going on here, because songs like How About No?, Positive Aggressive and Straight Fire Zone are picture perfect melodic Thrash Metal songs that feel like you're back to the early METALLICA sound, sounding both aggressive and melodic and catchy at the same time, which is only possible if you know how to accomplish that. Somehow they also remind me of a cross between MYSTIC PROPHECY and BRAINSTORM here and there, but when Straight Fire Zone kicks in, you might add GRAVE DIGGER as well. Basically they reveal in such songs their typical German pure Teutonic Metal influences and that is good to see, because crossed with the 80s Bay Area Thrash Metal style, it is clearly showing an own identity. Other highlights on this massive sounding vinyl record are Flap of a Wing (catchy chorus, close to Power Metal), King Kortex (even has a MANOWARish chorus including the phrase Hail The King, very impressive) and Final Chapters First (almost pure Power Metal!). It might not be really original, GODSLAVE are doing things the exact right way to make this a sensational record in this genre. I can easily highly recommend this vinyl record, because it might be one of the best Thrash Metal albums released in the past decades. Check out all info on GODSLAVE at: http://www.godslave.de/
(Points: 8.7 out of 10)

SLAVEDOWN 'THE ENEMY INSIDE VINYL RECORD' (LA FAMILIA REVOLUCION RECORDS/SPAIN IMPORT)
Out of Girona, Spain comes the massive sounding band SLAVEDOWN and the vinyl record The Enemy Inside is their 2nd album so far. The album follows up their same titled debut album from 2018. The band is formed around Marc Corso - Vocals, Andreu Runo - Guitars, Big Villano - Drums and Sue Gere - Bass and their high quality major label sounding new album is clearly influenced by the American heavyweight champions of AUDIOSLAVE, DOWN, SOUNDGARDEN, PANTERA, MASTEDON, ALTER BRIDGE and such. It means that we actually get to hear modern sounding slowtempo massive guitar riff dominated Doom Metal meets Stoner Rock, with raw slightly aggressive vocalwork (in a LEMMY style), but still featuring strong melodic choruses, such as during the lovely Come And See The Monster Rise, Not To Fall back Again (a song with superb guitarwork), You Can't Have It Anymore and Deliver Us From Evil. All together the vinyl record I received from their Spanish label LA FAMILIA REVOLUCION RECORDS is quite a nice one and recommended to fans of the American way of modern melodic metal, yet it's done by a Spanish band! More info at: https://lafamiliarevolucionrecords.bandcamp.com/album/the-enemy-inside ,
(Points: 8.4 out of 10)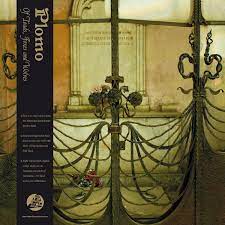 PLOMO 'OF TOADS, FOXES AND WOLVES VINYL RECORD' (LA FAMILIA REVOLUCION RECORDS/SPAIN IMPORT)
Out of Barcelona, Spain comes the sensational female fronted band PLOMO and their 'new' album Of Toads, Foxes And Wolves was sent to me as a vinyl record and I am glad the Spanish label did this, because this shiny vinyl album sounds absolutely marvelous from start to finish. The band was formed in 2003 and they released a CD in 2007, but sadly PLOMO broke up eventually in 2014 after they recorded the material which has now been pressed onto vinyl record as Of Toads, Foxes and Wolves. It's a pity the band is not around anymore, because this new album sounds very impressive. The line-up of the band at the time featured Jake Klamburg - Lead Drums, Sara Morla - Lead Vocals, Quim García - Lead Bass and Alfonso Cameno - Lead Guitar. The record has a stunning packaging, with beautiful pictures and an OBI strip, so there's much to look at while listening. It feels rather strange this material was recorded back in 2014 and not released until now, because PLOMO sounded really amazing. 8 songs are included in total, starting with Angel of Starvation, which is a fantastic 70s inspired classic rocker with superb strong crystal clear vocals of Sara. She has the perfect voice to keep you entertained the whole time, while the music reminds me of a cross between 70s HEART, COVEN and a bit of BLUES PILLS, so there's a touch of stoner/doom rock, psychedelic, progressive rock, folkrock and hardrock in their sound. Following Felix the Toad is a short instrumental, while Under the Earth is back to the classic 70s rocksound of HEART again, with some mighty guitar riffs out of the classic BLACK SABBATH book, so there's the COVEN comparison again. Slow melodic Doom/Psychedelica Classic Rock might be a nice description of the fantastic lengthy Let me in, which sounds like a cross between THE DEVIL'S BLOOD, BLUES PILLS and DOOL, including a superb melodic chorus that recalls memories of HEART and TANTRUM. Side-B of the record opens with Don't fear the Wolf, which is basically pure early 70s BLACK SABBATH meets 70s HEART, so yet another sensational slow tempo classic doom/rocker. Lord Hunter of Souls continues the classic 70s rock/hardrocksound, with once again superb vocal melodies and a catchy chorus that would really make HEART and BLUE OYSTER CULT jealous for not writing! Fox in a Cage follows in the same sensational style, while closing track Shipwrecked Babies is a superb midtempo piece that has clear 70s LED ZEPPELIN/70s HEART similarities. If you're into bands like COVEN, THE DEVIL'S BLOOD, DOOL, BLUES PILLS and also 70s SABBATH, 70s HEART, then you absolutely need to check out this superb female fronted band from Spain. As mentioned earlier in the review, PLOMO as a band is sadly not existing anymore, but who knows after this beautiful vinyl release, the band will reform again. Check them out at: https://lafamiliarevolucionrecords.bandcamp.com/album/of-toads-foxes-and-wolves
(Points: 8.9 out of 10)

CLOACA 'VERTIDO TOXICO VINYL RECORD' (LA FAMILIA REVOLUCION RECORDS/SPAIN IMPORT)
Out of Spain comes CLOACA, a 2-piece band formed around Rata Ray (Drums, Chorus) and Bento Carroña (Guitar, Vocals). They deliver their debut album with Vertido Tóxico, which was sent to me on vinyl. The music is mostly uptempo melodic punkrock, and I have to say that it sounds quite good actually. The vocals are strong and the 2 guys have a tight 'band' sound, which is Punk based, but also reveals dirty mean trash rock and roll influences and among the 10 included songs the highlights are Ataúd, Desfase (catchy tune!), Doña Furia and Paralizado (fantastic), while closing track La llamada de Cuthulhu has a touch of rockabilly humor rock and roll. However most of the songs have the classy trashy garage punk rock and roll sound we all love so much, with a focus on a memorable chorus and as you can see for yourself the band sings in the Spanish language, which for me personally is no issue at all, because it makes it sound therefore very authentic. Check out this vinyl release at: https://lafamiliarevolucionrecords.bandcamp.com/album/vertido-t-xico
(Points: 8.2 out of 10)
MEXICAN CUCO 'MEXICAN CUCO VINYL RECORD' (LA FAMILIA REVOLUCION RECORDS/SPAIN IMPORT)
It's great to see a lot of unreleased material from the past being pressed onto vinyl nowadays, so it will be forever documented for future generations to come. In the case of the vinyl record I received from the Spanish label LA FAMILIA REVOLUCION RECORDS, it concerns a mini LP vinyl record of the Barcelona, Spain based band MEXICAN CUCO that contains 5 instrumental songs that were recorded live in analogic systems in Barcelona in 2007. 13 years later this piece of lovely music is released on vinyl. The band consisted of Nacho Olvier/Rythm and Lead Guitars, Mariano Gil/Lead and Rythm Guitars, Iván Romá/Bass Guitar and Jordi Ayuste/Drums, and their same titled debut album is pressed in a 12'' vinyl at 45 rpm for the highest quality sound and when looking at the beautiful artwork of the album, we can see some fantastic cartoon/tattoo style drawings and along with the included music, it is a joy to listen to this vinyl record from start to finish. The album has 5 great instrumental songs that musically speaking is mostly heading into uptempo Stoner fuzz guitar driven Classic Rock that truly rock hard, of which the closing track Desnúdate is the finest song, although this song is calmer than the first 4 songs. Make sure to check out this band, because it will probably become a collector's item. More info at: https://lafamiliarevolucionrecords.bandcamp.com/album/mexican-cuco
(Points: 8.2 out of 10)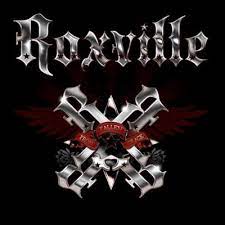 ROXVILLE 'FALLEN FROM GRACE' (INDEPENDENT/UK IMPORT)
It's so great to see so many new Melodic Rockbands popping up in the UK, just like it did 40 years ago during and after the NWOBHM movement. The rockscene has never been so alive and well as nowadays in the UK! ROXVILLE started in the early 2010s and they slowly worked their way onto this debut full-length CD Fallen From Grace. The band consists of guitarists Rocco Valentino and Chaz Jones, Jamie Sloane on vocals, Gab Soulavy on keys, Geos Letona on bass and Jerry Sadowski on drums, and their first album is a sensational pure 80s Hair Metal/Melodic Hardrock affair in all its aspects, musically, vocally, songwise and production are all top-notch! If you long back to the days of FIREHOUSE, WHITE LION, DEF LEPPARD, KNOW ILLUSION and such big sounding anthemic Arena Melodic hardrock, then look no further than this superb sounding ROXVILLE from London. 13 songs are included, and opener Crash'n'Burn is a great uptempo melodic heavy rocker that immediately shows that we are dealing here with a high quality band. Following Come Alive is a fantastic pure 80s DEF LEPPARD meets HEAVY PETTIN' ish midtempo melodic rocker with a big massive anthemic chorus. Let You Go is up next and when listening to this song, it is like we go further and further back to the classic 80s, because this uptempo melodic hair metal rocker is a perfect cross between VICTORY (ft. FERNANDO GARCIA), early GUARDIAN and TESLA, with Jamie sounding like one of the best 80s hard rock singers I have heard in ages! Gone follows in a similar direction, pure ballsy 80s melodic hardrock that also reminds me of MELIDIAN and DOKKEN. Whipped follows and is a bit rougher Hardrock, once again pure 80s, but this time more akin to something DANGER DANGER and DAMN YANKEES also did on their albums back in the late 80s/early 90s. Desert Storm is a lovely midtempo melodic rocker, while Turn It On is the first slightly weaker song, but still a nice midtempo 80s rocker. Beyond Repair is a good groovy midtempo melodic rocker that sounds like a cross between GREAT WHITE and TESLA, although some WHITE LION can also be traced here. Solitaire is going for a more AOR/Melodic Rock direction, and it is a very catchy tune indeed! Bad Blood switches to a fantastic uptempo melodic hardrock direction that reminds me quite a bit of BRITNY FOX circa Bite Down Hard, JESSE STRANGE and FIREHOUSE. Following Blues Fever is groovy swinging pure TESLA circa 1987, Electric is yet another lovely 80s melodic rocker in an early BON JOVI style and closing track Had It Coming is excellent big-time Anthem/Arena Hardrock that is again dangerously close to classic late 80s VICTORY. ROXVILLE is a band to keep your eyes wide open for and if you're a fan of DAMN YANKEES, DEF LEPPARD, NELSON, WINGER, FIREHOUSE, WARRANT and that kinda late 80s/early 90s MTV Hair Metal/Melodic Hardrock then check them out a.s.a.p., because if this was 1989, then ROXVILLE would have become huge in the USA! Their CD is available through https://www.roxvilleband.com/buy/p/fallen-from-grace
(Points: 8.8 out of 10)
SHOWDOWN 'SHOWDOWN' (INDEPENDENT/GERMAN IMPORT)
I remember a band called SHOWDOWN from the USA, and they released a great AOR record in the 80s, but here it concerns SHOWDOWN from Bielefeld, Germany. They were kind enough to send me their same titled debut CD and when I looked at the frontcover, it definitely brought a big smile to my face, because it looked like BON JOVI circa 1985! Musically speaking the German SHOWDOWN is also pure 80s orientated, yet more going into a Melodic Metal/NWOBHM direction when listening to the strong opener The Chosen One, which sounds like a cross between TOKYO BLADE and PRETTY MAIDS. The band does also have AOR/Melodic Rock influences, which can be heard during the following catchy Just one Night, which has nice keys and lovely twin-guitars besides a catchy early/mid-1980s BON JOVIish chorus. Anyway, the 5-piece band consists of Nikki Z (vocals), guitarist Glen Vega, guitarist-keyboarder Alek Saint, bassist Keith Louis and drummer Johnny Machine, and the 11 songs on their debut are definitely sounding very impressive. The sound/production is quite good, the guitarsound is perfectly 80s inspired, vocally there is a typical German accent to be heard, but that's no problem at all, and all of the songs are catchy and diverse enough to keep the interest until the end. They picked not only influences from NWOBHM and AOR/Melodic Rock, but also Glam Metal a la MOTLEY CRUE can be heard during a song like the midtempo Black Viper. I love the guitarsolo's, which complete the 80s circle here, no matter which 80s rockgenre SHOWDOWN is doing. The highlights are definitely during the beginning of the CD, because during the 2nd part it gets a bit weaker, although closing track Thunder Town is quite strong. In addition, the band also sent me a CD single they recently recorded, In The Name Of Love, a nice uptempo melodic heavy rocker that somehow reminds me a bit of a mix between AXXIS, DOMAIN and DEMON. Hopefully this all will be pressed onto vinyl someday, because then we're totally going for the 80s approach! If you're a fan of all that is 80s (Glam/Hair Metal, NWOBHM, AOR/Melodic Rock) and like the mixture of these rockstyles, then look no further than these 5 young German guys! More info at: http://showdown-band.com/BAND/
(Points: 8.2 out of 10)