HOT NEW REVIEWS
NOVELTY ISLAND 'HOW ARE YOU COPING WITH THIS CENTURY?' (THINK LIKE A KEY MUSIC/USA IMPORT)
Out of Liverpool, UK comes the talented multi-instrumentalist/singer/songwriter and producer TOM MCCONNELL, who does almost everything on his own on his official first full-length debut album How Are You Coping With This Century?, which has been released on the American label THINK LIKE A KEY MUSIC. His music is old school 60s influenced melodic psychedelic pop/rock with clear THE BEATLES influences when hearing songs like the calmer Ladybird and the fantastic catchy uptempo beat rocker/power popsong Jangleheart. His music fits somewhere between THE BEATLES, PAUL MCCARTNEY, STRAND OF OAKS, FATHER JON MISTY and THE POSIES, so there's a bit of everything here, powerpop, melancholic singer/songwriter, beat and mature well-thought pop/rock, although as already mentioned THE BEATLES is his major influence, and then I mean the full THE BEATLES catalogue, so both the happier uptempo powerpop material of their early work until the late 60s psychedelic era, and in particular Sgt. Pepper's… because that is written all over the place, especially during the song Blackcurrant Sky. Tom does a great job, and despite it might here and there sound really close and more like a tribute to his favorite band, the album is of a very high level and should be in the hands of every fans of… THE BEATLES! More info at: https://www.novelty-island.com and https://noveltyisland.bandcamp.com/
(Points: 8.5 out of 10)
EX NORWEGIAN & FRIENDS SING 'JIMMY CAMPBELL' (THINK LIKE A KEY MUSIC/USA IMPORT)
I am glad I visited Liverpool a few years ago, because that place still has the same music vibe and magic as back in the early 1960s when THE BEATLES and the Merseybeat ruled the streets. However, a lot of musicians and bands from that era never got the attention they should have gotten, including poet/musician/songwriter JIMMY CAMPBELL who was supporting THE BEATLES at the Cavern Club in Liverpool way back in January 1962 when he was in a band called THE PANTHERS. Jimmy went solo eventually throughout the 1960s and early 1970s, recording several albums and singles, also together with the band ROCKIN' HORSE, and he even wrote songs for other artists such as CLIFF RICHARD. However he never achieved huge success, but after his death in 2007 things started to turn around, because suddenly all over the world musicians confessed they were admirers of Jimmy's work, such as THE BLACK KEYS, ANGEL OLSEN and JOEY RAMONE. During the covid lockdown in 2020 the Indie Rockband EX NORWEGIAN came up with the idea to make a record filled with covers of original JIMMY CAMPBELL songs, yet with the help of musicians from other bands like THE VAPOUR TRAILS, THE STRAWBS, THE POPPERMOST, THE AUTUMN GHOST and many more. The result is this CD on THINK LIKE A KEY MUSIC, which consists of 14 impressive new versions of those classic tunes of Jimmy. Opener Yes It Is is a great midtempo fuzzy garage rocker, while the following Forever Grateful is a beautiful melancholic powerpop/rocker, Stayed Out Late Last Night is a lovely uptempo melodic rocker and a song like Half Baked is a great groovy hardrocksong that would even make LED ZEPPELIN and THE BLACK KEYS jealous, while there's also material that likewise sounds like the late 60s psychedelic THE BEATLES period, but perhaps Jimmy was earlier in creating such music! And so it goes on and on throughout the 14 included songs on this JIMMY CAMPBELL tribute CD. The result is as you can see a very diverse album that is thanks to the involvement of all the (digital) guests showing a wide variety of styles, which of course is also due to Jimmy's original songs that were very creative. More info can be found at: https://shop.exnorwegian.com/album/sing-jimmy-campbell
(Points: 8.6 out of 10)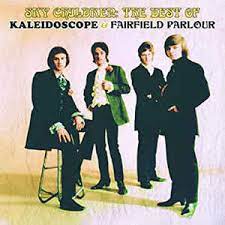 KALEIDOSCOPE & FAIRFIELD PARLOUR 'SKY CHILDREN: THE BEST OF KALEIDOSCOPE & FAIRFIELD PARLOUR' (THINK LIKE A KEY MUSIC/USA IMPORT)
THINK LIKE A KEY MUSIC is an interesting recordlabel from the USA that releases great new CDs, but also digs in the archives and then releases CD/DVD combinations of rare studio and live recordings of these late 60s/70s bands. One of these rare bands is KALEIDOSCOPE, an English band that was active under this name and also under other band names (such as FAIRFIELD PARLOUR) between 1964 and 1971. They released 3 highly collectable full-length albums under the 2 aforementioned band names, a lot of singles and they recorded material that was released in later decades. The Sky Children: The best of CD, which is released on THINK LIKE A KEY MUSIC, is a collection of songs taken from their albums, singles and unreleased recordings, all recorded between 1964 (when they were named THE SIDEKICKS) and 1971. Basically we get musically speaking superb high quality late 60s psychedelic rock that could have easily made them superstars back then, because songs like Faintly Blowing, In My Box, Flight From Ashiya, Bordeaux Rose, A Dream For Julie, Kaleidoscope and the amazingly rocking Music (way ahead of its time such an uptempo rocking tune!) sound extremely strong and catchy. Of course bands like THE KINKS, SHOCKING BLUE, THE DOORS, PINK FLOYD, LOVE, JEFFERSON AIRPLANE, THE PRETTY THINGS, THE YARDBIRDS, THE BYRDS, JIMI HENDRIX, CREAM and countless others became the big names that really broke through and became legendary, but KALEIDOSCOPE is just as good. This is a fantastic compilation CD you should get when you want to hear a great gem of the late 60s psychedelic rock era you probably never heard of. The DVD contains rare footage of the band from French and German TV appearances from 1967 and 1970, as well as a 2017 performance of 2 songs by original lead singer PETER DALTREY and original drummer DANNY BRIDGMAN. It's available through: www.thinklikeakey.com
(Points: 8.9 out of 10)
PATTO 'AND THAT'S JAZZ' (THINK LIKE A KEY MUSIC/USA IMPORT)
The 1970s was a great time to explore new sounds, because experimentation and improvising was very common in the music business during those days. It was the time when there was freedom in music, which led to a diversity in sounds, both live and on record. It wasn't until the late 1970s when things started to become radio-format orientated, which resulted in shorter catchy polished songs in a widely acceptable safe direction that basically took out all the creativity of the musicians during the following 1980s decade, which eventually became the MTV/Producers area. However the period between the late 1960s JIMI HENDRIX/ZAPPA/LED ZEPPELIN and the late 1970s Punk/Disco wave gave us countless interesting album releases and unreleased live recordings that even nowadays bring us every now and then new stuff of all these unique bands that were active 50 years ago. PATTO from the UK was such a band, because despite they were short-lived and released only 3 albums (and a 4th one in 1973, which was released in 2017!), this new live CD/DVD release And That's Jazz on THINK LIKE A KEY MUSIC shows that they were one of those great innovative rock-fusion-jazz bands that was active during the 1970s. The sound quality is not really good, but still great if you consider the fact that it was recorded way back in 1973. They did a great performance in London that night, playing a mixture of songs that were released and also songs that were never released, because they broke up later that year. Their music was a mix of all kinds of influences, sometimes close to JIMI HENDRIX' groovy hardrock, then jazzy and complex like a rocking version of SOFT MACHINE, while a song like Shmairway of Shmove even reveals acapella 1920s sorta fun music and there's much more. PATTO were at their best when they started grooving and rocking at the same time, such as during the superb southern rocking soulful Flat Footed Woman that even sounds like something THE BLACK CROWES could have done 2 decades later! PATTO were basically a great band that sadly got more recognition after their split. Sadly their fantastic singer and front man MIKE PATTO died in 1979, so this new live CD/DVD is something to treasure. The DVD contains rare unreleased footage of performances the band did on French and German TV, including the full session for Beat Club, a famous German TV show that hosted a lot of bands back in the 1970s. The CD/DVD set is available through: www.thinklikeakey.com
(Points: 8.3 out of 10)
FERNANDO PERDOMO'S OUT TO SEA BAND 'THE ARCHITECT (TRIBUTE TO PETER BANKS) / ANGEL 45" VINYL SINGLE' (BEYOND BEFORE/FORWRD MOTION RECORDS/THINK LIKE A KEY MUSIC/USA IMPORT)
Out of Los Angeles comes Producer, Singer/Songwriter, and Multi-Instrumentalist FERNANDO PERDOMO. He already released 6 albums prior to this 45" vinyl single I received. His band is called OUT TO SEA BAND and on this single we can hear 2 songs in total that are a tribute to PETER BANKS, the original YES guitarist who played on that band's first 2 albums. Both songs are musically speaking interesting progressive rock/classic rock orientated, instrumental and pure 1970s orientated with even within the short time frame of 3-4 minutes enough improvisations and guitar melodies to make it diverse and attractive enough to keep listening to them over and over again. 70s inspired instrumental guitar orientated classic rock/prog has never sounded better, with side-A being an uptempo piece, while side-B is a calmer melodic ballad orientated song. You can easily trace influences of acts like WISHBONE ASH and THE ALLMAN BROTHERS BAND, so in case you're starting to become interested, check out more info on Fernando and his music at: https://fernandoperdomo.bandcamp.com
(Points: 8.4 out of 10)
ANDY PRATT '4 CD CLAMSHELL BOX + 16 PG BOOK' (THINK LIKE A KEY MUSIC/USA IMPORT)
Boston, USA based ANDY PRATT is a well-known singer, songwriter and multi-instrumentalist who has been in the music business for over 50 years now, and he was during the 1970s quite popular. He scored a massive hit with the song Avenging Annie, on which he had a sorta BEE GEES high falsetto in his voice during the catchy chorus. Anyway, his music has always been a sorta alternative singer/songwriter pop/rock orientated, reminding me a bit of STEVE EARLE and NEIL YOUNG. There is now a box available of 4 albums Andy recorded between 2010 and 2014, Life And Death, Chasing Shadows, Loves You and The New Normal?, and all of them containing 70s type of alternative singer/songwriter with the nasal voice of Andy. It's not a really happy adventure to go through these CDs, because Andy already sang about the new normal back in 2014! Nevertheless, it's good to see he's still around and making music, and doing most of it on his own. It's not bad at all, personally I would love to see him rock and roll a bit more, but in case you're a fan of Andy's music you will have a huge amount of unreleased material to listen to via this beautiful CD-box set, because in total you will get about 60 songs. The box is available through: www.thinklikeakey.com
(Points: 7.0 out of 10)

TILL KERSTING 'CIRCUSKIND' (BEAR FAMILY RECORDS/GERMAN IMPORT)
TILL KERSTING is a talented German guitarist/singer/songwriter who also performs with THE BASEBALLS sometimes, but is mainly active as a solo performer. He released 3 English sung albums, but his new album Circuskind is his first German-language album. I was not familiar with his music before, but after hearing this great new album I am quite interested in his earlier work. The music rocks in a classic rocking way, with a touch of Americana and Rockabilly here and there, although bluesy melodic rock is most of the time the name of the game here, such as during the wonderful catchy 70s uptempo classic rocker Boom Boom and the melodic rocking Ich Bin Dabei (slightly 80s influenced, PETER MAFFAY meets OCHSENKNECHT meets UDO LINDENBERG). He also sounds like a rockier German version of DANNY VERA here and there, although Till definitely has an own identity when listening to the 8 included songs on his new album. Great album for sure and the CD is available through: www.bear-family.de
(Points: 8.3 out of 10)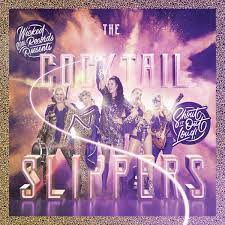 THE COCKTAIL SLIPPERS 'SHOUT IT OUT LOUD VINYL RECORD' (WICKED COOL RECORDS/UNIVERSAL MUSIC GROUP/NORWAY IMPORT)
Formed out of the ashes of another all-female rockband THE BARBARELLAS, the all-female rockband THE COCKTAIL SLIPPERS from Oslo, Norway started their rise to fame and fortune in especially their homeland of Norway back in 2001. They performed in especially Europe and the USA, where they supported legendary musicians such as PAUL MCCARTNEY, IGGY POP, BRUCE SPRINGSTEEN, PAUL SIMON and many more. Shout It Out Loud is their 5th album so far, and it has been released on the WICKED COOL RECORDS label of BRUCE SPRINGSTEEN's THE E-STREET BAND guitarist STEVEN VAN ZANDT, who also co-produced most of the songs on the album. In the past they even had JEAN BEAUVOIR on board as co-producer, so they must be doing something good here and actually their new album Shout It Out Loud does sound pretty good! The band is formed around Hope (vocals), Rocket Queen (guitar), Vega (guitar), Miss A-OK (drums) and Sugar (bass), and the 10 songs on their new album are fun early 80s inspired all-female melodic pop/rock orientated pieces that sound like BLONDIE meets a polished THE RUNAWAYS meets THE GO GO'S meets PRECIOUS METAL and also a little bit of THE BANGLES. It's not too heavy, but still rocks from time to time, while the songs are catchy and radio-ready. The band was kind enough to send me a lovely purple swirl vinyl record of their new album, which contributes to the authentic sound of the band. The highlights are the catchy uptempo melodic poprockers Be The One, City On Fire, Say My Name (with an obvious THE RUNAWAYS meets 70s KISS Lovegun guitar riff), the lovely early 80s ff AOR/Poprocker You And I (a la early PAT BENATAR/ELLEN SHIPLEY/SUE SAAD), the beautiful calmer ballad I'll Be Here For You and the catchy uptempo late 70s punkpoprocker Excuse Me (the perfect combination of BLONDIE and very early PAT BENATAR with a touch of the catchy British poppunk/powerpop sound of THE BOYS. Despite nothing new is brought here, THE COCKTAIL SLIPPERS bring a smile to your face with their catchy high quality melodic rocking tunes on their recommended new album! More info can be found at: http://www.cocktailslippers.com/
(Points: 8.5 out of 10)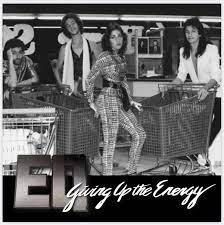 EQ 'GIVING UP THE ENERGY: EXPANDED EDITION' (PROG AOR RECORDS/CODE 7/UK IMPORT)
PROGAOR RECORDS is a high quality label from the UK that is focused on releasing CDs filled with rare AOR and Hardrock from the 70s and 80s. Most of the time it concerns re-issues onto CD of original albums that are very hard to get, because the particular local UK and US bands released their vinyl records only in small numbers at the time. In addition, there are usually bonustracks, such as live, 7" singles or demos included on the CD, and last but not least, the artwork and extensive liner notes of each release is incredible! I can bet you that there are gems here that are extremely rare and now get a chance on CD, sounding crystal clear and better than ever. In the case of EQ, we are heading back to the early 1980s, because this New York based band released a vinyl album and a 7" single that have now been combined onto this CD release Giving Up The Energy: Expanded Edition, which also has some live bonustracks. The sound is massive and I am an absolute sucker for this late 70s/early 80s pomp keyboard orientated female fronted melodic rock/AOR, although here and there the songs of the band also reveal New Wave influences, such as during the quirky Peter Is A Slut. However, most of the time this is superb late 70s/early 80s Pomprock/AOR with strong vocals of lead singer/drummer PENNY KNIGHT, soaring guitarwork of RICHARD PARKS, rich keyboardwork of DANIEL BARNUM and TONY JONES providing bass. There are also male vocals to be heard a few times, but Penny is definitely the star on vocals. Songs like Enjoy The Ride, Start It All Over, Stay With me and Giving Up The Energy are very impressive pieces of classic AOR/Pomp/Hardrock, but it's closing track Appplaud The Winner that is an instant classic and I can inform you it's not a cover of the TANTRUM classic tune from a year earlier! This song has got it all and the lovely cheerful keys is making it such a perfect tune to listen to over and over again. Another highlight is the proggy ELP ish synths/keyboard driven instrumental epic The Pun. The bonustracks are a 7" single that has 2 non-album tracks, and 3 fantastic live versions that were recorded in 1981, all showing how amazing this band was live on stage. This CD is definitely a must-have for fans of female fronted AOR/Melodic Pomprock! I loved the extensive liner notes, pictures and information inside the CD booklet, so make sure not to miss this album. The CD is available through: https://www.progaor.com/apps/webstore/products/show/8148628 and you can check out the album at: https://pennyknightband.bandcamp.com/album/giving-up-the-energy-eq
(Points: 8.7 out of 10)
PENNY KNIGHT 'TITLE SHOT: EXPANDED EDITION' (PROG AOR RECORDS/CODE 7/UK IMPORT)
3 members of the band EQ (Penny, Richard and Tony), of whom we reviewed their CD Giving Up The Energy, they continued as the PENNY KNIGHT BAND along with keyboardplayer MARTY FORNAL. The bandname was shortened to just PENNY KNIGHT upon their release Title Shot in 1984. It was their only release sadly, because after this album it was all over for a while. They did reform 25-30 years later, played live again and even recorded new music that is included as bonus on this CD release of their original 1984 album. Besides the 9 original album tracks on this PROGAOR RECORDS CD release, there are also 6 bonustracks from the period 2016-2020 and a live song from 2017. Musically speaking the original LP tracks from 1984 are slightly less proggy/pompy than EQ, perhaps a bit more mainstream US AOR/Melodic Rock in a way it reminds me of TANE CAIN, yet with a very slight proggy touch and also new wave influences slipping through sometimes. They definitely sounded a bit different than the standard AOR/Melodic Rockband at the time, especially when you listen to great songs like Dancin' With The White Girls, I've Got The Green, Jumpstart My Heart and the superb calmer You Put The Fire, although one can still call them AOR/Melodic Rock pieces of the classic early 80s kind. Penny's vocals were and still are amazing, so it is great to hear such a phenomenal singer now after all these years, because I also was not familiar with her before. The 6 recently recorded bonustracks continue the sound of their past efforts, so again great female fronted AOR/Melodic Rock, with as highlights the excellent No News and No Beer After Bullets, but also the 2017 live song Still Got Eyes is a great WITNESSish melodic rocker. The most recent studio songs from 2019 and 2020 are however more alternative rock orientated than the original sound of EQ/PENNY KNIGHT. The CD has once again extensive liner notes, lyrics, pictures and much more to go through while listening to this lost gem from the glorious early 80s. Another recommended CD to fans of classic 80s female fronted AOR/Melodic Rock. More info at:
https://pennyknightband.bandcamp.com/album/title-shot
(Points: 8.3 out of 10)
JOSEFUS 'NOT DEAD YET' (TEXAS ROCK DYAMONDS 2/DYAMOND ROXX RECORDS/PROG AOR RECORDS/CODE 7/UK IMPORT)
JOSEFUS is a band from Houston, Texas that started in the late 1960s and their 2 albums from 1970 are highly collectable, because their 2nd album Dead Man is for example offered for 3500 USD at Discogs! Anyway, the Psychedelic Hardrock of the band is definitely quite impressive considering the time it was created in the early 1970s. The band split and reunited every now and then during the following 50 years and this new CD release contains 4 demo tracks from 1978 and live recordings from 2004 and 2012. They are a real Texas based band, so they have a cult following outside Texas and it was for me also the first time I got to learn about them. The 4 demo tracks represent a typical classic early-mid 1970s groovy hardrock sound a la THE GUESS WHO, AEROSMITH and LED ZEPPELIN, while the live recordings show that the band is still alive and rocking well with the same guitarist (DAVE MITCHELL) and lead singer (PETE BAILEY). Pete by the way still has the same kinda OZZYish voice as in the old days and live they now sound a bit heavier and even remind me of BLACK SABBATH, so a stoner rock meets doom metal kinda direction is also notable in these recent live recordings compared to the 4 groovy hardrock demo tracks from 1978. JOSEFUS is one of those many rare acts that now gets another chance with this release. Recommended to the fans of the rare underground cult US Hardrock/Metal sound of the 1970s… More info at: http://www.josefusmusic.com/ and https://www.progaor.com/
(Points: 7.8 out of 10)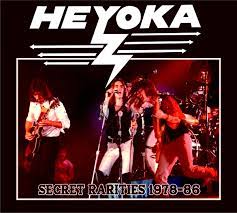 HEYOKA 'SECRET RARITIES 1978-1986' (TEXAS ROCK DYAMONDS 1/DYAMOND ROXX RECORDS/PROG AOR RECORDS/CODE 7/UK IMPORT)
In the TEXAS ROCK DYAMONDS series of PROG AOR RECORDS we also have a band from San Antonio, Texas called HEYOKA. Their CD Secret Rarities contains material recorded between 1978 and 1986, studio, demos, live and songs lifted from a cassette mini-album, so it's basically a compilation of all kinds of material. There have been CD releases previously of their music, but this new CD contains studio songs that were not released before, so a nice addition to the collection of fans of the band. I was not aware of the band at all, but I am glad I did, because they sounded quite sensational and should have become much bigger. When listening to the first couple of alternate studio versions from 1979 you can hear a superb band playing high class 1970s Hardrock in a typical American style, so with a focus on strong crystal clear clean lead vocals, catchy harmonyvocal driven choruses, soaring twin-guitarwork in a THIN LIZZY meets WISHBONE ASH style and a tight hard rocking uptempo sound, while the melodies here and there reflect the American AOR influences, especially during songs like Pessimist Fled (which can also be found on the fantastic compilation vinyl record Talent *N*Texas Volume II I have somewhere in my collection), Trilogy (superb lengthy epic progressive pomprocker with all the classic 70s elements, KANSAS ish, counting around the 25 minutes of playing time, a true CLASSIC that should have been a CLASSIC in my humble opinion), Star Tonight (pure classic 80s uptempo hookladen AOR rocker a la 707) and the amazing Pomprock classic Taking Notes/Feel It (the last 2 are from their 1984 cassette tape). This band should have been much bigger and at least a vinyl record should have been released at the time. Anyway, it's great to see that there are CDs (and even a vinyl record) of their material is available, so I will definitely check out the other releases that have been done of this band the past 20 years, but for now, check out this new superb HEYOKA CD at: https://www.progaor.com/
(Points: 8.9 out of 10)
LIC 'JUST A TASTE' (TEXAS ROCK DYAMONDS 3/DYAMOND ROXX RECORDS/PROG AOR RECORDS/CODE 7/UK IMPORT)
In the TEXAS ROCK DYAMONDS series of PROG AOR RECORDS we have another band from Houston, Texas. They were called LIC, a 4-piece band that was active between 1976 and 1980, recording an album in 1979 and a single one year later, and both of them are now released on this new CD release Just A Taste. The sound is superb, which is thanks to a remastering of the original tapes, and musically speaking we are heading into high class late 1970s US Melodic Hardrock in the style of TED NUGENT, MOXY, REX, STARZ, KISS, MONTROSE… The vocals of bassist KID ZIPPER are quite good and the band sounds really tight thanks to guitarist JOHNNIE FIX and TOMMIE GUNN and drummer BUDDY LOVE. Those are probably not their real names, which is a pity, because the band's singer has a familiar voice that reminds me other singers (perhaps the vocalist of LA RAY AND THE SHADES or NIGHTWORK, also from Texas). Anyway, the band delivered a bunch of great uptempo rockers, such as For Yesterday, Some Kind'A Feelin', Sugar Mama, Cause Of You and the catchy melodic Don't Need Love. Although to some it might all sound dated and very 1970sish, if you're a fan of any of the aforementioned bands, then you need get this CD a.s.a.p.! The 2 vinyl 7" inch songs on top of the original album recording showed the band moving their style a bit to a somewhat punky powerpop direction with the song Bomb Iran sounding close to THE RAMONES and Tracy as B-Side is a rather strong catchy uptempo AOR influenced Powerpop/radiorocker a la RIGGS (remember them?), EXPORT (UK), STEEL BREEZE, USA and RAGE (UK). It would have been quite interesting if this band would have been able to record more material during the 1980s, because I am sure that could have sounded very impressive, especially since LIC was a strong tight rocking band with excellent vocalwork and a good sense for catchy melodies. Anyway, check out their CD and more info on LIC can be found at: https://www.progaor.com/

(Points: 8.3 out of 10)
BELLADONA 'NIGHT SHADE' (TEXAS ROCK DYAMONDS 4/PROG AOR RECORDS/CODE 7/UK IMPORT)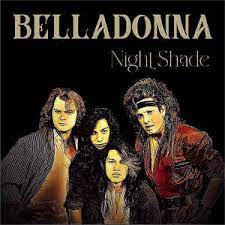 The Houston, Texas based band BELLADONNA was only active between January 1989 and December 1990 before several members went on joining the legendary melodic metal band DRIVE. However, the band did record several songs during this short period, and 12 of them have now been released on CD by PROG AOR RECORDS in their Texas Rock Dyamonds series that was recently started. the sound quality is quite good, although you can hear these are demos that were unreleased up until now. On the other hand, the included music is of a very high level and this material could have easily been released on a major label in the USA 30+ years ago. The Melodic Hardrock/Metal of BELLADONNA was not far removed from bands like FIFTH ANGEL, RIOT, HEAVEN'S EDGE and FIREHOUSE, so a focus on heavy SCORPIONS/DOKKENish guitar-riff orientated uptempo melodic rocking music that has soaring guitarsolos and catchy sing-a-long choruses, while the vocals of singer and guitarist MIKE CONDE were picture perfect. I am really surprised that this band did not get a deal back then and an average band like D'MOLLS scored a major deal! Anyway, uptempo late 80s melodic hardrock pieces like Watching You, Power Surge, Fool In The Night and Hungry For An Angel sound like the perfect mix between FIFTH ANGEL and HEAVEN'S EDGE, while a melodic power rock ballad like Once Again should have been really huge. This song by the way was later used by DRIVE on their album Diablero, and we all know that band got the recognition which BELLADONNA should have gotten back when they recorded the original song in 1989. Anyway, great to listen again to this classic late 80s US Melodic Hardrocksound that was created by countless bands back then, and therefore it's good to see another unreleased gem being officially released now! More info at: https://www.progaor.com/dyamond-roxx-series
(Points: 8.7 out of 10)
IRONHEART 'ARCHIVES: EXPANDED EDITION' (DYAMOND ROXX SERIES/PROG AOR RECORDS/CODE 7/UK IMPORT)
Back in 2004 I reviewed the CD re-issue of the 1988 mini-album of the British band IRON HEART, and now another 17 years later there is an update to this Archives CD, because it is now officially released through PROGAOR RECORDS in their DYAMOND ROXX SERIES, with as bonus 10 live tracks besides the original 5 tracks. Every recording dates back to the late 1980s, but thanks to a strong production they still sound pretty good although IRON HEART's music is really pure 80s Melodic Hardrock orientated in the classic British aftermath lighter NWOBHM style of the mid-late 80s like bands such as TOKYO BLADE, TYGERS OF PAN TANG, BLACK ROSE, PRAYING MANTIS, RAGE, STAMPEDE, JAGUAR, EXPORT and all those legendary EBONY RECORDS releases from the 80s. However when the keys were added here and there, IRON HEART went for a British late 80s AOR sound in the style of FM, MORITZ, STRATUS, MONRO like during the catchy uptempo AOR/Melodic Rocker Running Away. I guess you can say that they followed musically speaking all the other British bands, sounding metalish at the start of the 80s but becoming more melodic throughout the 80s. Thankfully all the songs sound really good and even the 10 live bonustracks are great to listen to despite the slightly weaker sound quality, it still shows that this band was live on stage very impressive. The band reunited shortly back in 2004 when the original Archives CD was released, but now it gets a second chance with a bunch of new unreleased material added, so get yourself a copy of the CD through: https://www.progaor.com/dyamond-roxx-series in case you want to hear a piece of classic British 80s Melodic Hardrock history!
(Points: 7.9 out of 10)
RENDEZVOUS 'ARCHIVES 1983-1986' (PROG AOR RECORDS/CODE 7/UK IMPORT)
RENDEZVOUS was a short-lived studio-project from the Isle of Wight, UK that consisted of the musicians TIM PROUTEN and HIGH KIM LEWIS, who already worked together in the NWOBHM band WARRIORS before RENDEZVOUS and they also did sessions with the Powerpopband CASSIE. Between 1983 and 1986 they recorded 6 songs that were never officialy released except for the song Decisions In Love that landed on a local compilation record in 1984. Anyway, PROG AOR RECORDS collected all of their recordings and released it as a mini-CD. The music they created was high quality pure 80s AOR with catchy hooks, memorable choruses and a real tight sound. The uptempo AOR rocker Decisions In Love was definitely their moment of fame and fortune, but sadly it never led to more except for the other 5 songs the duo recorded together. The band's sound was on the lighter side of AOR, but you could hear they had a clear eye on keeping things close to 80s melodic AOR/Poprock perfection, at times reminding of MR. MISTER, YA YA, THE OUTFIELD, 2 AM and a little bit of FM when they were called WILDLIFE. If they had gone into a studio and record a full-length album with a bigger budget, then this could have been a British AOR classic. Now it does sound like 2 guys having fun in the 80s in a studio, but thanks to PROG AOR RECORDS the die-hard fans of 80s AOR/Poprock can enjoy some rare unreleased stuff again, which is available on CD through: https://www.progaor.com/progaor-releases
(Points: 8.0 out of 10)
TENNESSEE ERNIE FORD FEATURING BILLY STRANGE & GLEN CAMBELL 'CLASSIC TRIO ALBUMS 1964 & 1975' (BEAR FAMILY RECORDS/GERMAN IMPORT)
The origins of the first recordings of the American singer TENNESSEE ERNIE FORD go back to 1949 (!), and a few years ago there was a boxset that covered this period in his music career. However, he recorded more material, and now BEAR FAMILY RECORDS has released a compilation CD of his 2 CAPITOL RECORDS trio albums he recorded with guitarists BILLY STRANGE and GLEN CAMPBELL in 1964 and 1975. The result is a nice JOHNNY CASH ish sounding album, so it's a mix of dark singer songwriter and country. Johnny started a few years later, so actually the credits of this sound should be traced back to TENNESSEE ERNIE FORD. People who are familiar with him will definitely love to finally hear that these 2 later albums he recorded are now available on CD, sounding crystal clear and better than ever. People who are huge JOHNNY CASH fans should also check out this CD, because perhaps a whole new world opens up then to see the origins of Johnny's sound. More info at: www.bear-family.de
(Points: 8.0 out of 10)
ALAN FREED 'A HUNDRED YEARS OF ROCK'N'ROLL' (BEAR FAMILY RECORDS/GERMAN IMPORT)
The American DJ ALAN FREED was a very important DJ in the USA promoting Rock and Roll throughout the country. He died at a young age of just 43 years old, but his legacy was a crucial part in the development of rock and roll. The CD I received from BEAR FAMILY RECORDS contains a total of 39 tracks that is a combination music songs that were played by Alan as well as Alan's announcements/intros and speeches taken from radio broadcasts that were lifted from the archives, because they take us all the way back to the 1950s. There is a nice collection of songs by LITTLE RICHARD, RONNIE ALDRICH, CHUCK BERRY, THE CHARMS and many more besides the voice of Alan. He was a true radio voice and sounds as American as you want it to be. I can imagine the time frame when people heard for the first time such a unique voice announcing music that was fresh and new, because it was just before ELVIS had his breakthrough, because some of the material goes all the way back to 1952! This is a great collection and piece of music history that you will love to listen to as if we're about 70 years back in time and rock music had basically just started! Impossible to imagine now, but a true landmark Alan's radio show must have been. The CD is available through: www.bear-family.de
(Points: 8.0 out of 10)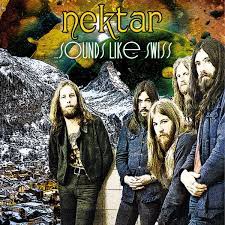 NEKTAR 'SOUNDS LIKE SWISS CD + DVD' (BEYOND BEFORE/NEKTAR ENTERTAINMENT/THINK LIKE A KEY MUSIC/USA IMPORT)
The legendary British Kraut/Progressive Rockband NEKTAR has a long history that goes back to 1969 when they were formed in Hamburg, Germany. Throughout the 1970s they had massive success in the USA, which resulted in concerts and also at one point NEKTAR being based in the USA, although there seems to be another (NEW) NEKTAR active in Germany right now. Anyway, this beautiful CD Box set of 2 CDs and 1 DVD which is out on BEYOND BEFORE RECORDS, it contains live material from concerts that took place in Switzerland in 1973, and they were actually broadcasted by the national TV in Switzerland back then as well. This is the real original NEKTAR with their amazing sound that is pure 1970s the way we like it, and especially live a lot of improvisation was going on 50 years ago, so you can hear a lot of elements from the popular genres at the time slipping through the sound of NEKTAR. American classic rock, British heavy blues rock, psychedelic rock, symphonic rock, world music and even ZAPPAesque influences, it's all melted into a sound that was NEKTAR known for, and eventually they became part of the Krautrocksound and it's development throughout the glorious adventurous 1970s. Songs like Journey to the Centre Of The Eye, Do You believe In Magic and A Day In The Life Of A Preacher are timeless songs that stood the test of the time, and besides the 2 CDs, we can also visually see what NEKTAR was all about almost 50 years ago, so enough for you to enjoy and read in the additional booklet. Must-have for any NEKTAR fan out there! The CD is available through: https://beyondbefore.biglink.to/nektar
(Points: 8.7 out of 10)
DANG!!! 'SOCIOPATHFINDER' (APOLLON RECORDS/NORWAY IMPORT)
During the lockdown, the Norwegian band DANG!!! was formed by Arne Thelin (ex The Kwyet Kings/The Lust-O-Rama, The Cosmic Dropouts), Stu Manx (ex Gluecifer/Order), organ player Geir Nilsen (ex Russian Amcar Club), drummer Håvard Takle Ohr (Kvelertak, El Cuero), American Karen Cuda (ex Nashville Pussy/HemiCuda) on bass and Håkon Gebhardt (ex Motorpsycho) and Andre Dahlmann on guitars. Guest stars on their debut album Sociopathfinder are guitarists Gregg Kostelich (The Cynics), Lorenzo Moretti (Giuda), Øystein Alsos (ex Senit) and Thomas Eriksen (Mork), and together this collection of musicians created a rock and roll album that is actually quite diverse. They have a sorta modern retro rock sound, which is quite raw here and there, but also catchy at the time, with mostly uptempo rockers such as Preludium Desperado, Long Gone Misery and Manic Posessive (lovely melodic rocking tune, a bit HANOI ROCKSish somehow) and the sleazy Dang!!! (even a bit IGGY POP influences), while a song like Droned is almost midtempo gothic industrial rock/metal, so yes indeed quite diverse in the end. Interesting release that reveals more than meets the eye, although it is overall a rock and roll album in the old school style of let's say THE STOOGES and NEW YORK DOLLS. More info at: https://dang123.bandcamp.com/album/sociopathfinder
(Points: 8.2 out of 10)
CARLA DIRATZ & THE ARCHERS OF SORROW 'THE SCALE' (DISCUS MUSIC/UK IMPORT)
The releases on DISCUS MUSIC are getting more and more interesting, because for example the CD The Scale of the French singer CARLA DIRATZ and THE ARCHERS OF SORROW is a fascinating original sounding album that combines certain music styles I have not heard before actually. Besides Carla on vocals, other involved musicians are Martin Archer (saxophones, keyboards, electronics), Nick Robinson (guitars), Dave Sturt (bass guitar), Adam Fairclough (drums), Charlotte Keeffe (trumpet), Jan Todd (backing vocals) and Julie Archer (backing vocals). Basically it combines the unique deep soulful voice of Carla with French chanson, Avant-Garde, Progressive Rock and complex Jazz, with lyrics sung in English, French and Italian, so the finished product is an impressive combination that seems to work after several times playing the album. It's experimental at times (Dove Mi Hai Lasciata), French chanson like (Le Sang Et Les Larmes and Le Chagrin), but also progrocking (The Scale, I Am With You and Desert Prayer) and even 'sensational' uptempo early 70s Psychedelic Classic rocking during Teen Dance (which even reminds me a bit of JEFFERSON AIRPLANE). There's also some complex jazz here and there, but actually there is a lot more to discover, because this long diverse album is an interesting mixture of styles, and along with the unique voice of Carla, the CD has an own identity from start to finish. Definitely a recommended album if you want to hear something really original! More info can be found at: https://discusmusic.bandcamp.com/album/the-scale-124cd-2021
(Points: 8.5 out of 10)
MESON 'THE TAO OF CWMDONKIN DRIVE' (DISCUS MUSIC/UK IMPORT)
Influential Tidal Flow (9:37), Celebration Decelerated (15:00) and The Waves Lament His Death (12:26) are the 3 songs that can be found on the CD of MESON, a project formed around Andy McAuley: composition, electronica, mixing & mastering, Bo Meson: cover art, electronica, text arrangements & vox, Martin Archer: composition, organ & filters, Martin Pyne: percussion & vibraphone and Saichairí McAuley: composition & cover art. Bo is the storyteller here and he has the right voice to do so. It concerns here a sorta tribute to a poet from the 20th century, the Welsh DYLAN THOMAS, who inspired other musicians as well in the past, including a certain musician named JOHN LENNON! He died way too young, but it's good to see his spirit still lives on in the music industry about 70 years later. The CD is not an easy one, but we're used to that when checking out a new DISCUS MUSIC release, and that's not a problem at all. It's a spoken-word album, and a really good one, because the haunting instrumental background makes it feel like a movie or documentary that you want to listen to until the very end. It's told in 3 long songs and you can check out more info at: https://discusmusic.bandcamp.com/album/the-tao-of-cwmdonkin-drive-123cd-2021
(Points: 8.1 out of 10)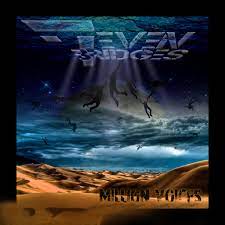 7EVEN BRIDGES 'MILLION VOICES' (INDEPENDENT)
Here we have a very interesting band from my own country called SEVEN BRIDGES. They have been around quite a while actually, starting as a cover band in the early 1990s, but their official debut album Breakthesilence was released in 2018. I was not familiar with their debut album yet, but after hearing their new concept album Million Voices I am quite eager to hear that one too! The band consists of Bas Rysavy (vocals and guitar), Danny Rysavy (vocals), Erik Krikke (storyteller, vocals), Fondy Hartman (guitar and vocals), Gijs Pelgrom (drums and vocals), Paul Verberne (bass and vocals) and Ton-Herman Melis (keys and vocals). Their story is quite fascinating, because bandmember ERIK KRIKKE is an army veteran who suffered from PTSD after his experiences in Afghanistan. He was completely traumatized by everything he saw, so he wrote a book about it and also started to write songs about it together with his band 7EVEN BRIDGES, which resulted in the band's debut album Breakthesilence. 3 years later we are in the middle of a pandemic and the situation in Afghanistan is also getting out of control again, so the new album Million Voices was born. This new concept album was mastered by mastering-engineer Miles Showell in the famous Abbey Roads Studio in London, England, so you can imagine that the sound is crystal clear and near perfection. The music is a healthy fresh modern mix of classic prog, symphonic rock, melodic rock and AOR, with everything in the right place to make this a true winner! The start of the album is calm and quite breathtaking, sorta celtic proggy with massive harmonyvocals and an emotional laid-back sound during Invincible Part 1 and Sky Is So Beautiful. Then suddenly the album changes into a superb fun catchy uptempo symphonic AOR direction with the song New Day, which is split in 2 parts, a rocking first part and a JOURNEYesque soaring guitar AORish Power balllad part that also reminds me a bit of SURE CONVICTION, NOUVEAUX and WHITE HEART somehow. The vocalwork is very impressive and the band's guitarist is really able to make his guitar sing the melodies, so all together this is an album you absolutely don't want to miss! They are a bit more melodic rock orientated than for example KAYAK, JACK THE RIPPER, AYREON and FOR ABSENT FRIENDS, but on the other hand, SEVEN BRIDGES could easily be put somewhere in between musically speaking and the fact that this concerns a concept album makes it a true experience as well. The titletrack Million Voices could easily be a WHITE HEART or TOTO song, a midtempo pop/rocker with also a slight touch of 80s MR MISTER, and here the lead vocals sound absolutely stunning, as if we're listening to a classic American AOR singer from the past! The semi-instrumental Running Man takes a proggy turn with spoken-word in the form of Erik's story telling experiences. Although Look at me has slight U2ish guitarwork, the song itself is basically pure late 80s 80s midtempo AOR/Melodic Poprock with again the WHITE HEART similarities, but also a rockier RICHARD MARX meets GLASS TIGER/1927 could be a good description. Never stop dreaming slows things down to a VENICEish close-harmonyvocal westcoast-pop/rock ballad kinda direction, with once again superb vocalwork. Invincible part 2 brings back the uptempo melodic rocking direction, a true classic AOR rocker with a TOTO approach, yet also reminding me again of WHITE HEART and SURE CONVICTION, especially during the sensational superb catchy chorus! Following Best side is a beautiful AOR Ballad in the MICHAEL BORMANN/DAN LUCAS style, while Bedtime story is another calmer VENICEish acoustic tingled song and Baby come home also has an acoustic setting, yet a bit more uptempo melodic pop/rock orientated a la WAYNE SMART. Invincible part 3 is a killer uptempo AOR rocker with a very catchy memorable chorus. Closing track Turn the page is a nice instrumental outro. This 7EVEN BRIDGES is an absolute must to check out, both Prog/Sympho and AOR/Melodic Rockfans will be blown away by the incredible high quality of their new album Million Voices. They have a sound that reminds me of the bands from the mid 90s melodic rock scene, which in my book is a huge compliment! Check them out a.s.a.p. at: https://www.7evenbridges.com
(Points: 9.0 out of 10)
SPEARMINT 'HOLLAND PARK' (HITBACK/UK IMPORT)
Out of London, UK comes SPEARMINT, and Holland Park is their 9th album so far, and it is clear that they are Britain's best kept secret, because I was not familiar yet with them until their new CD was dropped in the mailbox. The band consists of Shirley Lee (vocals, guitar), Simon Calnan (vocals, keyboards), James Parsons (guitar, bass) and Ronan Larvor (drums), it was produced by Rhodri Marsden (SCRITTI POLITTI), and features several guests, such as Andy Lewis (PAUL WELLER). The album tells the story of Shirley's father's prog band in the early 70s, but since there is no mention of a band name and there's nothing online about the band, SPEARMINT just tells the story with lyrics that also reflect that period in time, so it more or less feels like we have stepped back 50 years in time. The music however is more akin to calmer early 90s Psychedelic Indie Dreampop that actually reminds me a bit of TEENAGE FANCLUB or even WEEZER or BECK, so it has not that much too do with prog or 70s rock despite the fact the lyrics are about that time frame in music history. SPEARMINT does however a great job on their new album, because the healthy mix of calmer and rockier songs with very relaxed typical British vocals is making it a happy and fun album to listen to. You have an uptempo rocker such as Rock'n'Roll Never Was or She Says She Wants To Save The Pigs (with a certain late 70s psychedelic rock touch), but on the other hand also Indie dreampop like the World's On Fire and the band surprises here and there with an almost late 70s kinda soulful injected westcoast disco pop tune like Lazy Susan. One of the highlights is the catchy uptempo titletrack Holland Park that sounds very cheerful and uplifting, but this long song also has several spoken-word parts and musical twists. They do remind me also of a somewhat laid-back version of classic British bands such as THE SMITHS, THE STONE ROSES, HAPPY MONDAYS etc., although even THE BEATLES circa the late 1960s come to mind as well sometimes. Their whole album does have surprising twists and that makes it a very enjoyable 'concept' album to listen to, so go check for yourself at: https://wiaiwya.bandcamp.com/album/holland-park
(Points: 8.3 out of 10)
STEWART COPELAND & RICKY KEJ 'DIVINE TIDES' (PONDEROSA MUSIC RECORDS/XANGO MUSIC)
Now this has got to be one of the most interesting releases of 2021, because it covers so much musically speaking, you can easily call this the ultimate World Music album! Divine Tides is the name of the album put together by rock-legend STEWART COPELAND (drummer of THE POLICE) and Indian Grammy Award winning Indian music composer RICKY KEJ. Along with artists from all over the world they have recorded a spiritual record that contains influences from everywhere, as you can pick up influences from not only India, but also Japan, the Arabic world, Western music and much more. The sound of the 9 included songs is massive and a real joy to listen to, because you discover every time something new and it all feels very fresh and modern, but still authentic. I particularly liked the beautiful song I Am Change that felt like you're in the Far East, but every song gives you that world music feeling, so it is a trip around the world, although most of the time the Indian music are upfront, especially in the vocal department, while a certain New Age and even Celtic touch is also notable. Check out more info at: https://www.divinetidesmusic.com/
(Points: 8.2 out of 10)
TANGLED THOUGHTS OF LEAVING 'DEADEN THE FIELDS' (BIRD'S ROBE RECORDS/CREATIVE ECLIPSE PR/GERMAN IMPORT)
Out of Australia comes the piano-driven instrumental progressive rockband TANGLED THOUGHTS OF LEAVING and they released their debut album Deaden The Fields exactly 10 years ago, and now their label BIRD'S ROBE RECORDS has re-released the album. The band is formed around RON POLLARD (piano, synth), BEN STACY (drums), ANDREW MCDONALD (guitar) and LUKE POLLARD (bass, samples), and they have already released 3 more albums since this debut record. The included music on their first album is high quality instrumental progressive rock with both calmer and rockier parts, yet always focused on lovely memorable melodies. They can easily be mentioned alongside bands such as SLEEPINGMAKESWAVES, LONG DISTANCE CALLING and such. The difference with many other bands is that TANGLED THOUGHTS OF LEAVING is piano-based, so with a certain jazzy touch, although the 6 songs are nevertheless still progressive rock orientated. It's a very exciting album to listen to, because there's so much to discover here. Check for yourself at: https://ttol.bandcamp.com/album/deaden-the-fields
(Points: 8.4 out of 10)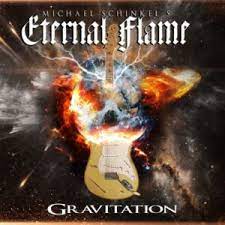 MICHAEL SCHINKEL'S ETERNAL FLAME 'GRAVITATION' (ROCK OF ANGELS RECORDS/GORDEON MUSIC/GERMAN IMPORT)
ETERNAL FLAME is a German band formed all the way back in 1986 as FIREFOX, but since 1991 they are named ETERNAL FLAME and throughout the following 30 years they have been active in different line-ups, of which the current one is named as MICHAEL SCHINKEL's ETERNAL FLAME. Michael is the guitarist and lead vocalist of the band, while the other featured musicians are drummer TOMMY WAGNER, bassist THOMAS KELLER and keyboardplayer HELMUT KOHLPAINTNER. Legendary singers MARK BOALS and GORAN EDMAN make guest appearances on the album Gravitation and Thomas and Tommy also sing a song, so it's not Michael singing all the songs on the album. This is a good thing, because especially when Mark sings, it's like something magical is happening. This is the 2nd album so far under the moniker MICHAEL SCHINKEL'S ETERNAL FLAME, and there is a lot of variety among the 12 included songs, but musically speaking it has a high pitched vocal driven typical German Melodic Hardrocksound that fits somewhere between FAIR WARNING, FRONTLINE, AXXIS and SATROX, yet also 80s MALMSTEEN similarities are definitely possible. There are some really strong songs to be found here, such as the semi-melodic rockballads No Way To Hide and Strange Game Called Love (FAIR WARNING meets FRONTLINE meets ZERO during the lovely chorus), the uptempo melodic rocker I'm Gonna Miss You Tonight, the midtempo melodic rocker Hard Times For Dreamers, the superb uptempo melodic rocker Love Returns (with it's neo-classical influences and killer chorus reminding of 80s MALMSTEEN/ROYAL HUNT, partly thanks to guest lead singer Mark), the midtempo Damien (another MALMSTEENish song, yet with also some Arabic influences, interesting song!) and the EXCELLENT uptempo melodic rocker Stay In The Middle Of The Night (like early JOHN NORUM, EUROPE and 80s MALMSTEEN again, with Mark singing as sensational as during his RING OF FIRE/ROYAL HUNT days, also featuring a marvelous guitarsolo). If Mark had sung all the songs, then this would have been one of the finest releases of 2021! Michael is an excellent guitarplayer and composer, and he is also able to sing, but when Mark starts singing, there is no doubt that he is the right man for the job. Nevertheless, if you call yourself a dedicated fan of German Melodic Hardrock in it's classic tradition of the aforementioned bands and the 90s Neo-Classical Melodic Heavy Rock/Metalsound of ROYAL HUNT/RING OF FIRE/MALMSTEEN, then do not hesitate and get yourself a copy of this album! More info at: http://www.eternal-flame.de/
(Points: 8.4 out of 10)
SAINTED SINNERS 'THE ESSENCE OF ROCK & ROLL' (ROCK OF ANGELS RECORDS/GORDEON MUSIC/GERMAN IMPORT)
The Essence Of Rock & Roll is the 4th album of the German band SAINTED SINNERS, and they play classic German Melodic Hardrock in the style of CRAAFT, BONFIRE, VICTORY, V2, DOMAIN, VAMP and such bands from the 80s/90s. Guitarist FRANK PANE (ex-BONFIRE) formed the band back in 2016 and along the way he gathered around him Jacopo Meille (TYGERS OF PAN TANG) on vocals, Ernesto Ghezzi (GOTTHARD) on keyboards, Berci Hirleman on drums and Rico Bowen on bass. Together they have already recorded quite a lot of songs in the short period they have been working as a band, and this new album The Essence Of Rock & Roll contains another 10 new songs that capture the melodic hardrocksound as described earlier on in the review, with also a touch of classic 70s (hard) rock here and there. You get a healthy mix of uptempo and midtempo rockers, with as highlights the SCORPIONSish midtempo rocking titletrack The Essence Of Rock & Roll, the faster RAINBOW/HEEP/DEEP PURPLEish Good Ol' Company, the catchy uptempo melodic rocker On And On (Chained ) (a la H.E.A.T.) and closing track Heart Of Stone, which is a very strong semi melodic rockballlad (and the best song of the whole album, reminding me of TRANSIT and ZERO). Although nothing new is brought here musically speaking, fans of real classic melodic hardrock/melodic hardrock will definitely like this new SAINTED SINNERS album! More info can be found at: http://www.saintedsinners.com
(Points: 7.9 out of 10)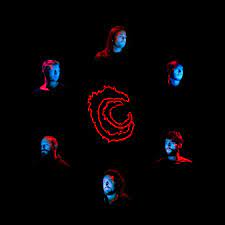 GHOST HORSE 'LIVE AT AREA SISMICA 26.1.20 VINYL RECORD' (HORA RECORDS/ITALY IMPORT)
A few years ago I witnessed a fantastic concert by an Italian instrumental band called HOBBY HORSE during a Jazz festival somewhere in Rotterdam. I was quite amazed by what I saw that night but as life goes on I lost connection with them until recently when I got in touch with the band. They have meanwhile changed their name to GHOST HORSE and finished their winter tour 2019/2020 at Area Sismica, Forlì in Italy on January the 26th 2020. It was just before lockdown, so it would be their last concert for a long time. Thankfully they recorded the concert, and it is now released on a beautiful vinyl record by their label HORA RECORDS. The band is formed around Dan Kinzelman (tenor sax, bass clarinet), Filippo Vignato (trombone), Glauco Benedetti (tuba, euphonium), Gabrio Baldacci (baritone guitar), Joe Rehmer (bass guitar) and Stefano Tamborrino (drums), and their music is interesting experimental and quite complex jazz, with also influences from Hip Hop, Blues and Progressive Rock. This can all be heard very clearly during the concert which is presented on this vinyl record, because here the band sounds at their best, just the way I remember them when catching them live on stage back then. There is a lot of improvisation going on, because that is when the real magic happens, so for bands like GHOST HORSE it's best to release an album with live recordings instead of a studio album. A total of 5 songs is included, although as aforementioned it all sounds very experimental and complex, and the whole adventure on this vinyl record is one long trip that shows the band's capabilities to improvise constantly. The drummer has a real aggressive rocking hip-hop kinda approach when playing, while the experimental part comes mainly from the sax player, because the guitarist seems to calm things down with his subtle relaxing way of playing in a sorta progrock mode, although he does go into a heavy rocking direction every now and then as well. This unique mixture brings a lot of interesting moments during the concert, but in particular the 12 minutes counting opener Trojan and following Killing The Sword are perfect examples of this excellent mix of freestyle jazz, progressive rock and extreme hard-hitting hip-hop like live drumming. The song has both calmer and heavier experimental moments, making you feel uncomfortable sometimes, but on the other hand the listener will get very excited and eager to hear what happens next during this song or any other song on this wonderful album. One of my other favorite songs is the melodic Squirrels Are Not Your Friends that has some great duals between the sax and the trombone, while the bass and drums are really making the song sound groovy and rhythmic, and the almost Brazilian like gang-vocals gives it a sorta Latin swinging touch. However, the lovely progressive rocking melodic soaring guitar solo during Five Civilized Tribes should also be mentioned, and the final song Pyre is a real festival crowd-pleasing massive sounding rhythmic carnival like song with a freestyle jazz part here and there.
GHOST HORSE has a true unique own identity that is recognizable for sure when hearing just a snippet of their sound, so it's best to start from here with this new live vinyl record when checking them out, and let's hope we will be able to catch them live again in the near future. The vinyl version of their live concert sounds absolutely amazing, connecting the best of several music worlds, because both jazz and prog fans will love it. Anyone who wants to explore original music that rocks extremely hard, but is still seen as freestyle jazz, they should check out one of the greatest Italian bands around these days, GHOST HORSE and their superb new live album Live At Area Sismica 26.1.20. More info can be found at: https://ghost-horse.bandcamp.com/