HOT NEW REVIEWS
JUSTIN HOWL 'WANDERLUST' (INDEPENDENT/USA IMPORT)
Out of downtown Chicago comes JUSTIN HOWL, who does everything on his own on his 2nd solo album Wanderlust, which he released independently. He is a guitarist, singer/songwriter and harmonica player, while he also produced the album. Quite remarkable that he did literally everything on his own here, not only playing and producing the music, but also the promotion. The only thing he did not do was the shoot of the cover photo, which was done by GENE FOJTIK. Anyway, the music itself is a great singr/songwriter meets blues adventure, split over 10 tracks that lasts about 37 minutes. Songs like Interstate 55, Things to do, the titletrack Wanderlust and closing track Josephina are a joy to listen to, since it has this raw dirty mean bluesy approach with no compromise at all, so you'll get what you hear and I really think live Justin will do exactly the same, so let's hope we can catch this talented one-man show live one day. Meanwhile check him out at: https://www.justinhowl.com
(Points: 8.2 out of 10)
THE BILLS 'TIL THE BLUES HAVE GONE' (WHEELING RECORDS/NORWAY IMPORT)
THE BILLS are coming out of Norway, but is actually a duo formed around 2 American musicians who live in Norway. Vocalist/bassist Bill Troiani (originally from New York City) and singer/guitarist/violinplayer Bill Booth (from Maine) have been together as THE BILLS since 2012, but Til the blues have gone is their first official album release. Along with Norwegian drummer Alexander Pettersen, they recorded 13 songs. It starts with a couple of great smooth laid-back uptempo pieces like Til the blues have gone, Last chance to hurt me, Slipping through the cracks and Good lord done gone, which reveal influences from blues, americana, rootsy rock, country, New Orleans and a touch of jazz. The band slows things down to a calmer bluesy ballad direction with the relaxing Keeping the blues alive, but most of the rest of the album is back to their beloved bluesy uptempo rootsy story-telling material, with as other highlights Asking for more, Driving rain (very strong melodic rocking piece) and Already gone. Check out THE BILLS at: https://www.thebills.no
(Points: 8.2 out of 10)
SILENTIUM 'MOTIVA' (OUT OF LINE MUSIC/GERMAN IMPORT)
We reviewed a couple of albums of the Finnish Symphonic Melodic Metal band SILENTIUM in the past, but it took them 11 years to release a new album. Their 6th album Motiva has now been released and without a doubt, it is a very strong comeback of this legendary female fronted band, which is formed around vocalist Riina Rinkinen, guitarists Juha Lehtioksa and Aapeli Kivimški, keyboardplayer Sami Boman, bassist Ville Koskinen and drummer Janne Ojala. 9 songs are included on the album, which opens quite calm actually with the beautiful haunting bombastic melodic fantasty/gothic heavy rocker Truth. The angelic voice and symphonic melodies give it a touch of DELAIN, EVANESCENCE, LACUNA COIL and WITHIN TEMPTATION of course, but then a bit more laid-back and also with an own identity, which is even more clear on the following heavier Unchained. Other highlights on the album are the bombastic ballad Safer/easier, the superb Shame, the celtic influenced semi-instrumental Circle and the 9 minutes counting epic Tide. With this new album, SILENTIUM makes a triumphant comeback to the forefront of the bombastic female fronted gothic/melodic heavy rock/metal and are right up there in the premier league of the aforementioned bands. More info on SILENTIUM at: http://silentium.fi
(Points: 8.4 out of 10)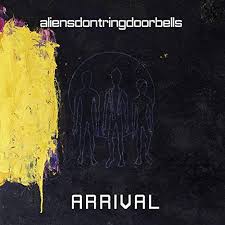 ALIENSDONTRINGDOORBELLS 'ARRIVAL' (NO RULES RECORDS/UK IMPORT)
With such an impressive bandname, ALIENSDONTRINGDOORBELLS, you would honestly think these guys are creating music that will probably not appeal to everyone, but when listening to the opening song Consummation of their new album Arrival, we can hear a fantastic sensational sound that combines elements of blues, rock and funk, with a strong focus on melodies and soulful vocals (a bit like classic INXS). Following song Slipping away is a very catchy early 80s melodic powerpop/aor/poprock chorus driven tune that even reminds me a bit of early 80s RICK SPRINGFIELD. Anyway, so far so good, this is a sensational band, and they hail from Costa Blanca, Spain, although it actually concerns a 3-piece band featuring the American Dorian Foyil (guitar, sax and lead vocals), Adam King from Liverpool (lead and backing vocals) and Christian Pearl from Birmingham (keyboards and backing vocals), who together settled in the Spanish sun to write music together, although they actually recoorded Arrival in Denver, Colorado. The album continues with It's your night, a great melodic semi-ballad with an old school 70s pop/rock feeling along with some westcoast influences. The 80s influenced midtempo pop/rocker Daylight brings us memories of bands like CUTTING CREW, THE OUTFIELD, MIKE & THE MECHANICS and MR. MISTER, with a clear focus on the strong clean vocals and perfect harmonyvocals. Important is a great catchy classic rock/AOR hooks/chorus driven rocker with a touch of soul, which gives it a real old school sound. Following The heart is in her eyes is a poppier song that has a sorta soul/r&b touch like BILLY JOEL and HALL & OATES back in the day. Daddy blues is a groovier bluesrocker, while Blind to see is a wonderful midtempo catchy AOR/Poprocker that has huge hit potential in becoming a summer radio success! Choice is up next and this is a really lovely uptempo melodic rocker. The somewhat laid-back soulful old-school pop/rocker Missing pieces has a 1970s kinda westcoast feeling, yet with a typical British kinda approach like SAD CAFE. Story is a song that is featured twice, and is a great midtempo AOR/Melodic Rocker in a ROBERT HART/FM style. Closing track This is me is one of the most AOR based songs on the album, a great catchy tune for sure. ALIENSDONTRINGDOORBELLS is a huge surprise for sure and a must-have for anyone into classic melodic pop/rock/AOR when it was all about real authentic strong vocals and catchy melodies. Check them out a.s.a.p. at: https://aliensdontringdoorbells.com
(Points: 8.6 out of 10)
MIDNIGHT DEADBEATS 'MOONSHINE CARNIVAL' (SIXTEENTIMES MUSIC/SWISS IMPORT)
I am always surprised when hearing another new sensational band that has not yet been discovered. In this case I am talking about the superb sounding Stoner Rockband MIDNIGHT DEADBEATS, a band from Switzerland with their debut album Moonshine carnival on the Swiss label SIXTEEN TIMES MUSIC. They are a 3-piece band formed around Mono Mojo (vocals, guitar), Jukka Altermatt (drums) and Harald Binder (bass, backing vocals). 10 songs are included on their exciting first album, and opener Dishwasher grabs the attention right from the start, with its heavy groovy stoner rocksound that reveals LED ZEPPELIN influences. Following uptempo rocker RockíníRoll is as close to classic Retro 70s Hardrock as you can get, with BLACK SABBATH guitar riffs and vocals in the style of THIN LIZZY and also killer vocals (like a mix between OZZY and PHIL LYNOTT), so this is definitely a sensational song to check out a.s.a.p.! The album continues this way until the last seconds of closing track Birds (a real Doom Metal-ish song), and the other highlights are the uptempo rocking The battle, Kill me and the fantastic Vicious. Without a doubt, a must-hear band to check out if you like SABBATH, LIZZY or the countless new wave of Swedish retro hardrockbands. Check out this Swiss band at: https://sixteentimes.bandcamp.com/album/moonshine-carnival
(Points: 8.5 out of 10)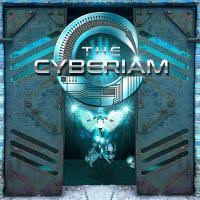 THE CYBERIAM 'VARIOUS ALBUMS' (SEMPLETON PRODUCTIONS/USA IMPORT)
I was actually not familiar with the band THE CYBERIAM, but this Chicago based band was kind enough to send me their 2 studio-albums and a live CD they recently released. To my surprise I was really overwhelmed when listening to the first couple of songs of their same titled debut album The Cyberiam, because it sounded quite sensational. Alice in afterland, The fall and Donít blink are lovely ENCHANT-ish melodic progrocksongs, while Cool kinds is more adventurous and reminds a bit of SPOCKíS BEARD. The band is combining progrock with pop melodies and are influenced by acts like MARILLION, RUSH, DREAM THEATER and such, and I have to say I am deeply impressed! The vocals are spot-on and melodies are everywhere, so itís basically the dream come true for the fans of melodic progrock. THE CYBERIAM was formed a few years ago around KEITH SAMPLE on guitar and Vocals, BRIAN KOVACS on Bass Guitar and vocals, TOMMY MURRAY on drums and percussion and FRANK LUCAS on keyboards. Their same titled debut was released in 2018 and as already mentioned, this is a fantastic album with 10 lovely tracks that will definitely appeal to the fans of 80s MARILLION, RUSH, CAIRO, ICE AGE, ENCHANT, SPOCKíS BEARD, SUBSIGNAL, ARENA, MYSTERY (Canada) etc. This is melodic progrock rooted in the upper league, so if youíre a fan of any of the bands, you absolutely must check out this wonderful album, which has its absolute highlight during the epic My occupation. Their 2nd album The butterfly effect was released in 2019 and basically continues the high level of musicianship. Itís actually a 21 minutes counting epic concept EP, divided into 5 parts and basically the band combines prog complexity with pop melodies quite perfectly here like ENCHANT meets SPOCKíS BEARD meets SHADOW GALLERY meets ARENA. Due to the covid pandemic, the band was unable to perform during 2020 and probably also in 2021 not much will happen Iím afraid, but thankfully they already did live performances in their short existence, such as 2019ís Progstock performance, which has now been released on CD titled Forging nations. Although nothing beats the real thing of course, this live CD already gives a great preview of the live performances of this band, and all I can say they truly deliver here (sometimes sounding even better live than in the studio, including superb crystal clear vocals like ENCHANT), so despite all the lockdowns around the world, I can honestly say that when live gigs are permitted again, then we will surely look forward to THE CYBERIAM coming our way somewhere live on stage. Check out this sensational American band at: https://thecyberiam.com and https://thecyberiam.bandcamp.com/album/the-cyberiam-2
(Points: 8.9 out of 10)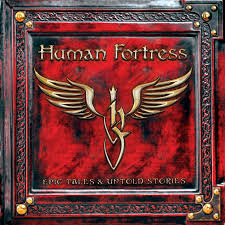 HUMAN FORTRESS 'EPIC TALES & UNTOLD STORIES' (MASSACRE RECORDS/BERTUS)
Somewhere along the way you sometimes forget about bands from the past, because there are so many out there, which makes it impossible to keep up with all the releases done each week. We reviewed the first couple of albums from the German band HUMAN FORTRESS about 20 years ago, and they are now already releasing their 8th album! Epic tales & untold stories is a double CD album with over 100 minutes of music. CD 1 is a mix of new, rare and unreleased songs, while CD 2 is a best of selection from the bandís rich catalogue). The bandís current line up consists of vocalist GUS MONSANTO, guitarist TODD WOLF, guitarist VOLKER TROST, bassist ANDRE HORT, keyboardplayer DIRK LIEHM and drummer APOSTOLOS ZAIOS. With a total of 23 songs, this is quite an enjoyable adventure to experience, especially since the included music is of a very high level. CD 1ís opener The Grimoire shows right away this is not an average release, because this is a superb midtempo melodic heavy rocker with a sensational catchy melodic WHITESNAKE-ish AOR chorus and overall it also reminds me also a bit of a slightly heavier TEN, with some Melodic Metal influences as well. Weíre set for 100 more minutes of great high quality music of HUMAN FORTRESS on this exciting double CD set, which has as other highlights Disappear in dark shadows (fantastic vocalwork and yet another catchy midtempo melodic heavy rock piece, a bit reminding me of classic PINK CREAM 69), Vain endeavor (uptempo melodic rock/metal, another lovely tune with a superb catchy hook and memorable chorus), and the orchestral version of the epic ballad Pray for salvation.
The best of CD 2 is also a great look back at the wonderful songs this band delivered in the past, such as Border raid in Lions March, Gladiator of Rome and Rise or fall. You can clearly hear the band has developed themselves and they created quite a lot of diversity through the years, starting off as a pure Power Metal band, but slowly going for a more melodic rock-ish direction (as you can hear on CD 1), while there are also folk metal influences here and there, and at times they reminded me of EDGUY, NOCTURNAL RITES, BLOODBOUND or FREEDOM CALL during those older songs, which was quite different from the songs on CD 1 (especially in the vocal department with even guest appearances by the legendary MICHAEL BORMANN (ex-JADED HEART) and TOMMY NEWTON (VICTORY, HELLOWEEN)). Without a doubt, this Ďnewí double album of HUMAN FORTRESS is the perfect collection to own if you want to discover this underrated band! More info at: http://www.human-fortress.de
(Points: 8.7 out of 10)
HOLY MOTHER 'FACE THIS BURN' (MASSACRE RECORDS/BERTUS)
After 18 years a new album of the American Metalband HOLY MOTHER is released. It marks the return of the duo MIKE TIRELLI (lead vocals) and drummer JAMES HARRIS, who are the founding members of the band. Original member RANDY COVEN sadly died in 2014, so this is a tribute to him, with as replacement the talented guitarist/bassist GREG GIORDANO. Face this burn is HOLY MOTHERís 7th album so far and without a doubt a strong impressive classic US Metal album with a modern twist here and there. JAG PANZER, ICED EARTH, HELSTAR, SAVATAGE, VIRGIN STEELE and such bands come to mind when listening to HOLY MOTHER, although of course they actually have an own identity since they were already active during a greater part of the 1990s and 2000s. The bandís sound is massive from start to finish, it is groovy to the bone, with razor-sharp biting guitarwork and superb high pitched vocals (Mike still amazes with his Metal God voice!). 11 songs are included on this excellent new album, which also has a very nice front cover artwork. The highlights on the album are Love is dead, The truth and the finest song on the album, which is the fast uptempo classic 80s melodic US Power Metal piece The river. I also need to point out the rather cool impressive closing track Superstar, which is a cover of a classic 70s/80s Power Ballad, which is done very well by the band and it also features guest musician MIKE JAMES playing most of the instruments. Concluded, everything sounds exactly the way it needs to sounds to make it a winner for fans of classic US Melodic Metal, so if you like any of the aforementioned bands, then please make sure to check out this great comeback album of HOLY MOTHER! More info at: https://massacre-records.com/holymother
(Points: 8.5 out of 10)
AYOM 'AYOM' (FLOWFISH RECORDS/SPAIN IMPORT)
In these corona times the Barcelona, Spain based band AYOM is a blessing with the sound they create on their same titled debut album, which has been released through FLOWFISH RECORDS. The band combines music influences from South America and Africa to an exciting cheerful sound through the 11 catchy tunes. AYOM is based around the superb female singer JABU MORALES, who has the voice of an angel, singing all the songs really smoothful and with the help of the musicians Alberto Becucci: acordeon; Timoteo Grignani: percussions; Walter Martins: percussions; Pedro Bastos Jo"o: guitar; Mauricio Ribeiro: bass; Ricardo Quinteira: guitar, Aldo Milani: saxophones/flute; George Robarts-Arnold: tuba; Marcio Pinto: marimba; Paolo Angelis: modificated guitar; Sasha Agranov: cello; and Olmo Marin: cavaquinho/guitar, the result is a lovely relaxing summer-ish record that should easily cheer up everyone. Songs like Exu, Valsa das extacoes, A mare e o luar, Ayom manifesto! and actually any song on this wonderful album is a joy to listen to. Check it out for yourself at: https://ayommusic.bandcamp.com/album/ayom-album and https://www.ayommusic.com/
(Points: 8.5 out of 10)
JACK HOWARD & THE LONG LOST BROTHERS 'DOG SONGS' (INDEPENDENT/AUSTRALIA IMPORT)
Once Australian musician JACK HOWARD was a member of the Australian band HUNTERS & COLLECTORS, of whom we reviewed a best of 2-CD set somewhere else on these pages, but meanwhile Jack has a solo career going on, of which the latest release is the wonderful Dog songs. Musically speaking it is quite a different affair, because the music finds its way somewhere between Bluesy soul, Pop/Rock and Americana/Rootsy Rock, sounding quite strong and very relaxing. Besides Jack on vocals, trumpet and flugel horn, other involved musicians are his band THE LONG LOST BROTHERS, consisting of Nicky Del Rey - guitar, backing vocals, Ed Bates - pedal steel, Rob Walker Ė bass, Cal McAlpine Ė drums, Fiona Lee Maynard - backing vocals, percussion, lead vocals on Red Rose and Coz I Love You and Amy Valent Curlis - congas, hubcap, castanets, bowed cymbal, triangle. 13 songs are included in total, and if we have a walk through the songs; Let me live is a great rootsy southern rocker, City light is a beautiful smooth jazzy soul westcoast kinda tune, Melbourne and Simple man are fantastic uptempo Westcoast/Poprockers (in the style of POCO), Restlessness is a superb midtempo bluesy soulful rocker with a catchy vibe thanks to the strong melodic chorus and soaring guitarsolos, Panic in the city is another great uptempo soulful pop/rocker, Frankenstein is a lovely slow bluesy melodic rocksong, and actually thereís not a single weak song to be found, so I could name them all! There is also quite some diversity to be heard, because the female vocals featured Red rose is tapping out of a swinging Latin kinda direction, while the rest of the material is as already mentioned a mixture of blues, soul, pop/rock, westcoast and Americana/Rootsy rock. The performance is excellent and some of these songs could easily become radio hits. Well done and for more info I recommend you to check out Jackís music at: https://jackhoward.bandcamp.com/album/day-of-the-dog
(Points: 8.4 out of 10)
HUNTERS AND COLLECTORS 'THEIR GREATEST HITS' (HUMAN FRAILTY PTY/LIBERATION MUSIC/AUSTRALIA IMPORT)
It is a shame that we in Europe and most of the rest of the world are not that familiar with all the other Australian and New Zealand bands besides the mighty AC/DC, CROWDED HOUSE or INXS, because this continent has so much more great bands to offer. Nowadays we are of course more up-to-date with all the new bands that breakthrough in their own homeland Australia or New Zealand, but during the 1970s-1990s in the pre-internet days, we missed out on a lot of these bands. Thankfully we can still discover them now via all kinds of options on the internet, because itís never too late of course. Thanks to musician JACK HOWARD, I got to learn about HUNTERS & COLLECTORS, a band I vaguely remember from the 1980s. They were big in Australia, but aside from a minor hitsingle elsewhere, they are sadly not that known outside of Australia. Jack has a new solo-record out, but he was also a member of this band and so he kindly sent me their 2003 Greatest Hits 2-CD set, which gave me the option to hear what this band was all about between 1981 and 1998, with in total 31 songs taken from the bandís 9 studio albums that were released during that period.
They were a band formed around lead singer MARK SEYMOUR, who is the brother of CROWDED HOUSE bassist NICK SEYMOUR. Besides Mark on vocals, Jack on trumpet, keys, the other musicians who play (ed) in HUNTERS & COLLECTORS were bassist JOHN ARCHER, drummer DOUG FALCONER, guitarist BARRY PALMER, guitarist/keyboardplayer/hornplayer JEREMY SMITH and keyboardplayer/trombone player MICHAEL WATERS. Formed in 1980, they were very successful in their homeland, and their 1980s dark (depressing at times) alternative/new wave pop/rocksound (with an own identity like other Aussie/New Zealand bands such as MIDNIGHT OIL, HUNTER/DRAGON, SPLIT ENZ, MEN AT WORK and CROWDED HOUSE also had, but then with a sorta slightly darker post-punk/gothic touch) is a joy to listen to. Highlights are Talking to a stranger, Say goodbye, Back on the breadline, January rain (even a bit AORish) and Do you see what I see? from their alternative earlier period (JOY DIVISION-ish), and Blindeye, True tears of joy, the superb Back in the hole, Throw your arms around me, This morning, the catchy Dog and World of stone (even a bit progrock influenced) from their slightly more commercial melodic pop/rocking later period (THE SMITHS/BIG COUNTRY/SIMPLE MINDS-ish), but thereís much more to explore here, because the band also went through a short sorta 90s alt/grunge/college-rock period (Holy grail and Wasted in the sun), deliver a bluesy soulful tune (Debris) and even a singer/songwriter-ish piece like the lovely NICK CAVE-ish Whatís a few men? can be heard. Closing track True believers is also nice to mention, because this is a great calmer melodic pop/rock song with a 70s-ish melancholic sound. On the internet you can check out everything on this underrated influential Australian band, discover they have been covered by PEARL JAM and donít forget to check out Jackís new solo album which is reviewed elsewhere.
(Points: 8.5 out of 10)
ECHOPLAIN 'POLAROID MALIBU' (ATYPEEK MUSIC/ARAKI/PIED DE BICHE/ZERO EGAL PETIT INTERIEUR/CREATIVE ECLIPSE PR/GERMAN IMPORT)
Formed in 2018, the French band ECHOPLAIN delivers their official debut album with Polaroid Malibu. They bring an interesting and exciting mixture of Stoner Rock, Noise and Post-Punk and somehow they are able to bring some great melodies through these fields of loud noise and rock, which can be heard during most of the 10 included songs here. The vocals are sometimes screaming, but also changing to a more singing voice a lot of time (such as during a great song like Beyonce) and some spoken-word here and there, making ECHOPLAIN sound diverse enough to keep on listening to. Melodic Post-Punk is definitely the closest genre they reach on their album, so it is recommended to fans of bands like THE MURDER CAPITAL, FONTAINES DC, LIFE and such. Check them out for yourself at: https://echoplain.bandcamp.com
(Points: 8.1 out of 10)
HINT 'RARITIES OF TWO CENTURIES VOLUME 2' (ATYPEEK MUSIC/BRUILLANCE RECORDS/CREATIVE ECLIPSE PR/GERMAN IMPORT)
The French band HINT was formed back in 1993 and they bring a mix of noise, experimental and post-punk, sounding quite aggressive most of the time with this edgy raw screaming underground rocksound, yet also with some progressive/post-rock influences. Itís very experimental at times, which is interesting, although the vocals are mostly in the scream/metal-core direction. More info at: http://hintfan.free.fr
(Points: -)
VALSE NOOT 'UTTER CONTEMPT' (ATYPEEK MUSIC/IDEAL CRASH/VOLLMER INDUSTRIES/SUPER APES/FRENCH WIN RECORDS/CREATIVE ECLIPSE PR/GERMAN IMPORT)
Out of Brest, France comes VALSE NOOT, which is a Dutch sentence by the way, and they present us extreme Noisecore/Rock like ZAPPA meets SYSTEM OF A DOWN meets DILLINGER ESCAPE PLAN, yet with a lot of madness and screaming going on. Itís wicked, wild and dangerous, at least it feels like this, although I am not sure if anyone out there into crystal clear melodies will find something of interest in here, because you really need to be a fan of Noisecore/Metalcore/Post-Hardcore to Ďgetí this. The first 4 songs are quite extreme, but Story of a decadence shows that the bandís lead singer is also able to sing instead of scream, and I personally hope to see more of this on a future record. On the other hand, I understand if youíre a fan of the aforementioned acts you will love this and then you can check them out at: https://valsenoot.bandcamp.com
(Points: - )
KAVRILA 'RITUALS 3' (NARSHARDAA RECORDS/BROKEN SILENCE/CREATIVE ECLIPSE PR/GERMAN IMPORT)
Rituals 3 is likewise part 3 of a series the German band KAVRILA started in 2016. The band from the city of Hamburg brings a mixture of Sludge Metal, Metalcore and Hardcore, and they are quite angry during the 4 songs on their new EP. Check them out at: https://kavrila.bandcamp.com
(Points: -)
MOAAN EXIS 'NECESSARY VIOLENCES' (ATYPEEK MUSIC/CREATIVE ECLIPSE PR/GERMAN IMPORT)
Out of Toulouse, France comes this interesting experimental act called MOAAN AXIS, a duo formed around Mathieu Caudron and Xavier Guionie. Together they bring a sound that takes elements of Industrial, Techno, Hardcore and other experimental sounds. At best you could describe them as a Ďslow and darkí mix between MARILYN MANSON and THE PRODIGY, but actually they have an own identity. 8 songs are on their new album Necessary violences and it does sound quite good actually, something different than the usual and very diverse, with as highlight closing track Divine automation. Check them out at: https://moaan-exis.bandcamp.com/
(Points: 7.5 out of 10)
VOLVOPENTA 'SIMULACRUM' (TONZONEN RECORDS/SOULFOOD/CREATIVE ECLIPSE PR/GERMAN IMPORT)
Simulacrum is the 2nd album of the German band VOLVOPENTA, and quite an interesting and exciting Post-Progressive Rock adventure we have here with a focus on slow dark melancholic instrumental sounds, although also with (clean) vocals here and there. PORCUPINE TREE meets LONG DISTANCE CALLING, and some experimental parts a few times, that would be a nice description, although the band clearly shows an own face on their new album. The band is formed around bassist Andrť David, drummer Kai Spriestersbach, guitarist Stefan Claudius, guitarist/vocalist Marcus Kreyhan, with keyboards provided by iAmAnAlleNcLoNeSpY. The resulting album is quite sensational and a joy to listen to from start to finish, taking you into an adventure that will definitively appeal to all fans of Post-Progressive Rock, sometimes sounding relaxed and melodic, while at other times rockier and challenging, in the end a very diverse journey through the endless fields of this genre. You can hear it for yourself at: https://volvopenta.bandcamp.com
(Points: 8.3 out of 10)
M G BOULTER 'CLIFFTOWN' (HUDSON RECORDS/UK IMPORT)
Clifftown is the 3rd solo album of Essex, UK based singer/songwriter//guitarist M G BOULTER. The album also features Pete Flood (Drums, Percussion, Glockenspiel), Lizzy OíConnor (Mandolin, Guitar, Voice, Banjo, Percussion), Paul Ambrose (Electric Bass, Double Bass, Synthesiser), Tom Lenthall (Keyboards, Piano, Synthesiser, Voice), Helen Bell (Violin, Viola), Lucy Farrell (Voice), Neil McSweeney (Voice), Toby Kearney (Drums), Helen Bell (Violin & Viola on Pilate), Sam Sweeney (Violin), Charlie Wild (Violin), Lucy Farrell (Voice), Rob Harbron (Bass), Neil McSweeney (Guitar), Richard Warren (Guitar) and Jack McNeill (Clarinet & Bass Clarinet), and was produced by ANDY BELL (played in OASIS and a lot of other acts besides producing). 12 tracks are included, and the album starts with a calmer singer/songwriter piece titled Midnight movies, which is not far removed from SIMON & GARFUNKEL, CROSBY, STILLS, NASH & YOUNG, but following Soft white belly is a great catchy uptempo melodic poprocker in a sorta TOM PETTY style. MG has a voice that sounds like a cross between PAUL SIMON and MICHAEL STIPE, while musically speaking it mixes beautiful singer-songwriter calmer 70s inspired popsongs with uptempo Americana/Poprockers, all in a story-telling format. Although the calmer singer-songwriter pieces are lovely to listen to, it's the uptempo pieces that show M G Boulter at his best, with as highlights The author of all things, she speaks, Fan of the band and the aforementioned Soft white Belly. This is definitely an interesting and very talented musician to check out at: http://www.mgboulter.co.uk, especially if you're a fan of PAUL SIMON.
(Points: 8.3 out of 10)
JON BODEN 'LAST MILE HOME' (HUDSON RECORDS/UK IMPORT)
The British multi-instrumentalist JON BODEN has been around for some time, and Last mile home is his 6th album so far. He sings and plays on all 12 included tracks, with a little help here and there by several guest musicians, such as Mary Hampton (vocals), Marven Bryce (violin), Helen Bell (viola) and Lucy Revis (cello). The resulting new album Last mile home is a beautiful calmer folk pop/rock album with a clear focus on story-telling songs. 12 tracks are included and it's a joy to listen to Jon's strong falsetto voice and hear him singing all these beautiful melodies in great songs like Into the garden, Flash flood and Come out wherever you are. He does remind me vocally a bit of JOHNNY LOGAN, but musically this has of course nothing to do with Johnís music, because Jon is all about high quality singer/songwriter folk music. Check him out for yourself at: https://www.jonboden.com
(Points: 8.2 out of 10)
LOLOMIS 'RED SONJA' (BUDA MUSIQUE/FRANCE IMPORT)
Red Sonja is the 3rd album of the female fronted French band LOLOMIS, and a very diverse album I can inform you, because World Music, Balkan and other musicstyles pass by in the band's own original sound that is also quite catchy actually. The band is formed around Romane Claudel Ferragui (vocals), FX Elodie Messmer (harpe, synths), Christophe Urbain Stťlios Lazarou (flute, synths) and Louis Delignon (percussions, ťlectroniques), and from start to finish we are heading into a journey through different parts of the world, but nevertheless each and every song does have a certain rhythm and vibe . 11 songs are included, of which the highlights are Hilijalleen, Ako, Opa, Idam and closing track Morena. The sound is melodic, groovy and modern, with even an almost soul approach here and there, while besides the fantastic musicianship, the vocals of Romane Claudel are a pleasure to listen to. This band has an own sound and should also appeal to a young generation, so go check them out at: https://www.lolomis.net
(Points: 8.3 out of 10)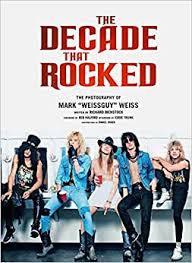 RICHARD BIENSTOCK ĎTHE DECADE THAT ROCKED Ė THE PHOTOGRAPHY OF MARK WEISS BOOK' (INSIGHT EDITIONS/CANADA IMPORT)
Being a true 80s Hardrockfan, this book is an absolute must-have I can inform you at the start of the review. It concerns here an amazingly beautiful large book with a total of 304 pages that include all the great pictures photographer MARK WEISS took in the decade when ego and image were sometimes more important than the music itself. Life was a party and everyone is invited BON JOVI once said and MOTLEY CRUE took it one step further by making a mess at each party, and in this book you can tell from the pictures, this was indeed a decade where Hardrock stood loud and proud among the youth. It was a culture like RockíníRoll was in the 1950s, Garage Rock in the 1960s, Punkrock in the 1970s and Grunge/Alternative Rock in the 1990s. In the 1980s Hair Metal was especially in the USA the biggest musicstyle around, with millions of musicians trying to achieve the same success as the major label bands such as GUNSíNíROSES, MOTLEY CRUE, DEF LEPPARD, BON JOVI, VAN HALEN, POISON, SKID ROW, etc. etc. There was one guy who was very eager to get involved in the ĎHair Metalí scene, which was more or less shaped in the 1970s when KISS, VAN HALEN, THE SWEET and a few others led the foundation of what was to become the most popular musicstyle for everyone below the age of 30 in the 1980s. Mark developed his career as music photographer quite quickly in the 1970s and when the 1980s decade started, it was Mark who basically made everything visual to the rest of the world, because he took pictures in a way you could tell it was his picture and with the flashy colors, big hairdoís and poser looks of the American bands, he actually was the person who helped to shape the creation of the 1980s Hair Metal theme. I think you canít get any closer to the reality of the 1980s than in this book, because Mark was everywhere these bands went to, even in the dressing room and/or backstage with acts like SKID ROW, MOTLEY CRUE, KISS, TWISTED SISTER, BON JOVI, or at events like the US Festival. Itís all included in full color, big and in-your-face close-ups of the most memorable musicians and bands of the decade that truly rocked.
Towards the end of the 1980s, Hair Metal reached its absolute peak when around 1989/1990 MTV was non-stop playing videos by almost every act, from WINGER, WARRANT, FIREHOUSE, SLAUGHTER and you name it further, however a chance was on the horizon when in early 1991 Grunge and Alternative Rock killed the fun 80s party rock/metal sound and itís looks, because we all know what happened when NIRVANA and PEARL JAM broke through. Nevertheless, this book is one to own if you want to experience the real 1980s look and sound without even putting on the music. It was a lifestyle and a youth culture that will always be remembered for that, which is a pity on the other hand, because there are also timeless classic songs made by some of these bands. Thankfully a few of them managed to survive and continue, and they are still quite popular, although 30+ years later the memories are sometimes better than the current reality if we speak about a band like MOTLEY CRUE or GUNSíNíROSES. Anyway, make sure to get this book a.s.a.p. and put on those classics such as Too fast for love, Appetite for destruction, Pyromania, Slippery when wet, etc. etc. The book is available through: https://thedecadethatrocked.com/shop
(Points: 9.0 out of 10)
CARLA PIRES 'CARTOGRAFADO' (OCARINA MUSIC/VEEV.COM/FRANCE IMPORT)
Fado singer CARLA PIRES is singing authentic Portuguese Fado with all the emotions and dramatic twists that are part of this subgenre. Along with Portuguese guitarplayer BERNARDO COUTO, classical guitarplayer ANDRE M. SANTOS, double bass player JOAO NOVAIS and several other musicians, the resulting 4th albym of Carla is a great journey that really makes you feel like youíre somewhere in sunny and warm southern Portugal. 14 songs are included, so there is a lot to enjoy here. It took some time to release the album, because it was recorded in the spring of 2019, but I think corona postponed the release to April 2020. Classic traditional original authentic Fado music is the name of the game from start to finish, so if youíre interested in hearing this, then do check out the Cartografado album from the amazing CARLA PIRES. More info at: https://carlapires-fado.com
(Points: 8.1 out of 10)
BAO BARRETO 'SPIRALIS' (EL CLAN RECORDS/VEEV.COM/FRANCE IMPORT)
In these corona times we long for something cheerful and summer-ish and thatís when the solo debut album Spiralis of the Colombian singer PAO BARRETO is a joy to the world. She has been a member of French Latin bands such as THE BONGO HOP, WHOíS THE CUBAN, CUMBIA YA! And CUMBIA Y CARDON since she settled in Paris almost ten years ago, but recently she started her solo career and the result is this debut album released in spring 2021. She wrote almost all the songs by herself, while thereís a long list of musicians helping her out on the 8 included tracks. The music is a mix of styles, but includes mostly Caribbean and Latin rhythms crossed with some modern electronic sounds and soul, funk, swing and reggae. Opener La torre melts Latin, Cuban music and Reggae, which you donít hear too often in my part of the world, and I have to say it feels really good. Nouveau sol is a sorta jazzy reggae, which is quite original actually. It all helps that Pao has a great relaxing smooth voice to sing all these songs, and she is a gifted songwriter. Following A donde vas is one of the few real modern Ďdanceí orientated songs, with an European kinda feeling. On adore la cumbia is a great relaxing song with a Latin vibe, while the lovely Spiralis has the same kinda direction, yet perhaps a bit more hit orientated. The Reggae Latin mixture of Buscando el sol is as close to perfection for a radio hit as you can get, with its summer feeling a real winner for everyone longing for better days right now. Te encontre is another Latin summer winning song, which live on stage will be a guarantee for a lot of happy faces. Closing track Dounya is featuring a guest singer (MAKHOU) and is an African music influenced song, which shows the diversity of the album. Pao delivered a great record here that shapes a summer feeling and for more info please go to: https://veevcom.com/pao-barreto-presente-spiralis and https://www.facebook.com/paobarreto.paris/
(Points: 8.2 out of 10)
RIOT IN THE ATTIC 'DAWN' (MONKEY ROAD RECORDS/GERMAN IMPORT)
Out of Hurth, which is close to the city of Cologne in Germany, we can welcome the band RIOT IN THE ATTIC and their 3rd album Dawn. They play a mixture of Classic Rock (70s), modern heavy rock/hardrock (90s) and a touch of Stoner meets Southern Rock. Somewhere in the middle is their sound, which is created by 3 musicians, vocalist/guitarist DAN, bassist TOBI and drummer FLO. 10 songs are included and the mix of groovy guitar riffs and strong melodies makes the band a pleasure to listen to. Highlights among the 10 tracks included are Black swan (a song that combines ALICE IN CHAINS melodies with Classic Rock soaring guitar solos), Astrovision (a haunting mix of Doom/Stoner Rock and melodic Classic Rock/Metal), the amazing Thalassa (a 7 minutes counting epic stoner rock/doom affair with superb guitarwork) and the catchy chorus driven Vortex. Concluded, we have here a strong band with a focus on diversity, always rocking out big time, with big guitar riffs and solos, while always keep a focus on strong melodies. Check out this interesting original rockband from Germany at: https://riotintheattic.bandcamp.com/album/dawn
(Points: 8.4 out of 10)
GANG BANG STARZ 'JUKEBOX' (INDEPENDENT/RUSSIAN IMPORT)
When looking at the pictures, artwork and songtitles of the debut album of the St. Petersburg, Russia based band GANG BANG STARZ, itís like weíre back in the year 1986 at the famous Sunset Strip in Los Angeles! These guys are the real deal for presenting a high quality classic 80s Hair Metal/Glamrocksound in classic tradition of all those bands from 35 years ago (MOTLEY CRUE, POISON, DíMOLLS, PRETTY BOY FLOYD, NOIZE TOYZÖ). The band consists of vocalist DEE, guitarist PINKY, bassist RAMON and drummer KIR, and 7 songs are on this fine looking and sounding debut CD Jukebox. The songs are a mixture of mostly midtempo somewhat groovier Party/Glamrockers like WARRANT meets GORKY PARK (The pace of love, Dirty games, Looks like an angel and Going down), cheerful uptempo catchy Hair Metal/Melodic Hardrock (Bring it on and Hero of the night are also the best songs, hopefully more songs like this next time) and VAN HALEN-ish boogie Hardrock/Party Metal (220V). Only the Power Ballad is missing, but all is done very well, which means this band is a must-have if youíre into any of the classic 80s Glamrockbands! More info at: www.facebook.com/gbstarz
(Points: 8.1 out of 10)
OPAL OCEAN 'THE HADAL ZONE' (FLOWFISH RECORDS/GERMAN IMPORT)
Now itís time for something completely different, because OPAL OCEAN is an Australian duo playing instrumental progressive rock/metal on 2 Spanish guitars! The result is the fantastic album The Hadal zone that features 14 wonderful original songs that sounds like a progrock/metal record, but in fact itís played on acoustic Spanish guitar by both ALEX CHAMP and NADAV TABAK from Melbourne, Australia. These 2 gifted musicians play the Spanish guitar perfectly and add a lot of other World Music influences into their sound (Flamenco being most prominent), but still give it a progrock/progmetal kinda feeling, yet without the big electric guitarsound, vocals, keyboards, etc. The only song that features additional keys is Polycephaly, because the legendary JORDAN RUDESS (DREAM THEATER) makes a guest appareance on this song. The resulting 2nd album The Hadal zone is a joy to listen to and if they are as good live as on this record, then OPAL OCEAN is a must-see duo, especially when you hear fantastic songs like Point of no return, The hadal zone, Radiozoa and the sensational Polycephaly. Instrumental acoustic guitar driven Flamenco Progressive Rock is perhaps a nice description, and I would like to highly recommend you to check out this talented duo at: https://opalocean.bandcamp.com/album/the-hadal-zone and https://www.opalocean.com.au/
(Points: 8.5 out of 10)
SUNTRIGGER 'LIQUID TIME' (TIMEZONE RECORDS/GERMAN IMPORT)
SUNTRIGGER comes out of Germany and their 2nd album Liquid time is a strong and interesting album that is entirely instrumental Post-Progrock based like we also know it from for example LONG DISTANCE CALLING, OZRIC TENTACLES and the instrumental side of PORCUPINE TREE. They were formed back in 2012 and Liquid time is the 2020 follow-up to their 2017 debut album Interstellar. The 3-piece band consists of Oliver Ortlinghaus (bass, mellotron, synths), Marcel Bach (drums, synths) and guitarist/synthesizer/organplayer Till Rautenberg. 6 long songs are included and together they explore the classic sounds of prog, post-rock and krautrock in each and every of the song, sometimes sounding big bombastic and progrock/progmetal ish, while at other moments going for a more calmer and exciting sorta krautrock direction, but also Synthwave influences can be heard here and there, although overall people will feel comfortable when calling this post-progrock. SUNTRIGGER are doing a fantastic job, because they really bring you into a sorta trance with their instrumental music that is very exciting throughout the whole album (just listen to the superb Voyager golden record for example!). I can honestly say that they are going for the upper league of instrumental prog/post-rock here. Check them out at: https://de-de.facebook.com/suntriggermusic
(Points: 8.6 out of 10)
BAYLEY & HUNT 'WHISPERS' (FORCE TEN PRODUCTIONS/UK IMPORT)
Both involved musicians in this project have a long history that has a lot of connections with prog/sympho and YES in particular. CLIVE BAYLEY (vocals, guitar, bass) is co-founder of pre-YES band MABEL GREERíS TOYSHOP in 1966 (!), which eventually became YES. Clive left before the first YES album and went on to become a successful businessman in the USA. However he returned to the music scene during the 2010s when reforming MABEL GREERíS TOYSHOP, releasing a couple of albums, and along with MAX HUNT (keys, guitars, bass, drums, etc) he started this new project BAYLEY & HUNT. Max was born in 1966, so there is a time gap between the two, but they really connect, because Max also played in many progbands that are YES related, such as FRAGILE, TANTALUS and joined Clive in MABEL GREERíS TOYSHOP on their 2017 album The secret. Drummer JURGEN LINK also joined and together they recorded their first album as BAYLEY & HUNT, which is titled Whispers. The included music is progrock orientated, laid-back and quite relaxed with a song focused approach, which results in some great songs, such as Without you / In the name of My King / Sailing to the moon, Shine, Can you feel it? / I am and After the battle. They have an own style, which is different from YES, being less bombastic and without falsetto voice like we know it from JON ANDERSON. Well-thought song orientated progressive pop/rock in 1970s style is perhaps the best description (sometimes reminding of JOHN WETTON crossed with ALAN PARSONS PROJECT) and you can check out all on them at: https://bayleyhunt.bandcamp.com/album/whispers
(Points: 8.0 out of 10)
PHONOBOY 'LOVE AND LET DIE' (1969OKT RECORDS/GERMAN IMPORT)
Love and let die is already the 5th album of PHONOBOY, which is a band or project based around multi-instrumentalist/singer/songwriter CHRISTIAN HOCK from Munich, Germany, who sings and plays all the instruments by himself, although on drums we can hear on a few songs drummer MARC PHONO-BOYSEN. His new album consists of 13 tracks, of which opener Itís 2020 is a calmer acoustic guitar singer/songwriter piece about everyoneís unforgettable year 2020, while following French Cowboy is a more cheerful groovier uptempo 90s Indie (TEENAGE FANCLUB) meets 70s Artrock (TALKING HEADS) tune that sounds really good and is quite catchy actually. The rest of the album mixes all these influences from 70s and 90s pop/rockstyles, such as singer/songwriter, indie, college-rock, artrock, progrock and together it makes this a very enjoyable and diverse album. Highlights are the superb 70s art/progrock piece Velvet birds (a la PINK FLOYD), the JOHN LENNON influenced melancholic prog/pop ballad Take your time, the superb original hit potential sounding When we are leaving and the Not supposed to leave you (a pop/rocksong reminding a bit of SOUL ASYLUM). This PHONOBOY surprised me a lot with doing something from the past in his own style, which results in this great diverse album. You can check out more info at: https://phonoboy.jimdofree.com/
(Points: 8.2 out of 10)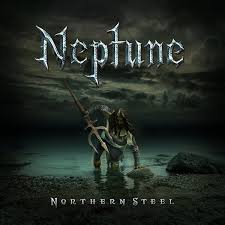 NEPTUNE 'NORTHERN STEEL' (MELODIC PASSION RECORDS/SWEDEN IMPORT)
It took almost 40 years ago to release their debut album, but NEPTUNE has succeeded with Northern steel and itís a very good record as well, so congratulations. They were formed in the early 80s, recorded an album in 1986, but this album was never released, so they quit in 1987. In the 2000s there was a renewed interest in the band, and now after all these years a first official album is released. Most of the original line-up is present (excluding their original singer RAY ALEXANDERSSON, who sadly died), and in total we can find 12 songs on the CD. After the intro, opener Viking stone is a very strong 80s inspired classic midtempo melodic rocker with great vocals and a catchy chorus. Following Last man standing is an uptempo melodic heavy rocker with an 80s Teutonic Metal approach like VETO, GRAVESTONE, NOISEHUNTER and such, yet also with some memories of classic 220 VOLT. Back to big time sounding midtempo Melodic Metal with the excellent Fallen nations, which sounds like a cross between VICTORY and ACCEPT. Angels has the keys upfront and is basically a lovely catchy chorus driven uptempo 80s inspired Scandi Melodic Rocker. Titletrack Northern steel is a really perfect 80s type of midtempo melodic Teutonic Metal song that reminds me so much of NOISEHUNTER, if anyone knows this band, you will agree with me! Black rain is a bit more melodic rock based, and another great and very strong tune. The band keeps up the level straight until the end, with many more songs that combine the best of the aforementioned bands, with as other highlights the uptempo melodic rocker Seriously and the midtempo melodic rocker Ruler of the sea (a bit reminding me of SAINT DEAMON or NATION if anyone can remember them!). Instrumentally (bassist JAN TOSH ASON, keyboardplayer JONAH ROSTH, guitarist ANDERS OLSSON and drummer JONAS WIKSTROM) and vocally (ROW ALEXX) everything sounds crystal clear, the production is top-notch and so please check them out if youíre starting to become interested, because they are really good! More info at: https://www.neptune.nu/northern-steel/
(Points: 8.5 out of 10)
DYGITALS 'GOD SAVE THE KING' (GOLDEN CORE RECORDS/ZYX MUSIC/GERMAN IMPORT)
The French band DYGITALS was formed in the mid-1980s and quickly achieved success and was towards the end of the 80s ranked as one of the most promising French Metalbands around at the time, so a debut album was about to be released. Sadly the change in music climate in the early 1990s prevented DYGITALS to release their debut album. They more or less split up, but reunited every now and then, which eventually led to the release of official albums during the 2000s and 2010s, and now God save the King is released. Itís their 3rd album and musically speaking we are heading back to the classic 80s traditional melodic heavy rock/metal packed in a concept about King George. The bandís line up consists of lead singer HERVE TRAISNEL, guitarist JOLLY ROGER, bassist KEVIN OBRON, drummer/keyboardplayer ALAIN CLOUET and guitarist JEAN-MARC LAVAYSSIERE. Together with a few guests, they have come up with a great album that sounds like a perfect cross between classic 80s ACCEPT, VICTORY, PRAYING MANTIS, MAD MAX, SCORPIONS, PRETTY MAIDS and such Euro Melodic Heavy Rock/Metal, with as highlights Early days, The Father King, Stammerer (very strong midtempo melodic hardrock, reminding me a bit of JADED HEART), the faster uptempo Final war (pure early 80s melodic metal like PRETTY MAIDS did in their early years) and the massive sounding midtempo classic melodic metal piece Darkest hour. In addition there are also 4 bonustracks from the bandís original demos from 1991 and 2007. Everything is done very professional, with extensive liner notes telling the full story of this interesting French band, instrumentally it is quite perfect (listen to the wonderful guitarwork in a song like Love and faith) and vocally Herve has a voice with a character who has improved over the years, so this is a must-have for fans of the classic 80s sound of aforementioned bands! More info can be found at: http://www.dygitals.com/the-band.html
(Points: 8.2 out of 10)
FRANA 'DISASTERSSS VINYL RECORD' (DAY OFF RECORDS/TAXIDRIVER RECORDS/ITALY IMPORT)
Out of Italy comes the band FRANA, and they were kind enough to send me their vinyl record Disastersss, which was recorded in Italy, but mixed and mastered in the USA. The band's sound is very American orientated, alternative rock would be an easy description, but you can also trace post-hardcore influences and some grunge-rock as well. They sound quite impressive on this record, reminding of bands like HUSKER DRU, NIRVANA, THE PIXIES, SONIC YOUTH, THE REPLACEMENTS and such. I am somewhat surprised they are not yet praised by all the media for this strong 2nd LP, because especially uptempo rockers like Let me write this down in my dontcarelendar, Daisy St. Patience and Herpes zoroaster are very impressive and packed with memorable melodies, with a sense of humour as well. The band is formed around Luca//Vocals & Guitar, Francesco//Bass, Matteo//Guitar, Michele//Drums, and besides the aforementioned songs, they offer a lot of other great songs, with a special mention for 3 more songs on side-B that show the band's humoristic look at classic bands names and songs from the past (Moody glues, Sgt. Popper and Loans will tear us apart). Despite all the humor, this is definitely a serious band with a professional international alternative melodic rocksound that should be heard by fans of the mentioned bands. Check them out at: https://franafrana.bandcamp.com/album/disastersss
(Points: 8.2 out of 10)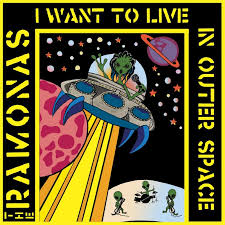 THE RAMONAS 'I WANT TO LIVE IN OUTER SPACE VINYL RECORD' (CAMPARY RECORDS/GERMAN IMPORT)
I remember a Dutch Punkpop band called THE RAMONAS, who were active in the early 1990s, but this THE RAMONAS is a different one, because they are a British all-female tribute band (with self-written songs) to THE RAMONES, yet there's more than meets the eye here. The band's line up consists of LISA LATHWELL (vocals, acoustic guitar), MAXINE CAHILL (guitar/gang vocals), VICTORIA SMITH (bass, vocals) and CAMILLE PHILLIPS (drums, backing vocals), and I want to live in outer space is their 3rd album so far. 8 rockers are included and opener and titletrack I want to live in outer space is a superb catchy uptempo melodic powerpop/punkrocker in the style of the classic THE DONNAS, with very strong vocals and a lovely memorable chorus to sing-a-long with. Next track Our world is a bit tougher and recalls memories of THE RUNAWAYS here and there. Broke is basically pure Punkrock all the way, close to classic THE RAMONES for sure! Closing side-B is the lovely catchy fast uptempo melodic Power-Punkpoprocker Take me home, which once again shows what a fantastic singer Lisa is. Lisa's voice is clean and a bit raw here and there, reminding me of JOAN JETT and the vocalist of THE DONNAS, which can be heard clearly during the fantastic opener of Side-B, the THE RUNAWAYS-ish rocker Wasted, which also has a great guitarsolo, making this an almost melodic hardrock sounding tune! So called this, so called that is yet another superb uptempo melodic powerpop/punkrocker with a catchy harmonyvocals driven chorus (a la BLITZ BABIEZ, remember them???) that will also be loved by the fans of aforementioned bands. Also High on life follows that direction, while closing track Camp cruel is the heaviest songs on the album, a real sleazy tough rock and roll/punky tune that even reveals some MOTORHEAD influences! I am safe to say that this is one of the finest all-female true original rock and roll bands I have heard in the past 20 years and so I can highly recommended this fantastic new record of THE RAMONAS, which is available through: www.ramonas.co.uk and http://www.campary-rec.de
(Points: 8.8 out of 10)
ALIEN FIGHT CLUB 'WORLD OUTSIDE VINYL RECORD' (CAMPARY RECORDS/GERMAN IMPORT)
I must admit that I am a sucker for old school melodic Punkrock/Oi!, especially when it features strong female vocals, and as soon as the first couple of songs of the debut record of Bonn, Germany based ALIEN FIGHT CLUB are blasting through the speakers, I knew this was going to be a killer record. ALIEN FIGHT CLUB is formed around vocalist ANNEKE, drummer STEPI and guitarist KOLJA, with guest musicians (or Kolja and Stepi) stepping in for the bass duties. Most of the 12 songs that are included on the band's debut album World outside are fast, straight-forward and with no compromise at all, yet also featuring catchy melodies, a huge production and of course the strong lead vocals of Anneke. Hard to pick favorites, because it is full speed ahead from start to finish, but if I would have to pick the highlights, I need to mention Alien Fight Club No. 1, Hard times, Hate is great, Jackpot and Burn. Check out this strong female fronted fast melodic punkrockband at: https://alienfightclub.de and https://alienfightclub.bandcamp.com and http://www.campary-rec.de
(Points: 8.2 out of 10)
DIE SCHWARZEN SCHAFE 'SYSTEM RELEVANT VINYL RECORD' (CAMPARY RECORDS/GERMAN IMPORT)
If you ever visited the "Ruhrgebiet" in Germany, you will immediately feel there is something different, because an industrial environment does have a clear influence on a human being. Dusseldorf is one of the major cities in the area and I think you're safe to say that this city is the German capital for Punkrock, the genre that usually deals with politcal issues and everything that is wrong in this world. Anyway, out of Dusseldorf comes DIE SCHWARZEN SCHAFE, a band which has been active since 1985 (!), and meanwhile they have released a lot of singles, EP's, albums, etc., all done independently through their own label CAMPARY RECORDS. You can definitely hear this German speaking band has already been in the music business for quite some time now, because System relevant is sounding quite strong and impressive. Despite sung in German, this is for me personally no problem, because I can read the lyrics, the music is pure classic Punkrock/Oi!, uptempo and straight-ahead with singable choruses and the 12 songs are quickly spinning it's way on the vinyl record I received, with as highlights Wach auf, Die letzte stunde, and . Check out this classic German Punkrockband at: https://dieschwarzenschafe.bandcamp.com and https://die-schwarzenschafe.wixsite.com/die-schwarzenschafe
(Points: 8.1 out of 10)