HOT NEW REVIEWS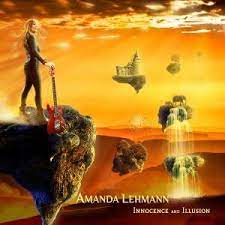 AMANDA LEHMANN 'INNOCENCE AND ILLUSION' (INDEPENDENT/USA IMPORT)
It does help when your sister marries a well-known musician, because guitarist STEVE HACKETT (GENESIS/GTR) is the husband of JO LEHMANN, who is the sister of the talented musician AMANDA LEHMANN. Amanda has been in the music business for over 3 decades now, performing mainly with others on stage (especially with STEVE HACKETT), and thanks to that connection with Steve, she now releases a first solo-CD that features likewise a few well-known names, such as Steve on guitar of course, but we can also hear Nick Magnus (keys, piano), Roger King (keys) and Rob Townsend (sax). Amanda is a talented singer/songwriter, who also plays guitar, keys and piano on her debut album Innocence And Illusion, and she wrote all the songs on her own. The included music is as good as the beautiful artwork of the album. Timeless 70s calmer melodic progressive rock in a style that fits somewhere between YES, RENAISSANCE, MOSTLY AUTUMN, KAYAK and ALAN PARSONS PROJECT, so with a focus on a natural rich authentic sound that leaves room for epic bombastic classical music parts and melodic precise progressive rocking guitarwork, while the vocal melodies are sounding like they are coming from heaven. Tinkerbell for example is a song that ticks all the boxes of that sound as described in the previous sentence. Amanda is also clearly influenced by other genres, because we can trace a bit of jazz in a song like Only Happy When It Rains and there are bluesy elements in The Watcher. There's not a single weak moment to be found here and many highlights, such as the beautiful calmer acoustic tingled Memory Lane, the fantastic uptempo melodic rocker Forever Days (a la MIKE OLDFIELD's Moonlight Shadow) and of course the aforementioned songs. Without a doubt, this is a much-recommended album to all the prog and STEVE HACKETT fans out there, but actually anyone into pure/real honest authentic music that is also quite diverse, you all need to make sure to check out this great album of Amanda at: http://www.amandalehmann.co.uk/
(Points: 8.4 out of 10)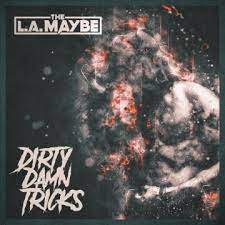 THE L.A. MAYBE 'DIRTY DAMN TRICKS' (INDEPENDENT/USA IMPORT)
The band THE L.A. MAYBE hits the same way DIRTY HONEY recently did with their debut album, which is more or less doing something as if it was 1987 all over again when GUNS'N'ROSES gave Rock and Roll it's dirty raw sleazy hard rock face back after years of radio polished rockmusic. What followed the next 5 years was a new wave of American Sleazy hardrockbands, but also renewed interest in heavy blues rock that paved the way for an additional wave of new bands (BLACK CROWES, BADLANDS, TESLA, GREAT WHITE…) and re-landing the careers of bands like AEROSMITH, AC/DC and many others. US Major labels signed countless similar sounding new young rockbands back then, some better than others, and THE L.A. MAYBE could have easily been one of them if they had been active back then. Some 30 years later THE L.A. MAYBE tries it in the modern age of rock and roll because their brand of sleazy rock and roll is back in fashion again. It might not be original, because I hear many similarities to bands like FASTER PUSSYCAT, DIRTY LOOKS, SLAUGHTER, KROKUS, AC/DC, GUNS'N'ROSES, LA GUNS, KIX, NASTY IDOLS, etc. etc. but on the other hand they are doing it very well. The band's lead singer ALVI ROBINSON auditioned a few years ago to replace BRIAN JOHNSON in AC/DC, but eventually AXL W. ROSE got the job. Alvi (Lee) would have done a great job as AC/DC singer, but things turned out differently, which on the other hand has now led to this great debut CD Dirty Damn Tricks of THE L.A. MAYBE. It contains a total of 10 songs, of which the highlights are the uptempo Sucker Punch, the midtempo Oh Sugar, the SLAUGHTERish She's Reckless, the uptempo melodic rocker Peace Of Mind (a la TESLA) and the strong DIRTY LOOKSish uptempo Fake, but any of the songs here will be of interest for fans of the aforementioned bands. Check them out a.s.a.p. if you long back to the good old late 80s/early 90s US sleazy hard rock days. More info at: https://lamaybe.com/
(Points: 8.6 out of 10)
VARIOUS ARTISTS 'HERE COMES SANTA CLAUS – 29 SWINGING CHESTNUTS' (BEAR FAMILY RECORDS/GERMAN IMPORT)
It's a bit early for Christmas, but this compilation CD definitely brings you in the mood for the upcoming happy holidays. It concerns here 29 classic Christmas tunes from the early days of recorded music, dating back to as far as 1936! Among the unknown performers we can also find some very familiar ones, such as BING CROSBY, THE ANDREWS SISTERS, PEGGY LEE, ANDY WILLIAMS and many more. The music is a mixture of jazz, blues, swing, boogie and pop, so a guarantee for a success during the Christmas days. Available through: www.bear-family.de
(Points: 8.0 out of 10)
VARIOUS ARTISTS 'THE GENE VINCENT CONNECTION – 36 ROOTS AND COVERS OF GENE VINCENT' (BEAR FAMILY RECORDS/GERMAN IMPORT)
The 1950s brought us the first signs of rock and roll music, thanks to BILL HALEY, BUDDY HOLLY, ELVIS PRESLEY, LITTLE RICHARD, EDDIE COCHRAN, CHUCK BERRY and many others. GENE VINCENT is also a name that is associated with the early rock and roll days, because he is best known for his hit Be-Bop-A-Lula. However, he wrote many more songs that were covered by all kinds of acts from all over the world, and BEAR FAMILY RECORDS collected 36 songs from the period 1952-1966 and put them on 1 disc that is accompanied with extensive liner notes like every release on this wonderful label. 78 minutes of rock and roll, but also other genres such as jazz and blues pass by on this lovely compilation CD. Personally I am a huge fan of classic 50s rock and roll, with the band ROCK-RAGGE & HIS FOUR COMETS being one of the best featured here. Their covers of the GENE VINCENT songs Who Slapped John and Bluejean Bop are timeless 50s rock and roll tunes like only is created in the rockabilly scene nowadays. The CD is marking the 5th anniversary of Gene Vincent's death. He died way too young in 1971, but that happened to a lot of the early rockstars from the 50s. Thankfully we still have their music legacy, so make sure to check out this new compilation CD through: www.bear-family.de
(Points: 8.3 out of 10)
FLYING NORWEGIANS 'NEW DAY/WOUNDED BIRD 1974/1976 - 2021' (APOLLON RECORDS/NORWAY IMPORT)
I am not sure how many people out there are familiar with this rare Norwegian 70s band, but I had never heard of FLYING NORWEGIANS before. This country rockband was signed to SONET RECORDS and released 4 albums during the 1970s, but eventually split up in 1981. Although they reunited in 1995 and released a 5th album, they split up again, although they once again started up the band in 2005, yet then suddenly one of their founding members, guitarist/vocalist/composer CATO SANDEN sadly died at the age of 51, which meant the definite end of the band. Thankfully there is a legacy of music left behind, and APOLLON RECORDS re-released their first 2 albums. What you get here is high quality calmer American country crossover westcoast pop/rock with a focus on strong melodies and excellent crystal clear vocals. THE EAGLES, POCO, LITTLE RIVER BAND, ALABAMA and such come to mind, yet the band had an own twist, even a symphonic touch like STARCASTLE during a song such as Crazy Eyes Go Blind on their 2nd album Wounded Bird, although mainly this is straight-ahead uptempo country crossover pop/rock in the best 70s tradition. Sometimes very country ish (Let's Walk To The River) and at other times slightly more rocking, such as during Absolutely Sweet Marie (a la DOC HOLIDAY). Other highlights on their 2nd album Wounded Bird are Taste Of The Money and Tangles. This band sounded really good and it's unbelievable they did not become huge as their American counterparts. Besides their 1976 2nd album, APOLLON RECORDS also released their debut New Day from 1974. This album started slightly more 70s southern rocking during the superb Young Man, but the rest of the album offers the aforementioned typical 70s US Country-crossover-poprockstyle, with as other highlights Lucky Number, New Day, Spanish Tragedy and the proggy You'll Come Around. Quite a surprise this band and a nice introduction to a rather unknown piece of Norwegian Music history. Norwegians will probably be familiar with this band, but for most of us it will be the first time we get to hear this band's material from 45 years ago! More info at: https://www.apollonrecords.no/product-page/flying-norwegians-new-day
(Points: 8.5 out of 10)
TOM RODWELL 'WOOD & WASTE' (FIREPLACE RECORDS/HEMIFRAN/SWEDEN IMPORT)
Out of Auckland, New Zealand comes the talented guitarist/singer/songwriter TOM RODWELL, who delivers a strong album with his new record Wood & Waste. Besides Tom on vocals and guitar, other involved musicians are Chris O'Connor - drums & percussion, Jeff Henderson - marching bass drum, Phill Dryson - phased Strat on the song Small Town and Coco Davis - harmony vocals on the song Carry On. Tom has been active for a while now, performing over 1500 shows internationally over the past 15 years, and this new album sounds really good and quite original as well, because he adds influences from alternative and traditional New Zealand music styles to the dusty slow bluesy rocksound he is playing. The result is a wonderful album with precise guitarplaying, strong vocals and unusual drumming, which makes it an interesting CD to check out. Highlights are Keep On Knockin', Plenty Time, Touch Me Like A Teddybear, the groovy She Got Me Boiling and Small Town. The open-minded bluesrockfans will absolutely like this album, and I hope Tom will become better known now. More info can be found at: www.tomrodwell.com
(Points: 8.4 out of 10)
MALA OREEN 'AWAKE' (TOURBO MUSIC/HEMIFRAN/SWEDEN IMPORT)
If you have the voice of an angel, then everything seems to sound so much more natural and in the case of Swiss-American singer MALA OREEN we are delighted with a gifted vocalist who also writes her own songs. Her new album is titled Awake and right from the start during the beautiful calmer melodic Americana/folk/pop songs Ragged Queen and Moon Same Moon, we get to hear music of an incredible high level. Mala's angelic haunting vocals and melodies sound absolutely perfect from start to finish on this album, with as other highlights Offspring (slightly more rocking, not unlike ILSE DE LANGE), Threshold, Ghost Cat (KATE BUSH ish) and the beautiful peaceful closing track Untied. The album was recorded in Nashville, Tennessee, USA with the help of several musicians, including CHELSEA MCGOUGH (cello), DEAN MAROLD (bass), FATS KAPLIN (pedal steel), GARRISON STARR (harmonyvocals), JOSHUA BRITT (mandolin), KRIS DONEGAN (guitars, bass) and producer NEILSON HUBBARD (drums, piano, percussion). Without a doubt, this album is a highly recommended album to fans of female fronted Americana/Folk/Pop where the focus is on crystal clear melodies. Mala is definitely a wonderful singer you need to check out at: https://malaoreen.com/
(Points: 8.2 out of 10)
TROLDHAUGEN 'IDIO+SYNCRASIES' (BIRD'S ROBE RECORDS/CREATIVE ECLIPSE PR/GERMAN IMPORT)
Out of Australia comes TROLDHAUGEN, a somewhat bizarre band with a sound that mixes folk, metal, prog, rock and a lot of weird ZAPPAish meets PRIMUS craziness. They sound quite original and are actually hard to compare. Their label BIRD'S ROBE RECORDS has now released their debut album Idio+Syncrasies internationally. If you're a fan of the extreme rare complexity of the aforementioned acts, then this TROLDHAUGEN is a band you need to check out a.s.a.p. at: https://troldhaugen.bandcamp.com/album/idio-syncrasies
(Points: 8.0 out of 10)
SUPER FLORENCE JAM 'WE ALWAYS KNEW IT WOULD COME TO THIS' (BIRD'S ROBE RECORDS/CREATIVE ECLIPSE PR/GERMAN IMPORT)
SUPER FLORENCE JAM is an Australian band whom recorded this 9 tracks counting album We Always Knew It Would Come To This back in 2011, but as part of the BIRD'S ROBE RECORDS 10-year anniversary, this label decided to give it an international release. I am glad they did, because this is an interesting band to check out. They hail from Sydney and are a 4-piece band formed around Adam Krawczyk - vocals, guitar, Laurence Rosier Staines - guitar, vocals, keys, Mike Solo – drums and Alex Tulett - doubleneck bass. The album is quite an interesting release, because there is awesome 70s progrock to be heard during a fantastic song like Your Word (like MAX WEBSTER meets Canadian FM/RUSH), but also straight-ahead early 1980s uptempo catchy powerpop during the lovely Simmer Down, and actually there's loads more diversity going on here. Groovy alternative rock with an almost RED HOT CHILLI PEPPERS kinda vibe, yet with modern garage rock influences as well (Anastasia Won't You Sleep With me, That's The End Of It!) can be heard multiple times, but also some fast aggressive post-punkrock (Irrepressible) or even RUSH/ZEPPELIN on speed (Walkin' On The Rocks) so basically SUPER FLORENCE JAM is like the name also predicts a very ambitious diverse and original out-of-control rock and roll band jam like in the 1970s was quite normal after ZAPPA had stretched the limits within the rockworld. Do not miss them, because this might be 10 years old, it still sounds very refreshing! More info at: https://superflorencejam.bandcamp.com/album/we-always-knew-it-would-come-to-this-ep
(Points: 8.3 out of 10)
SEIMS 'FOUR' (BIRD'S ROBE RECORDS/CREATIVE ECLIPSE PR/GERMAN IMPORT)
Four is the new album of the Australian instrumental progressive rockband SEIMS. The artwork of the album looks very Krautrock ish and actually you could also describe the music as such, because it is experimental, proggy 70s based with also room for synths and other instruments besides the usual guitar-bass-drums set-up. SEIMS is the brainchild of SIMEON BARTHOLOMEW, who plays bass, guitar, synths, piano and provides some vocals. There are guest appearances here and there, such as Peter Hollo (from the Australian FOURPLAY) on cello, PLINI drummer CHRIS ALLISON and quite a few more. I absolutely love the 70s proggy krautrock piece Showdown Without A Victim and the Synthwave influences during Stranded, Isolated, but there's much more to discover musically speaking, because a song like Shouting At A Brick Wall is basically pure modern post-progrock, guitar orientated with however some exciting classical music influences and that's something we have not heard much before. SEIMS is doing really interesting innovate things, combining different music worlds, and they easily get away with it, because you keep listening until the very end to discover every time something new. Fans of experimental innovative original instrumental music should check out SEIMS as soon as possible at: www.seims.net
(Points: 8.7 out of 10)
THOMSEN '3' (ARTIST STATION RECORDS/BERTUS/SUBURBAN)
In the 1980s there was a nice Finnish AOR/Poprock band called THOWSEN, but here we have a German band called THOMSEN, and 3 is likewise their 3rd album so far. The band is formed around guitarist RENE THOMSEN, along with vocalist JURGEN WULFES, bassist NIKLAS TURMANN, guitarist MICHAEL PESIN and drummer MICHAEL KOLLAR. The included music is basically pure Heavy Metal in the style of JUDAS PRIEST and PRIMAL FEAR, with a touch of classic 80s Teutonic Metal in the vein of ACCEPT and SINNER as well. The band's vocalist sounds like the perfect cross between ROB HALFORD and UDO DIRKSCHNEIDER. Despite the material might not be really original, fans of PRIEST will absolutely love this band when they go for the PRIEST sound during a song like Fight and ACCEPT fans will go crazy when hearing Nightfall. The whole album fits in this direction, so once you like one song you will love them all for sure. 10 songs are included in total, and from start to finish this is Heavy Metal the way it needs to sound like, with as other highlights Salvation, Set Me Free (slightly MAIDENish chorus) and Passion (very strong chorus, lovely melodic metal in a sorta SAXON style). Check out THOMSEN if you call yourself a real Metalhead at: www.rene-thomsen.de
(Points: 8.2 out of 10)
SPITFIRE 'DO OR DIE' (MASSACRE RECORDS/BERTUS)
Out of Germany comes the kick-ass rock and roll band SPITFIRE. They are already active for quite a while now with 2 full-length albums and 2 EPs released so far. Do Or Die is their latest release and I believe it's their first on MASSACRE RECORDS. The band consists of 2 members (Dick Dropkick – Vocals, Guitar, Bass and Nikk Nitro – Drums, Backing vocals), but live on stage they are joined by bassist Tony Torpedo. Dirty mean sleazy uptempo classic rock and roll with a punky attitude and a huge Metal guitar riff sound (especially during the fists-in-the-air Metal shouter Die Like A Man) is the name of the game here, but also sometimes a touch of Glamrock and Melodic Hardrock can be heard, while it all sounds quite modern as well. Basically this is how real rock and roll should sound like nowadays! The resulting new album Do or Die is a strong straight-forward record with a bunch of killer songs among the 13 included. Highlights are opener Ride It Like You Stole It, the catchy Glamrocking Like A Lady (CRASH DIETish), the melodic Writings On The Wall (a song that would make FOO FIGHTERS jealous!), the semi-rockballad Sacrifices and the uptempo melodic hardrocker Out In The Cold. Besides CRASH DIET also TURBONEGRO, GLUECIFER, BACKYARD BABIES, HELLACOPTERS and such come to mind when listening to SPITFIRE, but it's best to hear this band for yourself, as they play their music with an attitude you don't want to miss. This is Hardrock/Metal at it's very best without any compromise, so go check them out at: www.spitfire-music.com
(Points: 8.3 out of 10)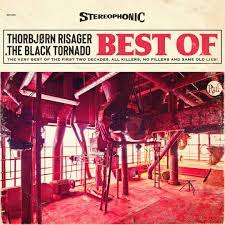 THORBJORN RISAGER & THE BLACK TORNADO 'BEST OF 2 CD SET' (RUF RECORDS/GERMAN IMPORT)
THORBJORN RISAGER & THE BLACK TORNADO comes out of Denmark, and is based around the talented singer/songwriter/guitarist THORBJORN RISAGER. We have already reviewed some of their wonderful previous albums, so we are familiar with the high quality of their music. They have been active for almost 20 years now and to celebrate this fact, a 2-CD set has been released by RUF RECORDS. A total of 33 songs are presented, split in 2 volumes, both covering a decade. The music of this fantastic band is a mix of various genres, but blues, New Orleans jazz, rock, soul, old school R&B and a bit of pop is definitely part of the melting pot here. Everything sounds perfect and to have all the best songs from the past 20 years together is a guarantee for a lovely evening, because from start to finish it sounds picture perfect. There's soulful rockers (Burning Up), heavy blues rockers (Rock N Roll Ride, Hold My Lover Tonight), relaxing melodic calmer ballad ish material (I Used To Love You), a Southern Rocksong (China Gate, a la LYNYRD SKYNYRD) horn driven rockers, blues, straight-ahead rock and roll (Baby Please Don't Go and the superb Maybe It's Alright), old school blues (Through The Tears), so basically everything is included here. JIMMY BARNES is a clear comparison, although vocally Thorbjorn definitely has an own identity, which you can hear very well during a slow soulful old school R & B ish ballad such as 13. Long Forgotten Track (no songtitle!). Towards the end of CD 2 we even get to hear a slightly modern uptempo poppy piece in the shape of Come On In, so Thorbjorn is able to sing everything with his low soulful voice. In case you never heard of them before, then be sure to check out this superb new compilation CD through: https://risager.info/
(Points: 8.8 out of 10)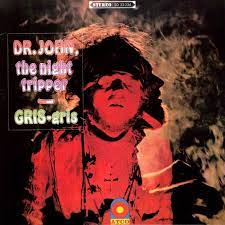 DR. JOHN, THE NIGHT TRIPPER 'GRIS-GRIS VINYL RECORD' (ATCO RECORDS/SPEAKERS CORNER RECORDS/GERMAN IMPORT)
DR. JOHN is a legendary American musician, who sadly died in 2019, but his voice and music had an enormous influence. He might perhaps not be that well-known among the regular music fans, but rest assured that modern day musicians such as SEASICK STEVE and THE BLACK KEYS are obviously influenced by this man's work, and of course the people who look a bit further than the standard pop/rock music will be familiar with him. Gris-Gris is the debut album of DR. JOHN, and right from the start you can hear how original this man was at the time, but also nowadays the record sounds extremely refreshing. DR. JOHN's original name was MALCOLM JOHN REBENNACK JR and the debut album Gris-Gris was released in 1968. It was the era when psychedelic rock became prominent and experimentation was the name of the game here in the music business. THE BEATLES, THE BEACH BOYS and FRANK ZAPPA had released a few groundbreaking records around that time and basically the whole world wanted to follow their footsteps. DR. JOHN stretched it a bit further, which was more or less also due to the fact he became interested in voodoo. The resulting first album is reflecting that very clearly, and now 53 years later it has been fully remastered by using pure analogue components only and re-released on vinyl by SPEAKERS CORNER RECORDS. Besides DR. JOHN on vocals, other involved musicians were Harold Battiste (Bass, Producer), Bob West (Bass), Mo Pedido (Congas), John Boudreaux (Drums), Lonnie Boulden (Flute), Ernest McLean (Mandolin), Richard Washington (Percussion), Plas Johnson (Saxophone) and Steve Mann (Slide Guitar). 7 songs were on the album, of which some quite lengthy. Opener Gris-Gris Gumbo Ya-Ya is a slow smokin' LOU REED ish tune, with this cool relaxing 'joint' bluesy vibe. Following Danse Kalinda Ba Doom is completely different, because this fantastic uptempo experimental voodoo like song introduce World Music and all kinds of other influences from especially Africa, sounding very original at the time, because it was recorded all the way back in 1968. As original as FRANK ZAPPA at the time, DR. JOHN went a bit further perhaps, which is also due to his unique one-of-a-kind raspy bluesy vocals that really worked with the African tribal music influences he crossed with western bluesy rock, which you can hear very clearly during the following songs Mama Roux and Danse Fambeaux. Side-B opens with the superb hypnotical Croker Courtbullion that combines jazz, psychedelic rock, blues and strange kinda voodoo jungle noises to an unbelievable original sound, and even now 53 years later nobody sounds more original than DR. JOHN did on this song! Jump Sturdy is a short psychedelic, almost Muppets kinda tune, while the LOU REED/VAN MORRISONish I Walk On Guilded Splinters closes the album very nicely in a slow bluesy direction, with again that interesting dangerous voodoo psychedelic kinda vibe. Concluded, DR. JOHN immediately showed how talented and original he was and despite his future records would go in a more soul/funk direction where he dropped all the weirdness from this debut album, he continued to deliver quality music. However this debut album was clearly something exciting and original at the time, but even nowadays no record sounds like it! The vinyl album is available through: https://www.jpc.de/?lang=en (Europe) and http://www.acousticsounds.com (USA).
(Points: 8.7 out of 10)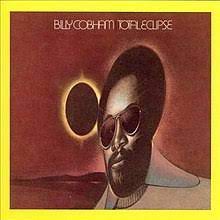 BILLY COBHAM 'TOTAL ECLIPSE VINYL RECORD' (ATCO RECORDS/SPEAKERS CORNER RECORDS/GERMAN IMPORT)
In 1974 the Panamanian American jazz drummer, composer and bandleader BILLY COBHAM released his 2nd album Total Eclipse, which now has been carefully remastered by using pure analogue components only and re-released on vinyl by SPEAKERS CORNER RECORDS. I was actually not familiar with this album, but after listening to it, I was really asking myself what on earth just happened and how would I need to describe this record, because there is so much to say about this album, even 47 years after its release, Total Eclipse still will move people to think about it! Besides Billy on drums, the album featured many more musicians, including a few well-known, such as MICHAEL BRECKER (flute, sax), MILCHO LEVIEV (keys), RANDY BRECKER (trumpet, flugelhorn), ALEX BLAKE (bass), JOHN ABERCROMBIE (guitar), GLENN FERRIS (bass trombone) and more. The music is extremely complex and is basically experimental instrumental jazz with heavy rock and progressive rock parts as well, and it is not for the people who want to listen to laid-back late night relaxing music I can assure you. This is one of the wildest and weirdest instrumental jazz albums I have ever heard and I was really not familiar with it before despite the fact that my father in law is a huge fan of jazz, including the extreme experimental complex side of jazz. The album is rocking out a few times quite hard in an almost psychedelic extreme progressive rockstyle, so this is really heavy stuff and very original, and it surely must have made FRANK ZAPPA interested back then! This is one of those records you need to listen to over and over again, because every time you discover something new. Open-minded prog and jazz fans reunite on this album and I can therefore easily recommend it to check out in case you're fed up with all the polished music that was released after the release of this album. The vinyl album is available through: https://www.jpc.de/?lang=en (Europe) and http://www.acousticsounds.com (USA).
(Points: 8.5 out of 10)
WEATHER REPORT 'LIVE IN TOKYO VINYL RECORD' (COLOMBIA RECORDS/SONY MUSIC/SPEAKERS CORNER RECORDS/GERMAN IMPORT)
Live In Tokyo was the 3rd album of the legendary band WEATHER REPORT. The LP was released in early 1972 and it marked their first live album. WEATHER REPORT was an American Jazz-Fusion band that was active between 1970 and 1986, and along with for example the amazing MAHAVISHNU ORCHESTRA, they were pioneers in the jazz-funk-fusion-rock genre of the 1970s. Like many bands at the time, performing in Japan was extremely important, and it was usually followed up by a vinyl record, which in this case concerns the Live In Tokyo album. Almost 50 years it has gotten a fresh new update thanks to SPEAKERS CORNER RECORDS, because like every vinyl release on the SPEAKERS CORNER RECORDS label from Germany, it's releases are remastered using pure analogue components only, from the master tapes through to the cutting head. This makes the album sound extremely crystal clear as if they were recorded the other day. Anyone who thinks that the current re-issues/re-releases on vinyl do not contribute to the original sound should check out the SPEAKERS CORNER RECORDS releases, because they are sounding crystal clear at the highest possible quality available for vinyl nowadays. The included music on this vinyl record is of a n incredible high level and very experimental, even nowadays the prog and jazz fan will be confused when listening to the album. Back in the 1970s bands like WEATHER REPORT were thinking ahead and really contributed to the fact that the 1970s brought us so much joy and adventurous diverse records, in contrast to the somewhat 80s producers decade. Anyway, live on stage WEATHER REPORT was incredible, which resulted in 5 sold-out concerts in Japan, of which one was recorded live for this vinyl release. The band was formed around Josef Zawinul – electric and acoustic piano, Wayne Shorter – soprano and tenor saxophones, Miroslav Vitouš – bass, Eric Gravatt – drums and Dom Um Romão – percussion, and a total of 4 medleys and 1 long song can be heard, but as you can imagine the band did a lot of improvisation to the original songs, which all together makes this album such an enjoyable album to listen to. The medleys contain several songs, and due to the fact it concerns an instrumental band here, it is much easier to improvise and extend, especially when you're as good as WEATHER REPORT was live on stage almost 50 years ago. Thanks to SPEAKERS CORNER RECORDS we are able to learn about the glorious 1970s when real musicians were able to experiment and come up with innovative original albums, which were released on major labels back then. The vinyl album is available through: https://www.jpc.de/?lang=en (Europe) and http://www.acousticsounds.com (USA).
(Points: 8.3 out of 10)
DR. JOHN, THE NIGHT TRIPPER 'THE SUN, MOON & HERBS VINYL RECORD' (ATCO RECORDS/SPEAKERS CORNER RECORDS/GERMAN IMPORT)
Besides the Gri-Gris debut album of the legendary DR. JOHN, SPEAKERS CORNER RECORDS also remastered the album The Sun, Moon & Herbs by using pure analogue components only, from the master tapes through to the cutting head. In contrast to his debut album Gris-Gris, the 4th DR. JOHN album The Sun, Moon & Herbs is quite different and clearly more mainstream, although it still sounds quite original. The voodoo and African influences have been slightly replaced by classic 1970s Soul, Funk and a bit of New Orleans bluesy jazz, resulting in a very strong album that kicks off with the superb soulful funky Black John The Conqueror. Following Where Ya At Mule feels like a meeting between TOM WAITS, LOU REED and VAN MORRISON in a New Orleans jazzy bar during the 1920s. Closing Side-A is Craney Crow, which grabs back to DR. JOHN's debut album, yet with soulful female harmonyvocals and a TOM WAITS kinda rapsy voice. Side-B continues this fantastic soulful funky sound with a few more great tracks. It is such a joy to dig into the history of music, because there is so much to discover and thanks to the fabulous job of remastering by SPEAKERS CORNER RECORDS, these vinyl editions now sound better than ever. It is a great way to discover albums one was not familiar with before and therefore I can recommend almost every release done by SPEAKERS CORNER RECORDS. This vinyl album is available through: https://www.jpc.de/?lang=en (Europe) and http://www.acousticsounds.com (USA).
(Points: 8.6 out of 10)
SYNDONE 'KAMA SUTRA' (MANTICORE RECORDS/ITALY IMPORT)
Formed all the way back in 1989, the Italian band SYNDONE has already released 7 albums in the past. Kama Sutra is therefore their 8th album, but I was not familiar with them before, but after listening to this new album I am quite impressed. The band is formed around Nik Comoglio [composition, keyboards], Riccardo Ruggeri [lyrics, vocals, acoustic guitar], Simone Rubinato [bass], Marta Caldara [vibraphone, keyboards], Gigi Rivetti [keyboards] and Eddy Franco [drums], and their music is theatrical old school progressive rock with interesting structures. It does remind me a bit of the bands GALAHAD and TWELFTH NIGHT, with also clear memories of classic 70s Italian progbands such as PFM and LE ORME. However, there's much more to discover, because there are World Music and Classical Music influences melted during the lovely bombastic progressive (semi) rockballad Into The Kama for example. EMERSON, LAKE AND PALMER are also clearly one of the band's influences, while the high pitched theatrical way of singing is typical Italian. 11 songs are included and despite being complex and theatrical prog orientated, each song features some lovely melodies and as mentioned, the music influences basically come out of a wide melting pot, which makes SYNDONE a very interesting band to check out if you want to hear music at a high level. Progfans will absolutely love them and Kama Sutra is a good way to start checking out this band. More info at: https://www.syndone.it/
(Points: 8.1 out of 10)
TAMALA 'LUMBA' (MUZIEKPUBLIQUE/XANGO MUSIC)
Out of Belgium comes TAMALA, a trio formed around Mola Sylla : vocals, kalimba, riti, hoddu, percussion, Bao Sissoko : kora, calebasse, vocals and Wouter Vandenabeele : , and they deliver their 2nd album with Lumba. Guests include Sylvie Nawasadio : vocals, Mari Kalkun : vocals, kannel, Olivier Vander Bauwede : harmonica and the Hallelujah Choir. Musically this is African based World Music, which is not that strange because 2 of the 3 members are coming out of Senegal. Especially the singer Mola has a voice that makes you immediately feel like you're somewhere in Africa. The rhythms and influences of the various other cultures of the other musicians, because Wouter and Olivier come out of Belgium, while Sylvia is from Congo and Mari is from Estonia, this mixture makes TAMALA an interesting diverse band. Right from the start of this 13 songs counting album there is this lovely African rhythmic music that makes you happy. Recommended album to anyone who likes African/World Music! More info at: https://muziekpublique.be/concerts/20211001-tamala/?lang=en
(Points: 8.3 out of 10)
BELLACIAO 'A SUD DI BELLA CIAO' (VISAGE MUSIC/XANGO MUSIC)
BELLA CIAO is the most sung Italian song abroad, a sort of hymn of freedom, of the democracy of hope. It was also the show that in 1964 - amid furious controversies - started the Italian Folk Revival, and 2 years later expanded to a musical that opened up to popular songs from southern Italy. 50 years later a group of artists (Riccardo Tesi, Elena Ledda, Lucilla Galeazzi, Alessio Lega, Nando Citarella, Maurizio Geri, Gigi Biolcati, Claudio Carboni) paid tribute by touring all over Europe and perform this show again. Now in 2021 there is a CD that makes it possible for everyone around the world to learn about the real Italian folk music. Done at an extreme high level, this album will bring a lot of emotion, both joy and tears, but always giving you that feeling you only get when you're in Italy. Fingers crossed travelling will be easier in the future and we all can enjoy the beauty of Italy again, but for now most of us need to listen to this album to capture the Mediterranean feeling of Italy. More info at: www.visagemusic.it and www.riccardotesi.com and https://www.facebook.com/Bella-Ciao-1487228168178241
(Points: 8.2 out of 10)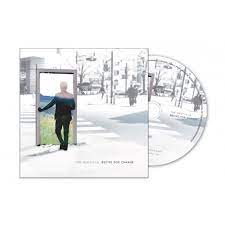 THE MENTULLS 'RECIPE FOR CHANGE' (PROGBLUES MUSIC/UK IMPORT)
Out of the UK comes the superb AOR band THE MENTULLS who deliver their 3rd album with their new one Recipe For Change. The band is formed around the brothers Andrew (Guitarist, Producer, Songwriter & Composer) and Jamie Pipe (Keyboard Player and Composer) and vocalist David Neil Crabtree, while Wayne Proctor took care of the drums and production. The band was founded in 2008, but I am not familiar with their previous 2 albums. New singer David has a superb raspy voice and the music is close to the 80s AOR/Poprocksound of VAN STEPHENSON and BRYAN ADAMS. 9 songs are included in total, of which opener Easy To Walk Away is a lovely uptempo melodic rocker with a pure 80s AOR/Poprock touch, kinda like BRYAN ADAMS here and there, but also reminding of JOEY HARRIS, GLEN BURTNIK, VAN STEPHENSON and such. Following Recipe For Change is a superb midtempo pure AOR tune with truly wonderful vocalwork, and overall it does remind me a bit of ROBERT HART and also FM/STEVE OVERLAND comes to mind. There is actually no weak song to be found here and from start to finish it's a lovely enjoyable piece of AOR/Poprock music that easily beats the formulaic Frontiers Records releases. Fans of pure AOR/80s Poprock will be most interesting to check out this sensational British band THE MENTULLS, because they come across like a mixture between BRYAN ADAMS, THE OUTFIELD and VAN STEPHENSON. The guitarwork is also very impressive, soaring like JOURNEY a lot of times, and besides the aforementioned songs, other highlights include Learning Through Living (superb AOR, even reminding of ATLANTIC/DARE), Saviour (terrific pure AOR like FM meets VAN STEPHENSON meets DARE), Smoke & Mirrors (proggy AOR like SUBSIGNAL/RPWL meets BRYAN ADAMS) and closing track Worlds Made Of Sound (which reveals even more 70s progressive rock hammond orientated influences). In the end, THE MENTULLS seem to deliver a masterpiece here with this new album that not only is a must-have for AOR fans, it also ticks some (neo) progrock boxes, so enough to enjoy here! Check out this highly recommended band a.s.a.p. at: https://www.thementulls.com/
(Points: 8.9 out of 10)
PAUL MCDONALD 'MODERN HEARTS' (VACANCY RECORDS/UK IMPORT)
Out of Nashville, Tennessee comes the extremely talented singer/songwriter PAUL MCDONALD who delivered his debut album Modern Hearts back in 2018. This album is now re-released on CD along with a few additional songs. I am glad the Scottish label VACANCY RECORDS re-released it, because we have here something quite sensational. Paul has a superb southern rock like voice, although he also reminds me a bit of ROD STEWART, while his music is close to bands like BLUEBERRY SMOKE and ROBERT JON & THE WRECK, but also JOHN COUGAR and TOM PETTY comes to mind here and there. Basically this is lovely calmer soulful southern semi-rocking music with a touch of blues and singer/songwriter. Paul is a gifted singer and highlights among the 16 included here are Opener New Lovers, Hold On (very catchy midtempo rocking piece with a 70s touch), So Much Better, Always On My Mind and closing track Bright Lights. I think one of the songs of this first album could easily give him a well-deserved breakthrough. Paul was part of several bands, competed in American Idols a decade ago, so it's time now that he's discovered worldwide. Go check him out a.s.a.p. at: http://www.thepaulmcdonald.com/
(Points: 8.8 out of 10)
RANDI TYTINGVAG TRIO 'TROSTEVISER FOR REDDE NETTER' (KIRKELIG KULTURVERKSTED/XANGO MUSIC)
Out of Norway comes the RANDI TYTINGVAG TRIO and Trosteviser For Redde Netter is their 3rd album so far. The trio is formed around singer/songwriter RANDI TYTINGVAG, DAG VAGLE (guitar, mandolin, vocals) and ERLEND E. AASLAND (guitar, banjo), with also a few guest musicians. Musically we get to hear beautiful calmer folk, with a typical melancholic Scandi touch and when doing things a bit more uptempo with a guest drummer, it sounds very strong, kinda like FIRST AID KITish melodic folk pop/rock, such as can be heard during the short Uro and Aleina. Randi has a superb voice and the fact that it's all sung in her own native Norwegian language makes it sound even more interesting. This is a high quality album that is different than the usual stuff, with also a bit of jazzy singer/songwriter music a few times like during the opener Redde Netter. The trio has an own identity and it is absolutely wonderfully sung by Randi, so this is a highly recommended feel-good album. More info at: http://www.tytingvaag.no/
(Points: 8.3 out of 10)
JUSTIN ADAMS & MAURO DURANTE 'STILL MOVING ' (PONDEROSA MUSIC RECORDS/XANGO MUSIC)
JUSTIN ADAMS is a British guitarist, vocalist, producer and composer who worked with ROBERT PLANT for many years and he was also the producer of the African band TINARIWEN. Along with CANZONIERE GRECANICO SALENTINO violinist, percussionist, drummer, vocalist MAURO DURANTE from Italy, he recorded an album titled Still Moving. The result is an interesting mixture of World Music styles, including Arabic, African, Italian Folk and British music influences, although it will probably be mostly referred to as Desert Bluesrock, especially when you listen to the first couple of songs, such as Dark Road Down and Amara Terra Mia. However, there's a lot more to explore here, because it is such an interesting melting pot, because a song like Talassa reveals clear British/Irish Folk influences, but ends in an almost post-punk direction, while still also featuring the Desert Rock approach. There's also moments of calmness to be heard during the western pop/rock of the titletrack Still Moving, while Italian Folk is notable during songs like Damme La Manu and Amara Terra Mia. All together this is a very interesting diverse album you absolutely need to check out if you want to hear something really original, and it rocks big time most of the time. More info at: https://www.facebook.com/justinadamsmaurodurante
(Points: 8.5 out of 10)
KUUNATIC 'GATE OF KLUNA' (GLITTERBEAT RECORDS/XANGO MUSIC)
This might well be one of the most interesting releases of the past few years, because it ticks all the boxes for originality. KUUNATIC are an all-female psychedelic trio from Tokyo, Japan who deliver a sound that combines ritual drumming, pulsing bass lines, atmospheric keyboard sounds and Japanese traditional instruments with the powerful vocals of the girls. The line-up of KUUNATIC is Fumie Kikuchi on keys and vocals, Yuko Araki on drums and vocals and Shoko Yoshida on bass and vocals. Together they deliver a wonderful first full-length album titled Gate Of Kluna. It's impossible to compare them to any other band, because they have an own identity that should appeal to all open-minded music fans out there. You can feel the Japanese influences in each of the 8 included songs, but there's so much more to discover here, as a song like Desert Empress part 1 and 2 reveal rock influences that could be anywhere between progrock, psychedelic pop/rock, desert rock and post-punk, so a truly fascinating part of the album. The girls bring you in a tribal trance with their hypnotic music that combines the best of all kinds of World Music genres with rock and the Japanese culture. I have listened to the album 3 times now and every time I am amazed how original it sounds! Check it out for yourself at:
https://kuunatic.bandcamp.com/album/gate-of-kl-na
(Points: 8.5 out of 10)
BONGA JEAN-BAPTISTE 'BOULA' (BUDA MUSIQUE/XANGO MUSIC)
"BONGA" JEAN-BAPTISTE is a musical virtuoso who has been performing and studying traditional Haitian drum, dance and song since the age of seven. He began playing drums in his hometown of Croix-des-Mission in La Plaine, an area of Haiti known for culture and history. Afro Haitian drumming is the name of the game here, but he also sings and along with the help of additional musicians, the resulting album is a lovely African orientated roots/world music album with tribal singing tunes from start to finish. Jean-Baptiste also performed with GRACE JONES in the past, and he opened up for the ROLLING STONES on their Voodoo Lounge tour. This is a very vibrant rhythmic album that will definitely make you move. More info at: https://www.bethanyandrufus.com/bonga-jean-baptiste
(Points: 8.0 out of 10)
BRICK BRISCOE & THE SKINNY 'I LOVE YOU SO MUCH' (INDEPENDENT/UK IMPORT)
The American musician/songwriter/filmmaker/writer/hoosier is a talented human being who delivers a new album titled I Love You So Much, which he recorded together with bassist ALLEN CLARK 3 on drums and CORY FOLZ on bass, who act as THE SKINNY here. The included music is rock and roll, sometimes bluesy and at other times drifting in a sorta JOHNNY CASH direction, while he is also not shy from some uptempo Post-Punkism. All together he delivers a nice portion of rock and roll from start to finish. Check it out for yourself at: https://brickbriscoe.bandcamp.com/album/brick-briscoe-the-skinny
(Points: 7.5 out of 10)
KIEDY WILKI ZAWYIA? 'MZYLKYPOP' (DISCUS MUSIC/NO MAN'S LAND/UK IMPORT)
The DISCUS MUSIC releases usually were very experimental instrumental complex jazz orientated, but the re-release of the 2018 album Mzylkypop of KIEDY WILKI ZWYIA? is something entirely different. It's not as Polish as you might expect with such a bandname, because the duo consists of the British musician Michael Somerset Ward on keyboards, electronics, percussion, electric and acoustic woodwinds, and Sylwia Anna Drwal on vocals and narratives. Michael started his music career in the band CLOCK DVA, while in later years he signed up for a solo career to VIRGIN RECORDS, worked with DON WAS for WAS NOT WAS and one of his songs was covered by ALISON MOYET (Weak In The Presence Of Beauty, which ended up being a massive hit). Although he did a lot afterwards, he now fully returns to the music business with this rather interesting release he did with Sylwia. Besides these 2, the other featured musicians are Simon Lewinski - guitar, keyboards, Philippe Clegg - bass guitar, Jarrod Gosling - drums, mellotron, Peter Fairclough – drums, Charlie Collins – percussion, Matthew Bourne – piano, Maartin Ornstein – tarogato, Peter Rophone - bass guitar, Beatrix Ward-Fernandez – castanets, Cath James – viola, Wolfgang Seel – vocals and Milan and Maja – voices. Musically speaking there is a lot to discover here, but I do think the progrock and ZAPPA fan will mostly be interested in checking out this album. A song like Slumber Pin is celtic influenced, and is a beautiful calmer CLANNADish piece, while for example the superb Sylwia's List draws influences from 70s psychedelic rock. There's however some really cool progressive rock to be heard a lot of times, such as during Last Train To Lublin and Red, White and Blue, while ZAPPA freakiness and 90s alternative rock meets a bit of jazz (and did I hear a sorta JAMES BOND melody during A Narky Monkey) is also part of the game sometimes. It's a melting pot of a lot of things, but thankfully it's always sounding melodic and refreshing enough to keep up the interest from start to finish. Without a doubt this is an album you need to listen to a couple of times before making up a good judgement. It is definitely one of the finest releases on the DISCUS MUSIC label so far. More info at: https://doitthissenrecords.bandcamp.com/album/dit-003-kiedy-wilki-zawyja-when-will-the-wolves-howl-mzylkypop
(Points: 8.5 out of 10)

NORBERT EGGER & NATURAL BLUES 'I AM NOT DON QUIXOTE' (AAA CULTURE/GERMAN IMPORT)
The German guitarist/vocalist NORBERT EGGER has been in the scene since 1980 and he has released quite a few albums in the past 40 years. I Am Not Don Quixote is the latest album. Along with a few guests, such as ALEX MEIK on bass and HUBERT HOFHERR on blues harp, he delivers 17 songs, which in total have a playing time of 66 minutes, so there's a lot to enjoy here. Norbert is a gifted musician and singer/songwriter, because he plays the guitar very well in a classic traditional blues style (and a bit like SEASICK STEVE), while his raw raspy voice is perfect for the songs he wrote. Except for a traditional blues cover, the other 16 songs are all self-written, and after listening to the album a few times I can inform you this is a great traditional classic blues rock record. Most of the songs are in the slowtempo range and reflect the so-called Chicago blues style, sitting in a direction of MUDDY WATERS and BB KING. Norbert does it really well and there's not a single dull moment to be found on the album. More info can be found at: http://www.cityblues.eu/de/
(Points: 8.3 out of 10)
MYTHOPOEIC MIND 'HATCHLING' (APOLLON RECORDS/NORWAY IMPORT)
MYTHOPOEIC MIND is the brainchild of STEINAR BORVE, who is the saxophone player of the Norwegian avant-rock band PANZERPAPPA. Hatchling is their 2nd album and besides Steinar on Saxophone, Electronic Wind Instrument, Keyboards, Backing Vocals, Synth, other involved musicians are Ola Mile Bruland (Fretless Bass, Double Bass, Euphonium), Lars-Jarand Bakkelund (Bassoon), Trond Gjellum (Drums, Percussion), Anders Kristian Krabberød (Electric Guitar, Acoustic Guitar), Pål Selsjord Bjørseth (Keyboards, Trumpet) and lead vocalist Veronika Hørven Jensen. Included are 5 long songs and musically speaking the album is featuring superb authentic 1970s progressive/psychedelic rock with vocals here and there, such as can be heard during the fantastic opener Fier Fiesta (JEFFERSON AIRPLANE meets YES) and the experimental Fog Vision (sounding like a cross between CLANNAD and Krautrock). However, there's also a clear focus on instrumental passages and along with some jazz/fusion influences of the SOFT MACHINE / WEATHER REPORT kind, this is a recommended album to the open-minded prog/fusion fans as well, which can be heard during the other songs. Concluded, a nice diverse album you can check out at: https://mythopoeicmind.bandcamp.com/
(Points: 8.1 out of 10)
KNUTSEN LUDVIGSEN '50 AR JUBALEUM 1970-2020 JUBALEUMSPLATE' (APOLLON RECORDS/NORWAY IMPORT)
The Norwegian duo Øystein Dolmen ("Knutsen") and Gustav Lorentzen ("Ludvigsen") were a singing duo aimed mostly at children. They had a number of #1 hits in Norway and to celebrate the 50 years they have been together a jubilee CD has been released. Sadly Lorentzen (Lidvigsen) passed away last year, but thankfully his legacy continues with this CD release. The music is likewise mostly 70s orientated, with indeed Children's Theme TV kinda material, but also some very melodic progressive rock (Dyrevise) and even a sorta punkier late 70s NINA HAGEN style is adopted during a song like Ku i Tunnelen, while here and there some weird stuff can be heard as well (Knutsens Drøm) and the album's finest song is closing track Dum og deilig, which is a catchy early 80s uptempo powerpop song with a touch of THIN LIZZY somehow. In the end, this was a diverse duo that had a lot to offer and this is ubnexpectkly a high quality album! More info at: http://www.knutsenogludvigsen.no/
(Points: 8.0 out of 10)
LA LUZ 'LA LUZ' (HARDLY ART/KONKURRENT)
The Seattle based all-female band trio LA LUZ returns with another lovely new record that continues their past sound, which is a mixture of 60s Surf Music, late 70s Melodic Powerpop and late 60s Psychedelic Pop/rock. Formed back in 2012, LA LUZ already released 3 studio-albums on the HARDLY ART label, so this marks their 4th release so far. They are formed around Shana Cleveland - guitar, lead vocals, Alice Sandahl - keyboard, backing vocals and Lena Simon - bass, backing vocals, and there's lots to explore on this lovely new album, which is the by the way self titled, and it features 12 strong songs. The material is a mixture of uptempo and midtempo pieces, with sometimes a pure 60s sound that even recalls THE MAMAS AND THE PAPPAS during a song like Watching Cartoons, although most of the songs have a great cool catchy uptempo rocking vibe that sounds like a cross between THE BANGLES, DUM DUM GIRLS and a QUINTIN TARANTINO ish Garage Rocking Surfrock soundtrack. If you're already familiar with LA LUZ, then you know what to expect, because over the past 10 years they never changed their style, which in this case is a good thing, because they have a tight steady rather catchy melancholic sound everyone loves to listen to I think. Check them out at: https://laluzband.tumblr.com/
(Points: 8.5 out of 10)
MANU DELAGO 'ENVIRON ME' (ONE LITTLE INDEPENDENT/KONKURRENT)
MANU DELAGO is an Austrian Hang player (which is a Swiss steel pan instrument) / percussionist and composer based in London. He played as a drummer in several rockbands, but isince 2003 he started focusing on the instrument hang, which eventually resulted in a lot of collaborations with other musicians, such as BJORK. He recorded quite a few solo albums as well, of which Environ Me is his latest CD release. The included music is likewise based around the hang, but is in general hi-tech instrumental electronic music orientated, somewhere between trip-hop, new age (some 80s influences during a wonderful song like Curveball), krautrock and dance music, with the focus on diverse rhythms on each and every song. It's definitely quite original and Manu is definitely a gifted hang player, while the music is also very original and sounding modern. It could also serve as background music for a documentary or movie or anything in that field. There's lots of melodies created here, which will surprise you if you're not familiar with the instrument 'the hang'. Check it out for yourself at: http://www.manudelago.com/
(Points: 8.4 out of 10)
DEERHOOF 'ACTUALLY YOU CAN' (JOYFUL NOISE RECORDINGS/KONKURRENT)
DEERHOOF comes out of San Francisco, California and their new album is titled Actually, You Can. The band was formed back in 1994 and they have already released quite a lot of music, starting as a noisy punkband, they have evolved into an experimental rockband that combines elements of noise, indiepop, dreampop and psychedelic/progrock. The band is formed around Greg Saunier – drums, vocals, Satomi Matsuzaki – vocals, bass, John Dieterich – guitar and Ed Rodríguez – guitar. The 9 songs on their new album are interesting and quite diverse musically speaking, as it is quite experimental instrumentally speaking. Vocally Satomi sings in a calmer dream pop kinda way, but especially closing track Divine Comedy is pure Progressive Rock with an almost ZAPPA ish approach. Definitely an album you need to listen to a few times before getting the picture, but people who are familiar with this band have been doing this for over 27 years now. They will be delighted to hear that Actually, You Can is another winner for them to explore in the DEERHOOF discography. Check them out at: http://www.deerhoof.net/
(Points: 8.0 out of 10)
PULL STRING PROPHET 'VULTURES' (INDEPENDENT/USA IMPORT)
Out of Elizabethtown, Pennsylvania, USA comes the one-man's band PULL STRING PROPHET. This band consists of multi-instrumentalist DON SHINER, who did everything on his own here, both instrumentally and vocally, and thankfully he is a very good singer. He also wrote all the songs besides performing, recording, mixing, producing and mastering everything on his own. The result is a great 2nd album under the moniker PULL STRING PROPHET, which musically speaking is a healthy mix of American modern rock melodies and progressive rock. 9 songs are included in total, of which the final 2 are acoustic orientated. Songs like Cloud, Automata and The Prettiest Grave rock big time, with also a focus on crystal clear melodies. Don's guitarplaying is quite impressive, and if you can deliver such a band-like record all on your own, you deserve a lot of attention as well, so let's hope people will check out this melodic modern sounding prog/hardrock album! More info at: https://pullstringprophet.bandcamp.com/album/vultures-deluxe-edition and https://soundcloud.com/pull-string-prophet and http://www.pullstringprophet.com/
(Points: 8.2 out of 10)
KEITH TIPPETT & MATTHEW BOURNE 'AEOLIAN STUDIO AND CONCERT 2019' (DISCUS MUSIC/NO MAN'S LAND/UK IMPORT)
Pianists KEITH TIPPETT and MATTHEW BOURNE played a series of 2-piano concerts, of which their 2019 performances are now released as a 2-CD set by DISCUS MUSIC. It marks the final performance of Keith, because he sadly died in 2020. What remains is this beautiful last document of recorded music of such a talented pianist, because both CDs show the incredible dynamics between the 2 pianists. It concerns songs that were performed in a studio and live at the Union Chapel in London, UK. You can easily listen from start to finish this interesting piano dual, which should appeal to any music fan, because it might sound like a classical music piece at first sight, you can discover so much more and the open-minded prog and jazz fan will certainly appreciate this beautiful piece of work of the late Keith and Matthew. More info can be found at: https://discusmusic.bandcamp.com/album/aeolian-120cd-2021
(Points: 8.2 out of 10)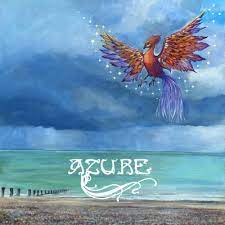 AZURE 'OF BRINE AND ANGEL'S BEAKS' (INDEPENDENT/UK IMPORT)
Out of Brighton, UK comes AZURE, a great melodic progressive metal band with a neo-classical touch (and a slight hi-tech/electronic touch here and there as well) in their huge sound. The band is formed around the fantastic singer CHRISTOPHER SAMPSON (vocals, guitar, programming), GALEN STAPLEY (guitar), BELLA LEE (bass) and SAM CALDER (drums), and after the first few minutes of their new album Or Brine And Angel's Beaks, I could easily detect an incredible band that should easily gain a lot of exposure! After a short instrumental opener titled A Night Of Superlunary Gazing, things get into sensational melodic progressive neo-classical metal with the superb Self Crucifixion, which sounds like an amazing mixture between ROBBY VALENTINE and KAMELOT. AZURE's sound is massive and vocally it's mostly in a high pitched direction, but thankfully it all sounds picture perfect for sure. The rest of the album continues this high level, with as other highlights on their strong 2nd album the uptempo The Jester Who Cheated Death (SUPERB!!!!!! An incredible tune, again like early 90s ROBBY VALENTINE meets KAMELOT), the semi-ballad Lustre (Pomprock heaven meets ROBBY VALENTINE/ELEKTRADRIVE), the AORish The Jellyfish and A Sailor Will learn (ROBBY VALENTINE meets ROYAL HUNT meets DGM). This band totally took me by surprise and I can easily give them a huge recommendation if you want to hear original melodic catchy AOR hookladen/Pop chorus/Pomp rock driven bombastic neo-classical theatrical progressive/symphonic rock/metal like the aforementioned descriptions, with here and there a modern hi-tech approach and always featuring pop melodies during the superb memorable choruses! More info at: https://azureish.bandcamp.com/album/of-brine-and-angels-beaks
(Points: 8.7 out of 10)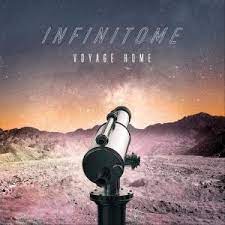 INFINITOME 'VOYAGE HOME' (INDEPENDENT/USA IMPORT)
Out of New Jersey comes DAVID HORN, a multi-instrumentalist who started this project/band INFINITOME with his twin-brother RICHARD HORN and Voyage Home is their debut album. With the exception of the opener Far Beyond Our Star, which features guest singer RINALDO MARTINEZ, the album is mainly instrumental with some spoken word. All of the drums were done by SCOTT HIGHAM and recorded at the famous Thin Ice studios in the UK by KARL GROOM of THRESHOLD. Musically speaking this is high quality progressive metal with as already mentioned a focus on the instrumental explosions by the twin-brothers, and I have to say they absolutely deliver lovely work here. David on the lead guitar, tenor sax and other instruments, while Richard is taking care of the bass and keys, so basically they have some battles to conquer together throughout the almost 74 minutes of playing time on this first INFINITOME CD. The vocals of Rinaldo are not so impressive, so let's focus on the brilliant instrumental efforts of the 2 brothers, because from the lovely Arrival onwards until the very end, it is melodic instrumental progressive rock/prog metal and symphonic rock/metal of an incredible high level. There's not a single weak moment to be found here and all I can say that every prog fan need to check out this superb instrumental album! Especially the amazing extensive titletrack Voyage Home brings you straight into extase, because this 18 minutes counting epic journey delivers the best in instrumental prog/sympho I have heard in ages! More info can be found at: http://www.infinitonme.com/ and https://infinitome.com/
(Points: 8.6 out of 10)
PENTESILEA ROAD 'PENTESILEA ROAD' (INDEPENDENT/ITALY IMPORT)
PENTESILEA ROAD is an Italian band formed around guitarist/bassist VITO F. MAINOLFI, piano/keyboardplayer EZIO DI IESO, drummer ALFONSO MOCERINO and vocalist LORENZO NOCERINO, while there are also several guest appearances, including drummer MARK ZONDER (FATES WARNING, WARLORD). This is their same titled debut album and when the lovely instrumental uptempo opener Memory Corners starts, we are delighted right away with high quality melodic progressive metal of the DGM kind. Following song Stranded introduce us lead vocals that sound quite good, but it's during the next tune Genius Loci we get to hear the real sensational melodic prog metal at it's very best, featuring a deadly catchy chorus in the best SYMPHONY X, DGM and THRESHOLD style. Spectral Regrowth is a strong massive sounding instrumental piece that would make DREAM THEATER jealous. Stains features guest singer MICHELE GUAITOLI (TEMPERANCE, VISIONS OF ATLANTIS) and his voice is simply amazing. The song itself is a lovely old-school progressive melodic metal piece in the classic late 80s/early QUEENSRYCHE style, and like any other songs also here featuring brilliant guitarwork by the amazing Vito. The instrumental Give Them Space speeds things up to a nice uptempo melodic metal affair, while the legendary RAY ALDER (FATES WARNING) sings on the beautiful midtempo melodic prog metal piece Shades Of The Night's 2nd version later on the album, but this 1st version with Lorenzo on vocals is just as good. The Psychopathology of Everyday Things is yet another beautiful instrumental piece with a nice dual between the haunting sci-fi ish keys and the melodic soaring guitar. Noble Art is another RAY ELDER featured song, and this is basically a fantastic semi-ballad with absolutely beautiful melodies during the memorable chorus. The titletrack Pentisilea Road is a great CRIMSON GLORY meets FATES WARNING ish uptempo melodic progressive heavy rocker and closing track A Tale Of Dissidence is a very good theatrical prog metal piece like CRIMSON GLORY with a touch of 80s MAIDEN. Concluded, this is a lovely highly recommended album to any progmetal fan out there. More info at: https://pentesilearoad.bandcamp.com/
(Points: 8.4 out of 10)
KARINE POLWART & DAVE MILLIGAN 'STILL AS YOUR SLEEPING' (HUDSON RECORDS/UK IMPORT)
On a sunday morning it is a pleasure to listen to the calm album by vocalist KARINE POLWART and piano player DAVE MILLIGAN. The included music is a pure Celtic/Irish/Scottish kinda traditional sounding album that sometimes remind me of SINEAD O'CONNOR, CLANNAD, SANDY DENNY and such, yet only accompanied by a piano. Karine has that typical way of singing that immediately it gives you the Irish/Scottish Folk kinda feeling, and the 10 songs on this album are therefore a must-hear for fans of such music. One of the songs features a guest singer (STEPHEN DEAZLEY), while the absolute highlight The Parting Glass has already been played by BBC RADIO. Both Scottish musicians have been making music for over a long time and you can clearly hear that on this beautiful album, which you can check out at:
https://karinepolwart.bandcamp.com/album/still-as-your-sleeping
(Points: 8.0 out of 10)
PASCAL CHEROUNY 'TREK AMOUNT: X' (SAOL/CMM GMBH/GERMAN IMPORT)
Out of Munster, Germany comes the talented multi-instrumentalist/vocalist PASCAL CHEROUNY, and he delivers his debut album with Trak Amount: X. He did a lot on his own, yet there are a few guests and Mario Salaj took care of the drum, while Peter Westen played Hammond Organ & Electric Piano. The resulting album is a nice classic rock orientated piece, with some acoustic arrangements and influences by bands like THE WHO, LED ZEPPELIN and VAN HALEN. 10 songs are included, and after the nice opener Australia, things get stronger during the lovely melodic rock chorus of the following song Cry For. This song has a light progrock structure and in general reminds me a bit of early 90s melodic rock, kinda like a mixture between WINGER, MARA, TALL STORIES, KINGDOM COME and TYKETTO. Besides prog and melodic rock influences in the classic rock sound of Pascal, we can salso trace some acoustic blues parts (especially towards the end of the album). The LED ZEPPELIN influences are very clear during a song like The Only One, but apart from the aforementioned Cry For, the other highlights on this debut album are the 70s THIN LIZZY meets URIAH HEEPish Teardrops Falling, the lovely calmer ZEPPELIN/KINGDOM COMEish Good Bye, and the bluesy THE KINKS orientated closing track Back On Your Feet. The album gets a more acoustic direction during the second part of the album, but without a doubt Pascal is a talented gifted singer/songwriter/multi-instrumentalist! Check him out at: https://pascalcherouny.bandcamp.com/album/trek-amount-x
(Points: 8.3 out of 10)
LUNATTACK AND ELEPHANT MEMORIES 'MOON KISS' (SAOL/CMM/BERTUS)
LUNATTACK is the stage name of German singer BARBARA DUTCHOW, who recorded a great debut album with the French band ELEPHANT MEMORIES. Moon Kiss is the name of their first collaboration, which features 8 songs in total. Opener This Is Moon is a catchy radio-ready electro melodic poprocker with a strong (poppy) chorus and also following Gate 38 is a great straight-ahead uptempo piece, which goes a bit more for an 80s rock direction, like PATTI SMITH doing a THE CULT cover. Strange Lover is slowing things down to a midtempo semi-prog rock direction, which also reveals DAVID BOWIE and PETER GABRIEL influences. Let Me Shine is poppier, but very melancholic and revealing 70s poprock influences, even reminding a bit of BLONDIE somehow, yet with a light proggy twist during the fantastic memorable chorus. The following songs are going for a slightly more experimental direction, like PJ HARVEY a bit, although the fantastic Anachromic Party develops into an 80s midtempo pop/rock fest a la THE PRETENDERS. Jack is even more going for that classic early 80s synth driven catchy uptempo rock direction, while closing track Orage is a calmer French sung dark melancholic 90s inspired semi-ballad with a sorta PINK FLOYD meets RADIOHEAD meets CRANBERRIES kinda vibe, although towards the end of this lengthy song it gets uptempo progrocking. Concluded, we have here an interesting female fronted diverse pop/rock album that introduces us a great new talented German singer called LUNATTACK and her strong French band ELEPHANT MEMORIES. More info at: http://lunattack.com
(Points: 8.3 out of 10)
THE MIGHTY ONE 'TORCH OF ROCK AND ROLL' (SAOL/CMM GMBH/BERTUS/THE ORCHARD/GERMAN IMPORT)
Calling your band THE MIGHTY ONE is quite spectacular and predicts a massive sounding band that should become huge someday soon. Back to reality, it concerns here a Canadian band with thankfully a high quality sound that is modern day classic rock. It sounds quite huge and has clear references to the past rock and roll sound. The titletrack Torch of Rock And Roll almost sounds like MANOWAR, while GUNS'N'ROSES meets BLACK STONE CHERRY can be heard during the strong So High. Basically THE MIGHTY ONE has the massive modern retro classic rock sound that a lot of us love. Torch of Rock And Roll is their 3rd album so far. The band is coming out of Vancouver, Canada, and is formed around Tim Steinruck - Vocals, Guitars, Gustavo Valderrama - Bass and Bob Wagner - Drums. Overall there are also clear KISS influences and it basically is a recommended album to fans of real big American Rock and Roll with a focus on huge catchy gang-vocals driven choruses and big massive guitar riffs and a real rock and roll singer, because Tim has the voice of a Rock God! There are no dull moments to be found here, and besides the previously mentioned songs, the other highlights are the uptempo Disruptor (which even has some true Metal influences, kinda like DREAM EVIL meets MYSTIC PROPHECY), the fantastic semi melodic rockballad Darker Side Of Me, and the superb semi melodic rocker Kickin' Stones (like very early SKID ROW). Interesting pure classic late 80s rock and roll with a modern edge, that's what this is all about and therefore I can easily recommend THE MIGHTY ONE! Check them out at: https://www.torchofrockandroll.com
(Points: 8.4 out of 10)
BRUNHILDE 'TO CUT A LONG STORY SHORT' (COUNT & COUNTESS/CMM/GERMAN IMPORT)
Out of Germany comes the female fronted rock/metal band BRUNHILDE, which is actually a duo formed around vocalist Caro Loy and guitarist Kurt Bauereiß, who are assisted by bassist Oliver Holzwarth (EX-BLIND GUARDIAN) and drummer Bastian Emig (VAN CANTO) on their debut album To cut a long story short. Produced by Charlie Bauerfeind (MOTORHEAD, BLIND GUARDIAN, HELLOWEEN…), the band is hyped a lot and you can clearly hear the professionalism of their first album. Caro is a great rock/metal shouter and with 14 songs in total, there is a lot to enjoy here. The music is quite aggressive raw mostly fast uptempo melodic punk metal as I would call it, like MOTORHEAD meets THE PLASMATICS, but there's also a calmer moment, such as can be heard during the lovely semi melodic rockballad All is lost, which is close to classic DORO/WARLOCK. Also the piano-ballad It's all lies shows that Caro is a great singer, so hopefully she can show that emotional side more often on a future album Most of the songs do have however a catchy chorus to sing-a-long to, such as I'm crying, When you were born and Digging ditches, but the PLASMATICS meets MOTORHEAD description nails it a lot I think, although there are also clear influences from NINA HAGEN to be heard. All mixed up you have BRUNHILDE and their strong debut album To cut a long story short. More info on them at: https://www.brunhilde.de/
(Points: 8.3 out of 10)
THE STAYLYNS 'I WAIT WHAT I WANT' (STAYLYN RECORDS/USA IMPORT)
Out of a small town between San Antonio and Austin in Texas, USA comes the band THE STAYLYNS. I discovered this band by accident when finding one of their older albums recently in a bargain bin of a record store. I got in touch with them and received quite quickly all their studio albums. The band was formed back in 2008 and they became a trio as of 2010 with 3 members sharing the lead vocals, JOHNNY AUSTIN (guitar), JOEY KRAFT (drums) and SUZY STATON (bass). Their debut Strange was released in 2014, and featured a great mixture of typical American musicstyles, such as fantastic classic female fronted AOR/Poprock a la HEART/JAIME KYLE (Strange, Be Heard, Closing The Door), male fronted southern rock (Relax Jack), Country ish rock quite a few times (Andrew), some bluesy retro rock (Just Like Me) and 90s NELSONish poprock (Going Home). It is clear we are dealing here with a high quality band that is able to write decent original songs that are sung very well by all 3 bandmembers, although my personal favorites are definitely the ones with Suzy on vocals. The 2nd album Wait It Out continues this mixture, although a bit more leaning towards classic rock/melodic rock (especially during the songs with Jonathan on vocals), with as highlights this time Wait It Out, Crossroads (90s VENICE style), You Don't Know, Say You Will (typical early 80s American Classic Rock with a Southern Rock touch, kinda like STRANGER circa 1982!) and the catchy early 90s Arena Melodic Rocker One Of A Kind (TRIXTER meets NELSON meets FIREHOUSE meets INNUENDO). Then we get to the new album I Wait What I Want, which is the band's 2021 release hat has just recently been released. Musically speaking they matured even more compared to their 2 earlier records, with as highlights the midtempo melodic rocker Friends Forever, the groovy Sumthin', the lovely arena melodic rocker Racin' To The Red Light (FIREHOUSE/NELSON style) and Good Days & Bad Days. Despite the aforementioned comparisons during a couple songs, the band definitely has an own slightly less rockier style as well on a lot of songs, so if you're an all-round rockfan and you're interested in a band that basically takes influences from a variety of classic rockstyles from the past then THE STAYLYNS is a recommended band to check out at: https://www.reverbnation.com/thestaylyns
(Points: 8.2out of 10)
AL ROSS AND THE PLANETS 'BLUE CRYSTAL' (AFR RECORDS/UK IMPORT)
A few years ago we reviewed a vinyl record of AL ROSS AND THE PLANETS, a band that was quite active in London, UK back in the early 90s, but eventually they split up for a while until they reformed in 2018. Their 2nd comeback album Blue Crystal is now released and without a doubt, this is yet another very strong album that combines elements of classic rock, melodic rock, soul, jazz and blues with memorable melodies during each and every of the 8 included songs. This time the band recorded the material in the legendary ABBEY ROAD STUDIOS, which can clearly be heard during the fantastic sound of the album. The band is formed around Al Ross (Alan Ramirez) - Lead vocals and bass, David Brammer - Saxophone, Lyndon Connah - Piano, keyboards, bass, vocals, Terry Mascall - Drums, Paul Miller - Vocals, Alex Mungo - Vocals, Julian Mungo - Acoustic guitar, Marc Rapson - Keyboards, percussion and George E. Well - Electric guitar. There are a lot of highlights be found on this new album, such as opener Crossroads, Faith (jazzy westcoast AOR a la STEELY DAN, lovely!), the titletrack Blue Crystal (a beautiful epic semi-ballad with elements of prog, classic rock and THE BEATLES), All The Things We Started (STING goes westcoast-AOR meets MARK SPIRO) and the bluesy classic rocker Checkin' Out The Vibe. Overall it has a clear 70s classic rock vibe, with a soulful touch in the vocal department, kinda like ROD STEWART and JOE COCKER here and there. Al is a great singer and his music is timeless, so let's hope more people will discover this great band at: https://www.alrossandtheplanets.com/
(Points: 8.3 out of 10)
GARRETT T CAPPS 'I LOVE SAN ANTONE' (VINYL RANCH/KLANDERMAN PROMOTION/SONIC RENDEZVOUS)
Calling your new album I Love San Antone is likewise an indication that the particular musician also comes out of that city in Texas. Usually country/honky-tonk/Americana musicians come out of Austin, but in this case it's San Antone, which he also sings during the first song I Like Austin, But I Love San Antone. It sets the record straight, because the included music is honky-tonk country rock like only the Americans can create. There's also some calmer Americana songs to be heard, but most of the 10 included songs on the 3rd album of GARRETT T CAPPS are pure American Country, with as highlights the catchy titletrack, the TOM PETTYish The Devil Inside, the calmer duet (with KATHRYN LEGENDRE) the Neon Luv Waltz and the c atchy Everybody I Know. And how about the cool Texan style cover of the JETHRO TULL classic Locomotive Breath! You can't get much closer to real Texan country/Americana than on this album! More info on Garrett at: https://garretttcapps.com/
(Points: 8.1 out of 10)
JAMES MCMURTRY 'THE HORSES AND THE HOUNDS' (NEW WEST RECORDS/KLANDERMAN PROMOTION/PIAS)
Out of Austin, Texas comes JAMES MCMURTRY, a talented musician/singer/songwriter who worked with JOHN MELLENCAMP in the past, and it was also John who co-produced his debut Too Long in the Wasteland back in 1989. Fast forward 32 years, James releases his 13th album The Horses And The Hounds on NEW WEST RECORDS. ROSS HOGARTH (OZZY, VAN HALEN, JOHN FORGERTY…) produced the album at the studio of JACKSON BROWNE in California, while guitarist DAVID GRISSOM (JOHN MELLENCAMP, DIXIE CHICKS) helped out on guitar. 10 songs are included, of which opener Canola Fields is a lovely midtempo Americana/Country-rocksong with strong melodies and thanks to James' raspy vocals and the cool guitarwork of David, it shows that the music of James has an own identity, although it's inevitable to mention JOHN MELLENCAMP as comparison. Following If It Don't Bleed rocks a bit more, and is actually close to pure Southern Rock! And the album continues this way with a nice mixture of calmer songs and a lot of great southern rockers, with as other highlights the fantastic The Horses And The Hounds, the groovy bluesy Ft. Walton Wake-Up Call, the uptempo rootsy heartland rocker What's The Matter (pure JOHN (COUGAR) MELLENCAMP style) and the semi-ballad Jackie that sounds like LYNYRD SKYNYRD meets JOHNNY CASH. James is a gifted singer/songwriter/musician who deserves much more attention and if you're into the southern side of American rock, his new album The Horses And The Hounds is a must to check out! More info at: https://www.jamesmcmurtry.com/
(Points: 8.5 out of 10)
JESSE MALIN 'SAD AND BEAUTIFUL WORLD' (WICKED COOL/KLANDERMAN PROMOTION/BERTUS)
The American musician JESSE MALIN has been in the music scene for over 40 years now. He started at a very young age (12!) in a punk/hardcore band called HEART ATTACK, joined D GENERATION in the 90s before going solo as of the early 2000s. He built up quite a reputation and played with a lot of well-known musicians, such as BRUCE SPRINGSTEEN. Sad And Beautiful World is his 9th solo album so far, and after a calmer singer/songwriter/Americana start with Geener pastures, things get uptempo and slightly rockier during the catchy uptempo pop/rocker Before You Go. The fantastic State of The Art is even more rockier, while Lost Forever takes a small step back, but is still a beautiful piece of music that is pure Americana in a classic melancholic 1970s direction. Jesse delivers once more a wonderful very diverse album that rocks here and there, but also has calmer melodic moments and a surprising sorta 60s touch as well (such as can be heard during the ROY ORBISON meets VAN MORRISONish Come On). Overall it comes across like a mix between NEIL YOUNG, DANNY VERA, CALEXICO and DRIVE BY TRUCKERS, so this is Americana meets Rootsy melodic rock at it's very best! Other highlights are the balladry Sinner, the uptempo Dance Of My Grave, the cheerful Backstabbers, the bluesy rocking the Way We Used To Roll, the strong fun late 70s JOE JACKSONish A Little Death and the catchy early 80s powerpop piece Todd Youth. A total of 17 songs should give you enough new music to enjoy of JESSE MALIN, and you can check out much more on this established talented singer/songwriter at: https://www.jessemalin.com/
(Points: 8.4 out of 10)
DRIVE BY TRUCKERS 'LIVE PLAN 9' (NEW WEST RECORDS/KLANDERMAN PROMOTION/PIAS)
The American band DRIVE BY TRUCKERS has been around for over 25 years and during this period they have built up quite a reputation. Their music is a mixture of alternative rock, country, southern rock and Americana, and both vocally And musically they remind a lot of of classic NEIL YOUNG. On July 13, 2006 the record store Plan 9 Records in Richmond, VA celebrated its 25th Anniversary of the store, and DRIVE BY TRUCKERS performed a show back then in the jam-packed store. Last year a 3-LP set of this performance was released on 2020 RSD Black Friday, and now it is also available on CD. Without a doubt, this live performance shows this is one of the great American authentic classic rock bands alive these days when hearing such lovely uptempo alto-country-southern classic rockers like Easy On Yourself, Feb. 14, Sink Hole, Marry Me (even a bit ROLLING STONES/NEW YORK DOLLSish, lovely early 70s rock and roll), The Day John Henry Died, and may more. 15 years later it still sounds fresh and rocks big time, so let's hope we can soon also witness new concerts of this band after the covid break since early 2020. This old concert is definitely a nice 'new' release for the fans, but during the 15-year gap since this performance a lot has changed and the setlist of 2006 with the 25 songs included on this CD, this has probably also changed a bit nowadays. Of course singer/songwriter JASON ISBELL left the band in 2007 and started a very successful solo career, and I really miss his melodic touch to the sound of the band, which can be heard so clearly during a southern rockballad like Outfit. Nevertheless the band moved on of course and last year released already their 13th album the New OK, which was a strong release once again, so a new tour would be very interesting. If you like typical American alternative southern/heartland rootsy rocking with those nasal American vocals a la NEIL YOUNG, then do check out DRIVE BY TRUCKERS in case you never heard of them before. More info on this release at: https://drivebytruckers.bandcamp.com/album/live-plan-9
(Points: 8.4 out of 10)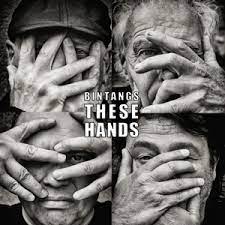 BINTANGS '60 JAAR 1961-2021' (MILLER RECORDS/KLANDERMAN PROMOTION/SONIC RENDEZVOUS)
Although the GOLDEN EARRING have always been one of the longest running bands in the Dutch rock music history, they sadly had to quit recently due to the terminal ALS disease of their guitarist. What remains is now the other Dutch rockband THE BINTANGS, who were formed in 1961 (!) and they now deliver a new studio-album that marks their 60-year anniversary since the band was formed. Original bassist/vocalist FRANK KRAAIJEVELD is still on board, but the rest of the line-up consists of other musicians compared to their line-up of 1961. Anyway, the included music is typical Classic Rock like we know it from THE BINTANGS, which is mostly straight-ahead with not too much complicated parts, so moving in the direction of similar acts like ROLLING STONES, GOLDEN EARRING and such iconic rock and roll acts. Songs like Radio Mood, Cross The Line, Go Go, Give It A Go, and Roll On, Roll On are timeless uptempo classic rock pieces that will be loved by fans of the band for sure, but also if you like the STONES and EARRING you will love this true classic rockband's new album. It's wonderful to see a band keeping up for so long, despite it's in a different line-up of course nowadays. Let's hope they can continue longer with the last remaining original member for the next few years! Check them out at: https://www.bintangs.nl/
(Points: 8.5 out of 10)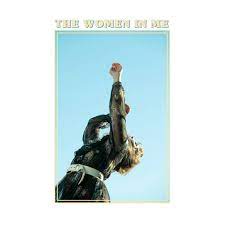 THE NORTHERN BELLE 'THE WOMEN IN ME' (DIE WITH YOUR BOOTS ON RECORDS/KLANDERMAN PROMOTION)
Out of Oslo, Norway comes the sensational THE NORTHERN BELLE, a 7-piece band that has already released 3 albums so far. Due to covid the 2020 album We Wither, We Bloom did not get much attention, which is a pity, because their new EP The Women In Me is a beautiful piece of music. The band is formed around Stine Andreassen (vocals, guitar), Ole-Andre Sjøgren (guitar, backing vocals), Bjørnar Ekse Brandseth (dobro, pedal steel, guitar, backing vocals), Johanne Flottorp (violin, backing vocals), Marie Tveiten (percussion, guitar, backing vocals), Yngve Jordalen (bass) and Svein Inge Bjørkedal (drums). The resulting new EP is filled with beautiful close-harmony melodic folk rock in the style of FIRST AID KIT, THE WEBB SISTERS, FLEETWOOD MAC, THE CORRS, THE STAVES and such. If you're a fan of such music you will be overwhelmed by the incredible high level of THE NORTHERN BELLE, with their timeless beautiful melodic music and extraordinary vocalwork. There's FLEETWOOD MAC/STEVIE NICKS' ish beautiful calmer folk balladry (Chicago), lush FIRST AID KIT orientated material (Only Stupid Kids Get Bored), uptempo sweet 70s folky poprock (Kaleidoscope Dream), a country-americana pop/rock ballad (Two Rhythms) and picture-perfect THE WEBB SISTERS orientated melodic folk-pop "close-harmonyvocal" driven songs (The Women In Me, No Rush). Closing track Summer's End shows what an incredible singer Stine is, and if this was an American band, they would probably sell millions of records by now! Fans of any of the mentioned acts need to act quickly here, because THE NORTHERN BELLE is an exceptional band from Norway! More info at: https://thenorthernbelle.bandcamp.com/
(Points: 8.7 out of 10)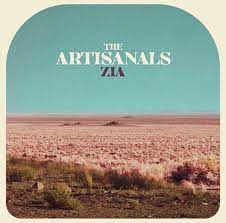 THE ARTISANALS 'ZIA' (ROCKSNOB-ROOTSY (NEW WEST RECORDS/KLANDERMAN PROMOTION/SONIC RENDEZVOUS)
Out of Charleston, South Carolina comes THE ARTISANALS, a band formed around Johnny Delaware (vocals, guitar), Clay Houle (guitar), Eric Mixon (bass) and Ian Klin (keyboards). They released their self-titled debut album in 2018 and now the follow-up Zia is released. Opener Fear To Fail grabs you right from the start, because this is an absolutely beautiful acoustic tingled Americana piece with superb vocals and sensational melodies all throughout this calmer song. DANNY VERA will be jealous I think! Although usually a rockband doesn't start their album with a calmer song, but in this case it definitely works, because Johnny is such a gifted singer/songwriter. The following song Heading Somewhere is an uptempo piece, but shows that THE ARTISANALS is not a full-blown rockband. Instead we are hearing a wonderful super-melodic laid-back, almost westcoast-ish kinda Americana pop/rockband with a clear focus on memorable melodies and they do reflect a sorta calmer heartland rocksound like a stripped THE GASLIGHT ANTHEM. They also remind me of early BEAR'S DEN, CALEXICIO, BIG STAR, FLEET FOXES, BRUCE SPRINGSTEEN, TOM PETTY, JOHN COUGAR and even YOUNG GUN SILVER FOX here and there, so it has a clear 70s approach, yet the band sounds fresh and has an own identity for sure. I think by now you will more or less understand where THE ARTISANALS is taking us with their beautiful melodic music. The jangle guitarsound in combination with the crystal clear vocals of Johnny and the catchy hooks and melodies will take you straight into a sorta trance, and basically I am a sucker for this kind of 'catchy' melodic rocking music that brings many more highlights besides the already mentioned songs, such as the uptempo Always Taken Care Of, the midtempo hypnotic psychedelic folkrocking Way Up, the wonderful YOUNG GUN SILVER FOXish Plant the Seed, the uptempo heartland rocking Violet Light (in classic BRUCE SPRINGSTEEN style) and . Basically every song of the 9 included is a winner, so check out this superb band's new album at: https://the-artisanals.bandcamp.com/album/zia
(Points: 8.9 out of 10)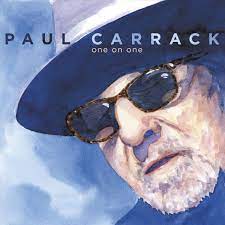 PAUL CARRACK 'ONE ON ONE' (CARRACK UK/PROPER/KLANDERMAN PROMOTION/BERTUS)
I waited a long time to finally see the legendary singer PAUL CARRACK live in concert, but just before corona it was announced he would perform in my area, so I got hold of the tickets as quickly as possible. We all know what happened next and the tour he was supposed to do was postponed several times, and now we have to wait for spring 2022 when he gives it another go. Anyway, he didn't wait much longer with his new album One On One, which has now been released. Paul is an amazing soulful singer who sang on countless classic songs in the past (with acts like ACE, MIKE & THE MECHANICS, SQUEEZE…) and of course solo he did a lot of great stuff in the past 40 years as well. In the 1980s he had several hitsingles, of which Don't Shed A Tear was one of my first vinyl singles. Musically speaking the new album is very soulful and a bit bluesy pop/rock orientated, quite sensational actually and for the fans of Paul perhaps his finest effort in the past few years. Opener Good And Ready starts uptempo soulful, while the superb midtempo groovy A Long Way To Go follows. The album offers so many beautiful songs and Paul's vocals are still amazing after all these years. If you just listen to the calmer soulful ballad You're Not Alone (SAM COOKE meets STEVE PERRY), you can hear the special voice of Paul at his very best. Personally I always put him in the STEVE OVERLAND, MICHAEL MCDONALD and KENNY LOGGINS department, and musically speaking he is also going that direction, although the Motown blue-eyed soul and 60s influences are here and there very clear, such as during the catchy uptempo Lighten Up Your Mood. Paul is not only a singer, but also a songwriter, because he wrote 9 songs all by himself and he also played almost all the instruments on his own, except for a few guest spots here and there. This makes it all even more impressive, and between the 10 includes songs we cannot find any weak moment. A song like Precious Time is basically pure 70s soulful west coast like he did with ACE back then, yet also fans of YOUNG GUN SILVER FOX will love such a song. If you like for example THE BLACK PUMAS or the last couple of DE WOLFF or THE DAWN BROTHERS albums, then you should definitely listen to a song like the terrific groovy melodic soulful When Love Is Blind. While listening to such a wonderful new album time passes by very quickly and the repeat button is easily pressed here. For some people it might not be exciting enough, because of course we have heard it in a similar style before, but Paul has such an amazing soulful voice and the songs he write are really brilliant, so he deserves a true high rating! Hopefully in 2022 we will finally see Paul return to the stage and until then check out this lovely new album he has released! More info at: https://paulcarrack.net/
(Points: 8.9 out of 10)