HOT NEW REVIEWS
MOJO TOOTH 'FIREWATER' (ECHOZONE/BOB MEDIA/GERMAN IMPORT)
MOJO TOOTH is an one-man's band from Norway formed around ROBERT AVERKIOS ANTONSEN of the Gothic rockband LIQUID GREY. In 2020 he released his debut album as MOJO TOOTH, and now 2 years later there is a follow-up entitled Firewater. He does almost everything on his own here, singing and playing guitar, bass, harmonica, keys and programming. The resulting album is a nice southern rock/bluesy dark rock album that has a slow groovy sound and smoking vocals by Robert. When things get uptempo it becomes quite sensational actually, because songs like When The River Runs Dry and Vagabond Shoes are great groovy uptempo southern rockers in the style of BLACK STONE CHERRY and BLACK CROWES. 12 songs are included, and despite the bio sheet mentions dark country, I think this album will mostly appeal to fans of bluesy southern rock, yet with a dark approach due to the smoking' raspy voice of Robert. I also loved the slower semi-bluesy rockballads Spiritual Drifter and Mississippi River that even has a sorta 70s WHITESNAKE/BAD COMPANY kinda vibe, yet with vocals that are a bit leaning towards TOM WAITS, although not that harsh. This is definitely an interesting act you want to check out at: https://mojotooth.bandcamp.com/releases
(Points: 8.1 out of 10)
THANATEROS 'ON FRAGILE WINGS' (ECHOZONE/BOB MEDIA/GERMAN IMPORT)
The German band THANATEROS has been in the music scene since the late 1990s, and On Fragile Wings is their 6th album so far. The band is formed around Ben Richter – Vocals, Maximilian Raith – Guitar, Tobias Herzfeld – Fiddle, Pit "The Cyberpiper" Vinandy - Digi-Pipes, whistles, flutes, Daniel Lechner – Bass and Simon Rippin – Drums. The music included here is melodic dark gothic/folk metal/heavy rock with mystical male vocals that might even appeal to the fans of black metal kinda vocals. The music is quite melodic and has a clear magical feeling. 12 songs are included in total, and it's nice to listen to the well-performed material of the band, with as absolute highlight the lovely catchy uptempo melodic rocker Coven Of The Drowned that even reminds me of HIM. Check them out for yourself at: http://www.thanateros.net/
(Points: 8.0 out of 10)
AYUB OGADA 'OMERA' (LONG TALE RECORDINGS/XANGO MUSIC)
The vocalist AYUB OGADA came out of Kenia, and he was a legend in the African music history, but sadly he died in 2019, so this 'new' CD of him is actually a compilation of unreleased material he recorded with several other musicians throughout the years. I believe guitarist (and other instruments) TREVOR WARREN worked a lot with him, and thanks to him he recreated and reworked original songs, recordings and demos into a full-blown tribute CD to Ayub. The resulting 2-CD set is filled with the lovely vocals of Ayub in a typical African/World Music style that sounds extremely rhythmic. I was not familiar with Ayub before, but this 'new' 2-CD is definitely a joy to listen to because it reflects that lovely African World Music we all love so much. RIP Ayub! More info at: https://ayubogada.com/omera/
(Points: 8.0 out of 10)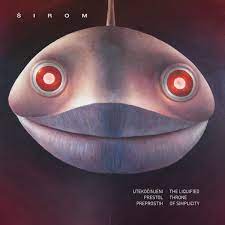 SIROM 'THE LIQUIFIED THRONE OF SIMPLICITY' (TAK: TIL/GLITTERBEAT/XANGO MUSIC)
SIROM is a very interesting Slovenian trio formed in 2015, consisting of Iztok Koren (banjo, bass drum, chimes, balafon), Ana Kravanja (violin, viola, ribab, kalimba, bendir, balafon) and Samo Kutin (ukulele, kalimba, tamburica, harps, balafon, sound objects), and the music they create is described as avant-garde jazz in the style of DON CHERRY's ORGANIC MUSIC SOCIETY and ART ENSEMBLE OF CHICAGO. The Liquified Throne Of Simplicity is their 4th album so far, and after hearing the lengthy opening song Wilted Superstition Engaged in Copulation, I was immediately impressed by the original high quality sound of the band. There are also clear Krautrock influences here, because back in the 1970s bands like TANGERINE DREAM, CAN and GROBSCHNITT created more or less the same kinda atmospheric experimental instrumental music with the use of various instruments, although the big difference here is of course the fact that SIROM uses self-made instruments and traditional instruments out of the eastern European culture. The resulting album offers in total 10 long songs that take you on a trip through the world of SIROM that is open to all kinds of unique sounds and this makes them a highly recommended band to check out if you want to hear something completely different that balances between World Music and Krautrock. Check it out for yourself at: https://sirom.bandcamp.com/album/the-liquified-throne-of-simplicity
(Points: 8.4 out of 10)
JOSH HYDE 'PARISH BLUES' (JHR RECORDS/MAC RADIO PROMO/USA IMPORT)
Guitarist/vocalist JOSH HYDE comes out of the Baton Rouge/New Orleans in Lousiana, USA, and together with drummer JAMEY BELL, keyboardplayer JIMMY WALLACE, harmonicaplayer ROCKIN JAKE, bassist SHAWN STROOPE and Percussionist DERREK PHILLIPS he recorded a great album titled Parish Blues. Musically speaking this is all original classic Mississippi/Delta Blues with a lot of soul thanks to the superb relaxing tone in Josh's voice and the subtle bluesy guitarwork of him. SONNY LANDRETH comes to mind here and there, but actually Josh has own style. He is still a youngster, although when hearing a fantastic song like I Can't Leave The Night it's like we're listening to MUDDY WATERS! Josh is doing a great job on his 3rd CD and there's not a single weak moment to be found among the 9 included songs. The absolute highlights are Might Be A Tear, Stuck In A Rut and So Sweet. Check him out at: http://www.joshhyde.com/
(Points: 8.5 out of 10)
LOVESICK DUO 'A COUNTRY MUSIC ADVENTURE' (INDEPENDENT/ITALY IMPORT)
LOVESICK DUO comes out of Bologna, Italy and consists of PAOLO ROBERTO PIANEZZA (guitar, lap steel, dobro, vocals) and FRANCESCA ALINOVI (doublebass, brush pad and vocals), and together they recorded a lovely bluegrass classic country album in the old school spirit, which is not that strange, because the 16 included songs are all (except 1 original) covers from legendary singers like HANK WILLIAMS, JOHNNY CASH, BUCK OWENS, MERLE HAGGARD, KRIS KRISTOFFERSON, WILLIE NELSON, DOLLY PARTON, etc. etc. Done very well, LOVESICK DUO will live probably get everyone's attention with their country music adventure. The album has a nice cover by the way, and for an Italian duo they do it as well as the original American performers of the songs. Their only original self-written piece Ain't No Other Place is a pretty nice tune that smells for more in the future, so hopefully next time some more original songs. Meanwhile, check them out at: https://lovesickduo.com/en/products/copia-del-a-country-music-adventure-cd-only
(Points: 8.0 out of 10)
KEVIN THE PERSIAN 'SOUTHERN DISSONANCE' (INDEPENDENT/USA IMPORT)
Out of New Orleans, Louisiana, USA comes the sensational KEVIN THE PERSIAN, which is actually a one-man's band formed around the extremely talented Kevin Thibodeaux. His debut album Southern Dissonance was recorded over several months in 2021 in a tiny room in an old industrial building in New Orleans with no access to the outside world...meaning no internet (he doesn't own a cell phone), and the goal was to go deep on each song with zero distractions for several hours at a time. The resulting album is a lovely original classic hard rock album with influences from blues, acoustic rock and melodic rock, and while listening you can truly feel there's a lot of soul in Kevin's music. Vocally Kevin sounds like a cross between JEFF SCOTT SOTO and JIMI HENDRIX, while he is also a gifted guitarplayer, but actually he did everything on his own, and still it sounds like a full rockband recorded this CD! Songs like What You Deserve, Suicide In K Minor, Persian Delta Blues, Southern Dissonance and The Regulations Of The Auxililary Cloud Hall are very strong bluesy classic melodic (hard) rock orientated pieces with also a touch of LYNYRD SKYNYRDish Southern Rock and some KING'S X similarities as well, while Rock Is Dead is quite close to FOO FIGHTERS actually, and if you like a band such as THE EAGLES OF DEATH METAL you might like KEVIN THE PERSIAN as well. Check out this talented musician at: https://kevinthepersian.bandcamp.com/album/southern-dissonance and www.kevinthepersian.com
(Points: 8.3 out of 10)
MARKEY BLUE RIC LATINA PROJECT 'JUMPIN' THE BROOM' (SOULOSOUND RECORDS/MAC RADIO PROMO/USA IMPORT)
Guitarist RIC LATINA and lead singer MARKEY BLUE have been working together for over 10 years now, and Jumpin' The Broom is their 4th album so far. Along with guest musicians RANDY COLEMAN (bass), SHANNON WICKLINE (keys), DAVE NORTHRUP (drums) and several others, they recorded a great traditional classic delta blues record in the spirit of MUDDY WATERS. The duo writes some great material together, such as bad For Real, Hanging On, Little Betty and Crying Out Loud, and these are all real must-hear songs for any blues fan. Ric is a great guitarist with a subtle precise bluesy guitarstyle, while Markey's voice suits the music perfectly. More info on this great duo can be found at: http://markeybluericlatina.com/
(Points: 8.0 out of 10)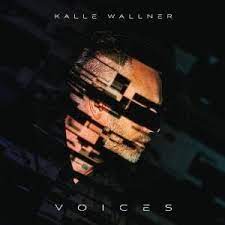 KALLE WALLNER 'VOICES' (GENTLE ART OF MUSIC/SOULFOOD/GERMAN IMPORT)
The German guitarist and founder of the fantastic progressive rockbands RPWL and BLIND EGO, as well as the label owner of GENTLE ART OF MUSIC, KALLE WALLNER delivers a fantastic new solo album titled Voices. It is a semi-instrumental album that contains 7 songs in total, and besides Kalle on guitar, bass, drums, programming, other involved musicians are drummer MARCO MINNEMANN, the superb singer ARNO MENSES (of SUBSIGNAL on 1 song), vocalist TANYC (also on 1 song) and YOGI LANG (RPWL, on keys and programming). The resulting album is a lovely adventure through a precise and super melodic progressive rockworld where soaring guitars and other melodies are the most important ingredients. The variety in tempo is also clear, because you have an uptempo rocker such as Five, calmer melodic (with vocals) prog during Four and pure Progrock bombastic heaven parts (Six and Seven, Out), so it's all there and a definite must-have for any prog, RPWL, SUBSIGNAL, PINK FLOYD fan out there! Check out more info at: https://www.kallewallner.com/
(Points: 8.7 out of 10)
ROBERT REED 'THE RINGMASTER PART ONE' (TIGERMOTH RECORDS/SOULFOOD/GERMAN IMPORT)
ROBERT REED is a Welsh multi-instrumentalist, composer and producer who co-founded progrockband MAGENTA, but left that band due to illness, and has ever since released solo-albums, of which The Ringmaster Part One is his latest album. The mixture of styles on this new CD is making it a joy to listen to, because there's a bit of everything here, with a slight focus on celtic, prog, kraut and such, and it is mostly instrumental orientated. MIKE OLDFIELD comes to mind a lot of times while listening to the 2 CDs and watching the accompanied DVD. Besides Robert on most instruments, other involved musicians are the legendary SIMON PHILLIPS / drums, Troy Donockley / various instruments, Les Penning / recorder and Tom Newman / bodhrán. The resulting album is a lovely adventure to listen to from start to finish, featuring all kinds of beautiful melodies and especially during the longest parts (The First Guardian of Everywhere, Arcadia in Ruines and The Ringmaster Part One A (Tom Newman mix) and The Ringmaster Part One B (Tom Newman mix)), we get to hear some of the most beautiful calmer instrumental prog/celtic music around these days. It takes you straight into this classic OLDFIELD/PARSONS/FLOYD 70s direction most of the time, so with the long playing time of the CDs, you will be guaranteed to have an enjoyable time while listening to this high quality album of Robert. Check out more info at: https://robertreed.bandcamp.com/album/the-ringmaster-part-one
(Points: 8.5 out of 10)
TANIDUAL 'ALIGNEMENT' (ATYPEEK DIFFUSION/CREATIVE ECLIPSE PR/GERMAN IMPORT)
Out of Toulouse, France comes producer and trumpet/keyboard player WILLIAM LAUDINAT aka TANIDUAL, who recorded a new album titled Alignement. This was done with the help of a few guests (Guillaume Pique : Trombone, Antoine Paulin : Guitar, Reno Silva Couto : Saxophone and Arthur Langlois aka L'erreür : Voice), and the result is a strong and very original instrumental (except 1 song) album that combines the rhythms of hip-hop, the synths, keys and dark passages of krautrock with the melodic soaring warm jazz sound of William on his trumpet. You don't hear such a mixture quite often, and TANIDUAL does it really well, especially during the beautiful Le Benef Part A. Highly recommended to check out if you want to hear something completely different. More info at: https://tanidual.bandcamp.com/album/alignement-2?action=buy
(Points: 8.2 out of 10)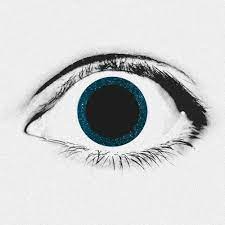 GONG WAH 'A SECOND' (TONZONEN RECORDS/SOULFOOD/CREATIVE ECLIPSE PR/GERMAN IMPORT)
GONG WAH is an exciting female fronted rockband from Germany with a very interesting new album titled A Second, which is likewise their 2nd album so far. The band is formed around Nima Davari (drums), Giso Simon (bass), guitarists Felix Will and Thorsten Dohle, and lead singer Inga Nelke. Inga has a fantastic clean voice, and although at first sight the music sounds in general quite melodic and by-the-numbers, throughout the album it becomes clear that GONG WAH has a lot more to offer actually and secretly reveals other 'darker' influences. Songs like Heartache Jean, The Well, Consolation and the big anthemic 80s KATE BUSH/LUBAish One Fine Day are great catchy melodic rocking post-punk/fuzzwave tunes like old school early BLONDIE meets experimental fuzzy shoegaze in a 90s psychedelic alternative rock jacket, while krautrock can be heard during Baby, Won't You Come Along? and pure 80s New Wave in a song such as Paint My Soul (DALBELLO meets SIOUX AND THE BANSHEES). The resulting album is a joy to listen to from start to finish, and for me personally, GONG WAH sounds like a sensational diverse and original band that can easily compete with all the British and American counterparts in the Post-Punk/Wave genre. Check them out at: https://gongwah.bandcamp.com/
(Points: 8.7 out of 10)
PEARSON-MEMMOTT CONSPIRACY 'FREEDOM, INDUSTRY AND PROVIDENCE' (SPURIOUS RECORDS/UK IMPORT)
Multi-instrumentalists Pod Pearson and Rich Memmott and drummer Dean Cousins are an outfit together called PEARSON-MEMMOT CONSPIRACY, and they are coming out of the north of England. So far they have already released a couple of albums, and their new album Freedom, Industry and Providence features a guest appearance by Internationally renowned percussionist Danny Cummings, who worked with some of the biggest acts in the world, such as GEORGE MICHAEL, ELTON JOHN, DIRE STRAITS, etc. etc. Musically speaking this is a classic 70s inspired prog/pop/rock album in the old school British style, so we have similarities to acts like 10CC, TEARS FOR FEARS, PILOT, ALAN PARSONS PROJECT, SUPERTRAMP, etc. It starts calm with the proggy Save Something From The Wreckage that does remind me a lot of the new TEARS FOR FEARS album somehow, while the uptempo poprocker Dance The Dark Away is more akin to the classic 70s British pop/rock sound. Philisophy is my favorite song for sure, because this is a somewhat light funky late 70s/early 80s L.A. westcoast-pop piece in the style of STEELY DAN, YOUNG GUN SILVER FOX and a bit of classic TOTO, so also complete with a harmonyvocal driven AORish chorus. Moving The Mountain follows in a more rockier direction, although here we can also trace World Music influences in the vocal department, and a lovely soaring guitar solo in classic prog/aor style. This Is The Life is up next, and this songs starts with a cool 70s sympho/pomp orientated synth solo (a la YES), while the song itself is a nice uptempo ASIAish melodic rocker. Closing the album is the 21 minutes counting sensational progressive rock piece The Cephalons Of Alcor, which will whet the appetite of the YES/70s GENESIS/SPOCK'S BEARD fans out there. The guitarsolo in this song is phenomenal by the way, and from start to finish this is classic prog all the way! Concluded, this new PEARSON-MEMMOT CONSPIRACY CD is a great diverse and high quality album, and for more info please go to: https://thepearsonmemmottconspiracy.bandcamp.com/album/freedom-industry-and-providence?from=hp
(Points: 8.0 out of 10)
JAMIE MICHAELS 'DEMO CDR' (DEMO CDR/USA IMPORT)
I have not much information, but the American singer/songwriter JAMIE MICHAEL sadly died, and his legacy is his music he recorded through the years. 4 songs are on the 'demo' CDR of this talented musician who is no longer with us, so we will not see any new music in the future to come. I believe some of the songs here originally appeared on a 2014 album titled Love is War. A song like War On the Streets is a superb BRUCE SPRINGSTEENish rootsy melodic rocker that should have been massive! Peaceflow shows his love for classic westcoast-aor of the late 70s/early 80s (BENNY MARDONES style), Thinking About The People has a lot of soul and finally Prisoner Of War is a nice 80s hi-tech midtempo pop/rock piece. Jamie was a fantastic singer and he could write some great songs. You can listen to Jamie's music at: https://jamiemichael.hearnow.com/ and hopefully I will get to hear some more music he recorded in the past.
(Points: 8.0 out of 10)
SOADAN 'PIEDS NUS' (TINKER LABEL/FOUDRAGE/SOCADISC/VEEVCOM.COM/FRANCE IMPORT)
SOADAN is an interesting French band that mixes influences from Gnawa music, Creole Blues, Maloya Fusion, Afro-Mandingue, Afrobeat and a bit of jazz-pop. They have already released a couple of albums, and Pieds Nus is their new release. The band consists of GREGORY AUDRAIN (vocals, guitar, bass), ARMEL GOUPIL (marimba, keys) and JEAN MARIE LEMASSON (vocals, drums, percussion), and their sound is very cheerful and definitely a guarantee for summer day sunshine and a lot of joy when they perform at a festival. They remind me a bit of the STING solo-albums of the late 80s here and there as well, especially when you hear such a lovely calmer song like L'Encre, and when guest female singer BARBARA LETOQUEX sings it sounds like a perfect cross between SAGA and a French chanson. However most of the time SOADAN has an own sound that feels a bit Caribbean meets African, and a song like Le Sel should be a guarantee for a summer hit if you ask me, because you will not get the music sound more happier sounding than this! SOADAN is a must-watch band to experience live I think, judging on the excellent material on their new album Pieds Nus. More info can be found at: www.soadan.com
(Points: 8.5 out of 10)
LES FILS CANOUCHE 'NAGORI' (VLAD PRODUCTIONS/INOUIE DISTRIBUTION/VEEVCOM.COM/FRANCE IMPORT)
In the past 12 years the French band LES FILS CANOUCHE has performed 600 concerts in Europe, and Nagori is their new album that shows their incredible original sound that captured the hearts of many people throughout the years. Their sound is a mixture of all kinds of styles, which includes Gypsy, World Music, Jazz, African Music and much more. The band consists of Xavier Margogne (founder member and guitar player), Samuel Thézé (clarinet), Maxime Perrin (accordion) and Stéphane Cozic (double bass), and along with a few guests they come up with a really strong instrumental Gypsy orientated World Music album that feels very natural and cheerful to listen to. Most of the songs are uptempo, but here and there a calmer jazzy piece slips through such as the beautiful Doce Lamentacao. All together a really nice album ro check out at: https://www.lesfilscanouche.com/accueil-eng
(Points: 8.0 out of 10)
MR. MAC 'INVISIBLE LINES' (INDEPENDENT/USA IMPORT)
Out of Honolulu, Hawaii, USA comes the classic rockband MR. MAC, which is an all-original classic early 80s sounding American melodic rock trio formed around DAN MCLAUGHLIN (guitar, vocals), LARS WALLIN (drums, vocals) and HOWE STIDGER (bass, vocals). Their new CD is titled Invisible Lines, which contains 10 tracks in total, and they really have that early 80s American catchy melodic (pop) rocksound of 40 years ago. They remind me of bands like 4 OUT OF 5 DOCTORS, CHEAP TRICK, COUCHOIS and THE ROMANTICS (especially during the powerpop piece Lookin' For You), so it is clearly as if we turned back the clock to 1981. The resulting album is a very catchy record that from start to finish is based around short sharp uptempo melodic powerpop pieces that are filled with hooks and memorable choruses in the style of aforementioned bands. Check them out at: https://www.facebook.com/mrmac808/
(Points: 8.1 out of 10)
PENGUIN CAFE 'A MATTER OF LIFE…' (ERASED TAPE RECORDS/KONKURRENT)
PENGUIN CAFÉ is a British band formed around Arthur Jeffes – piano, ukulele, harmonium, Des Murphy – ukulele, Andy Waterworth – double bass, Rebecca Waterworth – cello, Darren Berry – violin, Neil Codling – piano, ukulele, cuatro, guitar, Vincent Greene – viola, Tom Chichester-Clark – harmonium, ukulele, Cass Browne – percussion, Pete Radcliffe – percussion and Oli Langford – violin, and they have released 4 albums in the past, of which A Matter Of Life from 2011 is now re-released. The included music is described as chamber jazz, and in a way it indeed feels this way. It's an instrumental album that actually contains all kinds of influences, ranging from jazz to folk to country. The 11 mostly very calm songs feel like a soundtrack to a movie. Specifically speaking that would be a movie that is set in the 18th century or somewhere around that period. Well done job and nice to hear something completely different. If you appreciate folk and classical music, then this might also be up your alley. More info at: http://www.penguincafe.com/
(Points: 8.0 out of 10)
MY IDEA 'CRY MFER' (HARDLY ANT RECORDS/KONKURRENT)
MY IDEA is a duo out of New York, formed around Lily Konigsberg and Nate Amos (Water From Your Eyes), and their debut album is titled Cry Mfer. Musically speaking it is a mix of calmer indie pop and dreampop, with a slight 90s female fronted alternative pop/rock touch and also sometimes the modern robotic voice (which for me personally has never worked I'm afraid). TORI AMOS comes to mind here and there, but on the other hand MY IDEA has enough ideas to create their own original sound that should easily find it's way to the fans of typical modern female fronted shoegaze, dreampop and indie pop, and they are their best during the more uptempo orientated pop/rock pieces such as One Tree Hell. More info can be found at: https://soundcloud.com/myidea-music/cry-mfer
(Points: 7.4 out of 10)
ALEX CAMERON 'OXY MUSIC' (SECRETLY CANADIAN/KONKURRENT)
At first sight I thought this was a new album of ROXY MUSIC that landed on my desk, but it concerns here the 4th album Oxy Music of the Australian singer/songwriter/keyboard/pianoplayer ALEX CAMERON. He is joined by Henri Lindström – drums, percussion, Justin Nijssen – bass, guitar, vocals, Lilah Larson – guitar, vocals, Jess Parsons – piano, keyboards, vocals, Roy Molloy – saxophone, Chris Pitsiokos – saxophone, Lloyd Vines – vocals, Jason Williamson – vocals and Jackie McLean – vocals. 9 songs are included, and the Oxy Music seems like indeed referring to the sound of ROXY MUSIC, although Alex has more to offer if we have a listen to the full album. Opener Best life is a rather catchy radio-ready midtempo melodic poprocker with somehow a memory of the ELO produced TOM PETTY records of the late 80s. Sara Jo follows in a somewhat similar style, although here the 80s synthpop influences take over a bit, kinda like classic ABC, TEARS FOR FEARS, SPANDAU BALLET, etc. The keys, melodic vocals and catchy hooks take you deeper and deeper into the glorious 80s when listening to the rest of the album, which is actually a pure 80s melodic synthpop record that would have been huge 40 years ago, although of course at the moment the whole 80s revival could definitely gain a breakthrough for the talented Alex. He has a great voice and I believe he also has the personality that could bring him up to a similar DAVID BOWIE or BRYAN FERRY status someday if he's lucky enough to get the attention worldwide. He does deliver a very nice new record here, which by the way also reminds me sometimes of RUFUS WAINWRIGHT and JOHN GRANT, so I think by now you will have enough thoughts about what this album is all about! For more info please go to: https://alkcm.bandcamp.com/
(Points: 8.3 out of 10)
EMILY WELLS 'REGARDS TO THE END' (SECRETLY DISTRIBUTION/KONKURRENT)
New York based singer/songwriter multi-instrumentalist EMILY WELLS is extremely talented because she did everything on her own on her new album Regards To The End. The result is a fine diverse record that combines indie, classical music and chamber pop to an exciting own identity that sounds at best during the beautiful Love Saves The Day, which is a modern classical music piece in an indie chamber pop jacket. The use of upright bass, cello, clarinet, French horn, violin and piano gives it a dimension that might appeal to fans of TORI AMOS, KATE BUSH, ANNA CALVI and FLORENCE AND THE MACHINE. Recommended to check out if you're into those female troubadours. More info at: https://emilywells.bandcamp.com/
(Points: 8.1 out of 10)
SUKI WATERHOUSE 'I CAN'T LET GO' (SUB POP RECORDS/KONKURRENT)
I was not familiar with the English model, actress and singer SUKI WATERHOUSE and her partner ROBERT PATTINSON (one of the most influential and highest paid actors in the world!), but anyway Suki signed a deal with SUB POP RECORDS to release her debut album. Signing to that legendary label seems that Suki is not another pop princess, although the lush dream pop on her first album I Can't Let Go does reveal songs that could well take her into a superstardom direction. LANA DEL REY comes to mind quite a few times when listening to the beautiful material, and from start to finish it is a pleasure to listen to the laid-back music that also has a bit of modern echoed chamber pop influences here and there. Suki's voice is calm and collected, with a lush approach, which in combination with the somewhat dark synths gives it a cinematic kinda feeling sometimes. Suki is already quite successful as a model and actress, and now with her first album she will get attention as a singer as well!
(Points: 8.2 out of 10)
HIP CULTURE MUSIC 'HIP CULTURE MUSIC' (INDEPENDENT/CANADA IMPORT)
The HIP CULTURE MUSIC CD represents a collection of songs written and composed by Canadian musician IGNAZIO NATOLI, who invited several guest singers and musicians, and the result are 10 short well-performed songs that musically speaking is quite diverse, although contemporary pop with female vocals is clearly most hearable. A song like Magic Wand is a more uptempo based song that connects old school 70s, 80s with a modern take on disco hi-tech pop, as if DUA LIPA sings an old 70s disco pop/ABBA tune. Well done for sure, although everything does sound quite safe and polished, so it's radio-ready for sure, but some more edge and rocking tunes here and there wouldn't hurt. The musicianship and vocals of the various female singers is really impressive. Check out more info at: www.hipculturemusic.com
(Points: 7.8 out of 10)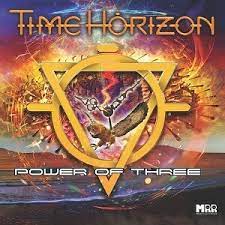 TIME HORIZON 'POWER OF THREE VINYL RECORD + CD' (MELODIC REVOLUTION RECORDS/USA IMPORT)
It took some time before the new TIME HORIZON album would see the light of day, but we are now in the year 2022, and the American band from California is making an impressive comeback with their 3rd album Power Of Three. I was fortunate enough to meet up with bandleader RALPH OTTESON (keys, piano, organ) a few years ago in Rotterdam, and he is an incredible humble and nice person who is extremely passionate about music in general, and he is also interested in all kinds of other things, so we had a great time while he stayed in Europe to visit more friends, although his main purpose was to visit SAGA live in concert! Back then he already told me about the upcoming TIME HORIZON album, and now after the long covid period we are proud to talk about this superb new album he just released. It also took some time to release it on both CD and VINYL, but eventually it all worked out really well, and so I am playing this beautiful album loud and proud on vinyl, and I must admit it sounds absolutely sensational from start to finish. Other involved musicians are guitarist DAVID MILLER, drummer BRUCE GAETKE, bassist ALLEN WHITE, guitarist MICHAEL GREGORY, lead singer DAVID BRADLEY MAU and a few guests. The album has amazing artwork, and like already mentioned, everything is sounding crystal clear and picture perfect on this new TIME HORIZON, which is definitely their finest effort so far.
Opener Living For A Better Day features the superb lead vocals of MICHAEL SADLER of SAGA, and despite some clear SAGA similarities, it is definitely sounding a bit differently, because this first song is a pure bombastic and very melodic Pomprock piece with some AOR and Progressive Rock influences, and especially the big chorus, soaring guitarsolo and majestic rich keys gives it that phenomenal classic US Pomp/Symphonic Rock sound. The thing that immediately grabs you is the huge massive sound, so Ralph did basically everything to create a masterpiece here! Following song I Hear, I See brings us the lead vocals of the band's actual singer DAVID BRADLEY MAU, and he has this very relaxed smooth voice that somehow has a Westcoast/AORish tone, and this song is a lovely beautiful laid-back semi-AOR/Prog piece with a focus on smooth melodies, kinda like TOTO and 90s ASIA a bit, although TIME HORIZON has a strong own direction on this fantastic new album, but to give it a bit of a clear description, this should go down well with the AOR/Pomp/Neo-Prog/Sympho fans out there. The Razor's Edge is up next, and after an instrumental keyboard introduction (Prelude) in the classic STYX style of the late 1970s, this song develops into a lovely massive sounding midtempo Pomprock piece that truly makes you long back to the days when STYX, KANSAS and ASIA were ruling the US charts!
Side-B of the vinyl record starts with the bass orientated instrumental Steve's Song, which is dedicated to their original bassist STEVE GOURLEY, who left the band and also his home in America to start a new life in Cambodia where he helped the poor and oppressed. Time To Wonder Why is a calmer symphonic PINK FLOYDish epic ballad, while The Great Divide is the most progressive rock orientated song on the album I think. It has YES influences, but then with a modern take, kinda like THE FLOWER KINGS and SPOCK'S BEARD. Closing the album is Digital Us, which is another pure progressive rockpiece, so side-B seems to be a bit different than the Pomprock of Side-A, which on the other hand makes it a very diverse and challenging album to listen to a lot of times. Without a doubt we have something special here, and perhaps one of the best prog/sympho/pomp albums of 2022! TIME HORIZON sounds better than ever, so my huge compliments go out to Ralph! Check out more info at: www.timehorizonmusic.com
(Points: 8.9 out of 10)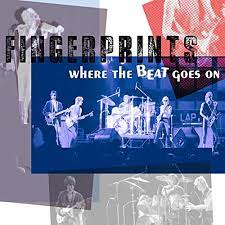 FINGERPRINTS 'WHERE THE BEAT GOES ON' (BLACKBERRY WAY RECORDS/USA IMPORT)
FINGERPRINTS was a band from the late 70s Minneapolis, USA rockscene, and they should not be confused with the 80s AOR bands of the same name. Alhough the band recorded quite a lot of songs, of which some were released on EP, vinyl single and on a local compilation record, they never managed to release an official full-length album. Despite the success in their area, the band split up eventually within a few years after their formation, which is a pity, because they definitely had a sound that could have bring them to higher places. I'll bet they are an underground cult act by now, and if one of their songs of this compilation is played somewhere in a busy recordstore, then people will be asking what is playing for sure! The band's line up consistsed of the incredible lead singer Mark Throne, bassist Steve Fjelstad, drummer Kevin Glynn and guitarists Mike Owens, Robb Henry and Jeff Waryan, and 3 of the bandmembers formed a label/studio called BLACKBERRY WAY, which became a homeplace for several well-known acts to record more material in their prime-time days, such as BLONDIE and THE REPLACEMENTS. Now more than 40 years later a CD has been released of the material FINGERPRINTS recorded in their short career. The CD contains 24 songs in total, and from start to finish it is a joy to listen to this rare band that sadly never achieved the success they should have gotten back then. One of the absolute highlights is the superb Prisoners, a very catchy original sounding uptempo melodic rocker that combines elements of powerpop, punk, pomprock, prog and aor. Also check out the sensational instrumental Boogada Bigadus, which combines all kinds of elements again, progrock with punk mainly, and also features a great soaring guitarsolo. Smiles For Sale is the perfect mix between late 70s UK Punkrock and early 70s US Glamrock (NEW YORK DOLLS), and quite some material is actually a mix of these styles, with a lot of early 80s Powerpop thrown in for good measure, and the use of the Sax a few times as guest gives it a HANOI ROCKS comparison as well. Other highlights are the rocking DAVID BOWIE influenced Illusions Of Love, the melodic uptempo powerpop masterpieces Kind Affection, Uptown, Whose Side Are You On?, I'm Wasted On You and . Towards the end of the CD it becomes a bit more Post-Punk meets DAVID BOWIE meets TALKING HEADS ish, and actually even at the same level here and there. This is a wonderful addition to your collection, and I think FINGERPRINTS is one of those bands that will be appreciated by a variety of music minded people, because they melt the best of every rockstyle in their sound. The CD is available through: https://blackberrywayrecords.com/buy-music
(Points: 8.3 out of 10)
THE APRIL FOOLS 'WONDERLAND' (BLACKBERRY WAY RECORDS/USA IMPORT)
Wonderland is the 4th studio album of the Minneapolis, USA based band THE APRIL FOOLS. This band was started as a studio project by singer/songwriter BRIAN DRAKE, who gathered musicians around him to record the music, but eventually THE APRIL FOOLS became a band that nowadays features besides Brian on vocals and guitars also BRAD MCLEMORE (vocals, guitars, harmonica), BEN KAPLAN (drums), NICK SALISBURY (bass) and TERRI OWENS (vocals, guitars, mandolin). Wonderland is a full-blown classic rock record that reminds me a bit of BLUE OYSTER CULT meets GRATEFUL DEAD and a touch of NEIL YOUNG, THE BINTANGS and HERMAN BROOD. The Last Mohican is one of the strongest songs here, because this slowtempo bluesy classic rocksong has great melodies and is dangerously close to the aforementioned BLUE OYSTER CULT. However when Terri sings we get to hear some interesting material as well, such as can be heard during the delta-bluesy Louisiana ish Crazy Boy that also features a jazzy sax/trumpet. The uptempo classic rocker No Vacation feels a bit like the old GOLDEN EARRING, so all together a nice album that is available through: https://blackberrywayrecords.com/buy-music
(Points: 7.7 out of 10)
COSMIC AMERICAN DERELICTS 'THE TWAIN SHALL MEET' (SOUNDKEEPER RECORDINGS/TENACITY/UK IMPORT)
The American band COSMIC AMERICAN DERELICTS have been around for over 24 years now, released quite a few albums, and toured with the British legend TERRY REID a few times. Anyway, their new album The Twain Shall Meet contains beautiful typical American close-harmonyvocal driven melodic folk/fiddle guitar driven southern music. The band consists nowadays of Scott Lauro- Vocals/Songwriter & Fender Tele & Strat Guitars, banjo, lap steel/bender guitar, Ed Rainey- Vocals, Lead/Slide guitar- Gibson Les Paul, Fender Tele B-bender, mandolin, Dobro and lap steel, drums/percussion, George Kapitanellis- Songwriter, Fender P/J Bass, Englehardt Double Bass and Gibson J-50 acoustic guitar, tambourine, Danny Pavas- Vocals/Songwriter, Gibson Acoustic and Fender Strat, Sotiri Karlis- on Slingerland Drums, Nick Reeb Fiddle, and Rob Clores- Piano/ Hammond B-3 Organ/Nord. The resulting new album the band created is a lovely piece of work that is as mentioned focused on strong close-harmonyvocal driven choruses like CROSBY, STILLS, NASH & YOUNG meets POCO meets THE EAGLES meets THE BAND meets THE BYRDS, yet with a strong folky touch due to the use of the fiddle, banjo and tambourine. The songs are mostly quite calm, but uplifting and sounding very melodic thanks to the superb use of lead- and harmonyvocals. Not a single weak moment to be found among the 10 included tracks that will please every fan of real original American music. More info at: https://www.cosmicamericanderelicts.com/
(Points: 8.4 out of 10)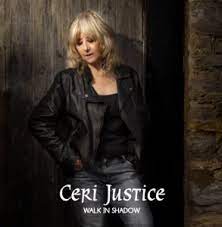 CERI JUSTICE 'WALK IN SHADOW' (INDEPENDENT/TENACITY/UK IMPORT)
Out of Birmingham, UK comes singer/songwriter CERI JUSTICE, and Walk In Shadow is her 2nd album so far. She is a gifted and talented singer, and her music is really good when listening to this new album of Ceri. It was written and recorded before, during and after the covid period, and right from the start with the fantastic opening midtempo rocking Wanted, we are hearing a passionate singer with a great full rich sound that is a bit reminding of the late 80s ALANNAH MYLES records. Producer PAUL JOHNSTON played almost all the instruments here (except for the violin that was played by MARION FLEETWOOD and DB SMITH joins on pedal steel guitar on 1 song), and the 12 included songs pass by very quickly in a good way for sure, because the material is a great mix of classic rock, blues and quite a bit of 80s melodic rock. Besides the opening cut, the other highlights are The Creek (lovely semi melodic rock/aor ballad), and the catchy uptempo STEVIE NICKS/BELINDA CARLISLEish 80s melodic rockers Now I See, You Did What You Did (pure 80s AOR bliss, with soaring guitarsolo) and the EDDIE AND THE HOT RODS cover Do Anything You Wanna Do (in a hard rocking melodic rock version like FIONA meets SUZI QUATRO), and the semi melodic (prog) rocking ballad titletrack Walk In Shadow, which is also the longest and most interesting song on the album (even reminding a bit of MOSTLY AUTUMN). Without a doubt this is a recommended album to all the fans of female fronted melodic rock/classic rock! More info at: https://soundcloud.com/cerijustice
(Points: 8.5 out of 10)
CHAS CRONK 'LIBERTY' (RENAISSANCE RECORDS/TENACITY/UK IMPORT)
STRAWBS is a legendary British rockband that was mainly active in the 1970s, although they did reform in the 2000s. One of their members is CHAS CRONK, an English composer/bassist/singer/songwriter/multi-instrumentalist who now releases his solo debut album Liberty. It was entirely written and recorded during the lockdown, with a bit of help by fellow STRAWBS guitarist DAVE LAMBERT and DAVE BAINBRIDGE of IONA/LIFESIGNS/STRAWBS fame. The resulting album is a lovely original 70s inspired classic rock/progrock album that likewise has STRAWBS similarities, and PINK FLOYD and ALAN PARSONS PROJECT also comes to mind here and there, especially during the highlights Take My Hand, Into The Light (lovely proggy piece), Slipping Downstream and Away. I really like the keyboardwork that is used, as it gives a real authentic feeling you don't hear much nowadays. Check out more at: https://renaissancerecordsus.com/chas-cronk-liberty-180g-lp/
(Points: 8.1 out of 10)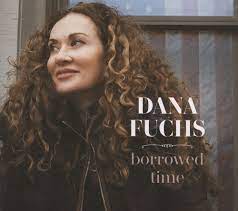 DANA FUCHS 'BORROWED TIME' (RUF RECORDS/GERMAN IMPORT)
The American singer and songwriter DANA FUCHS is one of today's finest singing ladies in the original soulful rootsy rock/southern rock style. If you're a fan of the voices of JANIS JOPLIN and TINA TURNER, then you surely must check out DANA FUCHS, who already releases now her 7th album, which is titled Borrowed Time. Dana is assisted by guitarists JON DIAMOND and KENNY TUDRICK, keyboardplayer JORDAN CHAMPION, bassist JACK DALEY and drummer TODD GLASS, and the music is a mix of Southern rock, soul, roots, and blues/rock. 12 songs are included in total, and the material is a great mix of calmer bluesy soulful ballad orientated songs and midtempo/uptempo classic southern rockers, with as highlights the uptempo rockers Hard Road, Borrowed Time, Not Another Second On You, and the beautiful bluesy ballads Nothing You own and Blue Mist Road. Dana has the voice of a soulful rock diva/goddess and I am surprised she is not yet as big as for example BETH HART. Check out her sensational new album a.s.a.p.! More info at: https://www.danafuchs.com/
(Points: 8.7 out of 10)
KENNY NEAL 'STRAIGHT FROM THE HEART' (RUF RECORDS/GERMAN IMPORT)
New Orleans, Louisiana born singer/guitarist/harmonicaplayer KENNY NEAL has been around for several decades now, and his new album is titled Straight From The Heart, on which he also invites special guests such as blues sensation CHRISTONE KINGFISH INGRAM (who co-writes and plays stinger guitar on Mount Up On The Wings Of The King), Michael's brother TITO JACKSON (on Two Timing) and two songs with ROCKIN DOPSIE JUNIOR & THE ZYDECO TWISTERS, but also Kenny's daughter Syreeta makes an appearance. However, the 11 songs are mainly situated around Kenny's characteristic vocals and subtle guitar playing. His music is rootsy Louisiana influenced Bluesrock where the music is filled up with lots of other instruments (such as sax, trumpet, accordion, Hammond) and backing vocals to give it a full rich original jazzy New Orleans bluesrock sound. Live on stage that works extremely well, putting smiles to each and everyone's face, and this new studio album also feels like a live record somehow. Kenny does a great job once again, and fans of him will easily fall in love with the new material of this talented musician. More info can be found at: https://kennyneal.net/
(Points: 8.4 out of 10)
OK WAIT 'WELL' (GOLDEN ANTENNA RECORDS/BROKEN SILENCE/CREATIVE ECLIPSE PR/GERMAN IMPORT)
OK WAIT is a new German band that is formed around the ashes of the previous band SONIC BLACK HOLES. That band consisted of guitarists Christoph Härtwig and Michael Jahn, and the rhythm section of Florian Zeh (bass) and Lutz Möllmann (drums), whom all together quite quickly started during the lockdown the new project OK WAIT. Their debut album Well is released on Golden Antenna Records, and it is musically speaking typical modern instrumental post-progressive rockstyle. 5 long songs make up 54 minutes of music in total, and right from the start until the very end we are heading into a lovely exciting journey where there is a lot of room to explore and improvise. It has a dark edge like PORCUPINE TREE or even DOOL for example, yet of course instrumentally speaking only, and likewise the instrumental edgy dark post-progrock is a must-hear for fans of LONG DISTANCE CALLING, SLEEPMAKESWAVES, TIDES FROM NEBULA, GOD IS AN ASTRONAUT, etc. etc. Doomy post-metal banging guitars are also present here and there, such as can be heard halfway the song Blow, while Time has beautiful melodies, and as mentioned before there is a lot to discover here, so fans of the instrumental post-prog/rock genre will absolutely love this CD. More info at: https://okwait.de/
(Points: 8.4 out of 10)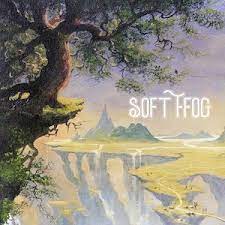 SOFT FFOG 'SOFT FFOG' (IS IT JAZZ? RECORDS/PLASTIC HEAD DISTRIBUTION/CREATIVE ECLIPSE PR/GERMAN IMPORT)
Is It Jazz? is a new sublabel of prog label KARISMA RECORDS, and it is clear that it's first release of the Norwegian band SOFT FFOG certainly is no jazz, but a true progrock affair. 4 long songs are included, and a few moments on the album do capture some jazzy rhythms in a prog jacket (like KING CRIMSON), but overall it's a pure 70s progressive rock record that is focus around groovy JIMI HENDRIX alike shredding guitarwork and cheerful rich symphonic keyboards in an almost GREG GIUFFRIA style. The band consists of guitarist TOM HASSLAN, drummer AXEL SKALSTAD, bassist TROND FRONES and keyboardplayer CHRISTIAN ENGFELT. Although guitar dominated in a groovy rhythm section during the beginning, Christian is also able to show his amazing 70s orientated keyboard skills here and there, and during the song Zangief SOFT FFOG sounds at their best, which is complex, majestic, bombastic and still melodic, so it's all present! The beautiful artwork of the release makes you already interested in buying a copy of this wonderful band's debut album. More info can be found at: https://www.facebook.com/Softffog
(Points: 8.7 out of 10)
FOOKS NIHIL 'TRANQUILITY' (UNIQUE RECORDS/THE ORCHARD/MEMBRAN/CREATIVE ECLIPSE PR/GERMAN IMPORT)
Tranquility is the 2nd album of the German band FOOKS NIHIL, and it took some time for them to record it due to the pandemic the past 2 years, but thankfully they continued and now it is released. Musically speaking they are clearly in the classic US Westcoast melodic folk/psychedelic-rock sound of the late 1960s, and they do it so well that any fan of THE BYRDS, JEFFERSON AIRPLANE, IRON BUTTERFLY, SHOCKING BLUE, mid-late 60s THE BEATLES, THE HOLLIES, etc. will instantly fall in love when hearing songs like Pictures Of You, Lovely Girl, the smooth Seasons, Mirror, Broken Love and Elaine. The band is formed around drummer Maximilian Schneider, bassist Florentin Wex and vocalist/guitarist Max Ramdohr, and from start to finish they bring us a wonderful pure laid-back American sound that makes you immediately long back to the classic days of Woodstock! More info at: https://www.facebook.com/FooksNihil/
(Points: 8.5 out of 10)
ANDERES HOLZ 'CONTINUO' (TONZONEN RECORDS/SOULFOOD/CREATIVE ECLIPSE PR/GERMAN IMPORT)
4 years after their debut album Fermate on STF RECORDS, the German band ANDERES HOLZ returns with a follow-up titled Continuo. The included music is a mix of theatrical progressive rock, a few modern metal (and even punk) riffs, krautrock, NINA HAGEN and a bit of RAMMSTEIN. It sounds quite experimental here and there, but if you're familiar with the long history of German speaking experimental music since the 1970s, then you will understand what this is all about. 10 songs are included on the new CD by this trio that is formed around DOMINIQUE M . TAGER (vocals, e-waldzither), bassist TINE TAGER (bass, theremin, voice) and drummer BORUS BOSKOVSKI, while several guest complete the sound by playing Sax, Hammond, synthesizer, etc. It takes some time to get the picture right, because ANDERES HOLZ does have a somewhat unique sound despite the aforementioned comparisons, but once you listen longer than a song like the quirky Stereo Indigo Track could even become a huge hit, because this song sounds like the perfect baby of NINA HAGEN and DAVID BOWIE! Check out more at: https://www.youtube.com/watch?v=WMypR5f6TlY
(Points: 7.7 out of 10)
NOORVIK 'HAMARTIA' (TONZONEN RECORDS/SOULFOOD/CREATIVE ECLIPSE PR/GERMAN IMPORT)
Formed back in 2016, the German band NOORVIK has already released 2 albums, and now they come up with the diverse sounding Hamartia. The music is instrumental modern post-progressive rock with clear Metal influences here and there, such as during Hybris Track. The band consists of Hennes Ernst / guitar, Johannes Schreiter / guitar, Dominik Hornung / bass and Arnd Finke / drums, and in total 8 songs can be found on this lovely instrumental release that is as earlier mentioned very diverse, ranging from very heavy parts to beautiful calmer melodic parts, so taking you into different musical worlds.a Check them out at: https://noorvik.bandcamp.com/releases and https://www.noorvik.de/band/
(Points: 8.4 out of 10)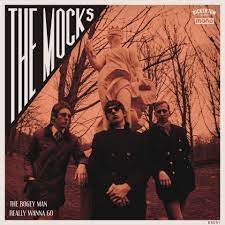 THE MOCKS 'THE BOGEY MAN VINYL 7" SINGLE' (BICKERTON RECORDS/SPAIN IMPORT)
It is incredible that this Dutch band THE MOCKS has not yet had massive exposure over here in The Netherlands, because their latest single The Bogey Man is quite clear a superb piece of classic 60s MOD/Garage Rock. We all know that during the 1960s there were a lot of Dutch garage rockbands active, and quite a few had a breakthrough, but the whole revival of the scene several times during the next few decades did not led to a big break. THE MADD was a close-call, but they become really massive when they started singing in the Dutch language. THE MOCKS however stay true to the original 60s MOD/Garage Rocksound and are reminding of the old bands from 60 years ago, such as Q65, THE MOTIONS, THE PRETTY THINGS, THE KINKS, SANDY COAST, etc. etc. 2 wonderful songs can be found on the vinyl 7" single I received and both of them are absolute winners for fans of the genre. It is a pity here in The Netherlands they did not get so much attention, because they absolutely deserve it. They recall me of the days when I spent a lot of time in the DaCapo recordstore in Utrecht back in the 1990s, because that is the sound you heard when entering that legendary store and it's late owner, who was a huge collector of rare 60s garage rock/MOD. Hopefully many more singles will follow of this fantastic original raw sounding band, and who knows Tarantino will pick them up one day for inclusion in one of his movies. In the meantime check them out at: https://www.facebook.com/WeAreTheMocks/
(Points: 8.7 out of 10)
RAMROD 'JET BLACK' (BLACK WIDOW RECORDS/ITALY IMPORT)
Out of Italy comes the interesting female fronted band RAMROD, which was formed back in 2013 by Martina Picaro (lead vocals) and her brother Marco Picaro (electric guitar, acoustic guitar, sitar, flute, backing vocals). The band further consists of Emanuele Elia (bass guitar), Adriano "Roll" Nolli (piano, organ, Moog) and Daniel Sapone (drums, percussions, backing vocals), and Jet Black is their latest album, which follows up their debut album First Fall from 2016. This 2nd CD was released just before the covid period, so it is a good time to give it a new run, because it sadly didn't receive a lot attention back in 2019, which is a pity, because RAMROD sounds like a very strong band that captures the best of the 70s rockgenres (blues rock, psychedelic rock, hard rock and progressive rock), which you can hear right from the start with the lovely rocking Don't Call me Sunshine. Martina is an excellent singer and her brother Marco is able to play the guitar in a classic RITCHIE BLACKMORE style. This combination makes RAMROD standout between the rest, because a song like Ares Call is basically pure early 70s DEEP PURPLE (Black Night style) uptempo classic rock, while the fantastic Sorrow shows clear influences from the 70s progrock genre instrumentally speaking and Martina's voice gives it a bluesy touch as well. Lion Queen is even more going into a classic heavy blues rock direction that does have some BETH HART similarities, and while listening you can also pick up a lot of soul and southern rock parts as well, so there's a lot to discover on this album. 9 songs are included in total, and there's no single weak moment to be found, with as other highlights the superb uptempo classic rocker Turning Bad and the beautiful calmer epic ballad Bluesy Soul (LED ZEPPELIN's Stairway To heaven in a HEART jacket). If you like for example SHOCKING BLUE, 1970s HEART (especially during the lovely semi rockballad Glass Of Wine), WHEN RIVERS MEET, BLUES PILLS, BETH HART and DEEP PURPLE, then you might easily want to check out RAMROD's classic 70s soulful bluesy rocksounds at: https://m.facebook.com/ramrodband
(Points: 8.4 out of 10)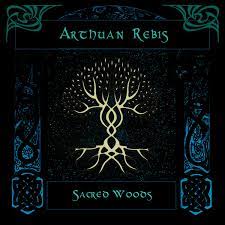 ARTHUAN REBIS 'SACRED WOODS' (BLACK WIDOW RECORDS/ITALY IMPORT)
I was completely overwhelmed when listening to the CD Sacred Woods of the Italian act ARTHUAN REBIS. I am a huge fan of bands like WARDRUNA, THE HU and OMNIA, which is music that sounds both traditional and modern, taking the best of the mediaeval folk music (usually Northern European/Celtic alike) and cultural traditional World Music in a sorta of tough modern bombastic setting (that somehow connects the prog and metal community), and to finish it off the music is performed with mostly old (and some modern) music instruments that breathe a mystical darker and calm atmospheric package like a mix between LORD OF THE RINGS and GAME OF THRONES. These kinda bands take you into this journey where you can escape the everyday chaos around us. ARTHUAN REBIS is such a band, although it's not really a band, because Alessandro Arturo Cucurnia (aka ARTHUAN REBIS) is a composer, multi-instrumentalist, harpist, writer, sound operator, international concert artist, and he did a lot on his own on his debut album, with the help of several guest musicians and singers. Quite a few years ago I also visited on a yearly basis a superb festival that was held in my hometown (Balfolk festival in Rotterdam), which was home to such music, but sadly this festival does not exist anymore, which is a pity, because Alessandro would fit right in there. Anyway, from start to finish, this CD is filled with absolutely beautiful music that will mostly appeal to fans of WARDRUNA, although ARTHUAN REBIS has a slightly different take, with really a focus around Alessandro's magical harp and his story-telling laid-back (prog ish) voice here and there. Songs like Kernunnos, Runar and Fairy dance are perfect examples of the aforementioned description, and as mentioned the progrock fans might probably also love this record, especially when you listen to a fantastic song such as Diana that almost has a sorta PETER GABRIEL/GENESIS kinda vibe. Take a chance and check out this wonderful album that will grab you with it's beautiful melodies from start to finish. More info at: https://arthuanrebis.jimdofree.com/ and https://arthuanrebis.bandcamp.com/
(Points: 8.7 out of 10)
LUNAR CLOCK 'THE SCREAM OF NATURE' (BLACK WIDOW RECORDS/ITALY IMPORT)
To my surprise the band LUNAR CLOCK comes out The Netherlands, and their debut album is a very nice calmer prog/symphonic rockalbum with a theatrical touch, sometimes reminding a lot of KAYAK and TWELFTH NIGHT here and there. Not bad at all actually and quite interesting that I had not seen the bandname popping up the past few years. They consist of Robin Boer - keyboards, lead vocals, Shardan Stream - guitars, samples, vocals, Karsten van Straten - drums, percussions and Thefar Side - bass guitars, and their first official album The Scream Of Nature is inspired by the painted works of Norwegian painter Edvard Munch. As mentioned the style is very much reminding of the classic 70s symphonic rock genre, and in particular I heard KAYAK similarities. They have done a great job here, and anyone into KAYAK, CAMEL, TWELFTH NIGHT and that sorta classic 70s (inspired) British/Dutch Sympho rock will love LUNAR CLOCK. More info at: https://lunarclock.bandcamp.com/album/the-scream-of-nature
(Points: 8.0 out of 10)
MORTIIS / IL SEGNO DEL COMANDO / FREDDY DELIRIO AND THE PHANTOMS 'VARIOUS RECORDINGS' (BLACK WIDOW RECORDS/ITALY IMPORT)
This concerns a compilation CD of 3 different bands that each have several songs included. 3 Italian bands with a wide diversity in style musically speaking, and some of the songs were actually created almost 25 years ago, which is the case with the 4 featured demo songs of MORTIIS. The music of MORTIIS is synth dominated dark theatrical gothic electro pop/rock that even has 80s DEPECHE MODE influences, yet perhaps more akin to the dark underground occult synth gothic sounds of the 90s because it sounds less commercial and also slightly Industrial orientated. IL SEGNO DEL COMMANO is a different piece of cake, because this band is playing uptempo neo-progrock in a clear 80s direction, with a mix of symphonic keys and neo-classical soaring 80s melodic rocking guitarwork, and vocals on 1 of the 2 featured songs. Finally FREDDY DELIRIO AND THE PHANTOMS is a dark metal orientated band that sounds like a mix between ROUGH SILK and OZZY. Nice mixture of styles and for more info please go to: https://blackwidow.it/
(Points: 7.5 out of 10)
G.O.L.E.M. 'GRAVITATIONAL OBJECTS OF LIGHT, ENERGY AND MYSTICISM' (BLACK WIDOW RECORDS/ITALY IMPORT)
The Italian band WICKED MINDS started in the early 2000s, but after 15 years the band changed it's name and line-up, and they are now making their debut as G.O.L.E.M. The music of this new band is a mix of 70s psychedelic rock, hammonds/synths/organ sounds, classic rock and a touch of prog/krautrock. The band is led by organist Paolo Apollo Negri, while the other members are Emil Quattrini (electric pianos and Mellotron), Francesco Lupi (drums), Marco Zammati (bass) and Marco Vincini (lead vocals), and when listening to the material on their debut album Gravitational Objects of Light, Energy and Mysticism, it's like we stepped back in time to the year 1970, and bands like DEEP PURPLE and URIAH HEEP started to breakthrough. The music is as already mentioned Hammond/organ dominated, with classic rocking guitars and a real good vibe of the retro sound of the glorious past. Vocally Marco is not as good as IAN GILLAN or DAVID BYRON I'm afraid (although during the calmer pieces such as The Man From The Emerald Mine and Marble Eyes, he sounds quite ok), but thankfully instrumentally G.O.L.E.M. is definitely sounding excellent. There are some amazing 70s Hammond/organ/synth sounds to be found and any fan of the classic sound of DEEP PURPLE and URIAH HEEP, with a focus on classical music inspired classic rock with a prog touch (there's a bit of early GENESIS to be found for sure), this is a much-recommended album to check out at: https://golemxenonoise.bandcamp.com/releases
(Points: 7.8 out of 10)
VANEXA 'THE LAST IN BLACK' (BLACK WIDOW RECORDS/ITALY IMPORT)
The legendary band VANEXA is considered to be one of the first Italian Metalbands. They were formed back in 1978 and released 3 albums before they split up in 1995. Eventually they reformed in 2009 and released new albums, and The Last In Black is their latest album, which was released in 2021. The included music is great typical classic 80s melodic heavy metal in the good old fashioned style of MAIDEN, PRIEST and such, yet with an own identity for sure. The band consists nowadays of Sergio Pagnacco (Bass), Silvano Bottari (Drums), Artan Selishta (Electric Guitar), Pier Gonella (Electric Guitar) and Andrea Ranfagni (Lead Vocals), and both instrumentally and vocally everything sounds quite perfect. Andrea is a great singer with a characteristic voice that can be heard very clearly during an epic piece such as Earthquake that starts calmer, but develops into a lovely 80s MAIDEN/DIOish melodic metal piece. 11 songs are included in total, and there are not many weak moments to be found. Fans of the classic metal sound will definitely like this album a lot. From the original line up only the rhythm section is left, so actually in 2021 VANEXA should be considered a different kinda band, yet they do capture the classic sound very well. One of the absolute highlights is the superb uptempo No Salvation, which is a very melodic song, but as mentioned any song will appeal to fans of classic 80s melodic metal. Check out more info at: http://www.vanexa.org/hm/
(Points: 8.4 out of 10)
ZONE M 'SONO DENTRO DI ME' (BLACK WIDOW RECORDS/ITALY IMPORT)
I don't have much information on the Italian band (or project) ZONE M, but their new album Sono Dentro Di me is a superb piece of classic melodic progressive rock with strong musicianship and lovely vocalwork (not on all songs due to the use of various singers), just the way it needs to sound. The songs are sung in the Italian language and after listening to the album I can honestly say they are as good as classic Italo progbands such as LE ORME, PGM and such. The production is top-notch and modern, while the songs are very melodic and proggy most of the time, with as absolute highlights Arkham, Peshtigo and Bestia (Part 4). There are some experimental moves here and there, but the progfans will definitely enjoy this one! More info can be found at: https://www.facebook.com/ZoneM.SonoDentroDiMe/
(Points: 8.4 out of 10)
ANNO MUNDI 'LAND OF LEGENDS' (BLACK WIDOW RECORDS/ITALY IMPORT)
Land Of Legends is the 4th album of the Italian band ANNO MUNDI, which musically creates melodic progressive rock/metal with influences from the classic doom and prog of the classic 70s era, but also with a modern take in a way that they remind me a bit of PSYCHOTIC WALTZ while listening to the opening song Twisted World's End. The guitarwork is phenomenal, although vocally the high-pitched voice of Federico Giuntoli is not always sounding perfect. The other members of the band are Mattia Liberati on Keys, Flavio Gonnellini on Bass and Renato Gasparini on guitar, and besides the 5 long songs on Land Of Legends, we can also listen to 6 additional bonustracks taken from another album of them titled Rock In A Danger Zone. I personally prefer the band's keyboard-led 70s prog/symphonic songs like the 15 minutes counting Hyberborea that starts a bit CAMELish, but develops into a psychedelic doom ish heavy rock song that reveals likewise the BLACK SABBATH influences. Enough diversity going on here and ANNO MUNDI is definitely a band you want to check out if you're interested in something just a bit different than the usual cup of tea in the world of progrock, because they combine it with classic 70s doom metal riffs and a modern touch of prog metal. More info at: https://www.reverbnation.com/annomundi
(Points: 8.1 out of 10)
OLD BRIDGE 'BLESS THE HELL' (BLACK WIDOW RECORDS/ITALY IMPORT)
Released just before covid took over the world, the Italian female fronted band OLD BRIDGE's debut album Bless The Hell never got the attention it should have received 2+ years ago. The band is formed around Silvia Agnoloni: voice and choirs, Damiano Porciani: solo guitar, Alessandro Berchicci Soave: rhythmic guitar, Shinobi Seiryu (Antonio Maranghi): bass and Nico Cempini: drums, and they create a strong massive traditional Melodic Metal sound on their debut CD. They were formed in 2012, and they are proud to be from the ancient city of Florence, which you can see in the bandname, the beautiful artwork of their album and also in the lyrics of their songs. I have to admit that they sounds pretty good actually, with a few very strong uptempo classic Melodic Metal pieces such as the catchy The Time Of Dream, Salvation, Rage In Paradise (which also contains some interesting original Gothic/Ancient Italian influences), Game Over and My Best Day (lovely guitarsolo). Definitely a band that will be loved by fans of classic WARLOCK, SHOW-YA, DORO and such. More info at: https://www.oldbridgeofficial.com/
(Points: 8.2 out of 10)
ANDREA MOTIS 'LOOP HOLES' (JAZZ TO JAZZ/XANGO MUSIC)
Loop Holes is the new album of the talented Spanish singer/songwriter/sax/trumpetplayer ANDREA MOTIS. She creates a healthy and smooth mix of jazz, funk, neo-soul, pop and a bit of westcoast musically speaking, while vocally she sings Catalan, her mother tongue, as well as in Spanish, Portuguese, English, and German, and the 12 included songs on this new album feel like a warm summer breeze. Andrea has a wonderful relaxing voice, and her sax and trumpet playing is exceptionally strong. Melodies are all over the place, and thanks to the assistance of the musicians Christoph Mallinger, guitar, mandoline, violin; Magalí Datzira, bass; Adrià González, keyboard; and Juan Berbín, drums, this is definitely a highly recommended piece. The material is diverse enough to keep everyone interested, with the variety in tempo, sometimes more uptempo and poppy (I Had To Write A Song For You) and at other times groovy, jazzy (Heat) and a bit more experimental (Loopholes) or bluesy (Babies). There are not many weak moments to be found and overall this feels like a great laid-back jazzy/soulful adventure in a Mediterranean setting. More info at: https://andreamotis.com/
(Points: 8.3 out of 10)
STARTIJENN 'TALM UR GALON' (PAKER PROD/XANGO MUSIC)
Out of Bretagne, France comes STARTIJENN, a mostly instrumental based band that has a typical Celtic sound, with likewise reveals a lot of Irish/Scottish kinda influences, yet here and there the few modern French rapping gives it a complete different twist. Personally I would prefer the instrumental side of the band, because that sounds really good thanks to the 5 members Julien Stevenin (Bass guitar), Kaou Gwenn (Percussions), Konogan an Habask (Biniou, bombard, uilleann-pipes), Tangi Le Gall-Carré (Button accordion), Tangi Oillo (Guitar) and Youn Roue (Bombards). Without a doubt, this is one of those bands you need to catch live to really capture the vibe of their swinging sound that combines the best of classic Celtic Music with a touch of modern music. Nevertheless, this 5th studio album Talm Ur Galon is already a good taste of their sound. More info at: https://www.startijenn.bzh/
(Points: 8.1 out of 10)
LYNN ADIB AND MARC BURONFOSSE 'NEARNESS' (ARTS CULTURE EUROPE/INOUIE DISTRIBUTION/VEEV.COM/FRANCE IMPORT)
The duo LYNN ADIB (vocals) and MARC BURONFOSSE (bass guitar) started making music together on the beautiful Greek Island of Paros in the middle of the corona pandemic. The result can now be heard on their debut album Nearness. Along with a few guests the included music breathes the atmosphere of the Greek Islands, although you can also trace some Middle Eastern influences here and there, which is not that strange, since the songs are sung in Arabic, Syriac and Greek, and actually besides the fact that this is a true World Music album, there are also covers of JONI MITCHELL and RADIOHEAD, and there are 2 jazz standards included. Jazz is by the way the main ingredient, but like many other really interesting jazz albums, this CD is also jam-packed with other traditional music influences from the country where Lynn was born (Syria), now lives (France) and where she recorded this album (Greece). More info can be found at: https://m.facebook.com/lynnadibmusic
(Points: 7.9 out of 10)
MAHER BEAUROY 'INSULA' (TROPIQUES ATRIUM/BACO DISTRIB/VEEV.COM/FRANCE IMPORT)
Out of Martinique comes the talented pianist, composer, performed MAHER BEAUROY who delivers his 2nd album with Insula. Along with a whole list of other musicians he recorded this album, and due to the involvement of guest musicians whom play the oud, flute, violin, contrabass, etc., the result is a diverse album that explores the immense amount of available World Music, although from scratch Maher delivers instrumental piano-orientated jazz, but it is packed in a so-to-speak World Music jacket. The further involvement of the voice of FLORENCE BAUDIN gives it another dimension that will impress each and everyone when hearing a fantastic song such as the titletrack Insula, which captures the essence of Maher's sound entirely. This is definitely a highly recommended diverse modern jazz meets world music orientated album, and for more info please go to: https://www.maherbeauroy.com/
(Points: 8.4 out of 10)
THE NORTH STAR BAND 'THEN & NOW' (INDEPENDENT/HEMIFRAN/SWEDEN IMPORT)
THE NORTH STAR BAND was an American classic countryrockband that existed for 6 years, between 1976 and 1982. At a time when rock went into a complete different direction and country was not popular among the youth anymore, THE NORTH STAR BAND continued to create pure country-rock. Similar bands such as POCO and ALABAMA eventually changed their style to a rockier format, but THE NORTH STAR BAND kept on going playing country-rock. They managed to release 2 albums, and they were working on their 3rd album in 1982 until they decided to quit. 40 years later they reunited for a concert in Alexandria, Virginia, and as a result they have now released a 2-CD set that contains the 3rd unreleased album (Then) as well as new material (Now). The band nowadays consists of all the original members, Al Johnson (vocals, Acoustic Guitar), Jim Robeson (Bass), Jay Jessup (Pedal Steel Guitar, Resonator Guitar), Paul Goldstein (Drums) and Louis Hager (vocals, Piano), plus a few new members. The 20 songs on these 2 CDs are a dream come true if you like classic country-rock in the style of the old POCO, BLACKHAWK, FIREFALL and ALABAMA. The older material has got that early 80s radio/US Poprock touch, in a way we also heard on albums by JUICE NEWTON back then, yet of course with male vocals. I must admit that it sounds really good, and despite not being a huge fan of country, THE NORTH STAR BAND are doing it just a bit more interesting with a lot of diversity actually when hearing an uptempo groovy light southern country rock piece such as Emergency. If you would imagine some more electric guitar, then this band could qualify as a Southern Rockband like LYNYRD SKYNYRD or DOC HOLLIDAY. The uptempo country rockers such as Lonesome Loners, Still believing and Smoke Horizon are very strong pieces and a pleasure to listen to. The new material is also pure country, but with a modern approach likewise, kinda like the country crossover pop/rock of the past 25 years, and there are some great songs to be heard such as the midtempo Climb That Wall (ROY ORBISON meets 90s 38 SPECIAL meets BLACKHAWK), Marianne (midtempo light AOR/Poprock touch, even a bit JIM PETERIKish) and the uptempo country rockers Yes I Do and Goose Creek. Nice comeback from a band that was out of the picture for 40 years, and they are definitely a must-have if you're into any of the mentioned bands. More info at: https://www.thenorthstarband.com/
(Points: 8.3 out of 10)
SISTER SPEAK 'LOVE FOR ALL' (RESON NATION/HEMIFRAN/SWEDEN IMPORT)
SISTER SPEAK is an interesting Canadian band formed around vocalist SHERRI ANNE, bassist JACOB MIRANDA JR., guitarist SARVEN MANQUIAT, drummer STEPHEN HAAKER and keyboardplayer AARON DURR. Their album Love For All contains Americana at first sight, but there's definitely more influences, because a song like Lose Control is very edgy, as it has a modern pop/rock touch during the catchy melodic chorus and guest raps by THE BROTHERS BURNS. 12 songs are included in total, and during the calmer songs SISTER SPEAK is deeply getting into the classic Americana sound, but as mentioned when they turn up the volume and speed, they offer a groovy melodic 90s alternative pop/rock sound here and there, with as absolute highlight the lovely strong uptempo rocker One Good Friend (even reminding a bit of ANOUK!), and a semi rockballad such as Stronger might even appeal to the regular melodic rockfans out there. Not bad at all, and for more info please go to: http://www.sisterspeakmusic.com/
(Points: 8.1 out of 10)
LUNAU & SUND 'TIDEN' (GATEWAY MUSIC/HEMIFRAN/SWEDEN IMPORT)
Out of Denmark comes LUNAU & SUND, a duo formed around singer/songwriters PETER SUND and TRINE LUNAU. Musically speaking it is calmer singer/songwriter pop music with a folky touch and I have to say that I prefer it when Trine is singing in her high pitched octave. 6 songs are included and here and there it is quite beautiful what we get to hear. Recommended to check out if you like Scandinavian sung singer/songwriter pop, and thanks to the involvement of additional musicians Palle Hjorth on piano, organ and synthesizers, Peter Dombernowsky on drums, Morten Jørgensen on bass, trumpet player Torben Sminge and trombone player Andy Jarosinski, it has a 'band' kinda sound that has it's highlight during the catchy uptempo closing track Scenelys. More info at: https://www.hemifran.com/news/detail/u/860/Lunau%20&%20Sund/Tiden/
(Points: 7.8 out of 10)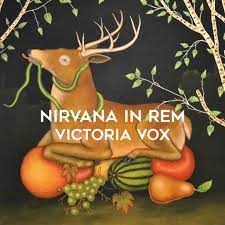 VICTORIA VOX 'NIRVANA IN REM' (OBUS MUSIC/HEMIFRAN/SWEDEN IMPORT)
The American singer/songwriter/ukulele player VICTORIA VOX (real name Victoria Davitt) has been in the music business since the late 1990s and Nirvana In Rem is her new album. It is inspired by the art of Fred Stonehouse, and musically speaking it is filled with beautiful melodic pop music that is radio-ready if you ask me. The songs are calm and built around melodies that remind me a bit of the THE WEBB SISTERS, THE STAVES and FIRST AID KIT, so with a folky touch and close-harmonyvocals. 10 songs are included and from start to finish it is a pleasure to listen to the beautiful melodic music of Victoria. Her voice is angelic and breathtaking, and if I have to pick favorite songs I would mention Clean, Easy Money, Echo Of Luck, Color Of Lying and closing track Floating On Fruit. Concluded, Victoria delivers once again a wonderful album that is filled with all these beautiful melodies in a way that it also reminds me a bit of the old MADONNA hits, yet then packed in a typical modern lush dreampop meets folk kinda direction. She deserves to become much bigger and let's hope this new album will give her at least some airplay with one of the songs. Check out more at: https://www.victoriavox.com/
(Points: 8.7 out of 10)
THE ODD BIRDS 'TREMOLO HEART' (INDEPENDENT/HEMIFRAN/SWEDEN IMPORT)
Tremolo Heart is the debut album of THE ODD BIRDS, a duo from California playing a mix of Americana/country/folk music. The duo consist of RON GRIGSBY (guitars, vocals, harmonica, keys) and JENNIFER MORACA (vocals, guitars), and along with the help of drummer MATT FROEHLICH and a few other musicians, they recorded this album. Musically speaking it is typical American based, so it is mainly acoustic calm folk/country driven and doesn't sound bad at all actually. Fans of let's say HANK WILLIAMS, CROSBY, STILLS, NASH & YOUNG and such will also like this album, as it mixes the country with singer/songwriter folk on most of the songs, and the combination of male and female vocals gives it a nice different approach. More info at: https://theoddbirds.com/
(Points: 7.7 out of 10)
MICHAEL JOHNATHON 'AFTERBURN – FOLK AT ARENA LEVEL' (INDEPENDENT/HEMIFRAN/SWEDEN IMPORT)
The idea that folk music is only played by musicians in a local coffee bar with an acoustic guitar seems to fade away when reading the title of the new CD of MICHAEL JOHNATHON. He clearly proves that folk music is much more than that and as soon as opener Techno-Folk is playing through the speakers we are hearing Celtic/Folkmusic in an Arena Rock jacket! This first song is sounding massive with it's big bombastic drums, huge synths, soaring guitars and an anthemic chorus, it could well become a huge hit if you ask me. In fact, back in the 1980s this would have become a huge hit. It has a bit of a BIG COUNTRY kinda feeling, and I must say that Michael is doing things entirely different here, because he is after all a folk singer/songwriter! 11 songs are on the album, and despite not all songs are following this route, the album is filled with great folk rocking tunes that in the end could best be compared to JOHN FOGERTY, TOM PETTY, JOHN COUGAR, BRUCE SPRINGSTEEN, JACKSON BROWNE and such, especially during great uptempo pieces such as America. Done very well, this is a recommended folk rocking album that is focused on melodies and the raspy voice of Michael, yet combined with most of the time a rather full rich sound instead of a man and his acoustic guitar like it is usually the case with folk singer/songwriters. More info at: www.MichaelJohnathon.com
(Points: 8.0 out of 10)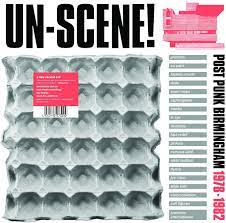 VARIOUS ARTISTS 'UN-SCENE! POST PUNK BIRMINGHAM 1978-1982' (EASY ACTION RECORDS/UK IMPORT)
Although the sound quality is not always sounding crystal clear (only during a few songs), the result of this fine compilation CD gives a clear overview of the post-punk scene in Birmingham around the late 1970s/early 80s. 19 songs are included here by 19 different bands, and they all had their own sound and/or image. Some sounded a bit more radio friendly than others, such as the powerpop orientated FASHION MUSIC that opens the CD with the catchy song We're The Fashion, while a band like THE PREFECTS is as pure dark Post-Punk as you can get, reminding a bit of THE SOUNDS meets BAUHAUS meets DEAD KENNEDYS. There are some familiar bands, such as NIKKI SUDDEN, AU PAIRS, and a band like DADA even featured the later DURAN DURAN guitarist JOHN TAYLOR, but likewise here he was a real punkrocker. The CD was compiled by Birmingham Musician and Designer Dave Twist, who by the way was the drummer in DADA. Less straight-forward and a bit more developed than the Punk years that were ahead of this new scene, Post-Punk became a real underground movement that has now gone into a revival the past few years. All of these bands could easily perform on the LEFT OF THE DIAL festival in Rotterdam, so in a way this compilation CD should appeal to fans of that festival and it's Post-Punk sounds, yet they were all created 40-45 years ago. As already mentioned, the bands sound very diverse, because a band like TV EYE has a more 80s Indie Britpop orientated sound that reminds me of THE SMITHS, although that band was not even formed back then! Other highlights are underground Post-Punk classic tunes by THE DENIZENS (Ammonia Subway is a superb song), THE HAWKS, THE NERVOUS KIND (Five To Monday is a very melodic song, THE SMITHSish again, and sadly the band's only available song), THE NIGHTINGALES (awesome band that released many albums) and AU PAIRS. Most of the songs were unreleased up until now, so a fan of this genre will absolutely love to check out the steaming legendary Post-Punk scene from Birmingham of 40+ years ago! Must-have for sure and let's hope in the future we will also see more of such local compilation albums, because they represent a period in time when so many good bands appeared in a town and a lot never got the attention they should have gotten. The CD, with it's extensive liner notes and exclusive pictures, it is available through: www.easyaction.co.uk
(Points: 8.5 out of 10)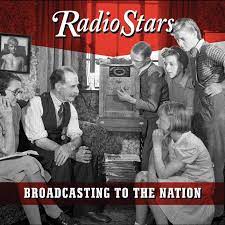 RADIO STARS 'BROADCASTING TO THE NATION' (EASY ACTION RECORDS/UK IMPORT)
RADIO STARS were a short-lived UK band that managed to release 2 albums and record a 3rd which remained unreleased up until now. The band had some hitsingles in the UK I believe, and only existed between 1977 and 1979, yet they are definitely remembered by many music fans. Broadcasting To The Nation was recently released, and this CD contains unreleased material recorded during the final days as a band back in 1979. Although they are labelled as a New Wave band, it all sounds much rockier on this CD. The band was formed around Andy Ellison – vocals (JET); Ian MacLeod - guitar and backing vocals; Chris Townson – drums (THE WHO, JET); and Martin Gordon – bass, keyboards (JET, SPARKS, he played the famous bass line on their classic tune "This Town Ain't Big Enough for the Both of Us"). The CD starts with the catchy uptempo melodic powerpop rocker Back In Your Town. Accident follows in a similar style, and although they looked very punky, the music was closer to melodic rock with a punky powerpop attitude, such is also the case with the extremely melodic radiofriendly Let's Play Dirty, and most of the other included songs, of which the highlights are Wall Of Death, Scare Me To Death, Back In Your Town Again and Jumping (even a bit like the very first LOVERBOY!). In total 18 songs are included, of which the first 10 studio songs would have become their 3rd album back then, as well as 8 songs that were recorded live in the same year 1979. The sound quality is really good (even the soundboard alike live recordings!), and it has that typical melodic powerpop/rock sound of the late 70s/early 80s, even reminding me a bit of the American radiorock sound of a band like 4 OUT OF 5 DOCTORS, 20/20, the guitarwork/guitarsolo's are also pretty good, while Andy's voice sounded very strong. Definitely a must-have if you like that catchy no-nonsense uptempo melodic powerpop/melodic rocksound of 40+ years ago. The CD is available through: www.easyaction.co.uk
(Points: 8.6 out of 10)
HANTERHIR 'THERE IS NO ONE TO TRUST' (EASY ACTION RECORDS/UK IMPORT)
Out of the beautiful area of Cornwall in the UK comes HANTERHIR, a band formed in 2007, and There Is No One To Trust is their 5th full-length album so far. They play their own brand of typical British pop/rock that is a mix of spacerock, indie, britpop, post-punk, psych and folk, sounding very melodic and actually quite radio-ready when listening to superb songs like Don't Go and Hollow. The 7-piece band is formed around singer, guitarist, and songwriter BEN HARRIS, and their sound combines a bit of the best of the British bands from the past 40 years, as you can hear for example influences from HAWKWIND, MARILLION, ECHO AND THE BUNNYMEN, THE SMITHS, MUSE, THE CURE, OASIS, DAVID BOWIE, BIG COUNTRY, and if you mix them all up you have the rocking sound of HANTERHIR! Most of the songs are quite accessible and melodic enough to remember and stick in your head, but there's also some more experimental spacey krautrocking things going on sometimes, such as during the hypnotical atmospheric instrumental Diseghoryon. There's no single weak moment to be found, and it's also quite a diverse album from this sensational band, with as other highlights the uptempo psychedelic rocker Love Light and Find my Common Ground. Hopefully this new album will get them much more attention outside Cornwall. More info at: https://www.facebook.com/hanterhir
(Points: 8.5 out of 10)
DAVID JUDSON CLEMMONS 'LIGHTS FOR THE LIVING' (VILLAGE SLUT RECORDS/GERMAN IMPORT)
Right from the start with the opener The Weakening it is clear that David keeps on developing himself, both vocally and songwise, because this is a fantastic melodic progressive rock/prog metal piece that has both calmer and heavier parts, and does remind a bit of EVERGREY, THRESHOLD and actually mostly it has a sorta slow melodic Doom Metal OPETH style. Following Berlin is in a similar style, although shorter in length. Human Odyssey is entering the pure melodic progressive metal direction again, a bit more uptempo and kinda reminding of PSYCHOTIC WALTZ. The More I See is one of the strongest songs, as this is a massive sounding Progmetal piece with Doom Metal ish guitar riffs, touching a bit of classic BLACK SABBATH. I also really liked the short melodic progmetal piece Death Is A Room, while Sea Of Ends closes the CD very nicely, as this is a somewhat rougher epic proggy piece with a dark edge, although all the material has this dark approach, so do not expect a very cheerful album, which is no problem at all, because it is exactly the kinda style David is aiming for, but rest assured it is still quite melodic.
(Points: 8.1 out of 10)
HIGH CASTLE TELEORKESTRA 'THE EGG THAT NEVER OPENED' (ART AS CATHARSIS/CREATIVE ECLIPSE PR/GERMAN IMPORT)
Out of Denver, Colorado, USA comes the experimental instrumental band HIGH CASTLE TELEORKESTRA, which is a rather unique band that combines influences from music out of old Italian/French cinema movies with experimental post-progressive metal riffs here and there, but you might also trace sci-fi surf music, folk, waltz music, and much more. The sound on their debut album The Egg That Never Opened is therefore impossible to compare, which makes it highly recommended to check out. The band is formed around Chris Bogen - guitars, keyboards, lap steel melodica noise collages, Stian Carstensen - accordion, pedal steel, vocals, rhythm guitar, Timba Harris - violin, viola, Bär McKinnon - tenor sax, flute, clarinet, vocals, keyboards, Dave Murray – drums and Tim Smolens - standup bass, electric basses, cello, vocals, grand piano, keyboards, and as already mentioned this is really an interesting and unique experience, so go check them out a.s.a.p. at: https://highcastleteleorkestra.bandcamp.com and https://highcastleteleorkestra.com/
(Points: 8.3 out of 10)
STRANGE HORIZON 'BEYOND THE STRANGE HORIZON' (APOLLON RECORDS/PLASTIC HEAD DISTRIBUTION/CREATIVE ECLIPSE PR/GERMAN IMPORT)
Out of Bergen, Norway comes STRANGE HORIZON, a band with a clear pure Doom Metal meets Stoner Rock sound that is not far removed from CANDLEMASS, KYUSS, BLACK SABBATH, SAINT VITUS, COUNT RAVEN and a touch of the classic early 80s NWOBHM sound during the more uptempo pieces on their debut album Beyond The Strange Horizon. They were formed not that long ago, and the threesome consists of Qvillio - Guitar, vocals, Lindesteg - Electric bass guitar and Bingo – drums. 8 long songs are on the first album, and one of the absolute highlights is the fuzzy twin-guitar driven uptempo They Never Knew, but if you like one song then you will love them all. From start to finish this is a highly recommended album for you to check out at: https://strangehorizon.bandcamp.com/album/beyond-the-strange-horizon
(Points: 8.4 out of 10)
CARPET WAVES 'INNER WEAPONS' (WAVELAND RECORDS/ CREATIVE ECLIPSE PR/GERMAN IMPORT)
If the German band CARPET WAVES would have come out of the UK, then the media probably would have praised them as the latest sensation, because the 5 songs on their new EP Inner Weapons are pure melodic modern retro post-punk-wave/rock in the style of bands like INHALER and SLOW READERS CLUB as well as the old school style of THE SOUNDS, CHAMELEONS and THE CURE. Yes, they are at the same high level, and all 5 songs are uptempo catchy pieces that resemble the British style, both vocally, instrumentally and songwise, while the production is also top-notch. The band was formed recently, and Inner Weapons is their 2nd EP so far. Songs like Biography, Narrow Dream Factory and Shadows are all winners for fans of the aforementioned bands. Check them out at: https://carpetwaves.bandcamp.com/
(Points: 8.6 out of 10)
SOUNDS OF NEW SOMA 'MUSIQUE BIZARRE' (TONZONEN RECORDS/SOULFOOD/CREATIVE ECLIPSE PR/GERMAN IMPORT)
I am not familiar with the band SOUNDS OF NEW SOMA, but this duo from Germany has already released 10 albums before this new album Musique Bizarre. They consist of Alexander Djelassi on guitar, bass and synths, and Dirk Raupach on synths and vocals, and their music sounds modern but definitely contains retro krautrock influences like KRAFTWERK and GROBSCHNITT. Eroc of GROBSCHNITT also produced this 11th album of SOUNDS OF NEW SOMA, and I must say it sounds very professional and is basically a must-have for people into the atmospheric experimental instrumental mix of rock, prog, jazz and electronic music. 12 songs are included in total, and you can easily put on the album and drown yourself into the cosmic psychedelic space adventure of these 2 musicians, and here and there are some real surprises such as the beautiful avantgarde world music orientated piece At Last he Will. More info can be found at: https://de.wikipedia.org/wiki/Bandcamp
(Points: 8.4 out of 10)
HORZINES STARA 'BORDS DE TERRE-DUBHE' (VLAD/INOUIIE/VEEV.COM/FRANCE IMPORT)
HORZINES STARA is a French band formed around Milena Martin : cello, vocals, Élise Pastor : percussion, vocals, Marceline Malnoë : accordion, vocals and Laura Zanetti : guitar, vocals, and their new CD Bords De Terre - Dubhe is a wonderful piece of World Music/Folk Music with an Eastern European touch and French sung lyrics. The use of multiple lead vocals and harmonyvocals all throughout the album makes them sound extremely melodic and catchy, and really giving you that summer feeling. Imagine a mix between FIRST AID KIT and THE STAVES, but then in French, and in addition traditional French chanson influences and a World Music setting. The all-female band does a great job for sure, and I'll bet live they will impress. Check out this lovely band at: https://horzinesstara.bandcamp.com/
(Points: 8.4 out of 10)
NICOLE-MARIE 'OATHS OF ABUNDANCE/ASCENSION DEMO' (INDEPENDENT/USA IMPORT)
NICOLE-MARIE BARRETT comes out of the US state of Washington, from the town Kent that is more or less a suburb of Seattle, and she was kind enough to sent me her latest full-length album from 2019 (Oaths Of Abundance) and a recent demo CD (Ascension). I reviewed her music in the past and can honestly say that her new work sounds quite good. She is assisted by several other musicians, and the music itself is a mix of singer/songwriter and light melodic pop/rock, with a real focus on strong melodies just like in the old days. There is a sorta Christian/Celtic kinda touch in most of the songs, and Nicole has a great voice to sing the melodies, with as highlights the light pop/rocker Don't Know What It's Called, the lovely midtempo light AORish Dream Come True (reminding a bit of CONNIE SCOTT, AMY GRANT and MARGARETH BECKER) and the catchy uptempo poprocker My Fourth Of July (nice guitarsolo). Here and there she also reminds me a lot of KATRINA (AND THE WAVES), so I think you'll get the picture what this sounds like. Check out more info on this talented singer/songwriter at: https://nicolemariemusic.com/
(Points: 7.9 out of 10)
COIL 'MUSICK TO PLAY IN THE DARK2' (DAIS/KONKURRENT)
The London based duo COIL existed between 1982 and 2005. Initially launched as a solo project by musician JOHN BALANCE (of the band PSYCHIC TV), the project COIL developed into a full-time project with the addition of his partner PETER CHRISTOPHERSON (formerly of pioneering industrial music group THROBBING GRISTLE, and together they created a lot of albums, of which this 2000 release Musick To Play In The Dark2 from 2000 gets a re-release. The music is extremely experimental, and could well fit a Horror Movie score, so it has avant-garde, spoken-word, kraut, industrial electronic music, ambient, synthwave and post-progrock influences melted into an exciting semi instrumental dark trip that actually shows that COIL had an own identity for sure when listening to a lovely piece of art such as the song Tiny Golden Books. CAN, KRAFTWERK, TANGERINE DREAM and such bands come to mind when hearing the material on this CD, yet COIL does it slightly different sometimes, which makes this a recommended album to revisit now thanks to this re-release. 7 long songs are included in total, and they all take you into a weird cosmic spacey experimental trip like you have never experienced before!
(Points: 8.0 out of 10)
TERRY ALLEN & THE PANHANDLE MYSTERY BAND 'BLOODLINES' (PARADISE OF BACHELORS/KONKURRENT)
Bloodlines was the 1983 follow-up to Smokin The Dummy, and both of them have been re-issued. This 83 album continues the style of the previous album, so once again a mix of blues, hillbilly country bluegrass, folk and southern rock light. Terry has such a perfect raw voice and the harmonyvocals make the sound quite melodic and catchy actually. There is a slight difference compared to the previous album, because a few of the songs reflect a sorta calmer SPRINGSTEEN/COUGARish heartland touch, and I must say it doesn't sound bad at all, although the rawer rockier previous album was personally speaking better. THE PANHANDLE MYSTER BAND by the way consisted of many guest musicians that seem to switch with every album (JOE ELY for example, while nowadays even a legend like CHARLIE SEXTON joined Terry). Highlights on Bloodlines were Gimme A Ride To Heaven Boy and There Oughta Be A Law Against. Recommended original album that still sounds up-to-date for today's modern retro southern country blues/rockfans! More info at: http://www.terryallenartmusic.com/
(Points: 8.2 out of 10)
TERRY ALLEN & THE PANHANDLE MYSTERY BAND 'SMOKIN THE DUMMY' (PARADISE OF BACHELORS/KONKURRENT)
I was not familiar with TERRY ALLEN & THE PANHANDLE MYSTERY BAND at all, but I was sent 2 albums of them that have been re-issued. Terry is an American singer/songwriter who has been in the music business for over 50 years now, releasing solo records, but also albums together with THE PANHANDLE MYSTERY BAND, even recently actually, and 2 albums they released back in the early 80s have been re-issued. When the opening song The Heart Of California (For Lowell George) of their 1980 album Smokin The Dummy blasts through the speakers I hear a lovely mix of southern rock, country and delta blues, with a slight DR. JOHN touch. The band also has a comedy jazz and typical American way of theatrical old 30s country Bluegrass/Hillbilly/Folk vibe during a few songs, so apart from that first song it goes in many different directions actually and it has absolutely not the standard 80s sound, because it is more at ease with an early 70s Woodstock ish vibe while still being described as a bluesy southern meets hillbilly country pop/rock band. I do however prefer their rock related material, such as the fantastic Whatever Happened To Jesus (And Maybeline)?, Texas Tears, and The Night Cafe. Quite a surprise in the end, because this is a much recommended album that will especially appeal to fans of DR. FEELGOOD, DR. JOHN, TOM WAITS, CHARLIE DANIELS BAND, etc. More info at: http://www.terryallenartmusic.com/
(Points: 8.3 out of 10)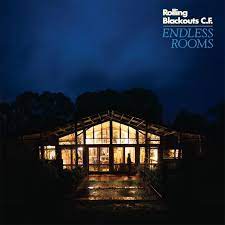 ROLLING BLACKOUTS C.F. 'ENDLESS ROOMS' (SUB POP/KONKURRENT)
It's been 2 years since their 2nd album Sideways To New Italy was released, and already a follow-up is now released, but that's probably due to the fact that they haven't been able to tour during the covid period we have had these past 2 years. Anyway, the Australian rockiers of ROLLING BLACKOUTS C.F. return with a great new album titled Endless Rooms. The band consists since 2013 in the same line-up of Fran Keaney – vocals, acoustic guitar, Tom Russo – vocals, guitar, Joe White – vocals, lead guitar, keyboards, harmonica, Marcel Tussie - drums, percussion and Joe Russo – bass guitar, and also on this new album we get to hear strong typical modern yet retro influenced melodic indie/new wave pop/rock in a somewhat British style, although some influences of jangle powerpop like R.E.M. meets THE JAYHAWKS is also notable, and garage/punkrock/post-punk orientated songs can also be heard. Whatever you call it, the music sounds uplifting, cheerful and catchy, with as highlights uptempo pieces like Tidal River, The Way it Shatters, My Echo, and Blue Eye Lake (post-punk ish). Recommended to check for sure at: http://www.rollingblackoutsband.com/
(Points: 8.4 out of 10)
TERRY CAROLAN 'FLIGHTS OF FANCY' (COUNTERFEIT PRODUCTIONS/US IMPORT)
American singer, songwriter and multi-instrumentalist TERRY CAROLAN has been in the music business for over a few decades, in and out of many bands that were mainly in the AOR/Powerpop direction in the past. His new solo album Flights Of Fancy is a mixture of singer/songwriter old school style and a bit of light Powerpop like a mix between THE BEATLES, CROWDED HOUSE and a bit of CROSBY, STILLS, NASH & YOUNG. He got help from several other musicians, and in total 11 songs can be found. There are some great songs included, such as The Box that even has a bit of a proggy touch, while JOHN LENNON also comes to mind here. Although the album is not rocking like Terry's previous efforts, it has that nostalgic feeling about it, and fans of aforementioned acts will probably mostly like this CD. More info can be found at: https://terrycarolan.com/
(Points: 7.9 out of 10)
PAUL DUNMALL QUINTET 'YES TOMORROW' (DISCUS MUSIC/UK IMPORT)
PAUL DUNMALL plays alto & tenor sax, and together with his quintet that consists of guitarist STEVEN SAUNDERS, trombone player RICHARD FOOTE, bassist JAMES OWSTON and drummer JIM BASHFORD, he created an exciting improvised experimental jazz sound that is likewise based around Paul's sax. The 8 long songs leave a lot of room for improvisation, and despite a lot of experimental parts, the songs also carry beautiful original melodies. They are all composed by Paul himself, and together with the other musicians he created a fascinating album that will be mostly of interest for the fans of free jazz. More info can be found at: www.discus-music.co.uk
(Points: 8.0 out of 10)
JULIE TIPPETTS & MARTIN ARCHER 'ILLUSION' (DISCUS MUSIC/UK IMPORT)
Illusion is a 2-CD set by JULIE TIPPETTS (vocals, percussion) and MARTIN ARCHER (keys, electronics, radio waves, saxophones, clarinets), and musically speaking the 2 albums are also very different from each other. The Illusion Suite consists of 1 song that is split in 7 long songs that sounds like an experimental dark mix of jazz and progressive rock, while CD 2 is titled Circle Of Whispers, and this is a rather unique sounding album, because this follows the structure of a Dance/Disco/DJ mix with periodically the 140 bpm rhythm at the back, yet played by real musicians that gives it a jazzy feeling in an electronic jacket so to speak. Done very well, there is a lot to discover here if you want to check out something special that is hardly done before. The band consists further of drummer PETER FAIRCLOUGH, bassist SETH BENNETT, guitarist ANTON HUNTER (who also plays loops and electronics), trombone player GEORGE MURRAY, vibraphone/wood flute player COREY MWAMBA and trumpet/flugelhorn player CHARLOTTE KEEFFE, while there are many other musicians appearing on especially the Circle Of Whispers CD. I am personally quite impressed by the sounds of that CD, because it has the aforementioned unique approach of connecting jazz and dance music in a completely new way. More info can be found at: www.discus-music.co.uk
(Points: 8.0 out of 10)
RICHARD SCOTT 'EVERYTHING IS ALWAYS AT ONCE' (DISCUS MUSIC/UK IMPORT)
Now here we have an incredible original and unique album that will be loved by the fans of experimental instrumental electronic music in a way we know it from the past of German krautrock acts like CAN, TANGERINE DREAM and such, yet RICHARD SCOTT does give it a complete new modern take on that legendary sound from the 1970s, with all kinds of weird extreme noises that is played only on analogue and modular synthesizers. Basically it's just Richard playing different synthesizers, saxophone and percussion. The result is an interesting experimental improvised sound that takes bits and pieces of trip-hop, acid, ambient, techno and the krautrock movement, and actually it is impossible to compare to anyone else out there. Richard creates a spacey trip that takes you in a trance like techno, prog and jazz is able to do. If you ever wonder what kind of original sound you can create on a synthesizer, then do check out the 8 songs on this CD. More info can be found at: www.discus-music.co.uk
(Points: 8.2 out of 10)
LONG TALL J 'THE SPIRE' (INDEPENDENT/UK IMPORT)
LONG TALL J is a Dutch guitarist and music producer living in London, UK, and The Spire his 3rd album so far. We have reviewed his previous albums, which were quite good, and now his new CD offers once again high quality melodic progressive rock, which is a mix of instrumental music and some beautiful vocal melodies on 3 songs that are sung by AMARIIA (semi-finalist in the 2022 National Ukrainian Eurovision Song Festival Contest and part of the Altrockband AMARIIA from Kyiv, Ukraine). There are more Ukranian guest musicians to be heard, because that is what LONG TALL J wanted to show the world that music has no borders. From start to finish this is a lovely calmer melodic progrock affair with fantastic melodies in both the instrumental and vocal parts. LONG TALL J is an amazing guitarist who comes up with precise subtle melodies on his guitar. A total of 10 songs are included, and some of them are definitely huge winners for the progrock fanatic, with as highlights the lengthy Don't Let Them Talk To You That Way, Falling, Four Seasons and the sensational World Music influenced Novaya Zemlya that would make MIKE OLDFIELD jealous! The album closes nicely with the lovely uptempo melodic rocking Ten. Check out this talented musician's new CD at: https://longtallj.bandcamp.com/album/the-spire?from=hp
(Points: 8.2 out of 10)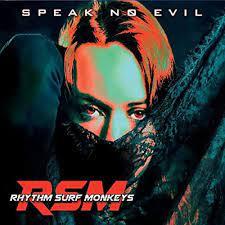 RHYTHM SURF MONKEYS 'SPEAK NO EVIL' (INDEPENDENT/USA IMPORT)
Out of Pasadena, USA (between Washington and Baltimore) comes the female/male shared vocal driven classic rock/AOR band RHYTHM SURF MONKEYS. They have a sound that is clearly early 80s orientated, yet they also remind me of the 90s independent rare melodic rockscene in the USA when you had bands like BLUE RAIN, MARK ALLEN BAND, KNOW ILLUSION, THE VU, SURE CONVICTION, and such waving the flag for good old American Melodic Rock during those dark alternative rock years. Fast forward to 2022 this band is really straight from the underground and deliver a classic AOR/Melodic Rocksound with a focus on soaring guitars and melodies. They are formed around Jim Hiltz - Guitar, Vocals, Tom White – Drums, Jeff Bober - Guitar, Vocals, Kyle Reitz – Guitar, Stephen Hancock – Vocals, Mike Hamilton - Bass and Vocals and Robyn Bingham – Vocals. 11 songs are included in total, and opener Who Cares is a superb piece of uptempo classic early 80s AOR/Melodic Rock in the good old American style of early PAT BENATAR, TANE CAIN, TANTRUM… It's like we stepped in a time machine back to 1981, with a soaring melodic guitarsolo, a catchy uptempo rocking sound, a strong memorable chorus and the lovely vocalwork of Robyn, who reminds me a lot of PAT BENATAR. The shared female/male vocals work really well, because Stephen is up next with the catchy uptempo melodic rocker Last Stand, which is another strong song, and Stephen's vocals are also really good and a joy to listen to. The combination works really well, and also musically speaking there is variety, such as can be heard during the calmer bluesy melodic rockballad So many Times that has BETH HART influences. Although the production does not have the big 80s approach, as this is a real independent album, somehow RHYTHM SURF MONKEYS does know to write a good catchy melodic tune, and besides the aforementioned songs the other highlights are Cry Tonight (superb guitarsolo), Out The other Side, As Long As I Can (lovely tune) and I Wanna Go Back. Highly recommended if you like early 80s AOR/Poprock a la TORONTO, PAT BENATAR, SHANGHAI, TANE CAIN… More info at: https://www.rhythmsurfmonkeys.com
(Points: 8.2 out of 10)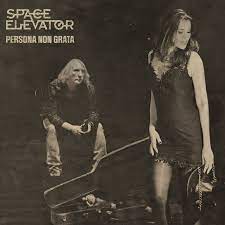 SPACE ELEVATOR 'PERSONA NON GRATA' (TIMEZONE RECORDS/ON STAGE RECORDS/GERMAN IMPORT)
We reviewed the British female fronted AOR/Melodic Rockband SPACE ELEVATOR in the past, and now they are back with their 3rd album Persona Non Grata. The band is formed around vocalist THE DUCHESS, guitarist DAVID YOUNG, drummer BRIAN GREENE and bassist CHAS MAQUIRE, and their music is pure 80s influenced AOR/Melodic Rock with a Symphonic Rock touch here and there (with a little help from MICHAEL BRAMWELL on piano, synths, keys and string arrangements), while especially during the titletrack progrock elements are quite upfront instrumentally speaking. However, the band is definitely focusing on catchy memorable melodies during the choruses of each and every song, and overall they remind me a bit of LANA LANE and KAYAK with CINDY OUDSHOORN on vocals. 11 songs are included, of which the highlights are the uptempo progressive melodic rocking opening titletrack Persona Non Grata, the AOR masterpiece Passive Aggression (pure late 80s, kinda like CONNIE SCOTT, ANGELA & THE RUDE, early DANTE FOX, CINDY CRUSE, MARTEE LEBOW…), the lovely semi AOR ballad Stevie Nicks Smile (with it's superb guitarsolo and catchy hooks), the 80s Pomp Melodic Rocking Ritchie (See You Later Baby) and the epic closing bombastic power ballad Reverie And Souvenirs. Oh and I must not forget to mention that DAMIEN EDWARDS from the mighty CATS IN SPACE provides backing vocals, so fans of that band more or less know what to expect here, which is symphonic bombastic and slightly theatrical melodic rock. More info can be found at: https://spaceelevatorband.com/
(Points: 8.5 out of 10)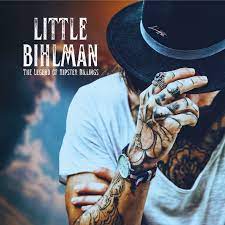 LITTLE BIHLMAN 'THE LEGEND OF HIPSTER BILLINGS VINYL RECORD' (METALVILLE RECORDS/THE ROCK ONLINE/PIAS)
It's always a privilege to receive a physical vinyl record for review, and in the case of this limited white vinyl edition of an American singer-songwriter called (SCOT) LITTLE BIHLMAN, it is a very nice introduction to an interesting musician who is releasing his 2nd solo album here with The Legend Of Hipster Billings. His music is an excellent mix of swamp-blues rock, classic rock, Americana/Singer-songwriter and a slight touch of typical American Heartland Rock. With the help of the mighty legendary DUG PINNICK (KING'S X) on bass, JOSH PAUL (bass), RON MEYERS (guitars, bass), DAVID DETWEILER (keys, organ) and ALICE FAITH (backing vocals), Little recorded a lovely piece of work here. He plays guitar, drums and sings his 11 self-written tunes, which musically speaking reminds me a bit of LENNY KRAVITZ when rocking out in a groovy direction, such as during the lovely Money, Lies, Hate and Drugs. However, he also has room for calmer melodic bluesy rock ballads like the fantastic It Ain't Easy and Lay Your Burden Down, and thankfully rocks most of the time. The album was recorded and produced by MILES FULWILDER (WILLIE NELSON, NORAH JONES, CHICK COREA...), so the sound of the album is picture perfect, and Little himself already worked with such great musicians like JOHN FOGERTY, blues rocker SON SEALS and the aforementioned Dug in the past (along with Little's brother JABO BIHLMAN in the band GRINDER BLUES, which we also reviewed not that long ago), so he definitely knows what he is doing, and he has a great typical raw American bluesy voice which is perfectly suitable for his kind of music. On vinyl it all sounds really impressive, and it is therefore a pleasure to listen to this lovely typical American rootsy blues rock record that will please a lot of people I think, no matter if you like the old school sound of for example JOHN COUGAR or someone like KENNY WAYNE SHEPHARD or even JOE BONAMASSA, although LITTLE BIHLMAN definitely has an own style that fits somewhere between all of the aforementioned artists. Other highlights include the catchy uptempo heartland ish rocker Radio (JOHN COUGAR ish, with a cool guitarsolo), the groovy Shine On (LENNY KRAVITZish), and the relaxing calmer melodic AORish ballad The Game De Nouveau (which somehow has a JOURNEY vibe!). Without a doubt, Little delivers a high class record that on vinyl comes along with a lot of extra inner sleeves that has all the lyrics and additional photos, so anyone into pure American blues/heartland/Americana/Rock should check out him out a.s.a.p.! More info at: https://scotbihlman.com/
(Points: 8.6 out of 10)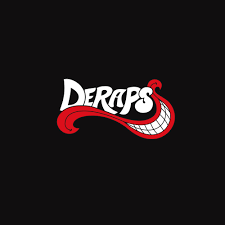 DERAPS 'DERAPS VINYL RECORD' (METALVILLE RECORDS/THE ROCK ONLINE/PIAS)
Out of Canada comes guitarist/lead singer JACOB DERAPS, who is the leader of his band DERAPS, which also features Canadian bassist WILLIAM LACHANCE and Australian drummer JOSH GALLAGHER. Together they recorded this self-titled debut album that does not sound like the other big Canadian trio bands RUSH and TRIUMPH, because DERAPS is going for a more American/80s L.A. Hair Metal sound during the 11 included songs on their first album. They even included a cover of the THE SWEET classic Ballroom Blitz, and it's a great thing that I received their debut on vinyl, because this early 80s type of melodic hardrock/hair metal sounds at best on vinyl! Jacob has a strong voice and throws in some clear VAN HALEN/DAVID LEE ROTH humor into the music, such as can be heard right from the start during the uptempo boogie hardrock piece Sex, Drugs & Rock n 'Roll that is almost identical to VAN HALEN's classic tune Hot For Teacher. Jacob also reminds me vocally a bit of MICHAEL VOSS of MAD MAX somehow, and towards the end of the song also SKID ROW influences can be heard. While listening to a catchy uptempo Hair Metal/Melodic Glamrock piece like Live Fast Die Slow, it is almost if we stepped into a time machine and went back to 1983 or something like that, because immediately I was reminded of acts like early MOTLEY CRUE and obscure acts like ROX, SHIRE, ANTIX, VYPER (a lot!)... and on vinyl this really sounds great, and besides the perfect 80s sound quality, the record comes along with really wonderful inner sleeves that has all the lyrics printed as well as some cool pictures, so there's enough to do while listening to this pure 80s classic hardrock/hair metal orientated album! Besides the afforementioned songs other highlights are the sensational Veins Of My Heart (SUPERB uptempo 80s Melodic Hardrock that even has a cool STRYPER/DOKKEN vibe going. This is by far the best song with a terrific chorus and amazing soaring guitarwork, a total must-hear for any fan of 80s American Rock!) and the catchy super melodic rocker On My Mind (MAD MAX/CASANOVA ish). If you're starting to become interested, then do check out this excellent new 80s American Hardrock/Hair Metal orientated band from Canada. Their vinyl edition is a big must-have if you like any of the mentioned bands! More info can be found at: https://www.derapsofficial.com/
(Points: 8.5 out of 10)
THE LOYAL CHEATERS 'LONG RUN…ALL DEAD!' (DEAD BEAT RECORDS/ATOMIC STUFF PR/ITALY IMPORT)
THE LOYAL CHEATER IS a female fronted Italian/German Rock n' Roll band formed in 2020, and now they are making their debut with the strong album Long Run… All Dead!. The sound is pure raw Classic Rock and Roll with a sleazy/glamrock touch, kinda like THE HELLACOPTERS, HARDCORE SUPERSTAR, MOTLEY CRUE, THE DIRTY DENIMS, THE RUNAWAYS, etc. The band is formed around LENA (vocals, guitar), MAX (guitar), TOMMY (bass) and RICHIE (drums), and they absolutely deliver high class catchy, mostly uptempo, all-original real rock and roll the way it needs to sound somewhere between classic hardrock and classic punk from the 70s/80s. 10 songs are included, of which the highlights are Winners Never Compromise, Me Myself & I, the SLADE cover Lock Up Your Daughters, and the lovely catchy POISON ish Glamrocker No Saturday Nites. LENA is a great pure Classic Rock singer (a la JOAN JETT) and she also plays some fabulous lead guitar, while the guys in the band deliver a punchy in your face rock and roll attitude in addition. This band definitely has something to offer, and hopefully we can catch them live someday! More info at: https://theloyalcheaters.bandcamp.com/album/long-run-all-dead
(Points: 8.2 out of 10)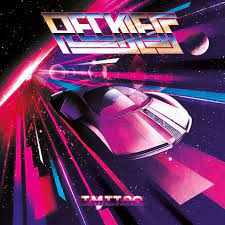 RECKLESS 'T.M.T.T. 80' (SNEAKOUT RECORDS/ATOMIC STUFF PR/ITALY IMPORT)
When I saw the artwork of the frontcover and the looks of the band on the backcover of the booklet of the debut CD of the Italian band RECKLESS, it was like I was looking at an album from 1985 or something, because it cannot get anymore 1980s than this! RECKLESS is a bandname that has been used multiple times in the past (Swedish, Canadian and American bands released some great material many years ago), but this here concerns a real new band from Venice, Italy. The band is formed around A.T. Rooster: Vocals, Dany Rockett: Guitar, Alex Jawbone: Guitar, Jack Chevy: Bass and Mikki Mixx: Drums. T.M., and T.M.T.T.80 is their debut album, which is released on Sneakout Records. The band mixes all the 80s rock sounds (Melodic Hardrock, Glamrock, Party/Rock and Roll and a bit of AOR/Melodic Rock), and they do it quite well actually. Imagine a mix between DOKKEN, POISON, KIX, MOTLEY CRUE, FIREHOUSE, W.A.S.P. (a lot!) and PRETTY MAIDS, but then with a typical 80s European//German/Italian touch. It might not be groundbreaking or anything new we get to hear here musically speaking, fans of aforementioned bands might like this quite a bit I think. Opener Take Me To The 80's is just like the title predicts as close to 80s Hair Metal as you can get. A song like One Night Together brings it all into a more melodic affair, with the Melodic Rock influences reminding of BABE BLU, DOKKEN, VAMP and FIREHOUSE, while Chic & Destroy is pure POISON/PRETTY BOY FLOYD 80s Glamrock, and We Are The Rock brings BRIGHTON ROCK meets CINDERELLA to mind in a glamorized version of ACCEPT. The midtempo melodic AOR ish ballad Tonight is extremely catchy and a real earworm, although on the other hand very cliché of course, which in this case still works! The band reminds me also a bit of German bands like HIGH TENSION, VICE and VAMP if anyone remember them, and also the debut album of SWEDISH EROTICA comes to mind several times, but overall WASP/BRITNY FOX with a more melodic touch sometimes might be a good description. Cliché tingled pure 80s (European) Hair Metal is the name of the game here, disliked by many, but loved by so many as well. You probably know what to expect by now and thankfully RECKLESS do it at a high level with also a strong sound/production (and a superb guitarist by the way!), so go check them out at: http://www.facebook.com/reckless80
(Points: 8.2 out of 10)
SAINTS TRADE 'THE GOLDEN CAGE' (ART OF MELODY MUSIC/ATOMIC STUFF PR/ITALY IMPORT)
The Golden Cage is the 3rd CD of the Italian band SAINTS TRADE, whom are formed around bassist Andrea Sangermano, drummer Paolo Caridi, guitarist Claus and vocalist Santi Libra. Their music is catchy 80s inspired Melodic (Hard) Rock, and 11 songs are included in total on their new album The Golden Cage, with as highlights the midtempo Break The Chain (a la H.E.A.T.), the catchy TYKETTO ish uptempo melodic rockers Casino Royale and Mirror Of Myself, the lovely midtempo melodic AOR rocker Stay With me and the excellent uptempo melodic rocker Once And For All. The band does a great job writing really decent songs, while the production is also impressive, so the fans of 80s melodic rock a la TYKETTO, DOKKEN, FIREHOUSE and such will definitely like this band, although the band does have that typical European touch as well (remember bands like MALLET, MASON, VICE…). Definitely recommended to check out and for more info please go to: https://www.burningmindsgroup.com/art-of-melody-music
(Points: 8.3 out of 10)
ANIMS 'GOD IS A WITNESS' (SNEAKOUT RECORDS/ATOMIC STUFF PR/ITALY IMPORT)
ANIMS is a new Italian band from Italy, and their debut album is titled God Is A Witness. The thing that grabbed me right from the start was their excellent powerful female singer ELLE NOIR, who has an amazing throat to sing this kind of material perfectly (reminding of AMANDA SOMERVILLE). The rest of the band features Elio Caia on Bass, Francesco Di Nicola on Guitars (DANGER ZONE, CRYING STEEL) and Diego Emiliani on Drums, and their first CD contains 10 songs in total. Musically speaking it is prime-time melodic hardrock/heavy rock with some metal riffs here and there. They remind a bit of other female fronted bands like LUCIFER and CRYSTAL VIPER, and without a doubt this is a high quality album, which has as highlights the midtempo Freedom (a bit groovy and not unlike classic LEE AARON of the early 80s, with some DORO influences), and the catchy uptempo melodic rockers Around Me, Boring Lovers, and Bright Eyes. Elle is an amazing vocalist, and the sound/production of the album is huge, while the material is quite good, although I think a future album will tell us more if the band can write even better songs together, because I believe now Francesco did all the writing along with LUCA BONZAGNI, who is not part of the band. More info can be found at: https://www.facebook.com/animsband
(Points: 8.2 out of 10)
SIMPLE LIES 'MILLENNIAL ZOMBIES' (SNEAKOUT RECORDS/ATOMIC STUFF PR/ITALY IMPORT)
Millennial Zombies is the 3rd album of the Italian band SIMPLE LIES, and it is jam-packed with old school late 80s German/European Melodic Hard/Heavy Rock in the style of bands like ANGEL HEART, AXXIS, VICTORY, LETTER X, PINK CREAM 69 and such, although when you like more recent bands such as THE POODLES, H.E.A.T., PERFECT PLAN and ONE DESIRE, you might like SIMPLE LIES as well. The band is formed around the high pitched lead singer Rubb-O, guitarist Jack H, drummer Zak, guitarist Jam Rackham and bassist Ash. 11 songs are included and there is a good variation of midtempo and uptempo pieces with hard hitting guitarwork and cool classic 80s kinda melodic anthemic choruses. There is a lot of high pitched screams in the classic AXXIS meets SKID ROW style, so if you like your melodic hardrock that way, then this is definitely an interesting band to check out at: https://simplelies.bandcamp.com/releases
(Points: 7.8 out of 10)
BONHAM-BULLICK 'BONHAM-BULLICK' (QUARTO VALLEY RECORDS/TENACITY/UK IMPORT)
It must have been 25 years ago since I first heard DEBORAH BONHAM singing, which was when I bought a vinyl record of one of her 80s AOR records, and I absolutely loved it. Fast forward to 2022, this talented lead singer (she has a voice like ANN WILSON and BETH HART!) has recorded a CD with Belfast, North Ireland born blues guitarist PETER BULLICK. The CD is simple titled Bonham – Bullick, and it is filled with high class heavy blues / delta blues rock with a focus around Deborah's fantastic soulful vocals and Peter's soaring bluesy guitarwork. Along the ride other musicians are featured as guest here, such as John Baggott (ROBERT PLANT, MASSIVE ATTACK), Paul Brown (THE WATERBOYS), John Hogg (MAGPIE SALUTE) and Marco Giovino (ROBERT PLANT, JOHN CALE), while the rest of the band consists of keyboardplayer GARARD LOUIS, bassist IAN ROWLEY and drummer RICHARD NEWMAN. All together this is a wonderful album that holds together 13 great classic covers of songs originally written by legendary musicians such as MARK LANEGAN, ISAAC HAYES, ALBERT KING, STEPHEN STILLS, RON DAVIES, PATTY GRIFFIN, ASHLEY CLEVELAND, ANN PEEBLES. etc. Must-have for any soulful bluesrockfans! More info at: https://www.deborahbonham.com/index.html
(Points: 8.4 out of 10)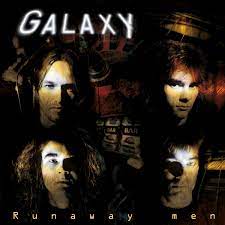 GALAXY 'RUNAWAY MEN' (SHADED MOON ENTERTAINMENT)
A few years ago lead singer BART SCHWERTMANN became the new KAYAK vocalist, which was a fantastic move from TON SCHERPENZEEL, but after 2 albums and playing live multiple times, sadly now KAYAK has decided to quit as a band after 50 years. This leaves room open for Bart to start up other things, and perhaps the release of this CD is the kick-off to greater things to come for him. GALAXY was his previous band that ended about 25 years ago after they recorded the material that can now be found on this CD Runaway Men. 8 songs are included on the CD that was supposed to be the follow-up to their earlier mini-CD and demos from the early/mid 90s. It should have been released as the band's first full-length CD back in 1997, but this never happened and now 25 years later there is justice after all, because Runaway Men is officially released. Besides Bart on vocals and bass, the other members were NIELS LINGBEEK (guitars/vocals), ARD OFFERS (keys) and NILS OFFERS (drums). Together they created a wonderful set of high class material that can now thankfully be heard worldwide. The production/sound is also picture perfect, and right from the start they will get your full attention. Opener Answers is a superb sensational high class melodic AOR/Sympho/Neo-Prog/Pomprock piece that combines everything we love so much in these genres, which is fantastic vocals, memorable catchy melodies both instrumentally and vocally, powerful vocals, soaring guitars and cheerful keys. I was more or less familiar with GALAXY, but had not heard any of their material actually. The band throws in real 80s Pomprock influences into their Neo-Prog/Symphonic AOR sound here and there, which can be heard very clearly during Look Into My Eyes that even reminds me a bit of KANSAS, early PROPHET, MARA, SOUND CIRCUS, WALK THE WIRE (if anyone out there knows these bands, then they will more or less get the picture) and such. The choruses are absolutely killer in each and every song, and as aforementioned instrumentally speaking it is top-notch, while Bart's voice sounds absolutely stunning. There are also memories of bands like PENDRAGON, PALLAS, IQ, ENCHANT, ARENA and such, but the AOR/Pomprock influences (especially the choruses) are also noticeable. Never The Same continues the incredible high level of the first 2 songs, and basically every song is an absolute winner for fans of the aforementioned bands and genres. The (semi) ballad is also not forgotten (In Her Head) and how about the incredible proggy pomprock piece Lady Of Fire, which if released by an American band back in the late 1980s would have been regarded a classic nowadays! This album is a diamond waiting to be discovered! DO NOT MISS THIS CD, AS IT IS A TOTAL MUST-HAVE! More info can be found at: www.shadedmoon.nl