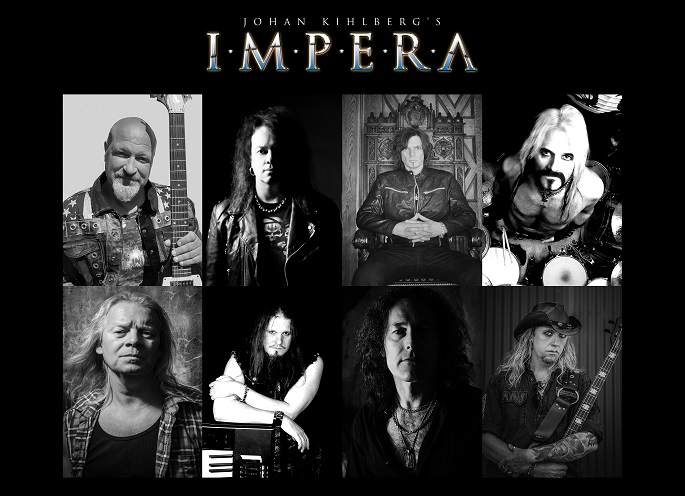 JOHAN KIHLBERG'S IMPERA has been around for a while and their new album is quite sensational, melting melodic rock/metal and AOR/Rock, with even 1 surprise at the end. Lead singer on this new IMPERA album is the NOCTURNAL RITES lead singer JONNY LINDKVIST, who did an excellent job. Time to have an interview with bandleader and founder of IMPERA, JONAH KIHLBERG...
The new IMPERA album is a sensational release, congrats! Can you first tell us more about your band and its previous releases?
Thanks, this is my solo project that I started 10 years ago and I set out to release music that I love. I get inspired by all kinds of music so my albums have a mix of differen´t styles of music but hard rock is always in there. We have released 6 albums including the soundtrack for the movie "The Rage" I always try to get friends from the music buisness to do guest apperences on every album and so far I´ve got members and ex members from KISS, SAGA, EUROPE, YNGWIE MALMSTEEN and many more to be part of the Impera Family.
On the new album we can hear one of the best Swedish singers of the past 30 years, JONNY LINDKVIST, how did you get him involved?
As we (me and co-producer/mixer/guitarist and songwriter Lars Chriss) always do after all the songs are written, we sit down and talk about who we want to sing on the album and suggested Jonny that he knew and I just called him up and luckely he said yes.
Can you please tell us more about the new IMPERA album?
This time me and Lars Chriss (LION'S SHARE), decided to do a hard rock/heavy metal album so Lars is the main writer on this one with Mick Devine (SEVEN), writing the lyrics. Besides me Lars and Jonny we have John Leven from EUROPE on bass, Snowy Shaw from KING DIAMOND/SABATON on drums and Kay Backlund from LION'S SHARE on keyboard.
There are both Metal and AOR orientated songs, can you tell us more about your most important influences?
Some of my favourite bands are KISS, QUEEN, JUDAS PRIEST and so many more but as Lars is the main writer on this one, I know he likes JUDAS PRIEST, BLACK SABBATH and DOKKEN so I guess he got a lot of influences from them.
I absolutely loved the record and I am quite eager to hear about the closing track Battle, this must have been influenced by Rocky 4/Vince Decola?
I´m sure it was, "Battle" was written and performed by the amazing Kay Backlund. I´m very much into movie soundtracks so I really love that "Battle" closes the album.
And any plans for a full album in the Battle style?
Everything is possible, I´ve written the soundtrack for two movies and a third is in production. Like I said, I love writing that kind of music and it comes very easy for me. It´s much harder to write a really good rock song.
The vinyl version is really excellent, are you satisfied with that, also the fact it's released on vinyl?
I´m really satisfied how it came out, it looks and sounds awesome and for me growing up with vinyl, it´s just amazing that Johan Kihlberg´s IMPERA finaly is released on vinyl. We are planning to release the first four Impera albums on vinyl too.
Can we see your band live when touring will be possible again?
Absolutely, we were supposed to open for KISS here in Sweden last year but then the pandemic hit so the shows where moved to June this year but that will be moved again to 2022 but we have shows booked in September, we just have to wait and see what happens.
If gigs aren't allowed also this year, how will you promote this album besides doing countless interviews, streaming concerts or already writing for a future album?
I´ve done tons of interviews so that helps but right now we are working on the next album and we have been doing that for a long time. "Spirit Of Alchemy" was done a year ago, we just waited with the release hoping that the pandemic would end but finaly we just thought it was time to get it out there for everybody.
A few short questions that you hopefully are willing to share with us:
- Favorite band of all times:

KISS
- Favorite album of all times:

Destroyer/KISS
- Favorite music genre besides Melodic Hardrock/Metal:

Movie Soundtracks
- Best concert ever visited:

KISS Globe Arena Stockholm dec 96´
- Last concert visited:

Prins Svart
- Best performed concert by your band:

Väsby Rock Festival 13´
- First bought record (or CD):

Destroyer/KISS
- Last bought record (or CD):

The Absolute Universe/Transantlantic
- Most precious moment in your life (could be non-music related):
There so many but getting a gold award from the original members of KISS was really something.
- 2020 is...

Awesome, the pandemic haven´t changed my life that much.
- 2021 is so far...

Even better, "Spirit Of Alchemy" is released worldwide, life is good.
- 2022 will be...

Amazing, I hope we can start touring.
- First thing you do when restrictions is over and you're free to do whatever you want to do:

Start rehearsing with the guys in my live band.
Good luck with your music and thanks for answering the questions.
Thanks, my pleasure.