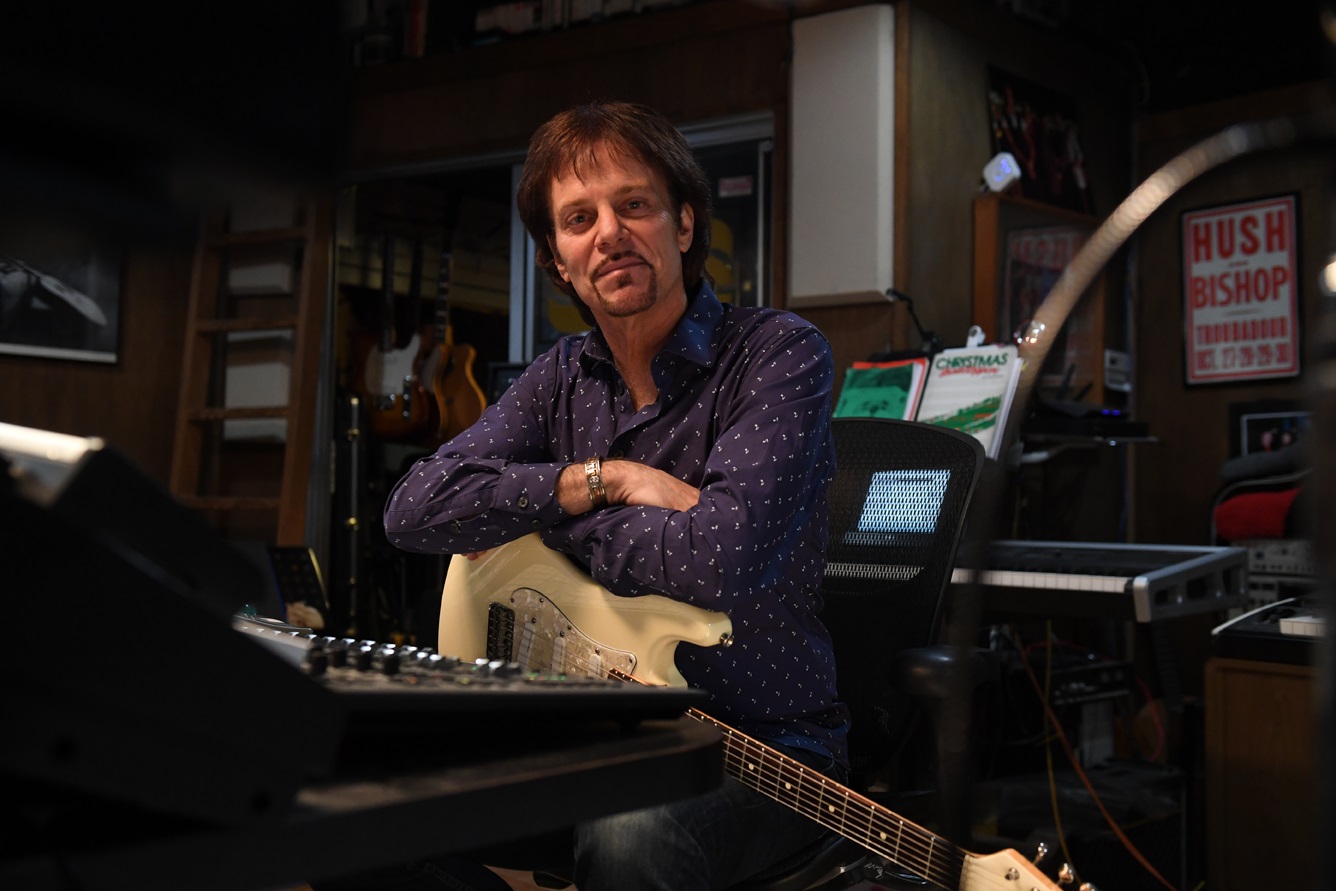 ROBERT BERRY is a legendary musician in the AOR/Prog/Pomp scene, releasing and contributing to many records, including the amazing 3 record from the 1980s where he teamed up with 2/3 of ELP, the inventors of Progressive Rock craziness! Now in 2018 Robert released a new 3 record, the follow-up to the debut of 3 which was 30 years ago...





Let's get back in time first, you have a rich history in your music career, dating back to the 1970s, can you please start to tell us about your early music experiences?




First off Gabor it is nice to meet you. I am very excited about the response to 3.2 and am very happy you reached out to ask about it.




My mom sang in my dad's big band so I was exposed to music all my life. In fact, before I was born. I like to say I was sentenced to music. There was no choice for me. It has always been what I know and all I really know.I had 8 years of classical piano lessons and 2 years of jazz piano lessons. I majored in music in college. I was fortunate that at 12 years old some seniors in high school (17 and 18 years old) came into my dad's music store and asked if I would play keyboards in their band. That started me very young in a band that had already learned how to be a band and get gigs. I had a few bands through high school but it wasn't until college that I formed a band called Hush. Hush started as a rock cover band but turned into a progressive rock cover band in a few short years. We played Yes, Genesis, Gentle Giant, you name it. And the funny part was that people would actually dance to us. Not sure how that worked but it did. After Hush I started my own solo band called the Robert Berry Band. It was here that I started performing all the songs I had written that Hush would never do. I recorded an album of material and had it pressed into a vinyl 12" album. That album's material found it's way to Geffen Records through my new manager at the time Herbie Herbert. Herbie was Journey's manager. This is where my real journey begins.





Hush was your first band, 3 records were put out, can you tell us about that period, any interesting stories to tell here?




Hush started because a booking agent wanted to put together a local super group and book it for all the high school and college dances. We agreed to give it a try and we decided to segway 8 songs together in a 15 minute medley and do a showcase for all the schools. It was a stunning show for us. Every school wanted to book us. And we booked out for the rest of the year. The only problem was that the only songs we knew were the verse and chorus to 8 songs. We didn't have one song we could play all the way through. So we spent the next few weeks working really hard on a two hour set of our favorite songs so we could start playing the shows. The form of that band went through a few changes but the bass player, Gene Perrault and I stuck together. The first change was the guitar player. If was truly a gift for me as we auditioned 20 guys but the one we picked was Paul Keller. Paul has been with me through everything I've done since that time. He was the live guitar player on the 3 tour. The next change was the drummer. We again auditioned a lot of drummers but picked Roger Bonasera. A great drummer, singer and acoustic guitar player. Roger did the first two albums with us but then had a family on the way so we replaced him with our first choice which was Peter Adams. Peter was not only a great drummer but a funny guy and a great showman on the drums. We put out our third album Hot Tonight with Peter and won a Bay Area Bammy award with it. That was a pretty big deal in California. But in 1985 there was no more options for Hush. So I moved on to the Robert Berry Band.





After Hush, you started a solo career, which saw a lot of releases throughout the years, which one are you the most proud of?




I have to say that the very first album is still an amazing thing for me. I had songs sitting in my drawers at my studio Soundtek that I had never used. They were the more personal, more groove oriented rock tunes. I had an offer from a pressing plant to give me 500 albums for free to try and get my studio business. I was young and thought why not. That album came back to me and I had no plan for it. My friend Rob Fowler sent that album to many trade magazine and record companies. It got a pick of the week in 3 of the major trades and also gained the attention of music attorney John Espedal who was friends with Herbie Herbert. That album, Back to Back, launched me into the next level of the music world.





You were involved in quite some soundtracks and movies, can you tell us about them and how you got involved in that scene?




As luck would have it I became friends with many people in the local radio and TV scene. One such guy, Bill Spendlove, did lots of commercials. He would bring his son Randy with him sometimes and I got to like him and wanted to do what I could for him with his music career. He recorded with me and I got him some extra vocal help and just tried to help him move forward. Well that guy is now president of movie soundtracks at Paramount Films. I think you can fill in the rest.





Before we get to 3, I would like to ask about Alliance and it's 4 great records, do you have some background information on this band and can we expect any new material of this band/project in the future?




Yes I do. When Geffen was grooming me as a new artist they gave my cassette tape to two people. The first was Carl Palmer but the second was the newly orphaned Sammy Hagar Band. Geffen A&R guru John Kalodner felt that I would be a good replacement for Sammy and wanted to keep his band together. Not that I was Sammy by any means, but this Brian Adams, Sting kind of artist they were grooming me to be would have made a good front for Sammy's old band. That band was still looking for a singer, songwriter when I returned from England two years later after 3 was done. They called me, we met a Sam's house to record and write and there it was. The perfect rock band with the greatest players. I have enjoyed every album and every minute of working with Gary Pihl, David Lauser, and Alan Fitzgerald. I am glad you know that music. I am especially proud of our last effort Road to Heaven. We are trying to finish our 5th album by the end of this year. It's about half done now but 3.2 is really busting out and my time is very busy promoting it. But we have plans for recording Alliance 5 in December.





You also have a Christmas project/band going...




Ah yes. December People plays for charity every November and December. This is basically the guys from Alliance along with solo artist Jack Foster and the Tubes keyboard player David Medd. They are tremendous. We play your favorite, familiar, holiday songs in the styles of the biggest rock bands of all time. Think Angels We Heard on High done like Journey's Don't Stop Believing. Or White Christmas done in the style of Billy Idol's While Wedding. It is an amazing concept and the songs morph together as if they are the original hit song but you are able to sing along because it is actually the holiday classic.Check it out at www.decemberpeople.com.





Then you're also involved with Greg Kihn Band nowadays...




My touring schedule is with Greg. I also wrote and produced the last album ReKihndled last year with The Greg Kihn Band. He is a lot of fun and we have some great shows. My favorite part of playing with Greg is doing his StoryTellers acoustic shows. We have a blast. There is never a dull moment in my world. I am always looking for what I can do tomorrow.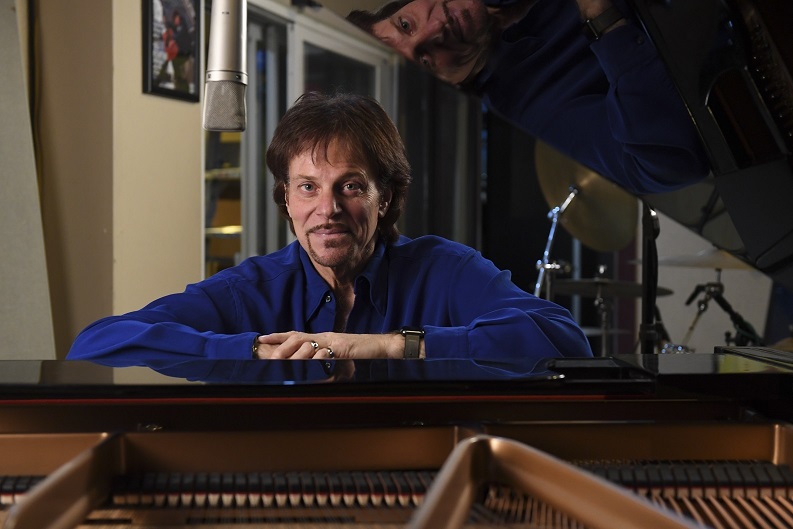 Anyway, most important band-project you were involved with is of course 3. How did you meet up with Keith Emerson and Carl Palmer back in the 80s?


I got a call at my studio from a guy with an english accent. I thought it was one of my high school friends. But no, it was Carl Palmer. What a shock that was. He liked my material from Back to Back and wanted to get together and talk about starting a new band. We tried for most of the year but nothing really clicked. I was over living in London and my new manager Brian Lane asked me if I would like to join Steve Howe in the band GTR. I was thrilled. I stayed long enough to write an albums worth of material with Steve and get them the ok from the record company on the budget. But friction with the lead singer made it hard for me to feel like I would be happy there. I did love playing with Steve and wanted to continue with him but it just didn't work out. I was actually heading home and Brian Lane said Keith Emerson wanted to have lunch. WELL! That was amazing and I was so excited but at the same time nervous. We met, we got along famously and we agreed to give it a try. The rest you know. It was a great time in my life.





When did you decide to form a band (3) and how did you come to the sound, which was a perfect mix of AOR, Progressive Rock and the hi-tech Symphonic Powerpopsound of the mid 80s?




Right there at that meeting with Keith he only had one question he wanted answered before he would say "let's start a band". He asked me if I would mind playing a few ELP songs if we toured. It seemed like he was expecting me to be bothered by that. Of course I wasn't. I thought it would be a blast to play Lucky man or In the Beginning. But no - those were Gregs folk songs. Eventually for the tour we learned some of the very hard ELP music which actually started way back with Keith's band The Nice. The style came together very organically. I was a rock song writer at the time, Keith was a great arranger and the worlds greatest keyboard player, and Carl was one of the top drummers in the world. We just got together in the rehearsal room and put our 3 styles and capabilities together and it was done. Like I said, very organically. It was the real deal.





Especially Lover to lover is an incredible tune, can you tell us all about this song?




When I took a break and headed home from the 3 demo recordings I had this idea for a song. I started to write it and demo it at my studio. I brought the song to our next get together in London and Keith took my cassette tape back home with him after the rehearsal. The next day Carl and I drove out to Keith's home studio in his barn and he had spent all night working on what you hear now as the final arrangement. He played it for us on his professional 8 track tape recorder and we were blown away. We redid it for the master of the album but basically he had worked in all those great Emerson parts the first night he got the song. It is still one of my favorites.





I think you're still very proud of the 1988 record To the power of 3, which was more or less ELP, but then with you as replacement for Lake?




Well not really ELP or EBP as we were called. They actually called us Emerson, Yank, and Palmer too which was very funny. I am very proud of that album and that time in my life. Keith and Carl always said they wanted me to be me not Greg Lake. We were looking for something new. As Asia, GTR, and Yes had done, there was room for the progressive sound mixed with the AOR format. There were no ego clashes, no fighting about parts, no difference in concept or theory on how to proceed with the band and tour. It was just 3 guys with a great manager that wanted to move forward and make it happen. We had a top 10 hit with Talkin' Bout'. I love it when I read in reviews 'the failed 3 project'. We had a great album, a top 10 song, actually made a chunk of money being successful with our hard work, and started to gain a new fan base.





Why wasn't it followed up by another 3 record?




The problem was Keith's ELP fan base were having none of this new AOR mixed with Prog band. Carl didn't get criticized because he had done it with Asia. And me, well I was the new guy. Those fans didn't want me, they wanted Greg. And to tell you the truth, I understood that and knew that I would have to earn their trust and their friendship in music. I was prepared for that. But Keith couldn't take the very negative comments from some of his fans. Oddly enough a few of them felt they needed to write him and tell him what a huge mistake he was making. I still can't figure out why they felt they knew better than Keith. But this affected him and he caved to the pressure.





The biggest surprise was a new 3 record to be released in 2018, how did this happen?




For 27 year Keith wanted nothing to do with 3. It seemed like a distant memory to him. We stayed friends, we worked on different projects together, but no mention of 3 was ever brought up. I knew better. He didn't want to do it. Then in 2015 a record company put out a live in Boston 3 CD. At first it was just a pay check to Keith and the rest of us. Of course for me I was thrilled. Then one night I got a call from Keith. He was so excited. He said "Robert, we were a good band. I mean a really good band". He was at home and decided to give this live CD a listen as there wasn't much else to do that night. Just filling the time. But what he heard was a band the was alive, did some open ended jamming, and we're having a lot of fun on stage. It hit him hard. He was ready to consider the follow up. And of course I had been dreaming of it for 27 years at that point. That was a great night for me. I guess for Keith too. He had shaking off the negative 3 comments and was ready to do the follow up we knew we could do.





Can you tell us all about the involvement of Keith Emerson in this album?




We worked 3 ways. First of all Keith had sent me some digital files with some great parts on it. Very high quality writing, very high quality playing. Just not complete songs of value. But many parts of value. Then we actually had a cassette tape from 1986 that had a few things on it and one complete song that Keith though would be good to finish up now. Then the most exciting part was that Keith had a digital piano at his house and I had a digital piano in front of my studio ProTools system. We would sit together on the phone and play back and forth ideas. He would do incredible, fast paced, Emerson bits. I would play them to the best of my capabilities, slowly and simplified a bit and put the rough idea on the ProTools so I could write the song around them. I had about 20% of the album with his final parts on it and I had another 20% of ideas from the phone calls.





Of course the sad news reached us in 2016 about his sudden death, I am sure it will be hard for you to talk about your experiences with him throughout the years and the last months you seem to have worked with him on this new 3 album?




In one phone call from Elinor Emerson I lost my dear friend, my most famous friend, a sweet, funny, amazing guy, and my dream of a second 3 album. It was a tough time for me. I wrote the song Our Bond at that time and put it out online to express how I felt all the fans were feeling. At that point I was not going to go further to finish what we had started. It wasn't until 6 months later when I had an idea that his son Aaron might want to play on it that I thought I might move forward. Aaron decided the playing was a little difficult and it was his dad's style which he didn't play so he very politely declined after hearing a very hard song I had sent him. This had given me the chance to revisit the music we had started and I got excited to finish it up. At first just for myself to complete the dream. I had not planned to release it. It wasn't until it was done and I played it for the record company and a few key people that I felt it needed to be released. It was a hard decision to make believe it or not. To have worked on Keith's last writing and recordings I take very seriously.





Can you tell us all about the new 3 album? It is less AOR based and more pure Progrock?




The new 3.2 album is exactly what we learned from our tour, our fan base, and our 27 years more of experience. We planned to do exactly what we wanted to do within those parameters. I believe this album is the perfect blend of Progressive rock and AOR melodies. There is plenty of playing on it but then again there is plenty of meaningful lyrics and melodic choruses. You will have to be the real judge of that. So far fan response has been amazing. I can't believe how much love people have been giving the music.





What is your favorite song on the album?




That is a tough one. I spent a year trying to finish it up. I worked so hard to play each part to the best of my capabilities and always kept saying to myself "what would Keith do here". I took on both sides of that conversation. I kind of knew what he would say and I knew how I would respond. That's how we always worked before and how we were working again. If you read the 20 page booklet you will see that each song has a story and each story speaks about our friendship and the reason the song was written.





Why was Carl Palmer not involved on the new record?




Originally Carl was touring with his ELP legacy band and didn't have the time. After Keith's death Carl ramped up his dedication to his ELP legacy. After all, he is the only one left. I think he made the right decision to focus on that. After all, that is his legacy.





Any plans to go out and tour the world with your impressive back catalogue material and/or to support the new 3.2 album?




Yes there is. As of now I am speaking to an agency about doing my history in progressive rock on tour across the world next year. They are telling me from South American to Russia and everything in between. My planned set will start with 3, play some GTR, my time with Ambrosia, Pilgrimage to a Point, Dividing Line, my Magna Carta Tribute series, and now 3.2. Except for the newest 3.2 songs it will be like a greatest hits of progressive rock music. My tributes include my version of Roundabout which Steve Howe played on and it received critical acclaim, Ambrosia's Life Beyond LA which I always sang on tour with them, and many, many familiar songs from my past albums. It will be a difficult but fun set to do.





I also have to add that you are a fantastic singer and glad to see you back, what more can we expect from you in the future?




Thank you for the kind words. I appreciate you taking the time to check in on the new album. Right now my focus is definitely all on the 3.2 album and tour. I feel like this is my time to spread the music as far and wide as I can. I also feel a responsibility to Keith to keep reviewers and fans hearing this last effort. He still had that great Emerson writing style and playing.





Thanks for the interview and good luck with everything!




Thank you Gabor. I hope to meet you in Holland when on tour. And thank you for treating my friend and fellow musician Henry Peter so well. He's a great guy and fine writer and keyboard player.



More info at: http://www.robertberry.com/