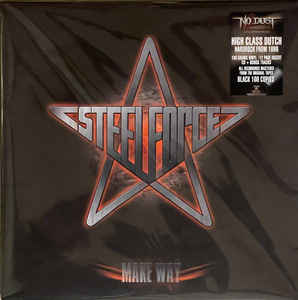 STEEL FORCE 'MAKE WAY VINYL RECORD + CD' (NO DUST RECORDS)
The 1980s were a wonderful period in the Hardrockscene with countless new acts trying to become the next big band. In The Netherlands there was a huge scene, with many active bands in the local demo circuit, but sadly only a few managed to secure a record deal and release their legacy on LP and/or CD. Even such a release was not a guarantee for success, because bands like EMERGENCY, NO EXQZE, EAST COAST, LINE and a dozen more never got the attention they deserved. Only bands like VANDENBERG, HELLOISE, VENGEANCE and a couple more managed to breakthrough, which is a real pity, because a band like STEEL FORCE never got that chance. This band released 2 demo cassettes and despite there was something happening, with even ex-VANDENBERG singer BERT HEERINK almost being involved when they started recording a full-length album, STEEL FORCE never released a record. Thankfully now more than 30 years later original guitarist JAMES ANDRIESE managed to remaster the original tapes from the 1980s and the Dutch label NO DUST RECORDS stepped in to release an official full-length vinyl record. It is titled Make way and without a doubt, this album is featured with some of the best 80s Melodic Hardrock since the first VANDENBERG album, the EMERGENCY record and HELLOISE. You can easily put the sound of Make way somewhere between these 3 bands. There's also a lot of THIN LIZZY / IRON MAIDEN / Y &T ish guitarwork to be heard here, although the catchy hooks and melodic choruses are definitely in the classic Melodic Rock department. The band's lead singer MARCEL GEVEN has a fantastic voice and together with the superb guitarwork and tight rhythm section, this is definitely a must-have album. There's a healthy mix of faster uptempo melodic heavy rock pieces, pure uptempo melodic rockers and a couple of excellent SCORPIONS/VANDENBERG/HELLOISE orientated ballads. There is not a single weak moment on the album, the sound is brilliant and for fans of all the aforementioned bands, songs like Waiting For The Night (melodic rock masterpiece), Make Way (faster, pure early VANDENBERG/MAD MAX/PRETTY MAIDS), Still In Love With You, Then Came Rock & Roll and Your Love Has Grown Cold (a chorus like SHY) are a wet-dream for sure! 2020 might be a horrible year for live concerts, the new releases are getting better and better with each month, and this STEEL FORCE is definitely one of the highlights of this year, despite the recordings originally took place back in the 1980s. The packaging is superb, with additional extensive liner notes on the inner sleeve/booklet inside, which tells us all about this band and it's recordings besides a collection of pictures from a long but not forgotten 80s 'hair' past. A lot of effort has been put into this release, so it is fingers crossed they will also reform and perform live in the near future and perhaps even record new material, but for now check out this sensational album a.s.a.p.! The vinyl only release is available through: www.nodustrecords.com
(Points: 9.0 out of 10)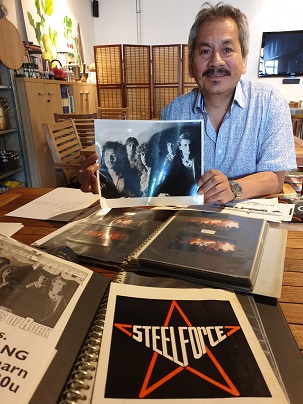 STEEL FORCE is one of many bands in the 1980s that never passed the demo circuit, which is sad, because they were as good as the established acts in the Hardrock genre. Of course there was a lot of competition back then and only a few made it really big, but thankfully now more than 30 years later there is justice after all, because a vinyl record has been released of the band's classic 80s demos. All the included songs have been carefully remastered and sound sensational in the best 80s Dutch melodic hardrock tradition. Time to catch up with the band's original guitarist JAMES ANDRIESE to speak about the past, present and future...





Congratulations first of all to you for the release of the wonderful vinyl record of STEEL FORCE! Let's get back to the beginning, because when did all of this start for you as a musician?




Thanks Gabor, the whole thing started in (I think) 1982/83 with my brother Dennis. We were inspired by several bands . Before that time when I was 17, I started playing guitar, inspired by so many great names like the Eagles, Jim Croce, Doobie Brothers, Santana etc.

I played in many different bands playing covers and finding out what I would like to do most of all

.



Of course in the 1980s there was a huge scene with all kinds of bands playing your kinda melodic hardrock, how did it feel this period in time for you when looking back now?




When I was in the army in 1972 (Yes, I know that's a hell of a long time ago) I was sent to Germany for training and heard of a band called "Thin Lizzy"

. From that moment on I knew which way to go! (This is what "Then came Rock 'n Roll" is about).

In my opinion this was a very good time to start a Rock-band because not only did I love the kind of music but bands like Whitesnake, Europe, Scorpions, Y & T and many others were on the radio regularly.





Eventually your band never succeeded to release an official album, what went wrong?




The real problem lies in the amount of patience you should have when you're working on an album. When we went into the recording-studio we had FL.1.000,- to spend, which we won at a musical contest in Holland. That was about all we had to spend.

So, because of this, we had to make use of the time we had as cheap as possible, which meant recording during the time the studio wasn't booked. Some of the bandmembers couldn't wait that long because they wanted to be on stage.

That was exactly what I would have loved to do, except for the fact that I wanted to finish the record first and then plan a tour to promote! We already had a distribution deal with one of the Dutch companies so no problem there I would say!

Because of this, I had to find a new drummer first. By that time the other guitarist, Gerard, with whom I could really communicate musically became ill and could not play anymore. I had to do most of his parts on the album as well.

As if it couldn't get any worse, our singer Pieter couldn't keep up with the standards required to do the vocals on an album like this, so I had to give him some really bad news…. He didn't see this one coming. (neither did I until we started recording the vocals)

.

Practically, I had to start all over again. Why? Because by that time, our Bass-player Dick had to leave as well due to his job. So, I had to find a whole set of musicians!

I sent out some demo's, one of which went to Bert Heerink, former singer of the fabulous Dutch band Vandenberg, a band we all know. Bert was enthusiastic about the songs, but he had commitments elsewhere which had to do

with a commercial for a Dutch brand of beer. We all know by now which one that was, but he was willing to do the vocals on the album, but he couldn't do the tour. I had to turn this down because it should also be his voice when performing live...

Finally, I found Marcel Geven as the new lead vocalist and I also found a new drummer. Both of them decided they would rather do heavier songs. I had to say no because SF is my baby and these songs are mine, so close the door on your way out.

There was nothing left for me tot do than putting the band to sleep. I had to make a choice between keep on dreaming or take care of the family. So, goodbye SteelForce.





What do you consider the peak of the STEEL FORCE years?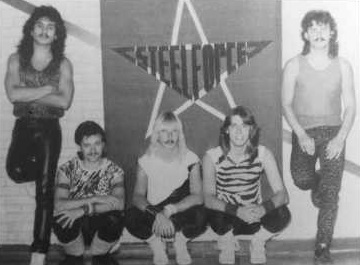 The answer is definitely one of the earlier settings with Gerard Schmitz, Hans v.d. Oever, Dick van Duijvenvoorde and Pieter Bos. Simply because we were close good friends as well and as a band we had a good time and did lots of gigs, including the one with Def Leppard.
Most of the good times were in that particular period from 1984/86. We had good reviews in papers and went on air at "Vara's Vuurwerk", "Countdown Café Live" and more radio-shows etc….
After the band's split, what did you do in the following 30 years?
One of my other passions was and still is cooking so…. I became a chef in several restaurants including 2 of our own and now my wife Jacqueline (former manager of the band) and myself are running our own Cooking-Studio where I teach cooking and entertain people.
www.kookstudioeemnes.nl and www.privatechef.nl. The last 25 years I am also PrivateChef, where I cook for people at their own home or any other location.
Did you do anything musically and what happened to the other members of the band?
Nothing too serious but I have my own Home-Studio, where I record anything I feel like at that moment and not only rock, just to stay involved with music. https://soundcloud.com/james-andriese
Did you want to release this album earlier?
Not really because there was no band to perform with, after the release. I have to say the owner of the SoundlabStudios where we recorded Make Way; Cor Mestebeld, was kind enough to invite me again to his studio to finish what we started.
All of this on his expense and during the late hours and even on Sundays because he knew what happened and how important it was to me. He knew how dedicated I was and offered me this to do. I am honestly very, very grateful to this man! (see the story in the booklet in the album)
Back to the vinyl release, please tell us all about it, the process, energy and effort to complete it and how you got NO DUST RECORDS involved, etc.?
When we used to play, we also sold cassette-tapes after the show. I used to make these at home, copying them in real-time to a cassette recorder and putting a sticker on it. (good times by the way)
One of these tapes found its way to Belgium. Somehow this tape ended up with Marco van Dalfsen from "Diggin' Demo's". Marco is a guy who collect demo-tapes to prevent them from disappearing forever and brought me in contact with Henk van Delden from "No Dust Records".
Henk was apparently looking for the genius behind SteelForce (that would be me haha….) So, one thing led to another. We came to an agreement which resulted in this beautiful album. In this stage Henk did most of the work while my business is on its ass due to Corona…!
I have to say though, in the time my band was splitting up in 1988, I did all the work on producing Make Way together with Cor Mestebeld, which altogether took us almost 2 years to finish because I could only use the studio when it wasn't booked with paying customers!
I think you're very proud of the finished product?
Henk did a great job and I am very pleased with it. Henk hast the right connections to make the whole thing look like an eighties album and he had arranged to let Peter van 't Riet Remaster it digitally. I think it sounds great without losing any of the "feel" of what I intended at the time.
So what does the future look like now, any plans to get back together, perform live and record new material?
As a proper James (Bond) should say: Never say Never! I honestly don't know, although I have to say it starts tickling again when I hear the album in full and at the right volume. It brings back memories and still sounds Up-To-Date. I still have some material, who knows?
Then I have some short questions for you:
- Favorite band of all times:

The Eagles. The Eagles? Yes, this band has given me so much since 1979, when I first saw them Live.
- Favorite album of all times:

"Live and Dangerous", by Thin Lizzy. / "Frontiers, Escape" by Journey or "In Rock we Trust" by Y & T.
- Favorite music genres:

I love all kinds of music as long as it does something to me in any way. This could be Jim Croce, Led Zeppelin, Paul McCartney or Journey.
- Best concert ever:

I have been to so many, it wouldn't feel right to name just one. I have good memories with Eagles, Toto, Whitesnake, Iron Maiden (at least 5 times), Moonkings, (Adrian Vandenberg) Gary Moore and Foreigner.
- First bought record (or CD):

I honestly don't remember but it could have been "Queen Live" or "Bob Marley". I think I was around 16 at that time.
- Last bought record (or CD):

I really don't remember….
- Most precious moment in your life (could be non-music related):

I can't name 1 specific moment but holding our two sons and our 2 granddaughters for the first time in my arms was something magical.
- 2020 is...

Due to Corona, pretty SHIT, if I may say so. Our cooking studio is not doing well because of the Lock-Down.
Apart from that, I got to meet Henk from www.nodustrecords.com and I feel blessed to have my album see the light of day after such a long time and the reviews are overwhelming! Thanks to everybody who worked on it!
Thanks for the interview and good luck with STEEL FORCE and anything which will happen thanks to this vinyl release!


You're welcome Gabor, thanks for the opportunity to tell my story and I hope the messages will keep on coming and who knows!!