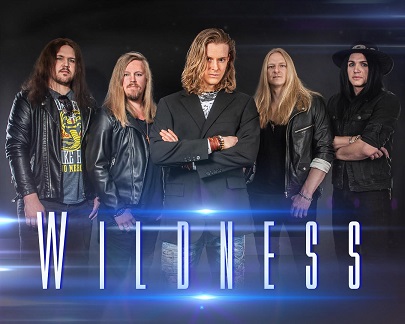 WILDNESS is yet another great Swedish AOR/Melodic Rockband to follow the footsteps of countless other bands in Sweden
that played an important part in the AOR/Melodic Rock community. Especially their new album Ultimate demise is a really picture-perfect album to check out if you like bands such as H.E.A.T., TREAT, ONE DESIRE, PERFECT PLAN, etc. etc. We did an interview with them to get to learn about their whereabouts on this sensational new record of them as well other things...

Please introduce us to your band...
Hi there! The band was formed in 2013 by me along with guitar players Adam Holmström and Pontus Sköld, and shortly after lead singer Gabriel Lindmark joined in. The band was originally supposed to be a studio project – but after we all got together and jammed we all felt that this deserved to be a real band. Our debut album was released in late 2017 and gained a worldwide success within the melodic hard rock genre, if I may say so.
In the middle of 2019, during the recording of the bands 2nd album, lead singer Gabriel Lindmark left the band due to musical and personal differences. In early 2020 lead singer Erik Forsberg joined the band which made it possible for us to finalize the album which was released on October 30th via German independent label AOR Heaven.
I must say that you delivered a superb album with Ultimate demise, can you tell us about it?
Wow, thanks a lot for that! Our main purpose with this album was to maintain the roots and trademarks that made our first album succesful, like the melodies, the hooks and pure balance between soft and heavy. Still we wanted to reach more for that classic hard rock vibe that we all grew up with. So I would say that this album is more guitar-driven and a bit heavier, but still focused on melodies and harmonies, which is sole trademarks of a Wildness album.
You switched lead singers compared to the debut album, why was that and can you tell us more about your new singer?
That's right! After the process of finishing the songs and pre production of the album, we realized that our former lead singer Gabriel Lindmark was clearly on a different path than the rest of us when it came to the views on what the album should look and sound like, along with the the bands future development in general. It all came up to surface at a pretty bad moment since we we're right in the middle of the recording of the album, so even though it was bad timing we all felt that going separate ways was the best thing for the band. Our main purpose was to have "Ultimate Demise" released around late 2019, but things got delayed during our search for a new singer.
It took us around 6 months until we found Erik Forsberg trough an ad on Facebook, and after meeting up in our rehearsal space and trying some material together it all felt like a perfect match.
Which bands/artists influenced you for this new album?
That all depends really. We're obviously big fans of the 80's hair metal scene and our sound is overall very influenced by that. On the new album itself there's also a few songs that has been mainly influenced by other songs from bands and artists that we love. The song "Borderline" was influenced by a song called "Forever young" by the band Tyketto. The ballad song "Falling into pieces" was influenced by a song called "You're no different" by Ozzy Osbourne. The riff for the first single "Cold words" was influenced by the songs "Future land" bu U.D.O. and "Standing in the shadows" by Dokken. You can also hear a lot of Winger and Def Leppard vibes in the song "Burning it down."
What songs are you most proud of?
If I can speak for myself (Erik Modin) it's probably "Cold words" and "Borderline". Those two songs really captures all the vibes I love about the 80's hair metal and AOR scene with the melodies, the harmonies and the big production sound.
Covid must surely be a problem right now to make any touring plans? And how's the situation in Sweden actually?
It sure is. We have pretty much accepted the fact that touring won't be a topic for quite a while yet, so we're working on some other strategies now to get ourselves heard and seen until then. Thank god for the internet!
The situation in Sweden has recently become more strained and restricted than ever by our goverment since the spreading has increased the last couple of weeks. So the situation is really a challenge with holidays and all coming up, but we'll get trough this. I'm just trying to be positive and take one day at a time.
I can imagine your band wants to go out and perform the songs live?
Oh yeah! Especially since we have a new lead singer in Erik Forsberg and brand new kickass material! We'll see if there will be any possibility to tour on this record. Otherwise we'll make a 3rd album as soon as we can and have a combined tour for them both whenever the world is back to normal again.
The Swedish scene is very big, but on the other hand I think you all know each other quite well?
I guess you can say that, yes. That all depends on which level you're at. But we're friends with people from other bands like Crashdïet, Houston, Reach, H.E.A.T, Dynazty, Eclipse, Work of art, At the movies, Pretty Maids and others. The scene in Stockholm is pretty tight so we're running into eachother pretty much all the time.
How is it possible that there is so much coming out of Sweden, can you explain this as Swedish musicians yourself?
Kind of hard to tell. Sweden is also known for great pop bands, artists, producers and song writers. There might be something in the water? It might also be the fact that it's dark and boring over here during 9 months a year, so we need to be occupied with something to keep ourselves going. Ther's also a lot of opportunities to get rehearsal spaces trough student unions and stuff like that so that might be another reason.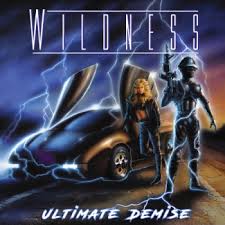 Finally, a few short questions:
- Favorite band of all times:
KISS
- Favorite album of all times:
Pink Floyd – The dark side of the moon
- Favorite music genre besides Melodic Hardrock/AOR:
Synthwave and melodic indie-pop
- Best concert ever:
I'm gonna give you a top-3 on that one:
1. Phil Collins – Stockholm, 2019
2. Heaven & Hell (Black Sabbath with Ronnie James Dio) – Sweden Rock Festival, 2007
3. KISS – Stockholm Stadion, 2008
- First bought record (or CD):
KISS – Love gun (CD), bought it in 1996
- Last bought record (or CD):
Iron Maiden – Live after death (vinyl)
- Most precious moment in your life (could be non-music related):
When my son was born in the summer of 2019. Being a father has changed my view on life on many levels and has really developed me as a person.
- 2020 is...
A challenge. For each and everyone and for humanity. It sucks, but it is what it is and there's not much to du than slug through and keep going forward.
Last but not least, do you have anything to say to our readers?
Thank you for reading Strutter magazine, and thank you for reading this interview! Please check us out on Facebook and Instagram (http://facebook.com/wildnessofficial & @wildnessofficial) for daily updates and our upcoming webshop where you will be able to buy brand new merchandise, signed cd copies of our latest album "Ultimate Demise". And the best of all, there will be a vinyl edition that will be available for pre-order.
Thanks for you time! Stay healty