HOT NEW REVIEWS
DEVILFIRE 'BLACK SOUL VENDETTA' (ESCAPE THE FIRE RECORDS-UK IMPORT)
The Birmingham area in the UK is a very interesting place for the fans of classic rock and melodic hardrock, because there are lots of bands coming out of that region. The latest sensation from Birmingham is DEVILFIRE, a band formed in 2013, with a debut album release in 2017, which is now followed up by the impressive 2nd album Black soul vendetta. Everything seems to sound excellent here, basically picture perfect Melodic Hardrock is the name of the game. Vocally lead singer and producer ALEX COOPER has a superb voice that suits the music really well and along with a fabulous production, Black soul vendetta is a highly recommended album. Cruelest animal starts the album and is a lovely classic uptempo catchy chorus driven Melodic Hardrocksong that reminds me a bit of JADED HEART, PINK CREAM ´69 and KHYMERA, while vocally it is close to DAVID READMAN of PINK CREAM '69/KHYMERA. The album continues with this style and offers a lot of great mostly uptempo Melodic Hardrock material, with as other highlights Live a lie, Vendetta, Justify (excellent guitarwork) and the AORish You're gonna break my heart. Make sure to check out this great band DEVILFIRE if you're a fan of the aforementioned bands at: www.devilfire.co.uk
(Points: 8.4 out of 10)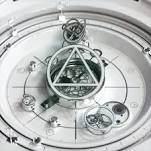 PYRAMID THEOREM 'BEYOND THE EXOSPHERE' (INDEPENDENT/CANADA IMPORT)
When looking at the names of the band PYRAMID THEOREM I honestly thought this was an Italian band, because their line-up reads VITO DE FRANCESCO - Drums, CHRISTIAN DI MAMBRO - Bass/Vocals, STEPHAN DI MAMBRO - Keyboard/Guitar/Vocals and SAM ERMELLINI - Lead Guitar/Vocals, but they are actually coming out of Ontario, Canada. They have been active for quite a while now and Beyond the exosphere is their 3rd album so far. The included music is of an incredible high level and sounds like a cross between DREAM THEATER, PYRAMAZE and DGM, so this is Melodic Progmetal and it sounds very sensational, which is thanks to superb lead vocals, brilliant instrumental complexity and lovely melodies all over the place. This is 'big boy's progmetal, right in the upper league of aforementioned bands. Opener and titletrack Beyond the exosphere is the wet dream for anyone who likes this never-ending genre, because this is an 18 minutes counting epic melodic progmetal masterpiece that contains everything this genre made so popular the past 30 years. The other 4 songs are shorter, between 4 and 7 minutes of playing time, but thankfully the incredible high level of the first sensational song on this album, it can also be heard on the other songs (Under control and Closer to the end are really superb, with both a beautiful melodic chorus). These are the kind of records why we keep listening and reviewing to new albums, because it puts a smile on your face when hearing so much talent into 1 song. The album was by the way produced and engineered by Rich Chycki (who has worked on albums by established acts like RUSH, DREAM THEATER, AEROSMITH, PINK, DEF LEPPARD...). The result is a huge sounding record and a must-have for any fan of Melodic Progmetal! Although DGM delivered a sensational new record, the new album of this Canadian band PYRAMID THEOREM is a close-call to become the best Progmetal album of 2020! Check them out at: https://www.pyramidtheorem.ca/ and https://pyramidtheorem.bandcamp.com/music
(Points: 8.9 out of 10)
ZIP TANG 'COLD COMING' (INDEPENDENT/USA IMPORT)
Out of Chicago, USA comes ZIP TANG, a band formed around Fred Faller - drums, Andrew Bunk - bass and Perry Merritt - vocals, guitar, synthesizers. On their 6th album Cold coming they are bringing us a nice Progrocksound that is melodic, modern and a bit groovy, sounding like a cross between RUSH, JELLYFISH, ENCHANT, NEAL MORSE and KING'S X. The 10 included songs are well-constucted, finding a right balance between melodic accesible vocals/choruses and instrumental progrock complexity, just like the aforementioned bands. You can clearly hear that this band has been around for a while, because Cold coming sounds like a very professional record, with a lot of highlights, although the best ones are Sorry, Runaway, the superb epic 8 minutes counting titletrack Cold coming and the calmer melodic Moonwatcher. Without a doubt, ZIP TANG is a recommended band to the proggies out there! More info at: www.ziptang.net and https://ziptang.bandcamp.com/album/cold-coming
(Points: 8.5 out of 10)
WOBBLER 'DWELLERS OF THE DEEP' (KARISMA RECORDS/PLASTIC HEAD/CREATIVE ECLIPSE PR/GERMANY IMPORT)
The progressive rockband WOBBLER comes out of Oslo, Norway and was formed back in 1999. They have released 4 albums so far and so their new album Dwellers of the deep marks their 5th release. The band's line up consists of Lars Fredrik Frøislie - keyboards, backing vocals, Kristian Karl Hultgren - bass, bass clarinet, bass recorder, Martin Nordrum Kneppen - drums, percussion, recorder, Andreas Wettergreen Strømman Prestmo - vocals, guitar, glockenspiel, percussion and Geir Marius Bergom Halleland - lead guitar, backing vocals. We can find 4 long songs here and musically speaking it is high quality 70s progrock, calmer with a focus on melodies/vocals, kinda YES ish and instrumental of a very high level, with many tempo changes. Opener By the Banks is calmer, while there are uptempo rockier parts during Five Rooms and the closing track Merry Macabre is an epic song. The songs are very long as already mentioned, but in the world of prog that is quite normal and WOBBLER fulfill the needs of the progfan, because both songwise, vocally and instrumentally speaking everything sounds crystal clear! This is very impressive material and for YES fans a must-have! More info at: https://wobbler.bandcamp.com/album/dwellers-of-the-deep
(Points: 8.5 out of 10)
CNJR 'I CAN SEE THE CHURCH BURNING THROUGH THE BINOCULARS' (FUTURE ARCHIVE RECORDINGS/CREATIVE ECLIPSE PR/GERMANY IMPORT)
The background info on this mostly instrumental release learns that we are dealing here with an one man's project, because CNJR is an experimental music producer, who does everything on his own. His latest release is titled I can see the church burning through the binoculars. The music of CNJR is described in his bio as a mix of retro synthesizers, dark cinematic science fiction themes, post-rock, electronic music, IDM, synthwave, darkwave, downtempo, instrumental hip-hop, indie electronic, witch house, and various other influences. Personally I would say that the 8 songs on this album are a nice combination of prog, synthwave and electronic music. The funny thing about this album is that it will not only appeal to out-of-the-box thinkers in the progworld, but also synthwave fans and as already mentioned, the electronic music lovers might find something of interest here. A song like The destroyers is instrumental prog, sounding quite calm and relaxing, while Burning and Putrid things are semi-instrumental songs with a sorta electronic way of singing and a sound dictated by modern technology, yet with an old soul somehow! Pain my face with ashes is almost pure synthwave, but also close to the prog border here and there; basically being a nice calm dark hypnotical sorta Blade runner ish song. Some of the other songs, especially the uptempo Tunnels, they seem to take it even more into this dark sci-fi movie synthwave direction, which is quite cool actually. Check for yourself at: https://cnjrmusic.bandcamp.com/album/i-can-see-the-church-burning-through-the-binoculars
(Points: 8.1 out of 10)
CENTRE EL MUUSA 'CENTRE EL MUUSA' (SULATRON RECORDS/GERMAN IMPORT)
Unexpectedly we have here an instrumental band from Tallinn, Estland with a fantastic debut album on the German label SULATRON RECORDS. The same titled first album is a very interesting record that is in general an instrumental 1970s inspired Kraut/Space/Prog affair with also some Fuzz/Doom influences here and there. Formed in 2015 by multi-instrumentalist Misha Panfilov, CENTRE EL MUUSA became a duo when Wurlitzer Elektro-Pianisten Volodja Brodsky joined Misha and later on it evolved into a real band with Monika Erdman (Bass) and Aleksei Semenihhin (Drums). 6 songs are on the album, some being quite lengthy, especially the lovely opener Turkeyfish, which is uptempo heavier stoner rock with spacerock parts a la HAWKWIND. Basically it sounds very much like the classic experimental 1970s, with a fantastic prog part halfway the song. Next track Glitter bo is slightly more noisy and complexer and actually this song is quite experimental with a more Krautrock approach like CAN meets SWANS craziness and towards the end of the song it gets really out of control (loving it!!!). This is as underground dark and complex sounding as possible and also really heavy... Ain't got enough mojo is uptempo proggy krautrock and this is a really great shorter tune, while Burning Lawa is a slowtempo almost doomy BLACK SABBATH ish song. Mia is calmer and progrock based, while closing track Szolnok is again going for the noisy and experimental Krautrocksound. Concluded, this is a recommended instrumental album, which is of a very high level and fits somewhere between ELP, CAN, BLACK SABBATH and HAWKWIND. Check for yourself at: https://centreelmuusa.bandcamp.com/album/centre-el-muusa
(Points: 8.4 out of 10)
FRAGILE 'GOLDEN FRAGMENTS' (FORCE TEN PRODUCTIONS/GERMAN IMPORT)
There are a number of bands out there called FRAGILE, but this one started as a YES tribute band, but eventually this British/German FRAGILE began to compose original compositions in the classic YES style. Not entirely a YES copy thankfully, because FRAGILE has it's own identity for sure and besides YES similarities, the band's sound is also comparable to RENAISSANCE and GLASS HAMMER, partly due to the female vocals. The band consists of Claire Hamill (Vocals), Oliver Day (Guitars), Russ Wilson (Drums/Percussion) and Max Hunt (Vocals, Keyboards, Bass, Guitar, Percussion), and together they created a strong official debut album as FRAGILE. When listening to opener When are wars won? Surely all I need, we can hear a perfect relaxing 70s progrocksound like YES and CAMEL, with lovely keyboardwork and beautiful melodies sung by Claire. Other interesting songs are Five senses (with sort of middle eastern influences), Time to dream/Now we are sunlight (great proggy tune) and closing track Old words and kingdoms/Too late in the day (11 minutes counting Canterbury/Prog epic tune a la RENAISSANCE and also KAYAK, baiscally a very strong song with beautiful melodies and keys/guitars). Concluded, we have a great album, which is very much based around instrumental passages as well as beautiful melodies sung by the female singer. Although YES is obviously the main influence, FRAGILE has created an own sound that just happens to be classic 70s calmer melodic progrock. Check for yourself at:
https://fragileyestribute.bandcamp.com/releases
(Points: 8.3 out of 10)
BAYLEY & HUNT 'WHISPERS' (FORCE TEN PRODUCTIONS/GERMAN IMPORT)
The British act BAYLEY & HUNT consists of Clive Bayley (Vocals / Acoustic & Electric Guitars / Bass), Max Hunt (Keyboards / Acoustic & Electric Guitars / Bass / Backing Vocals / Accordion / Drums / Percussion / Rhythm Loops / Samples) and Jürgen Link (Drums), and they were formed back in 2015. Clive was one of the original founders of pre-YES band MABEL GREER'S TOYSHOP way back in the 1960s and actually co-wrote a few songs that ended on the first YES album in 1969. Decades later Max joined YES tribute band FRAGILE and besides playing original material for many years, he and FRAGILE released recently an album filled with own compostions. Anyway, now as a duo, both musicians recorded a very nice calmer song orientated progrockalbum titled Whispers. Although not bad at all, there's something about the computerized vocals that bother me a bit. A song like Without You / In The Name Of My King / Sailing To The Moon is a great 10 minutes counting pure progrock adventure and more songs like this on a future album would be interesting to see. It's best to check out this album for yourself at: https://bayleyhunt.bandcamp.com/album/whispers
(Points: 7.4 out of 10)
GOLDMUND 'THE TIME IT TAKES' (WESTERN VINYL/KONKURRENT)
Out of Pennsylvania, USA comes KEITH KENNIFF, who creates beautiful minimal, piano-centred ambient music and releases albums under the moniker GOLDMUND. Despite the use of only his piano, it is a very interesting emotional album that feels like background music to a dramatic Scandinavian arthouse movies. This is one of those records you can put on a peaceful late evening and just listen to and dream away. There are no real comparisons possible here, although calling it background music to TWIN PEAKS could be a nice match to mention here. Just go and listen for yourself to this beautiful album and you can check out at: https://goldmund.bandcamp.com/album/the-time-it-takes
(Points: 8.0 out of 10)
THE MOUNTAIN GOATS 'GETTING INTO KNIVES' (MERGE RECORDS/KONKURRENT)
The American band THE MOUNTAIN GOATS was formed in 1991 by singer/songwriter JOHN DANIELLE in California, but meanwhile the band is settled in Durham, North Carolina. Through the nearly 30 years of activity, the band managed to release 18 albums! Getting into knives is their 19th album and msucially speaking we are heading into typical American Indie-Folkrock that sounds like a cross between WILCO, CALEXICO, NEIL YOUNG, R.E.M., VAN MORRISON and TOWNES VAN ZANDT. On the other hand the band has created an own sound, so I think the real fans of the band will know more or less what they can expect on this new album. It's quite melodic and positive sounding, with as highlights between the 13 included songs the uptempo pieces Picture of my dress, As many candles as possible and Rat queen. Check them out at: https://www.mountain-goats.com/
(Points: 8.1 out of 10)
OTEME 'UN SALUTO ALLE NUVOLE' (MARACASH RECORDS/ITALY IMPORT)
Out of Italy comes the band OTEME, whom deliver a wonderful album titled Un saluto alle nuvole. The band consists of Irene Benedetti flute, piccolo, voice, Elia Bianucci clarinets, Stefano Giannotti voices, guitar, electric guitar, banjo, objects, Emanuela Lari keyboards, voice, Vittorio Win Fioramonti double bass, bass, harmonica, voice, Antonio Caggiano vibraphone, percussion and Riccardo Ienna drums, percussion. There is a mixture of male and female vocals, while the music is a mixture of different styles and in-between there are certain speaking parts, so this could well be labelled as a concept-album. The best songs are the 12 minutes counting epic Turni (a male/female duet which is very proggy and rockier than most of the other calmer tunes, also features a beautiful guitarsolo and is quite PINK FLOYD ish) and the 2nd longest song on the album, which is the 8 minutes counting Per I giorni a venire (built around a cool drumsolo and some jazzy arrangements, but this is also a pretty good midtempo melodic calmer progrock tune). The rest of the album is a little less pure progrock orientated, but nevertheless interesting, because it combines prog, jazz, Italian folk, spoken word and OTEME also uses all kinds of instruments, so it is very diverse in the end! Check for yourself at: http://oteme.com/en
(Points: 8.1 out of 10)
CARYS 'VARIOUS ALBUMS' (INDEPENDENT/GERMAN IMPORT)
Suffolk based Singer/songwriter CARYS and electronic music pioneer DAVID WRIGHT are 2 established musicians whom both together and seperately have released a number of records. DAVID WRIGHT & CARYS's album Prophecy is a really great Synthwave/Kraut/Synthesizer based New Age/Symphonic 1970s trip (ALAN PARSONS PROJECT meets TANGERINE DREAM) and I must say it is very impressive, especially during synthesizer driven songs like Ocean to stars and Beyond the veil it sounds really interesting. CARYS also recorded an album together with ROSEMARY GRIFFITH as the duo CELANDINE. Their album She's like the swallow is an acoustic melodic folk adventure with only an acoustic guitar, lead- and harmonyvocals, so you might call this beautiful campfire music, which is nice and melodic, quite calm with a medieaval approach. Solo CARYS has released 2 full-length albums the pastfew years, which are A different kind of normal (nothing to do with covid) and the 2020 album Wolfsong. Both albums are once again showing a different side of CARYS, because here we have a sorta singer/songwriter Celtic sound that sounds very much like we're in Ireland or Scotland. Carys has a perfect voice for this kind of music and it's pleasant to listen to her albums, although personally I am mostly interested in the music she did with David, because that is high class synth driven 80s wave/kraut/new age in the best TANGERINE DREAM, KLAUS SCHULZE style. More info on anything related to Carys' music at: http://carysmusic.com/
(Points: 7.8 out of 10)
MOLCHAT DOMA 'MONUMENT' (SACRED BONES RECORDS/KONKURRENT)
Now here we have something completely different, because MOLCHAT DOMA is a band from Belarus and their album Monument starts with a song that could easily have been recorded in 1983. Utonut has a pure Synthpop sound that sounds close to the legendary hits from bands like YAZOO, OMD, HUMAN LEAGUE, HEAVEN 17, VISAGE, SOFT CELL, etc. The keyboards/synths sound really retro and vocally it sounds quite good too actually, despite the Russian lyrics/vocals. MOLCHAT DOMA was formed in 2017 and Monument is their 3rd album. It will be released in November and I think I am safe to say that this could become a surprising hit in the music scene, because they combine that pure 80s Synthpopsound with dark Russian vocals and that's something you don't hear everyday. They make the 80s sound cool again, just like for example THE EDITORS or DONNY BENET have been doing in the recent past. The band consists of Roman Komogortsev on guitar, lead synth and drum machine, Pavel Kozlov on bass and synth, and Egor Shkutko on vocals. Back to their album, next song Obrechen sounds a little bit darker and touches classic Post-Punk-Wave of the JOY DIVISION kind, but with Discoteque it is as close to early 1980s Synthpop as possible, with memories of the legendary GEORGIO MORODER meets YELLO. Ne smeshno is a darker midtempo 80s Synth/Dark Wave ish song with an ending that even reminds me a bit of THE CURE. Otveta net is even closer to 80s uptempo Gothic Rock, which is due to the dark depressing vocals that remind a lot of IAN CURTIS of JOY DIVISION, but also JIM MORRISON of THE DOORS and the guitarsound is close to classic THE CURE. Basically with this song NOLCHAT DOMA is showing their diversity, although the whole album is in the 1980s spirit of New Wave, Synthpop, Postpunk or Gothic. Zvezdy follows the same sorta direction (with also ULTRAVOX similarities and a cool bass rhythm), while next song Udalil tvoy nomer features that melancholic synthesizer part from 1983 again, which is pure Synthpop/New Wave a la OMD. Leningradskiy Blues is more of the same Goth/Wave mixture, with another THE CURE ish guitar/bass approach and closing track Lubit Vypolnyat is again a bit darker and close to classic JOY DIVISION. Fans of the classic 80s British Wave/Synth/Gothic/Post-Punksounds of the afforementioned bands should check out this impressive 3rd album of MOLCHAT DOMA despite the fact they are a band from Belarus and not just another British band. For me personally that alone would make me more interested to check out this album! Hopefully after covid-19, the band will be able to perform live again! More info at: https://domamolchat.bandcamp.com/album/monument
(Points: 8.6 out of 10)
YARGOS 'THE DANCING MERMAID' (STF RECORDS/GERMAN IMPORT)
The legendary German Prog/Power metal band YARGOS released a couple albums in the past and are known especially for the fact that vocalist ANDREW "MAC" DERMOND of THRESHOLD/SARGANT FURY fronted the band. Sadly Mac left us and so it took many years for the band to overcome this tragic event, but now YARGOS returns with a new CD titled The dancing mermaid. The line-up has changed a lot of course, with now a female singer upfront (BECKY GABER), who not only sings, but also screams/growls, sorta like ARCH ENEMY. The music is very melodic, with sometimes aggressive parts (like AMARANTHE also does, with the cookiemonster vocals of Becky), but during most of the songs and especially during the choruses it is quite excellent NIGHTWISH/KAMELOT ish uptempo Melodic Symphonic Power Metal with strong clean vocals of Becky. There's also some sort of LORD OF THE RINGS/RHAPSODY influences here and there, so I think the fans now know what to expect here. The sound is massive and the best songs are You won't get far, Mine complete, Two girls (Don't come knocking) and the 8 minutes counting If I only could turn back time, all featuring a very catchy melodic chorus and a must-hear for fans of NIGHTWISH/KAMELOT/EPICA and such. The most striking fact of this band is that they were already formed way back in 1973 by WIELAND HOFMEISTER (keys, guitar, programmer, producer), who is still on board, but is now joined by KAI REUTER (guitar, keys, drums, programmer, ex-FAIR WARNING, VITESSE, etc) and several guests whom played in bands like ELOY, EPITAPH, SINNER, RUNNING WILD, HUMAN FORTRESS, HYDROTOXIN and many more. However, despite all the line-up and musical changes throughout their almost 50 years of activity, YARGOS is now delivering a great new album that will find it's way to fans of the afforementioned bands! More info at: https://www.facebook.com/yargosband/
(Points: 8.4 out of 10)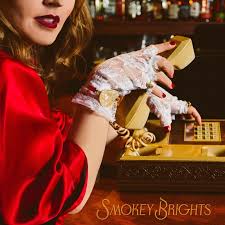 SMOKEY BRIGHTS 'I LOVE YOU BUT DAMN VINYL RECORD' (FREAK!UT RECORDS/FRANCE IMPORT)
What do you do if you have 2 great lead singers in your band? Well, then you let them both sing and in this case both of them also play instruments and are in real life husband and wife! SMOKEY BRIGHTS has it all and even much more to offer on their 3rd album I love you but damn, which was sent to me on beautiful vinyl. The band is coming out of Seattle, Washington, USA and are fronted by husband and wife duo Kim West (keys and vocals) and Ryan Devlin (guitar and vocals) who share the vocal duties. Completing the band are Nick Krivchenia (drums) and Luke Logan (bass), and the 4 of them created a strong melodic rocking album that was produced by Andy Park (DEATH CAB FOR CUTIE, MAC MILLER, etc.) . It is a diverse record with a huge sound and without a doubt, SMOKEY BRIGHTS have delivered a superb album that should appeal to a lot of people out there. 10 songs are included in total and opener Save us Sarah grabs the attention rightaway, because this is an excellent catchy uptempo rocker with a nostalgic 70s/80s kinda American Heartland rock touch, although it also reveals modern rock and Indie influences, so perhaps imagine a mix between classic BRUCE SPRINGSTEEN, 38 SPECIAL, THE KILLERS and THE GASLIGHT ANTHEM, with also some cool keys added and strong vocals by male singer Ryan. The female vocalist Kim takes over on the next song 72, which also is musically slightly different, as it is digging deeper into the classic early 80s midtempo melodic poprocksound of acts like QUARTERFLASH, THE MODELS and such, with a very catchy groovy funky beat that also reminds me a bit of DONNY BENET. Next track Cruel also features Kim on vocals and now we're heading into pure classic early 80s female fronted AOR/Poprock that is dangerously close to early 80s PAT BENATAR, DRAMA, THE BREAKS, LISA HARTMAN, TANE CAIN, etc. etc. If you put on this song with it's soaring guitar solo and lush melodies, and then also look at the frontcover and band picture inside the gatefold vinyl album, it's like we're really back in 1983! However, SMOKEY BRIGHTS are really a new band with 4 young musicians playing music that was popular when their parents were probably just born! Anyway, the album continues with the lightweight pop/rocker I love you but damn that reminds me a bit of BRYAN ADAMS. Side-A closes with January 15, a fantastic modern groovy soulful pop/rocker with a catchy rhythmic beat and overall this song reminds me a bit of the Dutch band DE WOLFF, who made a similar sounding record earlier in 2020, although I even hear similarities to the might BLACK PUMAS here. This song could easily become a huge radio hit, because Ryan sings just perfectly on it.
Side-B opens with Since '85, a strong midtempo rocker with a modern approach and some great vocalwork by Ryan again. Kim sings on the following I won't lie 4 U that is a sorta 1970s ish melodic pop/rocker with somehow memories of STEELY DAN, yet vocally reminding a bit of GRACE SLICK. Dance until we die also features Kim on vocals and this song has a radio-ready polished modern poprocksound that should gain them a guaranteed hit and could make KIM WILDE and BLONDIE very jealous for not creating in their career! Hey California continues with Kim on vocals once again, and this is a more laid-back pop/rock tune with a smooth melody that has a slight classic Westcoast/Californian breeze feeling. Closing the album is Shelter me, a calmer semi-ballad with a surprising classic R&B/Soul approach, reminding me a bit of LEON BRIDGES and CURTIS HARDING.
Concluded, this is a highly recommended album to anyone who is keen on melodies which are in this case sung by both a male and a female singer, so it offers a lot of diversity, also musically speaking, but a mix of classic melodic American Pop/Rock, modern age Rock and a bit of Soul is probably a good description to follow. Check them out for yourself at: https://www.smokeybrights.com/
(Points: 8.6 out of 10)
MEAN STREAK 'EYE OF THE STORM' (EL PUERTO RECORDS/SOULFOOD/GERMAN IMPORT)
Eye of the storm is the 5th album of the Swedish band MEAN STREAK, whom are clearly creating a Metalsound of the 1980s, with thankfully the massive production/sound of today. The band's line up consists of Andy La Guerin (vocals, guitar), Julian Eriksson (lead guitar), Peter Andersson (bass) and Fredrik Skold (drums) and after the blazing uptempo Melodic Metal opener Last nail in the coffin, which sounds like PRIMAL FEAR meets JUDAS PRIEST, the band has no mercy and shows we are dealing with a real Metal band! Things slow down a bit to a midtempo Melodic Heavy Rock format on the excellent catchy From cradle to grave, which has a really strong memorable chorus. SINNER and PRIMAL FEAR Teutonic Melodic Metal is however mostly the name of the game here and MEAN STREAK do this really well. It's the combination of fits in the air, gang-vocal choruses to sing-a-long to, a high pitched screaming singer and a big massive guitarsound like usually only German bands are doing (just listen the ACCEPT 'Balls to the wall' ish sounding Break the limit), but as already mentioned, MEAN STREAK are Swedish. Anyway, other highlights on the album are the faster Sacred ground (Power Metal upper league, with catchy chorus), the midtempo 1000 years (ACCEPT meets SINNER) and the lovely catchy faster uptempo titletrack Eye of the storm (NOISEHUNTER meets 220 VOLT ish Power Metal, best song on the album, including a superstrong chorus). MEAN STREAK are definitely a recommended band to check out if you're a fan of the afforementioned bands, then please go to: https://www.facebook.com/meanstreakse
(Points: 8.2 out of 10)
SENS DEP 'LUSH DESOLATION' (INDEPENDENT/CREATIVE ECLIPSE/GERMAN IMPORT)
SENS DEP comes out Australia, was formed way back in 2009, but Lush desolation is their very first album. The band consists of Andrew Yardley (guitar/ bass/ vox/ production), Ben Yardley (guitars/ field recordings/ production) and Caz Gannell (electric and acoustic cello/ general noise). The included music is quite extreme Noise, with a sound that also recalls the days of CAN and SWANS. It is very experimental and industrial sounding, quite an instrumental journey to distorted sounds and noises, so it might be hard for some people to understand what SENS DEP is trying to achieve on their debut album. However, if you're interested in something completely different and going against all genres, then you should check out the SENS DEP album and it's 11 songs, because when listening to songs like The gate and the titletrack Lush desolation it's like we're heading into a different space and time, as it all sounds very bizarre and extreme. Here and there we can find some songs that are more accessible, such as the Shoegaze ish Nebuvital, which also features lush vocals, but overall this is something that might be interesting for fans of bands like CAN, SWANS and such. More info at: https://sensdepsound.bandcamp.com/track/lush-desolation-2
(Points: 8.1 out of 10)
GONG WAH 'GONG WAH' (TONZONEN RECORDS/SOULFOOD/CREATIVE ECLIPSE/GERMAN IMPORT)
Formed by singer Inga Nelke and guitarists Thorsten Dohle and Felix Will in the beginning of 2018, the German band GONG WAH worked hard on their official same titled debut album, which is now available. The first couple of songs show their love for loud, angry fast punky garage rock (Let's get lost and I hate you), but they also have a more melodic melancholic side, which can be heard during the lovely calmer songs Supersized kid and With him, both influenced by Shoegaze, Dreampop and Psychedelic Rock like DUM DUM GIRLS. Need to add here that especially With him ends with a heavy psychedelic noisy rock part, which makes this song quite an enjoyable long epic tune. The vocalwork is strong and the overall sound of the band is very international orientated, so GONG WAH is without a doubt a recommended German band to check out. Other highlights are Sugar & Lies (the most accessible track on the album, because this is a fantastic catchy 70s orientated uptempo rocker with an almost Glamrock ish approach like a mix between T-REX, JOAN JETT/THE RUNAWAYS and STATUS QUO), the melodic pop/rocker Not this time and the haunting epic Contaminated concrete (a strong melancholic song with quite superb vocals). All together an interesting and very diverse record after a somewhat raw garage punkrockstart, because this band has a lot more to offer and therefore you should go check them out for more info at: https://gongwah.bandcamp.com/music
(Points: 8.4 out of 10)
YOBREPUS 'MYCELIUM DAYS' (APOLLON RECORDS/CREATIVE ECLIPSE/GERMAN IMPORT)
Out of Oslo, Norway comes YOBREPUS, a band formed around Mats Jørgen Sivertsen – vocals, keys, guitars, loops, Vegard Weyergang Vartdal – bass, backing vocals, Paal Urdal – drums and Leon Muraglia – guitars. Together the 4 musicians create a sound that is typical Norwegian, because it is a mix of Progrock, Krautrock, Indie and Electronic Pop/Rock, combining the best of all these genres on their 2nd album Mycelium days. It starts with a 22 minutes counting epic piece that shows the band's love for the aforementioned genres, although the song is for most of us a calmer Progressive Rocksong in the PORCUPINE TREE style, but it definitely reveals also other influences and sounds quite dark actually. Other highlights are the calmer FISH ish What if.... and the fantastic Wangari. If you're open-minded progfan, then you should check out this band at: https://yobrepus.bandcamp.com/
(Points: 8.1 out of 10)
WE STOOD LIKE KINGS 'CLASSICAL RE:WORKS' (KAPITAN PLATTE/CARGO RECORDS/CREATIVE ECLIPSE/GERMAN IMPORT)
WE STOOD LIKE KINGS is a Belgian band playing classical music in a progressive rock format, sorta like PORCUPINE TREE meets BACH/BEETHOVEN. The result is their album Classical re:works, which is as the title predicts a collection of 7 classical music pieces that have been reworked by the band and now sound like instrumental progrock versions, although the closing cover of the Johan Sebastian Bach classic Organ sonata no.4 in E minor is done in a more pure classical music version. They did a pretty good job here, as the full album feels like a lovely instrumental progrock adventure. More info at: https://wslk.bandcamp.com/
(Points: 8.1 out of 10)
USTAD SAAMI 'PAKISTAN IS FOR THE PEACEFUL' (GLITTERBEAT RECORDS/XANGO MUSIC)
USTAD SAAMI comes out of Pakistan and he is the last living Surti master, a precursor of the ancient, Islamic devotional music of qawwali. Pakistan is for the peaceful is his 2nd album, and it was recorded live at the master's rooftop home in Karachi, Pakistan in 2018, while it was mixed by David Odlum in Dublin, Ireland. Ustad is joined by his four sons; Rauf (group leader, harmonium, vocals), Urooj (primary response vocalist, tambura number one), Ahmed (tambura number two, vocals) and Azeem (tablas, vocals). The result is an original and inspiring album that breathes the Islamic culture in it's pure essence. It's not a standard album at all, because therefore the sound and singing of Ustad is something extraordinary, but for the World Music among us, this album is definitely recommended, as Ustad takes you on a trip to his homeland of Pakistan and the Islamic culture. 3 songs are included, of which 2 are around the 20 minutes mark, so the total playing length is still about 46 minutes. If you're starting to become interested, then please go check for yourself at: https://ustadsaami.bandcamp.com/
(Points: 7.5 out of 10)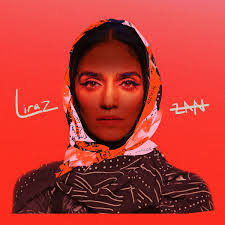 LIRAZ 'ZAN' (GLITTERBEAT RECORDS/XANGO MUSIC)
Now here we have a very interesting album out of the Middle East, because LIRAZ CHARHI is an Iranian singer and actress who is settled in Tel Aviv, Israel. Due to the political situation between Iran and Israel, she is not able to settle in Iran and because her TV/Movie career takes place in Israel, she needs to stay there. Zan is her 2nd album and it tells her story about staying positive as a woman in the Middle East. The material is written and sung by Liraz entirely in Persian, while it's produced and co-written by Uri Brauner from Boom Pam band and features an anonomous Tehran based female percussionist (recorded secretly and sent online to Liraz) as well as various musicians from Liraz's band, based in Tel Aviv. The result is one of the better Psychedelic/Electronic Middle-Eastern Pop/Rockalbums of 2020, easily up there with TINARIWEN, TAMIKREST, ALTIN GUN and TOOTARD. Liraz has a pleasant voice and she can sing exceptionally well, although of course the Persian language in which she sings is hard to follow. 10 songs are included and the absolute highlight is Injah, which is a lovely midtempo song that combines classic 70s psychedelica/Middle-Eastern rock guitar with the modern Western electric pop/rocksound, while there are also some 80s synths here and there, and above all, it has a catchy memorable chorus. In this same style we can hear later on the excellent songs Mastam and Bia Bia, and all of them could easily become huge hits, because they sound very catchy! If we have a look at some of the other songs, Dolate Eshg is a pure classic Israelic meets Middle-Eastern sounding song, Joon joon is reminding me a lot of ALTIN GUN due to it's synth sound and swinging Middle Eastern beat, and Shab Gerye is a beautiful semi-ballad where you can really feel Liraz' emotional singing. This album caught me by surprise, because it combines pieces of various music styles from the past with the traditional World Music, but the open-minded prog/psychedelic fans might also like this I think! You can listen for yourself at: https://deadsearecordings.bandcamp.com/track/zan-bezan
(Points: 8.7 out of 10)
TOO SLIM AND THE TAILDRAGGERS 'THE REMEDY' (VIZZTONE GROUP/USA IMPORT)
The American band TOO SLIM AND THE TAILDRAGGERS was formed all the way back in 1986 and have meanwhile released a lot of albums, of which six even charted in the US Billboard Charts, so they are quite well-known in the USA. The 3-piece band is formed around Tim "Too Slim" Langford/Lead vocals, guitar, Zach Kasik/Bass, vocals and Jeffrey "Shakey" Fowlkes/Drums, and their new album is quite impressive and secretly one of the finest Blues/Classic Rockalbums of 2020! Opener Last last chance is a cool raw uptempo rootsy Rock and Roll song like ZZ TOP meets ROLLING STONES, while following track She's got the remedy is a fantastic slower more heavier blues rock orientated, with even some similarities to THE BLACK KEYS crossed with JOE BONAMASSA's guitarwork. Basically the album continues in this mixture of classic rock and roll and modern heavy blues rock, and I have to say it is of an incredible high level. Other highlights are Reckless, Sure shot, Snake eyes and the beautiful melodic slightly westcoast/aor ish closing track Half a world away. Without a doubt, this is a sensational album by this well-established act around bandleader TOO SLIM and let's hope they will be able to come over to Europe once corona is gone. Meanwhile, check out this superb new album and more info at: https://www.tooslim.net
(Points: 8.6 out of 10)
OZFERTI 'SOLARIUS GAMMA' (NUBIANOVA RECORDS/VEEVCOM/FRANCE IMPORT)
OZFERTI is a character created by the French beatmaker / musician / illustrator FLORIAN DOUCET and their album Solarius gamma is inspired by East-African music and it was partly produced and recorded in Addis Abeba, Ethiopia. The 11 tracks on this record are a mixture of traditional World Music and a lot of modern Hip-Hop ish beats. The music is most of the time instrumental and sometimes entirely based around Beats. It starts with a strong World Music kinda instrumental groovy and rhythmic song titled Abyssinium express, but the Beats take over during the following Hagir fixir. Other interesting songs are Space gurage (swinging), Selam, Solarius gamma, Ta na da and Purple sand. Done very well, I hope next time a real drummer will be used to get an authentic sound, because now sometimes the Beats/Drums that are programmed are taking over a bit too much. On the other hand, my deepest respect for this multi-instrumentalist OZFERTI who does almost everything on his own! Check for yourself at: https://nubianovarecords.bandcamp.com/album/solarius-gamma
(Points: 7.7 out of 10)
JUSSI LEHTONEN QUARTET 'CONNECTION' (ECLIPSE MUSIC/XANGO MUSIC)
Out of Finland comes the JUSSI LEHTONEN QUARTET and their studio debut album is titled Connection. They did release a live album a few years ago, but with Connection they are releasing their first studio album. The quartet around drummer Jussi Lehtonen is completed by pianist Holger Marjamaa, contrabassist Heikko Remmel and saxophonist Joonatan Rautio. 8 songs are included in total and it all starts very agressive with the classic complex jazz of Moonshine, a lengthy tune that immediately grabs your attention and show a tight band delivering the goods. The rest of the album offers most of the time somewhat calmer jazz that is also quite melodic, such as the beautiful Timeout, The last Waltz, Song for hope and also very interesting is On beat that celebrates Jussi's excellent drumming. Modern Jazzfans will absolutely love this record, so go check out more at: https://eclipsemusicrecordlabel.bandcamp.com/album/connection
(Points: 8.1 out of 10)
RODRIGO COSTA FELIX 'TEMPO' (SPAUTORES/XANGO MUSIC)
Flirting with pop melodies is basically what this Portuguese Fado musician RODRIGO COSTA FELIX is doing on his new album Tempo. He has a great voice for this kind of music and I am safe to say that in Portugal this kinda Fado music is absolutely adored and when it is done as well on this record Tempo, there will be a massive crowd following him. A song like the superb catchy Lisboa e assim is deserves to become a worldwide summer hit, with it's traditional classic sound. The pop music influences I mentioned is due to the fact that Rodrigo brings the Fado music to a wider audience on this album, just by singing it in a very clean way (sometimes even reminding me of HERMAN VAN VEEN somehow!) and letting the melodies flow throughout each and every song. Although this music is hardly played or promoted over here, it is a pity Rodrigo's new album will therefore probably not be heard by a lot of people, because a lot of the songs are very pleasant to hear. More info at: https://www.facebook.com/rodrigocostafelixoficial/about/
(Points: 8.0 out of 10)
HUMAN CELL SIGNALS 'SIGNALING PATHWAYS' (ECLIPSE MUSIC/XANGO MUSIC)
There is not much info on the Finnish duo HUMAN CELL SIGNALS, but they consist of HARRI TOPI (electric cello) and Noora Laiho (electric kantele), and Signaling pathways is their debut album. The included music is quite original and very interesting actually, because they have a rich instrumental sound that sits somewhere between progrock, new age, krautrock, classical music and jazz/fusion. A mixture between TANGERINE DREAM, MIKE OLDFIELD and a lighter version of APOCALYPTICA could be a nice description, but HUMAN CELL SIGNALS have an own identity. The included material is very impressive, with calmer pieces (Let there be light, Wonder and the beautiful Solitude) and somewhat heavier moments (Kick and the awesome Stay strong), there's something to enjoy for each and everyone of us. The band takes you on their atmospheric adventure that feels like you're in the woods of Finland somewhere, quite haunting and exciting at the same time. It could also be used as movie background music and it is all done very well. Check for yourself at: https://eclipsemusicrecordlabel.bandcamp.com/album/signaling-pathways and https://www.humancellsignals.com/Human_Cell_Signals/Duo.html
(Points: 8.4 out of 10)
FITO LURI 'DIARI DE LLAMBORDES' (KASBA MUSIC/XANGO MUSIC)
Now this is a really nice album, starting off with 3 very catchy uptempo melodic poprockers with 80s kinda melodies, although it's also sounding ready for today's modern popworld. It concerns here the album Diari de Llambordes from the Spanish singer/songwriter FITO LURI and especially those first 3 songs (Dosi, Pena i regust and Tempus fugit) are very catchy uptempo poprockers that remind a bit of the Spanish version of RICHARD MARX. The following songs are a bit calmer, but nevertheless quite good, with Fito's great melodic clean singing. Despite the Spanish lyrics, which will be hard to follow for some, the music sounds very summerfriendly and pleasant to the ears. There's also a touch of COLDPLAY during a midtempo song like Trampa mortal, so imagine a mix of modern pop and 80s melodic poprock, then you have FITO LURI. If there's anyone who can remember the Italian band ORO, well, this is in the exact same style, with uptempo poprockers, midtempo popsongs and ballads, only difference is the Spanish language instead of the Italian language. Nice little record that you can easily listen to when you want to hear some smooth calmer melodic music in a traditional Mediterrean style. More info at:
(Points: 8.3 out of 10)
THE AWKWARD SILENCES 'THE AWKWARD SILENCES' (BLANG RECORDS/UK IMPORT)
IGGY POP and typical British Music influences are very clear on this Post-Punkalbum by the British band THE AWKWARD SILENCES. Although it is a same titled album, this is actually their 4th release. The album was produced by JON CLAYTON (THE MONOCHROME SET, SUBWAY SECT) and contains 10 songs that lyrically are clearly telling stories and/or are dealing with political issues. The vocals are not so strong I'm afraid, while the music is quite typical British Post-Punk. The album brings us 10 rockers with memories of THE FLAMING LIPS, IAN DURY & THE BLOCKHEADS, TALKING HEAD, IGGY POP and such, although THE AWKWARD SILENCES reveals an own style here and there. The songtitles are typical English (kinda like THE ARCTIC MONKEYS), with as best ones There's nothing more obnoxious than a self-made man, Everybody loves organised fun and The medical model. Not bad at all, so go check them out at: http://theawkwardsilences.com/
(Points: 7.8 out of 10)
VARIOUS ARTISTS 'SCRATCHCARD (BLANG 2016-2020)' (BLANG RECORDS/UK IMPORT)
The London based label BLANG RECORDS has been around for a while now and this compilation records gives a nice overview of the past 5 years, with in total 15 songs. It's definitely a good and practical way to discover 15 different bands that are signed to this interesting label. The music is also quite diverse, because it might start with a sorta THE SHADOWS ish Surfrocksound by DAVID CRONENBERG'S WIFE, but their song Suli's house changes here and there when there is some spoken word upfront. Next band SERGEANT BUZFUZ is typical British Post-Punk, while the strong melodic calmer SLATE ISLANDS has a certain Celtic/Folk sound reminding me a bit of FAIRPORT CONVENTION. SLATE ISLANDS is a very interesting female fronted band and hopefully I am able to hear and review more of them soon. BRIX & THE EXTRICATED is a superb female fronted band and their catchy 1970s Punk/Rocker Something to lose is dangerously close to THE RUNAWAYS, so hopefully I will be able to hear and review of this exciting band soon. They have a long history and there is a connection with the legendary band THE FALL, so quite interesting for sure! Up next is SETH FAERGOLZIA, who is taking things to a very modern popsound with his computerized music, so less interesting for the rockers among us. JACK MEDLEY's SECURE MEN are then again rocking quite well on their song Taking care of business, which is a nice mixture of typical British Post-Punk with an almost T-REX ish 1970s Glamrock chorus. THE REVERSE is another typical British sounding band, but this time a bit more 80s Alternative/Britpop orientated like BECK. One of the better sounding bands here is the Garage/Punk/Powerpopband SHEEPY and their catchy uptempo piece Sheepy that sounds like a perfect cross between classic THE KNACK, GENERATION X, THE BOYS and THE ROMANTICS, so somewhere between late 70s Punkpop and early 80s quirky Powerpop. Hopefully much more info on SHEEPY soon! TAV FALCO is then again completely different with it's bluesy rock riff meets 70s TALKING HEADS and HERMAN BROOD kinda Spoken Word Post-Punksound on their song Tramp. Up next we have the band TRAILER CRASH, another typical late 70s/early 80s sounding British band with a rather catchy quirky pop/rocksong that sounds quite sensational, although it does reveal influences from classic 10CC and especially GODLEY & CREME (An Englishman In New York), but nevermind, because this is a great hit potential song! FAUX FIBBERS take things to a more ELVIS COSTELLO kinda catchy Powerpop/rock direction and I have to admit they are doing it really well. MILK KAN's My baby's gonna viral on the brain is a really weird quirky mixture of Rap and depressing vocals of the Britpop generation. EXTRADITION ORDER is changing the mood and sound 360 degrees to a nice catchy 1960s THE SUPREMES sound, with some ABBA harmonyvocals. STERLING ROSWELL is slow dark, gritty, psychedelic rock of the late 1960s THE DOORS kind, with also a Surf Rock guitar and I can imagine fans of 1960s Garage Rock will go crazy when they hear this interesting band! And closing band is THE AWKWARD SILENCES, of whom we reviewed their new album recently. Quite an interesting very diverse compilation album that features a few very interesting bands, which I hopefully can discuss further in detail soon. Meanwhile, check out this great label at: www.blangrecords.com

(Points: 8.3 out of 10)
DAILY THOMPSON 'OUMUAMUA' (NOISOLUTION/SOULFOOD MUSIC/GERMAN IMPORT)
Out of Dortmund comes DAILY THOMPSON, a band formed in 2013 and named after a British athlete. The band is a threesome formed around Vocalist/Guitarist Danny Zaremba, Vocalist/Bassist Mercedes "Mephi" Lalakakis and drummer Matthias Glass, who recently replaced the band's previous drummer. Anyway, they are quite a great band actually with an international sound and Oumuamua is their 4th album so far. Although only 7 songs are included, of which the last one is an unplugged tune, it's still a full-length record, because 2 songs are around the 11-12 minutes of playing length. Opener She's so cold is a mixture of all kinds of styles actually, with also a shared female/male lead vocal and combining calmer progressive rock in the beginning, developing into psychedelic rock meets krautrock before ending in a heavier alternative meets stoner rock direction a la SPIDERGAWD. Sad Frank is a very strong and quite excellent slowtempo song that could be seen as THE BLACK KEYS ish heavier blues/stoner rock with an almost 1970s BLACK SABBATH ish Doom Metal chorus. The song also shows that the male vocals are better than the female vocals. Fuzzy Stoner Rock heaven can be heard during the massive guitar riff sounding On my mind, which again has clear 70s BLACK SABBATH similarities, although the smell of early 90s Alternative Rock (SOUNDGARDEN) is also present. Slow me down is the finest song on the whole album, as this is an excellent midtempo modern heavy blues rocker with a groove and vibe that is impossible to ignore and here the vocals also sound superb. Half thompson is more or less following this direction, but is perhaps a bit heavier and actually close to bands like BLACK STONE CHERRY and RIVAL SONS, so this is definitely sensational heavy modern bluesy classic hardrock/heavy rock. Cosmic cigar is a dark slow Alternative Stoner Rocksong that even recalls memories of classic ALICE IN CHAINS, while the final song is as already mentioned an unplugged version of their song River of a ghost. Without a doubt, this is a highly recommended German band and you check them out at: https://dailythompsonband.bandcamp.com/album/oumuamua
(Points: 8.4 out of 10)
KASKADEUR 'UNCANNY VALLEY' (NOISOLUTION/SOULFOOD MUSIC/GERMAN IMPORT)
Out of Potsdam, Germany comes KASKADEUR, a band which changed their name recently and they are now making their debut on their new label NOISOLUTION. They used to be called STONEHENGE, under which they released quite a lot of albums, EPs, cassettes, etc. Now under this new name they want to start all over again and I have to say that their album really impresses. The band's line up consists of Enrico Semler (guitar / vocals), Johannes Walenta (organ / synths), Michael Paukner (bass), Ole Fischer (drums), and they play a mixture of all kinds of styles actually. Enrico has a great voice, although it seems that KASKADEUR are more focused on instrumental material. I think the progrockfans will love this, although they are not a pure progband at all actually. Opener Uncanny valley is a strong complex tune that combines progrock, groovy hardrock, fuzzy stoner rock and alternative rock like KING'S X meets PSYCHOTIC WALTZ meets ZAPPA if you can imagine that, because actually KASKADEUR has an own identity. They really like a groovy and proggy rhythm section (drums/bass), while the guitarist and vocalist seem to be pure Hardrock/Metal minded. Interesting mixture and in-between the short intro's/outro's and an instrumental tune here and there such as the sensational 70s heavy progrock/stoner rock influenced Flashback fatkids, there are some interesting songs with vocals, such as the aforementioned titletrack and also the lovely 70s prog/spacerock driven Part of your DNA. There is a lot to enjoy here, but if you're interested in a mix between 70s progrock, fuzzy stoner rock and a touch of modern psychedelic post/math-rock with still melodic catchy choruses here and there, then this might be up your alley! They surprised me with this original album and I am sure this will find it's way to people who appreciate quality music. More at: https://kaskadeur.bandcamp.com/album/uncanny-valley
(Points: 8.4 out of 10)
THE PH PROJECT 'SLOW BURN' (INDEPENDENT/USA IMPORT)
Guitarist PAUL KAMINSKI comes out of Long Beach, California and together with guitarist HUGH VANDERLINDEN they started THE PH PROJECT and Slow burn is their first album. Besides these 2 songwriters/guitarists we can also hear a lot of other musicians and various vocalists. 8 songs are included in total and due to the use of different singers, it is an album that keeps the interest from start to finish, because sounds quite diverse. Opener Slow burn is a very strong midtempo bluesy melodic rock/classic rocker with also great soulful vocals, perhaps a bit BAD COMPANY ish. Up next are Secret place and Left me for dead, which are a bit in the same style. but the difference is that these songs feature a female singer, who is not as good as the male singer of the first song. Jump right in brings another singer, who sounds even more soulful and really strong on this groovy funky 70s inspired pop/rocker. Rainbow in your eyes is a very strong semi-ballad with a certain AOR/Westcoast feeling of the early 80s and it features superb vocals/harmonyvocals during the catchy chorus (a bit like ENCHANT without the Prog influences). Detroit song is a slowtempo bluesy rocker at first sight, but it develops into an impressive soulful semi melodic rocker with beautiful harmonyvocals during the chorus. This is bad follow and is a pure (slowtempo) Bluesrocksong with once again excellent vocalwork. Closing track Cold winds is a calm singer/songwriter acoustic piece, sweet and safe sounding with higher pitched JONI MITCHELL ish female vocals. Concluded, this is a really interesting band/project, although next time I would prefer only the male singers and also perhaps a few uptempo rockers. However, I am quite impressed here and I do hope they are able to do something official in the future, especially a release on vinyl would be nice. Anyway, check this out at: https://thephproject.bandcamp.com/
(Points: 8.1 out of 10)
SHIVAN LUCA 'ALBERO DELLA VITA' (INDEPENDENT/USA IMPORT)
Out of Los Angeles comes the talented singer/songwriter SHIVAN LUCA, who is able to sing quite well and compose the kind of top 40 singer/songwriter melodic popsongs that is currently quite popular. The 11 songs on his latest album Albero della vita are all quite nice and sweet, reminding quite a lot of ED SHEERAN. It starts with a calm acoustic piece, but as the album continues we get to hear more uptempo happy radiofriendly pop/rock songs, such as the very catchy All we need for love that also reminds me a bit of JAMES BAY, and Sundress. It would not surprise me actually if Shivan breaks through in the future, because he has the potential. On the other hand I do hope for a bit more diversity and some rockier moments as well, because now the material sounds quite thin. Nevertheless, if you're into the aforementioned singer/songwriters, then SHIVAN LUCA is highly recommended. Check out more at: http://shivan-music.com/home
(Points: 7.7 out of 10)
SYMFINITY 'ANTHEM' (INDEPENDENT/USA IMPORT)
Although the New York based band SYMFINITY consists of 4 members, Seann Branchfield / Vocals, John "Doc" Schwartzberg / Guitars, Crystal Kim / Piano and Averi / Flute, Piccolo, Trumpet, there is a full orchestra backing them up on each and every song of the 11 included tracks of their debut album Anthem. Seann can sing really well and the melodies he sings in songs like Flipside and Dynamite are really beautiful. The band is playing their own brand of European Gothic Melodic Symphonic Metal in the style of WITHIN TEMPTATION, NIGHTWISH, EPICA, THEOCRACY, with a sorta theatrical influences that even recalls QUEEN and ROBBY VALENTINE here and there, such as during The way I run from you that even reveals some Pomprock influences a la KAYAK, KANSAS and AVIARY. This is actually a really impressive album, but the only remark would be that the production could be better, because if this was recorded somewhere in Europe under the wings of a major producer and released on a major rock/metal label over here, this could well turn into a majestic sensational album! Now this is the only thing that should be improved next time, because musically (and also vocally) speaking SYMFINITY are doing it really well, sounding very Symphonic and Classical Music orientated while retaining the rock/metal approach. Mix up all the mentioned bands with an orchestra and also throw in some Musical/Opera influences, then you're close to SYMFINITY! If you're starting to become interested, you can check out more at: www.symfinity.com
(Points: 8.0 out of 10)
BERGETON 'MIAMI MURDER' (MEUSRECORDS/DARKHAN MUSIC/PLASTIC HEAD/CREATIVE ECLIPSE PR/GERMANY IMPORT)
In the past few years the Synthwave genre has brought us many great releases and this particular genre has become more and more popular I noticed. I once attended an amazing MAGIC SWORD concert and I have to say this is definitely a genre that should get a lot more attention, because it captures a vibe that gets you in a certain hypnotic trance. BERGETON from Oslo, Norway releases a sensational debut album titled Miami murder, which is easily a superb piece of pure instrumental Synthwave. The man behind BERGETON is MORTEN BERGETON, who is also known as TELOCH of the legendary Norwegian Black Metal band MAYHEM. With BERGETON he goes into a completely different direction, with 80s retro Synthwave sounds. 8 songs are included, of which msot are uptempo pieces, such as the wonderful Arabian nights, Depeche load and Lambo, but there's also time for a slower midtempo tune like the pure 80s sounding sci-fi movie theme song Miami murder that almost reminds me of classic JAN HAMMER meets TANGERINE DREAM and JEAN-MICHEL JARRE, and how about Natasha KGB, which has even elements of classic ALAN PARSONS PROJECT meets KNIGHT RIDER. BERGETON does it really well and if you like MAGIC SWORD, PERTURBATOR, STRANGER THINGS, BLADE RUNNER and such, then this is a must to chek out at: https://bergeton.bandcamp.com/album/miami-murder-2
(Points: 8.6 out of 10)
SILENT EYES 'SILENT EYES' (INDEPENDENT/CREATIVE ECLIPSE PR/GERMANY IMPORT)
Out of Newcastle, Australia comes the Progressive Rockband SILENT EYES, which is actually the brainchild of Keelan Butterick, who plays Acoustic guitars, Electric guitars, Bass guitar and sings on the 5 songs of the same titled debut EP. He does get some help on drums by Alex Otoole and on Piano by Alex Wilson. It's a mini-CD and it sounds really impressive! Opener Homeward bound is a lovely calmer melodic progressive rocker with strong vocals by Keelan and it has a very relaxing vibe. This is progrock like we know it from the past few years, which is very much song based and is therefore close to the 21st century MARILLION, AIRBAG, STEVEN WILSON, PORCUPINE TREE and such. The rest of the album follows more or less this direction, although some of the songs are even calmer with an acoustic approach, all showing what a wonderful singer Keelan is. Check them out at: https://silenteyes.bandcamp.com/album/silent-eyes
(Points: 8.3 out of 10)
MICHAEL LANDAU 'LIQUID QUARTET LIVE' (MASCOT LABEL GROUP)
The legendary American MICHAEL LANDAU is known as musician, audio engineer and record producer on countless albums by a diversity of acts, such as MICHAEL JACKSON, SEAL, RICHARD MARX, STEVE PERRY, STEVIE NICKS, MARI HAMADA and many more. He was one of the 4 major session guitarists in the L.A. music scene of the 1980s playing on countless albums from that period, alongside fellow guitarists like DAN HUFF, STEVE LUKATHER and MICHAEL THOMPSON. Those 3 guitarists also had own solo and band carreers going on in the AOR/Westcoast direction, while MICHAEL LANDAU clearly choose a Bluesrock direction on his solo albums. He released quite a lot records on his own the past 30 years and his latest album is called Liquid Quartet Live, which was actually also the start of a new band/project back in 2018, and this cooperation has now resulted in a full album. The album was recorded live at a Jazz club in Los Angeles in November 2019, and besides Michael on guitar and vocals, the band consists of drummer Abe Laboriel Jr (PAUL MCCARTNEY), bassist Jimmy Johnson (ALLAN HOLDSWORTH) and on guitar and vocals, David Frazee (BURNING WATER). The included music is mostly high class Bluesy Rock with influences from Jazz in the rhythm section, Classic Rock during the guitarsolo's (just listen to the superb Greedy life for example) and Soulful vocalwork by Michael himself. Without a doubt, Michael is an underrated vocalist and guitarist who should be up there with the other big blues rock musicians. The 10 songs on this album show that live on stage Michael is one of the best, singing with a voice a lot of singers will be jealous of, while of course his guitarplaying is also exceptional. After listening to the album a few times, the highlights are definitely the rockier Well let's just see, the lovely calmer Killing time, the heavy groovy Bad friend and th beautiful calmer bluesy ballad One tear away. MICHAEL LANDAU's new album is something you need to hear for yourself, because these guys are not just session musicians, because they can also deliver something wonderful on their own. All the information you need to know on Michael can be found at: https://mikelandau.com
(Points: 8.5 out of 10)
DARWIN 2 'A FROZEN WAR' (ORIGIN OF SPECIES/NINETEEN 73/UK IMPORT)
DARWIN is a songwriter, guitarist, creator and producer who now delivers his 2nd album as DARWIN 2. The album A frozen war also features 2 major names from the music world, because drummer/keyboardplayer SIMON PHILLIPS (TOTO, HIROMI, AC/DC and countless others) and vocalist/bassist MATT BISSONETTE (DAVID LEE ROTH, A440, RICK SPRINGFIELD, ELTON JOHN and countless others as well) are involved here. However, there is an additional list of musicians that are taking part of Darwin's adventure, because also DEREK SHERINIAN, GREG HOWE, BILLY SHEEHAN and many more big names from the rock/metal world can be heard as well. Anyway, the included music is a mix of Progressive Metal, Progrock and a touch of AOR/Melodic Rock. 5 long songs are included and it starts with Nightmare of my dreams and Future history, both THRESHOLD ish melodic progmetal tunes that immediately show the incredible high quality of this album, with also quite strong lead vocals by Matt (who knew this famous bass player could sing so well!). Eternal life is calmer and sounds almost like TOTO, with its strong harmonies and melodic semi-AOR ballad ish approach and also has light Neo-Prog influences as well. This is what we would call back in the day well-thought AOR, with a WHITE HEART ish superb chorus and a fantastic classic 80s rocking guitarsolo a la NIGHT RANGER, but also a proggy twist. The mixture of melodic rock and prog can also be heard during the titletrack A frozen war, while closing track Another year is basically pure uptempo AOR/Melodic Rock, close to TEN/GARY HUGHES, so this is definitely a sensational song. A frozen war is a great melodic concept album with a mixture of various rocksounds and without a doubt its highly recommended! More info at: https://darwin.is/t
(Points: 8.3 out of 10)
FEROCIOUS DOG 'VARIOUS ALBUMS' (INDEPENDENT/UK IMPORT)
The British band FEROCIOUS DOG have been around since 1988, but it took them a while before their debut album was released, because the same titled first album dates back to 2013. Since their debut however 3 more full-length albums were released and so in the past 7 years the band has delivered 4 official albums in contrast to their first 25 years of activity. The band sent me all their albums and I have really enjoyed their wonderful work. Their music is very melodic Celtic-Folk-Punkrock orientated, sorta like a slightly more polished version of DROPKICK MUPRHY'S. The albums all follow the same kinda style, which is mostly uptempo typical Celtic rocking material with memorable choruses that are almost out of the Oi! league, yet also a bit more leaning towards melodic rock somehow. Remarkable tracks from their first 3 albums are Freeborn John (a midtempo tune with a Reggae ish beat, but halfway changes into the folksy uptempo rocker with violins and gets even faster), Quiet Paddy (like DROPKICK MUPRHY'S Rose tattoo), Marie's Wedding Pt III (ballad ish) and Class war (Reggae meets epic uptempo punk). Most notable about this band is that the lyrics are very political orientated, with sometimes very long stories. The reason is that the band's singer Ken Bonsall's son sadly committed suicide after returning from the warzone in Afghanistan. His son never got any help for the post-traumatic stress he experienced after his time in that country. Via Ken's band he has raised awareness for other victims in the hope something will change in the future. Anyway, besides Ken, other involved musicians are Dan Booth - Fiddle & co. Song Writer, John Leonard - Mandolin, guitar, banjo & Penny Whistle, Les Carter - Guitarist, John Alexander - Bassist and Alex Smith - Drummer. The most recent album is titled Fake news & propaganda, which is a bit more polished than the rawer sound of the earlier records. Nevertheless, this is their strongest album so far with a crystal clear sound and some fantastic songs that sound really cheerful and are easy to sing-a-long. They are mostly uptempo orientated and very melodic, with as highlights Cry Of The Celt, Traitor's Gate, Cover Me and the calmer Yellow Feather. Ken is an excellent singer with a clean melodic tone in his voice and the music of the band is live on stage absolutely a guarantee for a great party! Check out this band at: https://ferociousdog.co.uk/
(Points: 8.6 out of 10)
AENEMICA 'SECRET LINES' (INDEPENDENT/GERMAN IMPORT)
Founded in 2012, the German band AENEMICA recently released their 2nd (mini) album Secret lines. The band is formed around vocalist Daniel Stendera, guitarist David Vemmer, guitarist Fabio Alessio, bassist Dima Friesen and drummer John Sternberg, and the music they create takes a bit of Progmetal, Progressive Rock, European Gothic Metal, Melodic Rock and American Alternative/Nu-Rock/Metal. The result is modern and very melodic, with mostly midtempo tunes that sound really good. They seem to be able to come up with a sound that will appeal to a lot of people, because it's very modern and at the same the melodies and choruses are extremely catchy, sorta mixing THE RASMUS, THREE DAYS GRACE and WITHIN TEMPTATION. The highlights are Stay (I Won´T Let You Go), Just a Few Lines and Reverie (superb melodies!). This is definitely quality stuff and the only remark I could make is that next time some more diversity wouldn't hurt, so include an uptempo rocker, a ballad or something like that. Nevertheless, AENIMA delivers a great record here and for more info please go to: http://www.aenemica.com/band/
(Points: 7.8 out of 10)
THE WAR ON DRUGS 'LIVE DRUGS' (SUPER HIGH QUALITY RECORDS/KONKURRENT)
There are a bunch of 'new generation' bands out there that have become very popular with every new release. BEAR'S DEN, CALEXICO and THE WAR ON DRUGS are bands that started quite small, but have built up a huge reputation the past 10-15 years. THE WAR ON DRUGS are not really original musically speaking, because they combine elements of NEIL YOUNG, BOB SEGER, BRUCE SPRINGSTEEN and such with a slight light 80s darker pop/rocksound (a la ICEHOUSE/RED RIDER/REFUGEE), but nevertheless they have developed their own kinda sound through the years. Their mixture of Heartland Rock meets Americana Pop/Rock is done exceptionally well on their studio-albums, but live they also deliver and that can now be heard on this live album Live drugs. 10 songs are included, of which the highlights are Red eyes, Eyes to the wind and Under the pressure. Live they are really wonderful and a joy to listen to, so the fans of the band will absolutely fall in love here, because they can hear their favorite band now live on record, which is a nice comfort in these rare covid times. More info at: https://www.thewarondrugs.net/home
(Points: 8.7 out of 10)
SLEEPER & SNAKE 'FRESCO SHED' (UPSET THE RHYTHM!/KONKURRENT)
Out of Australia comes the 2-piece band SLEEPER & SNAKE and their 2nd album Fresco shed is quite an experimental album that is hard to compare, so they clearly have an own identity. They combine a lot of late 60s psychedelic flower power music with a sorta Indian World Music part and add some Jazz influences to make it sound all together like nothing else out there. Quite challenging and interesting, although it takes a few spins to really understand this band. I think live on stage this will work really great, as you need to have a visual performance in front you when listening to this hypnotic music. Check it out for yourself at: https://sleeperandsnake.bandcamp.com/track/sugar-and-gold
(Points: 7.8 out of 10)
THE COOL GREENHOUSE 'THE COOL GREENHOUSE' (IN HOUSE PRESS/KONKURRENT)
When listening to the first couple of seconds of the debut album of the Nottingham based band THE COOL GREENHOUSE, we can hear typical British Post-Punk of the early 80s. It might not sound original at all, the band does a pretty good job here, which is mostly thanks to bandleader/vocalist/guitarist TOM GREENHOUSE. Most of the 11 included songs head into the same direction, which is uptempo with the 'spoken-word' kinda vocals of Tom. It ain't bad at all, but on the other hand it does sound a bit monotone, so more diversity is really necessary on a future record. Also the fact that Tom is not really singing is making it all sound a bit the same, so recommended to the band to work on this. Nevertheless, if you're interested in a cross between TALKING HEADS, THE FALL and THE VELVET UNDERGROUND, then you might want to check out THE COOL GREENHOUSE at: https://thecoolgreenhouse.bandcamp.com/
(Points: 7.6 out of 10)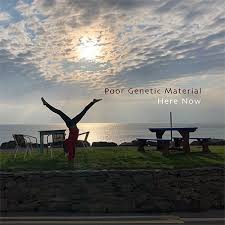 POOR GENETIC MATERIAL 'HERE NOW' (QUIXOTE MUSIC/SWISS IMPORT)
The German band POOR GENETIC MATERIAL have been around for a long time and every now and then I am able to review one of their albums. They always deliver high quality calmer melodic progressive rock with superb vocals by lead singer PHILIP GRIFFITHS. Now his son Martin has also entered the band's line up and he sings on 1 song (the album's longest and most proggiest song The garden) and he does it really well actually! The music on Here now fits somewhere between the Canadian MYSTERY and ENCHANT, although after 20+ years in the music business POOR GENETIC MATERIAL have created a sorta own sound. 6 songs are included in total, of which 4 are quite lengthy. The absolute highlight is the stunning Note from my younger self, which is perhaps the best song POOR GENETIC MATERIAL has ever recorded in their career! This beautiful melodic progrocksong is also belonging to the best songs of 2020, due to it's lovely memorable melodies. Although POOR GENETIC MATERIAL is not doing anything new in the Neo-Progscene on their new album, they once again deliver high quality super melodic progrock and also this new album is a wonderful record to listen to over and over again, with as mentioned that sensational song Note from my younger self. If you're a Neo-progfan, then please make sure to check out this new album of a band that is unstoppable, especially since now both father and son Griffiths are singing! More info at: https://www.facebook.com/poorgeneticmaterial
(Points: 8.5 out of 10)
THE GREEN CHILD 'SHIMMERING BASSET' (UPSET THE RHYTHM!/KONKURRENT)
THE GREEN CHILD is a duo settled in Australia, although it started as a long-distance affair between the Californian Raven Mahon (furniture maker and former member of Grass Widow) and the Australian Mikey Young (recording engineer and band member of Total Control, Eddy Current Suppression Ring). Now based in the same house in Australia they recorded their 2nd album Shimmering basset. The included music is synthesizer based Indie Pop meets Dreampop and features mostly calmer songs. It does sound quite well, but when going for a more rockier approach such as the uptempo Tony Bandana, it gets a bit 70s Westcoast meets Dreampop orientated, kinda like DONNY BENET. The lush female vocals give it a real atmosheric dreampop approach and the quirky 80s influenced synths make it all sound quite thin actually, which in this case is no problem at all, especially during a superb song like Resurrection. THE GREEN CHILD deliver a nice record here and you can check it out for yourself at: https://thegreenchild.bandcamp.com/
(Points: 8.0 out of 10)
VINTAGE CROP 'SERVE TO SERVE AGAIN' (UPSET THE RHYTHM!/KONKURRENT)
Although they sound very British, VINTAGE CROP is coming out of Australia and they deliver one of the better sounding Postpunkalbums in a long time. Serve to serve again is their 2nd album so far and with this new album they can easily compete with other bands from the New Wave Of PostPunk movement, which means this album is a must-have for fans of bands like LIFE, FONTAINES D.C., THE MURDER CAPITAL and such. The 12 short songs on the album quickly pass by, but thankfully it is of a very high level all throughout the record, with as highlights the uptempo rockers No praise (shortest song, only 57 seconds), Streetview (longest song, 6 1/2 minutes!), the titletrack Serve to serve again and Life and times. The band also slows things down a bit a few times (The north) and is quite aggressive during an almost hardcore-punksong like Jacks Casino, while Just my luck is pure late 1970s Punkrock (with a guitarsolo!), so there is enough diversity going on here to keep everyone entertained from start to finish. Check them out at: https://vintagecrop.bandcamp.com/album/serve-to-serve-again
(Points: 8.3 out of 10)
FUZZ 'III' (IN THE RED RECORDS/KONKURRENT)
The Californian band FUZZ was formed in 2011 and III is likewise their 3rd album. In the line-up we can find TY SEGALL on vocals and drums, and he is of course quite well-known as a solo artist. Vocalist/guitarist CHARLES MOOTHART is also known for his involvement in Ty's solo band and he is also part of FUZZ. The line-up of this 3-piece band is completed by vocalist/bassist CHAD UBOVICH. If you're familiar with Ty's solo recordings and/or FUZZ, you know that this is classic rock orientated. Opener Returning on this new FUZZ album is a lovely massive sounding fuzzy Stoner Rock classic with a sound that fits somewhere between classic BLACK SABBATH and SOUNDGARDEN. The following songs continue this style, so the high level is kept until the very end, with as other highlights Spit, Time collapse and the uptempo Mirror (with THIN LIZZY ish influences). The band has an authentic 1970s orientated sound, with massive fuzzy guitar riffs and soaring guitarsolo's (just listen to the guitar sounds they create during Time colapse for example), but also they keep things melodic and clean in the vocal/chorus department. Without a doubt, FUZZ have delivered a new masterpiece in the Stoner Rock/Fuzz/Psychedelic 70s/Doom Metal direction, so any fan of these genres will absolutely love this new FUZZ record! More info at: https://intheredrecords.com/collections/fuzz
(Points: 8.7 out of 10)
KIRA KOV 'I NAT BLIR VI GAMLE' (STUNT RECORDS/SUNDANCE MUSIC/DENMARK IMPORT)
Out of Denmark comes KIRA KOV, who is best known as being the singer of the band KIRA & THE KINDRED SPIRIT. She also has a solo career and I received 2 albums she released the past 2 years, The echo of you and I Nat Blir Vi Gamle. The echo of you was released in 2018 and features Kira singing in English instead of Danish, which is the language she uses on her most recent album I nat blir vi gamle from 2019. The 2018 album is dark folk orientated, calmer, less experimental and more acoustic guitar tingled than the 2019 album. Supernatural ecstasy is one of the most polished songs here however, because this is a lovely midtempo singer/songwriter pop piece and with closing track I tried to look into your eyes in a photograph today it's like we're listening to the female version of LEONARD COHEN. As mentioned, the 2019 album I Nat Blir Vi Gamle is sung in English and also introduces synths upfront. This album starts with the haunting Hollywood, with its slow lush dark ambient dreampop meets atmospheric prog/krautrocksound, kinda like KATE BUSH, but then different. KIRA KOV's sound is definitely very impressive and quite original actually, with 9 more songs that capture the experimental melancholic sound of the opening song, but it still is melodic thanks to the inspiring vocalwork of Kira. Other highlights are Tagetale, I en verdern sa urolig (very strong mixture of slow ambient progressive pop and a bit of jazz) and the uptempo Brutal. The sound is also reminding me of ENIGMA somehow, with a certain early 90s TWIN PEAKS kinda vibe, yet also with a prog touch and it still sounds fresh and modern like for example MARISSA NADLER meets NICK CAVE. Basically, Kira has a lot to say on her solo-albums and personally I would prefer her Danish album I Nat Blir Vi Gamle. More info at: http://kiramusic.com/wp/
(Points: 8.2 out of 10)
LUNEAR 'MANY MILES AWAY/CURVE AXIS SYMMETRY' (INDEPENDENT/SPAIN IMPORT)
Out of France comes LUNEAR, a progressive rockband formed around Keyboardist and singer Paul J. No, drummer Sebastien Bournier and guitarist/bassist Jean-Philippe Benadjer. Together this 3-piece band has released 2 albums so far, starting with Many miles away, which was released in 2018. This album shows that we are dealing here with a great melodic progressive rockband with a focus on song based material. Highlights on that first album are In between (very good and melodic, 1970s orientated, a bit ALAN PARSONS PROJECT/KAYAK/CAMEL ish), Just another song about that girl (beautiful uptempo neo-progressive rocker), Don't be scared (lovely keyboard based classic melodic progressive rock), the melodic semi-rockballad So...many... (a la FOR ABSENT FRIENDS and POOR GENETIC MATERIAL) and the uptempo neo-progrocker Conflagration, with it's fantastic melodic chorus a la SUBSIGNAL and ENCHANT. Without a doubt, this is a great start for a debut, with a crystal clear sound and strong vocals, and now 2 years later LUNEAR returns with a great follow-up titled Curve axis symmetry. Musically nothing has changed thankfully and so we can once again hear quality melodic progressive rock. The highlights on the new album are the IQ ish opener First death, the calmer The rise and fall of earth and the excellent midtempo keyboard/chorus friendly Earth's population 1. Check out this wonderful French band at: http://lunearmusic.com/
(Points: 8.3 out of 10)
KIMBERLY REW AND LEE CAVE-BERRY 'VARIOUS ALBUMS' (KL RECORDINGS/UK IMPORT)
The Camridge based duo KIMBERLY REW & LEE CAVE-BERRY sent me 3 CDs they released together the past 5 years. The first CD is an excellent tribute to the legendary band THE TROGGS, which is done very well, staying true to the original classic 1960s British Beat/Rocksound. Some more info on Kimberly learns that he was part of the legendary bands SOFT BOYS and KATRINA AND THE WAVES in the past, writing their classics Walking on sunshine and the 1997 Eurovision Song Contest winning song Love shine a light. He also wrote THE BANGLES classic Going down to Liverpool and actually he has done a lot in his extensive career. With his wife and musical partner LEE CAVE-BERRY he lives in Cambridge and besides THE TROGGS tribute CD, I also received 2 regular albums of them, Enjoy the rest of your day from 2018 and The best of from 2020. The 2018 release starts with a Rockabilly tune, but the following 13 songs are an incredible diversity of music styles from singer/songwriter to rock and roll to humoristic British theatrical music. Their new album The best of contains 21 songs recorded over the years and it is clearly more rock orientated, with also shared vocals between Kimberly and Lee. The highlights on this new CD are the rockers It makes me happy (remastered by JOHN VERITY), English road (STATUS QUO style) and All I want is you for Christmas, Stomping all over the world (pure 80s melodic Powerpoprocker), the catchy early 80s female fronted Poprocker Yours truly (like BLONDIE meets PAT BENATAR, remastered by JOHN VERITY again) and the quirky British Punky Powerpoprocker Some days you eat the bear. Although their new The best of CD is more rock based, this duo is overall musically speaking very diverse. Kimberly and Lee are gifted musicians who extend their discography with every new release and I think many more will follow from this musical duo in the future. Check out more at: https://kimberleyrew.co.uk/
(Points: 8.0 out of 10)
THE PURPLE SHOES 'SMALL TOWN FAIRY TALES' (INDEPENDENT/UK IMPORT)
Out of the UK comes THE PURPLE SHOES, a duo playing a sorta melodic folk/rock style with shared vocals, although the female vocals take up the majority of the vocals. The duo consists of Marie Dance (vocals/Acoustic guitar) and Michael Bickers (Vocals/Lead guitar) and they are helped by a list of guest musicians playing bass, drums, sax, fiddle and providing backing vocals. 12 songs are included on the duo's new album Small town fairy tales. The music is uptempo folksy pop/rock with a focus on strong melodies, of which the highlights are the catchy Good morning (Is it over?) (an almost AORish chorus is smiling at us here), Heartbreaker (a semi-ballad/midtempo tune that reminds me so much of CHALLENGE if anyone can remember this stripped-AOR duo from the 90s) and the groovy Born to play. Some of the songs are very calm and almost SIMON & GARFUNKEL kinda singer/songwriter pop, but overall the songs have a positive uptempo vibe. The only recommendation I could give to them is to rock things up a bit next time to give it a richer sound. Check out more on this duo at: https://purpleshoesmusic.bandcamp.com/album/small-town-fairy-tales
(Points: 7.6 out of 10)