HOT NEW REVIEWS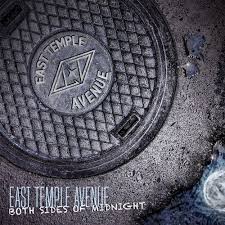 EAST TEMPLE AVENUE 'BOTH SIDES OF MIDNIGHT' (AOR HEAVEN/GERMAN IMPORT)
The Australian guitarist/songwriter DARREN PHILLIPS debuted a few years ago with his project album DARREN PHILLIPS PROJECT, which featured a lot of guests from the AOR/Melodic Rock society. However now in 2020 a full band has been formed around Darren, with as other members Dennis Butabi Borg (Bass), Philip Lindstrand (Lead guitar), Herman Furin (Drums, keys), Robbie LaBlanc (Vocals) and Dan Skeed (Rhythm guitar, keys, backing vocals). The band/project is titled EAST TEMPLE AVENUE and the result is a fantastic first album titled Both sides of midnight on AOR HEAVEN, and especially the vocals of the legendary Robbie (BLANC FACES, FURY, FIND ME) is giving this album the additional touch needed to stand above the rest of countless releases in the AOR/Melodic Rockalbums. 10 songs are included, and opener Mountain sets the record straight from the start, as this is a lovely uptempo catchy AOR rocker with a sensational chorus that every fan of classic 80s AOR will be enjoying! It fits somewhere between AVIATOR, PRIDE OF LIONS and WORK OF ART. It might perhaps not sound really original, the incredible high quality of musicianship, superb crystal clear vocals of Robbie and 10 ultra-catchy hookladen pure AOR tunes, it is combined making this album an absolute winner for fans of the classic AOR sound. Don't make believe taps even more out of the big 80s catchy hookladen AOR book with a chorus that makes you almost think of SURVIVOR circa 'Vital signs'. Here and there, the hooks and choruses even remind me of that SIGNAL record we AOR fans will never forget about. Concluded after 2 songs we can say that this is probably going to be one of 2020's finest picture perfect straight-ahead AOR releases. Fool for love picks up those SIGNAL similarities, crossed with classic mid 1980s SURVIVOR and FOREIGNER circa Inside information, so this is yet another high class AOR/Melodic Rocker. My last breath is the ballad here, which reminds me a bit of RICHARD MARX, so it is slightly poppier than the rest. Everything picks up the tempo again, and is a nice uptempo AOR/Melodic rocker. Forever yours is your typical uptempo AOR/Melodic Rock that goes in a style like we know it from the very first HAREM SCAREM album. Fly high is a little less stronger uptempo melodic rocker, but with When I'm with you we are back into the rollercoaster ride of uptempo classic AOR that would make PRIDE OF LIONS jealous again. The 2nd ballad on the album is The end of me and you, while Where love is closes the album in style as being a beautiful acoustic ballad in NELSON style. This first EAST TEMPLE AVENUE album is definitely a must-have for fans of that classic 80s AOR/Melodic Rocksound. More info can be found at: https://www.facebook.com/easttempleavenue/ and via the interview we will have very soon.
(Points: 8.7 out of 10)
THE PEARSON MEMMOTT CONSPIRACY 'THE SOUNDTRACK TO AN ORDINARY DAY' (SPURIOUS RECORDS/UK IMPORT)
THE PEARSON MEMMOTT CONSPIRACY comes out of Sheffield, UK and is based around the multi-instrumentalists Pod Pearson and Rich Memmott. On drums they are assisted by KYLE MCSHEEN and I believe The soundtrack to an ordinary day is their debut album, although they already released a mini-CD a few years ago. Anyway, the duo is making a nice cocktail of fun 80s neo-progressive rock, 80s pop/rock and a bit of westcoast. The result is a nice record with 11 tracks included, of which the highlights are the more uptempo Neo-Progressive Rock orientated pieces such as Chasing Down The Demons, Halo and Soundtrack To An Ordinary Day. Especially in the beginning these kinda rockers (that also feature great keyboardwork) can be found, because during the 2nd part of the album the duo chooses for calmer material that sits somewhere between 80s pop and the calmer JADIS ish prog material. Although here are also quite nice songs included, such as Now That You're Gone, Welcome To One-Six-Oh, Rain on the park (lovely melodic rocking tune with great guitarsolo a la INNUENDO) and Smith Haven Mall (strong harmonyvocals during the chorus), a song like Smith Haven Mall is a good slightly more 80s pop/westcoast orientated track and One more year is a great 70s ish poptune a la HALL & OATES, I hope that on a future album some more of these uptempo neo-progrockers are included, because they sounded quite impressive. The lead vocals are not as strong as for example bands like PALLAS, IQ, JADIS, PENDRAGON and such, but instrumentally the duo sounds quite tight and they can also write a decent song as well. Check them out at: https://thepearsonmemmottconspiracy.bandcamp.com/album/the-soundtrack-to-an-ordinary-day
(Points: 7.9 out of 10)
DANIEL NESTLERODE 'WINDRUSH' (CLUNK & RATTLE RECORDS/G PROMO PR/UK IMPORT)
Originally from Pennsylvania, USA, raised in California, then settling himself for a number of years in Cambridgeshire, UK, he now lives with his family in Norhern France. Singer/songwriter DANIEL NESTLERODE has come a long way to release his 3rd album Windrush, although through all those years he experienced a lot and went from rockmusic in his early American days to singer/songwriter folk nowadays and actually he does it really well on this new album. The songs are mostly calmer acoustic tingled, with a folksy singer/songwriter balladry approach most of the time. The French sung C'est Noye is quite beautiful, while the cheerful uptempo titletrack is a nice instrumental classic Folk/Poprocker with an old traditional melancholic approach. Other highlights that reflect the aforementioned folksy singer/songwriter style are Being a boy, Unexpectedly and Tout ce qui fait toi. Daniel has a great voice that suits the music just perfectly and especially people who appreciate calmer story telling singer/songwriter folk music will like this a lot! More info at: https://www.nestlerode.eu/
(Points: 8.0 out of 10)
FLO & EDDIE 'ILLEGAL IMMORAL AND FATTENING/MOVING TARGETS' (BGO RECORDS/UK IMPORT)
FLO & EDDIE have always been a familiar name to yours truly, but on the other hand I had no idea what their music actually sounded like. The duo was active in the 1970s, although the 2 American musicians behind the duo, Mark Volman (Flo) and Howard Kaylan (Eddie), they have been involved with countless other acts, projects and recordings of such big names (FRANK ZAPPA, T-REX, ALICE COOPER, BRUCE SPRINGSTEEN, THE RAMONES, ANDY TAYLOR, etc. etc.). However, they started as part of the legendary band THE TURTLES with their classic 1960s hits Elenore and Happy together. Anyway, 2 of the FLO & EDDIE albums from the 1970s have now been remastered and re-issued onto CD by BGO RECORDS. There is a big difference between the 2 albums, because Illegal immoral and fattening is an extremely experimental theatrical album with an enormous variation of music styles and a lot of humor thrown in like we know it from bands like THE TUBES, GODLEY & CREME, 10CC, CITY BOY and CHARLIE during their early recordings. In the end it is a very weird album that sounds like it was recorded during a drinking party with FRANK ZAPPA as the leader of the gang! If we quickly go through the songs, it starts pretty good with the heavy rocking titletrack and also following song Rebecca is a nice sweet 70s pop/rock ballad. Then it gets a bit awkward with the quirky typical British humoristic 1970s theatrical pop/rock like THE KINKS also did a few years earlier and this particular song Kama Sutra Time ends with T-REX ish Glamrock cover of Get it on, but it gets even more bizarre and comedy ish duringthe rest of the album. It feels like a sorta live concept concert with lots of improvisations and craziness, with here and there a cover of a familiar song and thankfully also a couple of 'normal' songs, such as Livin' in the jungle (midtempo groovy 70s funkyrock) and Cheap (OZZYish sounding vocals, songwise a theatrical progpomprocker that almost reminds me of ARGENT). For 1974 this was however the kinda record that people wanted to hear, but 2 years later the band came up with a more serious record titled Moving targets. This remastered album sounds very good and is more straight-forward pop/rock orientated, with a production by the mighty RON NEVISON (SURVIVOR, HEART, THE BABYS, UFO, KISS...). I would not call this a classic album, but it has some nice moments, such as Mama, open up (uptempo rocker), Hot (uptempo pomp melodic rocker with nice twin guitars a la THE BABYS somehow), Best possible me (theatrical progrock), Sway when you walk (calm 70s westcoast pop orientated) and closing track Moving targets (great straight ahead classic 1970s rocker). Some of the other songs were poppier, including a sorta tribute to THE BEACH BOYS (Keep it warm) and a cover of their own THE TURTLES classic Elenore. Although this might not be going down in history as classic albums, FLO & EDDIE did deliver a nice contribution with their duo albums and 2 of them are now available on 1 CD via www.bgo-records.com
(Points: 7.5 out of 10)
THE SEARCHERS 'THE EP COLLECTION' (BGO RECORDS/UK IMPORT)
I remember it well that my father was a huge fan of the band THE SEARCHERS, the Merseybeat band that gave us a string of hits in the THE BEATLES style almost 60 years ago. As a kid growing up in the 1980s it was always nice to put on those Merseybeat EP singles from the 1960s from my father, but it would take another 35 years before I would talk about this legendary band THE SEARCHERS. Where THE BEATLES left the Merseybeatsound, THE SEARCHERS kept recording and playing these fun super melodic uptempo 1960s Powerpop/Beat tunes and now there is a 2-CD set available that contains all 61tracks from the band's EPs released between 1963 and 1966. Between all these songs you will definitely recognize some of their big hits, such as Love potion no. 9, Sweets for my sweet, Sugar and spice, Take it or leave it, Needles and pins, Don't throw your love away and a couple more. The band was blessed with a fantastic clean vocalist with an incredible range, while the harmonyvocals also sound very good. Of course the music might now sound simple and close to so many other bands at the time besides THE BEATLES, because THE HOLLIES, THE FORTUNES, HERMAN'S HERMITS, THE TREMELOES and many more bands played this kinda music in the mid 1960s. However, THE SEARCHERS definitely had their fifteen minutes of fame a couple of times and this incredible collection shows they were one of the best after THE BEATLES. Available on 2 CDs via www.bgo-records.com
(Points: 8.5 out of 10)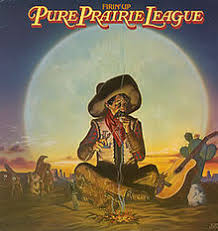 PURE PRAIRIE LEAGUE 'FIRIN' UP/SOMETHING IN THE NIGHT' (BGO RECORDS/UK IMPORT)
Founded all the way back in 1969 in Columbus, Ohio by vocalist/guitarist Graig Fuller, vocalist/guitarist George Ed Powell, steelguitarist John David Call, bassist Phil Stokes and drummer Tom McGrail, the PURE PRAIRIE LEAGUE has always been quite underrated. In the USA they might have been slightly succesfull during the 1970s, eventually the band's lead singer VINCE GILL who joined the band in 1978, he became the real mega superstar in the USA as a solo artist and official member of THE EAGLES. His old band reformed every now and then, but actually the 2 albums of the band that have now been re-issued onto 1 CD, they are actually the last studio-albums of the band before they left the major labels and went local/independent. It concerns the 1980 album Firin' up and the 1981 album Something in the night. 20 songs in total can be found here, the CD starts with I'm almost ready, which is pure Countryrock like we also know it from THE EAGLES, POCO, THE NITTY GRITTY DIRT BAND, FIREFALL, while following Give it up is the kinda early 1980s AOR/Radiorock like Southern Rockbands 38 SPECIAL, THE OUTLAWS, BLACKFOOT and such started to create back then. Without a doubt, this is a sensational song you would put on when driving on the highway in the USA. Too many heartaches in paradise is the typcal sappy Countrypop ballad like we also know it from ALABAMA. The twin-guitarsound of WISHBONE ASH and THIN LIZZY can be heard during the great midtempo funky 70s close-harmonyvocals driven Westcoast-Poprocker She's all mine. You're my true love is a bit too soft pop balladry for my taste and with Let me love you tonight the band drifts back to the ALABAMA ish countrypop crossover, with even a classic 70s sax solo. Next track I can't stop this feelin' starts with a nice guitarsolo and is a lovely Westcoast-light AOR tune that recalls ROBBIE DUPREE, ALLIANCE (1982), TOTO, VAN STEPHENSON and even a bit of FRANKE AND THE KNOCKOUTS. Lifetime of nighttime takes us even more into pure Westcoast-AOR with even a slight hint of TOMMY SHAW ish softer STYX songs! This song has some fabulous guitarwork and stunning harmonyvocals, even a bit LYNYRD SKYNYRD/VAN ZANT ish and showing the band melting AOR, Westcoast and Southern Rock, so quite far away from their original countryrock. I'll be damned however is then again as close to pure countryrock as you can get, although the Gospel kinda choir is giving it a slightly different arrangement. Closing this 1980 album is Janny Lou, a soft countrypopballad with some THE EAGLES similarities, although the saxsolo is making it a true 70s crooner.
The 1981 album Something in the night sets the band even more into the 38 SPECIAL/BLACKFOOT/DOC HOLIDAY kinda 80s AOR/Radiorock direction with the album opener Don't keep me hangin', which is a very strong uptempo rocker, and following tracks Love me again and Hold on to our hearts are very nice midtempo Westcoast-light AOR songs like a mix between JOHN O'BANION and VENICE. It seems like on this album the countryrock influences are almost vanished and the band really choose here for the American radio AOR/MOR sound of the early 1980s. Thankfully it is done really well, partly thanks to the superb vocals of Vince Gill as well as the harmonyvocals sung by the other guys in the band. Something in the night is even more going for that classic early 80s AOR/Radiorocksound of 38 SPECIAL. Good old time 1950s rock and roll (a la JERRY LEE LEWIS/LITTLE RICHARD and also BOB SEGER) can be heard during Do you love me truly, Julie. As you can see, there is a lot of diveristy going on in PURE PRAIRIE LEAGUE's sound. The final 5 tracks of the 1981 album are You're mine tonight (beautiful early 80s L.A. Westcoast-AOR a la NIELSON PEARSON and VAN STEPHENSON), Still right here in my heart (nice Country-AOR-Westcoast crossover a la BOULDER), I wanna know your name (great midtempo Southern rocker), Feel the fire (fantastic midtempo early 80s AOR/Westcoast!) and Tell me one more time (piano-country ballad).
The sound of both albums is crystal clear, so this is a highly recommended re-issue CD that also contains impressive and interesting extensive liner notes about the band. I think AOR/Westcoast fans might be surprised here by especially their Something in the night album, although of course the band also has it's country roots in place here and there, just like a similar sounding band like DOC HOLIDAY or FIREFALL. The CD is available through: www.bgo-records.com
(Points: 8.7 out of 10)
DAVID MCWILLIAMS 'LORD OFFALY - THE BEGGAR AND THE PRIEST - LIVIN'S JUST A STATE OF MIND' (BGO RECORDS/UK IMPORT)
Music history is endless when you search deep enough and sometimes you're lucky and you receive an album from an artist you never heard of before. In this case it concerns 3 albums from a singer/songwriter out of county Antrim, Northern Ireland called DAVID MCWILLIAMS. Coincidence or not, but last year I was in that particular county of fascinating Northern Ireland, but back then I didn't knew anything about this talented musician, who sadly died way too young . Anyway, he was briefly quite popular in certain regions in the 1960s and 1970s, especially in my own homeland of The Netherlands where he had 2 huge hits (the beautiful Can I get there by Candelight and Days of Pearly Spencer). David had a superb clean voice and his songs were very melodic and when going uptempo such as during the lovely I will always be your friend, it even sounded a bit Westcoast orientated like JERRY KELLY BAND/DAKOTA 70s/THE BUOYS. A lot songs on his 1st album Lord offaly from 1972 on this CD are calm singer/songwriter balladry a la JIM GROCE and even ELTON JOHN (Heart of the roll), but when going uptempo it sounds really good and combines classic folkpop with a light westcoast/pop/country touch, with as other highlight the lovely The gypsy. When going into the 2nd album The beggar and the priest from 1973 on this double CD, there is more diversity than on the 1st album, because he jumps from BOB DYLANesque singer/songwriter (Cross the line) to cheerful almost Mexican meets TOM JONES/NEIL DIAMOND influenced 70s Popmusic (Na-na and Bells of time) to Country influenced Folk (Down by the dockyard (an Epitaph for Belfast), The pharisee and Lady Margaret). The 3rd album included is his 1974 album Livin's just a state of mind, which brings him a bit more into the classic 1970s melodic popsound and he does it well with his excellent voice, especially during the ELTON JOHN ish You wear it like a crown, As I used to know her and Sweet 'Lil. In addition there are also 4 bonustracks included and the packaging is really excellent, just like every other BGO RECORDS release, with extensive liner notes in the CD booklet. Go check out this underrated singer/songwriter's music on this 2-CD set, which is available through: https://www.bgo-records.com/
(Points: 8.3 out of 10)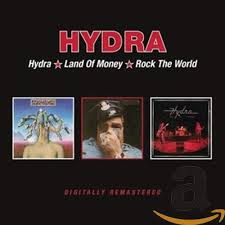 HYDRA 'HYDRA - LAND OF MONEY - ROCK THE WORLD' (BGO RECORDS/UK IMPORT)
In the 1970s there were countless rockbands in the USA and the amount of new releases made it hard to keep up and HYDRA might have been one of the bands that sadly did not get the attention they deserved. Nevertheless, they are one of those bands with a cult following and BGO RECORDS have now released a wonderful 2-CD set with all 3 albums of the band. HYDRA came out of Atlanta, Georgia, USA and they had this typical American 70s Hardrockin' sound that sounded somewhere between MONTROSE, GAMMA, THE GODZ, ZZ TOP, LYNYRD SKYNYRD, STARZ, very early 707, AEROSMITH and THE ROCKETS. These guys were just playing this typical cool 70s rock with excellent soulful vocalwork, biting guitarwork and sometimes close to pure 70s melodic rock a la BOSTON/STARZ (although HYDRA was earlier!) and at other times pure Southern Rock a la 38 SPECIAL or BLACKFOOT, while soulful bluesy rock a la FREE/BAD COMPANY is also notable. Their same titled debut album from 1974 has that described mixture and contains some sensational material like the melodic rockers Keep you around and Let me down easy (FREE/BAD COMPANY meets STARZ), the lovely Southern rock epic classic It's so hard (with nice soaring twin-guitars, a catchy chorus and superb vocals), the bluesy soulful power southern semi-rockballad Feel a pain (like JOHNNY VAN ZANT meets LYNYRD SKYNYRD, starts as a beautiful ballad, but turns into a classic uptempo rocking part with fabulous twin-guitarsolos) and the beautiful closing track Miriam (epic length semi-Southern Rockballad classic). Following album Land of money from 1975 also had a memorable frontcover, just like their debut, and it basically is musically speaking in the same melting 70s rock pot. Highlights on this album are Little miss rock and roll (classic 70s Hardrock), The pistol (FREE/BAD COMPANY ish bluesy rock), Makin' plans (almost KISSish 70s Hardrock), Land of money (Southern rock meets 70s Heavy rock, even a bit THIN LIZZY), Get back to the city and Let the show go on (bluesy rockers like FREE meets WHITESNAKE). The third album Rock the world from 1977 closes the trilogy of the HYDRA period and brings the band in a slightly more straight-forward 70s Hardrocksound in the style MONTROSE/SAMMY HAGAR, AXE, BLACKFOOT, with as best songs Rock the world, Wasting time, Can you believe and Your love gets around, while we also must mention here the fast RIOT ish heavy rocker Shame (with a guitar riff MOTLEY CRUE stole a few years later on their Live wire song). The best album was their 2nd I think and despite the fact that HYDRA was only active 3-4 years, they are one of those bands that is highly underrated and this career-spanning 2 CD-set on BGO RECORDS is a wonderful piece you definitely want to have in your collection, because this is what Rock/Hardrock/Southern Rock sounded like during the glorious 1970s. Available through: https://www.bgo-records.com/
(Points: 8.6 out of 10)
WIRE TRAIN 'IN A CHAMBER - BETWEEN TWO WORLDS - TEN WOMEN + BONUS TRACKS' (BGO RECORDS/UK IMPORT)
The San Francisco, Californian based band WIRE TRAIN released 5 records on major labels between 1984 and 1992, and despite some minor success, they never got out of the underground scene. A real pity, because 3 of their albums (plus 6 bonustracks) have now been re-issued onto 2 CDs by BGO RECORDS, and all of their songs showed a really impressive but typical 80s rockband delivering songs that could have been big hits for sure. WIRE TRAIN had a sound that fitted right between the 80s Canadian style of AOR/Poprock (HAYWIRE, PLATINUM BLONDE, THE ARROWS, BYSTANDER, PSEUDO ECHO), the American early 80s Powerpop (4 OUT OF 5 DOCTORS, THE A'S) and pure European/British New Wave (ECHO AND THE BUNNYMEN, SIMPLE MINDS, THE SMITHS, BIG COUNTRY, TALK TALK and a lot of U2). Their debut In a chamber from 1984 was almost entirely filled with uptempo rockers that resembled the mentioned mixture, of which the highlights were I'll do you, Never, Like, Chamber of Ellos and I gotta go. Following album Between two worlds from 1985 saw the band add some diversity and overall it souded more mature on uptempo rockers like Skills of summer, When she was a girl (hello 80s U2), God on our side and I will, while the AOR/Poprock ish No pretties featured a lovely catchy chorus in classic 80s Canuck AOR/Poprockstyle a la HAYWIRE, PLATINUM BLONDE and THE ARROWS. A song like Two persons is then again very poppy and resembles similarities to DURAN DURAN. 3rd album Ten women from 1987 is rockier, more uptempo and also catchier in the chorus department, especially during songs like She comes on, Take me back and Mercy mercy. In general they remind me on this album a lot of Aussie rockers NOISEWORKS if anyone can remember them! On the other hand, it's also their weakest album, because we can also hear some average songs such as Breakwater days and She's got you. The 6 bonustracks are unreleased as far as I know and recorded during between 1983 and 1996. Although they reformed once and their unreleased mid 90s 6th album Snug was digitally released in 2009, WIRE TRAIN never recorded an official new album, so basically the only thing we can do is go back and listen to their great 80s tingled rockmusic that never seems to sound dated at all. Available through: https://www.bgo-records.com/
(Points: 8.3 out of 10)
CIRCUS OF POWER 'CIRCUS OF POWER - VICES - LIVE AT THE RITZ - MAGIC & MADNESS' (BGO RECORDS/UK IMPORT)
There were so many hardrock and metalacts signed to US major labels back in the late 1980s, it was almost impossible to keep up with the releases. CIRCUS OF POWER from the east coast of the USA never had their breakthrough despite their incredible high level on the albums they released between on RCA RECORDS (now under SONY MUSIC) between 1988 and 1993. The band was formed around Alex Mitchell (vocals), Ryan Maher (drums), Ricky Beck Mahler (guitars), and Gary Sunshine (bass) and they had a sound somewhere between 80s Rock, Sleazy Hardrock and Bluesy Classic Rock. While a song like Motor sounded quite close to the uptempo Rock of THE CULT melted with the Hardrock of L.A. GUNS, the band switched on a following track like White trash queen to a mix of Sleazy Hardrock and Bluesy Classic Rock like a mix between AEROSMITH and GUNS'N'ROSES. This continued throughout the 40 songs that are included on this impressive 2-CD set which has been released on BGO RECORDS. It covers their entire early career with the 4 albums they released during that period (Circus of power, Vices, Live at the Ritz and Magic & madness). Actually they were quite diverse and it is a pity they never got their big break, because songs like the catchy melodic midtempo rocking Needles, the uptempo rocking THE CULT meets LA GUNS sounding In the wind and Heart attack, the sleazy rockers Backseat mama, Two river highway, Last call Rosie and Doctor potion should have definitely become hits on the late 80s/early 90s rockin' America radio. Their final album Magic & Madness from 1992/1993 saw the band going in various directions, because it started with some clear influences from the then popular Alternative/Grunge and PANTERA sounds (Swamp devil, Evil woman, Heaven & hell), while the band also switches back to the sound of their debut a few times (Dreams tonight, Mama Tequila) and we even get to hear a bunch of melodic rock orientated pieces (Circles, Black roses and Slip away). Unfortunately the changing music climate during the 1990s led to the breakup of the band. They did reform and release a new album a few years ago, but whenever listening to CIRCUS OF POWER, you will probably put on their classics from the heydays. Here's another chance to get to know CIRCUS OF POWER, as you can purchase their early career spanning new 2-CD set through: https://www.bgo-records.com/
(Points: 8.7 out of 10)
THE ZAWNIFUL SYNDICATE 'BLACK WATER - LOST TRIBES' (BGO RECORDS/UK IMPORT)
THE ZAWNIFUL SYNDICATE was a Jazz Fusion band formed by Austrian keyboardist JOE ZAWNIFUL back in 1988. The band evolved out of Zawinul's former band WEATHER REPORT and combined Fusion/Jazz of the 1970s and 1980s with different music cultures that were clearly hearable in the groovy rhythms and drumming. Their 2 albums Black water and Lost tribes have now been re-issued onto CD by BGO RECORDS. The result is 2 excellent (semi) instrumental CDs that are not as complicated as it might sound, because actually we get to hear very smooth and fun music that takes the best of Jazz and World Music. The extensive liner notes tell us a lot about this project and it is available through: https://www.bgo-records.com/
(Points: 8.0 out of 10)
DAVID CLAYTON-THOMAS 'DAVID CLAYTON-THOMAS - TEQUILA SUNRISE - DAVID CLAYTON-THOMAS' (BGO RECORDS/UK IMPORT)
The American/Canadian band BLOOD, SWEAT & TEARS had an enormous impact during the late 1960s/early 1970s with their funky soulful R & B injected pop/rock. Their lead singer DAVID CLAYTON-THOMAS also ran a solo career and released quite a number of records during the 1970s, of which 3 have now been re-issued and remastered onto CD by BGO RECORDS. The music is not too far removed from his BLOOD, SWEAT & TEARS days, although perhaps a bit more a melting pot of all kinds of 70s styles. The best songs are the funky soul r&b songs like BLOOD, SWEAT & TEARS and THE IDES OF MARCH (Magnificent sanctuary band, Sing a song, The face of man, Down bound train, Bread'n'butter boogie, Hernando's hideaway and Small family) and the slightly more soulful rockers as well like North beach racetrack (FREE ish), Nobody calls me prophet and Fallin' by degrees. The first album on this 2-CD set is slightly calmer with also typical 70s ballads a la JOHNNY MATTHIS (She and Once burned), and perhaps despite the high quality, it sounds very 1970s now and for some a bit dated I think, but the remastering is excellent. That first album is more balladry than the soulful rockier 2nd Tequila sunrise from 1972. The 3rd (again same titled) album from 1973 is then again like his debut a bit softer and more pure 70s soulful pop based and even features a nice cover of THE BEATLES (Can't buy me love), so it is clear that the 2nd album on this 2-CD set is the best one here. Davis's voice was (and perhaps still is) incredible and one of a kind, with a soulful vibe and anyone who likes such classic Soul/R & B voices will love this collection of long-forgotten material from the early 1970s. As always, the extensive liner notes in the CD booklet make this an enjoyable package all together to enjoy for a few hours. Available through: https://www.bgo-records.com/
(Points: 8.0 out of 10)
SONS OF SOUTHERN ULSTER 'FOUNDRY FOLK SONGS/SINNERS AND LOST SOULS' (HT RECORDS/IRELAND IMPORT)
Here we have the next typical Irish/English Post-Punkband, with a mix of spoken word, vocals, critical lyrics and classic early 80s uptempo Post-Punk, just like we have seen from bands like FONTAINES D.C., THE MURDER CAPITAL, LIFE and such in recent years. SONS OF SOUTHERN ULSTER from County Clare, Ireland sent me their 2 albums and especially their new album Sinners and lost souls is a strong record that will be loved by fans of the aforementioned bands. When listening to the lovely first couple of songs (Fear my scorn and I live in the past), it is clear we are dealing here with a new sensation in this genre. They also remind me a bit of the classic early DEAD KENNEDYS sound that more or less contributed a lot to the Post-Punksound along with BAUHAUS, JOY DIVISION and a bunch more bands from that period. However, JELLO BIAFRA (DEAD KENNEDYS singer) introduced the mix of Spoken Word and Clean vocals into Punk and that's what SONS OF SOUTHERN ULSTER singer JUSTIN KELLY is also doing here, although when he's singing he reminds me a lot of R.E.M.'s MICHAEL STIPE as well. If you mix all the aforementioned bands, then SONS OF SOUTHERN ULSTER might be the result and believe me, they are a really great result with a sensational album that has no weak moment at all. I am safe to say that these guys should be right up there with the other praised Post-Punkbands like FONTAINES D.C. and THE MURDER CAPITAL! They are a bit more melodic perhaps, so just a touch less darker, which for me works perfectly well! Check them out at: https://sonsofsouthernulster.bandcamp.com/
(Points: 8.6 out of 10)
AMANDO RISUENO 'EL CANTO DEL VIENTO' (NUEVO MUNDO/VEEVCOM/FRANCE IMPORT)
Out of Argentina we sadly don't hear and review much music, but guitarist/singer AMANDO RISEUNO from Buenos Aires finally makes it over to our office with his latest album El canto del viento. The album is filled with lovely Spanish guitar driven melodic music that feels really good to listen to. Amando has a strong voice and his guitarplaying is sounding just beautiful. Definitely a recommended album to check out! More info at: www.amandorisueno.com
(Points: 8.0 out of 10)
GABRIEL BISMUT & MAURIZIO MINARDI 'LE CHAT BREL' (AMA RECORDS/VEEVCOM/FRANCE IMPORT)
French violinist Gabriel Bismut and Italian accordionist/pianist Maurizio Minardi recorded an album together which musically speaking is a mixture of various old music styles, with a Tango here, a Waltz there and Baroque every now and then, while you have always have the feeling you're walking in an old French town. Done very well and paying homage to film music of ENNIO MORRICONE and also JACQUES BRELL, the 12 included tracks here are a joy to listen to. More info at: www.mauriziominardi.com
(Points: 8.0 out of 10)
ALEX MAAS 'LUCA' (BASIN ROCK RECORDS/UK IMPORT)
American Singer/songwriter/multi-instrumentalist ALEX MAAS is best known as the singer of the band THE BLACK ANGELS, but now he has a solo record out titled Luca. On this first album he gets help from producer Brett Orrison (JACK WHITE) and musicians like Duane Trucks (drums, WIDESPREAD PANIC), Bryan Ritchie (bass, mellotron, THE SWORD), Quincy McCRary (keyboards, JACK WHITE), Jazz Mills (vocals), Derek Brown (drums, EELS), Robb Kidd (drums, THE GOLDEN DAWN ARKESTRA) and THE BLACK ANGELS members Christian Bland, Jake Garcia and Nate Ryan. The included music is clearly influenced by the late 1960s dark calmer slightly depressing hypnotic psychedelic pop/rocksound with elements from THE BYRDS, THE DOORS, JEFFERSON AIRPLANE and such, however with a more singer/songwriter melancholic acoustic approach that even recalls NICO and LEONARD COHEN here and there (Special). Done very well and as highlights I would point out Been struggling, 500 dreams (somehow reminding me of JEFFERSON AIRPLANE) and the beautiful haunting All day. It's like we're back in the late 60s here with this first ALEX MAAS album! Check it out for yourself at: https://alexmaas.bandcamp.com/album/luca
(Points: 8.1 out of 10)
JACQUI MCSHEE AND KEVIN DEMPSEY 'FROM THERE TO HERE' (INDEPENDENT/UK IMPORT)
KEVIN DEMPSEY is a British, Coventry-born guitarist, songwriter, producer and arranger, and JACQUI MCSHEE is a Catford, South London born singer, and both of them have been active since the 1960s in the British Folkrockscene. Jacqui has performed with the band PENTANGLE since 1966 (!) and now with Kevin she forms a shared vocal duo playing classic story-telling acoustic tingled Folksongs. Respecting the age of these 2 well-seasoned musicians, this is a great album they deliver here. This is one of those acts you need to see and hear live in front of you, because such singer/songwriters like Kevin and Jacqui have a lot to tell us in their songs and live that works just perfect. 10 songs are included, of which the highlights are Jack Monroe, Telephone lies and Frankie. Check out more at: http://jacquimcshee.com/kevindempsey.net
(Points: 8.0 out of 10)
WEST END 'WEST END VINYL RECORD' (SPARE TIME RECORDS/USA IMPORT)
There is a lot of diversity on the same titled debut album of the American band WEST END. The album is released on SPARE TIME RECORDS and actually the diversity can easily be explained, because it covers a period of 30 years. However, just recently the band got back together again and this is the result. KIRK BEASLEY (Vocals, Bass, Acoustic Guitar) is the leader of the band and as already mentioned, musically speaking there is a lot to explore here. The album was sent to me as VINYL RECORD, which is always something wonderful and a motivation to dig deep into the material which is included. Opener West End is a catchy uptempo melodic 'soaring guitar' rootsy rocker that reminds me a bit of DRIVIN'N'CRYIN in their early 'electric' days of the early 90s. The following midtempo songs At the end of the world and Western avenue are rockers that sounds like a cross between NEIL YOUNG and R.E.M. The band switches to a catchy early 80s influenced uptempo Powerpopsound during the lovely Play it by ear that sounds a bit like classic early 80s TOM PETTY and THE HEARTBREAKERS meets TOMMY TUTONE. Art of living is changing the mood to a more acoustic based sound, which sounds like the later work of TOM PETTY. The rootsy rockballad Welcome to ... li'l L.A. is a sorta mix between JOHN FOGERTY and a classic Country crooner song, although halfway the song the tempo and sound changes to an uptempo rocker like CREEDENCE CLEARWATER REVIVAL. Thin soup is the rockiest song on the album and basically a great catchy uptempo late 1970s punky powerpoprocker that even reminds me a bit of very early JOE JACKSON crossed with a punkier act like THE JAM. A little quirkier with some keys is the pop/rocker Dodge city that somehow makes me think of THE TUBES crossed with BLUE OYSTER CULT and GODDO. Also Business as usual has that feeling, reminding me a lot of BLUE OYSTER CULT actually! Closing track Surreality is a quirky 70s type of British flavored humoristic pop/rock song that sounds a bit like 10 CC and GODLEY & CREME. As you can see, there is a lot of diversity here and for everyone of us something of interest. More info can be found at: https://www.kirkbeasley.com and https://www.sparetimerecords.com/west-end
(Points: 8.3 out of 10)
GRISELDA 'RENO NEVADA VINYL RECORD' (SPARE TIME RECORDS/USA IMPORT)
"What do RAY CHARLES, JOHNNY CASH and ELVIS PRESLEY have in common? Their sidemen played on Griselda's album Reno Nevada" The bio mentions this as a start, but musically speaking female singer GRISELDA WILLIAMS is leaning towards the country/pop direction on her new album, with higher pitched vocals of Griselda. The songs are mostly calmer country/pop pieces, which is a pity, because when going for a more rockier song like the catchy uptempo Put the love down, it sounds pretty good, so perhaps next time deliver more of such songs. Nevertheless, songs like Reno Nevada, Winter morning and Living on the line do have a certain charm like we could hear on a JUICE NEWTON record in the past for example. Check more for yourself at: https://www.sparetimerecords.com/reno-nevada
(Points: 7.3 out of 10)
ETERNAL WINTER 'ARCHAIC LORE ENSHRINED' (TRUE KNIGHT METAL PRODUCTIONS/USA IMPORT)
Out of a small town in the US state of Maryland comes ETERNAL WINTER, a band formed around multi-instrumentalist MATTHEW KNIGHT. The beautiful frontcover of their new album Archaic lore enshrined is making things clear that this is a True Heavy Metal album. The guitarwork is sensational, with those classic 80s shredding thrashing meets IRON MAIDEN metal parts, while the high pitched vocals come straight out of the (Speed) Metal books of JUDAS PRIEST and AGENT STEEL, while MANOWAR machoism is also around the corner, although overall the Melodic Metal of ETERNAL WINTER has deeper meanings in a sorta NEVERMORE meets SAVATAGE meets VIRGIN STEELE kinda direction. Anyway, this is True Metal like the real Metalheads will appreciate! I also hear a lot of similarities to such obscure 80s acts like OMEN, JAG PANZER, HEIR APPARENT, SAVAGE GRACE and you name it further. ETERNAL WINTER is doing things at a very high level and if you're into any of the aforementioned bands, then you will certainly love songs like The Hills Of The Dead, Sojan Shieldbearer and the superb epic pieces Masque Of The Red Death (STORMWITCH Cover) and The Dark Kingdom (Invoking The Nightside). Go check them out if you're starting to become obsessed already by reading this review! More info at: http://www.eternalwinter.com/
(Points: 8.2 out of 10)
MIDNIGHT PROPHECY 'MIDNIGHT PROPHECY' (INDEPENDENT/UK IMPORT)
Unfortunately the British band MIDNIGHT PROPHECY have already split up, but this 2018 album they released was not reviewed by us and so it is nice to still write something about it. They were formed in 2015 and this same titled album was released in 2018. Although the guys in the band are quite young of age, they have a true early 80s NWOBHM meets mid 80s Melodic Metalsound in a way sounding like bands such as RAVEN, TOKYO BLADE, IRON MAIDEN, GRIM REAPER and such. This is true 80s Metal with a fist in the air and high pitched vocals, while the choruses are melodic and the guitarwork is based around really cool riffs. Highlights among the 9 included tracks are Obsidian (catchy tune), Through the fire, the epic The ridge, Roanoke (superb twin-guitarwork in the best IRON MAIDEN tradition!) and the lovely uptempo closing track The prophecy (pure 1985, a la RUFFIANS). The sound is huge and these guys are definitely professionals, so it is a shame they broke up, but who knows in the future they will continue and record again. In the meantime, they have a clearance of their albums and you can get it through: https://midnightprophecy.bigcartel.com/about-2
(Points: 8.3 out of 10)
RICK KID EXPRESS 'PSYCHODELIC' (SQUIB KICK RECORDS/USA IMPORT)
The North Carolina, USA based band RICH KID EXPRESS returns with a lovely new classic 80s authentic Hair Metal sounding album titled Psychodelic. Although I mention band, RICH KID EXPRESS is actually built around one person only (ROB RICHARDSON), who does everything on his own. He plays all the instruments quite well and he also has a great typical 80s Hair Metal type of voice (ALICE COOPERish). 10 songs are included and from start to finish this is a dream come true for fans of bans like RATT, DOKKEN, BLACK & BLUE, KISS and so on. Highlights on the new album are the uptempo 80s Hardrockers Cross the line, titletrack Psychodelic, the catchy Clock strikes four and the sing-a-long glamrocker Kaleidoscope caravan, which is the best song on the album. Check them out at: www.squibkickrecords.com
(Points: 8.1 out of 10)
GRANT-LEE PHILLIPS 'LIGHTNING, SHOW US YOUR STUFF' (YEP ROC RECORDS/REDEYE DISTRIBUTION/USA IMPORT)
Lightning, show us your stuff is the 10th solo album of the American singer/songwriter/multi-instrumentalist GRANT-LEE PHILLIPS, who is also known for being the bandleader of GRANT LEE BUFFALO in the 1990s. I am a bit unfamiliar with his solo recordings, but this new album is definitely a high quality record. It combines classic Americana with Rootsy Rock and a touch of Country. Grant got help from guest musicians, such as drummer Jay Bellerose (ALLISON KRAUSS and ROBERT PLANT) and bassist Jennifer Condos (BRUCE SPRINGSTEEN), pedalsteel guitarist Eric Haywood (SON VOLT, THE JAYHAWKS) and Hornplayer Danny T. Levin (IGGY POP, REGINA SPEKTER). 10 songs are included in total and most of the songs are slightly calmer semi-acoustic orientated with an almost whispering voice of Grant-Lee. Songs like Lowest low and Sometimes you wake up in Charleston are sounding like a lighter version of JOHNNY CASH, while the beautiful semi-ballad Leave a light on sounds like a cross between TOM PETTY and BRUCE SPRINGSTEEN. I think if you combine those 3 musicians, you have more or less the sound of GRANT-LEE PHILLIPS. Other highlights are the cheerful melodic opener Ain't done yet, the excellemt semi rocking Gather up, the modern melodic rock ballad ish Straight to the ground (with superb vocalwork) and the calmer melancholic DANNY VERA ish Mourning dove. There is a clear own identity in his voice to be heard and of somewhat darker melancholic Americana rootsy singer/songwriter folk/pop/rock will definitely like this album. More info is available at: https://www.grantleephillips.com/
(Points: 8.3 out of 10)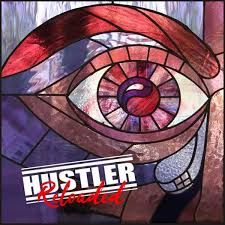 HUSTLER 'RELOADED' (BLACK CAT RECORDS/UK IMPORT)
I was very happy to learn that the legendary 70s rockband HUSTLER made a comeback and actually released a new album entiled Reloaded. In the 1970s they released 2 albums on A & M RECORDS and even played support act to QUEEN and STATUS QUO, but sadly in 1976 they split up and now 44 years later they have returned and Reloaded might perhaps be their finest effort they have ever released! The band's line up is almost the same, except for their original guitarist Micky Llewellyn, who sadly died in 2014. On board however are 4 original members, Tigger Lyons/Bass, Tony Beard/Drums, Kenny Daughters/Piano, Synthesizer, Organ and Steve Haynes/Vocals, while we welcome guitarists Tick Brown and Tony Miles as the new members of HUSTLER. The extensive liner notes tell us the full story on this legendary band and it's members, so there is a lot to read here and we can enjoy 12 new HUSTLER songs on this comeback album Reloaded. It's actually not really a new album, because the vocals of Steve are taken from recordings done in the mid 80s for an album that should have been released back then, but never happened. Nevertheless, we could still treat this as a new album, because the instruments were recorded and/or put together in the past 10 years by bassist Tigger, with the help of the other guys in the band.
Back to the album itself, after a hard rocking opener titled Stay close to me, things get super melodic with the fantasic classic uptempo melodic AOR rocker Shotgun that reminds me a bit of the legendary STRANGER record from 1982 (if anyone can remember that classic album!) or the British RAGE from the early 1980s. The vocals are amazing and so is the guitarwork, while the song has a hook not heard in rockmusic in ages! Don't throw it all away continues in a lovely 1970s inspired soulful bluesy rock direction like BAD COMPANY and also features some lovely Pompous keys a la LEGS DIAMOND. Following track Electricity is a great uptempo bluesy melodic rocker with a sorta GARY MOORE vibe. Hard for you has a cool THIN LIZZY twin-guitar riff at the start and develops into a superb catchy classic uptempo melodic rocker with a 70s vibe and somehow reminding me a bit of JIMMY BARNES/COLD CHISEL crossed with 70s STEVE PERRY/JOURNEY. Step by step follows in a 70s bluesy classic rock format with once again stunning vocals. When Night creatures started I was almost paralysed by the stunning early 1980s Melodic Rock/UK Pomprocksound of it, because this is one of the finest songs I have heard in classic rock in 2020! This song has a terrific authentic sound and is basically a super catchy pomping melodic rocker that fits right between early 1980s WHITESNAKE, early 80s RAINBOW, DEMON, RAGE (UK) and late 1970s MAGNUM, with GARY MOORE ish guitarwork, a killer AOR/Pomprock chorus and of course the amazing vocals of Steve! Black widow follows a bit in the same style, although slightly more bluesy hard rock orientated like JIMMY BARNES fronting BAD COMPANY or FREE. Next up is the bluesy rocker You've still got it, which is dangerously close to 90s FM and JIMMY BARNES. That's love is another sensational uptempo classic early 80s melodic rocker with a clear early 80s WHITESNAKE comparison. Salute to Micky is a short tribute piece to the original guitarist Micky and the album closes with Into the fire, a great uptempo hardrocking piece a la THIN LIZZY.
This album is a complete surprise and I absolutely totally love it as it sounds so authentic classic 70s/early 80s British Melodic rock orientated, yet with a soulful R & B touch in the vocalwork, because Steve sounds (or sounded, because he sadly had a stroke that left him paralysed and unable to sing anymore since 2010, so therefore the vocals are taken from those old 80s sessions) like an incredible mix between STEVE PERRY/SAM COOKE, PAUL RODGERS, JIMMY BARNES and BENNY MARDONES. How on earth is it possible that Steve never sang on many more records, because his voice was simply amazing! There are only a few of such singers out there with a voice like that, so please make sure to hear Steve's singing and you can do that by checking out this lovely classic rockalbum! It's as good as that other comeback album from fellow Brits LIONHEART! More info on HUSTLER and their new record at: https://www.facebook.com/HustlerReloaded
(Points: 9.0 out of 10)
SHAMALL 'SCHIZOPHRENIA' (2L PRODUCTIONS/GERMAN IMPORT)
The German band SHAMALL has a long history, but in short it learns that it started in the early 1970s when a young NOBERT KRULER began listening to the records of LED ZEPPELIN, JIMI HENDRIX, PINK FLOYD and those of German Krautrockbands. He started training to learn and play the songs of his new 'heroes' by himself and during the 1970s he got involved in the German rockscene and eventually when he started to record own material in the mid/late 1980s, the SHAMALL band or project was born. He achieved quite some success throughout the 30+ years of activity now and Schizophrenia is the most recent album, which is already his 15th! He does almost everything on his own (vocals, guitars, piano, organ, keys, bass, programming), but is also assisted by guitarist MATTHIAS MEHRTENS and on a few songs we can hear ANKE ULLRICH as lead singer, while she provides backing vocals on most of the other songs. It's quite a journey which is spread on 2 full-length CDs, but thankfully we get to hear lovely typical German semi-instrumental/vocal music that fits somewhere between Progressive Rock, 80s New Age/Wave, Synthwave and Electronic Music. You might also call SHAMALL a pure Krautrockband in the classic tradition of bands like TANGERINE DREAM, KLAUS SCHULZE, CAN, ELOY, GROBSCHNITT and so on. It's not only synth/keyboard dominated, because there are also soaring proggy guitars slipping through (just listen to the beautiful Thoughts pt. 1) and the vocals are those of Norbert, with Anke here and there, making it an enjoyable adventure all together to listen to these 2 CDs. It's definitely high quality music we get to hear and despite I mentioned earlier on that this is a Krautrock affair, PINK FLOYD and PORCUPINE TREE similarities are also very clearly hearable. Highlights are hard to mention, because the whole album is sounding excellent, but the lengthy titletrack, World of emotions, The inconvenient pt. 1, On the run (lovely keyboardwork) and the 3 wonderful female fronted songs (Supernatural dream, We are all in the same boat and Eyes of a stranger) are definitely quite senstional in this genre. Kraut/Progfans absolutely need to check it out at: www.shamall.com
(Points: 8.5 out of 10)
ROME 'THE LONE FURROW' (TRISOL MUSIC GROUP/SOULFOOD/ IMPORT/POLYMATH PR/UK IMPORT)
Multi-instrumentalist JEROME REUTER comes out of Luxemburg and The lone furrow is the new album of his project ROME. He started this project back in 2005 and so far he released about 15 albums! The included music on the new ROME album is a sorta bombastic melodic Neo-Folksound that feels a bit Scottish/Irish (due to the big drumsound) with strong vocals by Jerome and several guest singers. I am quite surprised here, because this sounds really good, with sometimes memories of NICK CAVE (especially during the song The lay of Iria), yet more uplifiting and cheerful despite the dark approach overall. In fact, a lot of the songs have very strong memorable melodic anthemic choruses which combined with massive sounding drums, it makes the best songs Achtung, Baby!, Kali Yuga ubber alles and The angry cup and The twain actually sorta radio-ready. ROME has an own identity, with also features a couple of songs that sound like a mix between JACQUES BREL and LEONARD COHEN, such as the dark depressing French sung Palmyra, yet giving it an own kinda touch. I think it's best to check them out for yourself at: www.rome.lu
(Points: 8.3 out of 10)
TIEFROT 'RABENHERZ' (STF RECORDS/GERMAN IMPORT)
The German label STF RECORDS has been active for quite a number of years and their latest release Rabenherz from the German band TIEFROT is combining the Gothic Metal of bands like NIGHTWISH and WITHIN TEMPTATION with the Industrial German Metal of RAMMSTEIN and features a female singer who reminds me of NINA HAGEN. The result is a strong quality album with a massive modern sound. 13 songs are included and despite it's not a record I would personally play on my stereo, I can imagine that TIEFROT will find it's way to people who are into this kind of Metal with German lyrics. The band slows things down during the calmer melodic ballad Schattenflugel, but overall it is full speed ahead with big bombastic industrial meets gothic metal. Check for yourself at: http://www.tiefrot-music.de/
(Points: 7.0 out of 10)
LUCID DREAMING 'THE CHRONICLES PART 3' (STF RECORDS/GERMAN IMPORT)
It takes some time to get into the sound of LUCID DREAMING, but their new album The chronicles part 3 is a nice typical European Melodic Power Metal affair. This band or should I say project is the brainchild of ELVENPATH guitarist TILL OBERHOSSEL. Together with producer UWE LULIS (ACCEPT, GRAVE DIGGER, REBELLION...) and a long list of guest singers (from bands like DARK MOOR, BATTLERAGE, WIZARD, IRONSWORD, EMERALD...) LUCID DREAMING has created a nice album that combines typical European Power Metal with medieaval Folkmusic. Although the production is not that big and you really need to be a fan of the mentioned bands to appreciate this, LUCID DREAMING's album is a nice listen every once in a while. Not groundbreaking perhaps, but still nice to check out if you're into the mentioned bands, then make sure to check out especially the catchy From thread to pattern. More info at: https://www.facebook.com/luciddreamingmetal/
(Points: 7.2 out of 10)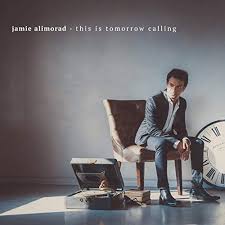 JAMIE ALIMORAD 'THIS IS TOMORROW CALLING' (KNOTHOLE RECORDS/USA IMPORT)
About 8 years ago I reviewed the wonderful first couple of AOR/Poprock albums of the talented L.A. based singer/songwriter JAMIE ALIMORAD. He told me back then he was under the wings of the legendary GINO VANNELLI. It took him some time to release an official new album, but in late 2019 he managed to release This is tomorrow calling. This album was also produced by GINO VANNELLI and contains professional sounding Westcoast/Pop/light AOR in a traditional late 80s/90s direction, yet sounding modern thanks to the massive production. Of course there are similarities to artists like RICHARD MARX, RICK SPRINGFIELD, RICHARD PAGE, RUSS IRWIN, PROMOTION, 80s CHICAGO, PAGES and countless more Westcoast artists from the past 35 years, Jamie's music has an own identity, which is thanks to the superb vocals and the aforementioned production by his mentor GINO VANNELLI, who is of course a pioneer in the Westcoast and Soulful Jazz/Fusion music world. 10 songs are included and most of them go into a similar classic Westcoast/AOR/Pop direction of all the mentioned acts, and actually there's a not a single dull moment to be found here. Besides Jamie singing and playing a lot of instruments, also Gino is playing a lot of instruments here, while other guest musicians involved are Ross Vannelli - Backing Vocals, Keyboard, Electric Guitar, Synth Bass, Drums, Percussion, Programming, George Whitty - Keyboard, Organ, Programming, Greg Goebel - Keyboard, Programming, Dalton Cyr - Electric Guitar, Julie LaMeng - Backing Vocals, and Moorea Masa - Backing Vocals. Although it took 4 years to complete this album, I have to admit Jamie has released his finest album so far, because this is a deadringer for fans of classic late 80s Westcoast/light AOR/Pop, with as highlights
Brighter days, Not just another pretty face (80s CHICAGO meets 80s TOTO meets 80s GINO VANNELLI), Down on golden shores (very catchy tune that reminds me a lot of classic early 90s Swedish Westcoast/AOR acts like WEST OF SUNSET, BLIND ALLEY and PROMOTION, with a deadly strong melodic sing-a-long summerfriendly chorus), the soulful AORish ballad Rock me to heaven (STEVE PERRY meets RICHARD MARX) and the beautiful jazzy popballad How could I love again that reminds me a lot of classic GINO VANNELLI (not knowing he actually wrote it, which I found out after checking the CD booklet!). Jamie has delivered here a wonderful and sensational modern sounding Westcoast/Pop/AOR album that should be in the hands of every fan of this genre, but I would also recommend it to anyone who likes modern popmusic with a focus on crystal clear singing, because basically Jamie is one of the greatest singer/songwriters around nowadays and he should easily be able to become as big as for example JAMES BAY, JOHN MAYER and such big names. You will not find any rockers here, because the focus is melodic modern songs with an old soul and clearly showing the incredible strength of Jamie's voice. Check out Jamie at: https://jamiealimorad.bandcamp.com/ and https://www.jamiealimorad.com/
(Points: 8.6 out of 10)
ASAF AVIDAN 'ANAGNORIS VINYL RECORD' (TELMAVAR RECORDS/V2 RECORDS)
Out of Jerusalem, Israel comes singer/songwriter ASAF AVIDAN, who has already had quite a lot of success in the past as part of the Folkrockband ASAF AVIDAN & THE MOJOS. Eventually he went solo, scored a number 1 hitsingle here in The Netherlands and Anagnoris is now his 4th solo-album since 2012 and besides singing, he also plays guitar, keyboards and piano, while for the drums and production, Asaf got help from TAMIR MUSKAT. Musically speaking it is a mixture of retro bluesy rock (THE BLACK KEYS), singer/songwriter pop/rock (JAMES BAY) and modern soulful pop/rock (THE BLACK PUMAS), with a slight touch of World Music and AMY WINEHOUSE ish modern Jazz/Soul/Pop. Most remarkable however, especially on this beautiful sounding vinyl record version, it's the vocalwork of Asaf, because he sounds like a cross between JANIS JOPLIN, GRACE SLICK, JAMES BAY and ROBERT PLANT. His voice is definitely one of a kind and giving the whole sound an identity. The resulting album Anagnoris has a lot of potential, especially during the first 2 poppier radio-ready midtempo tunes Lost horse and 900 days. Personally I absolutely love the groovy midtempo rocking Earth odyssey that is not far removed from THE BLACK PUMAS. No words goes into a calmer classic soul ballad direction, which sounds like JAMES BAY doing a cover of an old OTIS REDDING tune! Also the closing title track of Side-A, Anagnoris, this is a nice soulful ballad that would make legendary singers like JANIS JOPLIN, AMY WINEHOUSE and ADELE jealous for not recording! His voice is as original as these female singers, but believe me, ASAF AVIDAN is really a male singer, yet somehow he has such a similar tone in his voice. Anyway, Side-B opens with a jazzy modern pop/rocker titled Rock of Lazarus that once again sounds like a cross between AMY WINEHOUSE and JANIS JOPLIN, which means it sounds ready for today's market, but it has this old soul inside, with a chorus that fits right between those singers. The rockier Wildfire is a sensational semi/midtempo groovy rocker with a lovely chorus in the style of THE BLACK PUMAS crossed with THE BLACK KEYS, basically a perfect fit for a movie theme song (JAMES BOND meets QUENTIN TARANTINO!). With the dut-dut keys of following Indifferent skies we head back into a lovely classic AMY WINEHOUSE soulful bluesy meets jazzy direction. Darkness song slows things down and is a beautiful piano-led ballad that is a bit reminiscent of RUFUS WAINWRIGHT doing a duet with WILLIE NELSON on a summer evening on a Greek Island. I see her, don't be afraid closes the album, and this is a calmer Israelic style modern mixture of singer/songwriter and World Music. Without a doubt we are dealing here with an album that could easily be a major hit in the music scene, because there are a lot of potential hitsongs included and it should appeal to a variety of people. The album builds a bridge across many genres and the unique vocalwork of Asaf is exceptionally and recommended to listen to. More info can be found at: https://www.asafavidanmusic.com/
(Points: 8.4 out of 10)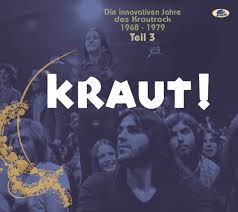 VARIOUS ARTISTS 'KRAUT! - DIE INNOVATIVEN JAHRE DES KRAUTROCK 1968-1979 TEIL 3: DER SUDEN' (BEAR FAMILY RECORDS/GERMAN IMPORT)
Opening band 18 KARAT GOLD is slightly more rock and roll orientated on their uptempo rocker See me in your dreams, which reminds me a bit of HERMAN BROOD & HIS WILD ROMANCE. EMERGENCY offers 1960s orientated psychedelic rock on their song Jump into your grave, and this is a really great tune sounding like a cross between GOLDEN EARRING and THE DOORS. Gibli from the band NIAGARA is quite experimental, with a sorta monotone repetitive rhythm, this is a mix of prog, psych and world music or perhaps instrumental krautrock of the CAN kind. The uptempo psychedelic hardrocksong Rainbow rider from SAHARA reminds me a bit of very early SCORPIONS and UFO in the beginning of the song, yet with a calmer part in the middle of the song that sounds like THE BEATLES meets PINK FLOYD, and the keyboards give it a finishing classic 70s YES ish Progrock touch as well. Basically, this SAHARA is a very interesting band of whom I definitely want to hear much more and thanks to the extensive CD booklet, there's already quite some background info on this Munich based band from the early 1970s, Also from Munich is the band BETWEEN and their song Uroboros is an instrumental classical music piece, while the following band DEUTER (also from Munich) combines world music and prog on their song Soham. Classic 1970s Prog/Folkrock with a jazzy touch can be heard during the song Tausendfussler of EMBRYO, another band from Munch, reminding of a cross between SOFT MACHINE and FOCUS. This song has very cool instrumental 70s synths/sax sounds and actually the groovy light psychedelic vibe also reminds me somehow of ALTIN GUN (!). GIFT and IHRE KINDER are 2 bands that come up with quite good 70s heavy rock, with the latter bringing a fantastic very early SCORPIONS/URIAH HEEP ish sounding tune titled Menschen wie Sand am Meer, but despite the German lyrics, it rocks big time! AERA is very obscure and their 10 minutes counting Mechelwind is a typical 70s cheerful magnificent instrumental progrocksong with some similarities to FOCUS, but also CARAVAN and YES similarities can be heard. JOY UNLIMITED's Contacts - Rudiment is from 1971 and features a female singer called JOY FLEMING. Without a doubt, this is one of the finest discoveries here, because this song is an early 1970s progrock/hardrock mixture like EARTH & FIRE meets HEART, with some beautiful melodies, and it's a real joy to listen to this gem! KIN PING MEH and KRAAN close the first disc of this sensational third volume of Kraut! and both are the only bandnames that rang a bell, because I had never heard of the other 11 bands. Anyway, KIN PING MEH brings us great uptempo classic 70s rock on their fun song Good time Gracie that sounds like a perfect cross between SMALL FACES, KISS, STATUS QUO and THE SWEET. KRAAN's Holiday on Marterhorn is an 8 minutes counting 70s prog/jazz/fusion piece in the SOFT MACHINE style.
Disc 2 starts with CHECKPOINT CHARLIE and their song Haben rock is a somewhat complex and theatrical progrocker that sounds like a mixture between GENTLE GIANT, JETHRO TULL and FRANK ZAPPA, with German lyrics. WOLFGANG DAUNERS ET CETERA from Stuttgart offers an instrumental song that is basically true Krautrock, with elements from various music genres, although 70s prog with a lot of room to improvise is perhaps the best way to describe their Mellodrama 2a. BULLFROG from Mainburg is classic 70s heavy rock with a certain DEEP PURPLE meets URIAH HEEP approach on their slow song I'm coming home. DZYAN from Frankfurt follows in the same direction with their song Fohat's work, although it gets more proggier as the song progresses, kinda like LUCIFER'S FRIEND meets VAN DER GRAAF GENERATOR meets SOFT MACHINE. Also from Frankfurt is VOLKER KRIEGEL and his song Mindwill is lovely 1970s instrumental prog/jazz-fusion. OCTOPUS follows in a pure 1970s progrockstyle with fascinating spacey keyboardwork. ORANGE PEEL's Tobacco road from 1970 sounds huge and very international, like a mix between DEEP PURPLE, IRON BUTTERFLY, SANTANA, JIMI HENDRIX and CREAM, including strong vocals, excellent guitarwork and a dazzling hammond organ. GURU GURU is instrumental experimental prog with clear improvisations on their 10 minutes counting track Der Elektrolurch, which sometimes goies into quite bizarre FRANK ZAPPA territory and at other moments it's pure progrock. The following ACTION offers 13 minutes of interesting early 70s Hardrock meets Progrock in the URIAH HEEP/DEEP PURPLE style, although vocally it is not as good as the mentioned bands. Closing band BRAINTICKET is pure progtastic 70s instrumental pompness with their tune Black sand.
Concluded, this is another wonderful compilation album release by BEAR FAMILY RECORDS in their Krautrock series, and I am already looking forward to the upcoming part 4. Available through: https://www.bear-family.com
(Points: 9.0 out of 10)
BERT JANSCH 'CRIMSON MOON' (FIRE RECORDS/KONKURRENT)
9 years ago the legendary Scottish Folk musician BERT JANSCH sadly died at the age of 67. Thankfully he released a lot of albums during his career, both with PENTANGLE and solo, of which his 2000 album Crimson moon has now been re-issued. The included music is Folk with the charismatic raw voice of Bert. 12 songs are included in total and most of them are calmer acoustic Folk-Singer/Songwriter tangled, with the acception of the rockier Looking for love. If you're familiar with Bert's voice, you will more or less understand what this sounds like. More info at: https://www.bertjansch.com/
(Points: 7.7 out of 10)
KELLY FINNIGAN 'A JOYFUL SOUND' (COLEMINE RECORDS/KONKURRENT
I am usually not really a fan of Christmas albums, but the new KELLY FINNIGAN album A joyful sound is actually quite a fun record, because it is a soulful old fashioned R & B kinda record that sounds like a cross between THE BLACK PUMAS, SIMPLY RED, LEON BRIDGES, SAM COOKE and also a bit of SURF-JAN STEVENS. You even don't mind the lyrics are about Christmas, because the melodies and overall vibe of the tunes has a real 1960s/1970s groovy rhythm. Kelly has the perfect "Soul" voice to sing this kinda melodic music, which is perfect for radio airplay. Kelly is an American multi-instrumentalist who is best known as being part of the fantastic band MONOPHONICS, but since 2019 he also releases solo-records. In 2019 The tales people tell was released and now there is a follow-up, although it is a 'Christmas' album. Highlights on the album are Heartbreak for Christmas, Just one kiss and Santa's watching you. Nevermind the Christmas lyrics, because it sounds like a regular classic Soul/R&B album that is currently very popular and this record should be in the hands of fans of aforementioned acts. Check out more on Kelly at: https://www.kellyfinnigan.com/
(Points: 8.2 out of 10)
TREES 'TREES' (FIRE RECORDS/KONKURRENT)
Although the British band TREES was only active for a few years between 1969 and 1973 and managed to release just 2 albums, they have a large underground cult following, with admiration by well-known acts like ALL ABOUT EVE and STEVEN WILSON. Anyway, we received a promo CD of a new complation record that contains songs from those 2 albums as well as unreleased BBC and demo sessions as well as a 2007 studio recording (Black widow) and a 2018 recorded live performance of their song She moved thro 'the fair. The result is a recommended piece to fans of classic 70s folkrock. The first 2 songs here are a bit calmer acoustic Folk orientated, but with Murdoch, the tempo changes to a more uptempo rockier approach and the catchy chorus features beautiful melodic harmonyvocals, while the arrangements combine prog, psych and acidrock elements, sounding a bit like JEFFERSON AIRPLANE, yet with a Folk touch a la STEELEY SPAN and FAIRPORT CONVENTION. Without a doubt, these are the kinda classics that were made a lot in the roaring early 1970s music scene. TREES are more or less called an AcidFolkRockband and on this song Murdoch this can be heard very clearly. Other highlights are Sally free and easy (starts calm, but gets rockier and complexer throughout the song, a prog/psychedelic 70s rocksound at its best), Streets of Derry (sounds almost like JONI MITCHELL joining a rockband, with a lovely soaring guitarsolo) and the psychedelic The great silkie. Concluded, TREES are definitely a band to check out if you're into the high-pitched female vocals dominated sound of the early 1970s Folkrockscene, yet TREES added a nice prog/psychrock touch, which makes them just a bit more interesting than the well-known established acts from that era. More info at: https://earthrecordlabel.com/product/trees-trees
(Points: 8.1 out of 10)
JENNIFER CASTLE 'MONARCH SEASON' (PARADISE OF BACHELORS/KONKURRENT)
I am not familiar with the work of Canadian singer/songwriter JENNIFER CASTLE, but her new album Monarch season is a peaceful album with the use of only her piano and acoustic guitar while she is singing. It's beautiful and well-done, although after a while it gets a bit repetitive. Not saying it's bad, because Jennifer does her thing quite well, but some more diversity would be nice. Check for yourself at: https://jennifercastle.bandcamp.com/album/monarch-season
(Points: 7.0 out of 10)
LAMBCHOP 'TRIP' (CITY SLANG/KONKURRENT)
The band LAMBCHOP started back in the early 1990s and they have meanwhile released a number of albums, of which Trip is their latest adventure. They hail from Nashville, Tennessee and their music is not that easy to describe, although it is quite calm and a little bit experimental. Opener Reservations is a very long (13 minutes!) calm start in a sorta NICK CAVE/LEONARD COHEN direcion, yet with higher pitched vocals. It also reminds me a bit of JOHN GRANT, which means a sinister dark melancholic sound with only a piano accompanied. Following song features a deep dark soulful voice and actually it continues this way on the rest of the album, with mostly slow to midtempo orientated pieces. Love is here and now you're gone is the only slightly more uptempo piece, so do not expect a really cheerful album here! LAMBCHOP however does have an own kinda sound that sits somewhere between the earlier mentioned artists. Check out more at: https://lambchop.bandcamp.com/album/trip
(Points: 7.9 out of 10)
LEE FIELDS & THE EXPRESSIONS 'BIG CROWN FAULTS VOLUME 1: LEE FIELDS & THE EXPRESSIONS' (BIG CROWN RECORDS/KONKURRENT)
Now this is quite incredible and fascinating, because singer LEE FIELDS from Brooklyn, New York is quite unknown despite he has been active for over 43 years now. Never too late I would say, because this new album is a sensational classic Soul/R&B release that sounds so authentic you would honestly believe this is a re-release from something that was recorded in the 1960s or 1970s! Lee has a superb soul voice and his songs are as good as all the other praised retro sounding singers/bands at the moment (LEON BRIDGES, CURTIS HARDING, MONOPHONICS, THE BACK PUMAS, VINTAGE TROUBLE, etc) or anything like the glorious past (SAM COOKE, JAMES BROWN, OTIS REDDING). 12 songs are included and it's a pleasure to listen to the music of Lee. Highlights are the uptempo Do you know? (lovely, with a funky rhythm, a fuzzy guitar and lovely soulful melodies, this is an absolute winner), the slowtempo Time (you can't get any more soulful) and the uptempo Thinking about you. Check out this sensational singer's new album at: https://leefieldsandtheexpressions.bandcamp.com/album/big-crown-vaults-vol-1-lee-fields-the-expressions:
(Points: 8.6 out of 10)
NIVIANE 'THE RUTHLESS DIVINE' (PURE STEEL RECORDS/GERMAN IMPORT)
Out of California comes the sensational NIVIANE and it's a pity I missed their debut album The druid king (produced by JK NORTHRUP) in 2017, because when hearing the opener League of shadows of their new album The ruthless divine, I notice a superb band playing high class Melodic Power Metal with similarities to classic ICED EARTH, SAVATAGE, CAGE, ONWARD, JAG PANZER and such. Melodies are all over the place (verses, choruses, guitarsound), the lead- and harmonyvocals are perfect, the songs and production are of a very high level, so this NIVIANE is definitely a band you want to check out if you like classic Melodic (Power) Metal (with a modern touch) the American way! Highlights besides the uptempo Power Metal opener League of shadows are Crown of thorns (LIZZY BORDEN ish Melodic Metal with superb twin-guitarwork and cool 80s metal guitar riffs), Fires in the sky (more powerful and metal isn't possible I think, as it is all about fists in the air and lovely shredding gutarwork here, quite ICED EARTH ish) and the superb midtempo Melodic Metal anthem Forgotten centurion. Leadsinger NORMAN SKINNER has a voice that is very diverse, because he can sound melodic and clean, but also quite aggressive and raw, and with the comined gang-vocals it sounds sometimes almost like ACCEPT/GRAVE DIGGER during a song like The ruthless divine, while PRIEST similarities are also possible here and there (Dreams crash down) and when they are at their most aggressive there's even a slight MACHINE HEAD influence to be heard. Concluded, NIVIANE is a real pure True Metal band that a lot of Metalheads will enjoy! Check them out at: https://www.niviane.com
(Points: 8.6 out of 10)
ANNEXATION 'INHERENT BRUTALITY' (IRON SHIELD RECORDS/PURE STEEL RECORDS/GERMAN IMPORT)
The German band ANNEXATION is clearly focused on fast and furious aggressive Thrash Metal in the classic SLAYER/EXODUS school and they are doing this quite well on their debut album Inherent brutality. As the promo also mentions, this is not an album for the weak people among us, as it really extreme and loud from start to finish. If you're into extreme SLAYER ish Thrash Metal, then do check out this ANNEXATION at: https://annexation-berlin.bandcamp.com/album/inherent-brutality
(Points: 7.5 out of 10)
ENTER '1991 - IMAGES FROM FLOATING WORLDS' (PURE PROG RECORDS/PURE STEEL RECORDS/GERMAN IMPORT)
The Italian Progrockband ENTER recorded several demos in 1991, but never released anything official. The bandmembers went their own way, ending up in either the Jazz/Fusion world, a QUEEN tribute band or in other Progrock/Progmetalbands, such as ADRAMELCH. Anyway, back to their 1991 demos, they are now released as an official CD. The included progressive rock is situared around the extraordinary vocalwork of singer VITTORIO BALLERIO and the cheerful keys of keyboardplayer GABRIELE BULFON. There are clear influences from bands like GENESIS, ELP, YES, PFM, LE ORME and such, yet with a strong 80s Neo-Prog feeling, which sometimes works quite well when hearing great melodies during songs like Lemuria and Holy office. However at times the incredible high-pitched extraordinary vocals or screams of Vittorio are a bit too extravagent and out-of-control. A similar band like GALAHAD also does that, but ENTER is going even a step further, trying to combine 80s Jazz/Fusion rhythms with extremely high pitched vocals and progrock sounds. Don't expect anything like DGM, because these fellow Italians from 30 years ago did their proggy a bit different, with quite some experimental moves. Nevertheless, you can still find some great melodies here and also great 80s keys, but it's just you really need to get used to the somewhat bizarre singing here and there. Check out more at: https://puresteelrecords.bandcamp.com/album/1991-images-from-floating-worlds
(Points: 7.8 out of 10)
KENZINER 'THE LAST HORIZON' (PURE STEEL RECORDS/GERMAN IMPORT)
The Finnish Prog/Power Metal band KENZINER has a long history that for me personally started back in the late 90s with 2 releases I reviewed back then. Fast forward 15 years later the band returned with The last horizon in 2014, which is now re-released by PURE STEEL RECORDS. The band recently released their new album Phoenix, which got a very good review, but let's get back this re-release. The music never changed and so also The last horizon is a strong Neo-Classical Melodic Prog/Power Metal adventure, with as best songs Run for your life, End of an era and Devour the world, which are mostly uptempo pieces with those typical scandi melodies and neo-classical MALMSTEEN/NARNIA similarities. Also pretty good are Keep the flame alive (keyboard driven awesome melodic rock) and the fast STRATOVARIUS/SONATA ARCTICA classic neo-classical melodic power metal tune No turning back. And how about closing track Perfect moment, which is a great epic ballad. Basically this was also a strong album of KENZINER, so along with the new album Phoenix, these are 2 great albums to own if you like the afforementioned acts. More info at: https://www.facebook.com/kenzinerofficial
(Points: 8.5 out of 10)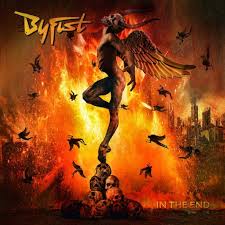 BYFIST 'IN THE END' (PURE STEEL RECORDS/GERMAN IMPORT)
Now here we have a walk down memory lane, because the legendary underground American Melodic Metal band BYFIST was reviewed by yours truly 20 years ago when they sent me a demo CD. In 2008 there was a compilation album released, but the story on this Texas based band goes back even further, because they released several singles and demos in the 1980s. Back to 2020, they finally released their official first full-length debut album titled In the end on the German label PURE STEEL RECORDS. Right from the start when the fast opener Universal Metal kicks in, you will be impressed by the immense high quality of this true all-American sounding Melodic (Power) Metal band. These guys seriously kick ass, with a superb high-pitched GEOFF TATE ish singer (RAUL GARCIA) and a huge sound that sits somewhere between the classics 80s traditional Melodic Metal of LEATHERWOLF, IRON MAIDEN, HEIR APPARENT, SAVAGE GRACE, JUDAS PRIEST and such bands from the glorious days of the mid 80s Metalscene. Other highlights are Unconscious suicide, Guaranteed death and the superb melodic metal anthem Ship of illusion. The only remark I could make is that perhaps next time Raul should also sing more parts in a lower key, because closing epic track Scattered wits shows he has an incredible voice range which is not only excellent in the 'screaming mode', but also in the lower registers he sounds superb! Definitely a singer who needs to be heard by all Metalheads out there! If you call yourself a dedicated 80s True Metalfan, then check out BYFIST at: https://byfist.com/
(Points: 8.7 out of 10)
THRUST 'THE HELM OF AWE' (PURE STEEL RECORDS/GERMAN IMPORT)
Although there have been numerous bands called THRUST or TRUST, this THRUST comes out of Chicago, USA and they released their debut album back in 1984 on METAL BLADE RECORDS. They released more demos and albums throughout the past 40 years and are now back with a strong new album titled The helm of awe. Here we have a strong selection of classic US Metal, which is straight-ahead most of the time with a fist in the air and higher pitched vocals. Of course similarities to IRON MAIDEN are very clear and overall they also remind me a lot of ASKA. Highlights are Black river, Purgatory gates (DIO ish), Battle flag, the uptempo classic Melodic Metal Masterpiece The crucifixion and the doomy DIO/BLACK SABBATH ish Ghost in me. More info at: http://www.thrustonline.com/
(Points: 8.2 out of 10)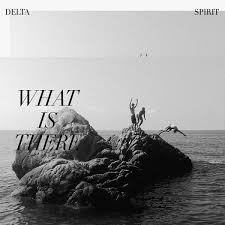 DELTA SPIRIT 'WHAT IS THERE' (NEW WEST RECORDS/PIAS)
DELTA SPIRIT is a Californian band which was formed back in 2005 and in the following 15 years they managed to release a number of albums. What is there is their 5th record so far and after a couple of spins I am safe to say that this is a lovely record with a modern sound, yet also clearly influenced by the past. The band consists of Jonathan Jameson (bass), Brandon Young (drums), Matthew Vasquez (vocals and guitars), Kelly Winrich (multi-instrumentalist), and William McLaren (guitar), and through the years they have built up quite a reputation and they are in their homeland of the USA becoming more and more popular. The high quality of their albums is continued on this new album What is there, which should get a lot of attention, because it is filled with potential winners. 10 songs are included in total, and the record was produced by the band themselves. They did a great job for sure and if we go through the tracklisting, the catchy opener The pressure is a sensational uptempo Melodic Poprocker with a strong chorus and a clear 80s vibe, not too far removed from THE KILLERS, THE WOMBATS or THE SLOW READERS CLUB. The midtempo It ain't easy follows quite nicely and is another potential radio-hit. It has a groovy vibe that combines the classic 70s soul with a modern retro touch like THE BLACK PUMAS. Next track How beat it is slowing things down a bit to a somewhat dreamy Indie Popsound, with also a superb psychedelic rocking guitarsolo towards the end of the song that reveals some similarities to classic TEENAGE FANCLUB or DAWES. Can you ever forgive me? is even calmer, but they bring it at the right moment on this CD, because this is a beautiful semi Indie-Melodic Rockballad in the style of bands such as CALEXICO, BEAR'S DEN and THE WAR ON DRUGS. Better now is a nice midtempo Indie-Rocker, but the first song with a slightly weaker chorus. Following track Home again somehow reminds me of the solo-records by JOHN LENNON and GEORGE HARRISON, overall being a pretty good midtempo Poprocker with a certain Heartland meets Singer/Songwriter touch to it. Making sense is one of the most radio orientated songs on the album, because this is a fantastic catchy midtempo Melodic Indie Poprocker like a cross between THE WAR ON DRUGS and BEAR'S DEN, with vocals a la CALEXICO, a nice keyboard touch and an electric guitarsolo to give it a rich rocky sound. Lover's heart is up next and here we dive into an almost pure BRUCE SPRINGSTEEN ish Heartland rock direction, starting calm and modest, but developing into a bombastic anthem that gives me somehow a 'Christmas' kinda feeling. As the album continues, it feels like the band has also listened carefully to the productions of classic U2 and COLDPLAY, because here and there it has a similar vibe. Just the same is a calmer acoustic piece that is one of the weaker songs on the album I'm afraid, sounding a bit too sweet Sky Radio ish (a la KEANE), while the titletrack What is there closes the album in a great acoustic singer/songwriter Americana direction. It's a pity the album didn't end with an uptempo rocker in the style of the first song, but DELTA SPIRIT still delivers a high quality record with this What is there.
Without a doubt, between the countless other releases done each month, it will be hard for DELTA SPIRIT to reach everyone out there, but believe me that you will not be disappointed if you check out this lovely record of this high quality band! The album does have a few weaker moments a couple of times, but in general speaking it offers enough material to satisfy the fans of modern melodic Indie-Pop/Rock. More info at: https://deltaspirit.net/
(Points: 8.6 out of 10)
LEE CURTIS & THE ALL STARS 'LET'S STOMP - THE BRITS ARE ROCKING VOLUME 3' (BEAR FAMILY RECORDS/GERMAN IMPORT)
Classic Liverpool/Merseybeat Rock & Roll like we know it from the early 1960s is basically the name of the game on this 29 songs counting CD of LEE CURTIS & THE ALL STARS. They were active in the early to mid 1960s and for a short while they were even competitors of THE BEATLES. This is the kinda classic 1960s Rock and Roll you sadly don't hear much nowadays anymore, but thankfully there is a lot to explore from the glorious past and LEE CURTIS & THE ALL STARS is just one of them. The CD comes along with a nice booklet that tells all about this legendary band. Like many other musicians in the 1960s that didn't reach the stardom, Lee eventually quit the music business, although some of the other members of his band went on to become quite succesfull writing hits for THE RUBETTES for example. Anyway, back to classic early 1960s Rock and Roll on this wonderful newly released CD on BEAR FAMILY RECORDS, which is available at: https://www.bear-family.com
(Points: 8.3 out of 10)
RASMUS BLOMQVIST 'COLUMBIA ROAD' (WOODED SHRINE RECORDINGS/HEMIFRAN/SWEDEN IMPORT)
Out of Sweden comes the talented singer/songwriter RASMUS BLOMQVIST, who releases an album titled Colombia road, on which he does a lot by himself, but is helped by several other musicians whom are playing cello, violin, flute or sing backing vocals. The music is calm, acoustic based on the 10 included songs. For you starts very intimate, an acoustic singer/songwriter piece with beautiful vocals, while following Tiger island introduce a fuller 'band' sound and is a lovely melodic song with a bit of Folk, Pop and Singer/Songwriter. The album continues with this kinda mix of calmer intimate songs and slightly more uptempo pieces, but it's always situated around Rasmus' strong voice. City in the clouds is a beautiful melancholic and very melodic 1970s inspired singer/songwriter pop song a la JIM GROCE, and we can find many similar sounding songs on the album. However, some more uptempo tunes would give the album a needed diversity, but on the other hand Rasmus has a great voice and brings his story-telling 1970s singer/songwriter pop perfectly, so fans of JIM GROCE, JAMES TAYLOR and even DANNY VERA will absolutely love this record. More info at: https://ramiandthewhale.bandcamp.com/releases
(Points: 8.2 out of 10)
MICHAEL VEITCH 'BEST OF MANY DAYS' (INDEPENDENT/HEMIFRAN/SWEDEN IMPORT)
American singer/songwriter MICHAEL VEITCH has been around for a while and Best of many days is his latest album. His great voice and very nice calmer singer/songwriter (with no drums) is sounding at best during songs like Best of many days, Above the rain #1 and such, although it is all quite sad in it's approach. However, on an uptempo happy tune like That was the summer, Michael does his best to come up with a friendlier tune and he definitely succeeds, so hopefully more songs like this on a future record. Meanwhile check him out at: https://www.michaelveitch.com
(Points: 7.4 out of 10)
JIM STANARD 'COLOR OUTSIDE THE LINES' (MANATEE RECORDS/HEMIFRAN/SWEDEN IMPORT)
The most remarkable about this CD is the fact that producer and bassist KIP WINGER appears here, and he is of course known for his 1980s Hair Metal days of WINGER. That band's 1990 CD In the heart of the young was the first CD I ever bought 30 (!) years ago. However, on this album he might be a big help for American singer/songwriter JIM STANARD, who releases his 2nd album here, it is musically completely different. Jim's music is calmer spoken word ish singer/songwriter a la RANDY NEWMAN. Best song on the album is the slightly more rockier The opium wars, which is a nice semi-rockballad. Check out more on Jim at: https://www.jimstanardmusic.com/
(Points: 7.5 out of 10)