HOT NEW REVIEWS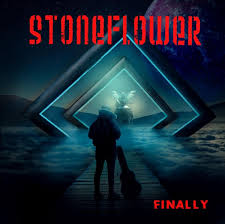 STONEFLOWER 'FINALLY' (AOR HEAVEN)
About 16 years ago I reviewed the debut album Crack a little smile of the Norwegian band STONEFLOWER, but the foundations of this band were already done 10 years further back when a few of the members recorded an album with DIESEL DAHL (TNT Drummer). I can remember that album and also reviewed it in one of the first printed issues of Strutter'zine. Fast forward to 2014 when STONEFLOWER released the follow-up Destination anywhere, which was received very well, but things got really interesting when they decided to look for a new singer and record another new album, where also few well-known guests would appear. The result is Finally and the singer they found is an amazing talent named JOHN MASAKI (known from NORWEGIAN IDOL show). He has an amazing vocal range and reminds me of a cross between DENNIS DEYOUNG and TOBY HITCHCOCK. The band's line-up further consists of Svenn Huneide - Bass, Vocals; Tom Sennerud - Guitars, keys, vocals and Geir Johnny Huneide – Drums, while the guests appearing here are drummers Per Hillestad (LAVA, A-HA) and Steinar Krokstad (STAGE DOLLS), Tommy Denander (Guitar, PAUL STANLEY, ALICE COOPER), Bjørn Ole Rasch (keys, SECRET GARDEN) and Gunnar Westlie (Guitar, DA VINCI). The album was mastered by JK Northrup (KING KOBRA) and is basically a wet dream for the AOR fans, because this is the exact way to create an AOR Classic! 11 songs are included and it starts with the uptempo Gonna let you go, a very catchy fresh sounding AOR tune that has a lot of similarities to WORK OF ART. Following track What can be done also reminds me of WORK OF ART a lot, pure midtempo AOR with a beautiful chorus. It becomes very sensational during Believing, which is a superb pure 80s AOR tune that is dangerously close to TOTO. It is clear that we are dealing here with AOR HEAVEN, with picture-perfect vocals, hooks and choruses like we know it from the glorious 1980s. PRIDE OF LIONS and WORK OF ART are considered as the finest AOR acts of the past 20 years, but with this new STONEFLOWER album we have another winner that should be put right between the albums of those bands! When we continue with the uptempo AOR of Calling all stations, we get to hear one of the best AOR songs of the past 10 years, as this is an amazing catchy tune with a killer chorus that is even better than anything PRIDE OF LIONS has ever done, pure AOR brilliance that also reminds me a bit of RADIOACTIVE. Kaylee brings more high class midtempo AOR with even similarities to FRANKE AND THE KNOCKOUTS! Back to classic uptempo AOR a la PRIDE OF LIONS with the lovely The devil never cries. It is clear that everything is perfectly done here in making it perhaps the finest AOR album of 2020! Shivering hands is a little poppy and adds a few different arrangements halfway the song, but is overall once again another catchy AOR chorus driven tune. The titletrack is uptempo AOR again, WORK OF ART meets PRIDE OF LIONS, while Through the fire is almost like we are listening to DENNIS DEYOUNG when he did a pure semi-AOR ballad (Show me the way), although PRIDE OF LIONS also did such brilliant AOR ballads in the beginning. I think by now you will understand that this is an absolute AOR HEAVEN CLASSIC that even beats WORK OF ART's last album! How does it feel is back to classic uptempo AOR with a lovely chorus, dangerously close to the first PRIDE OF LIONS classic album. Closing track Fall closes things nicely being a nice calmer piano-led ballad. Without a doubt, we have a true winner here and any AOR fan looking for the best of the best at the moment should stop looking and just grab this new STONEFLOWER album. It is AOR perfection up to the highest degree! Make sure not to miss this absolute gem that even delivers 2 of the finest AOR songs of the past 20 years (Believing and Calling all stations). Check out this wonderful band at: https://www.facebook.com/stoneflowertheband and soon we will do an interview with them as well.
(Points: 9.2 out of 10)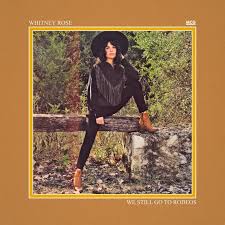 WHITNEY ROSE 'WE STILL GO TO RODEOS' (MCG RECORDINGS/CONQUEROO/USA IMPORT)
Now these are the kind of releases which we really miss in Europe, because the new album of Singer/songwriter WHITNEY ROSE is basically picture perfect crossover Country/Pop/Americana like only the Americans/Canadians are able to produce. Whitney originally comes from Canada, but went southwards to Austin, Texas to work on her music career and We still go to rodeos is her 5th album so far. She has won several awards and rapidly seems to become a star in America, so this new album might be her major breakthrough. The album is really wonderful and perhaps nothing new musically is brought here, the result is a sensational record that will even surpise the regular musicfans, because this is definitely not just another country record! It was produced by PAUL KOLDERIE (RADIOHEAD, HOLE, THE PIXIES, LOU REED...) and 12 songs are included in total. The first 3 songs (Just circumstance, Home with you and Believe me, Angela) are really great uptempo Countrypoprockers that do capture that typical sound like we know it from countless other mostly American acts and I always somehow feel the need to mention then someone like JUICE NEWTON as comparison, but it could actually be anyone in the Countrypopscene. I have to say that Whitney has a really beautiful voice and I'll bet she will impress even more live on stage. In a rut and I'd rather be alone (superb!!!) are actually secretly very strong catchy early 80s uptempo AOR/Melodic Poprockers that bring back memories of PAT BENATAR, DONNA CHRISTY, ELLEN SHIPLEY, ROSEMARY BUTLER, HEADMASTER, JAIME KYLE and such female rockers from the glorious 80s days, although perhaps some will also be reminded of THE CORRS here. Of course there are also calmer songs, such as the beautiful ballads A hundred shades of blue, Thanks for trying and Fell through the cracks (AOR ish a la JAIME KYLE), where we can hear what an amazing voice Whitney has. What makes this album so special is the enormous diversity in styles, because she jumps from country to rock to pop to americana and also blues, because for example You'd blame me for the rain is a slow bluesy tune and some good old rock and roll can be heard during Better man. I think if you like for example ILSE DE LANGE, JAIME KYLE or any female singer with a sorta poprock identity musically speaking that has a slight country touch and of course who also has a strong clean melodic voice, well then you will absolutely fall in love with the sensational WHITNEY ROSE. However, she is so diverse that the closing track, which is the titletrack, this might even be the biggest surprise, as this is a sorta light jazzy tune a la ELLA FITZGERALD, a really beautiful little song that is totally different than the rest of the album. It is perhaps the reason why you do not want to miss this album! More info at: https://whitneyrosemusic.com/
(Points: 8.8 out of 10)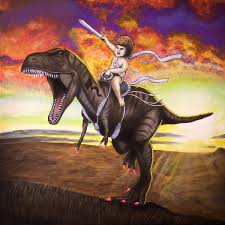 TINY BIT OF GIANT'S BLOOD 'GIGANTOSAUR VINYL RELEASE' (JUMBO RECORDS/USA IMPORT)
Now this is a very interesting mixture, because I hear a lot of influences in TINY BIT OF GIANT'S BLOOD's music. Overall it's pure Classic Glam Rock with massive harmony vocals driven choruses out of the classic THE SWEET/CITY BOY/QUEEN box, yet it sounds modern as well, with influences from modern rock bands (especially THE DARKNESS) and here and there some Punk Rock as well. The band comes out of Chicago and is formed around vocalist Tony Rogers, guitarist John Scholvin, bassist Jackie Schimmel and drummer Larry Beers. Their debut album is titled "Gigantosaur" and it has just been released. When checking their website, the band pictures and song titles, it is clear that we are dealing here with a band that is trying to combine the big bombastic 70s rock with humorous lyrics and a lot of rock star stage presence, ending up sounding and looking quite close to classic THE TUBES in their 1970s period, although CHEAP TRICK is also a band to mention, but there's so much more here. A song like "Girl Over Here" is a close-call to THE DARKNESS's modern glam rock, while the uptempo "To Be Is Beautiful" has some cool synths, galloping guitar work and a lovely catchy melodic chorus, sounding like a cross between 70's URIAH HEEP and 70's QUEEN. "Five Foot Heels" is another great uptempo rocker that sounds like the perfect baby of classic QUEEN and THE SWEET. "Little People" starts as a QUEEN piano-ballad with DAVID BOWIE-ish vocals, but halfway transforms into an uptempo rocker like THE WHO. The band is also not shy from classic late 1970s punk rock, because that can be heard in the song "Mick Jagger Carries My Boots," which sounds like THE RAMONES meets GENERATION X. Side-A (of the vinyl record they kindly sent to me for review) closes with the bombastic ballad sorta-rocker "All Hail The Opening Band," which has a great chorus and guitar solo and sounds not far from the 1980s power ballad, although once again QUEEN influences are crystal clear too.
Side-B opens with "Faux Tuff," a great uptempo 1970s rocker that has a guitar riff which is 100% identical to TOTO's classic tune "Angela," although the song itself is something THE TUBES could definitely have created many years ago. "If You Want Blood" is the surprise of the album, because this is an AC/DC cover and it's done quite differently, starting quite calm with synths, but ends up being a rocker as well, just like the original classic tune. "Signoria Dysphoria" takes another change in style, because this is a sorta Latin pop tune with traditional Spanish guitar, quite nice, although the rockers might skip here. On the other hand, this shows their love for QUEEN as well, because that band of course did such tricks as well. It's like TINY BIT OF GIANT'S BLOOD has listened very well to all those classic 70s rock bands, because ROLLING STONES influences pass by during the uptempo rocker "There Is Always More," which then again also reveals MOTT THE HOOPLE/SMALL FACES influences, although halfway they switch it to a slightly faster punky tempo, but also slow it down again to keep it QUEEN- influenced. It's all there and very cool to hear. I think if they are able to do this live at a professional level, they could become the next big thing. Who knows if that will happen...
In the end they are a highly recommended band to people who want their glam rock to sound a bit extroverted and theatrical like in the good old classic 1970s, kinda like QUEEN meets THE SWEET and a bit of THE DARKNESS. More info at: https://www.tinybitofgiantsblood.com/
(Points: 8.1 out of 10)
LINA_RAUL REFREE 'UGURU' (GLITTERBEAT RECORDS/XANGO MUSIC)
Out of Portugal comes LINA_PAUL REFREE, which is a duo consisting of RAUL REFREE (a well-known producer who worked with ROSALIA, ELE RANALDO and many others) and Fado singer (with classical training) LINA. She has released 2 records on SONY MUSIC, so the both of them are high profile musicians with already a career. Now they joined forces and what you get on their album Uguru is a very original sound, which we have not heard before. When you listen to a song like Sta luzia or basically any of the included tracks, it is a mix of classical music, electronic music, krautrock (CAN/TANGERINE DREAM) and Fado singing (in a laid-back way of singing). It sounds melancholic, dark and somewhat ambient with as backing instruments a Mini-Moog, Rhodes, Roland Jupiter, Clavinet, Piano and also a guitar. Although it doesn't sound cheerful, happy and such, what more important is that there is a lot of emotion in the material, which is of course thanks to the beautiful voice of Lina. Paul is also a key factor here, because he plays all these instruments and gives it that unique sound. Basically we have something not heard before here and therefore even the people who don't like Fado singing, they should also hear this before making a good judgement, because Uguru is a very original sounding record that will grab you for sure. More info at: http://www.uguru.net/
(Points: 8.4 out of 10)
SERGIO MENDOZA ORKESTA 'CURANDERO' (GLITTERBEAT RECORDS/XANGO MUSIC)
SERGIO MENDOZA is best known as member of the band CALEXICO, playing keyboards, accordion, percussion, etc. , but he is also a founding member of the SERGIO MENDOZA ORKESTA. Formed in 2009, this Latin Music band has already released 4 albums and now there is the new album Curandero. Sergio grew up on both sides of the US-Mexican frontier and so he combines the best of both worlds musically speaking on the records of SERGIO MENDOZA ORKESTA. The included music on Curandero is very cheerful typical Latin based, where we can find influences from Rock'n'Roll, boogaloo, Cumbia, ranchera and Americana. The music puts a smile on your face, as if it was Carnival. It is quite a sensational release you can listen to from start to finish and also still quite diverse, because for example No te esperaba is a more rockier affair (and also features CALEXICO leader JOEY BURNS), Little space has a sorta reggae vibe, Cuban rhythms can be heard in the SANTANA alike Why you looking that way and opener Paleta is pure Latin music like we all know it. This is a super high quality release that should even appeal to CALEXICO and SANTANA fans out there. More info at: https://www.orkestamendoza.com/
(Points: 8.6 out of 10)
75 DOLLAR BILL 'I WAS REAL' (TAK TILL/GLITTERBEAT RECORDS/XANGO MUSIC)
Now here we have an interesting instrumental release, which is sorta dark avantgarde music with rock and celtic influences, sounding quite haunting and hypnotic, especially when you listen to the opener Every last coffee or tea that almost feels like an old CAN or any Krautrock band from the 1970s, but done in a modern way. 75 DOLLAR BILL is the name of the band, which consists of percussionplayer RICK BROWN and guitarist CHE CHEN. They found each other via MySpace many years ago and through the years they tried out many different music genres and recorded several records. I was real is the new album and it sounds indeed very diverse and interesting for especially the fans of World Music and also proggies and jazz fans will find something of interest here. Songs like Cort.-verso and Tetuzi akiyama are more rockier tunes (and the best of the whole album), but you can also hear African influences in a song like There's no such thing as a king bee and what about the 16 minutes counting titletrack, which is quite an adventure that is a very slow and minimalistic song and very exciting and challenging to listen to. In the end, there is a great mixture of old CANish Krautrock, World Music, a big of jazz and all kinds of continental influences to be heard in the experimental instrumental music of the duo 75 DOLLAR BILL, whom are also accompanied by several guest musicians (sax, violin) that give the whole sound a few needed breaks and different approach. Check it out for yourself at: https://75dollarbill.bandcamp.com/
(Points: 8.3 out of 10)
TELEPATH 'MENTAL MUTATIONS' (APOLLON RECORDS/NORWAY IMPORT)
Out of Norway comes TELEPATH, an one-man's band formed around multi-instrumentalist JACOB HOLM-LUPO, who plays synthesizer, keyboards, guitars and bass. He also does samples, loops and programming, so the only pity on this TELEPATH album is the fact there isn't a real drummer active. That is not a real big issue, because nevertheless we get to hear very high quality instrumental progrock/progmetal. Jacob does almost everything on his own, but got help on 2 songs by a guitarist and a mini-moog player. Jacob himself is also a member of the bands WHITE WILLOW and THE OPIUM CARTEL, but with TELEPATH he is clearly taking control of everything and also the music is somewhat different, although still touching the Hardrock/Metal genre. If we go through the 10 songs that are included on the new TELEPATH album, I would like to mention To the grave (Progmetal), No more wishes (which has vocals, a sort of Doom Metal orientated slow and dark pretty heavy tune), Race into the wasteland (this has somehow an Arabic rhythm, although it is Progmetal), Bad machine (more experimental, slightly industrial, but also features a cool guitar riff), Escape from the witch house (one of the best songs, as this has a superb guitar melody line by guest guitar player Pedro de la Rocque that really grabs you) and The dark blood of fate (calmer with a spacy undertone and a cool keyboardsolo). More experimental and quite interesting overall this new TELEPATH record, of which you can hear more at: https://telepath1.bandcamp.com/album/mental-mutations
(Points: 8.4 out of 10)
AIMING FOR ENRIKE 'MUSIC FOR WORKING OUT' (PEKULA RECORDS/NORWAY IMPORT)
Music for working out is the 4th album of the Oslo, Norway based duo AIMING FOR ENRIKE. I am not familiar with their previous albums, but I can inform you that their new album is filled with very interesting experimental instrumental music that is proggy for sure, but also has clear influences from other genres such as Synthwave. Especially the beginning is very experimental and is almost pure Industrial Synthwave. In total we can find 9 songs on AIMING FOR ENRIKE's latest release, of which the highlights are Infinity rider (uptempo new wave ish tune with solid keys), Hard dance brainia (big dance beat, midtempo tune, pure Synthwave and very catchy), Diving within (a bit ambient) and closing track Spice girls, which is more relaxing and calmer. A song like Ponzu saiko on the other hand is quite aggressive and is pure heavy hard trance meets Mario bros kinda weirdness, sounding very experimental, which might even appeal to the real open-minded progfans (if you like those wicked instrumental parts of FROST and HAKEN for instance). Anyway, concluded we have something of interest for sure here, as AIMING FOR ENRIKE delvers high quality experimental instrumental music that in the end feels like one big trip, because the 9 songs somehow feel connected. Check it out for yourself at: https://aimingforenrike.bandcamp.com/album/music-for-working-out
(Points: 8.5 out of 10)
LOZ CAMPBELL 'BACK BITING THE BULLET' (INDEPENDENT/UK IMPORT)
Out of Sheffield, UK comes singer/songwriter/guitarist LOZ CAMPBELL, who has already released a couple of (mini) albums in the past and was kind enough to sent me her latest EP titled back biting the bullet. 4 songs are included, which musically is uptempo Melodic Hardrock orientated, kinda like classic LITA FORD. Her band consists of Joe Fowley - Bass & Backing Vocals and Eddie Anderson, Chris Furness, Myles Johnson – Drums, and the highlights on the EP are the first 2 songs (Back biting the bullet and The world was made to destroy you), which are both cool 80s tingled uptempo melodic hardrock pieces. Loz is a very talented guitarist and singer/songwriter, so I am sure we will hear much of her in the future. Meanwhile, check her out at: https://lozcampbell.bandcamp.com/
(Points: 8.0 out of 10)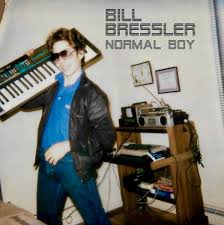 BILL BRESSLER 'NORMAL BOY' (INDEPENDENT/USA IMPORT)
It's always the case that when you are in the new year, you missed some releases of the previous year. BILL DRESSLER from New Jersey is definitely one of those acts whom went unnoticed in 2019, although their debut Normal boy was actually released in December 2019, so we're not too far from the release date actually now (review is written in March 2019). Formed around Bill Bressler (keyboards, synthesizers, guitar, guitar & drum programming, vocals, talk box), his band further consists of Mark Asch (vocals), Stephen Goldberg (vocals, acoustic & electric guitars), Jeremy Abbate (lead acoustic & electric guitars) and Vin Tabone (bass). Together they recorded a sensational debut album titled Normal boy, which features in total 6 tracks. Fits and Starts opens the album quite proggy, but there is more than meets the eye, as indie rock, new wave and prog are melted together here on this short tune. Next track is the titlesong Normal boy, which is quite excellent and has some AOR ish influences like KANSAS/YES/STYX, with great vocals, very nice melodies/choruses and cool keys here and there in 1980s style. Guitarist, A Little Song (Before We Go) and Reprise of a Sort are very nice proggy tunes in the SPOCK'S BEARD/NEAL MORSE direction, but the absolute winner here is The Walk, a 12 minutes counting powerful epic Prog/Pomprock piece with great keyboardwork and close to classic YES, GENTLE GIANT, 70s GENESIS… Without a doubt, this is a huge surprise, because BILL BRESSLER delivers an excellent album which perhaps is a prog masterpiece that should be in the hands of every progfan out there! TRANSATLANTIC, SPOCK'S BEARD, KANSAS and all those legendary bands are good comparisons here, but actually BILL BRESSLER has secretly added a lot of other influences as well in their music, which gives it an own identity. Check it out for yourself as you don't want to miss this album: https://billbressler.bandcamp.com/track/normal-boy
(Points: 8.7 out of 10)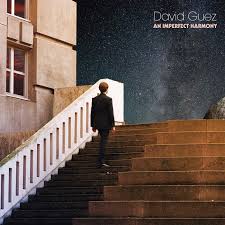 DAVID GUEZ 'AN IMPERFECT HARMONY' (GOLD MOUNTAIN MUSIC/USA IMPORT)

The first seconds of this album gave me the immediate positive vibe which is very much needed in these rare times our world is currently facing (corona). DAVID GUEZ is an English musician based in Paris and An Imperfect Harmony is his very first album. It was released in September 2019 and has a sound that could best be described as 'classic pop' as it was made in the 1970s and 1980s. The album was mixed by Kevin Killen (PETER GABRIEL, KATE BUSH) in New York and Stéphane "Alf" Briat (AIR, PHOENIX) in Paris. The concept of the album is based around a dreamlike fantasy with each track being a different phase within a dream. If I am correct, there will be a part 2 of this concept. Thankfully the 10 included songs can also be played seperately and so this is not the kind of concept album with long instrumental passages and weird speaking parts. It is a normal album with 10 very strong vocal/chorus orientated songs, starting with opener The future, which is a sorta 80s Popsong with a lot of focus on clean melodies and beautiful vocals, kinda like MIKE & THE MECHANICS or even JOHNNY HATES JAZZ. Next track The haze is a very relaxing 70s orientated westcoast/pop orientated midtempo tune in the style of AMERICA. Even more melancholic and 70s melodic pop/rock orientated is The higher ground, a song that brings back memories of classic ALAN PARSONS PROJECT (Eye in the sky/Don't answer me era). The corners of your mind is a mixture between AMERICA and ALAN PARSONS PROJECT, while The strangest part of you does also remind me a lot of VENICE, so in the end we have a wonderful mixture of Westcoast and 70s/80s Pop here from start to finish. It all sounds very relaxed, clean and safe, but at an incredible high level and reminding of the past, with a melancholic vibe. A higher plane, An imperfect harmony and An invisible man (superb!) are basically all pure ALAN PARSONS PROJECT and that is a big compliment! Concluded, I would definitely recommend this to anyone who likes any of the aforementioned bands, especially AMERICA and ALAN PARSONS PROJECT. A sensational beautiful album that you don't want to miss! Check out more on David at: https://www.facebook.com/davidguezmusic and

https://soundcloud.com/davidguezmusic and http://davidguezmusic.com/

(Points: 8.8 out of 10)

CONRAD VINQOE 'A QUIET CONVENTION' (INDEPENDENT/UK IMPORT)

The talented singer/songwriter CONRAD VINQOE is based in London and has already released a couple of albums. A Quiet Convention is his latest album, which is a collaboration with renowned producer Sean Reed (BETH ORTON, DEXYS MIDNIGHT RUNNERS) and musicians Ali Friend (Double-bass player who worked with FIONN REGAN, RED SNAPPER) and drummer Sebastian Hankins (THE LEISURE SOCIETY). 13 songs are included and it all starts very calm with the short acoustic Is it enough, but following track Paper moon is introducing us a warm uptempo Americana sound with some strong melodies and reminding me a bit of PAUL SIMON somehow. More folky rock can be heard on the strong Woman like you, while melodic lush summerfriendly Americana pop/rock is hearable on the beautiful Hidden traces, which also introduce some electric guitar and lovely harmonyvocals. Acoustic peaceful singer/songwriter music is also incuded here and there, such as the song Horses, and the rest of the album continues this mixture of light uptempo Americana pop/rock and Singer/songwriter, with the exception of the beautiful jazzy A place of my own that has a kinda 1940s feeling. Conrad has a very nice relaxing tone in his voice and he is able to write some great songs. Concluded, this is a recommended album to fans of singer/songwriter/americana pop/rock. More info at: http://www.conradvingoe.co.uk/

(Points: 8.2 out of 10)





SWEET LIZZY PROJECT 'TECHNICOLOR' (MONO MUNDO RECORDINGS/THIRTY TIGERS/CONQUEROO/USA IMPORT)

This is quite a surprise from Cuba, because SWEET LIZZY PROJECT is a band from Havana, Cuba formed around the great female singer LISSET DIAZ. They were taken under the wings of THE MAVERICKS singer RAUL MALO, who signed them to his own label MONO MUNDO RECORDS and co-produced their debut album Technicolor. Raul even sings a duet here (The flower in the seed), a sentimental sappy melodic poprock ballad that back in the 1970s might have become a huge hit! Anyway, the band delivers a great album here, with a lot of various styles that range from rock to pop to latin and all mixed together, which makes it a pleasure to listen to. Opener Technicolor starts very interesting, as this is a rocker with some proggy elements and also a slight light PARAMORE ish touch, although overall it could almost be labelled as a melodic rocker. I did not expect later on that this was actually the only song in this style on the album, because next tune Turn up the radio is a very commercial popsong that could well turn out into a major radiohit with it's catchy Latin rhythm and anthemic chorus to sing-a-long to. The following Ain't nobody to call changes the sound into a strong uptempo rocking direction and is actually so far the best song, because it rocks big time and has an authentic slightly 70s/early 80s touch (THE KNACK), although in general it does sound as modern as for example the retro rock of THE WHITE STRIPES meets the jumping PARAMORE. We are once again surprised, because the Spanish sung Tu libertad is a trip into summerfriendly Latin Pop and it is without a doubt another radiohit ready song with it's catchy rhythm. The album is overall quite commercial during a lot of songs, while the diversity also makes it interesting, although personally I would have loved to hear more songs like the titletrack that opened up the album. Now here and there it even feels like I am listening to a new album of ILSE DE LANGE when hearing a catchy crossover midtempo Countrypop tune like What was happening to me. It's not bad at all, but I still feel the band can deliver an even more interesting album if they would expand the prog and rock influences they showcased on that first song. These words starts calm, but has a rocking explosion halfway that is almost close to classic HEART. The remaining 3 tracks are nice, but except for the guitarsolo in Vuelta atras, not really of interest. So a great diverse album, but as mentioned, there is more possible here and a full-blown rockalbum could be interesting. Nevertheless, a nice debut from this Cuban band! More info at: https://www.sweetlizzyproject.com/

(Points: 8.2 out of 10)


THE CLAUDETTES 'HIGH TIMES IN THE DARK' (FORTY BELOW RECORDS/OM GOD MUSIC/CONQUEROO/USA IMPORT)

Somehow I must think of JOOLS HOLLAND doing a rockier song with CARO EMERALD when hearing a song like the piano-led rock and roll driven 25/5. That is basically the best description of the sound of THE CLAUDETTES, a band from Chicago who combines Soul, 50s Rock and Rolll, Blues with Rockabilly and even Jazz. They are foursome consisting of Johnny Iguana (piano), Berit Ulseth (singing), Zach Verdoorn (bass, singing) and Michael Caskey (drums). They have already released several albums and High times in the dark is their latest adventure to capture that mixture mentioned earlier on in the review. Actually there is really not much more to say, because CARO EMERALD doing rockier songs with JOOLS HOLLAND is really the best description for THE CLAUDETTES, which of course is quite a compliment. The 11 songs go by in a flash, but if we have to pick highlights I would like to mention the melodic I swear to God I will, the quirky punky uptempo Creeper wind and the poprocker One special bottle. Check it out for yourself at: https://theclaudettes.bandcamp.com/

(Points: 8.3 out of 10)


DEAD SUPERSTAR 'I DID IT FOR THE ROCK GODS' (INDEPENDENT/USA IMPORT)

Out of New York comes DEAD SUPERSTAR, a stronng high class modern sounding Hardrockband, with a Retro Sleazy touch. The band hails from Long Island in New York and is built around Mike Bohm - Guitar, Brian Duke/Craig Matlon - Drums, Charlie O'neil - Bass, Terence Keith - Vocals and Justin Goldat- Guitar. They have that typical American sound with a lot of big chuncky guitar riffs and raw male vocals, while the overall sound is huge and SHINEDOWN meets ALTER BRIDGE might be a great description here. They were formed quite some years ago, back in 2005 and they have released an album before I did it for the rock gods, which was entitled Tribulations that was recorded in the studio of JOEY Z of LIFE OF AGONY. Anyway, their new album is a strong affair that offers from start to finish hard hitting rockers with still enough melodies to keep the interest for fans of Melodic Hard/Heavy Rock. I could mention a long list of bands here, but I think you'll get the picture how DEAD SUPERSTAR more or less sounds like when I mention ALTER BRIDGE, SHINEDOWN, SOUNDGARDEN, KING'S X, AUDIOSLAVE, STONE TEMPLE PILOTS, ALICE IN CHAINS, which means the big American modern Hardrocksound that has ruled the airwaves over there since the turn of the 1980s into the 1990s. DEAD SUPERSTAR are doing it so well, you would think they are a major label signed act, but they're not. If I have to point out highlights I would mention Beware of the knife, You make me sick and Blood moon. If you're starting to become interested, then check it out for yourself at: https://www.deadsuperstarny.com/

(Points: 8.1 out of 10)


JOVIAC 'HERE AND NOW' (INVERSE RECORDS/FINLAND IMPORT)

Out of the city of Tampere, Finland comes the Melodic Progmetalband JOVIAC, whom deliver their 2nd album with Here and now. It is their first on INVERSE RECORDS, because their same titled debut was released independently in 2017. The band's line up consists of Viljami Jupiter Wenttola - Vocals, Guitar, Keys, Antti Varjanne - Bass and Rudy Fabritius - Drums, and right from the start with the instrumental Intro, it is clear that this is a very professional sounding band. 7 songs are included and when the vocals and awesome melodic catchy chorus are delivered during the first 'vocal' song Straws, we can conclude that this is a highly recommended Melodic Progmetalband that is not too far removed from THRESHOLD, RPWL, BLIND EGO and SUBSIGNAL, which means they are in the upper league of Melodic Progmetal. It is nowadays hard to discover the gems, because there are so many bands releasing albums, especially in Scandinavia, so I am really lucky to have found this band from Finland. Straws is definitely the finest song here, but other highlights are Black mirror, the titletrack Here and now and closing track. The band combines quite perfectly brilliant instrumental prog parts with soaring guitar solos and lovely clean melodies during the catchy choruses, so no complex long instrumental passages can be found here, as the focus is clearly song based and that is for me personally really great! Fans of aforementioned bands will definitely like JOVIAC. More info at: https://www.joviac.com/

(Points: 8.4 out of 10)


GAUPA 'FEBERDROM (DALAPOP/SWEDEN IMPORT)

Out of Sweden comes GOUPA, a band combining Progrock, Stoner Rock Melodic Heavy Rock and Psychedelic Rock with here and there experimental female vocals like NINA HAGEN, although lead singer EMMA NASLUND can also really sing really well in a more melodic clean way. Anyway, the band's line up is further completed by David Rosberg - Guitars, Daniel Nygren - Guitars, Erik Jerka Sävström - Bass and Jimmy Hurtig - Drums. Feberdom is their debut album, which consists of 8 songs that are mostly sung in the Swedish language. Highlights are Where emperors grow, Mjolksyra and the uptempo Totemdjur. Check them out for yourself at: https://gaupaband.bandcamp.com/album/feberdr-m

(Points: 8.0 out of 10)

BOBBY MCK 'FULL CIRCLE' (INDEPENDENT/USA IMPORT)

Out of the small town of Bonne Terre in Missouri, USA comes multi-instrumentalist BOBBY MCK (short for BOBBIE MCKIEL) who was kind enough to sent me his new album Full circle. When looking at the frontcover of the album I was expecting a very light singer/songwriter affair, but when opener On the run kicks in we are heading back to classic mid 1980s uptempo high class AOR/Melodic Rock. The guitarwork is superb and truly coming out of the old school VAN HALEN/AUTOGRAPH style and so is the melodic hardrockstyle. Also the following tracks (such as the great songs Feels like rain and Lonely heart) are back to classic 80s uptempo AOR/Melodic Hardrock with soaring guitarwork in a sound like it is still 1985 and reminding me of BOB WHEELER if anyone knows him. Vocally it sounds like a cross between PHIL VINCENT and BILLY IDOL and the only pity is that there are only 5 tracks included, because it sounds quite promising actually, so it would be interesting to hear more songs. Hopefully we can review more of this sensational guitarist soon. Check him out at: https://bobbymck.hearnow.com/

(Points: 8.2 out of 10)


BRANT BJORK 'BRANT BJORK' (HEAVY PSYCH SOUNDS/ITALY IMPORT)

The Californian multi-instrumentalist BRANT BJORK is best known as being a drummer of legendary Stoner Rockbands like KYUSS, FU MANCHU and MONDO GENERATOR. However he is also able to play and write his own songs and in fact he has already released 12 albums since starting a solo career in the late 1990s. His new album is simple titled Brant Bjork, which contains 8 songs and he did basically everything on his own. It starts quite slow and not that strong I'm afraid with opener Jungle in the sound, but the following song Mary (You're such a lady) is much better and with Jesus was a Bluesman Brant delivers a superb catchy uptempo rocker with a strong catchy melodic chorus. Somehow I am reminded of BLUE OYSTER CULT while listening to the album, especially when you hear a song like Stardust & Diamond eyes. There's also some bluesy tunes here and there, as well as the more melodic rocking kinda songs like the aforementioned Jesus was a Bluesman, Cleaning out the ashtray and Duke of dynamite, which are highlighs for sure. It sounds much lighter than his regular band material, but on the other hand it still shows that Brant is a very talented musician on his own. Check out more at: https://www.facebook.com/BrantBjorkOfficial/

(Points: 8.1 out of 10)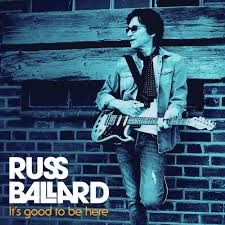 RUSS BALLARD 'IT'S GOOD TO BE HERE' (WARNER MUSIC/BMG)

The name RUSS BALLARD will forever be remembered as one of the big legends that helped to shape Melodic Rock the way we know it nowadays, because it was in his first band ARGENT he created a sound that later in the 1970s became known as Pomprock and thanks to his songwriting credits for the 2 RAINBOW classics I surrender and Since you've been gone, part of the foundations for AOR and Melodic Rock were done. However, his real contribution to the AOR world happened in 1984 with his same titled solo-album, which is an absolute AOR classic that is played almost every month by yours truly. Anyway, he wrote and recorded many more music these past 60 years and now at the age of 74, the English muli-instrumentalist releases the new album It's good to be here. Russ did almost everything on his own and despite it might not be as good as his 1984 classic, it is still a really great AOR/Melodic Rock ish album that I can highly recommend. 13 songs are included and it begins with a very strong midtempo catchy melodic rocker titled My awakening, which has a really great memorable chorus. Things keep rocking during the next couple of tunes, with as highlights Kickin' the can, Colliding and The first man that ever danced. The last 3 songs are covers of popular songs he wrote in the past, namely New York Groove (ACE FREHLEY), Since you've been gone (RAINBOW) and You can do magic (AMERICA). Russ is a legend by all means, with so many well-known songs written for others (KISS, RAINBOW, HOT CHOCOLATE, etc), but also he has always continued an interesting solo career, which brought many wonderful albums and even now in 2020 we can add another new solo-album of him.Check out all on Russ at: https://russballardmusic.com/

(Points: 8.3 out of 10)


THREE COLOURS DARK 'THE SCIENCE OF GOODBYE' (FIREFLY MUSIC/UK IMPORT)

The line-up of the British band KARNATAKA changed a lot of times in their 23 years of existence, but 2 of the original founders whom left the band in 2004, they now formed a new band together called THREE COLOURS DARK. RACHEL COHEN (singer) and JONATHAN EDWARDS (guitar, synth, piano) both went their seperate ways after they both left KARNATAKA, forming new Progrockbands THE REASONING and PANIC ROOM. Rachel even briefly worked with MOSTLY AUTUMN, which makes the musical comparisons to all those classy bands quite easy for this THREE COLOURS DARK. The music on The science of goodbye is of an incredible high level, thanks to the beautiful vocals of Rachel that sound like a cross between BARBRA STREISAND and ANNIE LENNOX, but also the combination of prog, pop and rock music is perfectly blended here. From start to finish it's a lovely adventure to experience and if you're familiar with the mentioned bands you will more or less understand what this is all about. There's some PINK FLOYD influences to be heard as well, but actually I think THREE COLOURS DARK has a sort of own identity. Wonderland (How can this be love?) is a lovely midtempo melodic progrock song with a strong chorus, while the calmer almost jazzy Know you know reminds me a bit of ANNIE LENNOX somehow and also has a lovely trumpet solo by Nathan Bray (MIKE RUTHERFORD). THREE COLOURS DARK is focused on mostly calmer song orientated material with a progressive background and besides the aforementioned songs, other highlights are the fantastic Three colours dark, Tasted like Kryptonite and the closing track The science of goodbye, which features lovely guitarwork by guest Blues guitarist CHANTEL MCGREGOR, of whom we reviewed an album recently. Concluded, this is a highly recommended album to check out if you care about real music with a strong focus on beautiful vocal melodies. Check out more at: http://www.threecoloursdark.com/

(Points: 8.5 out of 10)


EAMONN MCCORMACK 'STORTYTELLER' (BEM RECORDS/CMM MARKETING/GERMANY IMPORT)

Out of Dublin, Ireland comes blues guitarist/singer/songwriter EAMONN MCCORMACK, who delivers a great 7th album with Storyteller. His music career started in the late 1980s when he went to the USA and learned the basics for playing Bluesrock. After a couple of years he returned to Europe and started to develop his name in the Bluesrockscene with many performances as support for the big boys in the blues and also did quite a few album releases. Now it is time to present his Storyteller album that likewise tells us a lot of stories about the past and present. For instance his Irish roots can be heard already right from the start during The great famine, a song about the 1840s Irish great famine when more than 1 million Irish people died of extreme hunger 11 songs are included in total and without a doubt the fans of classic Bluesrock will like this a lot, especially songs like Cowboy blues, Gypsy women or Cold cold heart, while the slightly rockier uptempo With no way out somehow reminds me just a little bit of THE CULT meets BILLY IDOL! However, basically this is prime-time Bluesrock and it might not be as good as for example WALTER TROUT, BB KING, GARY MOORE and such, but nevertheless the fans of such Bluesrock will definitely be interested in checking out Eamonn's new album. Hear and check more on Eamonn at: https://eamonnmccormack.net/

(Points: 8.0 out of 10)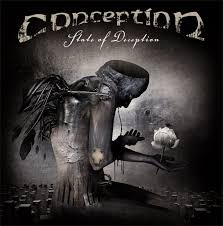 CONCEPTION 'STATE OF DECEPTION' (SOUND FACTORY/CMM MARKETING/GERMANY IMPORT)

The Norwegian band CONCEPTION was formed back in 1989 and active until the end of the 1990s when their lead singer ROY KHAN became the frontman of KAMELOT. They managed to release 4 albums throughout the 1990s and all of them are now considered cult classics. They played a complex technical style of Progressive Metal, sorta like QUEENSRYCHE and PSYCHOTIC WALTZ, with exceptional vocalwork of Roy. Recently they reformed and State of deception is their official comeback full-length album. Musically not much has changed in those 20 years, so they continue where they left back in 1998 on their previous album Flow. After the short intro we head into the real opener Of raven and pigs, which is quite a complex dark song that somehow sounds like DAVID BOWIE meets QUEENSRYCHE. Waywardly broken is more the kinda classic Melodic Progressive Metal the way we want to hear it, midtempo with strong vocal melodies of a superb singing ROY KHAN. I will never forget the first time I got to hear the band, because that was on the local radio (ERIC NOISE's Stadsradio programm Rockballads) with their calm ballad Silent crying, which was more or less like QUEENSRYCHE's Silent lucidity. Little did I know this band had so much other much heavier material to offer, but also on this new album they present us a calmer 'piano-led' ballad in the shape of the beautiful powerful rockballad The mansion, with guest vocals by AMARANTHE singer ELIZE RYD.Other highlights on the new album are the groovy By the blues, the uptempo She dragoon, the epic Anybody out there and also the absolutely beautiful closing track Feather moves, which sounds very original and has a haunting melodi chorus that is pure CONCEPTION! Concluded, this is a very strong return of CONCEPTION and it is good to see them back in the scene. More info at: https://conceptionmusic.com/

(Points: 8.6 out of 10)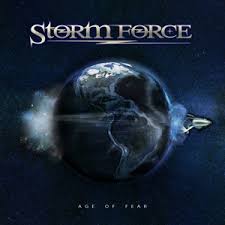 STORMFORCE 'AGE OF FEAR' (ESCAPE MUSIC/UK IMPORT)

When the opener Because of you on the first album of the Canadian band STORMFORCE kicks in, it feels really good to be hearing such high class 80s inspired Melodic Hardrock again in this rather fabricated pop/rockworld. The vocals of singer PATRICK GAGLIARDI remind me a bit of AXEL RUDI PELL singer JOHNNY GIOELI, so we have a powerhouse vocalist here who can easily go up and rock out the way we want to hear it! The music is also not that far removed from AXEL RUDI PELL actually, although definitely more aiming for pure Melodic Hardrock only, which is a good thing for sure! The titletrack for instance is seriously kick-ass uptempo Melodic Hardrock where you just want to sing and shout along during the extremely catchy chorus. If we have a look at the line-up of the band, we can find a sensational guitarist in the shape of GREG FRASER, who brings us some excellent riffs and solo's as if we're back in the 1980s again! Greg himself is actually also a real legend, because he once fronted the band BRIGHTON ROCK. That band did some great stuff on their 3 albums, but somehow they were too soft for the rockers and too heavy for the popfans and eventually never really broke through. How different this is with STORMFORCE, because with this band we are entering a supersensational direction that is basically as already mentioned Melodic Hardrock at it's best! Besides the 2 earlier mentioned songs, the band offers many more winners on this first album, such as the SUPERB Breathe (Melodic Hardrocksong of the year 2020 contender, like JADED HEART meets ICON meets AXEL RUDI PELL), the semi melodic rockballad More than you know (reminding of early 90s bands like SAINTS & SINNERS, TYKETTO, BANGALORE CHOIR and such), the AOR ballad Different roads and the lovely closing track Ringside (high class Melodic Hard/Heavy Rock like AXEL RUDI PELL meets FIFTH ANGEL). Here and there, we can also find some more dirtier gritty Hardrock/classic Hair Metal tunes like Dirty Vegas and Ride like hell that show the band's diversity. The album was produced by Darius Szczepaniak (THE BLACK CROWES, SUM 41), so expect a huge sound, and it is released through the established melodic ESCAPE MUSIC label. I think by now you will get the picture what this is all about. STORMFORCE from the Canadian side of the Niagara Falls is Melodic Hardrock at the highest possible level and a must-have for fans of JADED HEART, GOTTHARD, AXEL RUDI PELL, HURRICANE, ICON and such. More info at: https://stormforce.ca/

(Points: 8.8 out of 10)


KALEVI HAMALAINEN GROUP 'FIRST DAYS OF SUMMER' (ECLIPSE MUSIC/XANGO MUSIC DISTRIBUTION)



KALEVI HAMALAINEN GROUP is a band from the beautiful city of Savonlinna, Finland and was formed in 2015. They developed in the following 5 years a great own instrumental style that captures elements of Smooth Jazz, Fusion and Progressive Rock. First Days of Summer is their debut album, which contains 8 lengthy tracks in total. The band is formed around bandleader Kalevi Hämäläinen – Piano, compositions, Keys, while the rest of the band is completed by Ilmari Hämäläinen – Drums, Juho Koskivirta – Guitar and Valtteri Rouhiainen – Bass. Opener Grasshopper starts quite rocky, being an uptempo progressive rocker, while the following songs Flying desires and Exit 68 are more laid-back and reflect the Jazzy/Fusion influences. Sense of Urban starts calm and jazzy, but develops into a lovely midtempo Progrocker with really nice synths towards the end of the song. Midnight sun is a beautiful almost melodic rock/westcoast ish ballad, but with For better times we are back to more laid-back Jazz/Fusion/Westcoast in the style of FOURPLAY. Phellooti is a sensational midtempo progressive/symphonic rocker like a mix between TOTO and SAGA, and this is perhaps the strongest song on the album, really rocking out big time with some cool hammond and synth like keys and also precise guitarsolos. Closing track First days of summer starts as a nice relaxing piano-led jazzy song, but develops into a great summer friendly background smooth jazz-fusion kinda westcoast style that just feels very good to listen to. Basically this album is a must-have for any musicfan who cares about a perfect use of the instruments without getting drowned in endless stretching complex improvisations, because KALEVI HEMALAINEN GROUP is very keen on beautiful melodies being played on piano/keyboard, guitar, bass and drums. I am safe to say that both the Jazz/Fusion and also the Progfans with an open-mind will like this album a lot. Of course there are countless bands that did this mixture of styles before, but this band is thankfully doing at a similar high level and give it an own approach, so i can therefore highly recommend First days of summer! SPYRO GYRA, BRAND X, FOURPLAY, instrumental TOTO, DIXIE DREGS, WEATHER REPORT, SOFT MACHINE, VITAL INFORMATION and even STEELY DAN or U.K.. are some of the bands that come to mind when listening, so if this is up your alley, then please go to: https://eclipsemusicrecordlabel.bandcamp.com/album/first-days-of-summer

(Points: 8.5 out of 10)


THE DOWLING POOLE 'SEE YOU SEE ME' (369 MUSIC/UK IMPORT)

When hearing the opener and titletrack of the new CD of the British band THE DOWLING POOLE, it's like we stepped in a time machine back to the U.K. of 1981., because this song is as close as you can get to British quirky Powerpop from that period. I am thinking of bands like XTC, 10 CC, THE KNACK, FISCHER Z, WAX and countless more bands that ruled the airwaves back then. These guys are reproducing new songs in a style long forgotten, although in recent years there has been a revival so to speak of such classic Powerpop. See you see me is the 3rd album of THE DOWLING POOLE, a London based band formed around multi instrumentalists Willie Dowling (formerly of JACKDRAW 4, HONEYCRACK and the legendary Glamrockband THE GRIP (of whom I bought a CD 25 years ago very cheaply and which now is worth big bucks!)) and Jon Poole (formerly of CARDIACS) in 2013. They create experimental and very quirky 80s pop rhythms and structures with sometimes bizarre funny parts with catchy melodic pop choruses in the style of the aforementioned bands. In 1982 they would have been extremely popular, but in today's world they really need to be lucky if radio picks up a song from their new album. 10 songs are included and once you get used to their somewhat quirky early 80s UK Powerpop approach, then you will really enjoy their sound a lot. Highlights are See you, see me, Human soup, Alison's going home (even a bit mid 1980s RICK SPRINGFIELD!) and the light Progrock ish Sunrise. The sound of the album is huge, also thanks to the mastering of the legendary JON ASTLEY (known for producing albums of ABBA, TORI AMOS, TEARS FOR FEARS, STING, LED ZEPPELIN, TOTO, ANATHEMA and loads more) If you care about any of the mentioned acts earlier on in the review, then you will love this band for sure! THE DOWLING POOLE is doing things as good as XTC and 10 CC did in their heydays! More info at: https://thedowlingpoole.com/

(Points: 8.4 out of 10)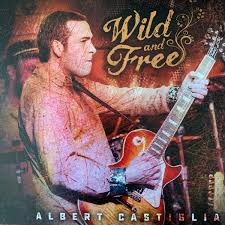 ALBERT CASTIGLIA 'WILD AND FREE' (GULF COAST RECORDS/USA IMPORT)

The American guitarist ALBERT CASTIGLIA was born in New York in 1969 to an Italian father and a Cuban mother. He started as a professional musician in 1990 and was already named Best Blues Guitarist in 1997! He was part of the MIAMI BLUES AUTHORITY and played in the bands of JUNIOR WELLS and SANDRA HALL during the 1990s, but in 2002 it was time for him to start a solo career, which resulted in a lot of studio-albums. After leaving RUF RECORDS, he switched to the Nederland, Texas based label GULF COAST RECORDS and now there is the live-CD Wild and free. This album was recorded live in the Funky Biscuit in Boca Raton, Florida on the 3rd and 4th of January 2020. Without a doubt, we have here a winner for the Bluesrockfans, because Wild and free is filled with superb high class Bluesrock based around the wonderful guitarwork of Albert and he can also sing quite well. Produced by MIKE ZITO, this is the kind of album you need to praise when you're a Bluesrockfan. The amazing shredding in each and every song is something the guitarfreak will absolutely love. Songs like Let the big dog eat, Hoodoo on me, I been up all nigth or Keep on swinging are really brilliant bluesrocksongs with an important role of course for the guitar talents of Albert. Especially since this is recorded live, the improvisation of endless shredding on his guitar is making him as good as for example the greats in the Bluesrockworld like WALTER TROUT, JOE BONAMASSA, KENNY WAYNE SHEPHARD, GARY MOORE, GARY CLARK JR., etc. etc. Do not miss this release if you call yourself a Guitar/Bluesrockfan! More info at: http://albertcastiglia.net/

(Points: 8.7 out of 10)



CAPTAIN BLACK BEARD 'SONIC FORCES' (AOR HEAVEN)

The Swedish band CAPTAIN BLACK BEARD exists for over 10 years now and Sonic forces is their 5th album so far. I have to be honest that I am not that familiar with their earlier albums, but after a sneak preview of this new album, I was definitely keen on checking them out. They have a lead singer who has a high pitched Metal voice like EDGUY/MAIDEN, but the music is clearly more going into the typical Scandi Melodic Rock direction. When hearing the first couple of songs (Headlights, Lights & Shadows and Disco volante), we are hearing that lovely catchy hookladen uptempo AOR/Melodic Rocksound like we know it from H.E.A.T., WORK OF ART, NIGHT FLIGHT ORCHESTRA and such. Perhaps not that original, but who cares if it is done as well as over here on Sonic forces. Ever since their debut album, the band has built up quite a reputation and even managed that BRUCE KULICK made a guest appearance on their 2nd album Before plastic, while they also toured a lot as support act for JOE LYNN TURNER, ROBIN BECK, GEOFF TATE and HOUSE OF LORDS. They switched singers quite a few times in the past and even featured THERION singer LINNEA VIKSTROM on their previous album Struck by lightning as main vocalist. Recently new lead singer MARTIN HOLSNER joined the band, which is completed by guitarist CHRISTIAN EK, bassist ROBERT MAJD and drummer VINNIE STROMBERG. They went into the studio in 2019 to record an album to celebrate their 10th year anniversary and along with producer DAVE DALONE (H.E.A.T. guitarist), they recorded this very strong Melodic Rockalbum titled Sonic forces. After the 3 uptempo catchy melodic rockers, things slow down a bit to midtempo AOR/Melodic Rock in the shape of the wonderful ultra-melodic Tonight that has H.E.A.T.'s debut album written all over the place, although I also hear some similarities to a band like FROM THE FIRE or even SHY here. Fear not that it takes long before things get uptempo again, because following track Sonic forces is back to catchy uptempo AOR/Melodic Rock again and actually most of the remaining songs on the CD follow that direction, with as other highlights Midnight cruiser and Young hearts. Basically we have here another high class Swedish AOR/Melodic Rockalbum that will be eaten alive by fans of H.E.A.T., ONE DESIRE, WORK OF ART, NIGHT FLIGHT ORCHESTRA, ART NATION and the countless other acts of the New Wave Of Swedish Melodic Rock (NWOSMR) movement, but of course also if you enjoyed the older acts in this genre. The only slight difference is that the lead vocals are Heavy Rock/Metal orientated like IRON MAIDEN and EDGUY, but on the other hand, this gives them an own identity. Check out all on this band at: https://www.captainblackbeard.net/

(Points: 8.5 out of 10)

THE CURATOR 'TWENTY-SIX/12' (CROMERZONE/UK IMPORT)

ALISTAIR MURPHY is a British singer/songwriter/producer who recorded quite a lot of albums under different names, bands and projects the past 25 years, including working with JUDY DYBLE (FAIRPORT CONVENTION), TERRY STAMP (THIRD WORLD WAR), TIM BOWNESS (NO-MAN) and several others. His music fits somewhere between Progrock, Folk and Singer/songwriter music, sometimes calmer and at other times rockier. With THE CURATOR he has released several albums, of which the latest is Twenty-Six/12, an album filled with high class music that is piano-led and very atmospheric, with clear prog influences like in The light of setting suns that is basically a stripped Neo-Progsong like MARILLION, 70s GENESIS and such. Alistair has that typical British voice which needs to be present when making this kind of Prog. I have to admit though I would have loved some drums and guitars to give it a full blown Progrock approach, but on the other hand when it is done in a more calmer direction, it has more impact and the lyrics are then definitely more appealing as well. The light of setting suns is a combination of Classical Music and English Prog like vocals a la PETER GABRIEL, but actually each of the 6 songs that are included more or less feel like this. However I wanted to point out especially the epic 20 minutes counting closing track The light of setting suns as this is the finest song here, resembling perfectly the sound of THE CURATOR. It gives a new dimension to prog for sure and the open-minded progfans will definitely be interested to check this out at: http://www.cromerzone.co.uk/Cromerzone/Alistair_Murphy.html

(Points: 8.1 out of 10)


JUDY DYBLE 'WEAVINGS OF A SILVER MAGIC - LIVE' (CROMERZONE/UK IMPORT)

Lead singer JUDY DYBLE has a long music history and was one of the founding members of FAIRPORT CONVENTION, but also recorded songs with musicians that later became KING CRIMSON. Actually, she is therefore an important singer for the development of Folkrock and Progressive Rock in the UK, although she quit the music business in 1973. 35 years after the debut album of FAIRPORT CONVENTION, she finally recorded music again, this time solo and since 2004 quite a few album have been released as JUDY DYBLE. Weavings of a silver magic is a new live album that was recorded at Cambridge St. Barbanas Church on the 10th september 2016. Along with several musicians, including ALISTAIR MURPHY on guitar and piano, Judy performs a nice collection of originals she wrote with him as well as a cover of the KING CRIMSON classic I talk to the wind. The music is calm and based around Judy's vocals. Check out more at: http://judydyble.com

(Points: 7.7 out of 10)


RICH LANG 'BACK TO FOREVER' (SCORE RECORDS /USA IMPORT)

I got in touch with musician RICH LANG when I discovered an absolute gem of an unreleased album by the legendary GREG GUIDRY. He of course released a couple of albums in the AOR/Westcoast direction and I reviewed them a long time ago. Somehow in 1982 Greg also recorded his finest work Heart to heart, but sadly this has never been released, but thankfully his producer RICH LANG put it on SPOTIFY not so long ago. This album is loaded with the best possible early 1980s AOR/Westcoast in the style of ALLIANCE, FRANKE AND THE KNOCKOUTS, TOTO, DAVID ROBERTS, JOHN O'BANION, STEEL BREEZE's Heart on the line, etc. etc. If you're a fan of such acts, you will absolutely fall in love with such AOR/Westcoast classics like Hungry heart, He's got you, Heart to heart, Do me right, Runnin' from love, Don't stop, Not ready (hello JOHN O'BANION!), Lookin for a heartache and She's gone (an absolute AOR classic with TOTO ish chorus). If only this would be released on VINYL, because it is from an incredible high level. The songs, the production, the musicianship and of course Greg's vocals, this is AOR/Westcoast Heaven! Let's hope a label like AOR HEAVEN will pick this up and release it officially on a silver pressed CD or even better, on vinyl, because that is what this 1982 recorded album basically deserves. Thanks to producer RICH LANG for sending me a CDR of this album, which deserves a rating of 9.3 out of 10!. Anyway, hopefully to be continued soon, but meanwhile Rich also sent his own music, because he released music himself too and Back to forever is his latest album. The included music is calmer Westcoast/Pop with a lot of Soul/Jazz/R&B influences, Quite calm and sort with a Smooth Jazz approach as well, not bad at all, although vocally I have to say that you cannot compare it to GREG GUIDRY. Check it out for yourself at: https://richlangmusic.com/

(Points: 7.5 out of 10)

EVOLVE 'CHOOSE YOUR PATH' (INDEPENDENT/SWISS IMPORT)

Out of Switzerland comes the band EVOLVE, whom were formed in 2005 by guitarist Patrick Wise, bassist Cedric Savoy and keyboardist Benny Pendola. The line-up changed a few times, but when drummer Sebastien Chavez joined in 2007 it became quite stable, although the real adventure would be to find the right lead singer. They recently found Jean-Marc Viller and he made it possible to record a full-length debut album titled Choose your path. His voice makes them standout between the rest, as he has a sort a JORN LANDE meets RONNIE JAMES DIO kinda vibe that makes the band sounds a bit more Metal than the usual more melodic Progmetalbands out there. The result is a very impressive Progressive Metal adventure that sounds a bit raw and edgy due to the slightly 'aggressive' vocals, but it is all done at a very high level and reminding me a lot of EVERGREY, CIRCLE 2 CIRCLE and SAVATAGE actually. Songs like the senational Time, Deal with desperation, Liberty and Symbols are very good examples of how well EVOLVE brings their raw Progressive Metal, with still offering memorable melodies both in the chorus and the instrumental departments. It took them a long time before releasing an album, but the result is definitely something to be proud of, because this is Progmetal at it's very best. The absolute highlight for me personally is the lovely ballad ish closing track Time, which is actually an acoustic version of one of the earlier songs on the album and besides, it is a hidden bonustrack, but overall a song you don't want to miss, because it shows a different side of EVOLVE. Check the band out for yourself at: https://www.evolve-world.net/

(Points: 8.5 out of 10)


PARADISE 'PARADISE' (VEGA MUSIQUE/CANADA IMPORT)

In the past I have reviewed quite a lot of bands named PARADISE, but this Canadian PARADISE is new to me. The band is actually not really a new band, because they were formed many years ago and their previous 2 releases were done in the early 2000s, namely 2002's "Rock Anthropologists On The Kon Tiki Voyage" which featured Mike Plant (SWORD) and drum god Michel "Away" Langevin (VOIVOD) and follow-up record, 2005's "Hotel" included a collaboration with VOIVOD's late Denis "Piggy" D'Amour. PARADISE's current line up is composed of Frank Kelly (guitars), Fred Kelly (bass), RL Black (vocals), Fred Crew Grrr (guitars) and Mat Hias (drums) and this new album is simply titled Paradise. Included are 10 hard-hitting tunes that feature massive sounding Hardrock/Metal ish guitar riffs and strong vocals that will definitely appeal to the fans of bands like CLUTCH, QUEENS OF THE STONE AGE, KYUSS and such heavy Stoner Rockacts, although I cam also hear some classic THIN LIZZY influences here and there. The songs are nevertheless melodic and memorable and if we check all the songs, the highlights are the opener Straight from hell (uptempo melodic heavy rock with excellent guitarsolo and a strong chorus), Who do you wanna be (punchy midtempo Melodic Heavy Rocker with a catchy chorus and awesome guitarwork once again) and the uptempo Free ine xile and Long gone, with it's slight 80s galloping tradtional Melodic Metal approach. However, any of the songs sound very good and impressive and you can really tell that this is a highly professional band, recommended to the fans of real Hardrock/Metal that is based around big massive riffs, shredding guitarsolos, an uptempo rocking sound and the typical Metal voice. Check them out at: https://paradiserockband.com/

(Points: 8.3 out of 10)

VARIOUS ARTISTS 'HEAVY PSYCH RECORDS 2020 SAMPLER' (HEAVY PSYCH RECORDS/ITALY IMPORT)

Heavy Psych Sounds Records is a high quality record label from Italy that is focused on classic rock mainly, but to be a bit more precise, they are specialized in Heavy Psych, Stoner, Retro Rock, Vintage Rock, Proto Punk, Sludge, Acid Rock, Doom, Space Rock, 70 Rock, Garage Psych, Fuzz Blues, Proto Metal and Occult Rock. Kinda like High Roller Records, but then only focused on new acts playing this late 60s/70s sound. We recently reviewed volume 4 of their compilation albums Heavy Psych Sounds Records Volumes series and now there is volume 5. Once again an excellent compilation album of obscure new bands in the mentioned genres. This time 17 bands are included and if we go through the tracklisting, the highlights are the bands ALUNAH (fantastic, with superb melodies and strong female singer), ACID MAMMOTH (OZZY like SABBATH Doom Metal), DUEL (awesome uptempo Melodic Doom/NWOBHM Metal), NEBULA (groovy fuzzy 70s guitar riff driven Hardrock at it's very best), NIGHTSTALKER (more 70s based Stoner Metal), the proggy YAWNING MAN and the massive sounding RYTE. Hopefully we will get the chance to review more of these bands in the near future, as some have full length releases out. In the meantime, more info at: https://www.heavypsychsounds.com/

(Points: 8.3 out of 10)

NIGHTPORTS W BETAMAX 'NIGHTPORTS W BETAMAX' (THE LEAF LABEL/KONKURRENT)

The musician-producers Adam Martin and Mark Slater are together the band NIGHTPORTS and to follow-up their previous album from 2018, they now teamed up with the talented drummer and percussionist BETAMAX and recorded an album filled with high class complex instrumental music. The drums are sounding quite amazing here and well it is very hard to actually describe the music, but it feets somewhere between prog and jazz with a focus on very modern approach. It is not an easy album to listen to, but on the other hand there is a lot to discover here. It was recorded in one day on the 23rd of February 2018 with The Comet Is Coming's Betamax at Malcolm Catto's Quatermass Sound Lab studio. The result is very interesting and I can only imagine how much improvisation has been going on while recording this album and that is perhaps the charm and essence of this release. More info at: https://nightports.bandcamp.com/album/nightports-w-betamax

(Points: 8.0 out of 10)

THE DOGS 'CROSSMAKER' (DRABANT MUSIC/UK IMPORT)

Crossmaker is already the 8th album of the Oslo, Norway based band THE DOGS, whom musically is playing quite aggressive dark edgy heavy garage rock with songs that sound quite punky, but also a bit of gothic rock can be heard here and there. They also pay respect to classic acts like IGGY POP, THE STOOGES, NEW YORK DOLLS and even some Industrial influences are notable (MARILYN MANSON). Especially the beginning is very raw, dirty and mean with a punky heavy rocksound and a singer who sounds quite agressive. This is absolutely no problem at all, because it connects with the music, although I have to say that when the band goes for a slightly lighter approach like the strong uptempo Toy guns in a butchery and Without a warning, they come across like a great mix of IGGY POP and GUNS'N'ROSES, showing some of their sleazy hardrock influences and also the slow Gothic like The octopus embrace of drugs shows a completely different side of the band, almost like LEONARD COHEN meets NICK CAVE. The midtempo catchy closing track Make it hurt until we forget and also Love says nothing (pure Gothic Rock) once again give us a lighter side of the band and let's hope this diversity will continue on a future record! When they rock out very hard and rough, then It's like THE DOGS are possessed somehow, which is definitely interesting, because they bring it with a lot of energy that only makes you want to go out and see them live somewhere. In between these raw tunes, there's as mentioned also room for Gothic and even dark Singer/songwriter pop/rock influences, so in the end an interesting band for sure! It might take a while to catch the live due to corona, but you can already check out their music at: https://www.thedogs.no/

(Points: 7.9 out of 10)

HANNAH WICKLUND 'THE INBETWEEN EP VINYL' (STRAWBERRY MOON RECORDS/UK IMPORT)

I discovered HANNAH WICKLUND via an interesting vinyl compilation LP entitled The New Wave Of Rock & Roll, which featured among many other new British Hardrockacts her superb rocking tune Bomb through the breeze. She already released 2 albums and number 3 is coming in the near future, but meanwhile she released a very interesting mini-EP titled The inbetween on vinyl record. The included songs are basically only showing Hannah on vocals and guitar and nothing more. This is her stripped sound and it sounds really amazing as well. Hannah has an amazing voice and I think I am safe to say that she belongs in the BETH HART category. I have not been able to hear her other 2 full-length albums, so I know her rocksong that already blew me away and now there is also the stripped version of this song on this vinyl EP. Here it sounds of course much calmer, but the impact might be even stronger, as here you can hear the superb vocals of Hannah even better. There are 3 more songs to be found here, all sounding quite good, but Bomb through the breeze is the absolute winner here. This is one of those releases you just need to have in your collection and hopefully we can hear and review much more of this extremely talented British musician soon. Check her out at: https://www.hannahwicklund.com

(Points: 8.5 out of 10)


CLASS M. PLANETS 'RAVENSWOOD VINYL LP' (INDEPENDENT/USA IMPORT)

The Portland, Oregon based band CLASS M. PLANETS is basically the baby of guitarist/vocalist/songwriter ADAM GOLDMAN. In 2013 the debut album of his band/project CLASS M. PLANETS was released and now a follow-up is available. Adam was kind enough to sent me the vinyl release of Ravenswood and I must say that the artwork really impresses me and I was actually thinking this was going to be a 1970s kinda Sympho/Progrock adventure. Instead we get typical American Alternative College Rock with a sort of 1990s Twangle Pop sound that reminds me a bit of R.E.M., although also bands like THE JAYHAWKS and even CROWDED HOUSE come to mind. It's a very nice album that would have had a normal release if corona did not get in the way, so now it has been sort of postponed to a mid July release. Anyway, besides Adam on guitar and singing, there is a list of other involved musicians that helped him along the way. Most of the material goes in a similar direction, which is calmer and acoustic guitar driven, but always keen on the melodies. The aforementioned comparisons are clearly notable all throughout the album. It is all done very well and you wouldn't say this is an independent release, because it sounds too good for that. Hear the music for yourself at: https://classmplanets.bandcamp.com and http://www.classmplanets.com/

(Points: 8.0 out of 10)


BELLYBUSTER 'WHEN THE MORNING COMES' (INDEPENDENT/SWEDEN IMPORT)

Out of the Swedish city of Vaxjo comes BELLYBUSTER, a great no-nonsense rock and roll band with a strong professional sound on their debut album When the morning comes. The band is formed around Tomas Olsson – Vocals and guitar, Martin Javerbrant – Bassguitar and backing vocals, Beo Kjellson – Drums and backing vocals and Wincent Ek – Guitar and backing vocals. Of course AC/DC influences are very notable during a catchy song like Out of sight or On your own tonight, but BELLYBUSTER do it really well and with an own touch, but more importantly, there is a lot of fresh energy to be heard on this first album. It sounds like the guys have countless years of experience already with such a professional sound, but When the morning comes is just a start and much more will follow according to the band. Let's hope so, because they truly deliver a lot of great music on their debut. 10 songs are included and this is how good classic Hardrock should sound like. If AC/DC, DIRTY LOOKS, ROSE TATTOO, KROKUS, KIX and such bands are belonging to your favorite acts, then you will absolutely love BELLYBUSTER from Sweden. If you like one tune, you will love all the included 10 uptempo straight ahead Hardrock sing-a-long anthems! More info at: http://www.bellybuster.se

(Points: 8.3 out of 10)


GON MURUAGA 'POSTALES DE UN VIAJA SIN RETORNO' (ECLIPSE MUSIC/XANGO MUSIC)

GON MURUAGA is an Argentinian guitarist who recorded a great instrumental album titled Postales de un viaja sin retorno. On the album we can hear Gon trying out a lot of diverse guitarplaying, while the songs are a mix of smooth and complex Jazz kinda directions, but the experimental approach will also appeal to perhaps the progfans among us. Besides Gon, other involved musicians are Ignacio Martin - bass, Axel Filip - drums and Sebastián Sáenz - trumpet, flugel horn. Together they create a lot improvised music here with in total 8 songs, some of them being quite lengty and perhaps the highlight is kept until the very end with the 10 minutes counting Circulo polar. Check it out for yourself at: https://eclipsemusicrecordlabel.bandcamp.com/album/postales-de-un-viaje-sin-retorno and http://www.gonmuruaga.com/

(Points: 8.0 out of 10)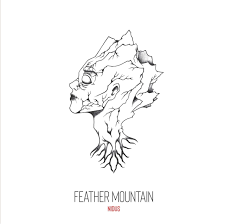 FEATHER MOUNTAIN 'NIDUS VINYL RECORD' (NORDSO RECORDS/DENMARK IMPORT)
Out of Copenhagen, Denmark comes the interesting sensational Progressive Rockband FEATHER MOUNTAIN and they were kind enough to sent me their debut album on VINYL RECORD! This kind of self-promotion is of course always bringing a smile on my face and it's definitely an additional motivation to really explore them into the smallest detail. The band was formed in 2017 by bass player Andreas Dahl-Blumenberg, drummer Christian Dahl-Blumenberg and lead singer Mikkel Lohmann, whom have already played music together since 2013. In 2018 guitarists Jens Baalkilde Andersen and Oliver Ramstedt joined and from then on they started working together with producer Johan Emanuel Jørgensen on their debut album Nidus. The result is now in our hands and I must say it is a very high quality album that actually could have been an INSIDE OUT MUSIC release or on any of the other established major Progrock labels. FEATHER MOUNTAIN's sound is quite modern, but also very melodic, thanks to a superb clean singer (without accent!) and instrumentally they bring out the best there is possible in progrock. MUSE meets PORCUPINE TREE and a tiny bit op OPETH (a few brutal screams) is probably a way to describe the melodic progressive rock of FEATHER MOUNTAIN, but there's more than meets the eye and actually they have already created an own identity on their very first album. 7 songs are included, of which some are quite lengthy and for example Guilt of the absent marks part 2 is a lovely Progrocker, with it's beautiful melodic chorus and interesting complex instrumental parts. However, Side-A ends with the real highlight, which is the superb Melodic Progressive Metal of In passing that has a lovely catchy chorus that sounds like a perfect cross between HAKEN, FROST*, THRESHOLD and SUBSIGNAL.
Side-B's absolute highlight is the 12 minutes counting epic melodic progrock/progmetal masterpiece Balance act that is the song DREAM THEATER has been dreaming to make for ages and this song captures the best of FEATHER MOUNTAIN into 1 song, featuring brilliant melodies with lovely guitarwork in a perfect prog setting, while also making room for calmer parts and ending into a heavy OPETH ish dark Progmetal climax. There are as already mentioned a few brutal screams to be heard here and there on a couple of songs, but overall the clean melodic vocals are thankfully in the majority and FEATHER MOUNTAIN is clearly focuses on strong melodies packed in a technical complex instrumental Progrock adventure. It's all been done very well and I can therefore highly recommend the album to all the fans of slightly heavier Melodic Progressive Rock (with some Progmetal guitar riffs) like any of the mentioned bands. Check them out at: https://feathermountainband.com/ and https://feathermountain.bandcamp.com/releases
(Points: 8.7 out of 10)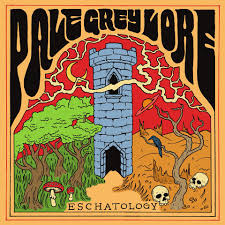 PALE GREY LORE 'ESCHATOLOGY' (SMALL STONE RECORDS/USA IMPORT)

I received a very nice package from the US label SMALL STONE RECORDS out of Detroit, which is a label I have had contact with a few times over the past 25 years since their foundation in 1995, but I sadly also missed a lot of albums through the years due to losing contact several times, so it was nice to see 3 new CDs being delivered. I have to say that this is a high quality label with mostly superb releases that all show a high class of delivered music, which is also the case here. PALE GREY LORE is a band from Columbus, Ohio, USA and they were formed back in 2014 by the brothers Michael (guitar, vocals) and Adam Miller (drums) and Donovan Johnson (bass), while Xander Roseberry (guitar, backing vocals) joined them a little bit later. Already in 2016 they released their debut album, which was received quite well by the press and now it is time for the follow-up Eschatology. The music is a mix of Doom, Stoner and Classic Hardrock, with a strong 1970s approach, while Michael has a fantastic voice that makes PALE GREY LORE standout between the rest. They have a very authentic sound and do not fool around with any modern influences. 10 songs are included and Sunken cities starts sensational, with superb melodies and a big fat groovy sound that combines stoner rock and classic melodic doom metal. Following track Greed springs eternal is a lovely uptempo stoner classic hardrocksong with those huge 70s BLACK SABBATH guitar riffs, but as already mentioned vocally it is cleaner and more melodic (like URIAH HEEP). Before the fall slows things down to perfect Doom Metal like BLACK SABBATH/CANDLEMASS and has some cool twin-guitarwork towards the end in classic LIZZY/HEEP style. Regicide is a bit heavier and more melodic metal, while the first calmer song is Waiting for the dawn, a beautiful semi-ballad that is really close to classic 1970s URIAH HEEP and even touches a bit of Prog/Pomprock like the legendary ASHBURY. Back to the classic hard hitting 1970s riffs during the uptempo The rift, while the slow Doom Metal of Void-curses is pure OZZY fronted BLACK SABBATH circa the early 1970s. Silent command is uptempo Stoner Rock with Classic Hardrock and Psychedelic Rock influences and so is Undermined, while closing track is the titletrack Eschatology, a 6 minutes counting epic that combines all their influences and could well be considered as a 1970s Classic Rock Masterpiece!

Concluded, we have here an absolute winner for any fan of classic 1970s Stoner/Doom/Hardrock with massive BLACK SABBATH influences, but PALE GREY LORE still gives it an own touch due to the extremely strong (clean melodic) vocals. I am very positive about this album and in the Metalworld, they have the potential to become really huge, because bands like BARONESS, WOLFMOTHER, QUEENS OF THE STONE AGE or MASTODON have also reached a major public, so why not PALE GREY LORE. Check them out at: http://www.palegreylore.com and https://smallstone.bandcamp.com/album/eschatology

(Points: 8.7 out of 10)


SEVEN PLANETS 'EXPLORER' (SMALL STONE RECORDS/USA IMPORT)

Explorer is the 3rd album of the American band SEVEN PLANETS, which was formed back in 2007 by guitarists LEONARD HANKS and JIM WAY, bassist MIKE WILLIAMS and drummer BEN PITT. Together they create a sensational instrumental sound that contains influences of groovy classic Metal, heavy Bluesrock, some Stoner Rock and a lot of Progrock. It is clearly back to the 1970s here, although they keep it under control here with still a fresh approach on the 8 included songs. It starts quite heavy with the short Vanguard, which is Stoner Rock meets Progmetal ish, but next song Plain truth in a homespun dress is more melodic and even a little bit laid-back, while Explorer is a super melodic and beautiful well crafted progressive rocksong built around a strong guitar riff. The Stoner Rock meets HENDRIX/CREAM riffs are clearly present during 206 and as for the remaining 4 songs, they also follow the mixture of prog, stoner rock, bluesrock and classic Metal as heard during the first 4 songs, so in the end you will be pleased with almost 50 minutes of excellent instrumental guitar riff driven Hardrock/Metal of the classic 1970s school! More info at: http://www.sevenplanetsband.com

(Points: 8.3 out of 10)

IRATA 'TOWER' (SMALL STONE RECORDS/USA IMPORT)

Out of Greensburo, North Carolina comes IRATA, an exciting band formed back in 2017. Their line-up consists of Jon Case - Bass and vocals, Jason Ward - Drums, vocals, and synth, Owen Burd- Guitar, vocals, trumpet and guitarist Cheryl Manner. Cheryl is currently inactive in the band, but did play on their latest album Tower, which was released in 2019 on SMALL STONE RECORDS. We are definitely hearing a sensational band here with superstrong clean vocals and a sound that takes the best of a couple of rockstyles, because there's BLACK SABBATH ish Doom Metal, Stoner Fuzz Rock, big Progressive Rock guitar riffs and complexity, but also melodic choruses and soaring guitarsolo's, so a real melting pot that works fantastic during superb songs like Waking eye (perfect mix of Stoner and Progmetal), Weightless and Golden tongue (both very catchy and very melodic!) and Innocent murmur (a clear early 90s Alternative Rock kinda direction like JANE'S ADDICTION meets ALICE IN CHAINS), but also the hypnotic Constellations should be mentioned as this captures the best of prog, doom and melodic heavy rock in 1 superb tune! Concluded, these guys are doing a great job, because they mix a lot of various styles and thankfully still sound melodic enough to be remembered. Check them out a.s.a.p. at: https://smallstone.bandcamp.com/album/tower

(Points: 8.6 out of 10)


WASHED OUT 'PURPLE NOON' (SUB POP/KONKURRENT)

Out of Athens, Georgia, USA comes WASHED OUT, a singer/songwriter project formed around multi-instrumentalist ERNEST WEATHERLY GREENE JR. Personally I am not that familiar with his previous 2 albums, but on this new album Purple noon, it is clear that we are dealing with high quality music and the beauty of it all, he did everything on his own! Musically speaking and also perhaps due to that fact he is a 'loner', the best comparison to make is then of course TAME IMPALE. 10 songs are included and I am safe to say that this album will give him a lot of exposure, because it is of an exceptional high level. Opener Too late starts just perfectly as it sounds very fresh, but still captures a sort of retro 80s ish vibe with even a STING ish chorus. Lush dreampop can be heard in a song like Face up, while Time to walk away is a midtempo pop piece. If I have to pick favorite songs, I would like to add Paralyzed, Leave you behind and Reckless desires, which are basically guaranteed hits with it's beautifully crafted melodies that sound very melancholical and also just a little bit commercial. Game of chance is another highlight, which is a really beautiful calmer piece that once again reminds me a bit of STING somehow. Concluded, this new WASHED OUT album could be a bigger breakthrough in Europe for Ernest, because in the USA he has already made a big name. If he is lucky, one of the mentioned songs will be picked up by the radio and becomes a hit. Definitely check out this album when it's released, as it is a real summer friendly album! More info at: https://washedout.net/

(Points: 8.6 out of 10)


DOUGIE POOLE 'THE FREELANCER'S BLUES' (WHARF CAT RECORDS/KONKURRENT)

Out of Brooklyn, USA comes singer/songwriter DOUGIE POOLE and the freelancer's blues is his 2nd album. Although he comes out of New York, his music is basically very much going into a Country direction as we know it from the Memphis/Nashville area. On the other hand, it is not entirely Country music based, because it feels slightly different with a singer/songwriter/pop kinda approach. MERLE HAGGARD, KRIS KRISTOFFERSON, WILLIE NELSON and such surely come to mind during a song like These drugs aren't working, but if you listen to the first couple of songs, they offer a modern pop touch to the classic country style. Dougie is a real crooner, with a perfect voice and melodies that seem to come straight out of the classic American songbook, with also here and there an ELVIS meets JOHNNY CASH kinda feeling, such as can be heard during Los Angeles and especially the closing titletrack, although opener Vaping on the job also reveals some Americana influences like CALEXICO or FLEET FOXES. It has a bit of everything and thanks to the help of several guest musicians, he is able to give it a 'band' kinda feeling. Country/Americana Pop/Rock meets 70s Singer/Songwriter might be the best comparison, although the second part of the album is going a bit too much into the classic country crooner direction. Not bad at all, but somehow I think Dougie can do even better if he drops a bit of the crooner ish material. Check it out for yourself at: https://dougiepoole.bandcamp.com/album/the-freelancers-blues

(Points: 8.0 out of 10)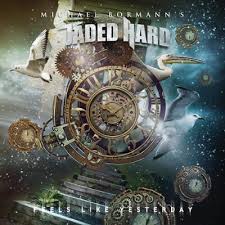 MICHAEL BORMANN'S JADED HARD 'FEELS LIKE YESTERDAY' (RMB RECORDS/GERMANY IMPORT)
For me the German band JADED HEART will always be the band with MICHAEL BORMANN on vocals and when he was replaced by a new singer, I actually stopped following them. Thankfully Michael always continued making music and his latest album is Feels like yesterday, released under the moniker MICHAEL BORMANN's JADED HARD. Back in the early to mid 1990s JADED HEART was a fantastic band with sensational releases, which I all reviewed and I even did an interview with them back then. They were one of the finest Melodic Hardrockbands around at the time and especially songs like Burning for love, Dangerous, Stop the rainy days, Can't wait for love, the BEATLES cover Help and countless others are forever in my memory and these are also still played loud and proud. Anyway, Michael is back with a wonderful new album that is basically reminding me of those good old JADED HEART days. 12 songs are included and besides Michael on vocals, the band is further completed by Chris Ivo - Keyboards, Christoph Baumeister - Bass, Michael 'Maikel' Müller - Drums and Tommy Dahlem - Guitar. The album contains an excellent mix of uptempo and midtempo pieces, with also a ballad here and there. Opener Feels like I'm living and also following track It feels like yesterday are catchy classic JADED HEART ish uptempo Melodic Rockers which are just perfect to sing-a-long and if only more people could hear these songs, then they will immediately forget about anything BON JOVI releases nowadays. Michael still has the perfect voice and is also able to write these great new memorable tunes in the classic 80s Melodic Hardrockstyle. Other highlights are the ballad We'd still make it, the classic uptempo melodic rocker Just one more step away (lovely big anthemic chorus in the best JADED HEART style or BON JOVI's Living on a prayer style) and the semi melodic rockballad Don't you ever leave (featuring some of Michael's finest vocals). Concluded, anyone who likes strong traditional Melodic (Hard) Rock with superb vocals need to check out this album a.s.a.p., especially if you want to hear something close to the classic 90s JADED HEART sound! More info at: https://www.michaelbormannpage.de/
(Points: 8.6 out of 10)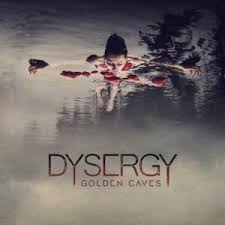 GOLDEN CAVES 'DYSERGY' (INDEPENDENT)

The corona virus has spoilt a lot in the musicworld in 2020, because the Dutch band GOLDEN CAVES was about to do an album presentation of their new record Dysergy around the corner of where I live here in Dordrecht, but this has been postponed sadly. Thankfully their new record has been released nevertheless, so there's something to enjoy here for sure. GOLDEN CAVES already released an album in the past, so Dysergy is their 2nd album. They were formed in 2013 when all five members were students at the famous Dutch arts university Codarts (Rotterdam) and I remember that in the past I reviewed another band which was formed over there. The band consists of Vocals: Romy Ouwerkerk, Guitar: Alex Ouwehand, Keys: Elise Polman, Bass guitar: Tim Wensink and Drums: Erik Stein. 10 songs are included and without a doubt, this is an impressive album from start to finish. When opener Chromosome blasts through the speakers, it is crystal clear that we have here another high quality female fronted release from my own country! This excellent midtempo Progressive Melodic Rocker touches the same high quality as UK bands like MOSTLY AUTUMN, yet with a catchy poppier chorus that is typical Dutch (DELAIN/WITHIN TEMPTATION/THE GATHERING). Following track Dignity goes a bit more into the Progressive Rock direction, but it's Hide & seek when things become really proggy. This song starts very calm, with beautiful vocals and develops into a somewhat complex heavy progrocker with a chorus that shows the amazing skills of Romy, because KATE BUSH similarities can be heard here. Temperature continues their pure Progrocksound and we are pleased with a superb sensational song up next. This is How to care, a sorta ballad ish song, but packed in a progrock meets KATE BUSH ish approach. Things go back to big time Progrock again on the song Happy dreams, while Samsara is a beautiful calmer poppier song with ballad ish influences and sounding like a mix between KATE BUSH and ANNEKE VAN GIERSBERGEN. Little lonely is another great Melodic Progrocker with a strong chorus and once again showing the fantastic skills of Romy. Black hound follows and is a sensational uptempo modern sounding Progressive Melodic Rocker that does sound like WITHIN TEMPTATION/DELAIN going more proggy. The chorus of this song is very catchy and could bring them radio airplay. Closing track Somehow is ending the album in a relaxing traditional progrock featuring a lovely guitarsolo as well. Concluded, this album is a must for the prog fans out there, but as you can see if you like the typical Dutch female fronted Gothic/Metalsound, then you will enjoy this as well. In fact, you will discover much more when listening to GOLDEN CAVES than the new records of WITHIN TEMPTATION and DELAIN, so go check them out at: http://www.goldencaves.com

(Points: 8.6 out of 10)


MARK NEWMAN 'EMPIRICAL TRUTH' (DANAL MUSIC/WBA RECORDS/USA IMPORT)

Out of New York comes the sensational musician MARK NEWMAN, a guitarist/songwriter who has already done quite a lot in the past, but Empirical truth is the first album I get to hear and review. He has quite an impressive list of musicians with whom he worked, including STING, WILLY DEVILLE, ELVIS COSTELLO, JOHN OATES and many more. I am not familiar with his earlier albums, but this new album is definitely a very strong release. Mark uses a bunch of fantastic singers to sing his songs (STEVE BLUTH, JEFF LUBIN, JACOB KOCH, NAOMI MARGOLIN, MAAG STANLEY and several others), all sounding very typical American (a la JOHNNY VAN ZANT), while his music is also very American, with a strong Southern Rock touch. 12 songs are included and after the bluesier southern rocking start of Scapegoat, we get to hear a great calmer melodic southern rockballad titled Life without you that reminds me of JOHNNY VAN ZANT. Southern rocker Mississippi mile (JOHN OATES cover) follows and reminds me of classic DOC HOLIDAY, THE OUTLAWS and LYNYRD SKYNYRD, while When I aim my gun is a lovely catchy melodic tune, combining AOR and Southern Rock like only the Americans can do it. Seven days is a very melodic calmer acoustic tingled piece with an incredible catchy pop/AOR chorus. One more song about a highway is uptempo Americana meets Southern Rocker. Sharin' the blues is a strong slow bluesy tune and following track Pipeline is a really great uptempo bluesy southern rocker. FREDDIE SCOTT cover Are you lonely for me is a superb soulful tune with even some Gospel kinda harmonyvocals. Everything you know is the only instrumental song on the album and a really great one actually! Roll um easy is a nice LITTLE FEAT cover and closing track Lycanthropy is a nice light southern rocker. Quite a surprise this album, with fantastic guitarwork by Mark and really impressive vocals here and there by the guest singers, all together packed in 12 strong songs, so definitely highly recommended to anyone who likes any of the aforementioned bands. More info at: http://www.marknewman.us

(Points: 8.4 out of 10)


DAVID KUHN 'ON OUR WAY' (RMG/USA IMPORT)

Now this is really nice as recently American singer/songwriter DAVID KUHN contacted me about his new solo album On our way. It must have been somewhere in the 1990s I reviewed and interviewed him and every now and then I still play his legendary album Talk it over from 1997. It was a fun time to review all those independent AOR releases from the USA back then, because there was still quite a lively scene to discover throughout the 1990s. Nowadays AOR is almost completely dead in the USA and is an European affair, but David's solo return is definitely worth to mention here, especially since we go back 20+ years in time. Catching up again is always a good thing, especially in these rare corona times! The new CD On our way is slightly poppier than Talk it over, although it still reflects the 80s Poprock sound. 5 songs are included and after the very poppy start On our way, things become more AOR/80s Poprock ish with the catchy Feeling good that reminds me a bit of WANG CHUNG meets THE POLICE. Heading back out again is a short poptune, while the midtempo Turning point is as close to 80s pop/rock as you can get, with a sorta 80s IT BITES/GENESIS/YES (circa 90125) light progpop touch. In fact, I am actually very much thinking of JON ANDERSON's 80s solo material when listening to this album (both musically and vocally), so overall it is less AOR and more 80s Pop with a light proggy touch. This can be heard very clearly during closing track Time to say goodbye, a calm song that also gives me an 80s DENNIS DEYOUNG kinda feeling. The songs are quite short, so it is all over in a minute, which is a pity, because David's voice is still amazing! I can't believe he has not released any solo albums between Talk it over and this EP, because this guy has got a great voice and especially in the past he wrote some sensational AOR rockers (CITADEL was his first band, a Pomprockband from the late 1970s whom released 1 album and THE LADDER's song Time soldier is one of the absolute best AOR songs of the 1980s!). I remember he did release in 2013 an album as the KUHN BROTHERS, but let's hope he will record a full-length solo-album in the near future and also goes for a more rockier sound, because I think this new EP might be a bit too soft for the AOR fans among us. Nevertheless, it is good to see him back with a nice release and hear his voice again, which is still perfectly in shape. More info at: https://davidkuhnsongs.com/about-david

(Points: 7.8 out of 10)


KINGS OF DUST 'KINGS OF DUST' (SHOCK RECORDS/VANITY MUSIC GROUP/USA IMPORT)

Out of Phoenix, Arizona, USA comes KINGS OF DUST, a band formed around well-seasoned musicians whom played in legendary bands like BADLANDS, CRASH STREET KIDS and SURGICAL STEEL. The music on their same titled debut album is also a mix of these bands, combining classic 80s melodic metal of the IRON MAIDEN school with late 1980s/early 90s bluesy melodic hardrock a la BADLANDS/KINGDOM COME. The result is a strong album, which was produced by bassist GREG CHAISSON (BADLANDS, SIRCLE OF SILENCE and many other bands), mixed by lead singer MICHAEL THOMAS BECK (RED DRAGON CARTEL) and mastered by BRAD VANCE (RAINBOW, GRAHAM BONNET, RITCHIE BLACKMORE, WARRANT, etc) at Red Mastering in Newbury Park, California. 13 songs are included and we definitely get to hear high quality stuff here! The best songs are the uptempo rocking opener Like an ocean, the groovy My piece of mine, Ugly, Mama and the uptempo Ya, that's me. I think this band will be best appreciated by the fans of the classic late 80s/early 90s groovy melodic hardrock which went through the major labels around that time. MAIDEN ish vocals are making it sound slightly different, but if you like any of the mentioned bands, then make sure to check them out at: https://kod.band/

(Points: 8.0 out of 10)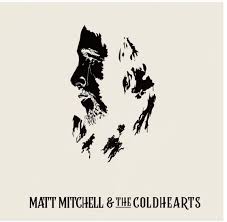 MATT MITCHELL & THE COLDHEARTS 'MATT MITCHELL & THE COLDHEARTS' (INDEPENDENT/UK IMPORT)

I discovered MATT MITCHELL & THE COLDHEARTS via a wonderful new compilation vinyl record that featured a bunch of great unsigned Classic Rockacts from the UK. I got in touch with them quite quickly and they were kind enough to sent me their superb debut album. MATT MITCHELL is as expected the leader of the band and upon checking his resume, I learned that he was part of the AOR band PRIDE, FURYON and several other acts, so actually we already reviewed some of his work in the past. Now the Brighton based musician is back with a new band that backs him up on this same titled debut album. Without a doubt, Matt absolutely delivers here a fantastic record that is filled with a lot of excellent tunes that also musically are quite diverse. His vocals are really terrific and give each and every song the much needed push to jump out of the big rockscene. Opener Black diamonds hits big time from the start and is a fantastic groovy heavy blues rocker with awesome guitarwork and reminding a bit of RIVAL SONS and BLUES PILLS. Next track Home is completely different, even a bit AOR/Melodic Rock ish with a superb catchy chorus. Back to classic uptempo Hardrock with On & on that even reminds me a bit of GUNS'N'ROSES and BANG TANGO. Dare you to watch follows and this is a sensational uptempo Melodic Rocker that reminds me a bit of JADED HEART, and here Matt shows he is an amazing singer, who absolutely deserves a lot of attention. Kings & queens is also following this Melodic Hardrock route, although this song reminds me a bit of GUN and KICK. Unavailable is back to the groovy rocksound of the opening song, this time reminding a bit of THE BLACK KEYS, so with a modern approach, although you can also trace some AEROSMITH influences here. We're only halfway and it already is clear that Matt has delivered a masterpiece, which seems to get unnoticed by the larger audience, which is a real pity, because there are so many great songs on this album. Do you wanna be my God is a nice Classic Rock ish tune that grabs back to the 1970s, sorta like T-REX, HUMBLE PIE, ROLLING STONES and SMALL FACES. Old enough & ugly enough is a calmer somewhat singer/songwriter piece with a very light Southern Rock ish touch. The album continues with Wave goodbye, which is a nice uptempo melodic poprocker, although so far the least interesting track due to the fact it misses a strong chorus. Up next is Everything to you, a short straight ahead rocker with strong drums, while Keep me safe is a calmer sorta acoustic/Americana ish song that is actually not far removed from JASON ISBELL or CALEXICO. Waiting for the sun is a nice uptempo rocker a la ENUFF'Z'NUFF, but not really special if we compare it to the sensational uptempo rockers in the beginning of the album. The final 2 songs are an acoustic version of Home and a piano version of Dare you to watch, which is really great, because those are the finest songs on the album and here they are performed in a solo version that shine a big light on Matt as being a superb singer. The conclusion is simple, because you absolutely do not want to miss Matt's sensational Classic Rock debut album and therefore please go for more info to: http://www.mattmitchellmusic.com/

(Points: 8.7 out of 10)


THE MUGGS 'SLAVE TO SOUND VOLUME 5' (MUGGS MUSIC/USA IMPORT)

Slave to sound volume 5 is already the 7th album of the Detroit based band THE MUGGS. I believe that I already reveiwed an album of them in the past, but this is a fresh new 2020 album, which makes it nice to see where they are now musically speaking. When listening to the new album, it is quite unbelievable this band is still unsigned, because they play awesome Classic Rock with a Powerpop/Melodic Rock touch as well, kinda like a mix between CHEAP TRICK, THE B'ZZ, ZZ TOP and STRANGER, but also with some bluesy rock influences here and there. The band was formed in 2020 and features 3 members, Danny Methric- Vocals, guitar, Tony DeNardo- Rhodes Bass and Todd Glass- Drums. There are 11 songs on the new record and right from the start they set the bar very high, because both Slave to sound and Gator are fantastic catchy uptempo Classic Rocktunes with strong guitarwork and really fine melodies. Things get a bit calmer at first sight on Occupied blues, but also this songs rocks well enough as the song develops, although perhaps a bit more bluesier. The rest of the album keeps rocking, but is also very diverse musically speaking and so there are quite a lot highlights, such as the slow BLUE OYSTER CULT ish After the ending, the melodic soulful poppy 60s influenced R&B ish ballad Magnet and steel (a la SAM COOKE!), the lovely melodic Southern Rocker Breaking my own and the sensational heavy slow bluesrocker Son and daughter (mix between classic SABBATH/CREAM/ZEPPELIN and today's bands like RIVAL SONS/DE WOLFF/THE BLACK KEYS).THE MUGGS is all about Classic American Rock of the 1970s/1980s at it's very best, so everything you musically ever loved from the US of A out of that period in history is brought to you on this album. Make sure to check out their album at: https://themuggs.bandcamp.com/

(Points: 8.3 out of 10)


DEEPSHADE 'SOUL DIVIDER' (INDEPENDENT/WORM HOLE DEATH RECORDS/UK IMPORT)

And yet another sensational new British band, this time from Wigan, and their latest album is titled Soul divider. They were formed in 2013 and have already released a few albums in the past. When opener Airwaves kicks in, we hear a strong professional band with a so-called "music magazine/press" rocksound that fits somewhere between THE SMITHS, QUEENS OF THE STONE AGE, THE DOORS and U2, so a little psychedelica in there, but overall midtempo melancholic rock with a very melodic approach. The band's singer (and guitarist) DAVID RYBKA has a superb voice and can play the guitar very well, while the other members in the band are bassist TOMMY DOHERTY and drummer CHRIS OLDFIELD. After the midtempo start we are heading into high class uptempo rock with the catchy City burns that sounds even better than the much appraised INHALER. In fact, I am quite surprised that DEEPSHADE has not yet ben widely regarded as the latest sensation. I do have to add they rock a little more than for example BLOSSOMS, INHALER and SLOW READERS CLUB and are perhaps less experimental than LIFE, IDLES and THE MURDER CAPITAL. However, in-between they fit in just perfectly with their British way of rocking and here and there they also throw in some great groovier hardrock like in Burning up. I am very positive about this band and from the remaining 7 songs after this rocking start, I can add as favorite tracks Arches of innocence (uptempo big fuzzy guitar driven Stoner Hardrock), the hypnotic Maryland (a la THE SMITHS) and the heavy closing track Ganzua with it's Stoner/Doom Metal influences. Make sure not to miss this sensational band at: https://deepshadehq.bandcamp.com/album/soul-divider

(Points: 8.5 out of 10)

LITTLE RED KINGS 'THE MAGIC SHOW PART ONE' (INDEPENDENT/UK IMPORT)

Out of Norwich, Norfolk, UK comes the sensational band LITTLE RED KINGS, whom are delivering a superb piece of classic British Melodic Rock on their 2nd album The magic show part one. They were formed in 2011, released their debut in 2018 and now follow-it up with an album that should gain them a breakthrough among the Classic Rock community. Formed around the fantastic powerhouse singer/guitarist Jason Wick, the line-up is further completed by guitarist Dougie Archer, bassist Ben Beach, keyboardplayer Craig Stevenson and drummer Harry Wickham. The sound is massive, the vocals are spot-on and the songs are simply brilliant, sounding like a perfect cross between FREE/BAD COMPANY, THUNDER and a bit of BLACK CROWES (and also RIVAL SONGS and ROYAL BLOOD here and there). The songs are mostly uptempo and very melodic, while still keeping the mood swinging and groovy like a classic British Rockband is known for and after hearing the sensational first 3 songs (Harry's town, Almost over and That's what you do), it is clear that we are dealing her with a sensational band that should touch the hearts of any fan of classic rock! The band also slows things down here and there (Mam's boy, Weather the storm and Norfolk border is even a bit NICK CAVE/LEONARD COHEN ish!)) that show their love for almost singer/songwriter ish material and it's in those songs where Jason's voice sounds really phenomenal. However, the band is at their best when they rock and besides the earlier mentioned uptempo rockers, other highlights are Peppermint (an almost Southern meets Heartland Rocker with BRUCE SPRINGSTEEN meets THE GASLIGHT ANTHEM kinda influences) and the catchy melancholic superb melodic rockish Lose the light. In the end, they are actually very diverse musically speaking, but when they truly rock it's classic British rock at it's very best! Check them out a.s.a.p. at: https://www.littleredkings.com/ and https://littleredkings.bandcamp.com/album/the-magic-show-part-one-promo-release-date-29th-may-2020

(Points: 8.6 out of 10)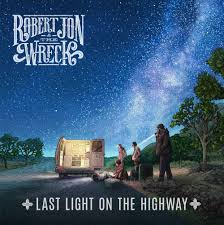 ROBERT JON & THE WRECK 'LAST LIGHT ON THE HIGHWAY' (NOBLE PR/UK IMPORT)

ROBERT JON & THE WRECK from Southern California have been playing live and recording albums the past 10 years with a very stong sound and it must have been 6 years ago since we last reviewed an abum of this superb Southern Rockband, but in-between they have built up a huge reputation and with their new album Last light on the highway the massive breakthrough should be just around the corner. It's only a pity that corona got in the way, because European gigs have now all been cancelled or postponed, but let's hope in the future to come these guys will get the chance again to show their fantastic skills. Formed around the fantastic singer Robert Jon Burrison, who has an amazing soulful voice that fits somewhere between JOE COCKER, the BLACK CROWES singer CHRIS ROBINSON, PAUL RODGERS and HUEY LEWIS, the line-up is further completed by Andrew Espantman: Drums; Steve Maggiora: Keys/Vocals; Henry James: Lead Guitar/Vocals and Warren Murrel: Bass/Vocals.

The music is a sensational American cocktail of Classic Rock, Southern Rock, Blues, Soul and anything else groovy from the Americas. This can be heard right from the start with the groovy rockers Oh Miss Carolina and Work it out that remind me of THE BLACK CROWES in their heydays. Can't stand it shows their love for uptempo 1970s classic Southern Rock friend ALLMAN BROTHERS BAND, while the semi-ballad Tired of drinking alone is a superb piece of mixing modern Southern Rock/Bluesy Rock, Classic Rock and pop influenced Melodic Rock like DAUGHTRY and BO BICE meeting VAN ZANT and THE EAGLES somewhere in a local bar! Back to sensational twin-guitar driven uptempo classic Southern Rock with the ALLMAN BROTHERS BAND/LYNYRD SKYNYRD mixture of Do you remember that could well be considered as a new timeless classic in this genre.

This time around is a midtempo Classic Southern Rocksong with a lot of hit potential, sounding like JOE COCKER fronting a rockband! Rocking out big time in classic BLACK CROWES meets RIVAL SONS meets AEROSMITH during the superb sing-a-long Don't let me go. Things slow down again during the semi-ballad One last time and despite Gold is another semi-ballad, this is a more commercial tune and is actually a ridicilously strong catchy tune like BON JOVI or AEROSMITH haven't produced in the past 20 years, including a lovely chorus and soaring guitarsolo that will stuck in your head for days and days to come!

The final song on the album is the titletrack Las light on the highway and this is the absolute finest moment on the record. The song is split in 2 parts, with part 1 being the calmer acoustic part where a sorta BRYAN ADAMS kinda voice singing very emotional and the 2nd part goes into classic 1970s Classic Rock/Southern Rock territory with amazing soaring guitarsolos a la LYNYRD SKYNYRD and LED ZEPPELIN, while the song itself also has some similarities to classic FREE and BAD COMPANY as well! A fantastic way to end a sensational album that will probably be included in the top 10 albums of 2020! The level of this new album of Robert Jon is exceptionally high and Last light on the highway is probably the finest Southern Rock album since the classic 70s! Check them out a.s.a.p. at: https://robertjonandthewreck.com/

(Points: 8.9 out of 10)


STONEWALL NOISE ORCHESTRA 'DEATHTRIPPER' (TRANSUBSTANS RECORDS/SOUND POLLUTION/CLEAR SPOT/SWEDEN IMPORT)

The Swedish band STONEWALL NOISE ORCHESTRA is active since 2004 and already released a lot of albums throughout the years, gaining a lot of exposure and are by now quite established as a well-known act. Their 1970s inspired retro Hardrocksound is very strong and influences of BLACK SABBATH, URIAH HEEP and MONSTER MAGNET are obvious when listening to their music, but they also have an own identity, which can be heard very well on their new album Deathtripper. The uptempo Melodic Heavy Rockers Deathtripper, The storm (superb!) and Gravity as well as the midtempo Bones are very sensational and indeed sound like aforementioned mixture, but also reveal an own twist to this classic Melodic Heavy Rock/Hardrocksound. The band's previous album The machine, the devil & the dope was released in 2016 and the reason why it took them 4 years before this new album is quite sad, because their guitarist MICKE ERICKSSON died of cancer in 2018. This set them back of course for a long period, especially since they were working on new material and thankfully they decided to continue and honor their original guitarist with this new album that also features his last recorded guitarwork. 9 songs are included and besides the aforementioned songs, we also need to highlight the superb melodic midtempo Bound to bend the truth (excellent vocals by lead singer Tony) and the uptempo catchy melodic rockers Imaginary crown and Satanic love affair. If you're keen on classic guitar driven 70s inspired Hardrock like good old BLACK SABBATH and URIAH HEEP, with strong vocals and catchy melodic rock influences as well, then do check out this Swedish band STONEWALL NOISE ORCHESTRA at: http://www.snoband.com/

(Points: 8.5 out of 10)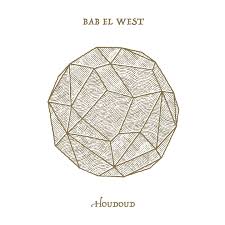 BAB EL WEST 'HOUDOUD' (BIG BANANA MUSIC/VEEV COM/FRANCE IMPORT)

As soon as the new album of the French band BAB EL WEST starts, it is clear that we are dealing with the latest sensation in World Music that creates the perfect mix between Western Rock and Middle Eastern traditional sounds. We have seen a lot of acts playing this mixture the past few years and here and there it is called Desert Bluesrock, which is definitely a good description, also for this band, but when listenting to their material you can pick up much more music influences (Maghreb Folk, Afrobeat, Soul, Gnawa, Pop...). They were formed back in 2011 by Moroccan singer/guitarist HABIB FARROUKH when he met Bretons companions drummer MARC DURPONT and bassist CLEMENT VALLIN, while travelling and later on Tunisian qanun player (sorta harp instrument) NIDHAL JAOUA and Algerian guitarist HAMZA BENCHERIF joined them. BAB EL WEST has been playing this kind of 'Rock' for quite some time now in and around Paris, with a debut album release in 2017. This follow-up Houdoud was released in late 2019 and this album is now spreading it's word throughout the rest of the world. 9 songs are included in total and right from the start with the rocking Al khil we are hearing a sensational groovy band that should also appeal to the regular rockfans out there besides the attraction they will get from the World Music community. The band is providing a nice selection of rockier material and calmer songs, while always holding on to a summer ish groovy vibe that should give you the warm feelings of being in a southern sunny country. Overall, they remind me a lot of TAMIKREST and ALTIN GUN, but then with an own kinda vibe. The album passes by very quickly and besides the mentioned opener, other highlights are Escargot, El baz and the superb almost classic 1970s progressive rock influenced Talk douft. I can only imagine that their live shows will be a guarantee for a lot of enjoyment. Let's hope this will happen soon, because without a doubt, BAB EL WEST should become a household name in the future. More info at: http://www.babelwest.com/

(Points: 8.7 out of 10)


NIQOLAH SEEVA '3NE' (VLAD PRODUCTIONS/VEEV COM/FRANCE IMPORT)

NIQOLAH SEEVA is a traveling musician and composer, who melts Western and Western music influences via a Guit°arabia, which is a hybrid instrument that is a unique mix between an electric oud and a quarter-tone guitar, built by Jean-Yves Leray (France) and Abdellah Mourid (Morocco), created and played by Niqolah Seeva in this new crossover project. The music is a nice mixture of Eastern and Western music, with vocals that are clearly in the Middle Eastern kinda direction. The material is overall World Music orentated and not far removed from bands like TAMIKREST and ALTIN GUN, but then less sensational I'm afraid and perhaps more interesting for the more traditional World Music fans out there. Not saying it's bad, because you can hear quality music in here, but somehow it is vocally less stronger than the aforementioned bands. I would nevertheless recommend you to check it out for yourself at: http://niqolah-seeva.com/

(Points: 7.1 out of 10)

ANCHOR LANE 'CASINO' (R7 RECORD/NOBLE PR/UK IMPORT)

Out of Glasgow, Scotland comes ANCHOR LANE, a no-nonsense kick ass Rock and Roll band with a sound that fits somewhere between 70s Classic Rock, late 80s Sleazy Hardrock and even a bit of 90s Alt/Grungerock of the ALICE IN CHAINS kind. The band's debut album Casino was recorded at Vale Studios in the Midlands with legendary rock musician, writer and producer Toby Jepson (WAYWARD SONS, GUN, LITTLE ANGELS). ANCHOR LANE was formed back in 2015 by lead singer Conor Gaffney, guitarist Lawrence O' Brien, bass player Matthew Quigley and drummer Scott Hanlon in their hometown of Glasgow and when listening to such strong groovy Hardrocking songs like Fame shame, Voodoo and Casino, we are hearing a great exciting young band with a lot of potential. Admitted, we have heard such Classic Rock before, but for a first album, ANCHOR LANE truly deliver at a very high level. The first 2 songs tap out of the uptempo Classic Hardrock corner like we also know it from BLACK STAR RIDERS (this band's lead singer RICKY WARWICK also provides back vocals on one of the featured tracks), but with Voodoo and Casino, the band combines elements of bands like ALICE IN CHAINS/ALTER BRIDGE with that of Classic British Rock of the FREE/THUNDER kind, which is a very interesting mixture. The 10 songs that are included are passing by quickly, as it is a very enjoyable ride for sure, with as one of the highlights the stunning Shell of me, and therefore I can highly recommend ANCHOR LANE to any fan of pure groovy Classic Rock. Check them out at: https://anchorlanemusic.com/

(Points: 8.4 out of 10)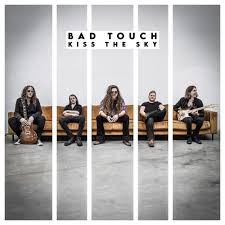 BAD TOUCH 'KISS THE SKY' (MARSHALL RECORDS/NOBLE PR/UK IMPORT)

Kiss the sky is already the 4th album of Norfolk, UK based band BAD TOUCH, whom were formed back in 2010. The band's line up consists of Stevie Westwood (Vocals), Rob Glendinning (Guitar), Daniel 'Seeks' Seekings (Guitar), George Drewry (Bass) and Michael Bailey (Drums), and the new album was recorded, produced and mixed by Nick Brine (THE DARKNESS, BRUCE SPRINGSTEEN, ARCTIC MONKEYS and countless more) at the legendary Rockfield Studios in Monmouth, Wales. The album was mastered by Pete Maher (U2, ROLLING STONES, SNOW PATROL, JACK WHITE, THE KILLERS, etc. etc.), so it is crystal clear the sound on Kiss the sky is quite perfect. 13 songs are included and the groovy Classic Rock sounds like a mixture between THUNDER, THE BLACK CROWES, TESLA, AEROSMITH, LITTLE ANGELS and RIVAL SONS. Despite nothing new is brought here, the guys are doing a splendid job from star to finish with many excellent hard hitting pure Classic Rock tunes. Highlights are the opener Come a little closer (uptempo late 80s rocker), Let go (groovy swinging soulful rocker a la THE BLACK CROWES), the melodic rock ish wonderful semi ballad See you again and the lovely hardrocking Read all about it and the AEROSMITH meets THUNDER ish titletrack. Recommended if you like the aforementioned bands! More info at: https://badtouchrocks.co.uk/

(Points: 8.4 out of 10)