HOT NEW REVIEWS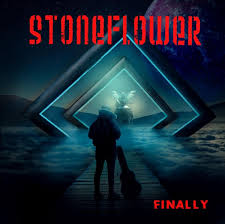 STONEFLOWER 'FINALLY' (AOR HEAVEN)
About 16 years ago I reviewed the debut album Crack a little smile of the Norwegian band STONEFLOWER, but the foundations of this band were already done 10 years further back when a few of the members recorded an album with DIESEL DAHL (TNT Drummer). I can remember that album and also reviewed it in one of the first printed issues of Strutter'zine. Fast forward to 2014 when STONEFLOWER released the follow-up Destination anywhere, which was received very well, but things got really interesting when they decided to look for a new singer and record another new album, where also few well-known guests would appear. The result is Finally and the singer they found is an amazing talent named JOHN MASAKI (known from NORWEGIAN IDOL show). He has an amazing vocal range and reminds me of a cross between DENNIS DEYOUNG and TOBY HITCHCOCK. The band's line-up further consists of Svenn Huneide - Bass, Vocals; Tom Sennerud - Guitars, keys, vocals and Geir Johnny Huneide – Drums, while the guests appearing here are drummers Per Hillestad (LAVA, A-HA) and Steinar Krokstad (STAGE DOLLS), Tommy Denander (Guitar, PAUL STANLEY, ALICE COOPER), Bjørn Ole Rasch (keys, SECRET GARDEN) and Gunnar Westlie (Guitar, DA VINCI). The album was mastered by JK Northrup (KING KOBRA) and is basically a wet dream for the AOR fans, because this is the exact way to create an AOR Classic! 11 songs are included and it starts with the uptempo Gonna let you go, a very catchy fresh sounding AOR tune that has a lot of similarities to WORK OF ART. Following track What can be done also reminds me of WORK OF ART a lot, pure midtempo AOR with a beautiful chorus. It becomes very sensational during Believing, which is a superb pure 80s AOR tune that is dangerously close to TOTO. It is clear that we are dealing here with AOR HEAVEN, with picture-perfect vocals, hooks and choruses like we know it from the glorious 1980s. PRIDE OF LIONS and WORK OF ART are considered as the finest AOR acts of the past 20 years, but with this new STONEFLOWER album we have another winner that should be put right between the albums of those bands! When we continue with the uptempo AOR of Calling all stations, we get to hear one of the best AOR songs of the past 10 years, as this is an amazing catchy tune with a killer chorus that is even better than anything PRIDE OF LIONS has ever done, pure AOR brilliance that also reminds me a bit of RADIOACTIVE. Kaylee brings more high class midtempo AOR with even similarities to FRANKE AND THE KNOCKOUTS! Back to classic uptempo AOR a la PRIDE OF LIONS with the lovely The devil never cries. It is clear that everything is perfectly done here in making it perhaps the finest AOR album of 2020! Shivering hands is a little poppy and adds a few different arrangements halfway the song, but is overall once again another catchy AOR chorus driven tune. The titletrack is uptempo AOR again, WORK OF ART meets PRIDE OF LIONS, while Through the fire is almost like we are listening to DENNIS DEYOUNG when he did a pure semi-AOR ballad (Show me the way), although PRIDE OF LIONS also did such brilliant AOR ballads in the beginning. I think by now you will understand that this is an absolute AOR HEAVEN CLASSIC that even beats WORK OF ART's last album! How does it feel is back to classic uptempo AOR with a lovely chorus, dangerously close to the first PRIDE OF LIONS classic album. Closing track Fall closes things nicely being a nice calmer piano-led ballad. Without a doubt, we have a true winner here and any AOR fan looking for the best of the best at the moment should stop looking and just grab this new STONEFLOWER album. It is AOR perfection up to the highest degree! Make sure not to miss this absolute gem that even delivers 2 of the finest AOR songs of the past 20 years (Believing and Calling all stations). Check out this wonderful band at: https://www.facebook.com/stoneflowertheband and soon we will do an interview with them as well.
(Points: 9.2 out of 10)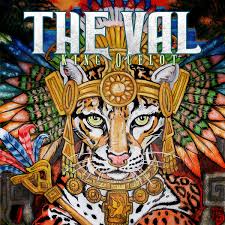 THE VAL 'KING OCELOT' (THE FISH FACTORY/SPAIN IMPORT)
I definitely remember reviewing this awesome Spanish female fronted AOR band almost 10 years ago when they released their debut Back, but somehow I lost contact and missed their 2nd album Heading for surface in 2014. Thankfully they now have a 3rd album out titled King ocelot, which is without any doubts a superb pure 80s inspired female fronted AOR album that should be in the hands of fans like LAOS, WITNESS, DANTE FOX, ALYSON AVENUE, COASTLINE, HEAT, PRIVATE LIFE, etc. etc. There is some sensational stuff on this album, which is thanks to the high quality of musicianship and of course the amazing strong vocals of German singer GABRIELLE DE VAL KOENZEN. 14 tracks are on the album, opening with the intro Electric jungle, which is followed by the first real song Crying on the bedroom floor, a typical classy 80s female fronted AOR/Rocker in the style of the aforementioned bands. Crazy world begins slow as an AOR ballad, but develops into an almost Symphonic Melodic Rocker like early LANA LANE, ending up being a terrific song that has very impressive keyboard/guitar intersections. Back to pure 80s AOR with Symphony that could well be lifted from an American major label female fronted AOR release, although there's also a touch of 80s Euro/Scandi-AOR/Melodic Rock in the chorus department here (ERIKA meets DAVINCI). When listening to Son of mine, the thoughts of ALYSON AVENUE and COASTLINE are very clear, so once again Scandi-female fronted AOR at it's very best! Back to LANA LANE ish uptempo Symphonic Melodic Heavy Rock with the sensational Lilly and the old man, which has a lovely memorable chorus you will be singing for days after you heard it. It also reminds me a bit of BATTLE BEAST and NIGHTWISH with Annette Olzon, so a bit rougher than the AOR tracks, but nevertheless super melodic and perhaps one of the best songs on the album. We're halfway with Inner voice, a nice semi melodic rockballad. A little moving into uptempo KIM WILDE/NENA/BLONDIE ish Poprock is High heels, a song that could do well on the radio for sure. The poppy polished ballad Wings for an angel follows and is quite sugarsweet ABBAish. Although not bad at all, the band seems to be heading into a slightly poppy direction from those last 2 mentioned tracks on, because also next track Save a little love is quite a poppy tune and so is Kill the noise that features once more ABBA influences. Thankfully, during the last 3 songs the band is returning to the AOR/Rock direction, because You break the silence is pure midtempo AOR in the DANTE FOX style, with a deadly catchy chorus that even has a bit of WITHIN TEMPTATION somehow. Say goodbye is a nice slightly faster uptempo Symphonic Melodic Heavy Rocker in the LANA LANE style again and closing track King Ocelot is a nice short calm acoustic tingled tune. Although there is a poppy part at one point during the album, in general speaking, this is a must-have release to any fan of female fronted AOR, because it has a lot of highlights that remind us of the classic days of the mentioned bands. More info on this Madrid based band at: https://www.theval.es/the-band
(Points: 8.6 out of 10)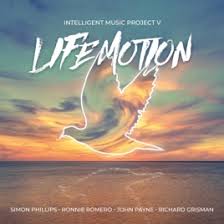 INTELLIGENT MUSIC PROJECT V 'LIFEMOTION' (INDEPENDENT/BULGARIA IMPORT)
Sadly I missed the 4th release of the INTELLIGENT MUSIC PROJECT from 2018, because the first 3 albums were very sensational and all reviewed by us. Now in 2020 a new CD is released and I have to say that this might well be their finest release so far. It is a great journey and adventure that project leader/music composer MILEN VRABEVSKI started 10 years ago and perhaps might be the best music ever to come out of Bulgaria! Milen himself is a doctor of medicine, a businessman and a well-known person in his home country, but also loves classic rock/melodic rock. He gathered a bunch of well-known musicians and singers around him through the years and on Lifemotion we can welcome the singers RONNIE ROMERO (RAINBOW), JOHN PAYNE (ASIA), RICHARD GRISMAN and TONY CRUMPTON, while the legendary SIMON PHILLIPS plays drums and co-produced the record. The first 2 songs are wonderful uptempo high class AOR/Melodic Rockers with lovely choruses (A kind of real life and Don't let them win), a bit like classic ASIA and FOREIGNER, while the AOR ish ballad Where I belong is another winner. Basically, each of the 12 included tracks is of an incredible high level and all together this album needs to be put in the best of 2020 AOR/Melodic Rock releases list! Besides the already mentioned songs, other highlights are the semi melodic rockballad By the side of the minute, the semi melodic rockers The final act and Every time (GOTTHARD meets FAIR WARNING!!!) and the catchy uptempo melodic rocker Reflecting. A massive sound/production of a collection of sensational songs, so this is definitely a big recommendation to the AOR/Classic Melodic Rockfans out there! If ASIA, URIAH HEEP, RAINBOW, THE LADDER, MAGNUM, FOREIGNER, SHADOW KING, FAIR WARNING and such acts belong to your favorite acts, then don't hesitate for a minute here, because you will get incredible music in this style on the 4th album of the INTELLIGENT MUSIC PROJECT. More info can be found at: https://intelligent-music.com/
(Points: 8.7 out of 10)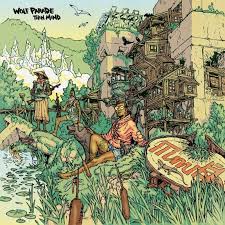 WOLF PARADE 'THIN MIND' (SUB POP RECORDS/KONKURRENT)
Canada has brought us so many great music the past 50 years and it never seems to stop. It all started back in the early 1970s with THE GUESS WHO and countless other rockacts from mainly Toronto and Vancouver somehow. However, since ARCADE FIRE put Montreal on the map, also this city gave us many new bands, including WOLF PARADE. This band was formed in 2003 and quickly got noticed by the music press, which led to a deal with SUB POP RECORDS. The legendary label released WOLF PARADE's debut album Apologies to the Queen Mary in 2005, which was followed by 3 more albums and now there is Thin mind. This is without a doubt the band's finest work so far and grabs musically speaking clearly back to classic 1980s New Wave, without sounding dated or too synth/keyboard orientated, because WOLF PARADE rocks uptempo for the greater part on Thin mind. The first couple of songs (Under glass, Julia take your man home and Forest green) are the kind of uptempo new wave/rockers that will wet the appetite of fans of SLOW READERS CLUB, THE EDITORS, THE KILLERS and such. These are very catchy uptempo tunes with singable choruses and a beat that will live in concert will probably make them crowd-pleasers and give WOLF PARADE a major bandsound. It's quite surprising that they aren't that big yet, because when you hear those songs you will instantly fall in love with them and radio hits should be guaranteed! Anyway, other highlights on this sensational new album are the midtempo melancholic Out of control (THE CURE meets THE CULT, with DAVID BOWIE ish vocals), the TALKING HEADS/TALK TALK ish slightly psychedelic Fall into the future, pure 80s Synthwave driven Against the day (hello DEPECHE MODE and big hit potential for sure!) and Wandering son (which is basically pure early 80s AOR/Poprock like almost classic RICK SPRINGFIELD). In the end, this album is a modern big sounding version of all that is now called classic 80s rock and 80s new wave, which should work very well among the young generation I think since this is very popular at the moment! Make sure not to miss this highly recommended modern New Wave/Rock album! More info at: https://wolfparade.bandcamp.com/
(Points: 8.8 out of 10)
THE MEN 'MERCY' (SACRED BONES RECORDS/KONKURRENT)
Through the years a lot of bands make a transition musically speaking and some more than others. In The Netherlands we have a band like RACOON that started out as a Hardcore Punkrockband, but is now a soft poprock orientated band, but thankfully a very good one! In Brooklyn, New York, the band THE MEN has underwent a similar change, because they started as a Hardcore Punkrockband back in 2008, but are now a a completely different and very diverse band. I was not familiar with their earlier recordings, so I can not compare their new album Mercy with their previous 7 albums, of which 6 are also released on SACRED BONES RECORDS between 2011 and 2018. Anyway, there are 7 songs on this new album, which starts very calm and breezy with Cool water, but thankfully there's much more diversity going on throughout the album. In fact, this somewhat rare opening Alternative Rock ish track has not much to do with the rest of the record, because already following track Wading in dirty waters is totally different. This is a 70s Psychedelic Acid Rocker that clocks in at 10 minutes, contains a Hammond Organ like sound and is quite close to classic THE DOORS mixed with a bit of CANNED HEAT, with an endless jamming like feeling. You would think these are 2 different bands actually, but they are definitely one and the same. The band by the way consists of Mark Perro (vocals, guitar, keys), Nick Chiericozzi (vocals, guitar), Rich Samis (drums), and Kevin Faulkner (Bass). The band surprises even further on the next track Fallin' thru that sounds like a cross between NICK CAVE and LEONARD COHEN, a very dark slow slightly depressing tune only accompanied by a piano and a very low and deep way of singing. Following track Children all over the world is something completely different again, because this is an early 1980s orientated New Wave ish uptempo rocker, akin dangerously close to GOLDEN EARRING. Somehow, this is the finest track on offer, a radio-ready anthem that should go down well live on stage. THE MEN seems to be one of the most diverse bands around, because Call the Dr. is a an uptempo acoustic tingled NEIL YOUNG meets CALEXICO ish altcountryrocker. The final 2 songs are Breeze (another GOLDEN EARRING ish tune, but then more 1970s uptempo Rock/Hardrock orientated) and the calmer darker NICK CAVE ish Mercy. Concluded, a very interesting album that offers so much diversity, you just can't ignore it! If you're starting to become interested, please go to the band's website at: http://wearethemen.blogspot.com/
(Points: 8.4 out of 10)
LANKUM 'THE LIVELONG DAY' (ROUGH TRADE RECORDS/KONKURRENT)
Out of Dublin, Ireland comes LANKUM, a band formed around Ian Lynch – vocals, Uilleann pipes, concertina, tin whistle, percussion, Daragh Lynch – vocals, guitar, percussion, piano, Cormac MacDiarmada – vocals, fiddle, viola, banjo, double bass, vibraphone, piano, percussion and Radie Peat – vocals, bayan, concertina, harmonium, organ, piano, electric organ, harp, mellotron. As you can see, the 4 musicians in this band are able to play a lot of various instruments, which can also be heard on their latest album The livelong day. Musically it is Irish sounding Folk, but with an incredible dark and almost depressing sounding approach, so thid ain't the typical happy uptempo Irish Pub sing-a-long material. Instead you get a slow dark sound that even reveals some melancholic ambient influences, where bands like SWANS and MY BLOODY VALENTINE are already mentioned in press sheets. Anyway, the result is an interesting album that really needs to be listened a few times before making a good judgement. If you want to hear something like THE DUBLINERS, then you will disappointed, because LANKUM goes for a more interesting darker Irish folk sound. It's best to check it out for yourself at: http://lankumdublin.com/
(Points: 8.0 out of 10)
ANYBODY 'SCRATCHING THE SURFACE' (INDEPENDENT)
Not that much info on this Dutch band, but they were kind enough to sent me their album Scratching the surface. Musically speaking they bring us a rather interesting mixture you don't hear that much, because at first sight they play Alternative/College Pop/Rock like R.E.M., but in almost each song there is a classic rock guitarsolo involved and I have to say their guitarist is really good. Actually ANYBODY is a one-man's band, because the man behind this band/project is a multi-instrumentalist who writes, records, produces and releases music from his couch at home. The result is quite nice, although vocally it is a bit monotone and perhaps a singer would be necessary to lift up the sound overall to a higher level. His guitarwork is quite strong and also songwise he brings a good portion of alternative rock and as mentioned the mixture sets him apart from the rest. Check it out for yourself at: https://store.cdbaby.com/cd/anybody14
(Points: 7.3 out of 10)
MIKE ZITO 'FIRST CLASS LIFE' (RUF RECORDS/GERMANY IMPORT)
Although released already 2 years ago, MIKE ZITO's First class life is a timeless record and brings classic heavy bluesrock that will please any fan of GARY MOORE, WALTER TROUT, JULIAN SAS, JOE BONAMASSA and such. The St. Louis, Missouri born guitarist/vocalist/producer/songwriter has already released quite a lot albums in the past 2 decades, but with First class life from 2018 he might have released his milestone. The album made it to the number 1 position on the Billboard Top blues albums charts, so it definitely had an impact in the bluesrockworld. 11 songs are included and fans of mentioned blues musicians will absolutely love this record, of which the absolute highlights are the slow Old black graveyard and Damn shame that sound closer to blues than you could ever imagine! Some of the current blues musicians leave the classic Bluessound of BB KING and MUDDY WATERS behind them, but MIKE ZITO is true to that classic bluesrocksound and therefore I can highly recommend this album to fans of the real bluessound. More info at: https://www.mikezito.com
(Points: 8.4 out of 10)
RYAN PERRY 'HIGH RISK, LOW REWARD (RUF RECORDS/GERMANY IMPORT)
When he was just 13 years old back in 2007, the Mississippi based guitarist/vocalist RYAN PERRY already made it to the best in an International Blues Challenge and now in 2020 he releases his anticipated debut album High risk, low reward. The album was recorded in late 2019 in Berlin, Germany, along with bassist ROGER INNISS, drummer LUCY PIPER and backing vocalists Jeffrey Staten and Stefanie Bechtold, 11 songs are included in total, of which 3 are covers and 8 original songs written by Ryan himself. I have listened to the album several times, as it really is a strong classic Bluesrock record, not too far away from GARY CLARK JR's early work. Ryan has a very plleasant lower soulful voice, which is perfectly suitable for this bluesy rock. His guitarplaying is phenomenal and combined with some good songwriting, we can hear some great material on his first album, such as Homesick, A heart I didn't break, Changing blues and Hard times. 2020 will likely bring more new Bluesrockalbums, but at the end of the year RYAN PERRY's album might well become one of the highlights. Make sure to check him out at: https://ryanperryband.com/
(Points: 8.6 out of 10)
ROOMFUL OF BLUES 'IN A ROOMFUL OF BLUES' (ALLIGATOR RECORDS/USA IMPORT)
Already existing for over 50 years now, the New England based band ROOMFUL OF BLUES has already released 20 albums and are a household name in the area where they are performing regularly. They also performed with legends like ERIC CLAPTON, STEVIE RAY VAUGHAN, BB KING, CARLOS SANTANA, etc. Of course the line-up changed a lot since starting in 1967, but they have always played classic Blues/R&B/Rock with a Horn section, with in their current line-up a very strong lead singer PHIL PEMBERTON (sounding like BILL CHAMPLIN) and excellent guitarist CHRIS VACHON. It feels sometimes a bit like CHICAGO, but then with a 1940s kinda Big Band approach as well as that typical New Orleans sound here and there. They are doing it very well on their new album, so if this is your first attempt in trying out this band, then you're safe to start here with In a roomful of blues. Although I mentioned Big Band, New Orleans and CHICAGO, overall speaking ROOMFUL OF BLUES is ofcourse most of the time pure Bluesrock and should therefore be checked by every dedicated Bluesfan out there! A song like She quiet me again is basically showing the band at their very best and is sounding like nothing else in the music scene at the moment, because this is a slow shuffle jazzy piano-bar driven blues ballad in classic 1920s/1930s style and is probably one of the absolute highlights on this interesting and diverse album. Make sure not to miss this release if you want to hear something else. More info can be found at: https://www.roomful.com/
(Points: 8.3 out of 10)
GHALIA 'MISSISSIPPI BLEND' (RUF RECORDS/GERMANY IMPORT)
GHALIA VAUTHIER is the name of the Belgian singer/songwriter/guitarist behind GHALIA, which further features 6 other musicians. Musically speaking this is prime-time female fronted bluesrock in the style of the other current generation of female blues guitarists/vocalist like SAMANTHA FISH, JOANNA SHAW TAYLOR, ANA POPOVIC, etc. They all try to reach the superstardom of BETH HART and I have to say that also GHALIA is doing this very well. She is able to play some great guitar licks as well as sing very well, which can be heard very clearly during the 11 included songs on her 2nd album Mississippi blend. It is the follow-up to her debut album Let the demons out from 2017. The album was recorded in the USA and really feels like classic US Bluesrock, with really sensational vocalwork of Ghalia, because she brings the level to higher places during songs like First time I died, Lucky number or the cover of the
traditional Wade in the water. Definitely a name to keep your eyes open for, because she might become the next lady to conquer the bluesrockscene. GHALIA is part of the New Generation Of Female Blues Rockers and is a must to check if you like the earlier mentioned artists. More info at: https://www.ghaliavolt.com/
(Points: 8.5 out of 10)
ANDY MICHAELS 'REVISITED/INCENDIARY HEART' (7 SEAS MUSIC/AUSTRALIA IMPORT)
Out of Australia comes singer/songwriter ANDY MICHAELS, who sent me 2 albums he recorded the past 2 years. Musically speaking this is a mix of Adult Contemporary Pop balladry and a little bit of Melodic Pop/Rock, with clear 70s/80s/90s influences, but it doesn't sound dated at all. The opener of his 2018 album Revisited, which is the song Today's tomorrow is quite a nice uptempo melodic rocker actually. Following track Angel features a great female singer called KERRIE IRONSIDE, who sings on a few more songs. I am actually quite interested in hearing more of this female singer, because she has an incredible soulful voice. For me personally it is clear that she is the absolute winner here on this album, but thankfully Andy is also a gifted musician/songwriter, so the combination of these 2 work very well during songs like Angel, White lies and Will there be love. Overall the feeling of the album is reminding me a bit of MIKE AND THE MECHANICS, JOHN FARNHAM, PAUL CARRACK and MICHAEL LEARNS TO ROCK, but also a few times JOHN LENNON comes to mind when hearing a song like Home. I would have loved to hear some more uptempo rockers like the first song, but Revisited is a very calm laid-back record, reminding of the mentioned acts. Andy himself is also able to sing quite well, but we have to wait until we hear the calm singer/songwriter poptune Where are you now, which is his finest moment on the album. The 2019 album Incediary heart continues the laid-back Adult Contemporary Pop balladry style of the previous album, with also once again guest female singers, of whom SHARON COURT sang on 1 song on Revisited I did not yet mention. Anyway, the result is another nice album with as finest songs the ones with female vocals, such as the beautiful Emerald eyes where TIARNA MADISON sings. She has an amazing voice and gives the song a modern typical female fronted pop/rock touch, ready for massive airplay if you ask me, as this is a very catchy tune in the style of FLORENCE AND THE MACHINE, LAPSLEY, AUSTRA, BAT FOR LASHES, etc. The only pity is the use of a drumcomputer instead of a real drums, but anyway, that voice of Tiarna is just amazing. She sings on a few more songs, such as the titletrack, and also KERRIE IRONSIDE can be heard again, now during the excellent midtempo rockish ballad The flame. Most of the time the material has a soft singer/songwriter pop approach, while there's also some real classic pop balladry to be found on the album, such as Fireflies that almost reminds me of classic BARBRA STREISAND ballads of the 1970s. I was not able to find info on the female singer on Sticks and stones, but it appears to be another female singer called CAROLYN THOMAS, who also has a very strong voice and gives the song a nice melodic pop/rock touch. The use of various female singers and Andy's own voice give the Popmusic he brings an interesting diversity. Recommendation on a future album would be a few more uptempo rocking tunes, invite both Kerrie and Tiarna (and perhaps Carolyn) to sing on most songs and use real drums on all songs, then I think ANDY MICHAELS could deliver something very sensational. Concluded, this is definitely worth checking out at: https://andymichaelsmusic.com/about-andy
(Points: 7.7 out of 10)
KINGS COUNTY 'KINGS COUNTY' (TIBRO RECORDS/USA IMPORT)
Out of Orlando, Florida, USA comes the Classic 80s US Hardrock sounding band KING COUNTY. They play the kind of rock that made the 1980s in the US of A a country filled with catchy hookladen fun and melodic party tingled music where thousands of new bands all over the place wanted to become the next FIREHOUSE, TWISTED SISTER, BON JOVI, DEF LEPPARD or DOKKEN. When alternative rock and grunge killed the classic Hair Metal sound in the early 1990s, only a few bands survived throughout the 1990s, but eventually died as well and only in recent years new bands in that classic style pop up again and actually create new original tunes. KING COUNTY is definitely one of the good new bands out there that is playing this classic piece of real American Hardrock, which can be heard during songs like Take it leave it, Dying to live, All that I want and Delicious consequences. They come across like a mix between RATT, TWISTED SISTER, ASKA and DEF LEPPARD, with here and there a slight more modern touch (Sacrifice and Blood stained adrenaline for example are akin a bit too ALTER BRIDGE). Some additional information learns that the band is originally from New York & Massachusetts, but in 2000 they were hired by Disney World as the house band at Pleasure Island. Since 2000 KINGS COUNTY has performed over 2000 shows, including supporting STYX, BON JOVI, TED NUGENT, FOREIGNER, THE B52's, JOAN JETT, 38 SPECIAL and countless others. The members played in bands/projects before KINGS COUNTY, such as lead singer/bassist ROB DEXTER and guitarist BILL KANIA, who both were originally in the 1980s Metalband BATTLE BRATT (remember them???). In the end, they have got a lot of experience which now resulted in a nice full-length album that should be checked by fans of RATT, FIREHOUSE, DOKKEN, DEF LEPPARD and such. More info at: https://www.kingscountyofficial.com/
(Points: 8.2 out of 10)
ROCK TWICE 'ROCK TWICE' (LIVIN' MUSIC/GERMANY IMPORT)
Out of the German capital Berlin comes a hot new classic 80s inspired female fronted Melodic Rockband called ROCK TWICE. The band is formed around Ulli Zett – Guitars, N.K. Robin – Keyboards, Gina Johnson – Vocals, Marty Priest – Bass and Joe G. Farmer – Drums. Together they present us their debut CD, which is a real winner for fans of classic 80s female fronted melodic rock in the style of ANGELA AND THE RUDE, LAOS, ROUGH, HEAT, INFINITE DREAMS, RUNESTAFF, TC KROSS, PAT BENATAR etc. etc. Opener Hellfire (with a surprising Cello!) starts the album really well, as this is a very catchy midtempo melodic rocker with memorable choruses. The following 2 or 3 songs are less stronger, but with the PAT BENATAR ish That's not you, the band is on the right track again. Other highlights are the lovely classic melodic rockballad Little soul (VIXEN meets SCORPIONS), the fantastic catchy uptempo AOR/Melodic Rocker Always right (best song on the whole album, must-hear for fans of HEAT, HEADMASTER, IF ONLY and such) and the piano-ballad Evry evry song (a la BARBRA STREISAND). Concluded, this is a nice beginning for the German female fronted melodic rockband ROCK TWICE and hopefully they can develop themselves on future recordings, because they definitely have potential and should for now be checked by fans of the aforementioned bands. More info is available at: http://www.rocktwice.com
(Points: 8.1 out of 10)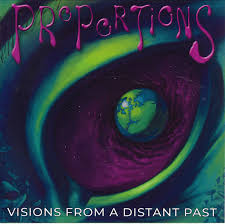 PROPORTIONS 'VISIONS FROM A DISTANT PAST' (PROPS MUSIC/USA IMPORT)
PROPORTIONS are an instrumental band from Arlington Washington, USA and they were kind enough to sent me their 2nd album Visions from a distant past. A few of their songs feature guest singers, but their music is mainly instrumental and has a 70s meets 80s vibe, with clear somewhat quirky progressive rock, fusion and jazz influences. The band's line-up consists of Denis Boucher (drums & percussion), Tomas Stark (keyboards and electric and acoustic guitars), Lennart Ståhle (guitars, basses, orchestration & flute) and Andy Kubicki (Keyboards, bass, misc orchestration and percussion). The music is of an incredible high level and has clear YES, STEVE HACKETT, GENESIS, JETHRO TULL, KING CRIMSON and GENTLE GIANT influences, so it is very British 70s orientated and during the 2 songs with vocals (Seagull's call with JOHN EYRE on vocals and Open door with PIERRE BORDELEAU), this can be heard at it's very best, as both are sounding as close to the aforementioned band's mid 70s recordings you can get. Floorcare is one of the highly interesting instrumentals that seem to even reveal 80s Synthwave influences (with keys a la VINCE DICOLA), although KING CRIMSON fans will also love this tune! On the other hand, the jazzy instrumental Colors of light should also be mentioned, because this song has a very relaxing vibe and lovely guitarsolos. There's also some RUSH influences and harder edged but still melodic progrock to be heard when you hear the lengthy instrumental Splendid illusion, so basically for each and everyone there's something to enjoy here. If only it was still the mid 1970s for these guys, then a major label would have snatched them up, but now they are doing this independently and have done a really great job, because it all sounds just perfect, both musically and production wise. Not to be missed if you call yourself an open-minded progfan! Check it out for yourself at: https://store.cdbaby.com/cd/proportions2
(Points: 8.7 out of 10)
BLUE CRIME 'I'M AFRAID WE BECAME ONE' (MEDUSE MAGIQ/ITS ALL HAPPENING HERE)
I was excited to check out this new Dutch band during the Left Of The Dial festival in Rotterdam in October 2019, but sadly at the same time another interesting Russian band was playing, so I didn't choose BLUE CRIME back then. Sadly I will also not be able to attend the new 2020 tour they are doing, which brings them just around the corner where I live in Dordrecht. As a sort of solace, I can now review their official debut album I'm afraid we became one, which surprises me a lot, because this is really a sensational first album of the band. They have come up with an original own kinda sound and identity that combines influences 80s post-punk, 80s gothic, 00s modern rock, 60s/70s psychedelic rock, 70s doom rock/metal in an alternative rockstyle with dreampop lush vocals of the female singer, which in the end sounds very adventureous and diverse. 11 songs are included, some quite lengthy actually, but all of them are very interesting to hear over and over again, because everytime you hear something new. When you listen to the uptempo Manimal, one of the more radiofriendly tunes, you can hear a band that just needs to be heard, as it sounds so well-thought and different, with a pumping bass/drum section combined with lovely 'dreamy' vocals. There are more of such songs on the album for sure, but I would also like to point out Absent nation, which sounds dangerous, dark, slow and very melancholic, while during the following track Trigger it gets uptempo again, although also here we can even hear some Doom influences during the slower parts in the song. The hypnotic Ancient engine almost brings you in an epic acid psychedelic trip. There is so much to discover here and I'll bet BLUE CRIME will make an impact in the international music scene soon, because what they are doing here is of an incredible high level. Check them out at: http://www.bluecrime.net/
(Points: 8.5 out of 10)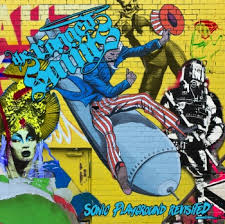 THE RAGGED SAINTS 'SONIC PLAYGROUND REVISITED' (AOR HEAVEN/SUPERSOUNDS/FINLAND IMPORT)
As soon as the first song Never gonna let you down is playing loud and proud in my music room, it is clear that the Finnish band THE RAGGED SAINTS is a rather new band to check out a.s.a.p. if you're a fan of classic 80s inspired Melodic (Hard) Rock. They were formed in Helsinki back in 2011, released their debut in 2013 (The sound of breaking free) and are now releasing their new album Sonic playground revisited on AOR HEAVEN. Of course in recent times we have seen so many new Scandi bands releasing great albums (H.E.A.T., BROTHER FIRETRIBE, ONE DESIRE...) that we have almost lost count. THE RAGGED SAINTS can easily be added to this list. Their first album contains 10 tracks in total and basically sounds picture perfect, in terms of songwise, instrumental and vocally speaking. The earlier mentioned opener Never gonna let you down hits the jackpot rightaway, because this is a very catchy uptempo tune like a perfect cross between DANGER DANGER, PAUL LAINE and FIREHOUSE, and thankfully the following 9 tracks follow that same route and are as good as other newcomers like H.E.A.T., ONE DESIRE, BROTHER FIRETRIBE, etc. Like a spinning wheel is a sensational uptempo Melodic Rocker that makes me think of the classic early TALISMAN, TREAT, TINDRUM and TALK OF THE TOWN days from the very early 1990s, so it is very Scandi Melodic Rock based. The band's singer MARKKU KUIKKA has a great strong voice that reminds me a bit of JEFF SCOTT SOTO. When the keyboards join in more prominently, the band is going for a more AOR direction like WORK OF ART and JOURNEY, and here Markku really shows he is a great singer (like RONNIE ATKINS of PRETTY MAIDS), while the song itself is another winner for people longing back to the 1980s where everybody just wanted to have a good time and sing-a-long to the music. Just a little bit faster, but still super melodic is the uptempo Secret in our hearts, which is another fantastic Melodic Rocker like a mix between early 00s GOTTHARD, PRETTY MAIDS and ONE DESIRE. Slowing things down on the next track Just believe, which is a beautiful semi melodic rockballad like FAIR WARNING and believe me, the vocalwork of Markku is making this CD a definite highlight of 2020.
The second part of the CD starts with Absence of light, a great bombastic midtempo Melodic Rocker that is a deadringer for the fans of 00s GOTTHARD and PRETTY MAIDS. Just when you think that by now a weak song must follow, that absolutely doesn't happen here, because also Always forever is bringing us the kind of catchy uptempo Melodic Rock on which the fans of the genre will be dancing and singing all night long to! The DEF LEPPARD ish big harmonyvocals driven chorus of this and a lot of other songs sound just great for those who want to have a good time! Up next is Pretending diamond, another great midtempo melodic rock masterpiece in the style of TALISMAN and classic WHITESNAKE, with also very strong guitarwork, which I haven't mentioned yet, but guitarists TOMI JULKUNEN and TONI BITE are delivering splendid work, with here and there lovely twin-guitarsounds and fantastic guitarsolos. Turning cold has some light dut-dut AOR keys and goes for the big uptempo Melodic Rock/AOR sound, with once again a brilliant chorus and also a very catchy hookline. Closing track is Supernatural is a nice midtempo melodic heavy rocker like PRETTY MAIDS.
Well, well, well, what more can I say! THE RAGGED SAINTS have come up with a superstrong album that will wet the appetite of all the Melodic Rockfans out there. Maybe nothing new is brought here, as we hear and mention so many comparisons, but who cares if it is done at an incredible high level! Do check this one out a.s.a.p. if you call yourself a dedicated Melodic Rockfan! More info at: https://www.theraggedsaints.com
(Points: 8.9 out of 10)
STARMEN 'WELCOME TO MY WORLD' (INDEPENDENT/SWEDEN IMPORT)
And here we have yet another interesting band from Sweden called STARMEN, a somewhat fictional but existing band which is clearly influenced by KISS visually speaking, with all 4 members wearing masks and named STARMEN (Silver, Gold, Purple and Red Starmen!). It is a little mysterious actually, because there are definitely well-known names involved in this band, because vocalist/guitarist Kristian Hermanson was in CLEOPATRA and THE POODLES in the past, while on drums we can find Peter Strandberg (HEARTBREAK RADIO) and some unlisted musicians such as ANDREAS EKLUND (HOUSE OF SHAKIRA), the drummer of THE POODLES (Christian Lundqvist), DESTINY singer KRISTOFFEL GOBEL and probably more musicians from the classic Swedish Melodic Hardrockscene make their (guest) appearance. 12 songs are included on their debut album Welcome to my world, which they have released independently. At first sight I thought this was going to be a WIG WAM meets THE POODLES kinda adventure or another H.E.A.T. soundalike, but STARMEN are definitely more serious and authentic in their 80s inspired catchy Melodic Hardrock. A song like Ready to give me your love for example is basically pure WHITESNAKE meets RAINBOW ish classic Melodic Hardrock, done at an incredible high level and with a certain blues/soul kinda vibe in the vocal department. The vocals in the semi melodic rockballad Stay the night are really fantastic and the song itself touches again WHITESNAKE and even BLUE MURDER. Of course also the guitarwork and overall sound of the whole CD is picture perfect! Face the truth is Scandi Melodic Rock at it's very best, as it takes a little YNGWIE MALMSTEEN, TALK OF THE TOWN and a lot of EUROPE (the guitarsolo of The final countdown) to a certain LAST AUTUMN'S DREAM kinda Melodic Rocksound.
As the CD continues it is clear that STARMEN has a lot to offer and brings various Melodic Rockstyles from the past into their sound, because with Warrior they are going for a classic early 1980s US Radiorock/AOR sound that is close to NIGHT FLIGHT ORCHESTRA meets PAUL STANLEY circa 1978 solo album. The titletrack is as close to classic 80s PAUL STANLEY KISS you can get, including singing it like Paul is not able to do anymore. Also we must not forget to mention the superstrong midtempo melodic rocker Mayday, with it's excellent classic 80s MALMSTEEN guitarlicks and big sounding Hair Metal chorus a la DEF LEPPARD and again a bit of 80s KISS.
The diversity and authentic sound is making STARMEN a highly recommended band to check out a.s.a.p. Most of the time, STARMEN are going for a pure classic traditional melodic hardrocksound instead of the big bombastic sounds of other new melodic rockbands from Scandinavia. This makes them standout and as they are doing it at a very high level, I can easily recommend their CD to fans of WHITESNAKE and RAINBOW, whom also like a bit of Scandi Melodic Rock and a touch of PAUL STANLEY's 80s KISS! More info at: http://starmen.se/
(Points: 8.6 out of 10)
ECHOSMITH 'LONELY GENERATION' (ECHOMUSIC/PRESS HERE PUBLICITY/USA IMPORT)
The band ECHOSMITH from Los Angeles, California scored several hits and had a very sucessfull debut album titled Talking dreams back in 2013. They were signed to WARNER BROS. RECORDS and became quite big around that period, but somehow it took longer to release a follow-up. The band was originally formed in 2009 by 3 brothers and their singing sister (Sydney Grace Ann Quiseng – lead vocals, rhythm guitar, piano, keyboards, Graham Jeffery David Sierota - drums, percussion, Noah Jeffery David Joseph Sierota - bass, backing vocals, synthesizer, programming and Jamie Jeffery David Harry Sierota – lead guitar, keyboards, synthesizer, programming, lead and backing vocals). However, during 2016 Jamie left the band and so ECHOSMITH became a threesome. The youngsters have worked hard to make this 2020 release a strong record that should find it's way to the radio stations. 12 songs are included and despite it is very commercial sounding and perhaps nothing new is presented here musically speaking, ECHOSMITH are clearly making high quality radio-ready Melodic modern Pop/Rock. Highlights on this new album are Lonely generation, Stuck, Lost somebody and I don't wanna lose my love, all featuring catchy hooks, memorable choruses, lush vocals and a pure 1980s synth dominated sound. It's like we are heading back to the early to mid 1980s again when female fronted poprock acts like BLONDIE, MISSING PERSONS, ROXETTE, THE MOTELS, BERLIN, QUARTERFLASH, ' TIL TUESDAY, yet with a slight modern approach of course (TAYLOR SWIFT will be jealous here!), but the choruses are coming out of this book for sure. On the other hand a comparison to THE CORRS might also be necessary to mention. Concluded, a very nice return from ECHOSMITH and hopefully it will give them the success they deserve. More info at: https://echosmith.com/
(Points: 8.4 out of 10)
JASON RICCI & THE BAD KIND 'MY CHOPS ARE ROLLING!' (ELLER SOUL RECORDS/USA IMPORT)
Based in New Orleans, singer/songwriter JASON RICCI is originally from Maine. He already released 11 albums in the past and his latest is My chops are rolling, on which Ricci sings and plays his harmonica. Joining him on the recording is the BAD KIND band, which includes John Lisi (guitar, dobro & vocals), Andy Kurz (bass & backup vocals), John Perkins (drums & backup vocals) and his wife Kaitlin Dibble (vocals & backup vocals) She also sings a tune here, which is the BARBARA LYNN cover If you should lose me and done exceptionally well, because Kaitlin has a great voice. There are in total 2 covers and 9 originals on the album, which are mainly written by Ricci himself or joined by his bandmembers. The music on My chops are rolling is a mixture of Blues, Rock and SInger/Songwriter music, very American orientated and done quite well actually. Jason has got quite a raw and interesting voice, but is in the music world best known for his harmonica playing, which brought him to perform with such legends like JOHNNY WINTER, WALTER TROUT, ANA POPOVIC, etc. However, on this new CD he once again shows that he is also able to do some great portion of real Bluesrock himself as well. Check it out at: https://www.mooncat.org/
(Points: 8.2 out of 10)
THE NIGHTHAWKS 'ALL YOU GOTTA DO' (ELLER SOUL RECORDS/USA IMPORT)
In the past we did a story on the Japanese band NIGHT HAWKS, but long before that there already was a band called THE NIGHTHAWKS and they have just released their 29th album with All you gotta do. Their debut dates back to 1974, so that is 46 years ago (!) and all this time they never changed their sound, which is a mixture of Chicago and Delta Blues, Rootsy Rock and Roll and a Harmonica. This results in a very fine album that is a great listen and on All you gotta do we can hear in total 4 originals and 8 covers, of which the highlights are When I go away (LARRY GRAHAM), Baby, I want to be loved (WILLIE DIXON) and Let's burn down the cornfield (original by RANDY NEWMAN). From the 4 originals, the uptempo almost southern rock and roller Another day should be mentioned, although the vocals here are not as raw as we want it to be, The bandmembers all sang, so I am not sure who sings the more rawer vocals, but all together it makes a listen quite diverse, although musically speaking it is as already mentioned combining classic Delta and Chicago Blues with a rootsy Americana touch. More info can be found at: http://www.thenighthawks.com/
(Points: 8.1 out of 10)
BLUE & LONESOME DUO 'PACING THE FLOOR' (ELLER SOUL RECORDS/USA IMPORT)
BLUE & LONESOME DUO consists of LIL RONNIE & GORDON HARROWER and they released a simple back-to-basic stampin' feet slow Blues record where Lil Ronnie sings and plays harp along with providing foot drums (kick drum and Hi-Hat) and Gordon is on guitar and vocals. The result is a nice mixture of 9 covers and 5 originals, where sometimes the comparison to SEASICK STEVENS is possible, although it is better perhaps to MUDDY WATERS or somewhere along those classic Blues lines. From the covers they did, you can also see where their main influences come from, because indeed MUDDY WATERS is covered and so is JAMES BROWN, JIMMY ROGERS, EDDIE TAYLOR and several others. If you're in the mood for some real Blues, then be sure to check out BLUE & LONESOME. More info at: https://store.cdbaby.com/cd/bluelonesomeduo
(Points: 7.5 out of 10)
JORDI BAIZAN 'FREE AND FINE' (BERKALIN RECORDS/HEMIFRAN)
Out of Texas comes the talented singer/songwriter JORDI BAIZAN, who delivers a great relaxing album with Free and fine. He has Spanish/Cuban roots and a Mexican wife, but his singer/songwriter music is basically like you hear it in most bars in Texas. This is a singer/songwriter style with some Country influences like only the Americans can make it, although our own DANNY VERA comes dangerously close for sure. He already released 3 albums as frontman of the band QANDA, while in 2017 he released his first solo-album Like the first time. Free and fine is his 2nd solo album and features 11 tracks, of which the highlights are Desert line, Winter's come and Whiskey with water are the highlights. Fans of JIM GROCE, JAMES TAYLOR, GORDON LIGHTFOOT and such light 70s singer/songwriter popmusic will be delighted to check out this album. More info at: https://jordibaizan.com/
(Points: 8.1 out of 10)
CHRISTIAN DRAGHI 'BLACK ROSES & HATS' (ULTRASOUND RECORDS/HEMIFRAN)
The Italian vocalist/guitarist CHRISTIAN DRAGHI is a very talented musician, who played in the band DOCTOR CYCLOPS before he went solo. They released 3 albums with classic 70s inspired heavy rock in the style of LED ZEPPELIN, CREAM and BLACK SABBATH. A few years ago he went through a deep personal crisis and felt the need to record a solo-debut album, which is now released as Black roses & hats. The album is clearly in the 1970s kinda direction, yet more focused on catchy pop melodies as we know it from that area. It still rocks a bit, has a Hammond Organ and features fantastic vocalwork from Christian. Sometimes it reminds me a bit of a softer URIAH HEEP, a touch of ALICE COOPER in his late 1970s period, some GENTLE GIANT when going for a more song orientated approach and a lot of SAILOR and SAD CAFE, so it has a strong 1970s British slightly quirky but super melodic laid-back pop/rock approach. Songs like Black roses & hats, Freaking out, When the silence screams, A friend in a bar and Shadow of a rose (with slight southern rock influence and very good harmonyvocals) are the kinda songs you would hear on British/American radio back in the 1970s. It rocks enough for the rockers among us, while the radio listeners can enjoy hooks and choruses in each and every song. Most of the songs are more or less semi melodic rock ballad orientated, so I think the Melodic Rockfans among us will definitely enjoy this album! The result is a very good album that doesn't sound anything like you hear nowadays and that is interesting for sure. There are some clear singer/songwriter acoustic tingled songs on the album, but overall the feeling I got was an uplifting light 70s pop/rock semi ballad orientated sound which a lot of people will enjoy. Don't miss this underrated album from a very good singer/songwriter out of Italia called CHRISTIAN DRAGHI at: https://christiandraghi.com
(Points: 8.6 out of 10)
THE RAGTIME RUMOURS 'RAG'N'ROLL' (RUF RECORDS/GERMANY IMPORT)
The biggest surprise of THE RAGTIME RUMOURS is the fact they are coming out of The Netherlands, which you cannot hear when listening to their album Rag'n'roll, which is released on the prestigious label RUF RECORDS. They were formed in 2013 and worked very hard through the years, which eventually resulted in their album Rag'n'roll. The band consists of Tom Janssen: vocals, acoustic guitar, slide, banjo, Thimo Gijezen: electric guitar, gyspsy guitar, upright bass, accordion, piano, vocals, Niki van der Schuren: upright bass, baritone sax, flute, vocals and Sjaak Korsten: drums, washboard, vocals. The album is filled with high class Bluegrass at it's very best! It's like you're listening to an American band, but they really are coming out of Holland. A song like Stop that train is one of those songs that live on stage will get everybody dancing and singing along, with as final result that the train doesn't stop at all! I'll bet this band would be the highlight of the PIJNACKERPLEIN BLUEGRASS FESTIVAL which takes place every year in Rotterdam, if they are of course would be playing it! Anyway, check them out a.s.a.p. if you're into Bluegrass at: https://theragtimerumours.com/
(Points: 8.1 out of 10)
SPIKE FLYNN 'JUST THIS SIDE OF HERE' (INDEPENDENT/HEMIFRAN)
Out of a small town in Australia comes singer/songwriter SPIKE FLYNN, who is a real storyteller on his latest album Just this side of here. His music is infuenced by artists like GUY CLARK and TOWNES VAN ZANDT, and he sings about everyday life things he experiences and makes it nice stories to enjoy while listening to his songs. For example Incident in the stony desert is one of those songtitles that you probably have never seen before and the 10 minutes counting Hey girl is almost a complete book instead of a regular song. Although opener Like a breeze is a rather standard tune, from following track Minstrel man on you will get to hear SPIKE FLYNN's own storytelling identity, with his unique voice that will probably also please fans of TOM WAITS or JOHNNY CASH. Storytelling singer/songwriter with a bluesy and country touch here and there is basically what you get here and what's most important SPIKE FLYNN has an own kinda sound that leaves room for a lot of interesting stories to tell. More info at: https://spikeflynn1.bandcamp.com/album/just-this-side-of-here
(Points: 8.1 out of 10)
RANDY LEWIS BROWN 'RED CROW' (BERKALIN RECORDS/HEMIFRAN)
Red crow is the 3rd album of the Texas based RANDY LEWIS BROWN and I have to say that his voice is without any doubts just perfect and very soulful, although the music is basically typical Texan orientated, mixing Country and American singer/songwriter with a certain pop approach. The result is a pleasure to listen to, with a combination of uptempo country ish tunes like She's the only woman and beautiful calmer singer/songwriter pop tunes like Trouble with me and October again, where his voice sounds absolutely fantastic! Do not miss this sensational album if you call yourself a fan of typical Texas singer/songwriter music. More info at: https://brownrandy.com/
(Points: 8.6 out of 10)
BIANCA DELEON 'DANGEROUS ENDEAVOR' (LONESOME HIGHWAY MUSIC/HEMIFRAN)
Out of Texas comes singer/songwriter BIANCA DELEON, who released this 5th CD Dangerous endeavour in 2018. She got help from multi-instrumentalist JOHN IMMON and a bunch of violin players on the 11 included tracks. The music is typical Americana with a folky, country and rootsy touch, sounding very melodic, especially when you hear the catchy uptempo light rockin' opener Thorns of a different rose, which has a memorable chorus you will be singing along quite quickly. The rest of the CD also has a lot of room for calmer singer/songwriter pieces and I actually was hoping for some more uptempo tunes like the first track. Neverthless, a nice album that is probably best recommended to he country pop/rockfans. Check out more info on Bianca at: www.biancamusic.com
(Points: 7.1 out of 10)
SAINTS OF SIN 'SAINTS OF SIN' (INDEPENDENT/UK IMPORT)
Out of the UK comes the next 80s influenced Hair Metal band in the shape of SAINTS OF SIN. Their same titled debut album was released independently and sounds quite massive actually for an independent album. There are here and there some modern elements to be heard and even a few progmetal riffs, but overall they have a clear 80s Melodic Hard/Glamrock approach in their choruses department. The guitarsolos, hooks and looks make them almost a true 80s Hair Metal band in the style of classic SKID ROW, WARRANT, WINGER, EVERY MOTHER'S NIGHTMARE, EUROPE, WILD BOYZ, TALISMAN and such. The band was formed back in 2013 and are now making their official debut with this strong and impressive 11 tracks counting album. The band's current line up consists of Rui Brito - Lead Vocals, Marcus Sparxx Jenkins - Guitar, Backing Vocals, Ashley Jenkins - Bass, Backing Vocals and Josh Rose - Drums, Backing Vocals, although on their CD we can also hear guitarist Sophie Burrell, who is not part of the band anymore I believe. Anyway, if you like classic late 80s American orientated catchy Melodic Hardrock/Hair Metal, then this album is definitely highly recommended, because songs like The big bad wolf, Alive, Cryin' eyes and We're on fire (H.E.A.T. ish) will make the fans of mentioned bands dance all night and sing-a-long loud and proud! There is also a classic Power Ballad included, which is the massive sounding Forever. This song features excellent vocals of Rui, a superstrong chorus and killer guitarsolos and all together, Forever could have been an enormous US Hit if it was released in 1988 as it is almost as good as those legendary songs by FIREHOUSE, DOKKEN, WHITE LION, NELSON, DAMN YANKEES, etc. etc.! The end of time is the 2nd Power Ballad, this time a more AOR kinda ballad with JOURNEYesque influences, although SLYBOYZ and FIREHOUSE are also clear similarities. Not a weak song is included on this surprisingly great debut album of SAINTS AND SIN, so i can highly recommend it! A must-have if you like SKID ROW, EUROPE, WARRANT and such! More info at: https://www.saintsofsin.band/
(Points: 8.6 out of 10)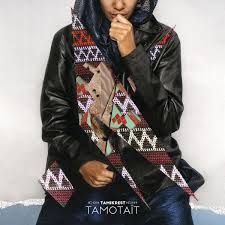 TAMIKREST 'TAMOTAIT' (GLITTERBEAT/XANGO MUSIC)
The Algerian band TAMIKREST was formed in 2006 by a group of musicians who belong to the Tuareg people. Infuenced by another Algerian band TINARIWEN, the youngsters of TAMIKREST were keen to also create a musicstyle which combined traditional African music with Western Classic Rock. I have only recently discovered them and I must say that this sounds quite sensational. The mixture of 2 very diverse continental music styles is quite rare and is so far not that well-known among most people. The new album Tamotait is already their 6th album and I feel they really deliver something challenging that should appeal to a lot of people. The band's main songwriter and leader of the band is OUSMANE AG MOSSA, who also plays guitar. In interviews this kind of music is called Desert Rock, Tariq Rock or the Blues of the desert and perhaps that might be a good description. Each and every of the 9 included tracks on this new album is of course clearly based around the traditional Middle-Eastern and African World Music sounds, but they are as mentioned always combined with Classic Rock guitar riffs and melodies as well. This makes it such a fascinating adventure to experience and it gives you finally something completely different than the usual classic rock. I am safe to say here that fans of all kinds of music genres will find something of interesting here.
The new album was recorded in France and Japan, and produced and mixed by the Irishman DAVE ODLUM, who has worked with JOSH RITTER, LUKA BLOOM, THE FRAMES, DEUS and many others in the past, so be assured that the sound is quite big here. If we go through the track listing of the album, opener Awnafin has JIMI HENDRIX ish influences, while Azawad has some clear Progressive Rock influences. Following song Amzagh is a sensational song that sounds very melodic and features very precise guitarwork and is overall a memorable tune. Up next is Amidinin tad adouniya, which is probably the best example of the mixture of typical African drum beat orientated music with classic rock guitarwork, while a song like As sastnan hidjan ends in pure Progressive Rock territory. Timtarin features a wonderful guest female singer called HINDI ZAHRA and the song itself is a very atmospheric proggy kinda rocksong. Tihoussay offers then a bit more of the African roots music, while Anha achal wad namda is one of the few uptempo real rockers. This song rocks big time and is basically pure Classic Rock, with of course the Arabic/African influences in the vocal department, but rocking out very heavily in the guitar department. Live this will be a real crowd pleaser I feel! The album closes nicely with Tabsit, a somewhat calmer more traditional African/Arab sounding song.
If you're an open-minded rockfan and you are into classic rock/progrock, then do not miss this band, because they offer really high quality music that contains enough rock for you to enjoy, but also gives you something new and different than the standard material in the genre. In 2019 we had ALTIN GUN as best World Music category release, which was a mixture of Turkish traditional music and 70s Prog/Classic Rock. Now in 2020 TAMIKREST might have released the best World Music album of this year with their new record Tamotait! I will see them live in action in May when they return to The Netherlands for a small tour and hope more people will then discover this unique band from Algeria, because they really deserve it! Meanwhile check them out at: https://www.tamikrest.net/
(Points: 8.7 out of 10)
LIZ GUN 'WELCOME TO THE SHOW' (INDEPENDENT/UKRAINE IMPORT)
Out of the Ukraine comes a great new female fronted Melodic Rock/AOR band called LIZ GUN, whom are playing in the style of classic 80s ff AOR acts like LAOS, VIXEN, WITNESS, 80s HEART, HEAT, DANTE FOX, HEADMASTER, COASTLINE, ROMEO'S DAUGHTER and such. Their debut album is titled Welcome to the show, was released independently in late 2019 and it is definitely a big recommendation to fans of mentioned acts. The band has a great singer called OLGA LIZGUNOVA and a brilliant guitarist SERGEY DYACHOK, while the line-up is completed by DMITRY SERGEEV (bass) and ALEX LEVER (drums). There is a nice variation in the offered 11 songs, with as finest tracks the uptempo melodic rocker Welcome to the show, the midtempo AOR Time is comin' (pure DANTE FOX) and the album's highlight, which is the superb semi AOR ballad In flames, which sounds like the perfect cross between ALYSON AVENUE, DANTE FOX and WITNESS. This song In flames could easily become a huge hit, because it is very catchy and is an absolute winner for the fans of the mentioned bands. Do not miss this band if you're into classic 80s female fronted AOR/Melodic Rock. More info at: https://store.cdbaby.com/cd/lizgun
(Points: 8.3 out of 10)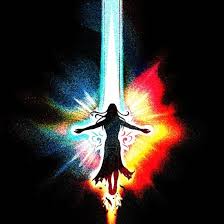 MAGIC SWORD 'ENDLESS' (JOYFUL NOISE/KONKURRENT)
A few months ago I witnessed a surprisingly excellent concert in the local rock venue of Bibelot in the city of Dordrecht. It was the band MAGIC SWORD from the USA, whom were probably one of the very first Synthwave acts I ever saw and their show and sound simply blew me away. I was not familiar with them before the concert, so I guess you can say they got themselves a new Dutch fan afterwards. The music of MAGIC SWORD is more or less sort of 80s Horror/Sci-Fi Motion Picture Soundtrack music based, kinda like the background music you could hear in movies such as BLADE RUNNER, STRANGER THINGS, THE TERMINATOR, ALIEN, A NIGHTMARE ON ELM STREET, etc. It is sounding spooky and dark here and there, but also very intriguing and hypnotic, and mostly based around 80s type of Synths/Keys. Sometimes the sound is also dangerously close to TANGERINE DREAM or THE ALAN PARSONS PROJECT, but then instrumental only, as there are no vocals to be heard. The band hails from Boise, Idaho and are a bit of a mystery when it comes down to the real involved musicians. They were formed in 2013 and have already released a couple of records throughout the past 7 years, of which Endless is their latest release. The line-up consists of The Keeper (red, keyboard, audio-visual), The Seer (blue, guitar), and The Weaver (yellow, drums) and on stage it feels like youre' watching a Star Wars episode with BLADE RUNNER kinda instrumental Synthwave music. It is visually very impressive and as already mentioned, also the music itself is quite sensational and really takes you on a journey to a galaxy far far away. 11 songs are included on this new album and I am safe to say that if you're a fan of any of the mentioned movies/acts, then this album will be one of your favorite ones of 2020! The band reaches it's absolute finest moment on wonderful songs like Empress, Prophecy and the superb A new quest. The 1980s did not produce such perfection full-length records like MAGIC SWORD has done now, so I guess you can say that this new MAGIC SWORD album gives you that wonderful feeling of the retro 80s sci-fi/horror movies without sounding dated at all, because Synthwave has never sounded fresher than here on this album. Do not miss this wonderful album that might appeal to a wide diversity of music fans (synth, prog, sympho, aor, krautrock, metal, lounge, soundtrack movies, etc.). More info can be found at: https://www.magicswordmusic.com/
(Points: 8.9 out of 10)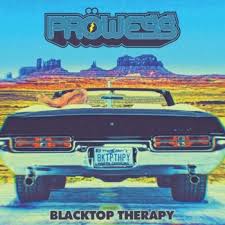 PROWESS 'BLACKTOP THERAPY' (INDEPENDENT/USA IMPORT)
We're heading to North Carolina, USA where we can find a sensational new Classic Rockband called PROWESS. They were formed back in 2016, released a couple of EP's in the past few years and are now bringing us their first official full-length debut album titled Blacktop therapy. The band consists of Dalton Bowes - Vocals, Curly Staples - Guitar, Scott Roby - Guitar, Brandon Chinn - Drums and Kenny Mange - Bass, and they play a mean raw classic classic hardrocksound like we have seen it from a lot of other new retro-rockbands the past few years. PROWESS are doing it at a very high level from start to finish, musically and songwise speaking, with quite a big sound/production for an independent release. For example the song Lookin' for a bullet is basically high class top-notch uptempo classic rock like a perfect cross between THIN LIZZY and L.A. GUNS, so a sleazy late 80s touch in the gang vocal department, but with a loud and proud guitarsound which is straight out of the classic 1970s hardrock book. Basically, all 9 included songs are following this direction, of which some are instant crowd-pleasers like Every right (with a lovely guitarsolo), the catchy uptempo hardrocking Bring your love (best song, with an AC/DC/THE CULT ish beat and a damn catchy chorus like BRITNY FOX) and the bluesy southern fried Tombstone blue (this song is less sleazy and more akin to a band like RIVAL SONS, with once again sensational guitarsolos). Without a doubt, this is a sensational band with a lot of potential and after listening to their album, also quite diverse, because they sound raw, dirty mean and combine elements from 70s classic rock, 80s sleazy hardrock and the revival retro-bluesy rocksound of the 1960s like we have also seen it from bands like RIVAL SONS, WOLFMOTHER or DE WOLFF. If you're starting to become interested, you should definitely visit their website at: http://www.prowess.rocks/
(Points: 8.7 out of 10)
LUCID DREAM 'THE GREAT DANCE OF THE SPIRIT' (SLIPTRICK RECORDS/DEAD PULSE/ITALY IMPORT)
In a world gone crazy at the moment when writing the review of this release due to the Corona virus outbreak, it is always a pleasure to listen to new music. LUCID DREAM is coming out of Genoa (area), Italy and The great dance of the spirit is their 4th album so far. Before this new record, they released in 2011 Visions From Cosmos, in 2013 The Eleventh Illusion and in 2017 Otherworldly. The band's line-up consists of Simone Terigi – Guitars, Roberto Tiranti (LABYRINTH) – Bass/Vocals, Karl Faraci – Vocals, Paolo "Paolo" Tixi – Drums and Luca Scherani – Keyboards. Their sound is a mixture of classic melodic hardrock, progrock (also due to the fact that most members played in progbands in the past) and a touch of typical Italo Power Metal. The result is a very nice album that is quite diverse actually and offers the best moments during the wonderful and catchy uptempo melodic hardrocker Desert glass, the fantastic LABYRINTH/VISION DIVINE sounding melodic ProgPower Metal tune A dress of lights, the melodic semi-rockballad Golden silence and the powerful progmetal song The war of the cosmos, with it's excellent instrumental parts. Overall, it is quite a typical Italian sound which we can hear, more or less like a great mixture between bands like CRYING STEEL, ELEKTRADRIVE, HEAVEN'S TOUCH, LABYRINTH, VISION DIVINE and any UNDERGROUND SYMPHONY RECORDS release, with as mentioned a prog touch as well. If this makes you feel interested, then check them out a.s.a.p. at: http://www.luciddream.it
(Points: 8.4 out of 10)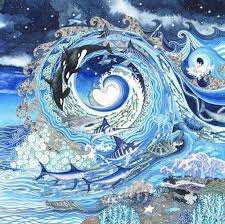 PENDRAGON 'LOVE OVER FEAR' (PENDRAGON/TOFF RECORDS/THE MERCH DESK/UK IMPORT)
It must have been the early 2000s when I went to one of my first PENDRAGON concerts and from then on I was hooked and saw them quite a few times, along with a lot of other Neo-Progrockbands (PALLAS, JADIS, IQ, ENCHANT, ARENA, PALLAS, FOR ABSENT FRIENDS, etc.). Their 2001 album Not of this world is of course one of their finest moments in their 40+ year history of existence, but actually they have always delivered quality records, ever since their debut Fly high fall far from 1984. I have lost count somewhere along the way, but they released a lot of albums after that1984 debut album. Sometimes they signed to a label (EMI, METAL MIND, SNAPPER MUSIC), but most of their albums, including this new CD Love over fear, they are released on their own label TOFF RECORDS. The band's current line-up consists of Jan-Vincent Velazco - drums, Nick Barrett - guitars, vocals, Clive Nolan - keyboards and Peter Gee - bass. Nick and Peter have been with the band since the formation in 1978 since they are the original founding members, keyboard wizzard Clive (also a member of ARENA and SHADOWLAND) joined in 1986 and Jan-Vincent in 2015. Together they created a wonderful new album, which is the follow-up to 2014's Men Who Climb Mountains. Musically not much has changed all those years, but that isn't necessary when you deliver such high quality material and that is basically what we can hear on Love over fear once again. Of course MARILLION and GENESIS paved the way decades ago for all those Neo-Progbands, but meanwhile PENDRAGON created their own sound as well throughout the years. Everytime when a new album is released, it is an enjoyable adventure to listen to, because you hear so many great new songs, which is thankfully also the case here. Everything, Truth and lies and Eternal light are the kind of wet-dream songs for every fan of melodic neo-progrock, while the fans of the more edgy prog (THRESHOLD style) will like for example Who really are we? and if you're into a more Celtic/Medieaval happy folksy ride, then 360 degrees will be your favorite song. No matter which song of the 10 included you put on, it is all high quality music we get to hear. Last year IQ delivered a wonderful progrockalbum and now PENDRAGON strikes back with yet another classic progrockalbum that should be in the hands of every single fan of this amazing unbeatable genre! More info at: http://www.pendragon.mu/
(Points: 8.7 out of 10)
SCARLET STORIES 'NECROLOGIES' (INDEPENDENT/DUTCH IMPORT)
It's really amazing that so many Dutch female fronted bands release sensational international sounding records, but on the other hand, still a lot of them are still undiscovered. SCARLET STORIES are coming out of the city of Tilburg, were formed back in 2010 and Necrologies is their debut album. Although at first sight most people will rank them next to bands like AFTER FOREVER, WITHIN TEMPTATION, EPICA and such, I can guarantee you that SCARLET STORIES play their own kind of symphonic melodic epic progrock/metal. They add a lot of epic prog elements in their sound and the material on this album is of an incredible high level, musically and also vocally, because singer/songwriter LISETTE VAN DEN BERG has a beautiful voice. The other members of the band are Bram te Kamp on (acoustic) guitar, Tim Kuper on drums, Carmen Raats on guitar, Maarten Grimm on bass and Sophie Ansems on violin and backing vocals. They were able to complete a 17,000 EURO crowdfunding action which gave them the opportunity to record this album, which by the way features beautiful artwork. Combined with a set of sensational songs, this is one of those must-have releases you need to have in your collection. KINGFISHER SKY is perhaps a similar sounding band, but I think it's best to avoid any comparisons, because SCARLET STORIES are doing their own thing. JOOST VAN DEN BROEK (AFTER FOREVER, STAR ONE, AYREON) took care of the production and he did a great job, making this album sound like a major label release. Highlights among the 12 included tracks can be found especially during the beginning with such wonderful tunes like The tell-tale heart and Vingt mille Lieues sous lies mers. However, this is one of those albums you can put on from the beginning and never have the intention to push the skip button, because Necrologies is top-notch powerful epic prog/melodic rock/metal at it's finest from start to finish! Check them out a.s.a.p. at: www.scarletstories.com
(Points: 8.4 out of 10)
M-OPUS 'ORIGINS 1978' (RUDE CHORD RECORDS/IRELAND IMPORT)
At first sight I was fooled, because I honestly thought that the Irish band M-OPUS recorded their album in 1978, but they are really a new Irish band with a concept rockalbum that follows the sound of prog/rock/hardrock from back then. In fact, they pretend to be a band with a fictional long history, although they were actually formed in 2014 by vocalist/multi-instrumentalist/producer/main songwriter JONATHAN CASEY, vocalist/drummer MARK GRIST and guitarist COLIN SULLIVAN. There are quite a lot of guest musicians and singers as well and I have to say, it is done very well, although here and there you can definitely hear that it is a newly recorded album and not a recording from 1978. The thing that annoys me a bit are the countless 'speaking' parts between the 28 included tracks, because it is the music that counts for us. Now it sounds like a sort of movie soundtrack, with actual speaking scenes all throughout the album. On the other hand, that is more or less the idea of a concept record of course, but it definitely distracts you from the great music that is created by M-OPUS. If we have a look at the real music that is included here, we can hear some wonderful pieces of music that is sometimes even very late 1970s progrock, almost KANSAS/STYXish American Pomprock orientated, such as during the wonderful songs Accidents will happen and the bombastic A perfect day for flight. The very melodic and calmer Mr McKee is quite a catchy tune actually and features one of the female singers, while Find my way back home is another accesible melodic song that is almost AOR based. Waiting to be is then again completely different, with an almost U2ish modern midtempo pop/rocksound. YES and 70s GENESIS are also influences on this 2nd album of M-OPUS, which can be heard during a more complex progtune like Krown on the coastline and there are more of such proggy and also rocking tracks in pure 1970s style to be heard. The album actually consists of 2 full length CDs, with 28 songs in total that have a playing length of more than 2 hours! There is a lot to enjoy here, quite diverse and if you like for example PENDRAGON, GENTLE GIANT or the earlier mentioned YES and KANSAS, then this band will be very interesting to check out, although there is even a lot more to discover here. Never giving up on your love for example is an almost RICK SPRINGFIELD sounding uptempo poprocker, while the agressive Hide and seek touches a punky aproach (with a slight MUSE touch) and the modern but melodic Troubled minds almost sounds like something STEREOPHONICS could have done. In the end, M-OPUS is delivering some great and very diverse music that should appeal to a lot of people out there for sure. It's not that 70s orientated as one might expect, because actually it is closer to something SPOCK'S BEARD might have create nowadays, offering a variety of music styles not heard much on 1 album. I am safe to say that anyone can check out this album, and for more info go to: https://www.m-opus.com/
(Points: 8.3 out of 10)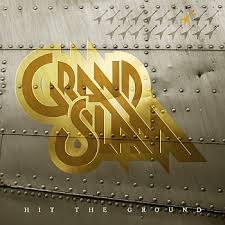 GRAND SLAM 'HIT THE GROUND' (MARSHALL RECORDS/UK IMPORT)
After THIN LIZZY broke up in 1983, bandleader PHIL LYNOTT started a new band called GRAND SLAM, along with guitarist LAURENCE ARCHER, keyboardist Mark Stanway, guitarist Doish Nagle and drummer Robbie Brennan. They were never able to record an official album, so all that was left were demos and live recordings (including a BBC broadcasted concert), which were pressed on CDs back in the 2000s by several labels. However, at the end of the 2010s original guitarist LAURENCE ARCHER reformed GRAND SLAM more or less with all new bandmembers (Mike Dyer - vocals, Dave Boyce - bass and Benjy Reid - drums). The result is the official debut album Hit the ground, which is of course basically a pure THIN LIZZY orientated album, with new originals and re-recorded versions of old/unreleased PHIL LYNOTT/GRAND SLAM written tunes. In total 13 tracks are included on this sensational album, which is definitely a must-have for any THIN LIZZY fan. Last year BLACK STAR RIDERS delivered one of the best THIN LIZZY soundalike albums in ages, but if you liked that one, you should also check out GRAND SLAM a.s.a.p. Vocally speaking, Mike is sounding more like GARY MOORE somehow, although a PHIL LYNOTT kinda vibe in his voice is also notable. Especially in the beginning, it's all about PHIL LYNOTT and THIN LIZZY musically speaking, but as the album progresses, so does the sound and in the end, GRAND SLAM creates it's own kinda face. Opener Gone are the days is basically pure THIN LIZZY like a cross between Lizzy tunes Do anything you want to do and The boys are back in town, while 19 (originally released as a PHIL LYNOTT solo tune) is dangerously close to Lizzy's Cold sweat. This makes GRAND SLAM really one of the best THIN LIZZY soundalike bands, but titletrack Hit the ground is the first song that is a bit less THIN LIZZY orientated, because this is basically Melodic Hardrock and quite sensational actually, reminding a bit of Laurence's previous band STAMPEDE. Military man is known as the GARY MOORE/PHIL LYNOTT tune, but now done in a more THIN LIZZY kinda style. Crazy is another straight-ahead hardrocking tune in classic THIN LIZZY style, while Dedication is a song we know from being an unreleased THIN LIZZY song (although actually an unreleased GRAND SLAM song), now perfectly re-recorded.
Long road enters a more melodic southern rockballad direction, like 80s BON JOVI (Wanted dead or alive) meets LYNYRD SKYNYRD, which is a nice welcome between the mostly THIN LIZZY orientated material. The following 2 excellent songs (Sisters of mercy and Crime fate) are originals co-wrriten by PHIL LYNOTT back in the day, but never released and here you can definitely hear that lovely classic THIN LIZZY sound. Grand slam is a brand-new song that is a nice groovy instrumental tune. The final 3 tracks are calmer,.. acoustic versions of Sisters of mery, Crime rate and Long road. Concluded, fans of THIN LIZZY and BLACK STAR RIDERS will absolutely love this record, but basically anyone who likes classic Melodic Hardrock with strong melodies and soaring guitarsolo's need to check this out a.s.a.p. It would really great to see them live soon (they have planned a small tour) and deliver these tunes, because they deserve to be heard for sure. More info on GRAND SLAM at: https://grandslamrocks.com/
(Points: 8.6 out of 10)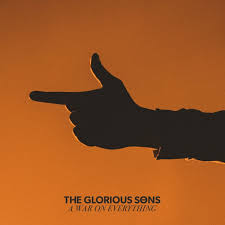 THE GLORIOUS SONS 'A WAR ON EVERYTHING' (BLACK BOX RECORDINGS/CANADA IMPORT)
Out of Kingston, Ontario, Canada comes THE GLORIOUS SONS, a band which is very popular in their homecountry of Canada, but sadly in the rest of the world they are not that well-known, which is a pity, because they are a great diverse rockband. The band's line-up consists of Brett Emmons (vocals, guitar, harmonica, keys), Jay Emmons (guitar, vocals), Chris Koster (guitar, vocals), Adam Paquette (drums, vocals) and Chris Huot (bass). A war on everything is their 3rd album, featuring 14 songs in total and opener Panic attack is a pure anthemic rocker that will be a real crowd-pleaser, while following track A war on everything is more laid-back melodic rock ish and basically is a very strong memorable tune. They remind me a lot of the THE GASLIGHT ANTHEM, which can be heard very clearly on the catchy excellent radio-airplay ready uptempo melodic rocker Spirit to break. As the CD continues, it is clear that THE GLORIOUS SONGS is yet another Canadian band with a high quality sound that should get a lot more attention, as they are able to write instant hits that combine a classic rocksound with catchy radio-ready melodies. A song like Closer to the sky should be all over the radio, as it combines the modern pop/rocksound with melodies a la MANIC STREET PREACHERS' Motorcycle emptiness. Thankfully, the band also adds a lot of rawer rock elements here and there, such as during the THE BLACK KEYS meets ROLLING STONES kinda heavy retro bluesrock sounding Wild eyes and One more summer. Uptempo rocker Kick them wicked things is a real kick-ass straight-forward raw rocker that would make THE ROLLING STONES quite jealous I think! And the mixture of rawer and more melodic polished tunes is making this such a great album, because following track I'm on your side is a lovely melodic rocker that almost touches classic KEANE. And how about the TOM PETTYish Lean on me love! Concluded, there is a lot to enjoy here and they are doing it quite perfectly from start to finish, so we can easily recommend THE GLORIOUS SONS to any classic rockfan or modern rockfan or basically anyone who likes quality music with strong melodies! More info at: https://www.theglorioussons.com/
(Points: 8.7 out of 10)
ALTESIA 'PARAGON CIRCUS' (INDEPENDENT/FRANCE IMPORT)
At the end of 2019 a sensational melodic progressive metal album was released by the French band ALTESIA. This is a new band from the city of Bordeaux formed around Clément Darrieu - All vocals, rhythm guitar, acoustic guitar, Alexis "Idler" Casanova - Lead and rhythm guitar, Antoine Pirog - Bass, Yann Ménage - Drums and Henri Bordillon - Keyboards. They have created quite a masterpiece here with their debut album Paragon circus, which is killer melodic progressive rock/metal in the style of such great bands likle THRESHOLD, PAGAN'S MIND, VANDENPLAS, HAKEN, SUBSIGNAL, etc. etc. After the short intro Pandora, we get to hear 5 superb lengthy songs that contain all the elements to make this an absolute must-have for fans of Melodic Progmetal. The band is able to combine complex instrumental passages with very melodic catchy choruses, such as during the epic Reminiscence. When listening to already that short opener and a song like Amidst the smoke it is clear that this band is focusing a lot on beautiful lead- and harmonyvocals and soaring guitarwork, so everything sounds very clean and melodic, but for the real proggies out there, they also leave room for some DREAM THEATER ish complexity during the instrumental parts of the songs. ALTESIA took me by surprise with this wonderful debut album that should be in the hands of every fan of Melodic Progmetal. Check them out a.s.a.p. at: https://altesia.bandcamp.com/releases
(Points: 8.7 out of 10)
WAXAHATCHEE 'SAINT CLOUD' (MERGE RECORDS/KONKURRENT)
Saint cloud is the 5th album of the Indie music project WAXAHATCHEE, which was formed in 2010 by American singer/songwriter KATIE CRUTCHFIELD, who was previously a member of P.S. ELIOT. Named after the Waxahatchee Creek, in Alabama, where Crutchfield grew up, this was originally an acoustic solo project, but now results more and more into a band affair. Katie is in a relationship with singer/songwriter KEVIN MORBY, who is quite known, but WAXAHATCHEE is not that familiar yet. The new album is quite good and is a mixture of Indie and Americana, with a touch of pop/rock, sounding a bit like a softer and more alternative version of ALANIS MORISSETTE and BETH HART, especially vocally speaking. The calmer pop/rock on the album is at its best during the songs Lilacs (melodic, catchy, radio hit potential), The eye, War and Arkadelphia (a little bluesy/americana ish). Somehow I also sometimes must think of LAURIE ANDERSON, if anyone can remember her! Anyway, nice little pop/rock album, best recommended to fans of ALANIS MORISSETTE! More info at: https://waxahatchee.bandcamp.com
(Points: 8.3 out of 10)
LOCATE S,1 'PERSONALIA' (MERGE RECORDS/KONKURRENT)
Now here we have a very interesting act, because LOCATE 2,1 is actually an one-woman's band, based around multi-instrumentalist CHRISTINA SCHNEIDER. She has released albums under various names since 2014 and now returns with Personalia. The interesting thing about her is the diversity in the presented music, from underground to commercial sounding material, it's all included, also on this new LOCATE S,1 album Personalia. She does everything on her own in her home studio in Athens, Georgia, USA. If we go through the 10 included tracks, it starts with Sancimitus Detrimitus (a sorta Synthpop tune like a rare mix of KATE BUSH, SINEAD O'CONNOR, EARTH&FIRE and ANNIE LENNOX), followed by Whisper 2000, a very good catchy poppy tune that is a bit BLONDIE ish, but also reminds me of the early 1980s sounds of THE MOTELS/PAT BENATAR, so it is close to hit radio-ready early 80s Poprock. The uptempo Personalia is another great tune in that style, so after a somewhat calm experimental start, it gets going with those catchy following tunes. Next track After The Final Rose is less interesting and is more hi-tech Synthpop, while Classical Toys is once again back to the 80s hi-tech poprock. Even The Good Boys Are Bad rocks again a little bit more and is basically early 80s US Poprock at its best, like a cross between BLONDIE and PAT BENATAR. The LAPSLEY ish hi-tech Synthpop follows on the next couple of tracks, with some quirky poprock influences as well. Closing track Futureless Hives Of Bel Air is completely different again, an acoustic piece that sounds like KATE BUSH meets JONI MITCHELL. I think by now you more or less get an idea of the sound on this album. You can hear the music of Christina at: https://christinaschneider1.bandcamp.com/music
(Points: 8.2 out of 10)
CABLE TIES 'FAR ENOUGH' (MERGE RECORDS/KONKURRENT)
Out of Melbourne, Australia comes CABLE TIES, a very interesting all-female band consisting of Jenny McKechnie, Nick Brown and Shauna Boyle. They released their debut in 2017 and now follow-up Far enough is released. It includes only 8 tracks, but some of them are quite lengthy actually, so overall the playing length of the full album is not too short happily. The music is pure garage Rock/Punky rock and roll, although opener Hope is somehow slightly different than the rest of the album, as this is a calmer Garage Rock song with some JONI MITCHELL kinda singing. Much more interesting are songs like Tell Them Where To Go, Sandcastles and Not My Story, which are very good strong uptempo catchy garage punkrockers, sounding like THE RUNAWAYS, including the rawer aggressive way of singing. Lani and the super catchy Pillow are a bit more melodic, but still THE RUNAWAYS ish, perhaps more akin to EX HEX here and there. Also THE PIXIES comes to mind sometimes, such as during the quirky Self-made Man and even NINA HAGEN influences can be heard in a song like Anger's Not Enough. Definitely a very interesting release, raw and edgy punky female fronted rock at it's best, in the classic CBGB style. Check them out at:
https://cableties.bandcamp.com/album/far-enough
(Points: 8.5 out of 10)
MINDTECH 'OMNIPRESENCE' (TRITECH MUSIC/GORDEON MUSIC)
The Norwegian band MINDTECH was formed back in 2007 and Omnipresence is their 2nd album so far. The line-up of the band consists of vocalist Mathias Moland Indergård, guitarists Marius Belseth and Thor Axel Eriksen, bassist Ola A Øverli and drummer Ole Devold. The included music on their new album is basically pure modern Melodic Progressive Metal like we have seen it from a lot of other bands the past 2 decades. PYRAMAZE, PAGAN'S MIND, CIRCUS MAXIMUS, SEVENTH WONDER and countless more are good comparisons. Although everything seems to sound perfect here, I do have some issues with the massive distorted (over-produced) guitarsound that seems to kill the vocals completely, which is a pity, because when things are slowing down a bit, we get to hear in a song like Brahman a rather catchy tune with a lovely almost AORish chorus (WORK OF ART). Not saying it is all bad what we get to hear, because it is definitely interesting to check out if you're a fan of the melodic progmetal like we know it nowadays, but I miss something here, because also there isn't too much going on instrumentally speaking. MINDTECH are not making the songs sound more interesting than so to speak re-produce the well-known progmetal style, with here and there a few nice melodies, but never a great guitar melody or anything. Nevertheless, fans of mentioned bands still might want to check out MINDTECH's new album! More info at: https://www.mindtech.no/
(Points: 7.7 out of 10)
ULTIMATE FAKEBOOK 'THE PRESERVING MACHINE LP VINYL' (SONIC RITUAL RECORDS/USA IMPORT)
Formed all the way back in 1994, the Manhattan, Kansas based band ULTIMATE FAKEBOOK was lucky enough to sign with a major label during the 1990s and release 4 albums. After their 2002 release Open up and say awesome, it became quiet around them, but after 18 years of silence, they return with The preserving machine. This new vinyl record is a very American sounding record, because there's a lot of Emo, GREEN DAY ish Punkpop and American Poprock mixed in their fast Powerpopstyle, but also more aggressive songs can be found a couple of times, so a melting pot of various styles. I am safe to say that their own anthem of their own city Manhattan, Ks is the most catchy tune of the 11 included tracks, as this fast uptempo Powerpoptune sounds like the ultimate cross between THE CLICK FIVE meets RICK SPRINGFIELD. In that same style, we can find the other highlights, This unfrozen girl, We're sharing the same dream tonight and Sequel (Electric kissing parties part 2 (all very catchy happy uptempo powerpop tunes with strong choruses, kinda like an outta-control RICK SPRINGFIELD when doing a gig with CHEAP TRICK and GREEN DAY). Other interesting tracks are Sad soldier (one of the few midtempo tunes with a very catchy infectious chorus) and My music industry (dirty mean sleazy underground garage/punkrock, almost like HARDCORE SUPERSTAR), while closing track Fake ID is almost a Power Ballad, but then of the kind GREEN DAY could make. Although nothing new musically speaking is brought here and ULTIMATE FAKEBOOK is a pure American sounding band in the best 90s style you can get (Emo/Punkpowerpop), their comeback album The preserving machine is a recommended album, with nice artwork and happy radiofriendly music. More info at: https://sonicritualrecordings.bandcamp.com/album/the-preserving-machine
(Points: 8.1 out of 10)
STEVEN DAYVID MCKELLAR 'ETHIO LP VINYL' (SONIC RITUAL RECORDS/USA IMPORT)
SONIC RITUAL RECORDS is a new US label with a focus on VINYL RECORDS and their first release is the solo-album of the leader/singer of the South African band CIVIL TWILIGHT. STEVEN DAYVID MCKELLAR moved to the USA in January 2019 and worked on his album Ethio the full year and now releases it on VINYL. The album has a rather short playing length, with 8 tracks included in total, but thankfully multi-instrumentalist/producer/singer/songwriter STEVEN DAYVID MCKELLAR has a great voice, which makes it a pleasure to listen to the record a few times, in order to make a good review of it. The music is quite experimental and very minimalistic in use of instruments, combining elements of Indie pop, Wave and Chamber Pop into an exciting style. Opener Don't ask me why is a sorta cross between JOHN GRANT meets RUFUS WAINWRIGHT, sounding very minimalistic and dark, but still with a melancholic melody and strong clean vocalwork of Steven. Quite experimental is the next song Keep it safe, with a hi-hat dub-step drumbeat something that could be something NEIL FINN would have loved to do on his solo records. Modern boy is the first real strong song that offers a great chorus and is musically well-packed in a sober wave construction that reminds me overall a lot of TAME IMPALE, so without a doubt the finest track on offer here. Closing track on side-A is the RUFUS WAINWRIGHT meets HOZIER meets DOTAN slightly depressing slow melancholic popsong Call it what you like. Side-B starts with another very strong TAME IMPALE meets JOHN GRANT kinda chamber pop song called The promise. It seems that Steven is at his best during those calmer songs, because also following track Kids play is another beautiful calmer RUFUS WAINWRIGHT ish romantic chamber pop song, with very little use of instruments and with a strong focus on Steven's vocalwork, just like the rest of the album. Asleep at the wheel is a little more uptempo, but once again brings RUFUS WAINWRIGHT similarities to my mind. The album closes with Even the bird, a somewhat experimental dark melancholic sounding tune that recalls NEIL FINN again. Concluded, don't expect any happy or rocking tunes here, but instead one of those minimalistic well-thought chamber popalbums that is best recommended to the fans of all mentioned acts. Somewhere in between those acts you can put this album of STEVEN DAYVID MCKELLAR. Check it out for yourself at: https://stevendayvidmckellar.com/
(Points: 8.5 out of 10)
DANA GAVANSKI 'YESTERDAY IS GONE' (FULL TIME HOBBY/KONKURRENT)
Out of Canada comes DANA GAVANSKI, a singer/songwriter who spents most of her time in London and Belgrad, and she now has released her debut album Yesterday is gone. The included music is a mix of dreampop, calmer relaxing pop/rock and singer/songwriter pop, kinda in the style of CATE LE BON and WEYES BLOOD, although you can also hear influences from JOAN BAEZ, MARIANNE FAITHFUL and JONI MITCHELL when she is singing in a high-pitched octave. 10 songs are included and we can easily conclude that this is a beautiful album from start to finish. If we have a look at the highlights, I need to mention the haunting Catch, the catchy rockier tune Trouble, the poppy melancholic romantic poprocker Yesterday is gone (sounds like THE CARPENTERS meets THE CORRS, one of the few more commercial sounding tunes), Everything That Bleeds (more rockier tune, bit alternative) and Other Than (uptempo pop/rock). Dana's vocals make this album very interesting and the smooth laid-back lush pop/rock/dreampop will definitely appeal to fans of WEYES BLOOD. More info at: http://danagavanski.com/
(Points: 8.3 out of 10)
FLAMING ROW 'THE PURE SHINE' (PROGRESSIVE PROMOTION RECORDS/GERMANY IMPORT)
The German project FLAMING ROW has already released a couple of concept records before The pure shine, but this is the first time I get to hear and review their music. The pure shine is a concept album written by lead singer MELANIE MAU and guitarist/bassist/producer MARTIN SCHNELLA, whom are the main people behind FLAMING ROW. This new concept record is based on the classic novel The Dark Tower by STEPHEN KING and is musically your typical concept/Progrock opera style, so with a lot of diversity and long stories in the lyrics that all together form 1 complete story. Like many other similar concept records, also this one is featuring a lot of guest singers and musicians, such as Glynn Morgan (THRESHOLD), Johan Hallgren (PAIN OF SALVATION), Jimmy Keegan (ex-SPOCK'S BEARD), Dave Meros (SPOCK'S BEARD), Eric & Nathan Brenton (NEAL MORSE), José Pepe Jimenez (CARLOS SANTANA) and many more. The result of 6 years of hard work is in front of us, a full-length CD divided in 6 songs. As mentioned, the music is clearly Progrock Opera based and is therefore highly recommended to fans of NOSTRADAMEUS, MERLIN, AYREON, JACK THE RIPPER and such, but also SPOCK'S BEARD/NEAL MORSE/TRANSATLANTIC fans will definitely appreciate this high quality album. There is enough diversity to keep it interesting, such as can be heard during an instrumental like Relentless pursuit that features a Celtic/Irish kinda influence, although it still rocks quite hard. The melodic choruses that pass by in most of the songs are featuring some beautiful harmonyvocals and the absolute highlight is without a doubt The final attempt, which has a terrific chorus. The packaging is really excellent, there is a 2nd disc included, which is the instrumental version of the whole album, and overall speaking, it is high quality music we get to hear and I can therefore easily recommend it to fans of any of the mentioned acts. Check it out for yourself at: https://www.facebook.com/flamingrow
(Points: 8.5 out of 10)
SHARK ISLAND 'BLOODLINE' (MANIFEST MUSIC/USA IMPORT)
Formed all the way back in 1979 by lead singer RICHARD BLACK, the American band SHARK ISLAND were definitely one of the major label signed bands that was destined for fame and fortune when they released their album Law of the order on EPIC RECORDS in 1989. It was a time when bands like GUNS'N'ROSES, THE CULT, WHITESNAKE, AEROSMITH, WARRANT, WINGER and countless more hardrockbands ruled the rockworld. Sadly SHARK ISLAND only found their way to a certain amount of people, so their 1989 release went into a cult status in the following decade. The band reformed a few times, even released an album on FRONTIERS RECORDS, and are now back with another great new album that might as well be their finest since that classic 1989 album. The current line-up of SHARK ISLAND features Richard on vocals, Chris Heilmann on bass, Alex Kane and Damir Samic on guitars and Alen Frjlak on drums. The result is a very strong classic Hardrock sounding release that will whet the appetite of any fan of the classic days when the aforementioned bands were massive. Songs like Make a move, Fire in the house, Crazy 8's, Rocks on the rocks and Law of the order are the kind of tough fist-in-the-air hardrockers we all love and I have always found SHARK ISLAND the perfect cross between L.A. GUNS, THE CULT and AEROSMITH. On this new album they also sound exactly like that combination, so I can highly recommend it if you're into that late 1980s raw sleazy Hardrocksound with big sing-a-long choruses. More info at: https://www.sharkislandmusic.com/
(Points: 8.6 out of 10)
VANJA SKY 'WOMAN NAMED TROUBLE' (RUF RECORDS/GERMANY IMPORT)
In 2018 the guitarist/singer/songwriter VANJA SKY released her debut album Bad penny and now there is the follow-up Woman named trouble. She is coming out of Croatia and playing the heavy Bluesrock like we also know it from a lot of other female gunslingers, such as SAMANTHA FISH, ANA POPOVIC, JOANNE SHAW TAYLOR, etc. Together with bassist Artjom Feldtser, drummer Hanser Schuler and producer Roger Inniss, she recorded a great new album in Hamburg, Germany. 11 songs are included on the album, of which 3 are covers, including an awesome version of RORY GALLAGHER's Shadow play. From her own originals, it is a pleasure to listen to songs like Rock 'n' Rolla train, Hard times and Let's get wild, all hard-hitting heavy rockers with a bluesy twist, but overall speaking VANJA SKY is definitely going for a more Hardrock orientated approach than her bluesy debut from 2 years ago. I am quite surprised to see her develop so quickly to such a strong performer, both vocally and as a guitarist. Definitely a must-have for fans of SAMANTHA FISH, ANA POPOVIC, JOANNE SHAW TAYLOR, etc Check her out at: https://vanjasky.rocks/
(Points: 8.3 out of 10)