HOT NEW REVIEWS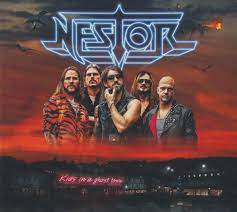 NESTOR 'KIDS IN A GHOST TOWN' (INDEPENDENT/SWEDEN IMPORT)
I thought that PERFECT PLAN, H.E.A.T., ONE DESIRE and NIGHT FLIGHT ORCHESTRA were the best thing available in picture perfect (Swedish) AOR/Melodic Rock nowadays, but after hearing the sensational first 2 songs on the official debut full-length CD Kids In A Ghost Town of the Swedish band NESTOR, I am actually considering to perhaps call this album one of the finest pure AOR releases in the past 10 years! NESTOR comes (again) out of Sweden and their sound fits somewhere between the aforementioned bands, yet what makes them standout is the superb vocalwork of singer Tobias Gustavsson! The band was originally formed all the way back in 1989, released a few EPs somewhere along the way during the 1990s, but it took them a pandemic to actually record and release a full-length album. The rest of the line-up consists of Jonny Wemmenstedt (guitar), Martin Frejinger (keyboards), Marcus Åblad (bass) and Mattias Carlsson (drums), and there are (not counting the intro) in total 10 songs on the album, and from start to finish this is the ultimate dream for any AOR/Melodic Rockfan out there, so forgot all those wanna-be acts on FRONTIERS RECORDS, because NESTOR is the real deal! Those first 2 songs (On The Run and Kids In A Ghost Town) absolutely belong to the best you can get in Classic 80s uptempo hookladen AOR, so it's as good as NIGHT FLIGHT ORCHESTRA or PERFECT PLAN, only with (perhaps) even stronger lead vocals, so NESTOR is the ultimate band to check out if you're into that classic 80s AOR sound!
Following track Stone Cold Eyes has a real 80s Scandi Melodic Rocksound that finds its way somewhere between TREAT, DAVINCI and DALTON, including a very catchy chorus. Perfect 10 (Eyes Like Demi Moore) is the way we like it, so yes indeed Perfect 10 AOR again here, with a certain SURVIVOR meets FORTUNE's 1985 classic debut sound (especially during the bridge and sensational dut-dut keyboard driven chorus). It never crossed my mind that a song about DEMI MOORE would become one of my favorite songs, but NESTOR succeeds here and makes me wonder if Demi herself will ever hear the song! These Days is big-time bombastic midtempo AOR/Melodic Rock, with a slight TOTO grooviness slipping through, although the Arena Rock chorus shouter makes you long back to the times when BON JOVI and EUROPE were on top of the charts! A huge surprise follows, because none-other than 80s pin-up pop princess SAMANTHA FOX sings a duet with Tobias during the 80s Power Melodic Rock Ballad Tomorrow. Next track We Are Not OK is a semi-AOR Ballad masterpiece where everything sounds perfect again, including an amazing bombastic massive chorus, so here they are delivering the goods big time as if we're listening to a classic JOURNEY or SURVIVOR semi-ballad. The most rocking tune follows in the shape of the lovely uptempo AOR/Melodic Rocker Firesign. 1989 has a cool 80s American Radio intro, while the song itself is a great uptempo melodic rocker with of course the pure 80s approach again, yet sounding crystal clear and up-to-date for today's world. Closing track It Ain't Me starts with a dialog between ROB LOWE and DEMI MOORE (there she is again!), which starts very calmly and shows the incredible voice strength of Tobias, while the song itself is a great powerful AOR ballad. The choruses on all the songs of the album are CLASSIC AOR HEAVEN, so nothing stands in your way to get this little beauty a.s.a.p., and hopefully soon it will also be released on vinyl. We will have an interview with the band, but meanwhile check them out at: https://www.nestortheband.com
(Points: 9.3 out of 10)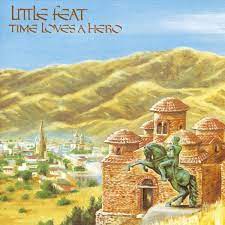 LITTLE FEAT 'TIME LOVES A HERO VINYL RECORD' (WARNER BROS RECORDS/SPEAKERS CORNER RECORDS/GERMAN IMPORT)
Although they never scored major hit singles that we still hear a lot nowadays, the legendary American band LITTLE FEAT was quite popular during the 1970s, but after their main guitarist/singer/songwriter LOWELL GEORGE disbanded the band in 1979, and also died shortly thereafter, it was all over for this innovative band. The band was reformed by surviving members in 1987, and they have since then continued to record and perform, but they never reached the magic they had during the 1970s. The only original member of the first line-up from 1969 is BILL PAYNE, so if we talk about their real classic album releases we have to grab back to their 1970s catalogue. Time Loves a Hero was LITTLE FEAT's 6th studio album, produced by the legendary TED TEMPLEMAN (VAN HALEN, THE DOOBIE BROTHERS, AEROSMITH…), originally released back in 1977, which was a few weeks before yours truly was born! SPEAKERS CORNER RECORDS has now 44 years later fully remastered the album by using pure analogue components only and re-released it on vinyl. I have to say that the sound is absolutely amazing if you compare it to the original vinyl record release from 1977, because it sounds like it was recorded yesterday! LITTLE FEAT's music was a mix of all kinds of styles, which was very common to do during the 1970s. Rock and roll, blues, jazz, soul, country, R&B, southern rock and westcoast were perfectly melted on the LITTLE FEAT albums, and now 45-50 years later we can easily call these album classics. Besides Lowell and Bill, the other members of LITTLE FEAT on this album were Paul Barrère (guitar, vocals), Sam Clayton (congas, percussion, vocals), Kenny Gradney (bass) and Richie Hayward (drums, percussion, vocals) besides a list of guest musicians, such as several trumpet/sax players and DOOBIE BROTHERS members MICHAEL MCDONALD (vocals) and PATRICK SIMMONS (guitar, vocals). The resulting 9 songs featured this amazing organic sound that was basically resembling the 1970s spirit, which was being innovative and putting a live / jam like session on every album release a band did back then. This is also the reason why bands released so many albums during that decade, and they all sounded very natural, because they went into the studio and started recording whatever they had in mind! Anyway, when hearing the album opener Hi Roller, we can hear the pure 1970s mixture of westcoast, jazz fusion, pop/rock, soul and southern rock. This song is a superb classic piece of music that melts all the music styles into 1 organic song that has a healthy mix of guitar, hammond organ, funky bass, groovy drumming, pop melodies/hooks etc, kinda like STEELY DAN meets ZAPPA, and all these acts were on top of their league during the 1970s! The following titletrack Time Loves A Hero is slightly calmer, but Rocket In My Pocket and especially the instrumental progressive rocking Day at the Dog Races rocked again, and they are both showing the diversity of LITTLE FEAT's sound. Also the fact there were 3 singers in the band was very typical for the 1970s, and instrumental they were spot-on from start to finish. Side B opens with Old Folks Boogie, which is a groovy poppy soulful HALL & OATES/BILLY JOEL/STEELY DAN mixture, with also jazzy and bluesy influences like TOTO also did sometimes. The following songs Red Streamliner and New Delhi Freight Train are lovely polished westcoast pop/rock pieces with a funky vibe, reminding of KENNY LOGGINS/MESSINA and very early LE ROUX, while the bluesy Keepin' Up With The Joneses is basically pure STEELY DAN. The album closed with Missin' You, a nice calmer acoustic singer/songwriter piece a la JAMES TAYLOR. It surprises me that this album stood the test of time quite easily and now with this remastered vinyl release, I can highly recommend everyone to check out one of the greatest underrated bands from the 1970s. Time Loves A Hero is a superb album after all these years, and LITTLE FEAT should definitely get the same recognition as bands like TOTO, ZAPPA, STEELY DAN, DOOBIE BROTHERS and such, because I feel they have never been as big as those acts, which is a shame, but also understandable since they lost one of their founding and most important members during their successful years, so they couldn't continue in their strongest line-up after 1979. Anyway, if you're not familiar with them, get yourself a copy of this wonderful LITTLE FEAT album! The remastered vinyl album is available through: https://www.jpc.de/?lang=en (Europe) and http://www.acousticsounds.com (USA).
(Points: 8.8 out of 10)
CARLO SANTANA & MAHAVISHNU JOHN MCLAUGHLIN 'LOVE DEVOTION SURRENDER VINYL RECORD' (COLUMBIA RECORDS/SPEAKERS CORNER RECORDS/GERMAN IMPORT)
In the spirit of JOHN COLTRANE two legendary musicians recorded an album together in the early 1970s. CARLOS SANTANA and JOHN MCLAUGHLIN were both huge back then with their bands SANTANA and THE MAHAVISHNU ORCHESTRA, but with this album they went for an experimental improvised sound that here and there sounded like extremely complex progressive jazz-rock. Now SPEAKERS CORNER RECORDS has remastered the album, so a new vinyl record release is done at the best possible analogue way like they do with each release. The 5 included songs on the album were recorded in 1972 and 1973 and they are a mix of JOHN COLTRANE covers, a traditional Gospel song and 2 self-written songs by John. Besides Carlos on guitar and John on guitar and piano, the other involved members were Mahalakshmi Eve McLaughlin – piano, Larry Young (under his Muslim name Khalid Yasin) – piano, organ, Doug Rauch – bass guitar, JAN HAMMER – Hammond organ, drums, percussion, BILLY COBHAM - drums, percussion, Don Alias – drums, percussion, Mike Shrieve – drums, percussion, Mingo Lewis – percussion and Armando Peraza – congas, percussion, vocals. An incredible line-up with as result an album that is one of the most difficult and complicated albums CARLOS SANTANA has even been involved with. It might also be his heaviest record, because already during the opener A Love Supreme there's a lot of shredding going on by Carlos. It's improvised heavy proggy jazz-fusion rock, with a rather cool twin-guitar solo as well halfway, while a hammond comes along with some vocals later on and all together that gives it an exciting twist. This 8 minutes counting tune is followed by a calmer piece titled Naima, which is mostly situated around the Spanish guitar. The Life Divine clocks in at 9:30 minutes and is an interesting mixture again, with some more melodies this time due to the vocals that feel like tribal singing and this song is basically progrock orientated, yet with the vibe of World Music, African meets Latin rhythms and here SANTANA delivers an incredible guitarsolo! I do miss however the melodic SANTANA sometimes here, because it is a lot of shredding we hear on the record, something that would make YNGWIE MALMSTEEN jealous! Carlos plays on the longest song of the album, the Gospel traditional Let Us Go Into The House Of The Lord, as if he is playing a complicated jazz saxolo, with a lot of guitar shredding and some moments it is really quite heavy, almost complex progressive rock you could call this. Closing track Meditation is a calmer piece, a relaxing piano/acoustic guitar dominated song that is much needed after the previous heavy complex tune. Once again the perfect sound of this remastered album sounds like Carlos and John recorded it yesterday, but as already mentioned the music is quite extreme here and there, not the kinda SANTANA music you're probably familiar with. On the other hand, the fans of complex prog and jazz in the classic 70s improvisation direction will absolutely love this album. The vinyl album is available through: https://www.jpc.de/?lang=en (Europe) and http://www.acousticsounds.com (USA).
(Points: 8.3 out of 10)
ARETHA FRANKLIN WITH THE RAY BRYANT COMBO 'ARETHA VINYL RECORD' (COLUMBIA RECORDS/SPEAKERS CORNER RECORDS/GERMAN IMPORT)
Nowadays we are listening to YOLA, ADELE and of course the late AMY WHINEHOUSE, but 60 years ago an 18-year old girl sang on a record that was produced by Columbia's record producer JOHN H. HAMMOND. Aretha was the debut album of the mighty ARETHA FRANKLIN, and it was recorded in New York between August 1960 and January 1961. This album has been carefully remastered by SPEAKERS CORNER RECORDS, and it has never sounded better on vinyl than now via this new vinyl release. Musically speaking, there is a wonderful mix of slow and uptempo pieces here, and on each and every song Aretha sounds like the queen of soul she would later become. Right from the start it's spot-on, no holding back, Aretha is delivering an amazing vocal performance here, and you would never think this was an 18-year old girl singing. She was backed by THE RAY BRYANT TRIO, and the included material is a nice mix of pop and jazz standards. Are You Sure for example is a sensational uptempo piece that shows Aretha at her most soulful rocking way like only for example ETTA JAMES and TINA TURNER could ever accomplish. A song like It Ain't Necessarily So on the other hand is a pure slow bluesy tune with a jazzy twist and an incredible vocal performance by Aretha, clearly showing where AMY WHINEHOUSE got her inspiration from! Not a single weak moment to be found here, and as aforementioned, the crystal clear sound of this new vinyl release is just phenomenal. The vinyl album is available through: https://www.jpc.de/?lang=en (Europe) and http://www.acousticsounds.com (USA).
(Points: 8.6 out of 10)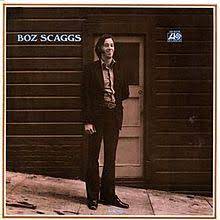 BOZ SCAGGS 'BOZ SCAGGS VINYL RECORD' (ATLANTIC RECORDS/SPEAKERS CORNER RECORDS/GERMAN IMPORT)
The legendary American singer/songwriter/guitarist BOZ SCAGGS had already released a solo-album in 1966, the collectable debut album Boz, but under his moniker BOZ SCAGGS it all started with the same titled Boz Scaggs, which was released in 1969. 52 years later I received a test pressing vinyl record of this newly remastered album, and like every SPEAKERS CORNER RECORDS release, also this one sounds picture perfect. Musically speaking it was the start of his signature sound, although side-B of the record shows a slightly different side of BOZ SCAGGS. It's a soul injected blues record that has a lot of highlights, such as the beautiful Loan Me A Dime that is a 13 minutes counting blues song that starts calm but as the song develops, it gets more uptemoo rocking towards the end, and this song shows a somewhat different BOZ SCAGGS than on his later familiar records. There's also some hillbilly country to be heard, such as Waiting For A Train, and JACKSON BROWNE meets JAMES TAYLOR ish singer/songwriter pop/rock during the excellent Sweet Release that also smells a lot like VAN MORRISON. However, there's of course also the funky R&B influenced soulful rock like we know it from Boz's later albums, such as the lovely midtempo I'm Easy, the soulful ballads I'll Be Gone and Another Day (Another Letter) that have a sorta 1950s SAM COOKE kinda direction, yet the honky-tonk country influenced Now You're Gone is then something else again. One of the most beautiful songs is the TIM HARDIN ish (How Could We Hang On To A Dream) singer/songwriter-pop piece Finding Her, while closing track of side-A is Look What I Got, a very slow country influenced WILLIE NELSON ish song. The mixture of styles makes this BOZ SCAGGS album very interesting, especially since it's his 1969 record that was released years before he would really breakthrough. You could already smell the typical 70s mix of soul, rock, funk, blues and other styles, which would eventually lead to his most successful album Silk Degrees in 1976. Anyway, I would recommend you to check out this solo album if you want to hear how it all started for this legendary musician. The vinyl album is avalable through: https://www.jpc.de/?lang=en (Europe) and http://www.acousticsounds.com (USA).
(Points: 8.4 out of 10)
PIRATE 'PIRATE' (BIRD'S ROBE RECORDS/CREATIVE ECLIPSE PR/GERMAN IMPORT)
The Sydney, Australia based band released their self-titled debut back in 2008, and now 13 years later the label BIRD'S ROBE RECORDS re-releases it. The band's music is quite complex instrumental progressive rock with jazz influences and they remind me of innovative 1970s albums from acts like KING CRIMSON, MAHAVISHNU ORCHESTRA, BILLY COBHAM and more recently, THE MARS VOLTA also comes to mind. PIRATE is formed around guitarist SHAN ABEY, bassist BEN NORVILL, drummer TIM ADDERLEY and saxophonist (and vocalist) JOEL WOOLF, and they managed to release 3 albums before it became quiet around them after their final release Left Of Mind in 2009. The most interesting fact about the 5 songs on this album is that they switch so easily from a complex progressive rockband to a funky jazzband within 1 song. For example the superb Batman's Last Dance has got such a lovely twist, and this makes them a highly recommended band to the open-minded prog and jazz fans to check out! Bands like SOFT MACHINE and WEATHER REPORT, but also ZAPPA, they all did this in the 1970s as well, so if you like any of the aforementioned acts, then you will absolutely love PIRATE. I am not sure if they are still around, but in case you're not familiar with them, then do check out their re-issued same titled album from 2008 which has now been made available again via BIRD'S ROBE RECORDS. More info at: https://birdsrobe.bandcamp.com/album/pirate
(Points: 8.4 out of 10)
SOLKYRI 'NO HOUSE' (BIRD'S ROBE RECORDS/CREATIVE ECLIPSE PR/GERMAN IMPORT)
BIRD'S ROBE RECORDS has become the most productive label for Australian music at the moment, because every month I receive new releases. Most of these albums are re-releases to celebrate the label's 10th year anniversary, and also in the case of Australian band SOLKYRI it concerns a re-release. No House was their debut EP album released in 2011, and now 10 years later re-released. In 2020 they released their 3rd full-length record Mount Pleasant, which gave them an ARIA charting in Australia, and now with the re-release of their first official recordings, they should gain some attention from the rest of the world. SOLKYRI is formed around Adam Mostek, Andrew Pearsall, Nicholas Hall and Ryan Fitz-Henry, and their EP has 6 songs included that musically speaking is instrumental post-progressive rock at it's very best! The band takes you on this lovely journey filled with creative innovative melodic sounds that set you in trance, and here and there we can hear some heavier complex parts, but if you like for example a band such as MOGWAI, then you will love this band as well. More info can be found at: https://solkyri.bandcamp.com/album/no-house
(Points: 8.4 out of 10)
KOSMODOME 'KOSMODOME' (KARISMA RECORDS/PLASTIC HEAD DISTRIBUTION/CREATIVE ECLIPSE PR/GERMAN IMPORT)
KOSMODOME is a Norwegian psychedelic rockband formed around 2 brothers, STURLE SANDVIK on guitars and vocals, and SEVERIN SANDVIK on drums, and together with guest musicians JONAS SAERSTEN (Rhodes, organ, piano, mellotron), bassist OLE-ANDREAS JENSEN and guitarist MORTEN E. OLSEN, they recorded a wonderful self-titled debut album as KOSMODOME. The included music is clearly late 1960s psychedelic/progressive rock orientated, with a lot of room for classic prog/psychedelic rocking guitar riffs and beautiful relaxing vocal melodies. The music is very melodic and basically breathes the classic late 1960s/early 1970s vibe. From start to finish this is one of those records you put on and listen to without skipping any of the 8 included songs. The absolute highlights are the superb Deadbeat and the uptempo classic rocker Waver 1 and 2, but if you like 1 song, you will love them all, so go check out KOSMODOME's sensational debut album at: https://www.facebook.com/Kosmodome/
(Points: 8.6 out of 10)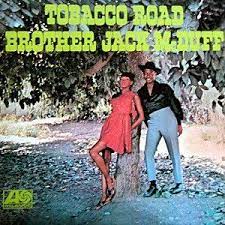 BROTHER JACK MCDUFF 'TOBACCO ROAD VINYL RECORD' (ATLANTIC RECORDS/SPEAKERS CORNER RECORDS/GERMAN IMPORT)
I was not familiar with this album before, but thanks to SPEAKERS CORNER RECORDS I received a test pressing vinyl edition of this remastered album that was recorded within 2 days about 55 years ago! It was recorded at the famous Chess Studios in Chicago on August 22 and August 23, 1966! Tobacco Road is the 2nd album on ATLANTIC RECORDS of American organist BROTHER JACK MCDUFF, and it is a sensational album that definitely sounds on this new vinyl edition as if he and his fellow musicians are standing in the same room playing for you instead that you're listening to an album on your record player! This new carefully remastered vinyl release is therefore a must-hear for anyone into real music! Brother Jack is no longer with us sadly, but he did a lot of great things in the past, playing with legends like KENNY BURRELL and GEORGE BENSON, and he released a lot of music. In fact, he discovered George when he was very young and played in Brother Jack's band. Jack was mainly active in the hard bop and soul jazz era of the 1950s and 1960s, and this particular record shows that his organ sound was phenomenal. Tobacco Road also has a funky vibe, something which you didn't hear on the countless other Jazz/Blue Note albums at the time. Besides Brother Jack on Hammond, other involved musicians were Fred Berry and King Kolax on trumpet, John Watson on trombone, Red Holloway on tenor saxophone, Danny Turner on tenor saxophone, flute, Lonnie Simmons on baritone saxophone, Bobby Christian on vibraphone, percussion, Roland Faulkner and Calvin Green on guitar, Loyal J. Gresham on electric bass, Joe Dukes and Bob Guthrie on drums and J. J. Jackson as arranger and conductor. The 9 included songs were a mix of 2 originals composed by Jack himself, and 7 covers of songs originally composed by RUDY TOOMBS, JOHN D. LOUDERMILK, BOB DYLAN, IRVING BERLIN and several others. The music is a mix of beautiful calmer songs and swinging uptempo pieces. This is very relaxing smooth jazz record in the old school style with various instrument solo's such as organ, flute, sax, but of course Jack's organ is the most notable instrument. Among the beautiful calm pieces we can note The Shadow Of Your Smile and This Bitter Earth, while swinging pure jazz can be heard during And The Angels Sing (with saxsolo) and Alexander's Ragtime Band (with its many twin-sax melodies sounding absolutely fantastic!). The tight rhythm section and fantastic sound quality are making this new vinyl edition of the album an absolute winner, but the real highlights for me personally are the fantastic uptempo soulful Can't Get Satisfied, which also features some vocals and this song also has this aforementioned funky vibe, kinda like JAMES BROWN. I am in love with the lovely Hammond organ work by Jack here, because this is a real party tune and also closing track Wade In The Water has that same feeling, yet no vocals here. Funnily enough these are the 2 songs Jack composed himself, so he showed that on his own he could deliver timeless masterpieces that stood the test of time, especially now on this new high quality vinyl release. Definitely something you need to hear, no matter if you like jazz, funk, soul, prog or anything else, this is a fantastic instrumental Hammond Organ orientated album. The vinyl album is available through: https://www.jpc.de/?lang=en (Europe) and http://www.acousticsounds.com (USA).
(Points: 8.7 out of 10)
SUSAN AQUILA 'SUSAN AQUILA' (26 RECORDS/SONY MUSIC/USAIMPORT)
When your same titled album is distributed by SONY MUSIC and well-known musicians like drummer ROD MORGENSTEIN (WINGER, FIONA) and bassist BILLY SHEEHAN (MR. BIG) appear, then you're doing something right! In this case it concerns the singer SUSAN AQUILA from New York, who sings and also wrote all of the 12 songs on her 4th album together with her guitarist JOEY JEM CANGEMI. She also plays violin, viola & cello, and is therefore comparable to the female singer of QUATERFLASH, although musically speaking Susan's music is tougher 1980s female fronted melodic hardrock orientated that is not far removed from classic LITA FORD and VIXEN. Other involved musicians are keyboardplayers ERIC CANTOS and NICK TROIANI, bassists BOBBY BRENNAN, RENNIE XOSA (BENNY MARDONES, VOG) and ROB ALFONSO and drummers TOMMY STIEGLER and GEORGE GIORDANO. The first couple of songs are ballsy hardrocking tunes in the LITA FORD/FIONA style, Just Like That, Things You make Me Do and Mina All Mine, but with No, I'm Not That Kinda Girl things get poppier, reflecting a sorta 1960s pop influence a la THE BANGLES. On the other hand you also have a really cool instrumental titled Eruption, which is Susan's tribute to EDDIE VAN HALEN, but then via a violin vs guitar duel. Besides the VAN HALEN cover Eruption, there is also a great THE WHO cover I Can't Explain, and Life On The Line is another nice uptempo rocking instrumental showing Susan's virtuose violin playing. The remaining 5 songs are Peace & Love (groovy rocker), Cathedral (short instrumental), Su Di Noi (another cover I think, done in a rockballad style), Flight Of The Wounded Bumble Bee (EXTREME cover, instrumental violin solo) and closing track Jump (VAN HALEN cover). All together a nice introduction to a talented musician/singer/songwriter, although hopefully next time some more originals. For more info please go to: http://www.woodviolins.com/susan-aquila
(Points: 8.2 out of 10)
SLEEPMAKESWAVES 'LIVE AT THE METRO' (BIRD'S ROBE RECORDS/CREATIVE ECLIPSE PR/GERMAN IMPORT)
The sensational instrumental progressive post-rockband SLEEPMAKESWAVES from Australia performed a show at Sydney's Metro Theater back in 2015, and this new release is a live recording of that wonderful performance. Without a doubt, this band has got to be one of the finest modern instrumental prog/post-rockbands around these days. 9 songs are included and from start to finish you find yourself in a sorta adventure that you just don't want to leave. It's full speed ahead with all these massive sounding songs that will especially appeal to fans of LONG DISTANCE CALLING and PORCUPINE TREE. The album is also released as double-LP and I can highly recommend you to check out one of Australian's best innovative rockbands at the moment. More info at: http://www.sleepmakeswaves.com
(Points: 8.7 out of 10)
MALO MORAY & HIS INFLATABLE KNEE 'IMPROVISATIONS FROM THE SOLAR SYSTEM (INDEPENDENT/CREATIVE ECLIPSE PR/GERMAN IMPORT)
Now here we have something quite experimental that recalls memories of works by BRIAN ENO or JOHN ZORN. It concerns a project by German bassist/multi-instrumentalist/concept artist Martin 'Malo' Riebel who combines strange noises, such as tape recording machine, nature sounds and such with his bass playing and other electronic devices. The result feels like an avant-garde soundtrack to a documentary or a sci-fi movie, sometimes haunting and suspense like, but at other times very natural and organic. Definitely recommended to people who want to hear something completely different. Check for yoursel at: https://malomoray.bandcamp.com/
,
(Points: 8.2 out of 10)
CLAYHANDS 'IS THIS YES?' (BIRD'S ROBE RECORDS/CREATIVE ECLIPSE PR/GERMAN IMPORT)
Is This Yes? is the debut album of the Australian band CLAYHANDS from Sydney, Australia. 6 instrumental songs can be found on the album by this band, which is by the way formed around Heather Darvey (drums, percussion, conga, glockenspiel, etc.), Matthew Brazel (guitars, synths, FX, etc), Ronan Geraghty (piano, keys, drums, bass, synths, etc) and Ricky Thom (guitars, kalimba, percussion). Musically speaking there are definitely influences of YES, so to answer their question I would say no, because the music is much more modern and combines all kinds of influences. I would say CLAYHANDS melts progrock, synthwave, avant-garde sci-fi movie music, krautrock and all kinds of other out-of-the-ordinary noises and sounds, ending up sounding like a really great instrumental band that puts you in a trance during each and every song on the album. HANS ZIMMER and TANGERINE DREAM fans will absolutely love this album, and I definitely enjoyed CLAYHANDS, because they add a bit more prog/symfo/synths to their sound than the aforementioned krautrockacts, and hopefully we will be able to someday see them live on stage, because I think they will be able to put on a great show. Meanwhile, check out this great band at: https://clayhands.bandcamp.com
(Points: 8.7 out of 10)
MARCO MATTEI 'OUT OF CONTROL' (7 MEDIA THIRD STAR RECORDS/GLASS ONYON PR/USA IMPORT)
As soon as the first few seconds of the debut album of Italian guitarist MARCO MATTEI blasts through the speakers, it's clear we are dealing with something very interesting. Opener Would I Be Me is a mix of 70s progrock and world music in a way that reminds me a lot of PETER GABRIEL in his early years, so with the slight GENESIS touch still in place. Marco is a talented guitarist and songwriter, but he gathered around him a list of guest musicians (including a few very well-known ones!) and singers with whom he recorded the material on Out Of Control all over the world (including Italy, the Netherlands, England, Ireland, Portugal, South Africa, India and the United States), which is why it sounds really diverse. The album was mastered by Christian Wright at the Abbey Road Studios, and in total we can find 12 songs.
Besides Marco on Electric and Acoustic Guitars, Guitar Loops, Resonator, Bouzouki, Electric Bass, Bowed Electric Bass, Vocals, Shaker, Electronic and Acoustic Percussion, Samples and Programming, we can find vocalists Dave Bond, Matthew Brown, Felix Brandt, Barak Seguin and Richard Farrell, drummers Jerry Marotta, Pat Mastelotto, Chad Wackerman, Clive Deamer, Matt Crain, Gianni Pierannunzio, Salvatore Mennella and Matilde Mattei, bassists Tony Levin, Fabio Trentini and Gabriele Bibbi Ferrari, Duilio Galioto (Synths, Moog, Wurlitzer, Piano, Mellotron), Paolo Gianfrate (Keyboards) and a few more musicians. The list of participated musicians is long and the included music is very diverse, so all together a very interesting album that started as mentioned earlier on in the review with the proggy Would I Be Me.
Following song Picture In A Frame is a lovely pure Progressive Rock piece with beautiful melodies, both vocally and instrumentally speaking, reminding of a cross between ENCHANT, SPOCK'S BEARD and 70s GENESIS. Vocalist DAVE BOND returns again on the superb More Intense, which is a slowtempo progrock light song that is dangerously close to both PETER GABRIEL and PHIL COLLINS in their early 80s period, although PINK FLOYD influences can also be traced here. It is done so well that you would almost believe this was recorded 40 years ago. However, what makes this album such an interesting one is the aforementioned diversity, because a song like I'll Be Born is a calmer close-harmonyvocal song that reveals folk and indie influences, reminding a bit of BEAR'S DEN, FLEET FOXES and FAMILY OF THE YEAR, and also the next song Lullaby For You has that approach, with even a lap steel guitar Americana upfront.
Anymore changes once again the direction, because this is a ballsy 70s orientated uptempo classic melodic (hard) rocker in the style of THIN LIZZY, URIAH HEEP and UFO. The groovy instrumental southern rock ish Tomorrow follows, while Void slows the tempo to a lovely slow slightly bluesy space/prog rock adventure, although halfway the song it gets this early 70s psychedelic rock twist. On Your Side is also proggy in a PINK FLOYD/GENESIS way again, while the instrumental After Tomorrow is a nice short world music influenced prog tune. Hidden Gems is another instrumental piece, although this one is a beautiful slow tempo bluesy song with the fantastic melodic guitarsolo of Marco, who is an excellent guitarist by the way, which he also shows on the closing track Gone (a cover of the ANDY TIMMONS song). This debut album of Marco is definitely worth checking out if you want to hear high quality diverse music. More info can be found at: https://marcomattei.art/music/out-of-control/
(Points: 8.5 out of 10)
ETERNAL FLIGHT 'SURVIVE VINYL RECORD' (METALAPOLIS/BERTUS/SUBURBAN)
The history of the French band ETERNAL FLIGHT goes back to my early days as a music reviewer, because their bandleader GERARD FOIS (vocals, guitar) was already active in DREAM CHILD, a band I reviewed back in the mid-1990s. When that band quit, Gerard founded ETERNAL FLIGHT, and I remember reviewing a demo of them about 20 years ago. 4 albums followed, and now there is Survive, of which I received a beautiful vinyl record edition. Musically speaking Gerard never changed and so along with other band members THIBAUD DUCROT (guitar), CEDRIC NGUYEN (bass) and THIBAUD PONTET (drums), ETERNAL FLIGHT recorded another great melodic progressive/power metal album. It's their 5th so far, but their very first on the METALOPOLIS record label. Although we need to get used to the high pitched vocals at first, it gets better when the tempo of the songs is slowing down. The first couple of songs are faster uptempo melodic power metal pieces with clear influences from JUDAS PRIEST, HEAVENLY, EDGUY, PRIMAL FEAR and such. When the direction changes a bit more to progmetal during Legions, it gets better, and when The Promise blasts through the speakers on the beautiful vinyl record edition, we get to hear a very strong melodic progressive metal song with a lovely melodic chorus, and a sound that is closer to VANDENPLAS and QUEENSRYCHE. The following track Is This The End and Evolution on Side-B are also in the progressive metal direction we all love so much. Further highlights are the uptempo melodic metal piece You And I and the melodic progressive rockballad Children Of The Earth that closes the album. The production is top-notch and especially on vinyl it sounds very impressive, although I have to admit that the incredible high level of the aforementioned bands is not reached all the time here. I would recommend the band to really go for the prog metal direction all the way on a future release, because now the faster power metal pieces suffer a bit from the slightly weaker vocals that just can't compete with the singers of the major players in the power metal field. Nevertheless, check out this French band at: www.facebook.com/ETERNALFLIGHT.BAND
(Points: 8.0 out of 10)
KING MOUNTAIN 'KINGDOM OF SHADOWS' (GROOVEYARD RECORDS/USA IMPORT)
The Greek band KING MOUNTAIN is formed around guitarist/vocalist STAVROS PAPADOPOULOS, bassist JOHN CHRISTOPOULOS and drummer CHRIS LAGIOS, and in 2020 they released their debut, which is now followed up by Kingdom Of Shadows. Musically speaking we are heading into groovy classic rock that is slightly American heavy southern rock orientated, although 70s British Rock influences are also traceable. If you can imagine a mix of LED ZEPPELIN, LYNYRD SKYNYRD, FREE, BLACKFOOT, WHITESNAKE and BADLANDS, then you're quite close to the fantastic huge sound of KING MOUNTAIN. 9 songs are included, and from start to finish this is how rock music should sound like. Highlights on this new album are the superb WHITESNAKEish Sister Freedom (featuring a wonderful catchy late 80s US Hair Metal ish chorus and lovely soaring shredding guitarwork), the slowtempo Ruined In Flames (combining the elements of classic rock, southern rock, doom/stoner and bluesy heavy rock quite perfectly, like JOE BONAMASSA meets KINGDOM COME), Out In The Cold (another dead ringer for WHITESNAKE fans) Hidden in the Shadows (the ultimate gem for fans of that late 80s groovy American Hardrocksound like TESLA, BADLANDS and GREAT WHITE) and the superb melodic rocking Winter (reminding a lot of BLUE MURDER and WHITESNAKE again, featuring a lovely chorus!). Closing track Slaves of the World is however the finest song, because every music influence is blended perfectly here. This song truly captures the KING MOUNTAIN sound at it's very best, starting as a pure Southern Rock orientated piece like a mix between BLACK STONE CHERRY, BLACKFOOT and RIVAL SONS, but underneath it also feature the classic (heavy blues) rock essence of FREE/BAD COMPANY/WHITESNAKE, especially during the strong vocalwork and lovely melodic rocking chorus. Without a doubt, this is a killer album that will definitely appeal to all the fans of real classic rock, southern rock and late 80s American Hardrock, so if any of the aforementioned bands is up your alley, then do not hesitate any further and go check out this album a.s.a.p. at: https://kingmountaingreece.bandcamp.com
(Points: 8.7 out of 10)
DIRTY DAVE OSTI 'RETRO SONIC BLUES TRAIN' (GROOVEYARD RECORDS/USA IMPORT)
Retro Sonic Blues Train is the 6th album of multi-instrumentalist/singer/songwriter DAVE OSTI, an incredible talented musician from California who does everything on his own, and he does it really well. He has this cool pure 70s groovy classic rock guitarsound and his voice sounds raw and crispy, just the way it needs to sound for his 70s heavy blues rock orientated material. Rockers like Kiss The Pain, The Drifter, River Of Shame (a bit southern rock ish, superb melodies) and When The Walls Come Down take you back straight to the 1970s, reminding of PAT TRAVERS, FOGHAT, HUMBLE PIE, ROBIN TROWER, MOUNTAIN, RORY GALLAGHER, 70s GARY MOORE, 70s ZZ TOP, etc. etc. There's also time for a lovely melodic bluesy ballad such as Bleeding Wishes, which is a must-hear for any GARY MOORE fans, and how about the laid-back closing track Goldmine, which also feels like a goldmine! This is really a step back in time, but in a good way for sure! I wish he would do a tour over here, because I am sure the place will be crowded and sweaty when he does his thing live in front of an audience! More info can be found at: http://www.grooveyardrecords.com/dirtydaveostiretrosonicbluestrain.html
(Points: 8.4 out of 10)
GUITAR PETE 'HELLHOUND BOOGIE' (GROOVEYARD RECORDS/USA IMPORT)
Another guitar slinger on the American label GROOVEYARD RECORDS is GUITAR PETE from New York City. 10 songs are on the new CD Hellhound Boogie of this excellent guitarist/singer/songwriter/producer, who is actually called PETE BRASINO. Other involved musicians are bassist MITCHELL HOFFMAN and drummer ANTHONY BERNARDO. Together they deliver a superb classic boogie heavy blues rock that sounds like a mix between ZZ TOP and SEASICK STEVE, with a lot of superb shredding guitarwork from Pete. From start to finish this raw sounding album delivers a dusty barroom boogie heavy blues rocksound at it's very best, with many highlights, such as Asphalt Outlaws, the superb sensational From Parts Unknown, Hellhound Boogie and the relaxing closing track It Rained For Daze. Make sure to check out this lovely album if you're a fan of especially ZZ TOP, SEASICK STEVE, BILLY F GIBBONS, WALTER TROUT, etc. More info at: http://www.grooveyardrecords.com/guitarpetehellhoundboogie.html
(Points: 8.5 out of 10)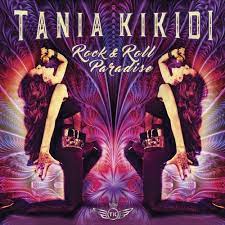 TANIA KIKIDI 'ROCK & ROLL PARADISE' (GROOVEYARD RECORDS/USA IMPORT)
Out of Greece comes lead singer TANIA KIKIDI and as soon as I heard her voice I knew this was going to be a great journey! Rock & Roll Paradise is her first CD, and besides Tania on vocals, the other involved musicians are guitarist/bassist/piano/keyboardplayer/producer/songwriter STAVROS PAPADOPOULOS and drummer CHRIS LAGIOS. Together they recorded 12 great rocking tunes that combine elements of 70s classic rock and 80s melodic hardrock. The first couple of songs are superb high quality uptempo melodic hardrocksongs, both Rock & Roll Paradise and Queen Rider are really sensational in a style of classic LITA FORD, PHANTOM BLUE, VIXEN and such 80s female fronted acts. Tania is an incredible lead singer with the perfect voice for this kind of rock and roll. The material is not just uptempo straight-ahead, but also quite groovy here and there, such as can be heard during Freedom Highway and Night Burner that both also feature catchy melodic choruses, with big fat guitar riffs as well, reminding slightly of HEAT (the German band that released 1 album in the 90s on ROCKWERK RECORDS), IF ONLY and LAOS. The superb Daughter Of The Wind has a classic HEART touch meets LANA LANE approach, with once again fantastic vocals and a sensational melodic rock/AOR chorus that will blow away any fan of classic female fronted AOR/Melodic Rock! Almost halfway the CD I am safe to say that this is one of the best female fronted rockalbums in ages! Other highlights on the debut CD of Tania are In The Eye Of The Storm (uptempo classic 80s DIO guitar riff driven melodic heavy rocker with a superb melodic pure 80s catchy chorus), the midtempo groovy melodic rocker You Keep Me True and the lovely Escape. I am deeply impressed by the voice and the 12 included songs of TANIA KIKIDI, which are not only perfectly sung, but also the guitarwork is phenomenal and above all, the songs are really catchy, so a must-have for any fan of female fronted melodic hardrock! More info can be found at: https://www.taniakikidi.com/ and https://taniakikidi.bandcamp.com/
(Points: 8.9 out of 10)
FABIAN 'I'M A MAN' (BEAR FAMILY RECORDS/GERMAN IMPORT)
When ELVIS PRESLEY became the biggest singer in the world about 65 years ago, there was a huge following of other American singers to follow his footsteps, usually led by label managers and scouts who were more interested in someone who had a certain Elvis look than if he could actually sing and perform. FABIAN had a short-lived fame and fortune period in the late 50s/early 60s, but was rather successful because of his looks and not his original music and songs. Although he could sing a bit and the material on this lovely compilation CD consists of a bunch of typical 50s uptempo rock and roll/rockabilly songs a la ELVIS, BUDDY HOLLY and RICKY NELSON, he was actually the first label created teen idol. Nevertheless, this beautiful looking CD of BEAR FAMILY RECORDS is still a recommended piece of music history, because it captures a completely different time frame in music history, and the music is really nice to listen to, although of course it never reaches the magic of The King. Nevertheless, fans of 50s rock and roll need to check out this terrific sounding CD through: www.bear-family.de
(Points: 8.0 out of 10)
VARIOUS ARTISTS 'THAT'LL FLAT GIT IT VOLUME 38 - ROCKABILLY & ROCK'N'ROLL FROM THE VAULTS OF LIBERTY AND FREEDOM RECORDS' (BEAR FAMILY RECORDS/GERMAN IMPORT)
The German label BEAR FAMILY RECORDS is back with another interesting compilation album of rare 1950s/1960s music. This time it concerns songs that were originally released on LIBERTY RECORDS and it's sublabel FREEDOM RECORDS. As always the CD release is jam-packed to the max, with a total of 37 songs that bring us almost 80 minutes of music, and extensive liner notes in the booklet. JOHNNY BURNETTE, EDDIE COCHRAN, WILLIE NELSON, BOBBY VEE are among the well-known names included here, but there's also AL CASEY, BOBBY LONERO, JACKIE DESHANNON and countless other less familiar names. The FREEDOM label was founded by the legendary American pianist/movie composer HENRY MANCINI (who by the way has a son called CHRIS MANCINI, and Chris recorded a classic AOR/Westcoast album in the 80s) in 1955. Nowadays it is hard to get hold of all those rare 45" vinyl singles from 60 years ago, but thanks to BEAR FAMILY RECORDS we are able to hear all those songs on CD, carefully remastered and sounding better than ever! Highlights on this CD are the songs by the aforementioned acts, but also THE FRANTICS, THE RAIDERS and JACK GRAYSON & THE SO AND SO'S should be mentioned. Another great documents of music history that BEAR FAMILY RECORDS delivers us. More info can be found at: https://www.bear-family.com/various-that-ll-flat-git-it-vol.38-rockabilly-rock-n-roll-from-the-vaults-of-liberty-and-freedom-records-cd.html
(Points: 8.4 out of 10)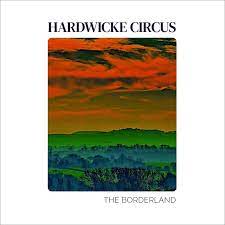 HARDWICKE CIRCUS 'THE BORDERLAND VINYL RECORD' (ALTERNATIVE FACTS RECORDS/INDEPENDENT/UK IMPORT)
I love surprises and when a vinyl record is sent for review and I open the box with zero information, I am quite eager to check out the album a.s.a.p. When putting on the album of the band HARDWICKE CIRCUS on the ole stereo record player, I was blown away by the incredible high quality of the energetic melodic rock this band is playing! It has a lot of 80s rock influences, but in a good way, because what this young band is doing is really sensational from start to finish. The Borderland is their debut album and I thank God it is released, because due to the pandemic HARDWICKE CIRCUS had to cancel hundreds of gigs the past 18 months, so the band could have called it quits at some point in time. Thankfully they continued and managed to release their superb first album on vinyl. They come out of a small place (Carlisle) in the North of the UK, borderline Scotland, and they consists of Jonny Foster (lead vocals, guitar), Zack McDade (guitars, vocals), Ben Wilde (bass, vocals), Lewis Bewley-Taylor (keys), Andy Phillips (saxophone) and Tom Foster (drums, vocals). They have already supported some of the absolute classic bands and artists in rock history, such as BOB DYLAN, SOUTHSIDE JOHNNY (of whom they remind a lot of here and there!), MADNESS, BOOMTOWN RATS, NEIL YOUNG, etc. etc. 9 songs are on this beautiful and perfect sounding debut album The Borderland.
Opener Guiding Light is superb midtempo pop/rock with AOR melodies and a sorta 80s New Wave touch, reminding me a bit of a cross between THE ARROWS (Canada), PSEUDO ECHO, NOISEWORKS, THE SMITHEREENS, THE WATERBOYS and SIMPLE MINDS. No Surrender continues this style, although it's just a bit faster and basically close to classic 80s Canadian AOR/Poprock a la BYSTANDER, GLASS TIGER, 1927, RED RIDER, REFUGEE, 80s BRYAN ADAMS, with a bit of Powerpop and Heartland Rock influences here and there, while the sax gives it an own twist. The band is clearly showing they are playing high quality music that can also be heard during Walking On Broken Glass, which is a lovely and ultra-catchy uptempo AOR/Poprocker that has an early 80s Powerpop feeling, although somehow I also must think of early HONEYMOON SUITE crossed with NOISEWORKS. Things slow down during the calmer ballad Carry The Torch, which has subtle bluesy guitarwork and also let us enjoy the fantastic vocalwork of Jonny, while the saxsolo of Andy Sax (!) is simply amazing! Closing track of side-A is the wonderful midtempo My Sweet Love, a melancholic pop/rock/heartlandrock piece that reveals the band's love for BRUCE SPRINGSTEEN and TOM PETTY, and also THE GASLIGHT ANTHEM comes to mind here.
Side-B opens with Nowhere Left To Run, a somewhat modern influenced heartland/americana poprocker that has some similarities to THE WAR ON DRUGS and BEAR'S DEN, yet with also again the BRUCE SPRINGSTEEN influences and somehow this is also a lot in the style of the legendary MICHAEL STANLEY BAND. Hands Up Don't Shoot is a slight change in style, but nevertheless very interesting, because it has typical British pubrock influences, and a touch of 80s THE STRANGLERS crossed with PHIL LYNOTTish vocals, but also features a rather cool keyboardsolo towards the end! The band keeps up the tempo with the catchy uptempo Let's Make New Mistakes, which has a full blown early 80s AOR/Poprocksound a la LOVERBOY, yet with vocals that have a certain BILLY IDOL meets CHARLIE SEXTON direction. There is so much 80s rock going on here that it feels like a trip down memory lane, but as already mentioned in a good way, and the band makes it all sound very fresh and up-to-date in a crystal clear production! The Debatable Land closes the album in a slightly classic rocking environment, with a bit of ROLLING STONES crossed with MANIC STREET PREACHERS, but also once again featuring a lovely catchy melodic chorus. I absolutely loved this record and I am safe to say a lot of people will love it as well! Check out all info on this sensational band at:
https://www.hardwickecircus.tv/the-borderland
(Points: 8.9 out of 10)
JOHN DALLAS 'LOVE & GLORY' (SNEAKOUT RECORDS/ATOMIC STUFF/UK IMPORT)
Although JOHN DALLAS sounds very American, he is actually from Bologna, Italy and I believe this is the 2nd album of this talented singer/songwriter. He does a great job here on Love & Glory, which is released on the Italian label SNEAKOUT RECORDS. Besides John on vocals and guitar, the other involved members are Tom Angeles - Lead Guitar, Black Sam Carbo - Bass and Andy Palermo - Drums and Keyboards. 11 songs are included and the sound/production is quite good. Opener Anymore is a superb catchy 80s influenced melodic heavy rocker with a lovely chorus, while following Bad Sister is tougher midtempo groovy melodic hardrock with a DANGER DANGER/80s KISS touch. The high quality material and massive production clearly does remind one of the 1980s. Here and there KANE ROBERTS, PAUL LAINE and such come to mind, but John has a voice that gives it somehow a sorta THE CULT/LA GUNS kinda touch, which can best be heard during the 80s hardrocking sleazy rocker Drive Me Tonight. Things get quite melodic during the midtempo late 80s/early 90s melodic rocker Glory, which has a lovely AOR chorus and a sound somewhere between JOHN DIVA, the smooth songs of PRETTY MAIDS, GUNSHY, FIREHOUSE, KNOW ILLUSION, BRITTON and classic NELSON. John Dallas is up next, and this is big time late 80s melodic hardrock/hair metal with high pitched vocals, TNT/SHYish crossed with a bit of SLAUGHTER. Back to the classic uptempo catchy melodic rocksound with the lovely Love Never Dies that has NELSON/FIREHOUSE and PAUL LAINE similarities, including a strong chorus that makes you want to sing-a-long and dance all night long. Dancing All Night is a midtempo Hair Metal piece that goes straight back to the mid 1980s, with a certain WARRANT meets TINDRUM kinda sound. I'll Be Waiting is another catchy uptempo melodic rocker with a TNT meets 80s SCORPIONS sound, while Shine On is a typical 80s Power Ballad a la WARRANT/SKID ROW. Lovers is a nice BON JOVI influenced melodic rocker and closing track Wasted is a nice hair metal piece in the late 80s SKID ROW style. This new JOHN DALLAS album definitely needs to be checked if you're a fan of classic fun 80s American Melodic Hardrock/Hair Metal in the style of the aforementioned bands, although fans of H.E.A.T., ONE DESIRE and the other newbies of the melodic rockgenre will also love this CD! More info at: https://john-dallas.com/
(Points: 8.3 out of 10)
RECALL MADAME X 'UNCONSCIOUS ID VINYL RECORD' (MADRE SUBLIME/ITALY IMPORT)
Now this is an interesting vinyl record I received from an Italian band called RECALL MADAME X. The Milan based band was originally formed in 2007 as MADAME X by designer and musician ALESSANDRO DE BENEDETTI and the multi-instrumentalist/sound engineer ANDREA ZUCOTTI, who now return with their new musical project called RECALL MADAME X. The first album is titled Unconscious ID, and this is no ordinary album, because it is a melting pot of all kinds of rare underground cult sounds that range from krautrock, Italian classic Horror movies, post-punk, new wave, synth wave, dark gothic and other strange noises and spoken-word parts. The resulting album is facinating and original, appealing to a variety of open-minded fans. 10 songs are included, and opener Demetra is an interesting and very exciting mixture of late 1970s quirky krautrock, post-punk and new wave, sounding quite catchy and innovative, but also melodic enough to remember the instrumental and vocal parts (by guest female singer JUSTINE MATTERA), kinda like KRAFTWERK and DAVID BOWIE doing a BAUHAUS cover back in 1980! The BAUHAUS/JOY DIVISION influences continue, while also the more experimental side of TALKING HEADS meets DEVO can be heard during the strong Car Crash Flesh. If this band would come out of the UK, the media/press would be all over the place and consider them the next big thing. This is one of those bands you want to catch live on stage, because there is so much happening. The combination of the strange 70s hammond/synths and the I Love You I Love You melody during the chorus of Car Crash Flesh sounds like THE BEATLES meets KRAFTWERK meets TALKING HEADS meets SIOUXSIE SIOUX AND THE BANSHEES. By now I think you'll get an idea how this more or sounds like. Although experimental and very original, somehow there are these catchy melodies in both the instrumental and vocal department that makes this record something you want to keep on listening to. Everytime you discover something new and that's basically a fact you wish would happen on each new album! Other highlights on Unconscious ID are the Italian spoken-word semi-instrumental Reading At 92 degrees (which also has a dizzling hammond-synth-organ vibe throughout the song), the english-spoken word semi-instrumental post-punk-krautsynthwave sci-fi movie piece Psycho (DAVID BOWIE would have been extremely interested if this was created in 1977), synthwaving uptempo dark gothic rocker So Blind, Lullaby Of Lilies (slow goth wave piece like BOWIE meets ENO meets JOY DIVISION), and the midtempo gothic krautrocking closing track The Sinner. Concluded, this is a wonderful adventure that takes you into all kinds of exciting parts of the dark music world, and a lot of times it feels like a horror movie score. Check for yourself at: https://www.recallmadamex.com and https://www.facebook.com/recallmadamex
(Points: 8.5 out of 10)
5IVE YEARS GONE 'ROCK'N'ROLL REBIRTH' (SNEAKOUT RECORDS/ATOMIC STUFF/UK IMPORT)
Out of Italy comes the band 5IVE YEARS GONE, and Rock'n'Roll Rebirth is their debut album. They are formed around Paolo Cernic – Vocals, Davide Falconetti – Guitar / Vocals, Andrea Imbergamo – Guitar, Andrea Cok – Bass and Michael Bonanno – Drums, and despite they might not be doing anything new here, the resulting first album is a nice piece of melodic hardrock in classic 80s tradition. 80s BON JOVI is a clear influence and sometimes they also remind me of DANGER DANGER and countless more of the 80s hair metal decade, although 5IVE YEARS GONE is a bit calmer here and there in an INNUENDO/NELSON early/mid 90s direction. The album has a good production, the musicianship is quite well and also vocally Paolo is able to sing, while the 11 included songs are nice to listen to for sure. The highlights are the catchy uptempo melodic rockers Mary Jane and Outta My Head, the calmer semi melodic rockers All I Know (very strong lead vocals, a bit NELSONish) and Scars of Love, and the lovely AOR/Melodic Rocker In The Heat Of The Night. Maybe not really original, the band does a great job here in delivering authentic catchy melodic rock! More info at: https://www.facebook.com/5iveYearsGone/
(Points: 8.3 out of 10)
MICHAEL KRATZ 'TAKATNO' (SNEAKOUT RECORDS/ATOMIC STUFF/UK IMPORT)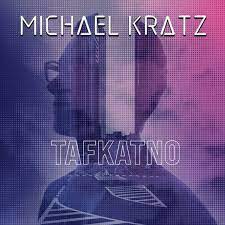 When you have the legendary guitarist BRUCE GAITSCH on board of your new album, then you're doing something right! It concerns here the 3rd studio album Takatno of the Danish singer/songwriter/guitarist/drummer MICHAEL KRATZ. He already released a couple of albums in the past, and despite I am a huge fan of this kind of music, I was not yet familiar with him. Other involved musicians besides Michael and Bruce are guitarists Christian Warburg, Luca Carlomagne, Kasper Viinberg (also bass, percussion and keys) and Torben Lysholm (also bass and keys) and bassist Mikkel Risum. Together they recorded 11 tracks that musically is a mix of lightweight Westcoast and AOR, all very much in an early 80s direction. Michael's vocals are in typical Scandi direction, yet mostly in the lower octave range, so don't expect high pitched vocals here. The music is smooth and very melodic, with always a fantastic soaring guitar, but the focus is clearly orientated on melodies from start to finish of each and every song. Highlights are the great catchy uptempo early 80s AOR/Westcoast rocker Too Close To The Edge (with superb NEAL SCHONish guitarwork), the superb massive sounding power AOR/Westcoast ballad Without Your Love (TOTO/LAVA/TIM FEEHAN/RICHARD MARX/PROMOTION/AIRPLAYish), the midtempo AOR/Westcoast piece You're The One, the uptempo melodic rocker Everlasting Lies (with superb AOR melodies a la DAKOTA and a fantastic screaming guitarsolo, WORK OF ART will be jealous!) and the superb AOR masterpieces How Can A Man and Broken Souls. Michael did a great job here and I can't wait to hear much more of him. Check out more info at: https://michaelkratz.net/tafkatno
(Points: 8.5 out of 10)
OVER THE MOON 'CHINOOK WALTZ' (BOREALIS RECORDS/BLOODY GREAT PR/UK IMPORT)
Over here in The Netherlands we were surprised by a lovely duo years ago called THE COMMON LINNETS, which consisted of the well-known Dutch musicians ILSE DE LANGE and WAYLON, whom are also both famous celebrities over here. Anyway, the Canadian duo called OVER THE MOON reminds me sometimes of THE COMMON LINNETS musically speaking, although perhaps OVER THE MOON is a clearly more authentic folk orientated than the mainly countrypop influenced Dutch duo. Overall we get to hear melodic Americana pop/rock with a focus on beautiful female lead vocals during the verses and close-harmonyvocals during the choruses, resulting in a great mixture of calmer and uptempo originals, traditionals and covers. Personally I am a sucker for the uptempo pieces, such as Someday Soon and John Ware, although the calmer SIMON & GARFUNKEL ish Darcy Farrow is also worth mentioning. The duo consists of SUZANNE LEVESQUE (vocals, bass) and CRAIG BIGNELL (vocals, banjo, acoustic guitar, percussion) and they are assisted by a few guest musicians. Craig and Suzanne met each other at the release party of a Canadian band where Craig had played drums when they recorded the actual album. The two met, fell in love and also musically they started working together from then on, and Chook Waltz is their 2nd album so far. Besides folk-pop orientated material there's also swinging old school jazzy stuff here and there, such as the lovely roaring 20s sounding They Can't Blackout The Moon and the Craig sung I'm Not Cool (RANDY NEWMANish) that both have this nostalgic romantic feeling of the long but not forgotten past before the 2nd World War. The original mix of diversity in styles on the CD makes it an interesting album to check out for fans of old-school music. More info at: https://www.overthemoonband.com/music
(Points: 8.2 out of 10)
FRANK RICHARD 'ROUGH ENOUGH' (INDEPENDENT/BLOODY GREAT PR/UK IMPORT)
Rough Enough is the very first album of Vermont, USA based singer/songwriter FRANK RICHARD, but when looking at the cover and hearing him sing, it is clear that he sounds like he's been making music since the 1960s, and actually he did start during those years! However, he never managed to release an album until now. The music is singer/songwriter music in the style of BOB DYLAN, with mainly the acoustic guitar and the raw raspy voice of Frank telling all these stories through a mix of originals, covers of mostly unknown songs and a couple of traditional tunes. He is helped by a list of guest musicians whom are doing a great job giving Frank a richer sound. The resulting album is a nice one to check out if you're a fan of such story-telling calmer authentic singer/songwriter music. More info can be found at: https://frankrichard.bandcamp.com/album/rough-enough and www.frankrichardmusic.com/album
(Points: 7.5 out of 10)
BARD ERRINGTON 'TWO DAYS IN TERLINGUA' (INDEPENDENT/BLOODY GREAT PR/UK IMPORT)
Recorded in a hundred year old church in the town of Terlingua (population of 58 people!), which is close to the Mexican border, the new album of BARD ERRINGTON, an American vocalist/guitarist who is usually part of THE HOTH BROTHERS, this is a honest recording that feels very natural and truly captures the intimate setting it was recorded during those 2 days, all thanks to a mobile recording studio that was set up in the church. Other involved musicians are Karina Wilson on vocals and violins, bassist Bill Palmer and his brother Jim Palmer on drums, Alex McMahon on pedal steel, banjo and guitar and Zoe Wilcox on backing vocals. 12 songs are included in total and the music is kinda like DANNY VERA meets JOHNNY CASH, but then akin to a more laid-back slow lap-steel guitar orientated old-school country sound that also reveals Americana and a touch Blues influences here and there, and sometimes it reminds one a bit of CHRIS STAPLETON. The highlights are the more uptempo pieces, such as Property Lines, A New Day On The Farm, Athena's Gaze and the catchy Ma Cherie, although the calm psychedelic Strange Balloon also needs to be mentioned, because this has a real sensational authentic lonesome desert kinda feeling. Go check out this talented musician's new solo album at: https://bardedrington.bandcamp.com/album/two-days-in-terlingua
(Points: 8.2 out of 10)
RACHEL GARLIN 'THE STATE THAT WE ARE IN' (INDEPENDENT/BLOODY GREAT PR/UK IMPORT)
Out of San Francisco comes singer/songwriter RACHEL GARLIN, a talented musician who already released 3 full-length albums and The State That We Are In is her 3rd EP CD so far. The included music is a mix of uptempo and calmer pieces, 4 originals a cover of the classic Layla of DEREK AND THE DOMINOS. Other involved musicians besides Rachel on guitar and vocals are MICHAEL JEROME (drums), JONNY FLAUGHER (bass), BRANDON WALTERS (guitars), DAVID RALICKE (flute), JORDAN KATZ (horns) and STEPHEN SPIES (violin). Opener and titletrack The State That We Are In is a cool fun uptempo pop/rocker and following Late To Bloom is a very nice midtempo calmer piece that shows what an incredible singer Rachel is. She has the looks and voice of a major label female musician/vocalist like for example FIONA APPLE, JEWEL, HEATHER NOVA, JENNIFER PAIGE, etc. etc. A song like the superb calmer Some Weights Are Hard To Bear should easily gain her attention from all over the world, because her smooth voice in combination with the Spanish-Latin STING kinda song approach, it should appeal to a lot of people. The 4th original song she recorded is Seashells, a nice calmer semi pop/rocker with once again that typical 90s female fronted pop/rock approach. Closing track is a nice acoustic guitar driven solo cover of the aforementioned classic 70s tune Layla. Check out all on this talented singer/songwriter at: https://rachelgarlin.com/
(Points: 8.3 out of 10)
ERIC BENAC 'ON TRACK… CARDIACS BOOK' (SONIC BOND PUBLISHING/UK IMPORT)
It's almost impossible to know each and every band in the world, and especially if you stepped in just a little bit after the 1970s/1980s, there is a lot to catch up, because after all especially the 1970s gave birth to the biggest explosion of new bands in music history. One of the bands that many people will probably not know is CARDIACS. This British band started in 1977 and they managed to release quite a few albums in especially the 1980s, but yours truly is actually not familiar with any of their music. When I received a book to review about CARDIACS, I was quite interested in what this band was all about. They played a quirky chaotic ZAPPAesque experimental pop/progrock style that was really original, in a way like the aforementioned FRANK ZAPPA, GENTLE GIANT, JETHRO TULL, THE TUBES, THE SPARKS and such acts were in the 1970s. I can't remember they had any hitsingles, but in case you wanted to hear something completely different, then CARDIACS was definitely your kinda band! This book was written by ERIC BENIAC, who is a freelance writer, and he did a great job to gain interest from my side. CARDIACS was formed around TIM SMITH, who was the composer, guitarist and singer of the band, and when he died in 2020, Eric knew he had to write this book. He describes each and every recording of CARDIACS, so after reading this book and listening to the albums of the band, you will be fully informed about this rare underrated band. CARDIACS were a typical band that was more popular within the musician's scene than outside in the regular world, which is a pity, because they had a unique own sound. Make sure to check them out and along the way keep this book in front of you. More info can be found at: www.burningshed.com/sonicbond
(Points: 8.0 out of 10)
NICK HOLMES 'ON TRACK… PORCUPINE TREE BOOK' (SONIC BOND PUBLISHING/UK IMPORT)
While everyone is raving about the reunion of ABBA, the real comeback of the year award should go out PORCUPINE TREE of course! Although author NICK HOLMES probably was not aware they would actually join forces again and record new material as well announce a tour in 2022, he wrote a wonderful book about each and every recording this legendary progressive rockband released between 1987 and 2010. 11 years later the book is released at the same time PORCUPINE TREE made an official statement with the announcement of a new album and a tour, and as we speak a new song has been launched already! Anyway, first back to the past, because in those 23 years the band established themselves as one of the most original innovative bands around the past few decades. Bandleader and multi-instrumentalist STEVEN WILSON is of course the driving force behind the band, but along the way he found other musicians to join him, especially due to the fact that live on stage it's hard to do everything on your own. Richard Barbieri (keyboards, synthesizers, piano and sound processing) and Gavin Harrison (drums and percussion) have been part of the band for a long time now, and they are also part of the reunion. The book is a well-written document about all those magical songs and albums PORCUPINE TREE recorded throughout the years. As with every other book release on SONIC BOND PUBLISHING, also this book captures the essence of a discography review, because we go into full detail, and especially regarding progrockbands, this is something you can only do when you truly understand how to write about progrock. There are so elements to discover, and Nick highlights them all in this wonderful book. Nick is by the way working for the BBC and has an English Degree from Oxford University, so he sure knows how to write properly. The book is handsome and while playing the music on your stereo or mobile phone, you can easily go through each and every album to read about what's actually happening in the sometimes complex brain of STEVEN WILSON and his PORCUPINE TREE adventures. Thankfully the band is back, because despite his solo material and his other projects are all very much welcome, PORCUPINE TREE is the main course every progfan wants to follow until the end of time. This book will keep you entertained until the new album is released somewhere in the summer of 2022… More info can be found at: www.burningshed.com/sonicbond