HOT NEW REVIEWS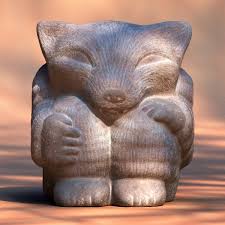 HJALTALIN 'HJALTALIN VINYL RECORD' (INDEPENDENT/ICELAND IMPORT)
I was quite surprised when I received the HJALTALIN vinyl record for a review, because it is probably the first Icelandic record I ever touched in my life! I am familiar with Icelandic acts like SIGUR ROS, OF MONSTERS AND MEN, BJORK and such, but somehow a vinyl record from Iceland is not in my collection until now! In Iceland the band is quite popular and this particular same titled record was released in 2020. They were formed back in 2004 and have meanwhile released 5 records, including this new one Hjaltalin. The band's line up consists of Axel Haraldsson - Drums, Guðmundur Óskar Guðmundsson - Bass, Hjörtur Ingvi Jóhannsson - Keyboards, Högni Egilsson - Vocals & guitar, Sigríður Thorlacius - Vocals and Viktor Orri Árnason - Violin.
Although the band does have a sorta Icelandic/Nordic experimental modern touch, this is by far one of the finest pieces of music ever to come out of Iceland! HJALTALIN offers so much diversity that there is not a single dull moment to be found on this 2-LP set. Opener Chestmark shows right from the start we are dealing here with an incredible original band, because you can trace all kinds of influences here, such as jazz, prog, indie, world music, electronic music, classical music, soul, and ambient, and it's all blended together very nicely. Following song Year of the rose is going for a slightly more westcoast-soul-fusion-jazz vibe with strong vocalwork and it sounds a bit like THE BLACK PUMAS, yet with an orchestral approach. Baronesse is a very relaxed dreampop ambient song that recalls a bit classic CLANNAD/ENYA, yet with a modern fresh approach and strong vocals from female singer Sigríður. Destiny's curtain call is a song with a clear focus on the 'soulful' vocals, which are upfront and backed by a basic beat and some synths.
Waterfall introduce jazz influences in a song that is ambient/neo-soul orientated, yet with some interesting progrock influences instrumentally speaking, while the vocal melodies of this exciting song gives it a modern pop approach. Basically this song shows the incredible high level of HJALTALIN, and with a bit of luck, this song could easily become a huge worldwide radio hit! The enormous huge production is another positive remark, and especially during the lovely hypnotic Stolen star you can hear that this band has the potential to become huge someday soon! Wolf's cry is a lengthy semi-instrumental song that contains a massive sounding orchestral part, while the itself even has some rare krautrock-ish sounds towards the end.
More experimental electronic sounds can be heard during Love from '99, although when the soulful vocals shine through, it is almost sounding like HALL& OATES doing something proggy, yet with a modern take a la BJORK, and then all of a sudden the song changes into a catchy chorus orientated neo-soul/pop orientated piece, so the band keeps surprising us over and over again. Row is a lovely slightly progressive popsong with elements of STING and PETER GABRIEL, a rather catchy tune actually with again a modern electronic beat. The piano-led Don't go too far is a calmer jazz influenced song.
Despite mentioning all kinds of names, HJALTALIN has a true own sound that combines a huge amount of different musicstyles, features male and female vocals and overall gives the music a modern electronic touch, yet never forgets a memorable chorus. Needles and pins features Sigríður on vocals again, and this is probably the most catchy radio-ready chorus orientated song on the album, basically a definite winner that should gain a lot of radio airplay! Night theme is another piano-led song that turns into an experimental modern electronic trip/hop influenced direction halfway the song, while Mad lady of lizard skin closes the album in a calm almost old school musical style like BARBRA STREISAND!
Concluded, we have here a highly recommended Icelandic vinyl record! It's a very diverse album that should appeal to a wide audience, prog, pop, jazz and modern indie fans will all enjoy this band and I can't wait to catch them live one day. They remind me sometimes of JOHN GRANT, yet with a more proggy touch, but it´s best to check out this sensational band for yourself at: https://www.hjaltalinmusic.com
(Points: 8.8 out of 10)
CLARENCE 'GATEMOUTH' BROWN 'ROCKS' (BEAR FAMILY RECORDS/GERMAN IMPORT)
Now we are really digging deep in the music history, because some of the recordings on this particular CD date back to 1947 (!). It concerns here the compilation CD Rocks by the legendary Texan guitarist/singer/songwriter CLARENCE 'GATEMOUTH' BROWN. This amazing guitarist played all kinds of styles and this can be heard clearly during the 28 included songs that were recorded between 1947 and 1960, because the mixture of jazz, blues, rockabilly/rock& roll and big band is really giving you that feeling you're back in the period1940s-1950s before ELVIS, THE BEATLES and THE ROLLING STONES changed Rock/Popmusic forever. In the USA of the period 1920-1960 we have seen a lot of such (blues) rock guitarists appearing and although we look now back to that influential period in music history and come up with names like ROBERT JOHNSON, T-BONE WALKER, MUDDY WATERS and LOUIS JORDAN, Clarence's name is somehow a little less familiar. Thankfully this wonderful extensive and excellent sounding compilation CD from his early work is released and it is definitely a must-have to own if you want to complete a missing piece of the American early blues/rock history. It's available through: www.bear-family.com
(Points: 8.5 out of 10)
VARIOUS ARTISTS 'THAT'LL FLAT... GIT IT! VOLUME 37: ROCKABILLY & ROCK & ROLL FROM THE VAULTS OF CAPITOL RECORDS' (BEAR FAMILY RECORDS/GERMAN IMPORT)
In the USA back in the 1950s and early 1960s we saw the beginning and birth of rock and roll, which thanks to ELVIS and later on THE BEATLES and ROLLING STONES in the UK would become the most popular musicstyle. Before those acts would start a real revolution and led the foundation for new rock genres to emerge in especially the 1970s, it was during the 1940s the first major labels in the USA would be founded, such as CAPITOL RECORDS and during the following decades those labels would release countless recordings of new up and coming artists and bands in the Rockabilly/Rock & Roll genre. ELVIS eventually became the absolute superstar, but of course there were thousands of others, and this new volume of That'll flat... git it offers another 35 interesting acts of this long-forgotten genre. Highlights on this new compilation CD on BEAR FAMILY RECORDS are KENNY LORAN, SKEETS MCDONALD, THE JODIMARS, JACK SCOTT, DARRELL MCCALL, GENE VINCENT and THE JORDANAIRES. The CD is available through: www.bear-family.com
(Points: 8.3 out of 10)
TIM HUNTER 'THE NORTH YORKSHIRE VARIATIONS' (NORTHERN SOUNDSCAPES/UK IMPORT)
Out of North Yorkshire, UK comes TIM HUNTER, and we have somewhere else a review of his band SILVER HUNTER's latest album Silver surfers, but solo he also has a CD out titled The North Yorkshire variations. This album is a beautiful instrumental journey through this region in the UK, and it actually does feel like a journey through the landmarks, nature, towns and cities of this part of the U.K. Tim plays all the instruments by himself here, including guitar, synthesizer, alto sax as well as composing, producing and performing all the 12 included songs, which have a total playing length of 40 minutes. The result is beautiful relaxing instrumental 70s/80s inspired mixture of prog/sympho/new age, which is quite close to classic ALAN PARSONS PROJECT. No weak moments to be found, and especially a song like The hole of Horcum is a fantastic piece of classic sympho/prog like the ALAN PARSONS PROJECT, while also the synthwave of Staithes mermaids and the guitar solo of Ghosts of the coast should be mentioned. Check out all on Tim at: https://timmusicworld.bandcamp.com/album/tim-hunter-the-north-yorkshire-variations
(Points: 8.2 out of 10)
NORMA MACDONALD 'OLD FUTURE' (NOYES RECORDS/CANADA IMPORT)
Old future is the 5th album of the Halifax, Nova Scotia, Canada based singer/songwriter NORMA MACDONALD. She melts 60s country and 70s Californian folkrock and I have to say that the new album sounds sensational, which is thanks to the beautiful singing of Norma and the lovely melodies in each and every of the 10 included songs. Norma herself sings and also plays acoustic guitar, percussion and electric guitar, while other involved musicians are Dale Murray (electric guitar, acoustic guitar, pedal steel, piano, organ, percussion, bass, backing vocals), Adam Fine (bass), Jordi Comstock (drums), and on a couple of songs, Phil Sedore (cello) and Anna Wedlock (violin). The album starts with a fantastic uptempo 70s Californian Westcoast-Folk pop/rocker titled Temperamental year, and also following Trick of the light follows that style a bit, so a great way to start off a record. ILSE DE LANGE comes to mind a few times as comparison, but Norma has an own identity due to her amazing vocals. Things slow down a bit during the next couple of songs that are more country-singer/songwriter based, but the superb uptempo Wonder in the summer brings back the smooth Californian westcoast breeze poprocksound again, as if were back in the mid-1970s again. From the calmer songs please do check out the beautiful close-harmonyvocals sung Slow down Marie, which is a perfect mix of country, singer/songwriter, 70s pop and westcoast. I already have a shadow is another lovely 70s California folkrock inspired uptempo tune with once again Norma shining at her best. The final 2 songs are Lover of unreason (a calmer country/singer/songwriter piece) and Some day (a classic country ballad). This is definitely a highly recommended album and for more info on Norma please go to: https://normamacdonald.bandcamp.com/album/old-future
(Points: 8.5 out of 10)
FLYING CIRCUS 'FLYING CIRCUS' (FASTBALL/BOBMEDIA/GERMAN IMPORT)
The legendary German progressive/classic rockband FLYING CIRCUS is celebrating 30 years of band history and the result is this new 'Best of' CD, which contains 15 songs in total from their past catalogue, of which the ones from pre-2011 were re-recorded, but it also features a brand-new song that was specially recorded for this best of CD. Basically what you get here is a high quality mixture of 70s classic hardrock and progressive rock, with a focus on strong melodies, both instrumentally and vocally. The absolute highlights are The world is mine, Fire (I wanna go), the epic Seasons (with brilliant classic hard rock guitarwork a la THIN LIZZY and a KANSAS ish violin), Carpe noctem and the superb closing track The jewel city. The band has an own identity, which is thanks to the charismatic theatrical vocals of singer MICHAEL DORP, who reminds me of the PHANTOM'S OPERA singer (if anyone remembers that band!) and also ROBBY VALENTINE comes to mind here and there. Instrumentally the musicians (RUDIGER BLOMER – keys, violin, MICHAEL RICK – guitars, ROGER WEITZ – bass and ANDRE RODERIGO - drums) are easily able to switch between classic hardrock a la URIAH HEEP and progressive rock a la GENESIS/KAYAK, so it's all very authentic 1970s orientated, yet it doesn't sound dated at all, and most of the songs do have some melodic hard rock hooks and choruses that somehow remind me a bit of KINGDOM COME. All together this new CD is a great way to start discovering this great prog/classic melodic hardrockband FLYING CIRCUS! More info at: www.flying-circus.com
(Points: 8.5 out of 10)
HATTLER 'VE LO CI TY CD + VINYL CUTS 3 VINYL RECORD' (BASSBALL RECORDINGS/GERMAN IMPORT)
HELLMUT HATTLER is a German bassist/composer who formed the legendary Krautrockband KRAAN 50 years ago! Although that band split up in 1983, they have reformed several times in the following decades, and since the summer of 2000 they are officially operating as a band again, with even in 2020 a new CD release, which is reviewed elsewhere by us. Anyway, Hellmut has also been busy with several other projects in his music career, including HATTLER, of which I received a lovely vinyl record titled Vinyl Cuts 3. The included music is very diverse, although the main focus is Hellmut's awesome bass playing. The album is a selection of unreleased and live songs as well as a few songs taken from earlier HATTLER albums. There is a list of guest musicians assisting Hellmut, which all together gives it a real band feeling! Opener Call is a somewhat danceable instrumental ambient song that reveals also some light kraut and prog influences. Following song Lieblingslied is completely different, because this is a beautiful calmer instrumental romantic jazzy/smooth ballad with a focus on the lovely melodies as played on a flugelhorn (JOE KRAUS), grand piano (MARTIN KASPER) and Helmut's bass guitar, with strings (ANDREA STATON, CONSUELO VALDES, MARIA BRAUN, ANNE SCHUHMACHER) attached to give it that emotional approach. Gasbags is up next and then we're straight into modern DAFT PUNK ish electronic dance/lounge disco music, so another change in style, and the first one with vocals (by MAYA SINGH). To bed reveals some of the weird hi-tech modern dance sounds combined with a super commercial US Billboard-ish chorus. Side-B of the record opens with the superb relaxing instrumental jazzy fusion Acid blues, while following Don't bother features great vocals of SANDIE WOLLASCH and NKECHI MBAKWE, who give this song a sorta relaxing SADE smooth jazzy pop vibe. The terrace is up next, and this live recorded instrumental song is a lovely jazz/fusion song like a cross between STANLEY JORDAN and GEORGE BENSON, with also a lot of improvising. I think it's the best song on the album, because here Helmut shows his amazing bass guitar skills via an amazing bass solo. Closing the album is another modern hi-tech bass/drumbeat piece titled Velocity, with Hellmut himself singing. Concluded, this is a very interesting release and musically speaking very diverse. The 2018 CD release of HATTLER I also received is a very enjoyable and diverse record as well, with more of the same, although it seems this album is slightly more song based, balancing between jazzy fusion, progrock, modern pop and 70s melodic pop/rock, with as highlights the instrumental opener Anthem for approaching starships, the superb uptempo prog/poprocker Trident and of course Lieblingslied in it's original version without the strings. Both albums and everything else from HATTLER is available through: https://www.bassball.net/hattler
(Points: 8.3 out of 10)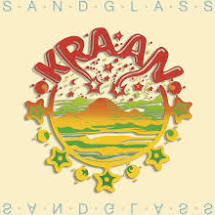 KRAAN 'SANDGLASS' (BASSBALL RECORDINGS/GERMAN IMPORT)
KRAAN is one of the most legendary rockbands from Germany, originally formed all the way back in 1970, they were one of the first Krautrockbands to emerge during the experimental early 1970s. The band was mainly active during the 1970s and 1980s, but split up eventually in 1990 before reforming in 2000, with now a new CD release titled Sandglass. This is their 14th studio album I believe, and their line-up consists of 3 original members, guitarist/synth player/vocalist PETER WOLBRANDT, bassist/vocalist HELLMUT HATTLER and drummer JAN FRIDE. The resulting new album Sandglass is definitely a lovely classic 1970s sounding KRAAN album, with a focus on semi instrumental 70s based relaxing melodic psychedelic progressive krautrock, with as highlights Sandglass, Funky blue, the wonderful progrocker Solitude (late 60s THE BEATLES meets PINK FLOYD), Pick peat, Hallo kante, Rescue and Hippie jam. The band has always added jazz/fusion/westcoast influences into their sound, which gives them a slightly funkier touch as well, kinda like SOFT MACHINE meets STEELY DAN meets PINK FLOYD and FOURPLAY, which would then be a nice description in songs like the aforementioned Funky blue. Path, Shconer wird's nicht and the wonderful Budenzauber. It has a very smooth and melodic sound overall, so I can highly recommend the fantastic new KRAAN album to anyone who appreciates quality music that fits somewhere between classic kraut/prog and jazz/fusion, although perhaps even fans of KHRUANGBIN, THE BLACK PUMAS, and such will like this album! Check out more info on them at: http://www.kraan.de
(Points: 8.7 out of 10)
VLADIMIR VACLAVEK FEAT. PAVEL SMID 'FLY - TAK LET!' (RUSTICAL RECORDS/XANGO MUSIC)
Singer/songwriter/multi-instrumentalist VLADIMIR VACLAVEK is quite well-known in his homeland the Czech Republic, with many awards and albums released the past 40 years. He teamed up with another Polish multi-instrumentalist called PAVEL SMID, and the two of them recorded with a lot of other guest musicians the album Fly - Tak let!. The album starts with a strong progressive rock orientated affair that even reminds me a bit of a band like PORCUPINE TREE, yet from the song Pisne onwards, it all gets a little jazzier as well. Without a doubt, it is a great record that feels very good to listen to from start to finish, with as other highlights Tak let, Vrana and Tise septam. Although sung in the Polish language, this is absolutely no problem at all, so go check out more info on this interesting album at: https://vladimirvaclavek.cz/
(Points: 8.2 out of 10)
UMO HELSINKI JAZZ ORCHESTRA 'MUSIC OF HAARLA, HEINILA, KASURINEN & RONKA' (ECLIPSE MUSIC/XANGO MUSIC)
UMO HELSINKI JAZZ ORCHESTRA consists of Finnish composers Iro Haarla (piano, harp), Kari Heinilä (saxophone), Sampo Kasurinen (saxophone) and Artturi Rönkä (piano), and their album Music of Haarla, Heinila, Kasurinen & Ronka consists of 5 tracks which have been composed each by one of the composers. Together with an orchestra, they have created a lovely old school Jazz/Big Band album that was mixed by American PAUL WICKLIFFE at the SKYLINE PRODUCTIONS studio, which saw many of the great musicians using as well in the past, such as MILES DAVIS, ERIC CLAPTON, DAVID BOWIE, etc. En ut starts the album in a big band jazz style as if we're back in the 1940s or watching a 1960s JAMES BOND movie. The following pieces are going into a classic MILES DAVIS-ish smooth jazz style before closing the album with another Big Band style song titled On the edge of a world. The recording took place in April 2019 and as mentioned, the mixing in New Jersey. Check out this new modern Jazz/Big Band classic at: https://umohelsinki.fi/en/new-album-music-of-haarla-heinila-kasurinen-ronka-challenges-conventions-of-big-band-music-with-timeless-flair
(Points: 8.1 out of 10)
KOMASI 'MEZCLATOTAL' (YAPA/INOUIE/VEEV.COM/FRANCE IMPORT)
KOMASI is a France based band formed around 3 members who have been playing together for over 10 years in different settings and bands, but joined forces as a new band in 2018 and the result is this 2021 debut album titled Mazclatotal. The members are from different parts of the world, guitarist/vocalist SIMON CHENET is from France. guitarist/vocalist MAURICIO SANTANA comes out of Chile and drummer/vocalist/percussion player KOTO BRAWA is originally from Burkina Faso. What we have here is an original and diverse sounding album that could be labelled as World Music, yet with also lots of other influences ranging from Latin pop, African music to Progrock and everything in between. This might well be one of the big surprises in World Music in 2021, so let's hope that after corona is over, we can see them live on stage throughout Europe. A song like Sudibi has all the ingredients to become a huge summerhit, while the slightly 1970s based psychedelic/progrock influenced Bontchiere is a sensational tune that shows a completely different side of KOMASI. As mentioned, sometimes the band is close to African music, while at other times modern Latin popmusic and even some light rap/hip-hop is upfront and then there are those prog/psychedelic influences as well as some Indian music influences, however at all times the songs are based around strong melodies in an rhythmic instrumental package. An example is the song Cubamafrica, which has countless music influences and has a catchy chorus to become a radio-hit worldwide. Check it out for yourself at: https://www.komasi-music.com
(Points: 8.3 out of 10)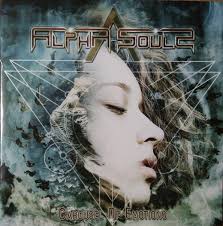 ALPHA SOULS 'CAROUSEL OF EMOTIONS' (ROCK CD RECORDS/SPAIN IMPORT)
Out of lovely sunny Tenerife (Canary Islands, Spain) comes ALPHA SOULS, a new band/project formed around guitarist/songwriter/keyboardplayer RICARDO WALLS, who is assisted on the debut album Carousel of emotions by Greek vocalist MANOS FATSIS, bassist BORJA LOPEZ and drummer MANUEL DELGADO. The result is an exciting must-have release for the fans of classic traditional melodic hardrock/prog/aor, because the music of ALPHA SOULS is very melodic in all its aspects, taking the best of neo-classical 80s melodic metal (MALMSTEEN), late 80s/early 90s melodic hardrock (TALISMAN/WHITESNAKE), a touch of 90s AOR a la FAIR WARNING and a tiny bit of 00s/10s progressive metal (THRESHOLD/MOB RULES), and this is all done at a very high level! 13 songs are included on the album, and right from the start its opener Climb to the top is a strong midtempo melodic progressive metal piece with the hooks and choruses of aor/melodic hardrock, kinda like a mix between PINK CREAM '69 and THRESHOLD. Following King of the road is a catchy uptempo melodic hardrocksong that sounds a bit like classic early TALISMAN. The rest of the album continues this high level mixture of melodic rocking styles, with as other highlights the lovely midtempo AOR/Melodic Rocker Silent days (FAIR WARNING-ish), the superb midtempo Words unspoken (early TALISMAN-ish MELODIC ROCK HEAVEN CHORUS!), Dreamer in the night (another winner for the fans of classic melodic rock choruses in the style of WHITESNAKE, TALISMAN, FAIR WARNING...), the uptempo catchy hookladen AOR/Melodic Rocker Never-ending (a la H.E.A.T.), the beautiful AOR ballad How well you think you know me (which has a shredding neo-classical guitarsolo a la FAIR WARNING/MALMSTEEN), the catchy uptempo AOR/Melodic Rockers Believe and Where your heart belongs, and the midtempo melodic prog metal-ish The turning, with it's fantastic chorus. As you can see there are a lot of highlights and I can therefore only conclude this is a must-have CD that reminds me a lot of the classic 90s (80s inspired!) melodic hardrock/aor of the aforementioned bands! I am safe to say if this was 1995, then in Japan this would have been huge, right next to acts like FAIR WARNING, RED DAWN, TALISMAN, etc. Check out this sensational band a.s.a.p. at: https://alphasouls.bandcamp.com/album/carousel-of-emotions
(Points: 8.9 out of 10)
THE BROTHERS STEVE '#1' (BIG STIR RECORDS/USA IMPORT)
THE BROTHERS STEVE are coming out of Los Angeles, California, and they are making their debut with #1, which has been released on BIG STIR RECORDS. The band was formed out of the ashes of TSAR and on #1 we are pleased with a string of catchy classic Powerpop anthems of this exciting band. Their line up consists of JEFF WHALEN (vocals and guitar), OS TYLER (vocals), DYLAN CHAMPION (guitar, vocals), STEVE COULTER (drums) and JEFF SOLOMON (bass), and I am safe to say that this might be the finest Classic Powerpop in ages! 10 songs are included and right from the beginning, it's full-speed ahead with catchy uptempo hookladen/catchy chorus orientated Powerpop in the best early 80s style (Angeline and We go the hits are both reminding of bands like 20/20, THE KNACK, THE ROMANTICS, THE SHOES, THE JAM, THE PRODUCERS, THE RECORDS, etc. etc.). She and Carolanne are going slightly more into the 90s powerpop/college-rock direction of bands like WILCO, THE JAYHAWKS, THE POSIES, TEENAGE FANCLUB, JELLYFISH and such, with a touch of 60s British beat as well (THE HOLLIES influences can be heard during Carry me and Good deal of love). Overall, the band also has a sorta Indie-pop approach to their sound (hearable on C'mon pappy and the Britpop-ish Sunlight) and rootsy rock elements can also be traced (in a song like Songwriter), so basically this is a melting pot of all kinds of pop/rock styles from the glorious past. However, in general speaking THE BROTHERS STEVE are presenting us catchy Powerpop at a very high level, especially during the first 2 songs and the CHEAP TRICK-ish Beat generation poet turned assassin. Go check them out at: https://www.thebrotherssteve.com/music and https://bigstirrecords.bandcamp.com/album/1
(Points: 8.4 out of 10)
VOODOO MOONSHINE 'BOTTOM OF THE BARREL' (INDEPENDENT/USA IMPORT)
Now here we have a sensational classic late 80s/early 90s groovy American melodic hardrock/Hair Metal sounding band that reminds me a lot of the days when bands like TESLA, GREAT WHITE, EVERY MOTHER'S NIGHTMARE, SKID ROW, SLAUGHTER, FIREHOUSE, BADLANDS and countless more were ruling the major label release schedules every week in the USA. Fast forward to 2021 and we are listening to a sensational new release in this classic style. The band is called VOODOO MOONSHINE, they are coming out of Florida and actually already released an album about 15 years ago, but due to the financial crisis and some personal issues, the band's follow-up Bottom of the barrel is now officially finished and released. I am glad they did, because it sounds really awesome from start to finish. Their line-up consists of Pedro Espada (Vocals), Jeff Losawyer (Guitar), Jeffery LaRoche (Guitar), Thomas Ray Neeley (Bass) and Eddie Cruise (Drums). Opener Locked and loaded is the kinda big anthem groovy melodic hardrocker like TESLA meets SKID ROW in their heydays. Not only the sound and songs on this album are making an impression, also the way these guys are playing their instruments and especially the lead vocals of Pedro are superb! Next track Give it to me is a fantastic uptempo melodic Hardrocksong as if FIREHOUSE is back to the sound of their classic debut, but also LILLIAN AXE and INNUENDO come to mind as comparisons. The groovy LED ZEPPELIN influenced Bring it down follows and is basically a true winner for people who want to hear a cross between late 80s VICTORY and TESLA, with SEBASTIAN BACK/ROBERT PLANT-ish high pitched vocals here and there. The superb late 80s Power Ballad Round and round follows, and slows things down a bit before we head into the classic late 80s groovy Melodic Hardrocksound again with the WARRANT/SKID ROW-ish Sometimes you just wanna. What a way to go slows things down a bit again to a more midtempo early 90s bluesy semi-ballad affair (a la STEELHEART, with a chorus a la ALICE IN CHAINS), and once again Perdo shines with his amazing vocal skills! I have no idea where he has been hiding, because we are hearing here one of the finest voices in Hardrock I have heard since the days of the VICTORY/TESLA/GREAT WHITE/STEELHEART/LILLIAN AXE lead singers of the late 80s. Following Swallow my pride is a boogie mixture of glamrock and hair metal, while Eden in your eyes is a calmer acoustic melodic NELSON-ish harmonyvocal-led ballad (remember LILLIAN AXE's Nobody knows???). Rise free is another big time groovy Melodic Hardrock piece like the early days of SKID ROW, EVERY MOTHER'S NIGHTMARE and late 80s VICTORY. Closing track Y'all come back soon is a catchy unplugged boogie/bluesy rocker, with another important part for Perdo's excellent voice. In case you're a fan of any of the mentioned bands, then you will absolutely love this superb record that is locked and loaded with the classic late 80s major label American Hardrocksound, but it sounds fresh enough to be called a retro classic rockalbum as well! More info at: https://www.facebook.com/voodoomoonshine and http://www.voodoomoonshinerocks.com
(Points: 8.5 out of 10)
TIMO KAMARAINEN 'BLINK AND YOU MISS IT' (ECLIPSE MUSIC/XANGO MUSIC)

TIMO KAMARAINEN is a Finnish guitarist with a CD release that is entirely based around his way of playing the guitar, improvised during the 22 included songs in total, he takes you on a journey through the fields, of prog, country, blues, jazz, latin and latin, with many surprising moments and despite it is hard calling these actual songs and to some it might not sound interesting, because it only features Timo on guitar (and a bit of keyboards and percussion), we can still enjoy his fabulous search to create new sounds by just playing his guitar. The beautiful melodies in some of the songs are absolutely stunning and you can really feel the passion of this talented guitarist. More info at: https://www.timokamarainen.com/
(Points: 8.1 out of 10)
THE PAPERS 'WHISKEY IN THE JAR 2021' (NEON ROCK RECORDS/UK IMPORT)
The British band THE PAPERS are back with a new song, which is their version of the Irish traditional Whiskey in the jar. Quite different than the THIN LIZZY, METALLICA and THE DUBLINERS versions I know, this is quite an interesting version for sure. THE PAPERS combine folk, rock, pop, jazz, reggae, singer/songwriter, roots and indie, and they come up with a real original sound, and besides the Whiskey in the jar song, there are 2 more covers (Space Oddity and Message in a bottle) and 2 new songs of the band, which also show the band's mixture of all those musicstyles, with mostly a Reggae rhythm, typical English vocals and folksy melodies. Check them out at: https://thepapersmusic.co.uk
(Points: 7.6 out of 10)
SILVER HUNTER 'SILVER SURFERS' (ACID DRAGON RECORDS/UK IMPORT)
Out of North Yorkshire, UK comes SILVER HUNTER, and we have somewhere else a review of the latest solo-CD of multi-instrumentalist TIM HUNTER, who is also the leader of this SILVER HINTER. In contrast to his instrumental solo albums, on the SILVER HUNTER album Silver surfers we can hear vocals, mostly by Tim himself, but there are also guest singers like Thierry Sportouche, Jasmine Isa Butterworth and Sarah-Marie Gayle. The music is also moving into the proggy ALAN PARSONS PROJECT direction, with a total of 11 songs included. The last blade of English graves is perhaps the best song on the album, although the PINK FLOYD ish Celestial risotto is also interesting to mention. I have to say that the vocals are not that strong and it's especially in the instrumental passages SILVER HUNTER sounds as their best. Check out more at: https://silverhunter.bandcamp.com/album/silver-surfers
(Points: 7.5 out of 10)
JEHNNY BETH 'TO LOVE IS TO LIVE' (20L07 MUSIC/CAROLINE)
JEHNNY BETH (aka CAMILLE BARTHOMIER) is a French musician/producer/actress/presenter/singer/songwriter who is best known as being a member of the English alternative rockband SAVAGES. To love is to live is her solo debut album and I must admit an interesting but very experimental electronic record for sure. At first you really need to get used to this quite original modern sound, but the catchy Flower and We will sin together take that away a bit, sounding like a mix between DALBELLO, TORI AMOS, PJ HARVEY, PATTI SMITH and SIOUSXI AND THE BANHSEES. On the other hand the super experimental mechanical industrial sounding I'm the man and How could you might be a step too far for some, although if you're interested in hearing a mixture between DALBELLO, MINISTRY and NINA HAGEN, this might be right up your alley. The rooms sound like a jazzy influenced sci-fi movie instrumental and throughout the album there is some more slightly modern commercial LADY GAGA/DUA LIPA-ish material to be heard, such as Heroine and the aforementioned We will sin together. Jehnny is really able to sing very well, which can be heard at best during the calmer beautiful atmospheric piano-led French countryside, which has some similarities to KATE BUSH and TORI AMOS. And how about the hypnotical dark sounding Human, which could definitely be used in a futuristic sci-fi movie and is perhaps the best song on the album. All together a diverse, modern and experimental album that nevertheless is actually starting to sound quite interesting after a couple of spins. Highly recommended to fans of the aforementioned PATTI SMITH, PJ HARVEY, TORI AMOS, DALBELLO, etc. Check her out at: https://www.jehnnybeth.com
(Points: 8.3 out of 10)
LAEL NEALE 'ACQUAINTED WITH NIGHT' (SUB POP RECORDS/KONKURRENT)
Acquainted with night is the first album on SUB POP RECORDS of the American singer/songwriter LAEL NEALE. Recorded during the lockdown, she brings a modern take on classic late 1960s inspired melodic singer/songwriter pop/folk music, with a nice 1980s Omnichord (organ/synth like instrument) sound next to her guitar playing, while she also sings us these beautiful melodies in a high pitched voice, it could all end up in becoming a popular album in 2021. Highlights on the CD are Every star shivers in the dark, For no one for now and Some sunny day. More info at: https://laelneale.bandcamp.com/
(Points: 8.0 out of 10)
CLAUD 'SUPER MONSTER' (SADDEST FACTORY RECORDS/KONKURRENT)
Out of Brooklyn, New York comes CLAUD, and she is making her debut with Super monster, a very strong and impressive first record that mixes melodic indie pop/rock with dreampop in a modern way. The artwork of the album did fool me a bit though at first sight, because I honestly was expecting something in the direction of Rap, Hip Hop or R & B, but Super monster has clearly nothing to do with that thankfully. Instead, CLAUD's first album on the label of PHOEBE BRIDGERS is a great record with beautiful haunting melodies sung by a very talented singer, who might become the next big superstar. These are all hit potential catchy tunes, of which the finest are the midtempo pop/rock pieces Soft spot and Cuff your jeans, the calmer anthem Ana (feat. NICK KAKIM), the uptempo catchy melodic early 80s sounding poprocker That's mr. Bitch to you (best song, THE CURE-ish guitar riff and BERLIN/BLONDIE kinda melodies/80s approach quite clearly!) and the alternative 90s pop/rock influenced This town and Falling with the rain. The album was recorded at the legendary ELECTRIC LADY STUDIOS in New York, exactly 50 years after JIMI'S HENDRIX' first sessions took place over there. Despite there are similarities to other modern female pop/rock acts, such as BAT FOR LASHES, HAIM, FLORENCE & THE MACHINE, AUSTRA, LANA DEL REY, ST. VINCENT, LONDON GRAMMER, LAPSLEY and many others, CLAUD definitely shows that this debut album might just be the start of a long and successfull career. Check out more info at: https://toastmp3.bandcamp.com/album/super-monster
(Points: 8.3 out of 10)
CHAD VANGAALEN 'WORLD'S MOST STRESSED OUT GARDENER' (SUB POP RECORDS/KONKURRENT)
CHAD VANGAALEN is a Canadian musician who has already released quite a lot of albums in the past 20 years, starting with his debut Infiniheart in 2004 on SUBPOP RECORDS. He hasn't left the label ever since, and World's most stressed out gardener is his 9th album so far. The included music is a mixture of modern electronic, indie pop/rock and a touch of singer/songwriter Folk, but there's more fascinating sounds to explore as Chad is experimenting a lot. 13 songs are included and there's a lot of diversity to enjoy here, with atmospheric sounds all over the place and a song like Inner fire even reveals a sorta Krautrock influence, while for example Golden pear is then a more friendly melodic folky singer/songwriter indie popsong a la FLEET FOXES. This is not a standard release at all thankfully and from start to finish a really nice listen from a talented musician. You can check it for yourself at: https://chadvangaalen.bandcamp.com/album/worlds-most-stressed-out-gardener
(Points: 8.2 out of 10)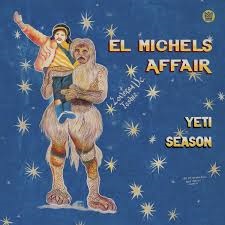 EL MICHELS AFFAIR 'YETI SEASON' (BIG CROWN RECORDS/KONKURRENT)
Now here we have a very interesting album by an act called EL MICHELS AFFAIR, which is actually an instrumental outfit formed around multi-instrumentalist/producer LEON MICHELS. Yeti season is the 5th album under the moniker EL MICHELS AFFAIR, but Leon himself has already done quite a lot the past 20+ years, including playing and recording with SHARON JONES AND THE DAP KINGS, WU-TANG CLAN, LANA DEL REY, THE BLACK KEYS, BEYONCE and much more. It is not that strange that this new EL MICHELS AFFAIR is a superb little record that is filled with mostly instrumental music that feels like a great retro-soul record. Opener Unathi and 4 more songs feature guest vocals by PIAY MALIK (making it sound a bit like ALTIN GUN, especially during the superb Dhuaan) and Sha na na also features some vocals by THE SHACKS, but the rest of the album is entirely instrumental music. 17 songs are included in total and they are all of a very high level. It combines the 70s groovy funk with a lot of soul and some psychedelic world music in a way we know it from the TARANTINO movies and/or 1960s Italian spaghetti western movies. Well done for sure and an enjoyable listen from start to finish, so this Yeti season is a highly recommended instrumental album that will definitely make it's way to fans of KHRUANGBIN, YIN YIN, ALTIN GUN and QUENTIN TARANTINO himself! More info at: https://elmichelsaffair.bandcamp.com/album/yeti-season
(Points: 8.7 out of 10)
DETONATOR 'FAR FROM FALLEN' (INDEPENDENT/SWEDEN IMPORT)
Out of Sweden comes the Thrash Metal band DETONATOR, which was formed quite some time ago and they have meanwhile released a few EP's, of which the latest is Far from fallen. In the past one of their members was JOCKE WALLGREN, who is now a member of AMAN AMARTH. The 5 included songs on their latest EP are presenting a nice melodic thrashy power metal style in the old school Bay Area style of the late 1980s. Not really original, but done very well and a must-have to check out if you're into FORBIDDEN, EXODUS, MEGADETH, METALLICA and such. More info at: www.detonatorswe.bandcamp.com
(Points: 8.0 out of 10)
TIMES UP 'BLACK WING AND PRAYER' (ANMIST MUSIC/UK IMPORT)
Black wing and prayer is the 4th album of the British band TIMES UP, and it dates back to 2018, but for their kind of timeless 1970s inspired progrock, this is no issue at all. The band's music is of a very high level and thankfully also the vocalwork is quite strong, so all together we have here a beautiful calmer melodic progressive rock/symphonic adventure through 6 long songs that makes us dream of the classic 1970s when this kind of music was strictly released on major labels. Anyway, the band consists of Linda Barnes / Lead Vocals, Bob Teague / Synthesizers, Piano & Keyboards, Andy Gibbon / Bass, acoustic, Electric Guitars, Mandolin, Steve Leman / Drums, Percussion, Mike Hagland / Acoustic, Electric, 12 String & Slide guitars, Mandolin, Roland PMA-5, Pigtronix Mothership & EBow Banjo and Rick Lawton / Saxophone, Flute. Although 70s prog/sympho is the name of the game here, we can also find 80s neo-prog influences here and there, such as the cool keyboardsolo of opener and titletrack Black wing and prayer, which might even appeal to fans of PENDRAGON and 80s MARILLION. Another highlight is the lovely super melodic Everybody's everbody, with it's strong harmonyvocals and touch of classic rock, and also the Pomprock orientated There is no smoke without a fire should be mentioned. This is definitely a band that deserves much more attention, as they deliver high quality music. You can find out more about TIMES UP at: www.timesupband.co.uk
(Points: 8.3 out of 10)
REFRAME 'REACHING REVERY' (LUMINOL RECORDS/ITALY IMPORT)
Out of Memphis, Tennesse, USA comes REFRAME, a band formed around Ed Johnson – Bass, Joe Murphy – Vocals, David Lj George - Vocals, Drew McFarlane – Synths/Piano, Elijah Quinn Knight – Drums and Phil Berger – Guitar. Quite surprising is the guest singer COREY GLOVER of LIVING COLOUR on one of the songs (which is the lovely Fearless part 2: I want to be move) and despite the calm almost vocal only opening sequence, the epic 31 minutes counting opener F.E.A.R. is a great melodic complex progressive metal adventure with of course the comparison to DREAM THEATER, although REFRAME sounds a lot rawer and edgier. There is a lot to enjoy here on the debut album of REFRAME, because the 2-CD set contains a concept spread over 4 very long 'acts' and musically is in the modern progressive metal direction, with also influences of TOOL and COHEED AND CAMBRIA. It has the somewhat modern American approach, which is akin to groovy Metal a lot of times, although when listening to the strong uptempo And the light shall lie, the band goes for a slightly super melodic European/Italian melodic prog/power metal approach, and also the lovely melodic hardrock/metal ballad All yours is quite impressive. Nice diverse album this debut from REFRAME, which is overall a melodic concept prog metal affair. Check it out at: https://reframeband.bandcamp.com/album/reaching-revery-2020
(Points: 8.1 out of 10)
GRYPHON 'GET OUT OF MY FATHER'S CAR!' (TENACITY MUSIC/UK IMPORT)
The funny thing is that a few summers back I bought a vinyl record from the British band GRYPHON, who were mainly active in the 1970s and not soon thereafter the band reformed after 40 years, and since 2018 they have been active with new album releases and live performances. Get out of my father's car is their new album, which continues the band's past sound of melting classic 70s progrock and medieaval folk, mostly instrumental, but also featuring vocals. The band's line up nowadays consists of 3 original members (guitarist GRAEME TAYLOR, multi-instrumentalist/vocalist BRIAN GULLAND and drummer DAVE OBERLE) and 3 new members (ANDY FINDON on clarinets, sax, flute, CLARE TAYLOR on violin and keys, and ROB LEVY on bass). The resulting album is a nice classic 70s sounding record with a lot of lovely moments that capture the essence of classic prog/folk-rock which is based around melodies created by the use of various instruments. Recommended to check if you like bands such as YES, RENAISSANCE, STEELEY SPAN, etc. and if you're familiar with the 1970s GRYPHON records, you will definitely like this new album as well. More info at: http:/thegryphonpages.com and https://gryphontrax.bandcamp.com/releases
(Points: 8.0 out of 10)
BRICK BRESCOE 'MY FAVORITE LOS ANGELES RESTAURANT' (TENACITY RECORDS/UK IMPORT)
Out of New York city comes singer/songwriter BRICK BRESCOE, who already has released 12 albums in the past. His latest one is titled My favorite Los Angeles restaurant, a darker singer/songwriter album with a raw edge and a sorta BOB DYLAN/NEIL YOUNG kinda approach. Personally I am not really into such acoustic guitar-led music, but he does a nice job here, but hopefully next time he goes back to his rocking roots, which was hearable on previous albums. More info at: www.brickbrescoe.com
(Points: 7.0 out of 10)
CECIL TAYLOR & TONY OXLEY 'BEING ASTRAL AND ALL REGISTERS...' (DISCUSS MUSIC/UK IMPORT)
Power of two is the result of American pianist CECIL TAYLOR and British drummer TONY OXLEY joining forces and recording an improvised experimental album that explores the extreme complexity of jazz and prog by using the piano and drums only. To some the 2 included long songs are nerve-breaking, because they are very experimental as already mentioned, but to others this is really exciting music. The material was recorded almost 20 years ago in Ulrichsberg, Austria and now this live concert is released on CD, which will be a joy for those who attended this memorable night when these 2 musicians performed an unique piece of music. Check out more info at: https://discusmusic.bandcamp.com/album/being-astral-and-all-registers-power-of-two-106cd
(Points: 8.0 out of 10)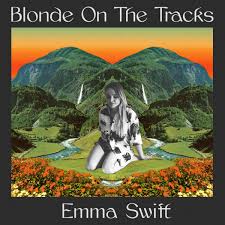 EMMA SWIFT 'BLONDE ON THE TRACKS' (TINY GHOST RECORDS/HEMIFRAN/SWEDEN IMPORT)
Blonde on the tracks is actually the first real full-length album of Australian singer/songwriter EMMA SWIFT, who is the partner of legendary British guitarist ROBYN HITCHCOCK. He and a group of Nashville musicians are Swift's backing band, with as result this album of BOB DYLAN covers. Emma has a fantastic voice and gives the songs a whole new dimension, in a very melodic smooth singer/songwriter style where you can not hear that these are actually BOB DYLAN originals. I contain multitudes, One of us must know (sooner or later) and Simple twist of fate show once again that Bob is a great songwriter, but vocally others can sing those songs much better, and in this case, EMMA SWIFT has delivered a truly wonderful album that sounds timeless thanks to her amazing vocalwork. The album was produced by Pat Sansone of WILCO and I can easily give it a huge recommendation to people who long for calmer melodic story-telling singer-songwriter songs in the classic 1970s spirit. Must-have album and for more info please go to: https://emmaswift.bandcamp.com/album/blonde-on-the-tracks
(Points: 8.6 out of 10)
TAWNY ELLIS 'LOVE LIFE' (INDEPENDENT/HEMIFRAN/SWEDEN IMPORT)
There are some well-known names appearing on the album of American singer/songwriter TAWNY ELLIS, such as TED RUSSELL KAMP and BOB CLEARMOUNTAIN, and when listening to the 10 included songs we hear high quality music that is a mix of sweet polished radio-ready country-pop and a bit of 70s singer/songwriter. It's beautiful typical American music with a focus on memorable melodies in perfectly radio-ready songs that feel nostalgic and romantic, reminding you of a time and period in the past when this kind of music was very much alive on the charts and released on the major labels. Tawny has a great voice and songs like Moonshine, Pretend love and the slightly rockier No more are timeless classic female fronted melodic singer/songwriter/countrypop pieces that is for the Dutch among us quite close to let's say ILSE DE LANGE crossed with a voice that reminds me of SUSANNA HOFFS. Done extremely well and ending the album with the STEELY DAN cover Dirty work, this is a recommended album for sure! More info at: https://tawnyellis.com/
(Points: 8.5 out of 10)
DAVE DESMELIK 'THE CALENDAR ALBUM' (INDEPENDENT/HEMIFRAN/SWEDEN IMPORT)
A bluesy mixture of singer/songwriter, folk and bluegrass is basically what you get to hear on the new album of the American musician DAVE DESMELIK. His voice is raw and nasal, reminding of BOB DYLAN, NEIL YOUNG and such. 12 songs are included on his 15th album, and as the title of the album reveals, each song handles a month of the calendar, starting with January and ending with December. Sometimes it rocks a bit, but most of the time it's acoustic guitar-led singer/songwriter folky bluegrass orientated and you can hear it for yourself at: https://davedesmelik.bandcamp.com/album/the-calendar-album
(Points: 7.0 out of 10)
ROBBY ROTHSCHILD 'ROBBY ROTHSCHILD' (INDEPENDENT/HEMIFRAN/SWEDEN IMPORT)
Producer and mixer of this album from ROBBY ROTHSCHILD is none other than the legendary KIP WINGER. It seems he is currently working in the singer/songwriter world music scene, while in the past of course he is known for fronting Hair Metal band WINGER. On the other hand, he did deliver some excellent well-written material with WINGER, but sadly will always be remember for the songs Miles away and Easy come easy go. Anyway, the American singer/songwriter ROBBY ROTHSCHILD is under Kip's wings and he does deliver a nice mini-album that combines singer/songwriter music with world music. Robby also plays West African kora, guitar, drums, and percussion on the 6 included songs of his same titled debut CD, which also features a list of guest musicians. Definitely interesting for the future this talented musician and you can check out all on him at: https://robbyrothschild.com
(Points: 8.1 out of 10)
STEVE YANEK 'ACROSS THE LANDSCAPE' (PRIMITIVE RECORDS/HEMIFRAN/SWEDEN IMPORT)
I believe this album was already released in 2005, but it's now re-released and in case you missed it, you are now able to enjoy this great album from the American singer/songwriter STEVE YANEK, who also plays piano, keyboards and guitar by the way. 11 songs are included and I noticed some well-known musicians from the past appearing as well, such as drummer ROD MORGENSTEIN (WINGER) and backing vocalist LEAH KUNKEL, who released several albums in the late 1970s and early 1980s. Anyway, Steve has that great old school relaxing voice and also his music is mostly going into the classic 1970s singer/songwriter style, with a rockier touch here and there, but also 70s Californian westcoast pop/rock influences, kinda like a mix between JACKSON BROWNE, CSNY, THE EAGLES, JAMES TAYLOR and JIM GROCE. 11 songs are on this album and after a couple of calmer singer/songwriter pieces, things get a bit more uptempo melodic poprocker/westcoast orientated during the wonderful JACKSON BROWNEesque All I ever wanted, which even has an AOR rocking chorus! Quarter moon taps out of a jazzy direction, while the midtempo rockier I could drown is another winner for fans of JACKSON BROWNE. Other highlights are the uptempo rocker Dance with you and the rootsy bluesy midtempo rocker Got to hear you say it. Fans of JAMES TAYLOR will absolutely love a song like calmer beautiful Barely holding on, so basically there is a lot to enjoy here. I have no idea if Steve released more albums, because I can only find this re-released album Across the landscape from 2005, so make sure to get hold of this album in case you're starting to become interested. More info at: https://www.steveyanek.com
(Points: 8.3 out of 10)
DEBORAH HENRIKSSON 'SO FAR' (DHPR/HEMIFRAN/SWEDEN IMPORT)
Although DEBORAH HENRIKSSON is situated in Sweden, she was born in New Jersey, USA. She has recorded 5 albums so far and So far is a compilation of the best songs of those records, along with a couple of covers and new versions of old songs, including a lovely remake of the classic CLANNAD song Harry's game. This album shows that Deborah is a great singer/songwriter with a beautiful voice and the 26 calmer singer/songwriter pop songs (BARBRA STREISAND meets CLANNAD) are a pleasure to listen to on a misty Monday morning. More info on Deborah at: https://www.deborahhenriksson.com
(Points: 8.1 out of 10)
KAURNA CRONIN 'ALOFT IN BLUE' (INDEPENDENT/HEMIFRAN/SWEDEN IMPORT)
I have heard and reviewed a lot of albums of Australian singer/songwriter KARNA CRONIN, and so it is pleasure to inform you about his new album Aloft in blue. Once again we can enjoy calmer melodic singer/songwriter pop/rock from start to finish, with in total 10 songs included. Kaurna himself wrote all the songs and played guitars, harmonica, piano, synth, drums, percussion, while as guest we can hear guitarist TOM KNEEBONE, bassist KIAH GOSSNER, piano/organ/synth player MATT MORISON and on backing vocals LAUREN HENDERSON. The resulting album is a joy to listen to, with many beautiful moments, such as the wonderful Wishing on forever and the uptempo pop/rock of Give your love to a stranger has some sorta 70s melancholy. Kaurna has this typical way of Australian English singing, which is quite charming to listen to. More info at: https://kaurnacronin.bandcamp.com
(Points: 8.2 out of 10)
MARK VIATOR & SUSAN MAXEY 'WHERE THE ROADS LEADS' (INDEPENDENT/HEMIFRAN/SWEDEN IMPORT)
MARK VIATOR and SUSAN MAXEY are singer/songwriters from Austin, Texas and Where the roads leads is their 3rd album together. Here we have a nice mixture of male and female vocals, with singer/songwriter calmer country ish material when Mark sings 9a la WILLIE NELSON), while it gets more uptempo and a bit bluesier melodic Americana orientated when Susan sings, and personally I prefer those songs, such as the catchy Tore up from the floor up and Before I disappear. Nice album and for more info you can check their site at: https://www.viatormaxey.com
(Points: 8.0 out of 10)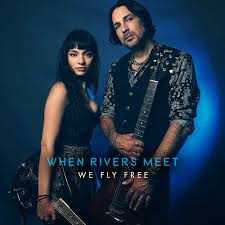 WHEN RIVERS MEET 'WE FLY FREE VINYL RECORD' (ONE ROAD RECORDS/UK IMPORT)
In 2020 I received a CDR of the debut album of WHEN RIVERS MEET, a British husband/wife duo consisting of Aaron Bond (guitar and back-up vocals) and Grace Bond (lead vocals, fiddle and resonator mandolin), while additional musicians on their debut full-length album We fly free are Adam Bowers on percussion, bass and keys, and Robin G Breeze, who also shares bass and keys. Now there is a beautiful looking and excellent sounding blue splatter vinyl record available of the album and therefore a re-run of the review, with additional remarks, because back then I was only able to listen to 5 songs. The record contains in total 12 sensational songs, and musically speaking it is strong heavy bluesrock of the modern age like we know it from acts such as BLUES PILLS, LARKIN POE, THE BLACK KEYS, THE WHITE STRIPES and a touch of BETH HART. Grace has a strong voice and the songs are built around a classic 1970s retro guitar riff from the Classic Rock book of let's say LED ZEPPELIN and BAD COMPANY, while there is a lot of soul in both the vocal and chorus department. The band rocks big time on most of the songs, but here and there they slow things down, such as during I'd have fallen and the amazing emotional semi-ballad Bury my body. However, WHEN RIVERS MEET sounds at their best during the big stompin' groovy classic heavy rockers, such as Did I break the law, Walking on the wire, Battleground, the titletrack We fly free and the superb I will fight. This is Classic Rock for the future to come, so make sure to get yourself a copy of one of the finest rockalbums in a long time! Available through: https://whenriversmeet.co.uk/
(Points: 8.9 out of 10)
STARIFIED 'FAT HITS' (RIPPLE MUSIC/USA IMPORT)
It is the year 2021 and we have the first sensational new release in the shape of the 3rd album of the Russian progressive stoner rock band/power trio STARIFIED. I am not familiar with the band's 2 earlier releases, but this is their first release on the American label RIPPLE MUSIC, so it probably sounds bigger than their previous albums. They were formed in 2014 and their current line up consists of guitarist Yuriy Berezovik, bassist Dmitriy Shurpakov and drummer/vocalist Vadim Ambartsumyan. 10 songs are included and right from the start we are heading into superb high class stoner rock with a progressive rock/metal influence and a strong melodic chorus. Instrumental the guys sound top-notch and also vocally drummer Vadim has a great voice. An ode to Tenacious D is one of the absolute highlights, because this hard heavy guitar riff ode to TENACIOUS D. changes halfway into an up-tempo classic rocker with shredding guitar solos all over the place like a mix between THIN LIZZY, BLACK SABBATH and SPIDERGAWD. Also Wider lane and Same old rover are lovely tunes, and probably the most melodic hardrock orientated songs, a bit sounding like FOO FIGHTERS, while the QUEENS OF THE STONE AGE-ish What if is another highly recommended tune! STARIFIED describes their sound as a mix between ZEPPELIN, SABBATH, FOO FIGHTERS and QUEENS OF THE STONE AGE, and I have to admit this is completely true! Basically, this band combines perfectly classic rocking guitar riffs, interesting song structures and strong melodies, so make sure not to miss them! More info at: https://starified.bandcamp.com/album/fat-hits
(Points: 8.6 out of 10)
KABBALAH 'THE OMEN' (REBEL WAVES RECORDS/RIPPLE MUSIC/USA IMPORT)
Female fronted melodic occult heavy psychedelic doom metal/classic retro 70s hardrock, that is the name of the game here and we have seen a lot of bands doing this the past 10-15 years, such as BLOOD CEREMONY, DOOL, PURSON, HIGH PRIESTESS, LUCIFER, GOLD, THE DEVIL'S BLOOD, but of course there are also similarities to late 1960s/early 1970s BLACK SABBATH, COVEN, BLUE OYSTER CULT and a heavier mixture of THE DOORS meets JEFFERSON AIRPLANE. I think you'll get the picture now how this more or less sounds like. KABBALAH is doing a great job on The omen, with 8 songs in total, of which the highlights are Ceibas, Night comes near, The ritual and the fantastic uptempo The labyrinth. Anyway, KABBALAH is actually an all-girl trio band from Pamplona, Spain, consisting of Carmen Espejo/Drums/vocals, Marga Malaria/Bass/vocals and Alba DDU/guitar/vocals and The omen is their 2nd album so far. The sound is pure heavy fuzzy doom guitar orientated, yet with a very melodic approach, which is thanks to the somewhat sweet dreampop-ish lush lead- and harmony vocals. Fans of THE DEVIL'S BLOOD and COVEN will absolutely love this album! Check them out if you like any of the mentioned bands: https://ripplemusic.bandcamp.com/album/the-omen
(Points: 8.4 out of 10)
JAKETHEHAWK 'HINTERLANDS' (RIPPLE MUSIC/USA IMPORT)
JAKETHEHAWK comes out of Pittsburgh, Pennsylvania, USA and Hinterlands is their 3rd album. The band is presenting us superb high quality melodic Doom Metal that sounds as good as for example CANDLEMASS, yet more modern orientated with some Post-Rock influences here and there, as well as traceable influences from bands like OPETH, BETWEEN THE BURIED AND ME, ELDER, and such. The band is formed around vocalist/guitarist/keyboardist JOHN HUXLEY, guitarist JOSH EMERY, bassist/vocalist JUSTIN LOBER and drummer JORDAN LOBER. The resulting new album Hinterlands features 6 slow songs with a big focus on the heavy slow doom metal guitar riffs of the BLACK SABBATH kind, yet with superb melodies and post-rock influences during the haunting melancholic choruses that recall memories of the aforementioned OPETH. Still life is the highlight of the album, also being the most melodic song on the album. These guys are doing a terrific job, with 6 sensational long songs on their album and I am safe to say that this record will go down well among the die-hard Doom Metalfans! Check them out at: https://ripplemusic.bandcamp.com/album/hinterlands
(Points: 8.9 out of 10)
APPALOOZA 'THE HOLY OF HOLIES' (RIPPLE MUSIC/USA IMPORT)
The French band APPALOOZA was formed in 2012 and The holy of holies is their 2nd album so far. The band is influenced by bands like QUEENS OF THE STONE AGE, THEM CROOKED VULTURES, ALICE IN CHAINS, SOUNDGARDEN and such 90s/00s modern heavy stoner rock with a touch of alternative rock. 9 songs are included in total on this new album, and when looking at the song titles, it surprised me that almost each one is an actual band name. Of course a coincidence, because there is no relation to any of the actual bands. Anyway, the music is as already mentioned modern and a bit alternative, yet with a fuzzy stoner rock approach, some screams here and there, but never forgetting to throw in a melody. Highlights on the album are the catchy uptempo melodic rocking Snake charmer, Nazareth (middle eastern influenced with big fat riffs and reminding of ALICE IN CHAINS), Conquest (epic melodic progmetal with a sorta TOOL touch and at the end a nice calmer Spanish guitar part) and Distress (uptempo modern rocker a la FOO FIGHTERS). The sound is massive and you would honestly think this is an American band, but they really are from the Brittany region in France, and you can find more info on APPALOOZA at: https://ripplemusic.bandcamp.com/album/the-holy-of-holies
(Points: 8.4 out of 10)
THE ALEX BUTTER FIELD 'POPSYCHLE' (SUBURBAN POSER RECORDS/USA IMPORT)
We reviewed the debut album Psychedelipop of the American band THE ALEX BUTTER FIELD last year and here is already album number two entitled Popsychle. The band is formed around New Haven based HANK HOFFMAN (vocals, guitars, keys), Tom Smith on drums and percussion, Andy Karlok on bass, Dean Falcone on electric and acoustic guitars, keyboards, and mellotron, and Scott Amore on keyboards and percussion. Together they create a very nice classic early 80s sounding melodic hookladen powerpopalbum. It's actually a mini-CD consisting of 6 songs and right from the start with the fantastic uptempo Powerpop gem (I'm in the) Sunshine state it is clear we are dealing here with a great sounding band that will hopefully bring us much more in the future. Other highlights are Tear my heart out and Snowflakes. Check for yourself at:
https://thealexbutterfield.bandcamp.com/album/popsychle
(Points: 8.1 out of 10)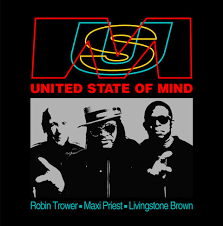 ROBIN TROWER, MAXI PRIEST, LIVINGSTONE BROWN 'UNITED STATE OF MIND' (MANHATON RECORDS/UK IMPORT)
You absolutely can't go wrong when you have guitarist ROBIN TROWER (PROCOL HARUM, solo career), vocalist MAXI PRIEST (successful singer in the Reggae scene, with many hits in his career) and bassist/keyboardplayer/producer LIVINGSTONE BROWN (THE WATERBOYS, TINE TURNER, BILL WITHERS, ED SHEERAN and countless more) sitting in Livingstone's studio together. With the help of a few guest musicians (regarding the drums, percussion, trumpet, sax, trombone, violin, cello, viola and flute), these 3 legendary UK musicians recorded 9 songs back in 2018, and now in the middle of a pandemic it has been released on CD. I am glad they did this, because the particular album United state of mind is a superb piece of high class musicianship, which screams to be heard worldwide, especially during these rare times. Musically speaking it doesn't matter what will be said of it, because the included songs will touch many people due to the heart and soul of the sound, which somehow sounds like it was recorded live in one take. Opener and titletrack United state of mind shows rightaway we are dealing with a sensational release, because this is a lovely bluesy, groovy and very soulful midtempo rocker with superb vocals and excellent musicianship. There are similarities possible to BLACK PUMAS, yet these 3 legends clearly have a sound of their own. Following Are we just people is a very relaxing laid-back soulful tune with a smooth bluesy touch. The classic 1970s inspired On fire like Zsa Zsa is another sensational midtempo bluesy soulful rocker with a groove that takes you back straight into the glorious 1970s. Walking wounded slows things down to a superb classic bluesy soul ballad. Maxi's vocals are spot-on, soulful and of an absolute perfection, which can be heard on each of the 9 included songs, but during Sunrise revolution, the goosebumps pop up for sure, because of the combination with Robin's precise bluesy guitarwork and the relaxing vibe of the song. Up next is the midtempo bluesy rocker Hands to the sky, while the amazing Bring it all back to you is one of the most beautiful soulful ballads of the past 10 years, with once again Maxi shining all the way. Good day picks up the tempo again to a midtempo bluesy rock direction, and this song brings you in a summer-ish mood definitely. Where our love came from closes the album in a lovely calm smooth bluesy ballad style with Maxi's vocals giving you the goosebumps factor again. Concluded, this is an absolute winner and let's truly hope this collaboration will lead to more albums, and we can only dream that after covid they will perform together on stage. Meanwhile, check out this sensational release at: http://www.trowerpriestbrown.com
(Points: 8.9 out of 10)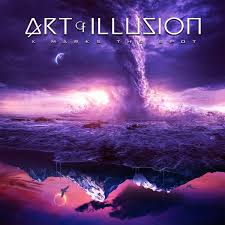 ART OF ILLUSION 'X MARKS THE SPOT' (AOR HEAVEN/GERMAN IMPORT)
It must have been 15 years ago when I first heard vocalist LARS SAFSUND on a demo I received from Sweden, which concerned WORK OF ART's first recordings. Of course we know what happened next, because they were signed to FRONTIERS RECORDS and released 4 beautiful albums on FRONTIERS RECORDS, while Lars himself also established himself as a workaholic with all kinds of side projects, bands and involvements, including LIONVILLE, ACACIA AVENUE, ENBOUND and of course the EUROVISION SONG CONTEST! Anyway, he has a new project now called ART OF ILLUSION, which is together with another legendary Swedish AOR musician, namely multi-instrumentalist ANDERS RYDHOLM (PROMOTION, GRAND ILLUSION, OVERLAND, etc), and they delivered their debut X marks the spot on AOR HEAVEN. 12 songs are included, and opener Wild and free and following track Run start the CD very cheerful and they are both lovely classic 80s inspired uptempo AOR rockers with catchy hooks, big choruses and superb vocals, like a mix between SURVIVOR, JOURNEY and TOTO, but also of course not far removed from WORK OF ART either.
My loveless lullaby is a slight change in style, because during the beginning of this song we can hear a 'musical' kinda bombastic Pomprock that takes us straight into classic late 1970s STYX, where Lars shows once again he is one of the finest vocalist in the scene. The song switches to an uptempo PRIDE OF LIONS – AOR sound however after this 'intro' and is basically the wet-dream for any AOR fan! Waltz for the movies is a real departure, but personally for me very interesting, because this is a short musical-opera bombastic prog/sympho rock influenced song like we know it from acts like KAYAK, QUEEN and ROBBY VALENTINE.
4Am is my favorite song on the album, because this is Westcoast-AOR HEAVEN, a beautiful (semi) ballad that is right up there with the classic past of TOTO, FRANKE & THE KNOCKOUTS, CHICAGO and LE ROUX. Following Go is back to uptempo AOR like WORK OF ART, SURVIVOR and PRIDE OF LIONS, while Snakebite charm is also pure AOR, but slightly less enthusiastic during the chorus. Let the games begin has another theatrical QUEEN/VALENSIA/ROBBY VALENTINE start, but changes quite quickly to uptempo PRIDE OF LIONS – AOR again, with a very strong memorable chorus. A culinary detour is a short theatrical song again, but we're back into cheerful no-nonsense uptempo AOR again with Catch you if I can and the superb Rampant wildfire. Race against time closes the album in a calmer piano-led ballad style.
Although not very original, the guys do deliver a perfect sounding AOR record the way fans of WORK OF ART and PRIDE OF LIONS would like to hear it and somewhere else you can read an interview with Anders. More info at: https://www.facebook.com/aoisweden/
(Points: 8.6 out of 10)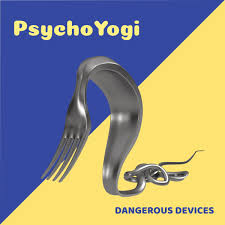 PsychoYogi 'DANGEROUS DEVICES' (INDEPENDENT/UK IMPORT)
Now here we have a very interesting band from London and they are called PsychoYogi. The beautiful front cover artwork of their 5th album Dangerous devices makes you already excited to listen to the album, which contains 12 songs in total. The band consists of CHRIS RAMSING (Guitar, Vocal), JUSTIN CASEY (Drums, Percussion) and IZZY STYLISH (Bass), with as guests TOBY NOWELL (Trumpet, Alto & Soprano Sax) and JOHN MACNAUGHTON (Alto & Tenor Sax). Right from the start it is clear we are dealing here with an original sounding band that grabs back to the 1970s when you could be innovative and still be signed to a major label. The music takes elements of progressive rock, jazz and freestyle music, ending up sounding like a mix between an experimental 1970s Krautrockband, FRANK ZAPPA, GONG, JETHRO TULL, SOFT MACHINE, a smooth jazz-fusion band from the 70s and a tiny part of the quirky sounds of GODLEY & CREME meets MONTY PYTHON humor. The resulting album Dangerous devices is a lovely adventure to experience and each time you think you understand the sound of the band, then they take you into a different direction again. Most of the songs are quite melodic actually, with pleasant vocals and a relaxing vibe that makes it an enjoyable listen. Highlights are the title track and opener Dangerous devices, New frontier and Words unspoken, but once you love the band's own sound, then you will love all of the included songs. Although it's hard to really describe PsychoYogi, I think you'll get the idea what they are trying to achieve here and I must say it is a pleasure to listen to this high quality band. Check them out at: https://psychoyogi.bandcamp.com/album/dangerous-devices
(Points: 8.4 out of 10)
DAVE THOMAS 'ONE MORE MILE' (INDEPENDENT/UK IMPORT)
The journey of Norwich, UK based DAVE THOMAS has been quite long, starting way back in the 1960s and especially during the 1970s with his band BLONDE ON BLONDE, he found his fame and fortune, appearing at both of the legendary Isle Of Wight festivals alongside JIMI HENDRIX, BOB DYLAN and FLEETWOOD MAC! They also managed to release a few albums, which have been re-issued recently by ESOTERIC RECORDINGS/CHERRY RED RECORDS, and I hope to review those albums in the near future. Anyway, eventually he launched himself a solo career, and One more mile is his latest solo CD release. Dave himself sings and plays guitar, which he does both quite well, while he is assisted on the album by drummer Terry Popple (ex-VAN MORRISON), bassist Dylan ApIvor, Hammond organplayer Tom Arnold, the American horn section from the Travis Haddix Band, trumpetplayer Jeff Hager "Hager the Herald" (USA), multi-instrumentalist Declan Sinnott and Ken Pustelnik's band GROUNDHOGS. The album was recorded at a few different places (USA and UK), which explains the use of aforementioned musicians. Opener It's my own fault is a BB KING cover, which is a calmer bluesy song where we can already hear Dave is a great singer and guitarist. Next song I like my chicken fried is a great funkier 1970s inspired west coast pop/rock affair that sounds a bit like a cross between STEELY DAN and BILL CHAMPLIN. Dave's vocals also remind me a lot of Bill actually, which is quite a compliment, because Bill's voice is quite unique. Anyway, the rest of the album continues this mixture of bluesy songs and a few funkier west coast pop/rock orientated material, but also leaves room for a few singer/songwriter pieces and even a couple surprises towards the end of the album. It's like a mix between VAN MORRISON, BB KING, STEELY DAN and BILL CHAMPLIN, with as other highlights Poor boy and There's a train, but as mentioned the best is kept until the end. The final 3 songs are all pure rockers recorded in Bristol, UK and all of them written by TONY MCPHEE. Those songs are the best ones on this album, Garden (perhaps the best song, a fantastic straight-ahead classic 70s rocker), Eccentric man (another pure 70s classic hard rock tune with even memories of classic DEEP PURPLE/CREAM) and Strange town (70s heavy blues rock with fantastic soaring guitar solos in classic 70s style) show a completely different side of Dave, and I have to say that I like it a lot, so hopefully it will lead to a full rocking album next time, although secretly I also love his other songs that explore the blues, singer/songwriter and west coast territories. You can check out everything on this talented musician DAVE THOMAS at: www.davethomasblues.uk
(Points: 8.3 out of 10)
HUNTER COMPLEX 'DEAD CALM AND ZERO DEGREES' (BURNING WITCHES RECORDS/UK IMPORT)
HUNTER COMPLEX is formed around Dutchman LARS MEIJER, who created this 'project' in 2008 and Dead calm and zero degrees is the 4th album so far. Lars began releasing synth music on handmade tapes in the late 80s, while during the 1990s and 2000s he got involved with quite a few bands and projects, with whom he released official albums. Anyway, fast forward to 2020 and we're listening to his latest product. The included music is obviously 1980s inspired, and some might call it Retrowave or Synthwave, but New Age and Electronic synthpop are also terms to describe the music. If you're familiar with classic 80s sci-fi soundtracks such as THE TERMINATOR, BLADE RUNNER and such, then you will understand where HUNTER COMPLEX is going musically speaking. This is perfect instrumental music where the melodies are bringing you into synthesizer heaven. 10 songs are included, some of it also has a bit of 80s TANGERINE DREAM/KLAUS SCHULZE kraut influences and I must say it's a great journey to experience. I only received the promo CDR of the album, but I can inform you it's also available on a lovely vinyl record, which is released by the British label BURNING WITCHES RECORDS. More info at: https://burningwitchesrecords.bandcamp.com/album/dead-calm-and-zero-degrees and http://www.huntercomplex.com
(Points: 8.1 out of 10)
BAD TEMPER JOE 'ONE CAN WRECK IT ALL' (TIMEZONE RECORDS/GERMAN IMPORT)
BAD TEMPER JOE is a German blues guitarist/singer/songwriter who has already released quite a few albums. Once can wreck it all is his latest, a 2021 album and a really good back-to-basic acoustic guitar-led blues record with the incredible raw, charismatic voice of Joe, who has clearly an own identity, as original as for example VAN MORRISON, SEASICK STEVE, RANDY NEWMAN or TOM WAITS, which means he is a real character. His music is also sounding somewhat like a cross between the aforementioned acts. Although it may sound like Joe is all on his own, there are guest musicians besides Joe singing and playing guitars, piano, foot stomping and kettledrum, because other involved musicians are Washboard Wolf – washboard, kick drum, percussion, Ian Andrews – vocals, kettledrum, Moritz "Moe" Herrmann – vocals, kettledrum, Marcel Rahe – harmonica, vocals and Alexander Scholten-Luchsen – piano, vocals. The resulting album is from start to finish honest and very basic, but in these rare times, this is unique and making it interesting to listen to. Songs like opener The night Johnny Cash quit doing pills, Early morning blues, One can wreck it all and Wishing well are just a few examples of the authentic blues sound of this lovely album. BAD TEMPER JOE is as real as you can get and I'll bet live he will give it even more soul and honesty. However due to covid we will have to wait for that, but thankfully you can check out this new album of him. More info at: https://www.badtemperjoe.com and https://badtemperjoe.bandcamp.com
(Points: 8.3 out of 10)