HOT NEW REVIEWS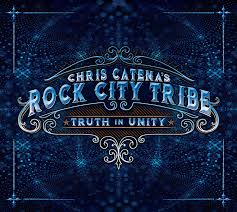 CHRIS CATENA'S ROCK CITY TRIBE 'TRUTH IN UNITY' (GROOVEYARD RECORDS/USA IMPORT)
CHRIS CATENA is an Italian singer who has been in the music business for quite a while now and his latest adventure is a project called CHRIS CATENA's ROCK CITY TRIBE, on which he works together with Swedish guitarist JANNE STARK. There's a long list of guest musicians on the album, such as guitarists Blues Saraceno, Tracii Guns, Pat Travers, Stevie Salas, Dick Wagner, Doug Aldrich, Ron 'Bumblefoot' Thal, Kee Marcello, Rowan Robertson, Ozz Fox, Jimmy Crespo and Freddie Salem, bassists Wyzard, Chuck Wright, Tony Franklin and Greg Chaisson, while the drums are provided by Matt Starr, Brian Tichy and Troy Lucketta and there's even room for guest singers like Paul Shortino, John Sloman and Bobby Kimball. Quite impressive for sure and thankfully we get to hear high quality music as well, because the album is filled with guitar riff driven groovy melodic heavy rock with a slight bluesy touch. Songs like The trickster, The seventh son and Get ready are very strong groovy melodic heavy rock songs (WHITESNAKE meets VAN HALEN), while there is a slight change to more late 80s sounding mainstream melodic rock (a la TYKETTO/BANGALORE CHOIR) on the sensational My angel, which even reminds me a bit of classic 1990s FAIR WARNING. Funnily enough the following uptempo Still a fool is even more going for that melodic hard rock approach, and it is probably the strongest song on the album, because it has a superb twin-guitar/chorus that reminds me of classic THIN LIZZY! I also need to mention the wonderful closing track Ridin' the freebird highway, which is a perfect semi/mid tempo melodic rocker in the style of HURRICANE and ICON, with superb vocals and a great middle and ending uptempo part. Anyway, this is a very strong record that is one to own if you like classic traditional Hardrock/Melodic Heavy Rock with the focus on the groovy guitar riffs and soaring solo's from the good old days of all the mentioned bands. Go check out more info at: http://www.grooveyardrecords.com/chriscatenasrockcitytribetruthinunity.html
(Points: 8.6 out of 10)
HEVIUS 'MILLENAIRE' (ELLIE PROMOTION/SEASON OF MIST/FRANCE IMPORT)
Formed in 2001, the Parisian band HEVIUS released their debut album Derriere la Lumiere back in 2006, but it took them 14 years to release the follow-up Millenaire. Their line-up consists of Alexandre Ferrier/Drums, Julien Ferrier/Guitars, Vocals, Olivier Louis-Servais/Guitars, Florian "Flo" Altairac/Keyboards and Ugo Verzeletti/Bass, and their music is quite clear, because opener Millenaire sets the record straight immediately, because this is a great catchy faster uptempo Melodic Power Metal song in the best style of FREEDOM CALL, STRATOVARIUS, HELLOWEEN, MANIGANCE and such, with a strong melodic chorus and happy sounding twin-guitars. Thankfully the band continues this happy Power Metal throughout the rest of their album, with thanks to their French lyrics the band sounds quite a bit like MANIGANCE, only less proggy. Other highlights are Une autre vie, de l'autre cote du miroir and Liberte (probably the best song on the album, with it's fantastic guitarwork). Although most of the songs are uptempo and pure melodic (power) metal, there is also a moment of calmness to be heard in the fantastic semi-ballad/midtempo Armee d'acier, which is a cross between MOB RULES and MANIGANCE, and features a lovely melodic chorus. As the guys love to speed things up, towards the end the song is changing into an uptempo tune again, and also features like every other song on the album an excellent guitarsolo. The band loves their twin-guitarwork and they do it quite perfectly in classic MAIDEN/THIN LIZZY style. Recommended band to people who don't mind the French lyrics, which after all has its charm! Go check them out at: https://www.hevius.com
(Points: 8.3 out of 10)
JAMES KENNEDY 'MAKE ANGER GREAT AGAIN CD + NOISE DAMAGE BOOK' (KONIC RECORDS/UK IMPORT)
JAMES KENNEDY is a British guitarist/singer/songwriter, who is part of the band KYSHERA, but he also enjoys a solo adventure since 2002, and he was kind enough to send me his latest solo album Make anger great again. James also included in the package his book debut Noise damage, which he recently released quite successfully, because it ended up quite high on the bestselling book charts of several online book stores. He has released 7 albums so far, and he played all the instruments by himself as well as doing all of the productions, which is quite an achievement considering his 40% hearing loss due to childhood ear surgery. He founded his own label KONIC RECORDS back in 2010, and likewise the albums have all been released on this label ever since. Musically speaking his new album Make anger great again is a very raw and aggressive album (especially lyrically), but in a good rock and roll way. 11 songs are on the CD and opener The power is a raw groovy heavy rocker with a funky touch as well, like RED HOT CHILLI PEPPERS meets LIVING COLOR meets SYSTEM OF A DOWN, yet sounding a bit late 1980s ish. Following Autopsy is a bit less aggressive and in your face than the first song, because this is a modern sounding uptempo rocker in typical British style, with a rather catchy melodic chorus, and actually it could easily become a radiohit! James is very diverse musically speaking on his CD, and he also shows he is a great singer, which can be heard very well on the lovely midtempo melodic rocker Ghosts, which sounds like a cross between MUSE and classic DEF LEPPARD.
Following Mind revolution is another change in style, because this is faster aggressive uptempo punk influenced garage rocker like IGGY POP out-of-control, yet with some thrashy metal gang-vocals as well. Algorhythm throws in PRINCE influenced funkiness into a THE WHITE STRIPES ish rockstyle. Outragers is another modern sounding catchy midtempo rocker, which somehow sounds like a cross between MARILYN MANSON, ALICE COOPER and JACK WHITE. Up next are We fight dirty (cool 80s influenced MOTLEY CRUE/SHOTGUN MESSIAH type of uptempo heavy Glam/Partyrocker, with a screaming part a la MARILYN MANSON included as well), Solace in sickness (a calmer and radio-ready modern semi melodic rockballad like ADAM LAMBERT/DAUGHTRY at first sight, with superb vocalwork and a soaring shredding guitarsolo, although you have to be aware of some extreme screaming a few times during the song), Struggles (my favorite song on the album by far, a fantastic groovy midtempo TALISMAN ish melodic rocker with a lovely 80s AORish chorus like NOISEWORKS meets SKINTRADE) and Primal (quite experimental midtempo rocker). Closing the album is Broken compass, a big fat groovy hardrocker with an early 1990s kinda feeling, remember EXTREME, but then with some distorted vocals here and there). This is an extremely diverse, but very enjoyable album, which still feels like a pure raw rock and roll record from start to finish. James' book Noise damage is an interesting read and about the tough struggles James went through in his music career. As mentioned on the website of his publisher: "It's the story of a half-deaf kid from a tiny, remote village in South Wales who was hailed as a genius by the UK's biggest radio station and headhunted by major record labels, only for the music industry to collapse. It crashed hard, taking with it an entire generation of talented artists who would never now get their shot. CNN called it 'music's lost decade'. " I think this says it all and for almost every musician this is reality when getting into the tough music business. James has been there all the way and along with his latest album Make anger great again, it is a nice combination to really understand the life of a rock musician. More info at: https://nl.jameskennedystuff.com and http://eye-books.com/books/noise-damage
(Points: 8.2 out of 10)
WARD XVI 'METAMORPHOSIS' (METAL ROCKA RECORDS/CARGO RECORDS/UK IMPORT)
Out of the Northwest of England comes WARD XVI and Metamorphosis is their 2nd album so far. It's a concept record about Psychoberrie, a fictional serial killer locked up inside Whittingham Asylum and her journey from sweet-natured infant to murderous, dead-eyed adult. The music is Rock Opera orientated like we know it from the Dutch (AYREON, NOSTRADAMEUS, JACK THE RIPPER, MERLIN, etc. etc.), but I have to say WARD XVI does a very good job as well on their new record. The album is divided into 4 parts, and each part contains separate songs, although all together they tell us the concept story. The band is formed around Psychoberrie – Vocals/Keys and Lyrics, Dr Von Stottenstein – Guitar and Wolfy Huntsman – Bass, while there are quite some guest appearances, such as 'Retrogression': The Psychiatrist – Chris Barton, 'Verdict': The Judge – Steve Walker, Drums -John Badger, Martin Crawley – Keyboards & Accordion, Anabelle Iratni – Operatic Vocals and Russ Custard – Guest Vocals: 'Shadows'. After the intro of Retrogression, we get to hear the sensational massive sounding midtempo bombastic melodic progressive rock piece The cradle song, with superb female vocals by guest singer ANABELLE IRATNI, who apprears on 1 more song later on the album. Other highlights on the album are Broken toys, Imago and Shadows. Definitely a recommended album to fans of the classic Rock Opera sound like we know it from countless Dutch releases... More info at: http://www.wardxvi.com/
(Points: 8.3 out of 10)
THE GREAT AFFAIRS 'EVERYBODY MOVES, NOBODY GETS HURT' (INDEPENDENT/USA IMPORT)
Out of a suburb of Nashville, USA comes the Classic Melodic Rockband THE GREAT AFFAIRS, and Everbody moves, nobody gets hurt is their 5th album so far. The band is formed around vocalist/guitarist DENNY SMITH, vocalist/drummer KENNY WRIGHT, guitarist PATRICK MILLER and bassist MATT ANDERSEN. Their music is quite sensational actually, just doing the classic American melodic rocksound basically, but in a very good way, really resembling that old spirit of the early to mid 80s. Opener I'm alright is classic early 80s American uptempo Melodic Hardrock with a catchy chorus and reminding me of bands like KNOW ILLUSION, MONEY (First investment), STRANGER and such. Following Believe in ghosts is midtempo and more modern orientated, with even a slight country/heartland rock/americana touch. The catchy uptempo Lyvia is loaded with hooks and is basically a superb melodic poprocker in the classic 80s spirit of RICK SPRINGFIELD circa Working class dog. The melodic rock choruses and hooks continue on the rest of the album, with as other highlights Worn out souls, the southern rock influenced Three-leaf clover, the classic 80s melodic rocker The ride and the uptempo melodic poprocker Satellite. Check out this sensational Classic Rockband at: https://dennysmithmusic.com/
(Points: 8.5 out of 10)
JOHN CARPENTER'S LOST THEMES 3 'ALIVE AFTER DEATH' (SACRED BONES RECORDS/KONKURRENT)
This album feels like a step back in time to my teenage years when I bought the JAN HAMMER Crockett's theme 45" single and I watched Sci-Fi (STAR WARS) and Horror (A NIGHTMARE ON ELM STREET) movies as well as TV series such as KNIGHT RIDER, V, THE TWILIGHT ZONE and TRANSFORMERS. It was the 1980s when the music in all those series and movies was instrumental synth music based and nowadays it is refered to retro Synth Wave. Back then we absolutely had no idea that one day this would actually be considered a genre and would resurrect in the 2010s and 2020s. JOHN CARPENTER is a legendary movie producer/director/composer, who made classic movies like THE THING, HALLOWEEN, CHRISTINE, ESCAPE FROM NEW YORK, etc., but he also composed the music that was included. Through the years he also released albums that were not the soundtrack or score to a certain movie, and Lost themes 3 Alive after death is his new 2021 release. We are diving into classic 1980s inspired Synthwave and/or Sci-Fi/Horror movie music here from start to finish, with 10 excellent instrumental songs that will also be of interest for fans of the modern MAGIC SWORD for example. It's a combination of exciting synthesizers and melodic soaring guitar solos, all done by JOHN CARPENTER and his son CODY CARPENTER on synths and DANIEL DAVIES on guitar. Although no surprises and what you get is really what you get that has been described in this review, it sure shows that it is exciting to hear new music from such a legendary composer. More info can be found at: https://www.sacredbonesrecords.com/products/sbr265-john-carpenter-lost-themes-iii-alive-after-death
(Points: 8.5 out of 10)
BELL ORCHESTRE 'HOUSE MUSIC' (ERASED TAPES RECORDS/KONKURRENT)
Out of Montreal, Quebec, Canada comes the six-piece experimental instrumental (some vocals are hearable a few times) band BELL ORCHESTRE. They consists of Richard Reed Parry : upright bass/keyboard/percussion, Sarah Neufeld : violin, Stefan Schneider : drums/percussion, Pietro Amato : French horn/electronics, Kaveh Nabatian : trumpet/melodica and Mike Feuerstack : lap steel guitar, and were formed in 2002. The band has released a few albums so far and are slightly connected to major band ARCADE FIRE, especially since Petro is a part-time member of them. Anyway, House music is their new album, and I have to say this epic journey is quite experimental with sometimes memories of Krautrock (CAN, EINSTURZENDE NEUBAUTEN, KRAFTWERK, TANGERINE DREAM), yet with a modern twist, taking some dub-step, 80s DJ House music and avant-garde influences into their instrumental electronic music. It's definitely something different than the usual stuff and I have to say it's quite nice to be drawn into their somewhat lounge trip that gets out-of-control here and there. Recommended to people with an open-mind! More info at: https://bellorchestre.com/
(Points: 8.1 out of 10)
LAEL NEALE 'ACQUAINTED WITH NIGHT' (SUB POP RECORDS/KONKURRENT)
Out of Los Angeles, California comes singer/songwriter LAEL NEALE, and she released her debut back in 2015. Now she is back with a new album titled Acquainted with night, a 1970s inspired singer/songwriter album that reveals some JONI MITCHELL influences, yet with a modern touch as well. It feels nostalgic and like a trip back to the 1970s, yet as mentioned her use of the omnichord besides the guitar, this gives it a sorta modern and even church music kinda touch. I am also sometimes thinking of TORI AMOS and even KATE BUSH, and I have to say you really need to get used to Lael's voice when hearing it the first time, but when you're connected after a couple of songs, you're taking into her little psychedelic dreamy trip to different places somewhere far from the covid year of 2020! I would say go check out her music and discover if it will work for you! More info at: https://laelneale.bandcamp.com/releases
(Points: 8.0 out of 10)
METALCRAFT 'FEEL THE FIRE'/CANNONBALL' (INDEPENDENT/CZECH REPUBLIC IMPORT)
The band METALCRAFT comes out of the Czech Republic and they were kind enough to sent me the 2 albums they have released in the past 5 years. The 4-tracks counting mini-CD Feel the fire was released in 2015, while the album Cannonball marks their official full-length debut CD in 2019. Musically speaking it's 80s influenced melodic hardrock/metal that reminds me a lot of classic SCORPIONS, NOISEHUNTER, GRAVESTONE, RESTLESS, ACCEPT and such German bands. The band is formed around bassist/lead singer Junior, drummer Martin Linhart, guitarist Tom Corpse and lead singer Hanz Fuhrmann. Although not very original, METALCRAFT are doing things at a high level and for fans of aforementioned bands, this is a must-have release! The mini-CD is basically in the same musicstyle as their following first full-length album. 10 songs are on Cannonball and actually it's quite diverse and very enjoyable to listen to. Opener Cannonball is pure SINNER, while following All for one sounds like the perfect 80s Teutonic Metal invasion like ACCEPT meets SCORPIONS. When the stars are falling down is a lovely typical late 80s Hair Metal Power Ballad like WARRANT crossed with a great soaring melodic guitarsolo a la GUNS'N'ROSES' Don't cry. Speeding up the tempo with the fast uptempo melodic heavy metal song Live or die, this is as close to 1985 Teutonic Metal as you can get! The most cool thing about this band is they take a bit of each and every 80s rock/metal genre into their music, because a song like Two sides of the coin is almost pure Glam/Party Hardrock in the style of POISON and MOTLEY CRUE. Fly to high is back to classic SCORPIONS' uptempo melodic heavy rock, and actually also next song Touch of hell has similarities to SCORPIONS, but then more Melodic Hardrock orientated, not far removed from VICTORY either Teutonic Metal time again with the tough Digital killer, which sounds like SINNER meets ACCEPT. I don't wanna live in paradise is a calmer acoustic ballad and closing track She's like a loaded gun is a faster uptempo NWOBHM ish song with some early 80s TWISTED SISTER influences. Without a doubt, METALCRAFT is a highly recommended band to check out, especially if you like 80s Hardrock/Metal with those crunchy Teutonic/German Metal orientated guitarwork. They have a new frontman since January 2020, Mr.Steely, so the future will probably bring us new material with their new lead singer. More info can be found at: www.metalcraft.cz
(Points: 8.3 out of 10)
THE SOUTHERN LOCOMOTIVE BAND 'SOMEWHERE IN TIME' (INDEPENDENT/USA IMPORT)
Out of western Georgia, USA comes a strong 3-piece band formed around guitaris/hammond organ player DANNY SOUTHERN, drummer CURTIS HUMMER and bassist GREG CARTER. Somewhere in time is their debut album and a really good one if you ask me, because they combine the best of classic rock, blues rock and southern rock. 12 songs are on this excellent debut album, which reveals many great rockers. Opener The time machine is a very catchy pure American orientated uptempo Southern/Classic Rocker like a mix between FOGHAT, ZZ TOP and THE ALLMAN BROTHERS BAND, including sensational guitarwork. The slower relaxing bluesy Last dollar bill follows and basically the mixture of slower, midtempo and uptempo rockers continue the rest of the album, with as other highlights Walk away, the rolling stone, Won't be back no more and Angel on my shoulder. Although they might not be doing something totally different, if you like a good portion of Classic Rock, this THE SOUTHERN LOCOMOTIVE BAND is a recommended band to check out at:
https://www.twofingermedia.co.uk/the-southern-locomotive-band-s-i-t
(Points: 8.2 out of 10)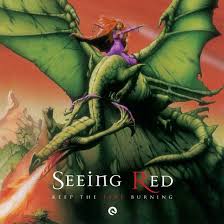 SEEING RED 'KEEP THE FIRE BURNING VINYL RECORD' (SBE RECORDS/SCOTTISH IMPORT)
I am a sucker for anything rare from the 80s and early 90s, especially when it comes down to unreleased or 'hard to get' music which is really good. Recently the amazing records of BUGZY and STEELFORCE reached my little office and as you could experience yourself, this is where my heart starts beating faster, because this is how it should be done, releasing unreleased or rare music of an incredible high level on a decent format (CD/LP) again or for the first time and still sounding as if it was recorded the other day. SEEING RED is up next on the list of 'must-have rare AOR/Melodic Rock material from the 80s/90s re-released on a physical CD or LP'. Just like the earlier mentioned bands, also this one has a long history before it was finally released on the vinyl record I received recently. Stories like this are priceless and it is clear that a lot of time, patience and effort has also been put into the finalization of this SEEING RED release.
The inside sleeve tells us the long story how it came to this wonderful release, because it all started in the 1980s when SEEING RED was formed by STEVE BROWN (guitars, keys, backing vocals), who eventually found ANGIE TOWNSEND (vocals), TERRY O'SULLIVAN (drums), ALY BARR (bass, backing vocals) and ROSS DALL PHILIP (bass) to record and perform with him in the 80s and early 90s. The result was an official vinyl 7" single, a tape and even a full-length album. The album was originally produced by IAN BEVERIDGE (NIRVANA, FOO FIGHTERS) in 1992, but remastered by TERRY BROWN (SAGA, RUSH) in 2016. Steve got in touch with Terry due to the fact that he organises each year a RUSH tribute festival and Terry was a VIP guest speaker in 2016, so the two met and talked about Steve's old band. Anyway, SEEING RED split up in the mid 90s sadly, but in 2011 a reunion took place and there was talk of recording a new album until singer Angie was diagnosed with terminal breast cancer and tragically died in 2016. Steve wanted desperately to release an official 'new' vinyl record with SEEING RED material as a tribute to Angie and so Keep the fire burning made its way onto vinyl. The 2-LP set includes the full album from 1992 and a few unreleased songs from sessions that originally took place in Edinburgh, 1990 and Berkshire, 1991. The Scottish band did not reach the fame and fortune they should have gotten, but hopefully at least in the world of female fronted AOR/Melodic Rock, this release will become a must-have! The beautiful new artwork by the legendary RODNEY MATTHEWS is of course also making it look and shine proudly, and thankfully the included music is of an incredible high level, which means that this is a jewel to own if you like 80s/early 90s female fronted AOR/Melodic Rock.
Opener Friend is a superb midtempo big time Melodic Rocker with that massive 80s sound and superb vocalwork of Angie, it reminds me a lot of acts like LAOS, WITNESS, HEAT, DANTE FOX, IF ONLY and so on. The fans of classic female fronted AOR will then understand this is something to get hold of a.s.a.p.! Following Heartland is a very good straight-forward uptempo melodic hardrocksong that reminds me a bit of GYPSY QUEEN and ENVY. Trouble again is a bit tougher, another uptempo melodic hardrocksong, now very close to the HEAT record (the German female fronted band on ROCKWERK RECORDS), a bit of VIXEN and some PHANTOM BLUE similarities. Nothing lasts is a semi AOR ballad that sounds extremely sensational and fits right between classic TONE NORUM, DANTE FOX and IF ONLY. Like on any of the included songs, Angie's voice is amazing and she carries a song like this to the upper level of classic AOR! Sooner or later brings the band back to uptempo melodic heavy rock again in the PHANTOM BLUE territory. Little people is another big time uptempo classic 80s AOR/Melodic Rocker with a catchy hook, brilliant vocalwork and a superb VIXEN/ENVY ish chorus. Something for nothing is another lovely semi AOR ballad a la DANTE FOX and 80s HEART.
Record number 2 starts with the heavier midtempo Lost without your love, which reminds me a bit of SAHARA, the 2nd PRIVATE LIFE and the 2nd PHANTOM BLUE, so it is edgier with a lovely huge groovy guitar riff that was quite popular to do around 1991/1992 (TYKETTO ish as well). Close my eyes is a DORO/WARLOCK kinda heavy rocker and the tough straight-ahead titletrack Keep the fire burning is reminding me a bit of classic 80s LITA FORD. Take me on slows things down to an acoustic setting, in which Angie sounds really incredible, making it a beautiful stripped ballad. Follower is a midtempo melodic rocker, which comes in 2 versions here, just like Little people and the only song left on the album is Angel, which is a superb Power AOR ballad with perhaps Angie's finest vocal session ever! The additional CD that comes along with the record contains 2 further bonustracks, Let down and Wake up. Concluded, this is a lovely record and I believe with a new line-up, SEEING RED is actually performing again and so who knows a new album will be recorded. Hopefully new lead singer LISA AIRD will be able to sing as well as the unbelievable Angie did. I have no more words to add here, because this album is absolutely sensational and a lovely tribute to an amazing singer. It's available on a red vinyl record via http://www.seeingredrocks.com/
(Points: 8.9 out of 10)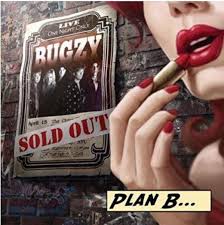 BUGZY 'PLAN B/SHE'S THE ONE/CENTER OF ATTRACTION' (DIVEBOMB RECORDS/USA IMPORT)
I am a huge collector of rare 1980s independent American AOR/Melodic Rock and when I heard the song Piece of the puzzle from the band BUGZY once somewhere in time, it took me forever to hear more songs of this sensational band. Somehow I got connected with the band's original drummer BOB KIMMEL recently and he was kind enough to send me 3 CDs that have been released in 2017 and 2018 on DIVEBOMB RECORDS. I must have missed these releases a couple of years ago, but thankfully it's never too late and so here is our review. The 3 CDs are filled with material BUGZY recorded in the 1980s and 1990s, in total 53 songs can be found here! It's an amazing collection, with extensive liner notes as well in the CD booklets, which tells us the complete story of the band. The origins of the founding members of BUGZY from New Jersey go back to as far as 1977 and lasted until 1995 when after countless close-calls to several major record label deals, the band had given up their dreams. Thankfully, we can hear their wonderful music on these 3 albums Plan B, She's the one and Center of attraction, which are all available on silver-pressed official CDs.
The band consisted of drummer BOB KIMMEL, the fantastic lead singer/guitarist BUGSY, guitarist CHRIS REYNOLDS, keyboardplayer FRANKI GORGO and bassist JEFF SEYKOT, although the line-up changed a few times during their 10-year time frame they existed (1985-1995), but I believe that Bob, Franki and Bugsy were the absolute key members to contribute to each and every song. I will not bother you to discuss each and every song of BUGZY, but there are a lot of highlights I would definitely like to point out here on each of the 3 CDs. 2017's Plan B's highlights among the 17 included tracks (recorded between 1989 and 1991) are Say a prayer (lovely classic 80s uptempo AOR/Melodic Rock like HONEYMOON SUITE, HAYWIRE, BYSTANDER, with superb soaring guitarwork, a catchy hookline and a killer chorus with big vocals/harmonyvocals), Lies (superb catchy dut-dut keyboards driven uptempo AOR in the classic AVIATOR, FM, AIRKRAFT direction), Piece of the puzzle (amazing uptempo CLASSIC AOR at its very best!), The bigger the heart (pure HONEYMOON SUITE/1st HAREM SCAREM ish catchy uptempo melodic rock), I can't let go (an absolute 80s uptempo AOR classic a la WHITE SISTER), Eyes of steel (another piece of classic 80s AOR a la FM) and the superb AOR HEAVEN of Secrets.
Following Center of attraction (songs recorded between 1987 and 1994) contains as best songs the midtempo AOR of opener and titletrack Center of attraction, the lovely uptempo AOR/Poprocker Hold on to me (BYSTANDER ish), the wonderful STAN BUSH type of AOR Power ballad Lose no sleep (over you), the Pomprock/AOR song Make a wish (very close to the 1st BYSTANDER classic), the DAKOTA/SYNCH ish poppier All in one night , the relaxing smooth 80s vibe (a la JEFF PARIS) of Forget it girl, Out from under (superb uptempo mid 80s AOR rocker that sounds dangerously close to NIGHTWORK!!!) Maria (RICK SPRINGFIELD meets MICHAEL MORALES ish catchy 80s uptempo Poprock) and Father time (you guessed it, another big time AOR/Melodic Rocker). This CD also contains a few covers, such as the A=440 song Shannon (remember this band, which was pre-21 GUNS) and the classic early 80s Powerpop tune What do all the people know (original from THE MONROES in 1982). Listening to these CDs gives you the feeling that these are AOR classics from major labels released in the classic 1980s, but BUGZY sadly never got that chance, which is such a pity, because despite all the comparisons, in general the band had an own identity and should have been much bigger!
Finally we have the 3rd BUGSY CD She's the one (18 songs in total, originally recorded between 1987 and 1993), which continues the AOR/Melodic Rocksound of their previous album Plan B, yet perhaps it digs a bit more into pure 80s AOR, with a slightly more lightweight style here and there on the older songs, and it also shows the band's change in direction in their final days. It is once again very sensational most of the time, with as finest songs Easier said than done (pure HAYWIRE ish AOR/Poprock, with brilliant catchy chorus), the hookladen uptempo AOR of Under the gun (BYSTANDER meets URGENT 'Cast the first stone meets LOVERBOY meets the 3rd SUGARCREEK classic), Believe in love (you can't get closer to pure 80s AOR than this!), the midtempo SURVIVOR ish AOR dream of Open your eyes and Something 'bout love (everything you love about classic 80s AOR!). Towards the end of this CD, there are some changes in their sound, which happened in the early to mid 1990s when they started writing material closer to the music climate of that period (R.E.M. similarities are possible on a couple of songs) and we can even find a cover of the PLAYER classic Baby come back.
It's quite unbelievable that these guys never got the chance, because they have some of the finest pure AOR songs in their catalogue that definitely represented the 80s American/Canadian mainstream rocksound. Fans of all the mentioned bands and more will absolutely be blown away by the incredible high quality of the CDs! Eventually the band quit around 1995, which was for me personally the year I started Strutter'zine in order to help bands like BUGZY, so who knows what would have happened if they had continued just a little longer. Anyway, the band's drummer went on to form RED, and their 2 CDs are reviewed elsewhere. The 3 BUGZY albums are all available through: www.divebombrecords.com and any AOR/Melodic Rock fan should get them a.s.a.p.
(Points: 9.0 out of 10)
RED 'BROKEN EARTH/NOTHING MEANS ANYTHING' (PERMANENT MUSIC/USA IMPORT)
Do not confuse this RED with the Christian Hardrockband of the same name, because this New Jersey based RED features drummer BOB KIMMEL, of whom we reviewed 3 amazing AOR albums he did with BUGZY in the 1980s/1990s. During the following decades Bob was part of another great band that never made it big unfortunately. RED consisted of Andy Schlee, lead singer, guitars, bass, keyboards, harmonica & percussion, Patty Balbo, guitar, vocals & percussion, Rich Kurtz, bass/vocals, Danny Eyer, guitars/vocals and Bob Kimmel, drums/concussion, and their music took a complete different turn compared to BUGZY, because their 2 albums are filled with slow depressing 1990s down-tuned guitar driven Alternative Rock/Grunge orientated, with similarities to ALICE IN CHAINS, NIRVANA and STONE TEMPLE PILOTS, yet still with pleasant (almost late 1960s THE BEATLES meets KING'S X meets early 90s TEENAGE FANCLUB meets JELLYFISH ish) College Rock/90s Powerpop melodies that can best be heard during Spoiler, Drown, Was I wrong and Shark song on their debut album Nothing means anything from 2002. The other album (Broken earth from 2011) shows a clear different side of RED, because it also contains influences from other genres (Americana, Poprock, Psychedelic Rock, Prog, Pop…) and is overall radio friendlier and less rockier than their debut album. The highlights on Broken earth are the altrocker My amnesia, Exit stage left and I don't do that anymore (both Americana pop rock like TOM PETTY meets GEORGE HARRISON meets RYAN ADAMS), Idiots (Psychedelic Rocker a TEENAGE FANCLUB), Ebb and flow, the pure late 60s psychedelic THE BEATLES meets TAME IMPALE ish Too little too late (very interesting!), the proggy Magnetic North (one of the best songs on the album, combination of NEAL MORSE/SPOCK'S BEARD's calmer prog with a light jazzy fusion touch of STEELY DAN), the terrific classic progressive melodic rocker Blown away (a la ENCHANT) and the titletrack Broken earth (a wonderful calmer proggy AOR/Pop ballad, somehow reminding me of PETER GABRIEL mixed with BRYAN ADAMS when doing a THE BEATLES cover). In total you get 28 songs on this double CD Broken earth, and 11 songs on the debut CD Nothing means anything, so all together a lot to enjoy here! If you're a die-hard AOR/Melodic Rockfan you only need to go for the BUGZY, but if you're open-minded and also want to hear something different in a more modern setting then you can explore RED's altrock/grunge rock sounds on the RED debut album, while the 2nd album (especially the superb CD 2) will offer you a very diverse (progressive rock/THE BEATLES ish) band that contains all kinds of influences! There is a new CD on the way in the near future, so RED is definitely still alive and well! More info at: www.redsongs.com
(Points: 8.3 out of 10)
THE CYCLE PATHS 'IT'S A GREAT BUSINESS' (INDEPENDENT/UK IMPORT)
Out of the Derbyshire/South Yorkshire area in the UK comes THE CYCLE PATHS, a classic rock and roll band with influences from Punk, Garage Rock, Blues, Soul, 60s Rock and Roll and a touch of early 80s Powerpop. The band is formed around Stace Rose : Vocals and Guitar, Ian 'Eddie' King : Bass, Andy Hardwick : Guitar and Roger Cresswell: Drums, and It's a great business is their first full-length release I believe. 12 songs are included and a lot of the songs are uptempo rockers, with a certain DR. FEELGOOD/NINE BELOW ZERO kind of feel , some punky guitars, honest working-class lyrics and melodic choruses to sing-a-long to, all done in a British Pub rock style that also reminds me here and there of THE WHO crossed with a Punkpopband of the late 1970s (THE BOYS, THE UNDERTONES). Highlights are What a way, Oh oh oh (cool uptempo early 80s Powerpop), the punky Marital arts, the catchy Otherside of the road and Saturday night (the best song on the album), but also the 1960s influenced I'm in trouble should be mentioned with it's excellent harmonica solo and real raw STONES ish sound. These guys are not making complicated music, which sometimes is just what you need and therefore it's a rock album that has more to offer than you might think at first sight. More info at: https://thecyclepaths2.bandcamp.com/album/its-a-great-business
(Points: 7.8 out of 10)
DEVIL'S DICE 'WAR OF ATTRITION' (INDEPENDENT/UK IMPORT)
The 2nd album War of attrition of the British band DEVIL'S DICE was released in the beginning of the covid lockdown in March 2020, but better late than never it now arrived at our office. DEVIL'S DICE is coming out of the Birmingham area in the UK and they are playing classic Melodic Heavy Metal with an 80s approach, yet sounding fresh and up-to-date for today's world. 5 songs are on their latest album, and I have to say it sounds quite impressive actually. The band is formed around Matt Gore - Vocals, Dave Clark - Guitars, Chris Webb - Guitars, Ross Blommer - Drums and Adam Newbery - Bass, and after a nice start with the titletrack, it gets sensational during Confessor and especially during the lovely twin-guitar based Martyrs in crime we are drifting into Melodic Metal heaven. The other 2 songs are the catchy SAXON orientated Red light rage and the JUDAS PRIEST cover The hellion/Electric eye. DEVIL'S DICE is definitely a must to hear if you're interested in a classic NWOBHM sounding band in a new jacket. Check them out at: https://devils-dice.bandcamp.com/album/war-of-attrition-ep
(Points: 8.5 out of 10)
VINNY PECULIAR 'VARIOUS ALBUMS' (SHADRACK & DUXBURY RECORDS/UK IMPORT)
I received 4 CDs of the British singer/songwriter/multi-instrumentalist VINNY PECULIAR, who is aka ALAN WILKES. Vinny has already released a lot of albums since 2001, of which the starting point for me is The root mull affect from 2014, a compilation CD of material released pre-2014. It features quite nice 1970s singer/songwriter/prog/pop, DAVID BOWIE/TODD RUNDGREN come to mind a lot of times, with as best songs Jesus stole my girlfriend, Playing on the pier (LOU REED similarities) and My generation. There are also nice melodic uptempo British Indiepoprockers included, such as the awesome Man about the house (a la THE SMITHS), a TOM PETTY ish Americana pop tune (Confessions of a sperm donor) and lots more diversity. The lyrics are humorous, almost stand-up comedian like, yet with a pop/singer/songwriter approach.
Following CD Silver meadows from 2016 continues this style, although more serious than The root mull affect, starting off with a piano-led song The institution, while the following Everyone has something to say is a great midtempo TOM PETTY kinda melodic Americana/Heartland Poprocker. Other highlights are the lovely midtempo 70s progrock orientated This is what I can do now (DAVID BOWIE similarities), the strong Hospital wing (another BOWIE influenced song), the midtempo pop/rock of Silver meadows, the catchy uptempo 80s indie poprocker Wednesday club and Self-help skills unit (can't help it, another song BOWIE could have done).
Return of the native sounds even better and seems to be his finest release up until 2018, because it has a more richer and serious approach as well as a slightly rockier sound than his previous albums, with great songs like The grove & the ditch, Blackpole, Return of the native and A girl from Bromsgrove town. TOM PETTY meets LOU REED is probably the best description, although Vinny has an own identity you will recognize after a while. There is also a LEONARD COHEN ish singer/songwriter piece entitled The singing schoolteacher, which makes it clear that Vinny is a professional singer who seems to improve on each new album.
While you still can is his latest (2019) album, and as already mentioned, he gets better and better with every new release, and this one is probably his finest moment, with a lot of strong songs. It starts very calm with the dark melancholic piano-led Vote for me, but things get quite rocking on the following Pop music for ugly people, which is definitely the rockiest song Vinny ever recorded. It's a great uptempo rocker, with a modern approach, and somehow also memories of TIN MACHINE and LOU REED in his most rocking days. Other highlights are the midtempo groovy hard rocking Culture vulture, the 80s synth/electropop of Ministry of fate and the midtempo 70s melancholic pop/rocksong Question time. Quite a diverse album actually and Vinny sounds vocally at his best, while the material has a few radio-ready songs. He really developed himself through the years and if you start checking out his extensive discography, please start with this 2019 album. Check out all info on Vinny at: https://vinnypeculiar.com
(Points: 8.2 out of 10)
LONG TALL J '2020' (INDEPENDENT/UK IMPORT)
Multi-instrumentalist JAN LIEVAART is based in Surrey, which is close to London, UK. He has his own project/band called LONG TALL J, in which he plays everything by himself, with a few guest singers on a couple of songs. We recently reviewed his previous album, and now it's time for 2020. This album is a journey through the awkward year we all had in 2020, which is done through 8 instrumental songs and 3 vocals featured tracks. Jan is a great musician, who surely can play the guitar very well and so we can once again enjoy his fabulous work on especially his tribute to JEFF BECK, which is the song Jeff are you Beck? that has an amazing instrumental guitar melody coming our way. Also quite interesting is the song Beat the logic, which combines Irish Folk and Progrock, and also features Californian violinplayer EMILY V. From the vocal featured material, I really have to mention White lightning, which is a song that has the legendary STAN VERBRAAK (HELLOISE, HIGHWAY CHILE) on lead vocals and it is a great uptempo classic melodic hardrock/heavy rocker. It would be really great to see LONG TALL J teaming up with Stan for a full-length album, because this song sounds very promising! The music in general on this album is a mix of Progrock, Classic Hardrock and a bit of Blues, with also some modern influences here and there, so enough to enjoy and explore. Go check out more at: www.longtallj.com
(Points: 8.1 out of 10)
ULTIMARATA & FONTANA 'NATURASTUDIO' (RADICI MUSIC/XANGO MUSIC)
I don't have much info on the Italian singer/songwriter ULTIMARATA, but I read somewhere he is influenced by BOWIE, POP and REED, however when listening to the new album Naturastudio he did with FONTANA (piano/keys/guitars) and a few other musicians, he is clearly musically speaking doing something else, with perhaps only a few traceable BOWIE influences. No less than 19 tracks are included and they are all quite a pleasure to listen to. Ultimarata has a strong clean voice and despite the songs are sung in the Italian language, this is no problem at all, because this gives it a real authentic feeling. For example, Scusami luna is a lovely classic piece of melodic midtempo Italian Poprock/AOR like we know it from DHAMM and ORO in the early/mid 90s, but you can also compare it to for example RICHARD MARX's early rockier moments with Italian lyrics of course. Other highlights are Il fabbro (some jazzy westcoast moments, even reminding me of ZAPPACOSTA), the singer/songwriter pop piece Il tappo, the uptempo 70s influenced progrocker Risplendi chet, the beautiful midtempo melodic aor/pop/westcoast of Bambina and the midtempo epic progressive rocker La vera galera. There's also some influences from traditional Italian music, Latin-Jazz and more World Music, although it is all quite streamlined for the radio, so it is really nice to listen to from start to finish. Definitely a recommended diverse and very melodic album that fits somewhere between melodic pop/rock/westcoast, progrock, Italian traditional music, a touch of 90s altrock (Adulta lolita) and singer/songwriter pop! You can check out more at: www.radicimusicrecords.it and https://www.reverbnation.com/ultimarata
(Points: 8.5 out of 10)
KATIA PESTI 'APNEA' (RADICI MUSIC/XANGO MUSIC)
Basically this is a beautiful instrumental classical music piano album from piano player KATIA PESTI who is coming out of Florence, Italy. She has released albums in the past, and this new album contains a suite of six compositions for the piano. Done very well, Katia is a gifted musician, who has an own identity on the piano, sometimes sounding quite dark and haunting (Masse sonore acquatiche), while at other moments calmer and more uplifting (Diavoli marini). I recommend you to hear for yourself at: https://katiapesti.bandcamp.com/album/apnea
(Points: 8.0 out of 10)
SLOW MOVING CLOUD 'STARFALL' (INDEPENDENT/XANGO MUSIC)
Out of Ireland comes the trio SLOW MOVING CLOUDS, consisting of KEVIN MURPHY (cello, vocals, bass, marxophone), DANNY DIAMOND (fiddle, vocals) and AKI (nyckelharpa, mbira), and their album is titled Starfall. The music is a nice mixture of old and new, which makes it sound modern and quite interesting. Under the city, Ash plant and especially closing track Swansong/Starfall are beautiful haunting modern ambient like popsongs with atmospheric lush vocals (CLANNAD style), which even recalls memories of TAME IMPALE and JOHN GRANT. A greater portion on the album is however instrumental and clearly Irish Celtic orientated with a classical music twist in a way we also know it from the instrumental side of KATE BUSH, SINEAD O'CONNOR and TORI AMOS. Quite a nice album actually and I wonder what a full album with songs like the vocal featured songs would turn out! You can check more at: www.slowmovingclouds.com
(Points: 8.2 out of 10)
CHUCK JOHNSON 'THE CINDER GROVE' (TAK: TIL/XANGO MUSIC)
The cinder grove is the new album of the American composer/musician CHUCK JOHNSON, who is assisted by Sarah Davachi on piano, Marielle V. Jakobsons on violin, Hilary Lewis on violin and viola and Crystal Pascucci on cello. Chuck himself plays pedal steel guitar, synthesizers, Yamaha electronic organ, treatments, and his instrumental music is quite interesting, because it balances between avant-garde-classical music, new age and prog/kraut of the TANGERINE DREAM kind. The 5 long calm instrumental songs take you on an atmospheric dark journey and actually it feels like you're watching a movie, so this could well have been a soundtrack. There's even some PINK FLOYD ish sounds to be heard in a song like Red branch bell. I think this album will appeal to a wide audience, and you can check it out at: https://www.blackeditionsgroup.com/product-page/chuck-johnson-the-cinder-grove-lp
(Points: 8.3 out of 10)
THE MALIBOOZ 'QE2' (THE PIER GROUP/RED STEEL MUSIC/UK IMPORT)
I am not really familiar with THE MALIBOOZ, but I do know the legendary American vocalist/guitarist WALTER EGAN, because he released a lot of records under his own name, and somewhere else you can read a review of his new solo album Fascination. Anyway, together with vocalist/guitarist/keyboardplayer JOHN ZAMBETTI, Walter founded THE MALIBOOZ way back in the early 1960s and since then they have released every now and then an album. 15 songs are on this new record Qe2, which is a very strong record that will find it's way to fans of classic westcoast/aor/poprock/pop. Opener Resist shows right away this is perfect Californian close-harmonyvocals driven uptempo Westcoast-Poprock like CROSBY, STILLS, NASH & YOUNG, which is a wonderful start of a really great album. This high quality of Westcoast perfection continues on the rest of the album, with songs that not only remind of C,S,N & Y, but also I must think of VENICE, POCO, THE EAGLES and such, with as other highlights Heaven, the darker Familiar eyes (a bit like BLUE OYSTER CULT), the superb midtempo Westcoast-AOR rocker So amazing and the beautiful ALAN PARSONS PROJECT ish Heal a broken heart. There is also a cover of THE BEATLES classic We can work it out, and in the end I can only conclude this is a surprising release that fits nicely between classic close-harmonyvocal driven westcoast-pop of the late 1960s/early 1970s and the more rockier westcoast-aor of the 1980s, yet also with a 1970s pop touch, so basically a must-have for fans of especially VENICE! Check them out at: http://www.Malibooz.net
(Points: 8.3 out of 10)
WALTER EGAN 'FASCINATION' (RED STEEL MUSIC/UK IMPORT)
Besides a new album with his band THE MALIBOOZ, singer/songwriter/guitarist WALTER EGAN is also releasing a new solo album entitled Fascination. Walter is a legendary musician with a long rich music history and despite I did not always follow his career after his 1970s records, it is a great to see him still active and releasing quite a strong new solo album now. Walter's new album is titled Fascination, which musically speaking is clearly old-school melodic Westcoast pop/rock meets Americana Singer/songwriter pop like THE TRAVELING WILBURYS meets TOM PETTY meets ROY ORBISON meets NEIL YOUNG meets THE BEACH BOYS meets ELVIS COSTELLO. This would be a perfect description of Walter's voice and music, and I am safe to say that there aren't many bands or artists out there making such music anymore. It is fun, feel-good music, with an old soul and a focus on song melodies like it was done in the 1960s by countless acts around the world, but also for a short while in the very early 1980s. 13 songs are on the album, and most of them are uptempo rocking tunes. Woo to woe and A fool in love have the Californian Westcoast breeze written all over the place, because these are lovely catchy uptempo poprockers in traditional 1960s style, with the influences from 1960s THE HOLLIES and THE BEACH BOYS. Lovers is a catchy early 80s uptempo melodic rocker a la MOON MARTIN, with a NEIL YOUNG touch as well, and some great guitarwork. Yesterday, forever & today and Gestures are fantastic catchy feel-good uptempo melodic rockers with that 80s approach again. The material is quite diverse also, because when hearing a song like Treat me nice, it's like you're listening to classic ELVIS being produced by ELO. There aren't many weak songs to be found here, and in case you like any of the aforementioned acts, then you will instantly fall in love with this album. Check out everything on Walter at: http://www.walteregan.com
(Points: 8.2 out of 10)
BRUNHILDE 'TO CUT A LONG STORY SHORT' (COUNT & COUNTESS/CMM/GERMAN IMPORT)
Out of Germany comes the female fronted rock/metal band BRUNHILDE, which is actually a duo formed around vocalist Caro Loy and guitarist Kurt Bauereiß, who are assisted by bassist Oliver Holzwarth (EX-BLIND GUARDIAN) and drummer Bastian Emig (VAN CANTO) on their debut album To cut a long story short. Produced by Charlie Bauerfeind (MOTORHEAD, BLIND GUARDIAN, HELLOWEEN…), the band is hyped a lot and you can clearly hear the professionalism of their first album. Caro is a great rock/metal shouter and with 14 songs in total, there is a lot to enjoy here. The music is quite aggressive raw mostly fast uptempo melodic punk metal as I would call it, like MOTORHEAD meets THE PLASMATICS, but there's also a calmer moment, such as can be heard during the lovely semi melodic rockballad All is lost, which is close to classic DORO/WARLOCK. Also the piano-ballad It's all lies shows that Caro is a great singer, so hopefully she can show that emotional side more often on a future album Most of the songs do have however a catchy chorus to sing-a-long to, such as I'm crying, When you were born and Digging ditches, but the PLASMATICS meets MOTORHEAD description nails it a lot I think, although there are also clear influences from NINA HAGEN to be heard. All mixed up you have BRUNHILDE and their strong debut album To cut a long story short. More info on them at: https://www.brunhilde.de/
(Points: 8.3 out of 10)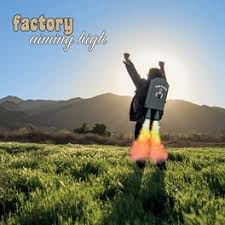 FACTORY 'AIMING HIGH' (SUMAREIDER RECORDS/UK IMPORT)
In the 1970s around Hastings, UK, there was an active band called FACTORY, but sadly they never released anything, although they did leave an impression back then in the area. Fast forward to 2020, FACTORY has finally recorded the old 1970s songs in a proper studio and the result is the fantastic album Aiming high, which is by the way the follow-up to their previous official comeback album Back in the time machine from 2016. The band's line up is the same as back in the 1970s, which is Andy Qunta on keys, 12 string guitar & vocals; Tony Qunta on guitar, violin and vocals; Lol Cooksey on drums, and Steve Kinch on bass (replacing "Jaffa" Peckham, who left in 1974, but can also be heard on this album). 12 songs are on their debut album and opener Free'n'easy is a killer uptempo melodic rocker right from the start, with a certain THE SWEET meets URIAH HEEP kinda feeling, so very 1970s ish, yet sounding up-to-date with it's fresh approach and superb vocalwork. Following Dreams of home and Born a dreamer are slightly calmer and even touch the 70s AOR/Poprock direction. The following Pinky takes some time to develop as it starts with an electric violin, but eventually turns out to be a superb sensational melodic AOR/Pomprocker in the style of SHOOTING STAR, including once again extremely crystal clear vocals. They also remind me a bit of CATS IN SPACE, but FACTORY has a more laid-back singer (3 as it turns out!), who doesn't stretch to a high octave level in each and every song. The violin is heard in most songs by the way, but sometimes more prominent than in other songs, because for example it takes an important part of the song Lamp post lil, which is a somewhat quirky melodic pop/rocker in a style reminding of classic 1970s 10CC/GODLEY& CREME/SPARKS. URIAH HEEP comes to mind big time on the following song Mama called me, a lovely midtempo melodic classic hardrock tune in the best 1970s style. I see the sun is another superb 70s melodic rock/prog/pomprocker in the style of STYX, ROADMASTER and LUCIFER'S FRIEND. Back to that huge URIAH HEEP sound on the lovely Want your love right now, which is an epic journey through classic rock and 70s progrock heaven! Ice age follows in a similar epic lengthy 1970s prog/classic rocking style, which even reminds me of rare lost Pomprockacts from the past, such as RATHSKELLER, HOBBIT, SPY, SPYS and TRILLION. This can especially be said of Razzle dazzle man, which is the most Pomprock orientated song I have heard in ages, basically close to classic STYX, TOUCH, STONEBOLT, ROADMASTER, TRILLION, etc. etc. Titletrack Aiming high is up next and follows the same pure Pomprock bombastic harmonyvocal/keyboardsound as the previous song, while Out with a bang closes the album nicely in a sorta retro 1960s/1970s uptempo powerpop direction like THE HOLLIES meets THE RASPBERRIES.
Interesting fact is that Andy co-wrote the legendary classic You're the voice for JOHN FARNHAM and worked with MANFRED MANN'S EARTH BAND and ICEHOUSE. However, this FACTORY is perhaps his finest effort ever, because after a couple of spins I can safely say this feels like a classic rockalbum from the good old 1970s, however in a new jacket! What impresses me so much is the fact that 3 members are all able to sing very well lead- and harmonyvocals, and along with the combination of superb musicianship and a full CD of sensational songs, it seems like we have a true winner over here! Check them out at: https://www.harveysummersmusic.com/collections/all/products/aiming-high-factory and https://www.factory1970.com
(Points: 8.8 out of 10)
ACTUALLY 'PREDATOR ROMANTIC' (APOLLON RECORDS/NORWAY IMPORT)
Now this is a somewhat confronting front cover of the album, and despite I don't mind at all watching a sexual pose from a woman, usually I would not expect anything good musically speaking. In contrary, ACTUALLY from Los Angeles is bringing us superb high quality radio-ready Synthwave/Electropop with a Gothic and 80s touch (BERLIN meets HUMAN LEAGUE meets SOFT CELL meets 80s MADONNA). I am surprised that ACTUALLY has not reached superstardom yet, because songs like Male fantasy, Predator romantic, First kiss and Baby love are quite sensational songs that have everything included to become huge hits! The act is led by a model named ASHLEY IVY HUIZENGA (Dutch origin I assume!) and despite her looks and content, which is often linked with explicit sex, horror imageries and seduction and her music is classified by herself as "Snuff Pop" and "Slut Wave", the included 13 songs are really catchy synth driven 80s retro pop and here and there a light gothic pop/rock direction (Vesuvius), which could easily be played on the radio. It's something completely different than the usual stuff on APOLLON RECORDS, so it has nothing to do with prog, but on the other hand this is a very infectious record you need to hear in case you like any of the mentioned acts. More info at: https://actuallypredatorromantic.bandcamp.com/album/predator-romantic
(Points: 8.4 out of 10)
MATTERHORN 'OUTSIDE' (APOLLON RECORDS/NORWAY IMPORT)
Here we have an interesting debut album of the Norwegian band MATTERHORN. It's titled Outside and the trio around Tommy Sebastian Halseth- vocals, Edvin Matthieson – bass, acoustic guitar and Andreas Stunes – drums, keyboards are assisted by guest musicians Øyvind Smidt – violin, guitarists Petter Selliseth, Tor-Ole Byberg, Finn Olav Holthe, Jacob Holm-Lupo, Marius Halleland, Christer Harøy, Rhys Marsh and Skjalg Raaen, backing vocalists Ann-Lill, Gry Anita and Eskild and Solveig, while there is also a horn section by Jørgen Dahl. The included music on their first album is clearly Progressive Rock, yet with influences from other genres as well, which all together makes them sound diverse and a pleasure to listen to the 8 included songs. The highlights are opener Outside, the lovely midtempo Aorta (with great harmonyvocals a bit reminding of TEARS FOR FEARS) and Last page. As the album progresses, it gets better and better, vocally it is not that strong, but thankfully the music itself is of a very high level and will be really interesting for any progfan out there! More info at: https://www.facebook.com/Matterhorn72Music/
(Points: 8.1 out of 10)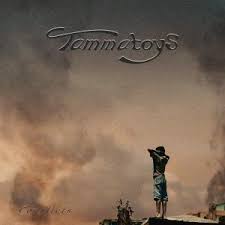 TAMMATOYS 'CONFLICTS' (APOLLON RECORDS/NORWAY IMPORT)
The Norwegian band TAMMATOYS was formed all the way back in 1999, but it took them until 2020 before a debut album was released. The CD is titled Conflicts and I am quite impressed, because it is filled with high quality melodic progressive rock in the style of PORCUPINE TREE, PINK FLOYD, PENDRAGON and AIRBAG, with influences from symphonic rock and neo-prog as well. The band's line up consists of Kjetil Bergseth - Vocals, acoustic guitars, keyboards, Øystein Utby – Bass, Ragnar Utby – Guitars, Simon Dolmen Bergseth – Guitars, Bjørn David Dolmen – Guitars, and Martin Utby – Drums, with as guest on the song I will follow, the guitarist Ørnulv Brun Snortheim. A song like the epic Downfall is a prime example of sensational melodic progrock in all its glory! For a debut, TAMMATOYS is moving into the upper league of prog quite quickly, which is due to the fact that all the ingredients are there (instrumentally, vocally, song wise and the production). This is one of those albums you can listen to from start to finish over and over again, because every time you discover something new, and that's what makes progrock one of the most important music genres around. Highly recommended album to any progfan… more info at: https://tammatoys.bandcamp.com/album/conflicts
(Points: 8.8 out of 10)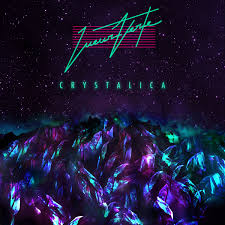 LUEUR VERTE 'CRYSTALICA' (APHASIA RECORDS/DARKHANBIT MUSIC/APOLLON RECORDS/NORWAY IMPORT)
Originally released in 2013, but now re-released on CD, the album Crystalica by the French act LUEUR VERTE is a sensational pure classic Synthwave album. MICHAEL BRUN is a Synthwave music producer from France, and he is also the founder and director of Aphasia Records label, on which he released this album. The music on Crystalica is featuring some of the finest pure Synthwave albums I have heard lately and due to the fact I just recently really discovered the genre, there is still a lot to learn, because there are a lot of musicians/producers making this kinda music worldwide. Thanks to this superb sounding masssive synth driven retro 80s journey of LUEUR VERTE, it seems like I keep on discovering new classics in this modern genre, which takes of course their main influences from the 1980s. 5 songs are included in total and once you play it loud on your stereo, then you really get into this great hypnotic adventure of nostalgica 1980s (MASK/TRANSFORMERS/VINCE DICOLA memories for me personally), yet it all sounds super fresh. MAGIC SWORD was last year my favorite Synthwave album, but this one is sounding even bigger, and hopefully I will be hearing and reviewing many more Synthwave releases in the future. Check out this act at: https://lueurverte.bandcamp.com/, even if you're only into AOR, then you will be as surprised as I was...
(Points: 8.9 out of 10)
WUDEWUSE 'NORTHERN GOTHIC' (APOLLON RECORDS/NORWAY IMPORT)
WUDEWUSE is a Norwegian band fronted by the talented multi-instrumentalist SONDRE BERGERSEN MAELAND, who actually wrote all of the music on this new album of WUDEWUSE while living in the forest and working at a graveyard for 3 years! Interesting fact and when you listen to the calm dark melancholic folk sounds of this mainly acoustic based campfire Norwegian singer/songwriter pop/rock style (sung in the Norwegian language), it is impossible to compare, because it has its own sound, which somehow is quite relaxed to listen to. After a while it gets however a bit same-ish, and despite it's not bad at all, I expected more of a band kinda feeling, which does not happen at all and this is quite surprising, because WUDEWUSE further consists of Håkon Oftung (hammond, mellotron, solina, bass), Daniel Bakken (guitar), Ole Rokseth (bass, moog synthesizer) and Martin Nordrum Kneppen (drums, percussion), so you would expect them to come up with some interesting twists in the music. Anyway, you can check for yourself at: https://wudewuse.bandcamp.com/
(Points: 8.0 out of 10)
JOHN R. KJELLSTROM 'JOHN R. KJELLSTROM' (APOLLON RECORDS/NORWAY IMPORT)
On the APOLLON RECORDS label we can find yet another Norwegian musician singing in the Norwegian language. He is quite an interesting singer, with a dark melancholic sound like JOHNNY CASH or LEONARD COHEN, but musically with a sorta rock influence as well, although dark folk singer/songwriter americana/rock is the way to go most of the time on the 8 included songs. There are slow songs heard most of the time, with as finest songs Hemlighet and Vintern Tar, but the best song is definitely the only uptempo rocker (Se allt Du var). Its not a real happy album, because it does sound quite depressing and for people who want to hear the Norwegian equivalent of JOHNNY CASH or LEONARD COHEN, then look no further than JOHN R. KJELLSTROM at: https://john-r-kjellstrom.bandcamp.com/album/john-r-kjellstr-m
(Points: 8.0 out of 10)
JORUND VALANDSMYR & MENIGHETEN 'HVITE DAGER, MORKE KVELDER' (APOLLON RECORDS/NORWAY IMPORT)
The Norwegian language is not easy to understand, and this particular CD has a full CD sung in that language! Anyway, it has its charm for sure and Norwegian singer/songwriter JORUND VALANDSMYR and his band MENIGHETEN offer a nice mixture of styles on their latest album Hvite Dager, Mørke Kvelder, which has been released on APOLLON RECORDS. There is a bit of catchy melodic poprock in early 80s style, some indie/pop influences and loads more actually, but Jorund sounds at his best during the catchy rocking choruses of the uptempo pieces Utbyttbar, Selvmedlidenintensivering and Bluesomsorg, which are all early 80s kind of melodic poprockers. There is also room for calm melancholic, but melodic pop songs with an old 70s soul (Du Vet) and some folk/country as well, while a song like Stengt Opp I Et Hjørne is a pretty good mix of semi prog/rock/classic rock with a pure 1970s sound, and perhaps this is the best song on the album! Verksteder is an uptempo rocker with a certain STATUS QUO/NORMAAL kinda boogie flirt, so this is a very diverse record and actually a pretty good one in the end! More info at: https://www.facebook.com/jvalandsmyr
(Points: 8.2 out of 10)
OSIBISA 'THE BOYHOOD SESSIONS - 50TH ANNIVERSARY EDITION' (RED STEEL MUSIC/UK IMPORT)
OSIBASA is a legendary Ghanaian Afro Rockband formed all the way back in 1969. They feature members who are originally coming out of Africa and the Caribbean, but are settled in London. They have released a string of albums throughout the past 5 decades, with a few well-known albums in the 1970s and 1980s when their frontcovers had the ROGER DEAN (ASIA, YES) signature paintings. This new album The boyhood sessions celebrates their 50th-year anniversary and is a compilation of rare mixes, live songs and studio outtakes. It's a nice diverse sounding record that shows the real OSIBISA, but also modern remixes of OSIBISA songs, such as the rather catchy Hold on and 3 different versions of the band's biggest hit Sunshine day. OSIBASA has been a very important band to bring African music to the western world and this new CD is another nice addition to their catalogue and a possibility for people to learn about this legendary band. Available through: www.redsteelmusic.com
(Points: 8.0 out of 10)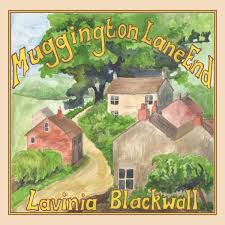 LAVINIA BLACKWALL AND STILTON 'MUGGINGTON LANE END VINYL RECORD' (INDEPENDENT/UK IMPORT)
When listening to the first song Nothing is wasted of the debut album of the Scottish singer/songwriter/guitarist/keyboardplayer LAVINIA BLACKWALL, I am almost speechless because of her beautiful angelic high pitched voice, which in combination with the artwork/pictures/lay-out of her vinyl record and its included music, it feels feel like we are back to the 1970s classic melodic folk rock/canterbury sound of the British Isles, as it does remind a lot of classic FAIRPORT CONVENTION and RENAISSANCE. However, perhaps also fans of MOSTLY AUTUMN and KARNATAKA will be interested in checking this out, because the music is a bit rockier than the classic folkrock here and there, even touching melodic rock on a fantastic song like Troublemakers. Anyway, I am glad Lavinia sent me her first album on vinyl, because the nostalgica is now complete and it surely could have been a release from 1973. On the other hand, it's really wonderful to have such a wonderful gifted singer now active and I am safe to say that we can look forward to a long and bright future ahead of us with this talented musician/singer, and hopefully many more releases to come. Ivy ladder is a superb uptempo melodic folk rocker again, with amazing vocal melodies in the style of classic style of MIKE OLDFIELD with MAGGIE REILLY on vocals, while the soaring guitars make it rock in classic 1970s style. The calmer songs All seems better and Hold on to your love show once again the amazing high octave vocalwork of Lavinia, who sounds like a cross between KATE BUSH, SANDY DENNY and MAGGIE REILLY, and then I mean spot on, without any troubles, especially when you know the fact that this debut album was recorded live in one take! Lavinia herself started her career by the way in the band TREMBLING BELLS, with whom she released 7 albums, but unfortunately I never heard anything from her up until now via this amazing solo debut album. Along with the help of her band STILTON (guitarist MARCO REA, bassist JIM MCGOLDRICK and drummer SEB JONSEN) as well as several guest musicians, including a couple of former bandmates, she recorded this sensational debut album. Back to the vinyl record and flipping over to Side-B, with the remaining 5 songs, it starts with the uptempo 70s westcoast psychedelic pop/rocker like KATE BUSH fronting FLEETWOOD MAC or JEFFERSON AIRPLANE. After the calmer Keep warm, we get to hear a strong late 1960s influenced piano driven uptempo psychedelic pop/rocker titled John's gone, which reminds me somehow of SHOCKING BLUE mixed with a bit of THE BEATLES and THE TURTLES. The way that she laughed is a soaring guitar driven folky semi/midtempo rockballad, and a really good one actually. Album closer is the epic When will all come to light/Muggington lane end/Arbor low, which starts as a lovely happy and catchy uptempo melodic 1970s folkrocker like 70s HEART crossed with KATE BUSH, while the middle part is an instrumental proggy part and it finishes off in acapella style, all together perhaps this is the finest song on the album. Concluded, this is a lovely record from an amazing singer/songwriter and hopefully after covid, we will be able to hear Lavinia sing live in front of us, because this girl deserves to become huge! Check her out at: https://laviniablackwall.bandcamp.com/
(Points: 8.7 out of 10)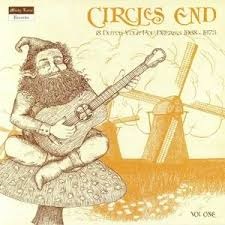 VARIOUS ARTISTS 'CIRCLES END 18 DUTCH FOLK POP DREAMS VINYL RECORD' (MISTY LANE RECORDS/ITALY IMPORT)
After the whole explosion of new Dutch Beat, Garage Rock, Psychedelic Rock and Hardrockbands in The Netherlands between 1966 and 1972, there was another movement visible as a sorta counterpart to the rocksound of bands like GOLDEN EARRING, EARTH & FIRE, SHOCKING BLUE, EKSEPTION, TEE-SET, Q65, SANDY COAST, etc. It was the period of Flower Power acoustic guitar accompanied and beautiful sung folk melodies in a style we nowadays call singer/songwriter pop. The influences came from mostly American artists/acts like BOB DYLAN, LEONARD COHEN, MARIANNE FAITHFULL, SIMON & GARFUNKEL and JONI MITCHELL. These 'heroes' told their stories via their songs and used the guitar as only back-up instrument, troubadours they were called back then. The ones singing in the Dutch language became massive in the following decades (BOUDEWIJN DE GROOT, ARMAND, etc.), but in the beginning many of these singer/songwriters sung in the English language and I am surprised there were so many of them active in the early 1970s, because on this compilation vinyl record titled CIRCLES END 18 DUTCH FOLK POP DREAMS on the Italian label MISTY LANE RECORDS, we can hear 18 acts, of which I only know at first sight AMSTERDAM. If we read the extensive and very detailed liner notes however, there are some well-known names appearing here and there, such as the American GREG KIHN, who was part of the Dutch based band ALLIGATOR for a short while in the early 1970s, and also producer HANS VAN HEMERT (LUV), BOB ZIMMERMAN, and many others are connected to the included acts here. I must admit that MISTY LANE RECORDS did a real good job collecting these rare gems! LINDA CHRISTINE for example has a beautiful voice and her song Feeling awful cold today is an amazing piece of folky singer-songwriter that would make JONI MITCHELL jealous! Another interesting act is the Rotterdam based band JUSTICE, with their catchy melodic 60s Beatpop-ish uptempo tune You came to see me, which strangely enough reminds me of the Rotterdam based THE MADD from the 2000s! Further highlights are coming from the acts DOUBLE YOU (their song Wild flowers is a lovely piece of dreamy psychedelic folk/pop/rock that sounds extremely international, which is not that rare if you learn that this band is actually the same band as THE SHOES, but in the early 1970s they changed their name for a number of years and recorded this forgotten gem), MYSTICAL BROTHERHOOD (a lovely vocal driven psychedelic folkpopact), JUMBO (another band from Rotterdam, with an exceptionally excellent lead singer on their beautiful melodic THE BEATLES-ish song I want you) and THE MARIGOLD (a band from Delft featuring KOR VAN VELZEN, the late father of the Dutch megastar ROEL VAN VELZEN!). I can safely say that this is a highly recommended Dutch folk/singer-songwriter compilation that should be heard by millions of Dutch people, just to discover all those rare gems from 50 years ago... More info and availability of the vinyl record is possible via www.mistylaneshop.com and www.mistylanemusic.com
(Points: 8.6 out of 10)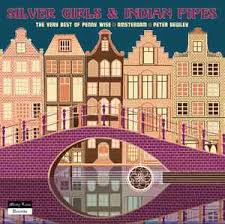 VARIOUS ARTISTS 'SILVER GIRLS AND INDIAN PIPES VINYL RECORD' (MISTY LANE RECORDS/ITALY IMPORT)
The Italian label MISTY LANE RECORDS is a very interesting and fascinating label, because they release obscure old music (mainly obscure Dutch beat/garage rock) onto vinyl. They do an excellent job, because the sound of their vinyl records is crystal clear and they also look for the real good obscure bands from mostly the 1960s when especially in Europe and in particular The Netherlands there were countless bands active, all trying to become the Dutch equivalent of THE BEATLES, ROLLING STONES, THE KINKS... Eventually not many secured a major record label deal, but on the other hand in the 1960s quite a lot bands did manage to release a 7" inch single on a smaller label or independently, and as those releases are very collectable nowadays, we have seen many compilation albums with those songs in the past. MISTY LANE RECORDS stepped in to release a best of compilation vinyl record of the rare music the brothers DONALD (guitar) and MARTIN VAN OS (drums) created in the 1960s and 1970s with their bands THE PENNY WISE and AMSTERDAM. Joining them back then were PETER VAN ASTEN (vocals) and ROBERT VERWEY (bass), although on the first couple of recorded songs the singer from HET (JACQUES ZWART) can be heard, but thankfully both can sing very well, so there's not really a big difference vocally and musically speaking.
Starting with THE PENNY WISE, they are as close as you can get in classic 1960s Dutch Beat Music, which you can hear on the 6 included songs that were recorded back in 1967/1968. Jackie's S.S.S. for example is a real fun uptempo beatpop/rocker that would make THE MADD go mad of jealousy! I am very impressed by the wonderful THE KINKS ish Lily come near me, which shows the strength of singer Peter, and as a song this sounds like a classic 60s tune created in the UK, but it was really made in Holland! And how about the wonderful THE BEATLES-ish Leave me alone and In the fields with me. It's quite a surprise the band did not become as big as for example TEE-SET, Q65 and GOLDEN EARRING, because they were in the same upper league of high quality Beatpop/Garage Rock in The Netherlands back in the 1960s.
Anyway, a name change to the city where they came from, AMSTERDAM, and the band also switched to a harder rocking sound on the first single Blue steel 44, a rather cool strong Hardrocksong that was recorded in 1970. Peter leaves the band eventually (for the second and last time) and is replaced by MICHIEL VAN DIJK, who also leaves a few years later, although also Michiel returns again on the final recordings of AMSTERDAM. With AMSTERDAM, the brothers changed direction as already mentioned a little bit towards psychedelic rock/hardrock at first (Blue steel 44), then changed the sound to folky calmer close-harmonyvocal orientated westcoast pop/rock a la CROSBY, STILLS, NASH & YOUNG/THE BYRDS (Donay and No one really cares) and finished with an almost early 1970s Glamrock style on a song like Marie Marie and even late 1960s THE BEATLES influenced Progrock on the 1974 song Emily Jane.
The final 2 songs on the record are from the AMSTERDAM/THE PENNY WISE singer PETER BEWLEY (aka Peter van Asten), which are the catchy 70s THE BEATLES/THE WINGS/ELO ish It's allright bill and Smile again, an orchestral 70s popballad, both songs feature backing vocals by none-other than PATRICIA PAAY and her sister Yvonne. The musicians playing on the 17 songs from the period 1967-1974 on this record, they have all kinds of connections with a lot of other well-known Dutch acts later in their career, such as SPARGO, EKSEPTION, MAGGIE MACNEAL, BRAINBOX, DOLLY DOTS, etc. etc., but these recordings are the starting point for them!
A lot of effort and work has been put into this vinyl release, including extensive liner notes, rare pictures of the musicians and the full story on these 2 Dutch brothers and the other musicians they played with in THE PENNY WISE and AMSTERDAM. I can only conclude this piece of Dutch music history needs to be heard by all fans of music created in The Netherlands, and as a Dutchman myself I am quite proud of this wonderful official vinyl release! It's available through: www.mistylaneshop.com and www.mistylanemusic.com
(Points: 8.7 out of 10)
THE KRYNG 'DON'T DIG THESE MODERN TYMES VINYL RECORD' (TEEN SOUND RECORDS/MISTY LANE RECORDS/ITALY IMPORT)
There are so many bands out there, you sometimes miss one and in Holland there is still a huge scene, so somehow I must have overlooked THE KRYNG. This band from the town of Meppel has already released a couple of albums, of which Don't dig these modern tymes from 2018 is available on vinyl through the Italian label TEEN SOUNDS RECORDS. The band is formed around Mark Ten Hoor: Guitar & Vocals, Peter Kroes: Bass, Guitars and Arjan Spies: Drums, Guitars, Keys, and the included music is clearly 60s based, with all kinds of catchy powerpop hooks and classic beat generation choruses packed in a mostly uptempo beat/garagerock sound. The 12 songs are all very melodic, so it is an enjoyable listen from start to finish, which makes me wonder why the Dutch radio and TV is not praising this band as much as they have done for THE KIK/THE MADD. Anyway, hopefully they will gain some interest soon, because we can hear a lot of great songs on this album, such as We're the same, which is as fuzzy guitar orientated 60s Garage Rock as you can get, while other highlights are the 60s beat rockers Better than him, the lovely catchy Way-out day, Come & go (hello THE KINKS), the fantastic You got to come over (as if we're listening to the early THE BEATLES classic uptempo beat/powerpop again!) and the superb classic Getting rawer (early THE WHO mod/60s powerpop classic). In case you're keen on the 1960s with beat/garage rock in all it's authencity, yet with a slight touch of classic THE BYRDS as well, such as can especially be heard in a song like Way to paradise, then look no further than THE KRYNG! More info at: https://thekryng.bandcamp.com/album/dont-dig-these-modern-tymes-lp and the record is available via www.mistylaneshop.com and www.mistylanemusic.com
(Points: 8.3 out of 10)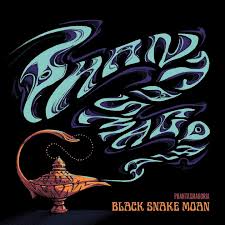 BLACK SNAKE MOAN 'PHANTASMAGORIA VINYL RECORD' (TEEN SOUND RECORDS/MISTY LANE RECORDS/ITALY IMPORT)
It's quite hard to believe the Italian band/project BLACK SNAKE MOAN is an one-man band, but MARCO CONTESTABILE really did everything on his own here! The psychedelic blues injected desert rocksound of the 2nd album Phantasmagoria is of an incredible high level! Marco has an amazing strong voice and also plays guitar, bassdrum, hi-hat, tambourine and keyboards, and he does it all extremely well. 9 songs are included in total, and right from the start we are fasten our seatbelts to enjoy this wonderful adventure that takes us straight through the fields of melodic psychedelic rock and southern fried blues/desert rock, with vocals that do recall a bit of the 80s gothic rock/wave movement and then I am thinking of bands like SISTERS OF MERCY, SOUTHERN DEATH CULT, GENE LOVES JEZEBEL and such. So basically BLACK SNAKE MOAN is a melting pot of 80s dark gothic wave, melodic psychedelic rock, southern fried vintage bluesy desert rock and a few weird guitar whaling sounds like a mix between THE TWILIGHT ZONE, THE GRATEFUL DEAD and BLUE OYSTER CULT, while we also must not forget to mention THE DOORS in the late 60s uptempo psychedelic rocker Kaleido. One of the absolute highlights is the slow haunting titletrack, which really grabs you right from the start. As mentioned the somewhat bizarre guitar sounds make it also sound sometimes quite dark and exciting, such as during Sweet lie, which even reveal some Middle Eastern influences and that sorta 80s THE TWILIGHT ZONE theme vibe. The album closes by the way with the superb Night of stone, which combines everything we have mentioned before, so perhaps this might be the best song of the whole record. It's great to hear such a fantastic singer, because Marco is a real character with an own vibrato and combined with his dark melancholic but melodic rocking sound he creates all by himself, this is one of those records that should gain a lot of attention! Check it out for yourself at: https://blacksnakemoan-omb.bandcamp.com/album/phantasmagoria and the record is available via www.mistylaneshop.com and www.mistylanemusic.com
(Points: 8.7 out of 10)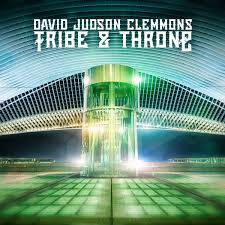 DAVID JUDSON CLEMMONS 'TRIBE & THRONE VINYL RECORD' (VILLAGE SLUT RECORDS/GERMAN IMPORT)
Originally from the USA, the singer/songwriter/guitarist DAVID JUDSON CLEMMONS is currently living in Germany. He started his music career in the late 1980s as founder of the band MINISTERS OF ANGER, which was a progressive thrash band that also featured future MACHINE HEAD drummer DAVE MCCLAIN. Although they only managed to release a few demos, they became a cult band, with one of their songs appearing on the famous METAL MASSACRE compilation records. Following band MURDERCAR featured David and Dave along with DETENTE guitarist Ross Robinson, but things got really exciting when David played in the band DAMN THE MACHINE, which featured among others the legendary guitarist CHRIS POLAND (MEGADETH)! This band had a modern complex jazzy progmetal affair, which I happen to remember hearing on the Belgian radio back then. They released a major label debut album, toured with DREAM THEATER, but eventually the band quit and David went on to form 2 more bands (JUD and THE FULLBLISS) in the following 10 years, with also several album releases.
However, around 2004 he made his solo-debut and this paved the way for a solo career, which has now resulted in the 4th album Tribe & throne. The included 6 songs are representing a modern psychedelic progressive rocksound that sounds a bit like PORCUPINE TREE crossed with TOOL and a bit of OPETH, although of course with an own identity thanks to the vocalwork of David as well as his unique way of playing the guitar. Besides David, the 2 other involved musicians are THOMAS GOTZ (drums/organ) and EARL GREY (bass) and when playing this vinyl record loud and proud, it gives you that exciting feeling you're listening to something original and refreshing. As mentioned, it's progrock related, but sounding very modern and almost putting you in a trance with it's slow haunting tempo, especially during the opener Our love our war. My trust is one of my favorite tracks, a midtempo melodic progressive rocker with some classic 80s well-thought prog metal influences and a complex jazzy rhythm section, reminding me a bit of PSYCHOTIC WALTZ. Also the superb Dark walk home takes you on an interesting journey that has a touch of Doom Metal (a la BLACK SABBATH) as well, but then with a Psychedelic Progmetal twist and a modern fresh approach, with beautiful haunting melodies sung by David, while halfway the song it gets quite dark and melancholic like we know it from for example the Norwegian band MOTORPSYCHO. Innovative and modern, yet not forgetting about the Prog Metal melodies, that's what this is all about and David is a master creator after being 30+ years in the music business.
Side-B opens with It of the dome, a slightly more uptempo piece, although also here the Doom Metal influences are very clear, and overall it sounds like one of the most original Metal songs of the past few years! Servants continues the original sound with again lovely melodies combined with Doom-Metal, Post-Rock and ProgMetal as if PORCUPINE TREE, OPETH, PSYCHOTIC WALTZ and OZZY/BLACK SABBATH are blended together, so yes this is quite a sensational song! The album finishes with The loyalty, a lovely melodic prog metal piece with interesting drums that sound a bit tribal/world music-ish and the post-rock guitar gives it a modern touch, while the chorus is very melodic and of an incredible high level. Basically this is a must-have release that is overall a Progmetal related release, but goes much further than that and is secretly one of Metal's finest releases in the past few years!
You can check out more info as well as listen to the music on David's bandcamp site at: https://davidjudsonclemmons.bandcamp.com/album/tribe-throne and his own website at: http://www.djclemmons.com/news
(Points: 8.7 out of 10)