HOT NEW REVIEWS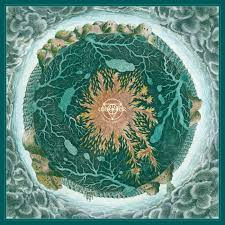 WOBBLER 'DWELLERS OF THE DEEP' (KARISMA RECORDS/NORWAY IMPORT)
The progressive rockband WOBBLER comes out of Oslo, Norway and was formed back in 1999. They have released 4 albums so far and so their new album Dwellers of the deep marks their 5th release. The bandís line up consists of Lars Fredrik FrÝislie - keyboards, backing vocals, Kristian Karl Hultgren - bass, bass clarinet, bass recorder, Martin Nordrum Kneppen - drums, percussion, recorder, Andreas Wettergreen StrÝmman Prestmo - vocals, guitar, glockenspiel, percussion and Geir Marius Bergom Halleland - lead guitar, backing vocals. We can find 4 long songs here and musically speaking it is high quality 70s progrock, calmer with a focus on beautiful melodies/vocals, kinda YES ish and instrumental of a very high level, with many tempo changes. Opener By the Banks is calmer, while there are uptempo rockier parts during Five Rooms and the closing track Merry Macabre is an epic song. The songs are very long as already mentioned, but in the world of prog that is quite normal and WOBBLER fulfills the needs of the progfan, because both songwise, vocally and instrumentally speaking everything sounds crystal clear! This is very impressive material and for YES fans a must-have! I am safe to say that WOBBLER will only become bigger in the future, as they take the progsound to a higher level on each new album! More info at: https://wobbler.bandcamp.com/album/dwellers-of-the-deep
(Points: 8.7 out of 10)
JACK CHESHIRE 'FRACTAL FUTURE PLAYS' (LOOSE TONGUE RECORDS/UK IMPORT)
Now this is quite an original release, because musically speaking there is a lot going on in the world of JACK CHESHIRE. Jack is coming out of London, UK and he combines dark melancholic baroque singer/songwriter pop (NICK CAVE) with 70s Progressive Rock and rounds it off with some late 60s Psychedelic Pop influences. The result is a very impressive album that contains mostly calmer songs with the instruments being played by Jack himself (Guitars, Electric Bass, Synths) and drummer/producer Jon Scott. There are a few guest musicians as well, but Jack and Jon are the most important musicians here. Jack's voice is in the lower range most of the time, hence the NICK CAVE and LEONARD COHEN comparisons, but thankfully it doesn't sound too depressing, which is also due to the songs that reveal some great 70s influenced synth driven prog here and there. The instrumental Spectrum takes us straight into classic 1970s Progressive Psychedelic Rock, with even a touch of Krautrock, a very exciting and diverse tune. The other instrumental song Blue is an experimental jazz meets prog piece. Most of the vocal songs follow the mixture described earlier in the review, with as highlights Tunnel vision, Widescreen and Landscape Dissolving. Interesting release and for more info please go to: https://jackcheshire.bandcamp.com/album/fractal-future-plays
(Points: 8.2 out of 10)
VARIOUS ARTISTS 'DESTINATION... DESTINATION LUST PART 2 - CHICKSVILLE USA - THE WORLD OF LOVE, SEX AND VIOLENCE' (BEAR FAMILY RECORDS/GERMAN IMPORT)
CHICKSVILLE USA is a compilation series on BEAR FAMILY RECORDS that is based around erotic themes of the glorious 1950s and 1950s, sung by mostly legendary female vocalists, although there are also male singers to be heard on this 2nd volume. 33 songs are included in total and of course the legendary MARILYN MARTIN and JAYNE MANSFIELD are present, but we can also hear a lot of less known artists, such as JERI SOUTHERN, KAY MARTIN, DIANE MAXWELL, BILL DARNELL and many more. The booklet tells us all about each performer and it is nice to hear the classic pre-THE BEATLES sound of the 1950s-1960s, because we all know what happened after THE BEATLES broke through around 1964. Garage Rock followed and the sound of this CD almost vanished completely, which is a pity, because it was quite innocent and still more or less appealing to a certain erotic degree. Available through: www.bear-family.com
(Points: 8.0 out of 10)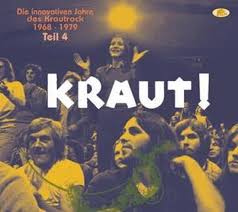 VARIOUS ARTISTS 'KRAUT! TEIL 4 - DIE INNOVATIVEN JAHRE DES KRAUTROCK 1968-1979' (BEAR FAMILY RECORDS/GERMAN IMPORT)
One of 2020ís finest compilation series has got to be the Krautrock series on BEAR FAMILY RECORDS. I was stunned by the packaging of the first volume, and the following 3 volumes are in a similar style. Each volume continues 2 full-length CDs that contains the best and most important bands of this Ďlostí era and each release also has an extensive booklet that informs you everything about all the included bands. For people who are not aware of the phrase Krautrock, this musicstyle was given to bands in Germany that more or less were experimenting with other music styles. Overall you could nowadays label the genre as Progressive Rock, but back then the Krautrock movement actually went much further, because especially in the 1970s all over the world musicians were looking for new directions and also got the chance to experiment. Record labels, managers and producers didnít control the labelís releases as much as they did after the Punk movement in the late 1970s. The first 3 volumes handled the North, South and the Midlands, while this final volume is featuring acts from Western Berlin. After ELVIS showed his moves in Germany while being in the army in the late 1950s, it was in the 1960s that Hamburg became the place to be and THE BEATLES got their first fame and fortune over there. In the 1970s Berlin was the hotspot to look for new music and of course we all know that DAVID BOWIE was one of the artists who was extremely influenced by all those rare sounds. TANGERINE DREAM and KLAUS SCHULZE are the 2 big names on this compilation, with a total of 34 minutes of playing time. New Age, early Trance and experimental Prog were basically invented here through the weird synth sounds of those acts. This can be heard on their songs on Disc 2 of Volume 4, but first we start with Disc 1 that is more rock orientated than Disc 2 .
The first 3 bands are quite rocking, with the fantastic 70s Hardrock of KARTHAGO, BIRTH CONTROL and the proggier OS MUNDI. DISSIDENTEN is very experimental and flirting with World Music, while METROPOLIS is one of the finest bands on disc 1, because this is a female fronted late 60s sounding psychedelic rockband a la SHOCKING BLUE and JEFFERSON AIRPLANE. LOKOMOTIVE KREUZBERG is combining uptempo URIAH HEEP ish 70s Hard rock with the quirky German speaking punk/poprock of the late 1970s/early 1980s. TON STEINE SCHERBENís song is a sorta semi-ballad combining rock, prog and pop elements, in a clear 1970s style. MYTHOS is as 70s based as you can get probably, with a FOCUS kinda vibe, although perhaps also going a bit more into classic 1970s progressive rock with a lot of instrumental improvisation. EMTIDI was an interesting male/female duo that combined prog, folk and pop, and actually should be seen as a very early RENAISSANCE kinda band. AGITATION FREE was basically pure classic instrumental 70s progrock with some interesting melodies all throughout their featured song Malesch. Closing band on disc 1 is the experimental ASH RA TEMPEL, which shows some bluesy late 1960s FLEETWOOD MAC influences, which is also due to the excellent guitar work. ASH RA TEMPEL was the in-between band of KLAUS SCHULZE by the way, but musically speaking was quite different than his solo work or the albums he released with TANGERINE DREAM around the same period in the early 1970s.
Disc 2 opens with the finest examples of influential German Krautrockacts of the 1970s, which are of course TANGERINE DREAM and KLAUS SCHULZE. Klaus began his music career in TANGERINE DREAM (and ASH RA TEMPEL), but left rather quickly to start on his own. The 2 songs included here are monuments and show how influential the Berlin school was and still is. TANGERINE DREAMís Phoedra and KLAUS SCHULZEís Ways of changes are 2 amazing journeys of music diversity that saw the German create prog music for the future to come and actually it was the start other new genres, such as trance, new wave and new age. The synth based material of these acts also changed a lot in the movie industry, because eventually it would replace the orchestra as background music in movies, with of course in the 1980s countless sci-fi soundtracks that featured these weird sounds that TANGERINE DREAM and KLAUS SCHULZE already created back in the early 1970s. Anyway, 4 more songs are included on this disc 2 of volume 4, and I have to say that this disc shows the most influential and experimental side of the classic Krautrock past of the 1970s. The acts CLUSTER, HARMONIA, HANS-JOACHIM ROEDELIUS and HUMAN BEING all followed the footsteps taken by TANGERINE DREAM and KLAUS SCHULZE, so more Synthesizer based 70s sounds.
Concluded, this is an absolute must-have for anyone to check out and do yourself a favor to complete the collection, 4 times the 2-CD/Booklet sets that will give you the entire story of the rich German Krautrockpast! Available through: www.bear-family.com
(Points: 9.0 out of 10)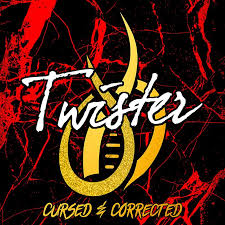 TWISTER 'CURSED & CORRECTED' (OFF YER ROCKA/CARGO RECORDS/SUBURBAN)
As soon as the first song Save us yourself plays through the speakers, it is safe to say that we are listening to the latest sensational Melodic Rockband to emerge from the British Islands. They are called TWISTER and despite they are not bringing anything really new to the genre, they do have a cool high class catchy 1980s influenced Melodic Hard Rocksound with soaring guitars, strong vocals, catchy hooks and big anthemic melodic choruses, so it has all the ingredients to appeal to any fan of classic 80s Melodic (Hard) Rock. Their debut album Cursed & corrected is a super professional sounding record that recalls the days of classic SKID ROW, BATON ROUGE, HEAVEN'S EDGE, DOKKEN, NELSON, FIREHOUSE, TRISTER and such late 80s/early 90s American style mainstream Melodic Hardrock, yet with a touch of today's modern rocksound to make it sound very fresh and up-to-date for everyone. The result is a great record you can listen to from start to finish without ever touching the skip button. TWISTER was formed in the town of Durham around Stevie Stoker ĖGuitar & Vocals, Jake Grimes ĖGuitar & Backing Vocals, Ryan Lee ĖBass & Backing Vocals and Jack Corbett ĖDrums & Backing Vocals, and we can find 13 songs on the album. Highlights on their wonderful first album are the superb Natural survivor (picture perfect 80s driven uptempo Melodic Rocker, with it's very catchy chorus and soaring guitarsolo, this is a song you'll be humming along to for weeks after hearing it), Trees (another catchy uptempo sing-a-long melodic rocker with a pure 80s Hair Metal ish chorus and guitars that remind me a lot of classic FIREHOUSE), Monroe (catchy Melodic Hardrock at it's very best!), 64 White lies (fantastic classic Melodic Hardrock, massive modern sound and a big anthem for sure!) and Trading hearts (another energetic uptempo 80s influenced melodic rock anthem! One of 2020's highlights for sure and a must to check out if you like high class professional Melodic Hardrock! More info at: https://www.officialtwister.co.uk/
(Points: 8.9 out of 10)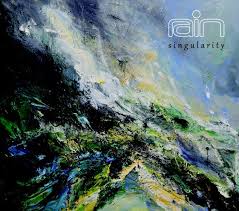 RAIN 'SINGULARITY' (GIANT ELECTRIC PEA/UK IMPORT)
Everytime I see the name of bassist JOHN JOWITT, I must think of all the bands/projects he was involved with in the past, both in the studio and live on stage (in especially the prog venue of the world, De Boerderij). Now his name is included in the line-up of the band RAIN. The bandname might not be really original, because we have seen many bands with the name RAIN in the past, but musically speaking this is high quality progressive rock. Anyway, another well-known name is drummer ANDY EDWARDS, who played with John in the bands IQ and FROST. It has to be said that aside from the rhythm section, the other 2 members are less familiar, but John and Andy are not stepping in to something average here, because RAIN's other members are 2 talented musicians, namely Rob Groucutt on vocals, keyboards and guitars and the younger excellent guitarist and vocalist Mirron Webb. The band will be acting as a band, so after covid is demolished, we can look forward to another new exciting prog outfit to tour live. The music is likewise Progressive Rock, but a little poppier and quite accessible, reminding a bit of classic IT BITES, RUSH and SAGA, so it is song based with a lot of room for the keys and proggy rhythm section and a short guitarsolo here and there, while the choruses are actually quite catchy, harmonyvocal driven and super melodic. A song like the uptempo Dandelion is one of the finest examples here, because this is a truly marvelous uptempo tune that combines the best of the 3 aforementioned bands. In total we have 5 long songs included here and it's a pity it's all over in 45-50 minutes, because RAIN brings a lot of joy and exciting new music for the proggies. If you call yourself a progfan and you want to hear not too much complexity, but still a professional mature sound (think IT BITES meets SAGA meets HAKEN meets FROST), then you're ready to go here for sure! More info at: https://www.facebook.com/RAINprogband
(Points: 8.8 out of 10)
SAINTED SINNERS 'SAINTED SINNERS' (EL PUERTO RECORDS/SUBURBAN)
SAINTED SINNERS are all about classic (melodic) 70s inspired hardrock in the style of RAINBOW, DEEP PURPLE, WHITESNAKE, GOTTHARD, etc. The band is formed around vocalist DAVID REECE (ACCEPT, BANGALORE CHOIR, etc) and guitarist FRANK PANE (BONFIRE, FRANK PANE BAND), while the other members of the band on their same titled debut album from 2017 I received for review, they feature FERDY DOEMBERG of ROUGH SILK and AXEL RUDI PELL on hammond, keys, slide guitar, MALTE FREDERIK BURKERT (bass) and drummer BERCI HIRLEMAN. The band's line up has changed meanwhile, and they even released a new album recently, and hopefully we are able to hear and review that one soon. Back to this wonderful debut record, the first couple of songs are a wet dream for fans of classic 1970s Hardrock, with a focus on classical guitar driven uptempo Hardrocksongs with rather cool Hammond solo's, biting guitarwork and strong raw bluesy male vocals, like the perfect cross between DEEP PURPLE, RAINBOW, WHITESNAKE STUART SMITH and AXEL RUDI PELL. Opener Knight of the long knives for example is a superb classic hardrock chorus driven tune like the afforementioned mixture. Other highlights are Blue lightning man, Evangeline and Truth is a lie. Must-have for fans of the mentioned bands, and as already mentioned, after this 2017 album the band released 2 further records to explore. More info at: http://www.saintedsinners.com/ and available through https://suburban.nl/shop/
(Points: 8.4 out of 10)
CONSORTIUM '13TH HOUR' (ANGEL AIR RECORDS/SUBURBAN)
I had never heard of the British band CONSORTIUM before, but in the 1960s and 1970s they did release a string of singles, of which some charted very well. Anyway, ANGEL AIR RECORDS released a CD filled with material the band recorded in 2009, so they more or less reformed and made a comeback int he late 2000s. However, if you listen to the music, it surely sounds like it was recorded in the mid 1970s! Thankfully in a good way, because the authentic sound makes it look like a re-issue of an old 1970s album actually. There is a mixture of 1970s Classic Hardrock and 1970s Pomprock from start to finish, with good lead- and harmonyvocals, biting guitarwork and memories of QUEEN, THIN LIZZY, STYX, CITY BOY, TRICKSTER and even a touch of early NWOBHM a few times. Actually this is a really good overlooked band that should get more attention for sure! It seems the band recorded another album before 13th hour titled Rebirth in 2006, so they tried 10 years ago and succeeded to record their best material to date, but the unfortunate thing is that it passed by without any notice. Hopefully this review will get people moving again to check out this band again. Classic 1970s Hardrock/Rock all the way here, with many highlights and a really good fun listen! Available through: https://suburban.nl/shop/ and http://www.angelair.co.uk/?tcp_product=consortium-13th-hour
(Points: 8.2 out of 10)
WEATHER REPORT 'LIVE IN LONDON' (ANGEL AIR RECORDS/SUBURBAN)
WEATHER REPORT is a legendary American Jazz/Fusion band with an extensive history between 1970 and 1986. The new live album that is released through ANGEL AIR RECORDS is 'probably' a radio broadcast from the early-mid 1980s and I must say that it sounds very professional and is of a very high level, so a real nice welcome for the fans of this legendary band. It even sounds like it was recorded recently, with the line-up of Joe Zawinul (keyboards), Wayne Shorter (sax), Omar Hakim (drums), Victor Bailey (bass), Mino Cinelu (percussion) and Jose Rossy (percussion). 6 long songs are included, with a lot of diversity and improvisation, while keeping those lovely melodies and classic WEATHER REPORT melodies all over the place. In case you're not familiar with this band at all, then this might even be a nice starting point, because live they were one of the best in their genre of melting Jazz, Fusion and Prog in the classic 1970s authentic way. Available through: https://suburban.nl/shop
(Points: 8.5 out of 10)
BIG BIG TRAIN 'THE DIFFERENCE MACHINE' (ENGLISH ELECTRIC RECORDINGS/SUBURBAN)
14 years ago the British band BIG BIG TRAIN released their album The difference machine, a well-crafted 1970s sunding Progrock classic that still sounds modern after all these years. The line-up back then featured Sean Filkins - lead vocals, Gregory Spawton - guitars/keyboards/backing vocals, Andy Poole - bass and Steve Hughes - drums, while guest musicians included Becca King - viola, Tony Wright - alto saxophone/tenor saxophone/flute, Nick D'Virgilio - drums/backing vocals, Dave Meros - bass and Pete Trewavas - bass. The resulting album is filled with lovely high class calmer melodic progrock with some jazz/fusion influences, like a mix between SPOCK'S BEARD, THE FLOWER KINGS, WEATHER REPORT, VAN DER GRAAF GENERATOR and 1970s GENESIS. Fans of such classic prog/fusion will absolutely love the 8 tracks that can be heard on this album. Meanwhile the band has released a few more records and built up a huge reputation, but it all started to take shape with this 5th album The difference machine. Available through: https://suburban.nl/shop/
(Points: 8.7 out of 10)
ELEPHANT TREE 'THE DAY OF DOOM' (MAGNETIC EYE RECORDS/SUBURBAN)
Out of London comes ELEPHANT TREE, a band with an ultra-heavy slow fuzzy underground Doom Metal sound that comes across like a mix between CANDLEMASS and SOLITUDE AETERNUS. Their new album is a live record titled The day of doom, which sounds from start to finish fabulous and really captures the band at their very best, with massive heavy Doom Metal guitar riffs that would make 1970s BLACK SABBATH very jealous. I was not really familiar with the band before, but this live album makes me eager to check out their studio-albums as well, although I know that live the guys give you a real authentic sound! Available through: https://suburban.nl/shop/ and more info at: https://elephanttreeband.bandcamp.com/album/live-at-day-of-doom
(Points: 8.6 out of 10)
THE BABOON SHOW 'I NEVER SAY GOODNIGHT' (KIDNAP MUSIC/ROOKIE RECORDS/GERMAN IMPORT)
THE BABOON SHOW is a Swedish band that has been active for almost 20 years, with many releases and despite they are described as a 1970s sounding Punkrockband, the material on their latest EP I never say goodnight is more melodic and even reveals influences of classic rock/hardrock/metal like a mix between JOAN JETT, GIRLSCHOOL, PRIEST, MOTORHEAD and such. 4 songs are included and it's really a joy to listen to catchy sing-a-long melodic heavy rockers such as I never say goodnight and Which way will you go. This is high quality pure Rock and Roll, with a sorta raw sleazy metal and punk vibe like it was done a lot in the late 1970s and early 1980s. I look forward to review a full-length record of this excellent band! More info at: http://www.thebaboonshow.de/
(Points: 8.4 out of 10)
SHIRLEY HOLMES 'DIE KRONE DER ERSCHOPFUNG' (ROOKIE RECORDS/GERMAN IMPORT)
Out of Berlin, Germany comes the German speaking band SHIRLEY HOLMES and Die Krone der Erschopfung is their latest release. This female fronted band is playing a strong mixture of Punkrock and Melodic Alternative Rock, with a lot of energetic uptempo rockers, such as the lovely Wieder sehen, Konzoom and Schallfront, baby. 10 rather short songs are included, so it's all over quite fast, but on the other hand you will get a lot of joy and pleasure here. I'll bet live this band will definitely bring you a good party with their fun sing-a-long tunes that also have a modern raw edge, so it's not polished at all, perhaps you could mix NENA and NINA HAGEN with THE DONNAS, then you're close to SHIRLEY HOLMES. More info at: www.shirleyholmes.de
(Points: 8.1 out of 10)
FRAU DOKTOR 'ONKEL PUNK' (ROOKIE RECORDS/GERMAN IMPORT)
I was not familiar with the German band FRAU DOKTOR, but they have been around for a while and Onkel punk is their latest release. It's their 6th album since 1998 when they released their debut album Muss! They were formed in 1995 and have meanwhile built up a strong reputation. The band's music is a mix of Ska and Melodic Punk/Rock, and also this new album shows a cheerful band with 12 catchy tunes sung in mostly the German language. More info at: https://fraudoktor.de/ and https://rookierecords.bandcamp.com/album/onkel-punk
(Points: 8.2 out of 10)
LETO 'WIDER' (ROOKIE RECORDS/GERMAN IMPORT)
The Post/Poppunkband LETO comes out of Hamburg, Germany, and Wider is their 2nd album so far. They have a professional melodic sound that is clearly influenced by both American and British Melodic Powerpop/Punkpop, yet with German lyrics. A song like Schatten is very catchy and could easily become a huge hit! DIE TOTEN HOSEN is likewise a good comparison, but LETO is doing things a bit more like the aforementioned American and British counterparts. The only difference is of course they are singing in the German language, but that's not a problem at all actually. It makes them sound unique and different than the rest, and as mentioned, most of the fun radiofriendly uptempo rockers here are memorable and should live go down very well. Check them out for yourself at: https://www.letohamburg.de
(Points: 8.2 out of 10)
NOSEBLEEDER 'NO' (FLIGHT 13 RECORDS/ROOKIE RECORDS/GERMAN IMPORT)
Out of Cologne, Germany comes NOSEBLEEDER, a band with a professional and international melodic punkrocksound that also touches early Hardcore as well. Influences come from DAG NASTY, LEATHERFACE and such. 10 supershort songs are on the band's latest album. Some are around the 1 minute playing time, which is also a pity, because songs like the uptempo (I killed) Laura, Trigger and Erebus are quite catchy tunes actually. It's all over in 15 minutes, but nevertheless it is an enjoyable record that is a must hear for fans of classic uptempo melodic punkrock. More info at: https://nosebleederband.bandcamp.com/releases
(Points: 8.2 out of 10)
TALCO MASKERADE 'LOCKTOWN' (ROOKIE RECORDS/GERMAN IMPORT)
The Venica, Italy based band TALCO has been active 2001 and they have released a lot of albums so far. Locktown is their latest and despite they are described as a Ska-Punkband, they do have a sorta melodic acoustic folky punkrocksound on their new album. The songs are melodic and melancholic, quite memorable and nice to listen to. I wouldn't say they sound a lot like for example MANA, but on the other hand it has a similar kinda feeling. The band actually now has adopted the name TALCO MASKERADE, and despite I might not be familiar with their earlier releases, I think if you like TALCO's past albums, you will love this Locktown as well. Check out more on them at: https://www.talco-punkchanka.com/
(Points: 7.8 out of 10)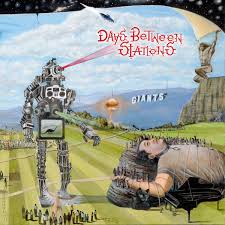 DAYS BETWEEN STATIONS 'GIANTS' (STATION ONE/GLASS ONYON/USA IMPORT)

The American duo DAYS BETWEEN STATIONS has been active for quite a while now and Giants is their latest album release. It takes about 6 to 7 years before they release a new album, but thankfully the music is of a very high level, so it's not a big issue it might take a little longer to hear new material from them. They are basically a duo formed around Sepand Samzadeh / guitars and Oscar Fuentes / keyboards, yet the guests are completing it as a band/project. Most important name who appears as guest, but actually plays bass, drums and is singing on a number of songs besides co-producing the album, it's none-other than prog legend BILLY SHERWOOD (YES, WORLD TRADE). Other guests include XTC vocalist COLIN MOULDING, PINK FLOYD backing singer DURGA MCBROOM and backing vocalist INID ABIZA. When we listen to the first song Spark, we are listening to a sensational high class Progrock masterpiece that has a playing time of 16 minutes, but in contrary to what you might expect, DAYS BETWEEN STATIONS is song based on this album. This first is very melodic, with strong PETER GABRIEL ish vocals and a Symphonic 80s kinda Rocksound in the style of YES. In that same style is the lovely Another day and the titletrack Giants, which are actually pure British Neo-Prog/Symphonic Rockers like the perfect mix between PALLAS, LONELY ROBOT and ARENA. This is without a doubt a lovely high quality record that should be in the hands of every progfan out there! More info at: https://www.daysbetweenstations.com/




(Points: 8.8 out of 10)

PROJECT NAYUTA 'TSUMIBITO NO KIOKU' (INDEPENDENT/JAPAN IMPORT)

All the way from Japan comes the PROJECT NAYUTA. 3 songs are on their album Tsumibito no kioku, which takes us straight into complex progressive rock in the best 1970s/1980s style, yet with some typical Japanese elements, especially during the female vocals. All 3 songs are quite lengthy, with closing track Crystal dragon being a 26 minutes counting song that goes in various directions. Instrumental this is superb high class Prog/Symphonic Rock with nice duals between the keyboard and guitar, while vocally you might have to get used to the typical Japanese way of high pitched singing. For those of you who are familiar with LOUDNESS, MARI HAMADA, MISAKA HONJOH and such legendary acts, you should think of them when speaking of the vocalwork here. Instrumental however PROJECT NAYUTA is definitely touching classic YES, ELP, KING CRIMSON, GTR, ASIA and such. Here and there a bit pompous, with even 80s ish keyboardwork, while at other times complex sounding like KING CRIMSON and U.K. did 45 years ago. It's an interesting journey into the Japanese way of life, which is different than ours, but for the open-minded progfans out there definitely recommended! More info at: https://linkco.re/5xaYgy1y?lang=en and https://nayutakeikak.base.shop




(Points: 8.2 out of 10)

MESSENGER 'IN TO WIN' (INDEPENDENT/USA IMPORT)

Out of Springfield, Virginia comes MESSENGER, a Christian Melodic Hardrock/Metal band with a classic traditional sound filled with strong catchy melodies (STRYPER, WHITECROSS, HAREM SCAREM), although the guitarwork also reveals typical modern American heavy rock influences (CREED, SHINEDOWN, ALTER BRIDGE). The band seems to be taking the best of both worlds and on their 3rd album In to win, this sounds quite impressive actually for an independent band. Formed around Frank Clifton Herring Ė Vocals, Vlad Gurin Ė Guitar, Rich Sandoval Ė Bass and Mike Zahorchak Ė Drums, I am somewhat surprised this band is still independent, because they sound as good as most label signed acts here in Europe. They deliver big time on great songs like Time machine, Blind-sided, Take flight (a SENSATIONAL song with superb vocals and an epic classic midtempo Melodic 80s Pomprock/Metal sound that recalls memories of RAIL, MYTH, FIFTH ANGEL, RIOT and WINTERKAT), Anchor (a lighter version of MANOWAR meets HAMMERFALL), the melodic rock ish ballad Last supper and the catchy Messenger at arms. Despite a few weaker songs, such as Give a shout!, this is a very enjoyable record most of the time! Go check them out if you like high class melodic heavy rock/metal that combines the best of the classic and the present American hardrock/metalsound! More info at: https://messengermetal.com/




(Points: 8.5 out of 10)

VULTRESS 'HYPNOPOMPIA' (INDEPENDENT/USA IMPORT)

it's almost impossible to keep track of all the new bands that are out there, but we try our best and VULTRESS from a small town close to the city of Indianapolis was kind enough to sent me their high quality debut album Hypnopomia. The three-piece band is formed around Jordan Gaboian (guitar) Paul Uhrina (drums) and Anthony Capuano. (Vox/keys), and on their very first album we get to hear modern sounding Progressive Rock, with some Math Metal influences, a lot of groovy complexity, some theatrical parts and FRANK ZAPPA weirdness. All together VULTRESS has an own identity, which should be praised for sure. There are memorable melodies and if you listen to a song like Tether, you will hear so many influences and music styles combined, because thanks to guesting sax player ETHAN STUTZ there is even a part Jazz to be heard here. 5 songs are included in total and it's a blessing to listen to them all, because they reveal a band that could become huge in the future, which is thanks to their original creativity and complex ideas, while still breathing out catchy melodic choruses. If you want to hear a cross between let's say TOOL, COHEED AND CAMBRIA, TOOL and FRANK ZAPPA, then look no further than this VULTRESS! More info at: https://vultress.bandcamp.com




(Points: 8.4 out of 10)


MAGICK BROTHER & MYSTIC SISTER 'MAGICK BROTHER & MYSTIC SISTER' (THE JOHN COLBY SECT/SPAIN IMPORT)

Out of Barcelona comes MAGICK BROTHER & MYSTIC SISTER, a band named after the same titled GONG album from 1969. Musically speaking GONG is also an inspiration I think, because what we basically get here is superb instrumental 1970s orientated Prog/Krautrock with interesting spacey synths and fuzzy guitars. 10 songs are included on the debut album of MAGICK BROTHER & MYSTIC SISTER, a band formed around Eva Muntada: piano, synthesizers, organ, mellotron & vocals, Xavi Sandoval: bass & guitars, Marc Tena: drums & vocals and Maya FernŠndez: flute. I absolutely love what they are doing and despite I call their music prog/kraut, there is more to explore here, because you also get some groovy funky vibes here and there (Waterforms and Movement 2), some jazzy fusion in a song like Love scene, some comparisons to even THE BLACK PUMAS, while also thanks to the flute, FOCUS similarities are also possible. However, most of the time this band has their own kinda 1970s inspired prog/krau/psychrocksound and with fantastic songs like Utopia, Yogi tea, Echoes from the clouds and Les Vampires, MAGICK BROTHER & MYSTIC SISTER shows they are a band to keep your eyes wide open for in the future. Check them out at: https://magicbrothermysticsister.bandcamp.com/album/magick-brother-mystic-sister-2




(Points: 8.6 out of 10)




EXNOVIOS 'APACHE 45' VINYL SINGLE' (THE JOHN COLBY SECT/SPAIN IMPORT)




EXNOVIOS is a psychedelic rockband from Pamplona, Spain formed around Juan Pedro Maravi, Txema Maravi and NicolŠs Ruiz y Tamu. I received a 45" vinyl single with 3 of their songs, and I must say it sounds very impressive. The band has released a couple of full-length records, so I am quite eager to learn more about them. Side A of this vinyl single contains the sensational midtempo based rocker Apache, while flipping over to Side-B we are surprised by the great uptempo garage rocker Dimelo a mi and finally, the midtempo Magia eterna is a very melodic tune. The band combines perfectly classic late 1960s psychedelic rock with a lot of melodies and they do it in a way it still sounds modern and retro at the same time. Definitely a band to explore further in the future, so go check them out for yourself at: https://exnovios1.bandcamp.com/album/exnovios-apache




(Points: 8.4 out of 10)

IGGY POP AND THE STOOGES 'THE ROAD TAPES '73-'74: YOU THINK YOU'RE BAD, MAN?' (CHERRY RED RECORDS/SUBURBAN)

If you're a die-hard IGGY POP or THE STOOGES fan, then you will absolutely love this new BOX set of Iggy. However, the sound quality should be classified as poor I'm afraid, because this seems like a tape recorded live concert. In fact it concerns 5 different concerts Iggy performed with THE STOOGES in 1973 and 1974, spread over 5 CDs in a nice red coloured boxset on CHERRY RED RECORDS. The packaging is wonderful and the setlists look very promising, but sadly the sound quality is not really good. Thankfully we do have a nice booklet to look at and if you don't mind the quality of the recordings, you can hear how authentic and raw Iggy sounded back in the day, a real Rock and Roll tiger! However, only recommended to absolute die-hard fans! Available through: www.cherryred.co.uk




(Points: 6.0 out of 10)

A BURIAL AT SEA 'A BURIAL AT SEA' (MOMENT OF COLLAPSE RECORDS/UK IMPORT)

The same titled debut album A BURIAL AT SEA was recorded in Belfast, while it was produced and mixed in Liverpool, and this connection is quite interesting, because in 2019 I visited both cities and I was really impressed by the local music scene. A BURIAL AT SEA is an Irish band that brings us very diverse instrumental music that is progrock based, but is also open for other styles (post-rock, jazz/fusion, math-rock and modern rock), which is thanks to the involvement of trumpets into their line-up. The band consists of guitarist DARA TOHILL, guitarist/trumpeter JOEL DURKSEN, trumpeter JOHN NAYLOR, bassist PADRAIG KERR and drummer PATRICK BLANEY. The resulting first album is a lovely instrumental album, with many highlights, such as the superb DíAccord, You really did grow after all and Lest we remember, while we can also hear some harmonyvocals during the splendid melodic Lightening blanket that also reveals the Math-Rock influences. They are slightly calmer than their label mates from WOLFREDT, but definitely as good as them and I really enjoyed A BURIAL AT SEA a lot, so hopefully we will be able to catch them live soon. Meanwhile, check them out at: https://aburialatsea.bandcamp.com/

(Points: 8.6 out of 10)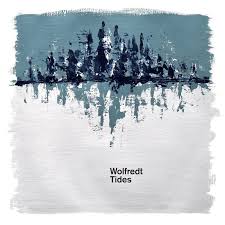 WOLFREDT 'TIDES' (MOMENT OF COLLAPSE RECORDS/UK IMPORT)
Out of Tallinn, Estonia comes the band WOLFREDT, which started as a one-man-project by drummer/guitarist MARGUS VOOLPRIIT back in 2008. Meanwhile, Tides is the 3rd album and Margus is joined by several other musicians (guitarist ANDRES SOOSAAR, bassist PERTTI JOHANSON and drummer KALLERVO KARU) on this new album, which gives it a richer fuller sound. In fact, this might be one of the strongest instrumental releases of 2020! WOLFREDT is all about instrumental Post-Progressive Rock, with calmer ambient ish parts (during the beginning of The forgotten man and the songs Moebius strip and the superb closing track The ebb) and uptempo straight-ahead rockier parts, such as can be heard during the fantastic Colossus. There are similarities possible to LONG DISTANCE CALLING, SLEEPMAKESWAVES, TIDES FROM NEBULA and such, but when listening to the diversity in the 7 included songs, you can safely say that WOLFREDT has an own identity. Besides the aforementioned Colossus, another highlight is the wonderful midtempo Ghost in the machine. Without a doubt, this is a must-have album for any fan of instrumental hypnotical Post-Progrock! More info at: https://wolfredt.bandcamp.com
(Points: 8.7 out of 10)
TEMPLE OF SWITCHES 'VARIOUS ALBUMS' (INDEPENDENT/USA IMPORT)
Formed in 2012, TEMPLE OF SWITCHES from California, USA has a lot to tell via their 3 album releases so far. As the bandname suggests, there are a lot of switches within this band, but more about that later in this review. Their same titled debut album was released in 2015, of which opener Federal offense is a very catchy chorus driven uptempo melodic rocker with a slight prog touch, yet sounding quite 80s, which is a good thing for sure. Following The vortex is proggier and close to a mix between RUSH and SAGA, with some interesting keyboards and Spanish guitar halfway the song. The lead- and harmonyvocals are overall quite excellent and make the band sound very melodic (STYX/ENCHANT/YES style). I am quite surprised this is an independent band, because they are of a very high level musically speaking, combining the best of prog, sympho, aor and melodic rock. The positive side (part two) is pure progrock, with calmer and heavier parts, this song drifts almost straight into the epic 1970s direction. Calling all is an instrumental prog/symphonic rocker with nice keyboards, while The unwritten is an uptempo melodic progrocker and closing track of the bandís first album is the epic Desert sands, which has some slight 1970s Pomprock (STYX) similarities.
In 2017 the follow-up Helium parade is released and there is clearly a change in style and the line-up has also changed, because the fantastic lead singer/keyboardplayer of their debut album, KEVIN MCCONNELL, he left the band. Guitarist MIKE MONDA takes over the other instruments on a lot of songs, in fact heís doing everything on his own on 5 tracks! He gets help on a few songs from drummer Craig Camp and vocalist Clara Hembree, but most of the time Mike is doing everything by himself, including the vocals. The music style has also changed as mentioned, because itís less melodic and there are no similarities possible like their debut album. Instead, the progrock takes a more darker modern approach, with a lot of room for instrumental passages. I am not sure if we can speak of an improvement here, because the classic progsound of their debut has been put aside in favor for this darker modern semi-instrumental direction, which isnít that bad, but after hearing the first album I know they can do much better.
And then we are in the corona year of 2020 when the band releases their 3rd album The wings of mind and once again a lot of changes, because now a lot of old and new musicians are appearing, including new lead singer JIM CHAVEZ and guitarist TENK VAN DOOL, who takes over from Mike, as he left the band. Original singer KEVIN MCCONNELL also makes his comeback and musically speaking the band grabs back to their debut thankfully, yet with a more theatrical progmetal touch that you can hear rightaway on the opener Melba. PSYCHOTIC WALTZ and FATES WARNING come to mind here and that is definitely an improvement compared to their previous album Helium parade. There is actually a lot of diversity going on, because of the use of various singers. Other interesting songs are the proggy Pondering, the slow bluesy AOR song Donít cry to me, the light QUEENSRYCHE ish Crusader and the lovely 70s inspired prog-pop masterpiece One for all. Itís great to see the band releasing now a strong new album again and perhaps this is their most ambitious and diverse album so far. Definitely a band you might want to check out at: https://tenkvandool.bandcamp.com
(Points: 8.4 out of 10)
MERRY HELL 'EMERGENCY LULLABIES' (INDEPENDENT/UK IMPORT)
Out of the Northwest of England comes MERRY HELL, a fun and happy melodic folk/punk pop/rockband with a focus on catchy singable chorus driven uptempo tunes on their albums. Emergency lullabies is their 6th album so far, and it contains 14 tracks in total, as played by Andrew Kettle: Vocals, Virginia Kettle: Vocals & Guitar, Bob Kettle: Mandolin & Bouzouki, John Kettle: Guitars, Nick Davies: Bass, Lee Goulding: Keyboards & Banjo, Neil McCartney: Fiddle & Backing Vocals and Andy Jones: Drums. They remind me of a calmer melodic polished version of DROPKICK MURPHYíS meets BLACKMOREíS NIGHT, yet itís better to mention they have an own face by now, which is thanks to the superb vocals of both singers, as well as the strong backing vocals on each and every song. There are a lot of memorable songs to be found here, such as the uptempo Leave it to the ground, the folky semi melodic rockballad Three little lions (with a superb singing Virginia), Sister atlas (even a tiny bit reminding of 1970s HEART) and I donít want to be cool. This band is on the edge of melodic rock, folk and light punk, with a strong sound that should appeal to a wide audience! Check them out at: https://merryhell.bandcamp.com/album/emergency-lullabies
(Points: 8.3 out of 10)
DAVE SCHOEPKE 'TESSELLATED RESONANCE' (INDEPENDENT/GLASS ONYON/USA IMPORT)
Tessellated resonance is filled with solo drum music from a musician called DAVE SCHOEPKE, who is from Milwaukee Wisconsin, USA. The emphasis is on form, tone, and composition rather than drum exposition. Drum songs is another possible description, and itís all done by Dave himself. The 11 included songs are showing a lot of cool rhythms via his drumming skills, and it was recorded before all the covid lockdowns in the early months of 2020. Check for yourself at: www.daveschoepke.com
(Points: 7.5 out of 10)
ANYONE 'ON THE ENDING EARTH...' (TOGETHERMENT RECORDS/GLASS ONYON/USA IMPORT)
Actually I was not really familiar with the Californian band ANYONE, but apparently they were formed back in 1995 by RIZ STORY (guitar, vocalist, songwriter, producer) and featured once members of FOO FIGHTERS and KORN amongst many others. Anyway, they released several albums on ROADRUNNER RECORDS throughout the 1990s, but eventually split up in the mid-2000s. In 2014 the band reformed and went independently, where they managed to release a few more records, of which On the ending earthÖ is the latest CD. Musically speaking it is high quality melodic progressive rock with classic rock influences, kinda like a mix between LED ZEPPELIN and RUSH. Thankfully it is done really well, with great vocal work (ROBERT PLANT meets GEDDY LEE meets OZZY meets LENNY WOLF), well-constructed songs in classic 1970s style and lovely melodies all throughout the album, with as highlights the beautiful songs All that lives is born to die, Sip the pleasure of days, Sister wrong way, A Love Letter to Humanity and Want, while closing track Fade to black sounds like DAVID BOWIE doing a RUSH song! I was quite overwhelmed by the incredible high quality of this album, and I am sure many more people will love it if they found out about this release. Check out more at: https://www.anyoneden.net
(Points: 8.7 out of 10)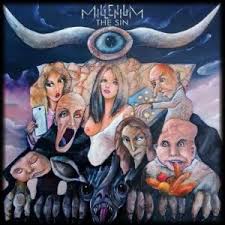 MILLENNIUM ĎRARITIES/THE SIN' (LYNX MUSIC/POLAND IMPORT)
The Polish band MILLENNIUM has been around for a very long time now, with many album releases so far, and in 2020 two new albums of this legendary band were released on their label LYNX MUSIC. They were formed in the mid-1990s and never changed music style or label in all those years, so now almost 25 years later on those 2 new albums we can still hear their wonderful brand of melodic progressive rock that sounds like early MARILLION, PENDRAGON and such, yet they do have an own identity, which is thanks to the superb vocals of lead singer LUKASZ GALL, who sounds a bit like STING actually! Anyway, the band further consists of bassist Krzysztof Wyrwa, drummer Grzegorz Bauer, guitarist Piotr Płonka and keyboardplayer/guitarist Ryszard Kramarski. The first album I will review here is their Rarities album, which is a compilation of unreleased songs and/or songs that can only be found on EPs or a Best of album, or are done in a different version than the original album version. If we go through the finest songs on this album, we have to mention the superb Time vehicle, with its soaring guitars, relaxing smooth sax, cheerful keys and lovely vocal melodies, this is an absolute classic not to be missed if youíre a fan of Neo-Prog/Melodic Progrock. Another highlight is the beautiful Envy, which is an acoustic version of a track from their lovely new album The sin, sung here exceptionally well by Lukasz. Ecosong ethno is another fantastic song with brilliant vocals and melodies, while the song itself is a sorta mix of prog and world music, even a bit reminding of classic PETER GABRIEL. If we move over to their official new studio album, The sin, we are blessed with the feeling that the band has delivered another masterpiece. From start to finish, this is how we like to hear our prog! Highlights on the bandís new album are Lust, Wrath, Sloth, Greed and closing track Envy, which is one of the most beautiful progsongs of 2020! Everything sounds perfect on this album and it gives you such a relaxed feeling while listening. This band is right up there with the other big names in prog, such as PENDRAGON, IQ, MARILLION and together with MARK KELLY's MARATHON, this new MILLENNIUM album is the absolute finest piece of new prog that is available at the moment! Definitely a must-have if you call yourself a proggie, but I dare anyone to check out this album, because MILLENNIUM has so much to offer, which makes it a pleasure to listen to their music. More info at: http://www.millenium.art.pl/
(Points: 9.0 out of 10)
JASMENO 'JASMENO' (LYNX MUSIC/POLAND IMPORT)
JASMENO is a Polish project that started in 2017 and now releases itís same titled debut album. The included music is 80s inspired, but then from a Synthwave/Gothic/Synthpop kinda view, with also elements of classic krautrock, electronic and new wave music. Itís synth/keyboard driven, with however lots of other elements, which can already be heard during the instrumental opener Plankton and also the catchy midtempo Daydreams, with its strong melodic chorus, it reminds me of MAGIC DANCE in their early days. However, most of the time ULTRAVOX and DEPECHE MODE come to mind, and JASMENO do it really at a high level, because also vocally it is not far removed from MIDGE URE for example. Anyway, the band is featuring Andrea Noah Boma Boccarusso: lead vocals, choirs, electric guitars, accoustic guitar, Lecia Louise Mcphail-Bell: vocals, choirs, electric guitars, accoustic guitar, Piotr Chomicz: electric guitars, Anna Heron: vocals, choirs, Robert Jakubiec: trumpet, Gabriela Gutierrez: harp and Slavomir Maria Nietupski: synthesizers, organs & programming. 10 songs are included, and it is a pleasure to listen to the album from start to finish, with as other highlights besides the aforementioned songs, the ULTRAVOX ish Precarious and tough and Liquid paradise. If youíre starting to become interested, please go to: https://jasmeno.bandcamp.com/releases
(Points: 8.3 out of 10)
ANDY SUSEMIHL ĎALIENATIONí (SM NOISE RECORDS/GERMAN IMPORT)
The German guitarist ANDY SUSEMIHL delivers his 7th solo album with the 2021 record Alienation. He is a former UDO guitarist, played with SINNER, ACCEPT, DAVID REECE, RITCHIE KOTZEN and countless more. On this new album he gets help from Peter Baltes (ACCEPT), Francesco Jovin (UDO/JORN) and Andre Labelle (VINNIE VINCENT), so we are definitely heading into an international sounding record that has a clear 1980s influence musically speaking, but it doesnít sound dated at all. As soon as the first song Another day, another turn kicks in, weíre on our way for a great portion of high class uptempo Melodic Hardrock. Everything sounds perfect here, with fantastic vocals from Andy himself, strong guitarwork, a catchy chorus and overall a great vibe! 12 songs are included and thereís not a single weak moment to be found, because from start to finish it is high quality typical German Melodic Hardrock in the style of MAD MAX, CASANOVA, VICTORY, BONFIRE and such. Besides that lovely opener, other highlights are the midtempo Monkey town, the fantastic catchy uptempo AOR/Melodic Rocker Common sense, the superb midtempo melodic rocker Over my head, the JOURNEYesque uptempo AOR/Poprocker Hands on the wheel and the big melodic rock anthem The game (a la FIREHOUSE). Nice surprise here and I am quite eager to hear more of Andyís past work. Check out all on ANDY SUSEMIHL at: https://www.andysusemihl.com
(Points: 8.5 out of 10)
FROZEN NIGHT 'IN VAIN' (LYNX MUSIC/POLAND IMPORT)
Out of Zakopane, Poland comes FROZEN NIGHT, a new melodic Prog/Power Metalband making their debut with In vain. The band consists of bassist Maks Bieniara, drummer Kacper Puchała, guitarist Szymon Wajda, guitarist Bartosz Klamerus and vocalist Mikołaj Wirowski. Their music is heavier than most other albums on LYNX MUSIC, but still melodic thankfully. THRESHOLD meets ICED EARTH could be a nice description, but FROZEN NIGHT is in development and this debut shows they have something to offer, but there are enough opportunities to improve in the future. The songs are based around classic metal guitar riffs that are combined with melodic memorable choruses, and among the 8 included tracks, the highlights are The alley of apathy, The anthem of lonely and Wake me up again. A few times we can also hear extreme metal influences in a couple of screams, but I am glad this doesnít happen too often, and so we can recommend it to the prog/power metal fans out there, although I have to say that vocally speaking it is not reaching the level of aforementioned bands. More info can be found at: https://frozennightofficial.bandcamp.com/album/in-vain-3
(Points: 7.0 out of 10)
KRYSZTOF LEPIARCZYK 'ALBUM PIESNI' (LYNX MUSIC/POLAND IMPORT)
I donít have that much information on this release, because it is Polish orientated, both lyrically and the whole background of the album, but it concerns here the 3rd album of keyboardplayer KRZSYSTOF LEPIARCZYK. On the album he gets help from vocalist Marek Smelkowski (PADRE), guitarist Jerzy Antczak (ALBION, GEORGIUS), drummer Grzegorz Bauer (MILLENNIUM) and bassist Piotr Lipka (LOONYPARK). The result is a lovely relaxing Neo-Progrockalbum that reminds me a bit of EVERON, with also a few touches of 80s New Wave. One of the absolute highlights is the fantastic Daremne zale, with lovely soaring guitarwork and a strong catchy chorus. Itís quite a diverse album actually and despite Krysztof is the leader and itís all situated around his majestic symphonic keyboardwork (just check out the start of Bol zasnal for example!), he also leaves a lot of room for the other musicians to show their skills, and Marek is a great singer. Although itís all sung in the Polish language, it is still very a pleasant listen from start to finish. More info at: https://www.facebook.com/krzysztoflepiarczykofficial/
(Points: 8.3 out of 10)
MARS PROJECT 'LAST PASSENGER' (LYNX MUSIC/POLAND IMPORT)
Last passenger is the 3rd album of the Polish multi-instrumentalist (Guitar, Keyboards, Sampler, Loops) MAREK SIKORA. 9 instrumental songs can be found on this album, which was recorded in Krakow. Itís progrock connected, but with a clear open-mind, because other musicstyles pass by frequently. Itís actually a very relaxing album that is perfectly suitable as background music. At times you could almost call it New Age music, but on the other hand, I would prefer to mention open-minded prog related music. It feels very good and I would recommend you to check it out for yourself if youíre into instrumental music at: https://lynxmusic.pl/index.php/component/muscol/M/154-mars-project
(Points: 8.2 out of 10)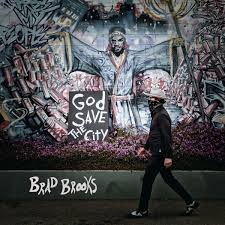 BRAD BROOKS 'GOD SAVE THE CITY VINYL RECORD' (MOUTH MAGIC/USA IMPORT)
The story behind the making of this vinyl record is remarkable and it makes the album even more sensational than it already is musically speaking. 5 years ago Brad started recording this album, but right before he went into the studio he found out he had throat cancer, so it is a miracle that the album is now released. It has 12 tracks in total and they are clearly showing the man's ups and downs during those tough years of his life. Brad was kind enough to send me the beautiful vinyl record of this new album, and the minute I put it on, I knew this was going to be really good! Brad released his debut album Harmony of passing light in 2012, so hopefully I will be able to hear that record as well, because God save the city is a sensational album! Besides Brad on Lead Vocals and a bit of Harmonica, the other involved musicians are Erik Schramm: Guitar, Pie Fiorentino: Guitar, Adam Rossi: Keys, Andrew Griffin: Drums, Joey Dibono: Bass, Vicki Randle: Backgrounds & Percussion, Loralee Christensen: Backgrounds and Ralph Carney: Horns & Mojo. Together they have created a great pure American music sounding record that gives me a lot of memories of the good old past, without ever sounding dated.
Opener and titletrack God save the city is a strong classic uptempo American soulful Rock and Roll tune, sounding raw and edgy, with Horns added it has a HANOI ROCKS, ROLLING STONES and a SOUTHSIDE JOHNNY & THE ASHBURY JUKES vibe, but fans of might like this as well! Following track Feel the might is a different adventure, but surely a good one, because this is classic 1970s inspired Westcoast-Pop/AOR with that funky groovy vibe we know from the good old days when acts HALL & OATES, PLAYER and such light Soulful Yacht-AOR acts were ruling the charts. It even reminds me a bit of FRANKE AND THE KNOCKOUTS, which is due to the superb vocals of Brad, who reminds me a lot of FRANKE PREVITE! If you want a more modern comparison, then I should mention YOUNG GUN SILVER FOX or THE BLACK PUMAS, but here and there I also hear about similarities to classic SLY & THE FAMILY STONE. I think by now you'll get the picture what this more or less sounds like!
The soulful AOR continues on the ROBERT TEPPER (yeah, the guy who created one of my favorite songs ever, the Rocky 4 anthem No easy way out) co-written song Why do you hurt, so another hit for the fans of classic 70s Westcoast! Back to the old HALL & OATES school with the groovy soulful rocker Strange fruit numb, which even sounds like a lighter THE BLACK CROWES meets STEELY DAN. Once again, the vocals of Brad are amazing, and I am surprised he has not yet been discovered worldwide! His voice reminds me so much of such legendary singers like BENNY MARDONES, DARYL HALL, ROBERT TEPPER, FRANKE PREVITE, etc. etc. The most soulful song on Side-A is the ballad The chance, another pure HALL & OATES ish tune. Closing up the first side of the vinyl record is Millionaires, another ballad, but this time piano based.
Flipping over to Side-B, it starts with the uptempo Lee Marvin's Uzi, a catchy early 80s type of Powerpop/poprocker. Angel of angels grabs back a bit to the retro 1960s, with a slight ROY ORBISON meets BRUCE SPRINGSTEEN meets MICHAEL STANLEY ish Heartland Pop/Rock touch, but you could also label it as Working Class Americana with a lot of Soul, whatever you call it, it's a great song to play loud and proud! Do the same for me is a lovely 80s orientated midtempo AOR/Poprock tune with a slight touch of QUEEN, and then I mean that Brad sounds really close to the legendary FREDDY MERCURY. Heartbreak of fools follows and is a little more going into a retro soulful poprockstyle that resembles ELVIS COSTELLO and especially JOE JACKSON in his late 70s/early 80s period. Burn it off is a calmer light Americana/soulful Country ish tune that sounds like it could have been a ROLLING STONES song, but it's definitely written by Brad himself, and so are all of the songs. Scared I was is a very emotional piano ballad that closes the album in a RUFUS WAINWRIGHT meets QUEEN/FREDDY MERCURY style.
Concluded, this is a highly recommended album from a superb singer who thankfully survived a horrible disease and is now making a huge comeback via this sensational release! More info can be found at: https://bradbrooks.bandcamp.com and https://bradbrooksmusic.com
(Points: 8.7 out of 10)
ROYAL HORSES 'A MODERN MAN'S WAY TO IMPROVE VINYL RECORD' (OKEMAH ROADS RECORDS/USA IMPORT)
In the UK and especially the USA there are countless bands playing 'real' Classic Rock. The reason that in mainland Europe this is absolutely not common is due to the fact that both the UK and the USA founded Classic Rock more or less and likewise delivered so many groundbreaking acts during the 1960 and 1970s. The influences of all those bands are passed on to each new generation, with as result that most of the new Classic Rockbands still originate from the UK and the USA. ROYAL HORSES is yet another fine example, because their debut album A Modern Man's Way To Improve is filled with pure American Classic Rock that combines influences from all the elements that shaped this genre a few decades ago. You can hear blues, southern rock, hardrock, boogie, country, rockabilly, rootsy americana and rock and roll via the 10 included songs, and only the Americans really know how to handle that well enough to make an impression. ROYAL HORSES hail from South Mississippi, USA and is formed around DANIEL FIRTH (Percussion, vocals), SHELBY KEMP (Guitar, vocals) and KENNY PAUL MANN (Double bass). 10 songs are on the vinyl record they sent me, and from start to finish there is a lot to enjoy here, because diversity is the name of the game here.
Opener Bottom of the chart is a raw dirty mean uptempo rocker with a rootsy and southern rock approach, a little bit reminding of THE BLACK CROWES crossed with LYNYRD SKYNYRD. The midtempo A modern man's way to improve follows and is perhaps a little bluesier mixed with a lot of Heartland Rock, sounding like a mix JOHN COUGAR, BRUCE SPRINGSTEEN and TOM PETTY. Things slow during the Country/Americana ish Valley of the new, which has some memories of NEIL YOUNG. Speeding up the tempo again during the excellent heavy boogie rocker Who do you know? that has clear similarities to ZZ TOP and SEASICK STEVE. Closing Side-A is the lovely authentic bluesy semi melodic southern rockballad There she walks that even recalls memories of the legendary BADLANDS, although RIVAL SONS, BLACK STONE CHERRY, ROBERT JON & THE WRECK, VOLTAGE and such acts will also like this a lot! The guitarsolo's and tempo changes make it a deadringer for fans of the classic 1970s Southern Rocksound of bands like BLACKFOOT, LYNYRD SKYNYRD, etc.
Side-B opens with an almost honky-tonk but rockier approach to a classic sounding country/rockabilly/bluegrass kinda uptempo piece titled Leave a light (Sweet lane). Following track Call it war is moving in the same direction at first sight, although the twangle of the guitar gives it also a THE ALLMANN BROTHERS BAND sorta touch, while during the chorus things rock out pretty hard in classic 1970s rockstyle (MOUNTAIN, FOGHAT, etc). Rattlesnake smoking a cigarette has a JIMI HENDRIX ish guitarsound, while the speaking and slightly hysterical type of singing sounds like a mix between THE BLACK KEYS, SEASICK STEVE and a QUENTIN TARANTINO movie soundtrack. Ruby do picks up the Rockabilly sound again, yet in a Classic Rock jacket as if ELVIS joined LED ZEPPELIN! Closing the album is BLD, a beautiful close-harmonyvocal driven calmer melodic rock ballad that somehow reminds me a bit of TESLA (remember their MTV unplugged performance from 30 years ago?), with a soaring guitarsolo to finish it off nicely.
Anyway, this band delivers a fantastic debut and hopefully it will turn out into a success, which they definitely deserve. Check them out at: https://www.royalhorsesband.com
(Points: 8.6 out of 10)
SORCERESS OF SIN 'MIRRORED REVENGE' (INDEPENDENT/UK IMPORT)
When looking at the frontcover and especially when listening to the debut album Mirrored revenged of the British band SORCERESS OF SIN, it is clear that we are dealing here with something special and of a very high level. Normally the kind of Melodic Power Metal this band is bringing on their first album is done by mainland European bands, but here it really concerns a British affair formed around vocalist Lisa Skinner, guitarist Constantine Kanakis, drummer Paul Skinner, bassist Topher OíMeagher (ex-GEHITKA) and bassist/orchestral background/producer Tom Maclean (former guitarist of HAKEN, TO-MERA, PSION). The result is a massive sounding album that most of the time is full speed ahead with uptempo Melodic Power Metal songs from almost start to finish. IRON MAIDEN, JUDAS PRIEST and PRIMAL FEAR come to mind more than a few times, although it also has as mentioned a very mainland European kinda touch, which is probably due to the female vocals (EPICA/AFTER FOREVER style). Lisa has an amazing voice that can go up pretty high in octave (Soprano Opera directions) such as can be heard in Aradia, while on the other hand she has the voice of a screaming Metal Goddess, who can easily compete with BRUCE DICKINSON and ROB HALFORD on such strong uptempo Melodic Power Metal pieces like Multifaceted survival, Mirrored revenge and the superb Parallel lies. And she easily reaches the aforementioned Soprano Opera voice of FLOOR JANSEN of AFTER FOREVER/NIGHTWISH here and there, which can be heard very clearly during the epic symphonic gothic metal ballad Echhoes of existence besides the earlier mentioned Arcadia. It's all there, with a crystal clear production and excellent guitarwork as well, so I guess by now you will understand what to expect from SORCERESS OF SIN! More info at: https://www.sorceressofsin.com/
(Points: 8.7 out of 10)
UNCUT 'BLUE' (LES AIR A VIF/SEASON OF MIST/FRANCE IMPORT)
The French band UNCUT goes back to the classic 1970s when guitar solos and big fat groovy guitar riffs were common in the music world. They do it exceptionally well on their debut album Blue, which is basically a high class groovy Classic Rock meets Bluesy Hardrock orientated album, with also a few times a calmer laid-back late 60s Psychedelic bluesy approach, such as during the start of THE DOORS influenced Blue eyes lover and Bee blues, although both develop into superb epic songs with all the ingredients needed to become retro classic 70s rock/hardrock pieces . The band is from the city of Poitiers and consists of Alexy Sertillange (vocals and baritone guitar), Enzo Alfano (guitar) and Pablo Fathi (drums). Most of the time they are rocking quite hard on the album, and as mentioned, this is done at a very high level, with soaring and screaming guitars, and major riffs, while vocally the band is also sounding very international, because Alexy has a great voice without an accent. Highlights are the groovy heavy rockers Family blues, Snake boogie, Highway to cagne, the midtempo DEEP PURPLE ish Small steps and the 2 earlier mentioned sensational epic songs, but also the fantastic slow heavy blues rock/metal ish The trap that sounds like a mix between LED ZEPPELIN and BLACK SABBATH. Quite a surprise to hear such a great high quality Classic Rockband from France, so make sure to check them out at: https://uncut-trio.bandcamp.com/
(Points: 8.3 out of 10)
ROB PHILIPS SIREN 'BEYOND THE RAINBOW' (GOM RECORDS/GERMAN IMPORT)
The Florida, USA based band SIREN has a long way in music history that begins in the 1980s when they were signed to a German label and released a couple of albums. After they split up in the 1990s, the bandís original guitarist and vocalist ROB PHILIPS eventually re-started his own version of Siren in 2005 called ROB PHILIPS SIREN, in which he is the vocalist and is musically speaking more diverse than the original SIREN. The Heavy Metal related SIREN also reactivated in 2016, and even released an album in 2020, so there are now two versions of SIREN around. Beyond the rainbow is the 3rd album of ROB PHILIPS SIREN, and although I have heard the early SIREN albums from the 1980s, I was not familiar with Robís SIREN, and I must say it sounds more interesting actually. The line-up on this album is Bass Ė Christopher Bonelli, Drums Ė Mike Cupino, Guitar Ė Todd Grubbs, Keyboards Ė Chip Gardner and Lead Vocals Ė Rob Phillips, while the legendary JIM MORRIS (the man who produced countless legendary (death) metal albums from the late 80s on in his own Morrisound studios in Tampa, Florida) mixed and mastered the album. 11 songs are included and as mentioned, itís pretty diverse, although mostly based around melodies, taken from classic rock styles such as Bluesy Heavy Rock, Melodic Hardrock and Progressive Rock. Bluesy melodic hardrock like a mix between BAD COMPANY, WHITESNAKE and GLENN HUGHES ish vocals, this can be heard especially during songs like Lawless life, Empty ocean and Sundown. Catchy uptempo melodic rock is included as well, with as best songs No vacancy, High wire and , which are all a bit reminding me of the classic early 80s British sound of a band like PRAYING MANTIS with some THIN LIZZY ish guitarwork, and you might even trace some prog elements in there as well. Also very impressive are Prog/AORish semi-ballads such as Forever now never and Sympathetic response, while pure Progrock can be heard in a midtempo song like Crazy legs or End user, which recall a bit FATES WARNING instrumentally speaking. All together a great diverse sounding record, which you can check out at: https://robphillipssiren.bandcamp.com/album/beyond-the-rainbow
(Points: 8.3 out of 10)
PLUS 33 'OPEN WINDOW' (INDEPENDENT/FRANCE IMPORT)
Here we have a fantastic instrumental progressive/symphonic rock affair from start to finish in a 5 parts counting journey through Water (18 minutes), Earth (13 minutes), Fire (8 minutes), Air (7 minutes) and an Epilogue (5 minutes), all brought to you by the British/French band PLUS 33 via their debut album Open window. PLUS 33 is actually a musical project led by Didier Grillot from Strasbourg/France, who recorded this album at the Loft Music Studios in Newcastle in 2019. Didier (composition, piano, keyboards) was joined by other musicians from the UK, such as Lloyd Wright on guitars, Paul Susan on the bass guitar, Dave Wilde on saxophone and flute and Adam Sinclair on drums. The resulting album is a mix of various styles that is somewhere between Jazz, Progressive/Symphonic Rock and Classical Music. It is calm and atmospheric in classic 1970s style during the beginning, but also here and there we drift into pure Symphonic Rock, while also some jazzy parts can be heard and things get even quite rocky (Fire for example has a Post-Progrock part), so all together this is a great healthy mixture and a wonderful instrumental journey through all kinds of sounds. Well done and recommended to check out at: https://plus33.bandcamp.com/album/open-window
(Points: 8.4 out of 10)
THE BATS 'FOOTHILLS' (FLYING NUN RECORDS/NEW ZEALAND IMPORT)
The New Zealand based band THE BATS have been active with the same line-up since New Year's Eve 1982! They have already released 10 albums, but somehow I am not really familiar with them. Thankfully their 10th album Foothills is a nice starting point, because this is a strong new record that will mostly be interesting for fans of melodic Indie Pop/Rock. The band consists of Robert Scott: vocals and guitar, Paul Kean: bass and backing vocals, Kaye Woodward: guitar and backing vocals and Malcolm Grant: drums. Robert seems to be the main man here, because he wrote all the songs. 12 songs are on the album and most of the time it's filled with beautiful calmer 80s/90s inspired melodic Alternative Indie-Poprock like THE SMITHS, THE WAR ON DRUGS, WILCO and BEARíS DEN, although it is actually reminding a lot of R.E.M. and 80s New Zealand acts like THE GO-BETWEENS and SPLIT ENZ, with as highlights the fun 80s sounding uptempo Warwick, the midtempo close-harmonyvocal driven psychedelic pop/rock of Beneath the visor, the melancholic and very melodic As you were and the catchy uptempo Field of vision. The best is kept until the end, namely the lovely melancholic calmer folksy semi-ballad Gone to ground and the closing uptempo alt. pop/rocker track Electric sea view, which is a perfect cross between R.E.M., THE WAR ON DRUGS and THE SMITHS. They are more or less quite popular in the underground movement outside New Zealand, while in New Zealand of course most people already discoverd this talented band. Now it's time for you to check out THE BATS at: www.thebats.co.nz and https://thebats.bandcamp.com/album/foothills
(Points: 8.1 out of 10)
MELISSA SULLIVAN 'LATE LAST NIGHT' (DARING SPARROW ENTERTAINMENT/IT'S ALIVE MEDIA/USA IMPORT)
American singer-songwriter MELISSA SULLIVAN is making her debut with the album Late last night. She recorded the CD at the Sir Tiger Studios in Culver City, California along with the musicians Edward Maxwell (upright bass), piano player Peter Adams (who arranged the music), Sylvain Carton (Bb and bass clarinet, baritone sax), Blair Sinta (drums), Chris Steele (drums, percussion), Noah Hoffeld (cello), Leah Paul (flute), Felipe Frago (cucia), Raelon Bolton and Rafael Saliba (back-up vocals). The resulting album is quite enjoyable to listen to, which is of course mostly due to the amazing vocalwork of Melissa herself. She has an incredible voice, while the music is jazzy and smooth, with a pop melody and a light funky vibe, such as can be heard during the awesome opener Itís a love, although songs like Heís bad and Lost mind are classic 1940s/1950s female fronted bar-jazz like it is hardly created nowadays. Well done for sure and especially hats off to the amazing voice of Melissa. Thereís also time for singer/songwriter in classic 1970s style, with a focus once again on vocal melodies, such as can be heard in a song like the CAROLE KING ish Miles away. And how about the SADE ish Marcella, with its sorta Latin jazzy pop vibe. There are also sometimes similarities to KATIE MELUA or CARO EMERALD, but with a voice like Melissa, she actually has an own identity and her own unique way to create songs that really shape that own kinda sound. Final highlight I would like to point is the piano-led pop/rock song Adrian, but basically every song is a precious little diamond for fans of a mix of old school jazzy pop and singer/songwriter pop. I hope she forgives me, but a piano-led song like Skylark even reminds me of the old CARPENTERS/STREISAND/MIDDLER records my mother used to play when I was young, which makes it a bit sentimental and very nostalgic, which is definitely a compliment. The album is diverse enough to keep you entertained from start to finish, so make sure to check it out at: https://melissa-sullivan.com/music
(Points: 8.5 out of 10)
TLITO/TOM'S HANK 'VARIOUS ALBUMS' (INDEPENDENT/USA IMPORT)
Out of Minneapolis, USA we have an interesting band called TLITO. Their music is semi-instrumental, of a very high level, Post-Rock, Progressive Rock and Progmetal are melted together perfectly, with amazing guitarwork here and there. Sometimes itís quite heavy, while at other times very calm, but always extremely melodic and fulfilling the dream of any fan of instrumental prog related music. PORCUPINE TREE, ULVER, OPETH, LONG DISTANCE CALLING and such names come to mind, but thereís more to discover here. This is one of those bands which would be signed to a label in Europe for sure! Besides 2 great albums of TLITO, there are also 2 albums by an even better band called TOMS HANK in the package that was sent to me. Musically speaking, TLITO was quite atmospheric, but TOMS HANK is heavier and a bit more vocal/song orientated (no idea who sings!), basically pure melodic prog metal in the FATES WARNING style. I am quite safe to say if these were official releases instead of the CDRís and digital releases, then especially TOMS HANK would be going for the upper league of melodic progrock/progmetal! Thankfully there is an official silver-pressed disc (CD) included, which is Aquasquatch that was officially released in 2017. This band is formed around Jared Emery Ė Guitar, Chris Lyons Ė Bass and Jacob Ewert - Drums & Keyboards, and the album is an enjoyable (mostly instrumental) journey through everything that makes melodic progrock/progmetal such a great interesting adventure every time youíre listening. Definitely recommended to check out at: https://tomshankband.bandcamp.com/album/aquasquatch
(Points: 8.4 out of 10)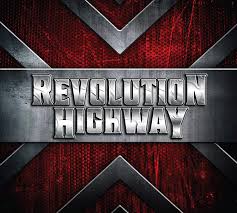 REVOLUTION HIGHWAY 'REVOLUTION HIGHWAY' (GROOVEYARD RECORDS/USA IMPORT)
Although the same titled debut album of REVOLUTION HIGHWAY was released back in late 2018, I somehow must have missed it's release back then, but it's never too late to write a review of an album, especially when it's as good as this one! The band consists of the fantastic legendary American singer DAVID FEFOLT (FIREWOLFE, ANGELS OF BABYLON, FIFTH ANGEL, MASI, HAWK, VALHALLA, etc.) and the Greek guitarist STAVROS PAPADOPOULOS (SUPER VINTAGE, FREEROCK SAINTS and several other bands), who also wrote most of the songs together, while the rhythm section is filled by John Christopoulos on bass and Chris "Rock Machine" Lagios on drums. The result is one of the finest Classic traditional late 1980s American Melodic Hard/Heavy Rock releases of the past few years, with a powerhouse sound, superb guitarwork, a driving rhythm section, amazing vocal work and really strong songs from start to finish. For example an amazing song like Into the darkness fits right between early TYKETTO, HARDLINE, BADLANDS, VICTORY, FIFTH ANGEL, Y&T and BANGALORE CHOIR's finest moments. There's also this lovely groovy and bluesy approach to most of the songs, which reveals some influences of classic GUNS'N'ROSES meets WHITESNAKE meets AEROSMITH meets classic FREE / LED ZEPPELIN / BAD COMPANY. David is an amazing Rock/Metal singer with a voice that easily reaches the strength of RONNIE JAMES DIO, DAVID COVERDALE, JAMES CHRISTIAN, PAUL SHORTINO, DAVE MENIKETTI and such singers. This is Hardrock with a soul that listens very well throughout the 11 included songs, of which the other highlights are Renegade, The streets of Hollywood, the superb Sister of the devil and the catchy uptempo I need your love (THIN LIZZY meets WHITESNAKE meets BLACK STAR RIDERS). If this was released 30 years ago, it would have surely been a major label hit, but on the other hand, musically speaking they have released a timeless record, because it sounds as modern as it would have been 40 years ago or 30 years ago or 20 years ago, etc. Make absolutely sure to check out this fabulous album and I truly hope a follow-up will follow, as these guys are the real deal! More info at: http://www.grooveyardrecords.com/revolutionhighway.html
(Points: 8.8 out of 10)
SUPER VINTAGE 'SHINING LIGHT' (GROOVEYARD RECORDS/USA IMPORT)
I reviewed REVOLUTION HIGHWAY the other day, and from that band's Greek guitarist STAVROS PAPADOPOULOS also comes a band called SUPER VINTAGE. The most striking thing here is that Stavros is also a singer besides a shredding guitarist, and we can hear this on the band's 5th album Shining light. He doesn't have the incredible Rock God voice of REVOLUTION HIGHWAY's David, but thankfully still sounds good enough for this kind of bluesy Hardrock, and he sings without an accent! The band is based in Greece and also features guitarist PANAGIOTIS ZABOURLIS, bassist JIM MORALIS and drummer CHRIS LAGIUS. Shining light from the corona year 2020 contains 11 strong songs with a clear Bluesy Melodic Hardrock approach, a little bit WHITESNAKE ish and sometimes very close to classic BADLANDS and PAUL RODGERS' BAD COMPANY, especially during the superb semi melodic rocker Birds on a wire, which is definitely the best song on the album! On this song Stavros shines as a soulful singer and makes his guitar soar at his very best! The material is a little lighter than REVOLUTION HIGHWAY, and very close to classic bluesy hard rock with quite a lot of Southern Rock influences throughout the album, such as the BLACKFOOT/LYNYRD SKYNYRD ish Southern son and Take a ride, both sensational pieces of pure Classic Rock! Another highlight is the beautiful calmer bluesy melodic semi rock ballad Shining light (WHITESNAKE ish) and how about the sensational calmer and extremely melodic Too long that even has a touch of VAN ZANT, and is acoustic guitar/harmony vocal driven with an almost 1970s kinda feeling a la AMERICA as well. This album surely surprised me a lot, as it is very diverse and ticks a lot of boxes (Bluesy Hardrock, Classic Rock with a soul, Southern Rock and Melodic Rock, so I would say check out this excellent Greek band at: http://www.grooveyardrecords.com/supervintageshininglight.html
(Points: 8.7 out of 10)