HOT NEW REVIEWS
THE GUMBO YA-YA'S 'THE GUMBO YA-YA'S VINYL RECORD' (SOUNDFLAT RECORDS/GERMAN IMPORT)
The South African band THE GUMBO YA-YA's released their debut album in 2014 and one year later their same titled live recorded album was released. The band's line up consists of Heino Retief: Bass and Vocals, Emile Van Dango: Guitar and Backing Vocals, Darryn Te Roller: Guitar and Xander Van Der Westhuizen: Drums, and the music on the album is pure 1960s influenced Garage-Rock. Although the vocals are not strong enough to keep the attention all the way, if you're into trashy 60s garage rock, these guys are definitely interesting to check out at: https://thegumboya-yas.bandcamp.com/album/the-gumbo-ya-yas and buy a copy of the vinyl record through: https://www.soundflat.de
(Points: 6.0 out of 10)
LOS INFIERNO 'THE LOST TAPES VINYL RECORD' (SOUNDFLAT RECORDS/GERMAN IMPORT)
The lost tapes is the 4th and final album of the Mexican garage Rock/Thrashpunkrockband LOS INFIERNO, who actually released one of their earlier albums on UNIVERSAL MUSIC MEXICO, but switched to the German label SOUNDFLAT RECORDS for this album. The band is formed around Caleb Franco (bass), Kasko Tovar (drums), Bellsabu Sanchez (guitar), Crunchy Lopez (guitar) and vocalist Chok Fermoso, and this particular vinyl record The lost tapes was released in 2014. It's a great fun record sung in Spanish with a dirty mean raw voice and a fuzzy guitarsound, which is perfectly suitable for the 1960s influenced Thrash-Garage PunkRocksound of the band. It has a certain QUENTIN TARANTINO kinda Spaghetti Western touch, which can already be heard clearly on the album's opener Brebaje de amor no. 9 (which is a cover of the classic Love potion no. 9) and most of the other 11 songs, of which a few more are covers, but thankfully the band also has enough self-written material. LOS INFIERNO finds it's way through various 60s styles, sometimes close to melodic beat/rock such as during Estan Cambiando Los Colores De La Vida, but most of the time they focus on rougher 60s punkier garage/fuzz guitar driven rock orientated songs such as the catchy Soy El Rock And Roll (a la THE KINKS), Tu tonto no soy and the catchy Animal. Overall speaking, this is one of those rare bands you could find on a 60s compilation NUGGETS record back in the day. In fact, when hearing the songs on this album, you would honestly believe this is a re-issue of old 1960s recordings, but LOS INFIERNO is really a band from the 2010s, although as aleady mentioned, this album was so far their latest release, already dating back to 2015, so I am unsure if they are still alive and well playing classic fuzzy punky 1960s garage rock! Anyway, you can check them out at: https://losinfierno.bandcamp.com and buy a copy of this cool vinyl record through: https://www.soundflat.de
(Points: 8.3 out of 10)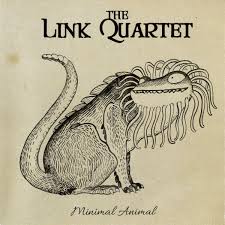 THE LINK QUARTET 'MINIMAL ANIMAL VINYL RECORD' (SOUNDFLAT RECORDS/GERMAN IMPORT)
As soon as I hear a Hammon organ somewhere, it always gets my attention. It happened the first time when DEEP PURPLE was playing on the radio 35+ years ago and ever since I am hooked on the lovely sound of this instrument. Many moons later I discovered an interesting Italian band by the name of THE LINK QUARTET, of whom I received this beautiful vinyl record from their label SOUNDFLAT RECORDS, which is the band's 9th album since their foundation in the early 2000s. I believe it's their very first vinyl record, because their earlier albums are only available on CD I believe. Anyway, the album Minimal animal was released in 2017 and despite most of the info is only available in the Italian language, I think this band has already built a big name in the music industry and beyond (including a BBC appearance) with their instrumental groovy fusion jazz/prog rock music that is based around the Hammond organ, which is played by PAOLO APOLLO NEGRI by the way. In The Netherlands we have a similar band called SVEN HAMMOND SOUL, but THE LINK QUARTET is a bit more authentic than them, but also melting elements of 70s Soul, classic Jazz and Progrock, with even a touch of 60s beat music here and there. Anyway, whatever you want to call this band's sound, they are superb and mesmerize you with their Hammond organ beat music as they call it themselves. Besides Paolo, the other members in the band are guitarist MARCO MURTAS, drummer ALBERTO PATO MAFFI and bassplayer RENZO BASSI (no joke!). It's an absolute pleasure to listen to the 11 songs that are included on this album. No matter if you listen to Hippo-tize me, Go-go rilla, Owl train or any of the other songs, they are all sounding really excellent and actually are also quite funky and groovy to the bone, really giving you a feeling you're back in the 1970s. I am safe to say that it should appeal to a wide variety of musicfans, because no matter if you like jazz, funk, progrock, soul or groovy 70s rock, you will all find something of interest on this lovely album. One thing all of the songs have in common and that is of course the wonderful Hammond sound! More info on THE LINK QUARTET at: https://www.linkquartet.com and the album is available as vinyl through: https://www.soundflat.de
(Points: 8.7 out of 10)
THE BREADMAKERS 'THE BREADMAKERS VINYL RECORD' (SOUNDFLAT RECORDS/GERMAN IMPORT)
It's hard to be aware of each and every band on the planet, but the Australian band THE BREADMAKERS has been around since 1989, and in this 30+ year period they have released 7 albums, of which this same titled record is their latest album, which was released in the spring of 2020 on the German label SOUNDFLAT RECORDS. I am however unfamiliar with their earlier albums, but after hearing this sensational new album of them, I can't wait to hear much more of them. They have a really great authentic 60s rocksound and their vocalist LAZY DIK has a superb voice that suits this kind of music quite perfectly. Other members in the band are drummer/vocalist BOOTPOLISH LACEY, guitarist BLACKTOP BRIERLEY, bassist/vocalist CADILLAC SLIM, keyboardplayer/guitarist GUMBO SQUIRES. 12 songs are on the album, of which opener Corner of my eye and also following track Witchdoctor Blues are very catchy classic 1960s inspired uptempo Garage/Beat rockers with a touch of 1950s Rock'n'Roll as well, kinda like THEM meets a bit of the early ROLLING STONES. The vocals are razor sharp and spot-on and I am so glad to hear this awesome band playing real authentic classic rock and roll as if we're back in 1964. Thankfully the full album is an absolute winner here, with many great songs, but if we point out the absolute highlights besides the aforementioned songs, I would like to add Storm, Aint goin nowhere and Monkey do. Roll over Beethoven as done by THEM would be a nice description for THE BREADMAKERS, but on the other hand this band has been around for so long now, they have developed an own sound and this new album is the living proof of that. Hopefully they will one day come over to tour Europe, because they surely will appeal to a lot of people out there. Meanwhile, check them out at: https://thebreadmakers.bandcamp.com and the album is available as vinyl through: https://www.soundflat.de
(Points: 8.6 out of 10)
SAMEHADA SHIRIKO & DYNAMITE 'NEWRETROCK VINYL RECORD' (SOUNDFLAT RECORDS/GERMAN IMPORT)
Out of Hakata, Japan comes vocalist SAMEHADA SHIRIKO and her band DYNAMITE (consisting of guitarist ABBEY, bassist WETTON SHIBUYA and drummer MASSIVEEFFECT) and they were formed back in 2013. I am not sure, but I believe Newretrock is their 3rd album so far. 12 songs are included and the first 2 songs (Enchanting Newretro world and Dangerous Saturday) are excellent early 80s retro uptempo poprockers, with the typical Japanese kinda melodies. Old house boogie is a bit quirkier and poppier, while the heavier punky Kick the girls rock has a 60s touch. The rest of the album is a mixture of 60s rock/beat, early 80s quirky pop/rock, a tiny bit of SHONEN KNIFE's punky rock and typical Japanese melodies, which all together sounds quite unique for sure. Personally I prefer the uptempo rockier pieces, such as the first 2 songs, A dream I had in the summer, Fire rock'n'roll tour and That girl's shout. It's nice to see a Japanese band signed to an European label, because apart from a few Japanese metalbands and J-Pop artists, authentic Japanese rock and roll bands like this SAMEHADA SHIRIKO and her band DYNAMITE, they hardly get a chance outside Japan, which is a pity, because they do have an original sound. You can check out more info at: https://www.samehada-dynamite.com and the album is available as vinyl through: https://www.soundflat.de
(Points: 8.1 out of 10)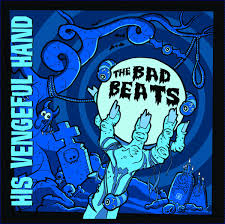 THE BAD BEATS 'HIS VENGEFUL HAND VINYL RECORD' (SOUNDFLAT RECORDS/GERMAN IMPORT)
Released in 2016, the debut album His vengeful hand of the Vancouver, Canada based THE BAD BEATS is a sensational record that rocks big time, with a focus on bringing short classic 60s/70s rock/garage/beat rock inspired songs. The band consists of Cam Alexander - vocals, harmonica, Adam Payne - guitar, Richard Katynski - bass, Derek MacDonald - organ and Jon Card - drums, and we can find 12 songs on this album. I have to admit that this is of an incredible high level, starting with a couple of fantastic uptempo beat/garage rockers titled Knock yourself out, Send me a postcard (SHOCKING BLUE cover) and the rawer/edgier Puttin' it down. The vocals are excellent and the overall sound and included songs are all easily reaching the level of classic 60s beat/rockbands. The midtempo ballad His vengeful hand is a superb song with amazing vocalwork, and She don't talk to me almost sounds like a classic Hardrock tune like THE KINKS, THE WHO and even GOLDEN EARRING could have produced when they were at their rockiest moment in the early 1970s. Closing side-A is the strong rocker Watch outside that sounds like a slightly lighter version of AC/DC, which is pure Classic Rock all the way, even including a great 70s style guitarsolo!
Side-B starts with the Harmonica driven rocker It breaks me down, which has some THEM and ROLLING STONES similarities, but on the other hand, THE BAD BEATS have an own identity and in another lifetime, they would have been a huge band! Hipsville 29 B.C. has a sorta early 80s retro garage quirky uptempo rock and roll sound like we know it from a band such as THE KNACK, although of course you could also say this is early GOLDEN EARRING-ish. It's done really well from start to finish and now I am also eager to check out countless lost Canadian bands from the 60s, because THE BAD BEATS mentions as inspirational acts the 60s Canadian bands THE PAINTED SHIP, LES LUTINS, THE HAUNTED, etc. Punky uptempo Garage/early 70s Glam Rock and Roll at it's best during the catchy Jackies place. Love has no time is another catchy hard rocking piece, Done me wrong is a fast punky piece and closing track Up at night is a lovely uptempo melodic rocking piece. This one surprised me a lot and I am safe to say these guys should be huge! Hopefully soon I will also be able to review their 2019 album Off the hook, meanwhile go check out this album at: https://thebadbeats.bandcamp.com/album/his-vengeful-hand and the album is available as vinyl through: https://www.soundflat.de
(Points: 8.8 out of 10)
TRASHMONKEYS 'FAVOURITE ENEMY VINYL RECORD' (SOUNDFLAT RECORDS/GERMAN IMPORT)
The German/British band TRASHMONKEYS has been around for quite a while and Favourite enemy is their 4th album. It was released all the way back in 2006, but even now 15 years later it sounds very up-to-date and modern this massive sounding vinyl record I received. The band's sound is very British modern melodic poprock/garagerock/classic Powerpop orientated, with many catchy uptempo pieces on this particular album. The vocals are very strong, the band sounds extremely tight, the production is huge and this album could have easily been a major label release with a string of hits, but I believe TRASHMONKEYS has been put on-hold since 2011. Anyway, make sure to check out this album in case you get the chance, because uptempo Powerpop/Garage/Mod rockers like Attitudes in stereo, My way, Got something, Can't take it no more and the 80s retrowave ish Song no 1 remix are a pleasure to listen to. The band's singer and guitarist Andreas G. Wolfinger has a great strong voice and at times the band reminds me a bit of classic THE JAM, THE BUZZCOCKS as well as modern bands like KAISER CHIEFS, FRANZ FERDINAND and such come to mind. Perhaps a bit too commercial for some of you, this band definitely rocked and let's hope they will ever get back together again and release a new album, because this 'old' album from them showed they definitely delivered a lot of great uptempo rocking music with a focus on catchy memorable melodies. The album is available as vinyl through: https://www.soundflat.de
(Points: 8.3 out of 10)
THE FELINES 'WANT VINYL RECORD' (SOUNDFLAT RECORDS/GERMAN IMPORT)
Out of Denmark comes the all-female trio rockband THE FELINES (Asta Bjerre, Ditte Melgaard and Mei Long Bao), who released 2 albums so far, of which Want is their 2014 album on the German label SOUNDFLAT RECORDS. The music is 60s Beat/Garage rock orientated, yet they also have a certain touch of modern dreampop like bands such as DUM DUM GIRLS and even a tiny bit of FIRST AID KIT, while Lo-Fi Alternative No wave pop influences are also very much present. Sometimes they drift into a melancholic dreamy direction, but they surely can rock as well and one of the most surprising songs here is the cover of Haunted beach party, a song that is originally from the legendary all-female 80s rockband THE PANDORAS. THE GO-GO's and THE BANGLES also come to mind here and there, such as during the catchy 60s influenced Garage rocker Sticky song. SHOCKING BLUE might also be a good comparison for this band, but THE FELINES do have an own face, but I think by now you will more or less understand where this band is heading to musically speaking. They released another record after Want, but it has been quiet for a while now around THE FELINES, so hopefully soon new material will follow, because they are definitely a pretty good band to check out at: https://www.facebook.com/felinescph and this album is available as vinyl through: https://www.soundflat.de
(Points: 8.2 out of 10)
LES ROBOTS 'THE SOUND OF THE MIDDLE EAST 7" SINGLE RECORD' (TOPSY TURVY RECORDS/SOUNDFLAT RECORDS/GERMAN IMPORT)
A few years ago I saw the Rotterdam, The Netherlands based band LES ROBOTS at their hometown festival of METROPOLIS and they blew me away with their original authentic instrumental sound that recalled the days of classic THE SHADOWS and THE VENTURES, so Surf-rock it is, yet with an own approach that also introduced other spacey 70s sci-fi and world music keyboard sounds, ending up with a certain QUENTIN TARANTINO movie kinda vibe. The band consists of D.V.R. on keyboards (Clavioline, Pianet, Vox Continental, Farfisa, Upright piano, Harpsicord, Hammond organ), guitar, bass guitar and percussion, and R-JoHN on drums, bass guitar, guitar, percussion, while live on stage they are assisted by Pete-R on bass guitar and C.A.S.E. on drums. I remember the band being very popular among the crowd and in all my years this edition of METROPOLIS was one of the best, but also the last one I'm afraid, because the 2020 and 2021 editions never happened due to corona of course and who knows what the future will bring. Anyway, this 2020 single of LES ROBOTS has 2 great new songs to offer (Cameltoe A Go-Go and Invasion of the Ara-bots) in the band's classic style and it is available through https://www.soundflat.de, while you can check out more on this fantastic band at: https://lesrobots.bandcamp.com/
(Points: 8.7 out of 10)
HIGH OCTANE BOYS 'THE CHANGE I NEED 7" SINGLE RECORD' (SOUNDFLAT RECORDS/GERMAN IMPORT)
Out of Norway comes the sensational band HIGH OCTANE BOYS and they released a great 7" single that contains 2 wonderful catchy uptempo rockers (The change I need and Down on boring street) that musically are a healthy mix of Garage/Beat-Rock and Surf-Rock in classic 1960s style. I can't wait for a full-length release in the near future and who knows we will be able to catch them live one day. Check out more on this upcoming new Norwegian band at: https://www.facebook.com/High-Octane-Boys-151236654933734 and the single is available through https://www.soundflat.de
(Points: 8.4 out of 10)
THE AUTORAMAS 'LIBIDO CD + UNSERE FAVORITEN VINYL RECORD' (SOUNDFLAT RECORDS/GERMAN IMPORT)
THE AUTORAMAS is a Brazilian surf/garage rock/garage punk/rockabilly band formed in the late 1990s by vocalist/guitarist GABRIEL THOMASZ. The line-up changed a few times through the years, but they always continued as a band, with in total 9 album releases so far. Libido from 2018 is their latest release, an album that was ranked as 13th best Brazilian album of 2018 by the Brazilian edition of ROLLING STONE, so this is quite a big band in Brazil! The music is as mentioned a mix of rock, garage, surf, rockabilly and punk, with mostly Portuguese lyrics and it does sound quite good actually, very melodic and authentic. It is nice to be able to hear a popular band from the other side of the world on vinyl, because that doesn't happen too often. I did receive their last album Libido on CD and the 2015 compilation record Unsere favoriten on vinyl, and all together they bring a lot of great short melodic rocking songs that will definitely appeal to fans of uptempo beat/garage with this cool rockabilly and surf touch in most of the songs. THE AUTORAMAS are definitely a recommended band to check out if you want to hear something a bit different than the usual stuff. More info at: https://autoramas.bandcamp.com and you can get their music through https://www.soundflat.de
(Points: 8.4 out of 10)
THE SMOGGERS 'DARK REACTION VINYL RECORD' (SOUNDFLAT RECORDS/GERMAN IMPORT)
Formed back in 2008, the Seville, Spain based band THE SMOGGERS has rapidly built up a reputation as one of the finest 1960s influenced Beat/Garage/Punkrockbands in Spain. They have released 6 albums so far, of which Dark reaction was released in 2017. The band is formed around FERNANDO JIMÉNEZ (Vocals, Harmonica, Tambourine, Maraccas and Vox Guitar), ANA GONZÁLEZ (Backing vocals, Vox Organ, Percussion) (Drums), JOSÉ GUSTAVO JIMÉNEZ, GUSTI (Vox Bass), JUANJO GONZÁLEZ BETORET (Drums) and ANTONIO LEÓN (Backing vocals and Fender Guitar), and together they created 10 mostly uptempo songs that are not only 60s Beat/Garage rock orientated, but there is also a certain darker 1980s touch to their music. The songs on side-A are in Spanish and they sound really good, but when the band is turning to English, it is slightly less impressive on the 5 songs of Side-B, so I would recommend them to stay true to their Spanish sung roots, because that is where their strength is and the combination of Spanish vocals and Garage/Beat is making them much more interesting. More info at: https://thesmoggers.bandcamp.com/album/dark-reaction-lp-soundflat-records and you can get their music through https://www.soundflat.de
(Points: 7.2 out of 10)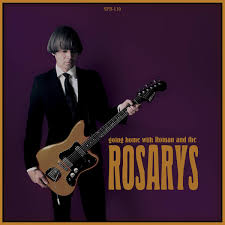 ROMAN AND THE ROSARYS 'GOING HOME WITH ROMAN AND THE ROSARYS VINYL RECORD' (SOUNDFLAT RECORDS/GERMAN IMPORT)
Out of Germany comes the sensational band ROMAN AND THE ROSARYS. The line up of this band consists of bassist/vocalist Thomas Bruchhaeuser, drummer Maximilian Schneider and bandleader Roman Aul on vocals, guitars, maracas, electric piano and timpani. They deliver a wonderful album here that sounds extremely authentic and is basically a must-hear record! Opener Wade in the water is a very strong 60s influenced melodic soulful beat/garage/mod-rocker that does smell a bit of classic THEM/VAN MORRISON. It even gets better on the following sensational uptempo Confusion, trouble and despair, which shows an energetic band with a superb singer (who somehow reminds me of JOE JACKSON) and catchy melodies all over the place, as if we're listening to a classic 60s tune. I can't help think about THE ANIMALS when hearing the melodic Back for more. We're only a few songs away and I am already completely overwhelmed by the incredible high level of the 2020 debut album of ROMAN AND THE ROSARYS! Come back no more and baby don't you weep are very melodic and touch even classic early THE BEATLES, so basically this is classic 60s mod powerpop at it's finest. There's not a single weak moment to be found here and besides the 5 aforementioned songs, the other highlights are Gypsy woman, Baby I'm coming home and I'm going home. Make sure not to miss this classic 60s beat/mod/powerpopband, so go check them out a.s.a.p. at: https://www.facebook.com/romanandtherosarys/ and you can get this sensational album through https://www.soundflat.de
(Points: 8.8 out of 10)
THE MINGS 'CAN'T WIN VINYL RECORD' (SOUNDFLAT RECORDS/GERMAN IMPORT)
Situated in The Netherlands, but formed around a British, Brazilian and a Dutch musician, here comes the trashy Garagerockband THE MINGS, a trio formed around Bald Ming -on Guitar/Vocals, Dead Ming on Guitar/Vocals and Wild Ming on Drums. Can't win is their 2nd album so far and right from the start with the raw edgy classic 60s inspired mod/garage rocker Lucy Mae, it is clear we are dealing with a very interesting band. 11 songs are included and they all rock in this cool dirty mean sleazy direction, so it is hard to pick real favorite tunes, but if you like your Garage rock to sound extremely authentic and 60s trash based, then songs like I can't win, Deadman's Hand, Rollin' & ridin' and any of the other songs will absolutely grab your attention! Recommended band to check out at: https://themings.bandcamp.com/album/the-mings and you can get this great album through https://www.soundflat.de
(Points: 8.5 out of 10)
THE ELECTRIC MESS 'V VINYL RECORD' (SOUNDFLAT RECORDS/GERMAN IMPORT)
Out of New York comes the interesting classic rock and roll band THE ELECTRIC MESS, a band formed around androgynous Esther Crow (also guitar and percussion), Dan Crow (guitar, percussion), Oweinama Biu (keyboards, vocals), Derek Davidson (bass), and Alan J. Camlet (drums, vocals) and V is already their 5th record since their formation in 2007. 10 songs are included and I have to say it is a very diverse and sensational album that surprises with each song. Opener Too far is a strong catchy uptempo melodic rocker with some alternative rock and 80s powerpop influences, in the end reminding me a bit of a band like DRIVIN'N'CRYIN or TOM PETTY, 4 OUT OF 5 DOCTORS, RED RIDER, NOVO COMBO and such, with vocals that remind me a bit of DAVID BOWIE. The catchy chorus and soaring guitarwork makes it a pleasure to listen to and it is a nice introduction to this band's new album. In fact I was not familiar with THE ELECTRIC MESS at all, so this could be the start for me as well to go and check out their rich catalogue from the past. The following 9 songs offer a mixture of all kinds of (mostly 70s) rockstyles, somewhere between well-thought mature Melodic Rock and Roll with a 70s/early 80s Powerpop approach, yet also with some slight 90s alternative rock influences here and there, while late 60s psychedelic garage rock parts are also present, but there's more to discover! Highlights are Last call (LOU REED meets BLUE OYSTER CULT!), Cesspool (fantastic catchy early 80s uptempo Powerpop with a cool keyboardsound reminding me of BLONDIE), City sun (uptempo rocker a la THE PRETENDERS), Speed of light (this is suddenly early 80s Hair Metal in the style of RATT!!!!!!, different than anything else on the album, but well-done for sure!) and closing track After the money's gone (a relaxing uptempo psycho melodic rocker that even reminds me a bit of JEFFERSON AIRPLANE). I have to say that this is an interesting and super diverse album, which 40-45 years ago would have been huge! Nevertheless, I definitely feel there is a market for such a great band as this THE ELECTRIC MESS! Check out all on them at: https://theelectricmess.bandcamp.com and https://theelectricmess.com and you can get their album through https://www.soundflat.de
(Points: 8.5 out of 10)
THE WYLDE TRYFLES 'GO FUZZ YOURSELF + FUZZED AND CONFUSED VINYL RECORD' (SOUNDFLAT RECORDS/GERMAN IMPORT)
Out of Bordeaux, France comes THE WYLDE TRYFLES, of which I received 2 vinyl records. The band consists of vocalist/organplayer Lubna Bangs, guitarist Francy Fuzz, drummer Marcelo Pilegi and bassist Olivier Dunet, and they released their debut album Go fuzz yourself in 2018, while their follow-up Fuzzed and confused has just been released. The debut album is filled with raw dirty sleazy classic fuzz guitar driven Garage Rock in the best possible way you could think of, spread over 13 tracks that are mostly uptempo rocking, of which the highlights are Silly thing, Heartbreaker, Don't leave me alone and I'm movin' on. The new album Fuzzed and confused features new drummer Zorro Pilegi, while musically the band sounds even more authentic mid 1960s orientated fuzzy Garage Rock orienated than on their debut, with this time as best songs Gonna miss me, Drive my crazy, Out of sight and Creepy thing (cover of a Canadian band called THE WORST). Check out this original sounding classic Garage Rockband at: https://thewyldetryfles1.bandcamp.com/
(Points: 8.0 out of 10)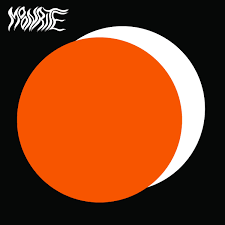 MOONRITE 'MOONRITE + LET ME BE YOUR GOD VINYL RECORD' (SOUNDFLAT RECORDS/GERMAN IMPORT)
Wow! That was my first thought when I heard the first couple of songs on the same titled debut record of MOONRITE from 2016. The Hammond Organ and melodies sounded exactly like the classic 1970s with clear memories of DEEP PURPLE, early DIVLJE JAGODE and URIAH HEEP, so we're back in classic retro Hardrockstyle here, although they sound just a little bit different due to psychedelic and garage rock elements. MOONRITE concerns a duo from France, consisting of 2 brothers, YANN CRACKER (vocals, organs, bass, synths, sitar, autoharp, percussions) and JULIEN POITOU (drums), and especially those first 3 songs on their debut album, the uptempo rockers Time is fast running out and The same old show, and the epic Let's start a fire, they are all excellent psychedelic classic 70s rock/hardrocksongs. The giant wood man is the first song that steps away a bit from that rocking sound and introduces World Music influences in a bombastic diverse song like THE BEATLES meets THE DOORS. The massive synths/keys of the instrumental closing track Stella star of Side-A of the Moonrite album give it another twist, because this is classic 70s sci-fi spacey sympho wave that even reminds me of JEAN MICHEL JARRE or ALAN PARSONS PROJECT. Side-B opens with the uptempo instrumental psychedelic rocker Festa candelarum, which is like THE DOORS meets DEEP PURPLE due to the superb classic Hammond Organsounds. Caught in a trap is a lovely classic melodic rocker in 70s style, a bit reminding of RAINBOW and some obscure late 70s US AOR/Pomprockbands as well! The Astral gate is a great psychedelic rocker again, with also some progrock influences. La danse de geziale introduce the World Music influences again, although the song itself is pure instrumental 70s psychedelic classic rock, and the first album closes with Me, a fantastic uptempo 70s classic rocker with lovely Hammond Organ sounds again. In the end, quite a surprise this MOONRITE album, and a must-have for anyone with their heart in the 1970s and looking for a band with a real authentic sound.
The brothers followed up their debut album in 2019 with the album Let me be your God. This record starts with quite a change in music style, because they seem to have switched to the 1980s on album opener The black mirror. This is a pure early 80s uptempo Synthpop/New Wave piece, which thankfully sounds really good as well, despite it being something totally different than all of the material on their same titled debut album. On the other hand, also in this song the Hammond Organ can be heard, so let's keep it on a natural progression from their debut album. Following song The soul transfer is a superb instrumental piece of New Retro/Synthwave meets 80s Synths/Sci-Fi Movies/Series meets 70s Krautrock, sounding like a cross between MAGIC SWORD and TANGERINE DREAM. The fantastic titletrack Let me be your God is the first song that goes back to the 70s uptempo psychedelic rock/classic rock sound of their wonderful debut. Strangely enough the diversity on this 2019 album is making them even more interesting and a pleasure to listen to. Side-A of the vinyl record version of the 2nd album closes with The initiation ceremony, another piece of superb Synthwave, so it is based around spacey spooky and doomy synths that sound really cool. Side-B opens with The witch is back, a great 70s uptempo psychedelic classic rocker a la THE DOORS, with a hypnotic Hammond Organ. House of glass follows in a nice laid-back psychedelic pop/rock direction. Closing the album is The Black Mass, which is divided into 2 parts, of which part 1 basically puts the duo back into the classic Synthwave direction that almost feels like an 80s sci-fi movie such as THE TERMINATOR and BLADE RUNNER crossed with MIKE OLDFIELD, JEAN-MICHEL JARRE, ALAN PARSONS PROJECT and TANGERINE DREAM!
I am really surprised little has been said about this superb band, because they absolute deliver high quality music that will one day reach a cult / underground status, but let's hope people will discover them sooner than later. Check out this sensational duo at: http://moonrite.blogspot.com and you can get their albums through https://www.soundflat.de
(Points: Moonrite / 8.7 out of 10 and Let me be your God / 8.8 out of 10)
THE EVIL FUZZHEADS 'THE FUZZ-O-PHONIC SOUND OF... VINYL RECORD' (SOUNDFLAT RECORDS/GERMAN IMPORT)
Out of Brussels, Belgium comes THE EVIL FUZZHEADS, a band with a pure 1960s influenced fuzzy psychedelic garage rocksound with some really cool hammond sounds as well. The Fuzz-o-phonic sound of... is the debut album of this trio, which is formed around bassist Iris St. John, drummer Paul Hamesse and vocalist/guitarist/keyboardplayer Eric St. John. 12 songs are included, and most of them go in a similar direction, which is uptempo rocking with strong melodies and that cool hammond organ, which is really giving you that 1960s nostalgica feeling. They remind me a bit of the Dutch acts from the 1960s (TEE-SET, THE MOTIONS, THE SHOES, Q65) and more recent, THE MADD (now known as DE KIK). What they are doing is really great and fun and songs like Fire in your soul, Love me now and hate me later, Love you more than the whole wide world and On my mynd are a joy to listen to if you're a fan of the 60s beat/garage rocksound. Check them out at: and you can get their album through https://www.soundflat.de
(Points: 8.2 out of 10)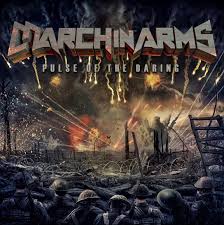 MARCH IN ARMS 'PULSE OF THE DARING' (INDEPENDENT/WEISSER DISTRIBUTION/USA IMPORT)
Hold your horses and stop for a minute, because MARCH IN ARMS from Sioux Falls, South Dakota, United States is a superb sensational band you absolutely don't want to miss, because they are playing high class Melodic Metal like a mix between EVERGREY, PAGAN'S MIND, BALANCE OF POWER and ICED EARTH, with here and there some 80s melodic heavy rock/hardrock influences as well. Pulse of the Daring is their 2nd album since their formation in 2012 and I am completely overwhelmed by the fantastic sound of this band! Released independently on December 4th, 2020, this album beats the hell out of the major label releases done in the Metalworld at the moment! The band has a fantastic lead singer and the sound is massive, while the songs are loaded with incredible melodies that are in the upper league of Melodic Metal. The band released their debut a few years ago and I hope to hear this one too, because Pulse of the Daring is such a sensational new record. The band's songs are about epic battles from the past and everything sounds crystal clear here, thanks to Ryan Knutson - Guitar/Vocals, Jon Parker – Guitar, Sheldon Swan – Guitar, Collin Citrowski – Bass and Bobby Cook – Drums, with additional performances from Emily Swan - Backing Vocals, Esther Nissen – Violin and Audrey Graber – Cello. 10 songs are included, and all of them are highlights, but the EVERGREY meets PAGAN'S MIND's ish 1914 and Altar of the Gun, the 80s influenced Welcome the Blitz (LEATHERWOLF meets FIFTH ANGEL), Nisei (incredible melodies all over the place!), An act of Valor and the faster uptempo Melodic Power Metal piece Thunderbolt (ICED EARTH-ish) are definitely top of the bill! This CD is a must-have for any well-respected Melodic Metal fan out there! More info at: https://marchinarms.bandcamp.com/album/pulse-of-the-daring
(Points: 8.9 out of 10)
JOHNROSE 'WINGS' (INDEPENDENT/GERMAN IMPORT)
Koblenz, Germany based JOHANNES ROSGEN is a talented musician, because he did almost everything on his own on his own project JOHNROSE's 2nd album Wings, which includes writing, recording and producing all of the songs, playing all the instruments and singing them. The result is a great record, which fits somewhere between melodic neo-progrock and melodic rock. There are a lot of beautiful songs on the album, such as How could I be so blind?, which is an excellent neo-prog semi-ballad in the style of classic MARILLION meets ALAN PARSONS PROJECT. Other highlights are the uptempo melodic rockers Pay the price and Supernatural, the progrocker Treasure, the PINK FLOYD-ish The one I want and the faster uptempo melodic progressive rocker Fool of love (heaviest song, with a great guitarsolo). A song like Stay awhile reveals clear JOURNEY influences (it's not the JOURNEY song by the way, although it does remind me a lot of Send her my love), while the song itself is a strong progressive AOR rocker in the style of ROBERT BERRY. Johannes has a wonderful laid-back voice and he is really able to come up with diverse material, which he performs quite well and apart from a few guests here and there (on cello, sax, drums…), he did it all on his own, and he did an excellent job for sure! Check it out at: www.johnrose.de
(Points: 8.5 out of 10)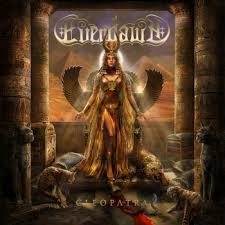 EVERDAWN 'CLEOPATRA' (SENSORY/LASER'S EDGE/SONIC RENDEZVOUS)
Originally known as MIDNIGHT ETERNAL, this New Jersey based band changed its name to EVERDAWN and likewise this is their first album under this moniker. Cleopatra is the name of the concept album, which musically is pure European female fronted Symphonic Melodic Metal like we know it from AFTER FOREVER, NIGHTWISH, XANDRIA, EPICA and such. The band is formed around vocalist ALINA GAVRILENKO, bassist MIKE LEPOND (SYMPHONY X), guitarist RICHARD FISCHER, keyboardplayer BORIS ZAKS and drummer DANIEL PRESTUP. There is a guest appearance by the legendary THOMAS VIKSTROM (THERION, CANDLEMASS, TALK OF THE TOWN, etc.) and DAN SWANO (OPETH, KATATONIA, etc.) mixed and mastered the album, which has a huge sound by the way! 11 songs are included in total, and opener Ghost Shadow Requiem is a pure NIGHTWISH/AFTER FOREVER-ish uptempo Melodic Symphonic Metal, with incredible high pitched soprano like vocals of Aline, but also superb melodic classic metal guitarwork from Richard. Following Stranded in Bangalore adds some progmetal influences and it contains a superb melodic chorus in the best AFTER FOREVER meets EPICA meets DELAIN style. Cleopatra and Your Majesty Sadness are both ultra-melodic, bombastic and theatrical uptempo pieces, with of course again NIGHTWISH similarities, but thankfully done at an extremely high level, and featuring both again lovely big anthem-ish choruses! Fans of any of the mentioned bands need to check out EVERDAWN as soon as possible, because it might be that original, the finished product is really strong. Other highlights are Infinity Divine (with the amazing Thomas as guest lead singer, who definitely contributes here a lot with the beautiful harmony vocals during the lovely chorus, which is perhaps the finest of the album!), Heart of a Lion and Rider of the storm. Although EVERDAWN is not doing something completely different here, they are nevertheless bringing us a lot of sensational songs on their new album Cleopatra, so I can highly recommend you to check it out if this kinda music is up your alley. Check them out at: https://www.everdawnofficial.com/the-band
(Points: 8.7 out of 10)
TRAGEDIAN 'SEVEN DIMENSIONS' (PRIDE & JOY MUSIC/SUBURBAN)
America-born, but Hamburg, Germany based guitarist GABRIELE J. PALERMO founded the first steps to TRAGEDIAN almost 20 years ago. He moved from Hollywood to Hamburg in 1993 due to the changing music climate, and over here he found credible musicians to play his brand of melodic metal during the 1990s. During the 2000s and 2010s he managed to release official TRAGEDIAN albums, each time with a different sound due to the use of various line-ups. Seven dimensions is the band's 4th album, again with a new line-up, which features Gabriele on guitar, JOAN PABON (vocals), DAWID WIECZOREK (bass), DENIS SCHEITHER (keys) and NICOLE BERNINI (drums), while there are guest appearances of the legendary vocalists ZAK STEVENS (SAVATAGE/CIRCLE 2 CIRCLE) and WADE BLACK (LEATHERWOLF/CRIMSON GLORY) on 2 songs. When listening to the new TRAGEDIAN album I hear an energetic and exciting band performing quality material and at first you need to get used to Joan's vocals, because he has a typical high pitched Italian/French/South American kinda Metal accent voice, but for this kind of music it is perfect. The band has a clear melodic Italo Power Metal sound that reminds me a lot of LABYRINTH and VISION DIVINE, especially during the first couple of uptempo pieces Rising rage and Aloneness, but Out of the dark also reveals some RAINBOW/DIO influences. Other highlights are the fast Italo Power Metal songs Darkest of my days, Enlightened, The journey (best song, beautiful melodies) and Destiny, with also a special mention for Gabriele's fantastic shredding guitarwork. Personally I am a sucker for Spanish sung Melodic Metal and during the semo-ballad Para siempre that actually happens, a wonderful sensational song in the style of classic AVALANCH and SARATOGA, so it would also be interesting to hear a full Spanish sung album in the future. And of course I also need to mention the fantastic Power Ballad Forces of the night, which features ZAK STEVENS on co-lead vocals and what an amazing singer he still is… Anyway, this is a nice return from TRAGEDIAN and I would therefore recommend it especially to fans of 90s Melodic Italo Power metal in the style of LABYRINTH, VISION DIVINE, WONDERLAND and such. More info at: www.tragedian.com
(
Points: 8.0 out of 10)
THEE HOLY BROTHERS 'MY NAME IS SPARKLE' (REGIONAL RECORDS/IT'S ALIVE! MEDIA/USA IMPORT)
Out of Los Angeles comes THEE HOLY BROTHERS, a duo formed around singer/songwriters MARVIN ETZIONI (ex-LONE JUSTICE – 80s female fronted rockband) and WILLIE ARON (ex-THE BALANCING ACT) who are releasing their debut album with My name is sparkle. With a little help of other musicians, they have come up with a great interesting 70s style album that reveal a lot of influences as we walk through the 10 songs on the album. Opener Elvis in Jerusalem is a groovy and somewhat funky midtempo melodic pop/rocker with a very catchy vibe and melodies that remind me of THE BEATLES circa Sgt. Peppers. Following song is the titletrack My name is Sparkle, which is going for a more CROSBY, STILLS, NASH & YOUNG meets SIMON & GARFUNKEL meets THE MAMAS AND THE BOYS harmonyvocal driven calmer westcoast pop/rocksound of the early 1970s, and is a really strong song that sounds like a classic. Woman need Man, Man need Woman is another groovy funky 70s pop/rocker with memories of STEELY DAN, while If God let go is a calmer JOHN LENNON/THE BEATLES ish ballad. A Sudden Gunshot is another calmer song, but this time a beautiful piano-led harmonyvocal driven one. Up next is Let the great world spin, which is a fun 70s sorta comical popsong like THE KINKS also did back in the day. Back to THE BEATLES meets a bit of T-REX during the midtempo rocker Glad it's gotta rain. Divine love is a slow melodic song with again THE BEATLES similarities. Next track Keep crushing me is a beautiful close-harmonyvocal orientated acoustic piece like SIMON & GARFUNKEL. Closing the album is the piano-ballad The End of Suffering. Concluded, this is a nice retro sounding 70s epic/concept ish album with a lot of diversity and some great melodies. Check it out for yourself at: https://www.theeholybrothers.com
(Points: 8.2 out of 10)
HOLLOWED SKY 'UNSTRUNG' (INDEPENDENT/USA IMPORT)
Out of Annapolis, Maryland, USA comes the band HOLLOWED SKY, and Unstrung is their official first full-length album. They are formed around Charles Rupertus – Bass, Jay Orem – Vocals, Joe Bradshaw – Drums and Stephen Berchielli – Guitar, and musically speaking this is a mix of progrock and progmetal, with a clear focus on catchy melodies and crystal clean vocals, reminding me a bit of ENCHANT with a touch of KING'S X and every now and then some 90s Alternative Rock influences, such as during the ALICE IN CHAINS/STONE TEMPLE PILOTS ish Turning Ill. However most of the time HOLLOWED SKY is moving into the melodic progrock/metal direction, with as highlights Strings, Breathing Life into the Sun, Bleeding Out and Soviet Red. Recommended band to check out at: www.hollowedsky.com and https://hollowedsky.bandcamp.com/album/hollowed-sky
(Points: 8.2 out of 10)
SMELL MY PILLOW 'STRAWBERRY LIPGLOSS' (KWALL RECORDS/USA IMPORT)
SMELL MY PILLOW is a band name I would connect with alternative rock, but this Minneapolis, USA is clearly influenced by the 80s hardrocksound (and a bit 90s rock). The band is formed around vocalist AMY SHAW-VALENTIN, guitarist MARC KOWALSKI, bassist ELIJAH DEATON-BERG and drummer TROY BERG, and they kindly sent me their independent album Strawberry lipgloss, which was originally released in 2015. Opener Asphyxia shows right away that we are dealing here with a high quality band playing excellent classic rock and roll, with even a touch of classic early 80s NWOBHM. The vocals are really good, instrumentally it is perfect for this kind of music and the production is also great for an independent band (meaning it is not overproduced thankfully). The following 9 songs continue this great 80s melodic hardrock/metal sound with a focus on catchy choruses to sing-a-long to. The highlights are Hung on you (reminding me of classic BETSY/BITCH, LITA FORD and such), Pumped up kicks (a cover of FOSTER THE PEOPLE) and closing titletrack Strawberry Lipgloss. Despite a few more 90s orientated rockers that are also included (Pity you and Swallow), if you're into classic 80s melodic heavy rock/hardrock with strong female vocals and catchy melodies, then this SMELL MY PILLOW is recommended to check out at: www.smellmypillow.com
(Points: 8.0 out of 10)
CONVERTIBLE 'HOLST GATE 2' (NOISE APPEAL RECORDS/AUSTRIA IMPORT)
CONVERTIBLE is an Austrian band that already released 6 albums in their 20-year existence, and Holst Gate 2 is a concept album about COLIN HOLST, and actually this is already part 2, following up part 1 from 2018. The band is formed around Hans Platzgumer - vocals, composition, keyboards, mix, Hannah MacKenna – lyrics, Chris Laine - recording, bass, vocals and other stuff, Michael Schneider – drums, Mathias Hämmerle - guitar, vocals and Andreas Huemer – brass. They have an original sound that is clearly influenced by the 1970s, but it doesn't sound dated at all. They are doing a really good job on their new album, which makes me very eager to check out their earlier work. This is old-school 1970s orientated melodic pop/rock with a certain British kind of touch and a tiny bit of song orientated prog here and there as well (10CC, ALAN PARSONS PROJECT, PINK FLOYD influences when you listen to a song like Kongsberg). There are calmer piano-ballad orientated songs with a dark melancholic JOHN LENNON feeling (Spinning, Broken Dials, The Colin Holst song), while the excellent up-tempo melodic pop/rockers (Thought we'd have) Forever, Shadow Scene Revisited and Not a Cloud actually remind me of 70s PAUL McCARTNEY/THE WINGS, and all together it also has some similarities to TODD RUNDGREN. Another highlight is the orchestral THE BEATLES/ELO-ish Everything and Everything, while I also need to mention the fantastic groovier funky pop/rock of Never Know (even reminding me of BLACK PUMAS!) and closing track Shangri-La, which is actually a great epic theatrical 70s pop/rock song like ALICE COOPER did in the 1970s! It's all done very well, sounding extremely authentic and international for an Austrian band. Check them out at: https://www.convertiblemusic.at/
(Points: 8.3 out of 10)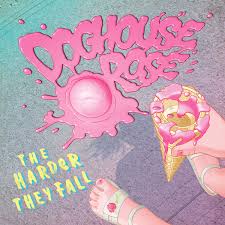 DOGHOUSE ROSE 'THE HARDER THEY FALL VINYL RECORD' (STOMP RECORDS/WARNER MUSIC/CANADA IMPORT)
All the way from Toronto, Canada comes the female fronted DOGHOUSE ROSE, and I received a vinyl copy of their 3rd album The harder they fall. I am afraid I can't tell much of their line-up, because that seems to be a mystery on the record and also on the internet there's nothing to be found. Thankfully musically speaking they sound sensational and definitely an old school kinda band! Opener Run 666 is a superb catchy fast uptempo melodic powerpop/punkrocker with a memorable chorus to sing-a-long to. Following song Try x 3 is a lovely fun early 80s inspired uptempo melodic powerpop meets glamrock piece, with influences from THE DONNAS and THE RUNAWAYS. After just 2 songs, I already realize that this band sounds really good and they have an incredible potention to become as huge as for example PARAMORE or HALESTORM. They focus on catchy uptempo tunes and what sets them apart is the superstrong vocalwork of their singer, and besides that, they also rock really hard from start to finish, with absolutely zero compromise. The album offers many more uptempo to fast uptempo ultra-melodic powerpop/punkrockers, with as highlights The rose, Jesse James (fast melodic and THE RAMONES-ish), Last time (lovely early 80s uptempo melodic poprock with a wave and AOR touch, like PAT BENATAR meets BELINDA CARLISLE), Long shadow and the ultra-catchy fast Misery train. DOGHOUSE ROSE is a sensational band with a highly recommended new album, which will please all fans of old school catchy melodic rock and roll/punk. You can check them out at: https://doghouserose.bandcamp.com/album/the-harder-they-fall and https://www.facebook.com/doghouserose and https://doghouserose.com
(Points: 8.7 out of 10)
THE ANTI-QUEENS 'THE ANTI-QUEENS VINYL RECORD' (STOMP RECORDS/WARNER MUSIC/CANADA IMPORT)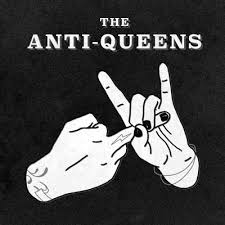 THE ANTI-QUEENS is an all-female band from Toronto, Canada and they released their same titled full-length debut vinyl record back in 2019. The 4 young musicians (Emily Bones on Lead Vocals/Guitar, Valerie Knox on Lead Guitar/Vocals, Dallas Conte on Drums and Taylor Cos on Bass/Vocals) create a mix that is somewhere between classic rock and roll, punk and grunge, with a dirty mean raw approach in the vocal department, although each and every of the 11 included songs is melodic and catchy enough to appeal to a wide audience. Opener Mean genes is a great uptempo dirty mean sleazy rocker that fits somewhere between GUNS'N'ROSES in their good old days and L7. Miss Scarlett follows in a slightly more groovier direction, while Game over picks up the uptempo classic rock and roll vibe, with a faster melodic hardcore part during the chorus, reminding me of the legendary band CYCLE SLUTS FROM HELL if anyone remembers them! Worse than death and the lovely Leave me out are the most melodic songs so far, both catchy uptempo classic rock and roll tunes in the style of THE DONNAS and DIRTY DENIMS, with the latter even reminding me of classic early 80s PAT BENATAR (Heartbreaker period). Shadows closes side-A in a modern sorta 90s rock and roll direction, reminding me a of ANOUK somehow during the strong chorus.
Side-B starts with Run, a faster uptempo catchy melodic punkpop-rocker in the style of BLITZ BABIEZ, with a nice melodic soaring guitarsolo and once again a great catchy chorus. Next track Small victory is a fantastic retro modern classic rock and roll piece with some similarities to HALESTORM, THE PRETTY RECKLESS and DIRTY DENIMS. What it's worth and Sorry babe follow the same style, while closing track What do I know is an excellent midtempo melodic heavy rocker with a focus on catchy hooks and a strong melodic chorus. Without a doubt, this is classic rock and roll how it is supposed to sound, so go and check out this excellent all-female rock and roll band at: https://antiqueens.com and https://theanti-queens.bandcamp.com/album/self-titled
(Points: 8.7 out of 10)
VARIOUS ARTISTS 'DESTINATION LONELY STREET: 32 TEARJERKERS FOR MY SHADOW, MY ECHO AND ME' (BEAR FAMILY RECORDS/GERMAN IMPORT)
Loneliness is a topic that is currently discussed everywhere around the world because in these rare corona times people seem to be lonelier than ever before. This theme is used on this new compilation CD Tearjerkers for my shadow, my echo and me, released by BEAR FAMILY RECORDS. It contains a total of 32 songs from the 1950s and 1960s by legendary singers such as GENE VINCENT, LINK WRAY, JACKIE WILSON, CHARLIE RICH and many others, with songs like Lonely street, Lonesome, Lonely life, Lonely, Lonely nights, Loneley weekends, etc. etc. Nice compilation of 1950s and 1960s classic pop tunes from a period in time when the world seemed a much better place than it became in the following decades. Available through www.bear-family.com
(Points: 8.0 out of 10)
VARIOUS ARTISTS 'MEMORIAL SERIES - JAMES DEAN: REBEL WITH A CAUSE' (BEAR FAMILY RECORDS/GERMAN IMPORT)
The legendary actor JAMES DEAN died way too young, but he still managed to play in several movies, which also featured music from composers like LEONARD ROSENMAN and DIMITRI TIOMKIN. This new BEAR FAMILY RECORDS CD contains the music from the JAMES DEAN movies, such as Rebel without a cause, Giant and East of Eden, but also songs about JAMES DEAN that were written in the period after his early death in 1955. Songs like BONNIE TYLER's James Dean from 1993 or THE JETS' James Dean from 1978 are for example not really that well-known, but they show the influence of the actor that lasted for many decades and actually he is still remembered, which can be heard on this compilation CD. Available through www.bear-family.com
(Points: 8.0 out of 10)
BOBBY VEE 'THE DRUGSTORE'S ROCKIN' - SUZIE BABY' (BEAR FAMILY RECORDS/GERMAN IMPORT)
For me personally this is really a step back in time, because BOBBY VEE's old 45" singles were one of the first music items I actually played on a stereo when I was a child. My father had this 50s/60s singles collection, which included many different artists and bands, including BOBBY VEE. His songs Take good care of my baby, Rubber Ball and The night has a thousand eyes are 3 absolute classics that made BOBBY VEE a superstar in the early 1960s and helped shape my own memories in the mid 1980s . Now another 35 years later we can welcome a perfect CD compilation that contains a total 35 BOBBY VEE songs from 1959-1962. It was the period before THE BEATLES and THE STONES changed the musicworld forever. Especially in America there were countless singers active who were singing the songs written by songwriters across the country. As usual, BEAR FAMILY RECORDS did some great packaging of this release, so lots to read and visually look at while listening to this CD. It's available through www.bear-family.com
(Points: 8.4 out of 10)
AMPARO SANCHEZ 'B.S.O. LA NINA Y EL LOBO VOLUME 1' (MAMITA RECORDS/XANGO MUSIC)
Spanish lead singer/songwriter AMPARO SANCHEZ is best known as the leader of the band AMPARANOIA, with whom she played and recorded between 1996 and 2008. Eventually she went solo, recorded with CALEXICO a song, and released solo-albums, of which her new album is titled B.S.O. La Nina Y el Lobo volume 1. This is a very nice album that is focused on Amparo's emotional vocals and her acoustic Spanish guitarplaying. We get to hear typical Spanish music in its classic tradition of the deep warm south, so with those images of a beach, a small village, sunny warm conditions and a band playing at the background while enjoying good foods and drinks in good company. It's something we all dream about at the moment (corona), but one day it will all be available again. Meanwhile, this album gives you a nice prospect for a better future! More info at: https://www.amparosanchez.info
(Points: 7.8 out of 10)
FANFARE STATION 'TEBOURBA' (AQUALOCA RECORDS/XANGO MUSIC)
There is a lot going on here and that makes the Italian band FANFARE STATION interesting to check out. This is a trio who use all kinds of instruments (percussion: scascika, tar, bendir, darbuka and tabla next to the trumpet, trombone, clarinet and three Tunisian woodwinds: the nay, mizued and zocra.) and electronics (loops, controllers and pedal effects) to come up with a danceable rhythmic sound that feels Middle Eastern, African and European at the same time. MARZOUK MEJRI is the singer/songwriter responsible for the vocal department and he does it really well in a sorta African reggae ish way and without a doubt the 9 songs are swinging a lot due to all these various instruments and influences from Africa and Middle Eastern, which can be heard right from the start during the catchy Damme, because this midtempo song has a catchy chorus and the aforementioned influences, while you can even trace some jazz influences. The album offers 8 more songs that explore even more the possibilities of melting all kinds of music styles, so if you're in for a fun, exciting, danceable and adventurous trip around the world in these corona times (especially on songs like Gazela, Mariage and Sus), you can do that via this FANFARE STATION's album Tebourba. More info at: https://www.facebook.com/fanfarastation
(Points: 8.5 out of 10)
ZIYA TABASSIAN 'ZARB-E OSUL' (CANADA COUNCIL FOR THE ARTS/INDEPENDENT/XANGO MUSIC)
Originally from Iran, ZIYA TABASSIAN is settled in Canada where he is focused on playing the tombak instrument, which is an Iranian goblet drum/percussion. He found fame and fortune by playing concerts with just this small instrument and still come up with melodies that take you in a trance, such as can be heard on his latest CD Zarb-e osul. He has already released many albums so far and this new album is based on rhythmic cycles (Osul) from the 17th and the 18th century. They were collected from a manuscript written by Amir Khan Gorgi to the King of Iran during the Safavid period, in 1696. The length of those rhythmic cycles varies from 2 beats to 88 beats and Ziya choose 11 of them for this album. It's quite a trip or adventure to get through and I am sure live the impact will be even bigger, but you have to be aware that it's most of the time just Ziya and his tombak. Nevertheless, it's done quit well and in particular I like the songs that also feature some sort of singing, which gives it a richer sound. Check out more info on this talented musician at: www.ziyatabassian.com and https://ziyatabassian.bandcamp.com/album/zarb-e-osul
(Points: 7.5 out of 10)
ERIK DAHL ENSEMBLE 'GETHENIAN SUITE' (SVALKA/XANGO MUSIC)
Out of Sweden comes the ERIK DAHL ENSEMBLE and their album Gethenian suite is a nice mixture of jazz and classical chamber room music. Besides Erik Dahl on piano and electronics, the ensemble consists further of Anna Cochrane (violin/altviolin), Andreas Thurfjell (altsax/baritone sax), Anna Malmström (clarinet), Tove Brandt (contrabass) and William Soovik (drums/percussion). Together the sextet released a wonderful album that will interest fans of both jazz and classical music. The piece is divided into 13 pieces and is based on the 1969 roman The left hand of darkness. It's a very diverse record, sometimes sounding peaceful, relaxed and melodic, but also at times quite complex, dark and extremely heavy during a piece like Pulefen farm, but also touching lovely modern progressive rock actually on the longest song of the album, which is the 11 minutes counting The Ice, so there is a lot to enjoy here! More info can be found at: https://svalkarecords.com/erikdahlensemble-en/
(Points: 8.4 out of 10)
TREPPENWITZ 'SISTER IN KITH' (DISCUSS MUSIC/UK IMPORT)
Sister in Kith is the 3rd album of the interesting British trio TREPPENWITZ, which consists of Matthew Aplin (piano), Tom Riviere (double bass) and Steve Hanley (drums). They play an instrumental mix of 1960s Free Jazz, extremely complex modern fusion (jazz/prog mixture) and some calmer relaxing material. I think they should be able to reach both a jazz and a prog audience with their music. Opener Staircase stomp is a short complex modern song, while Brave to swim in this weather is then again calmer and relaxed, while a song like Brimful is classic boogie jazz of the 1950s like ART BLAKEY and some of the lengthy others (3 songs clock in over 10 minutes) are basically a mixture of everything between classic jazz and modern prog. Done really well, I would recommend this to the open-minded musicfans out there! Very diverse and interesting to check out at: www.treppenwitz.co
(Points: 8.0 out of 10)
PAT THOMAS / THE LOCALS 'PLAY THE MUSIC OF ANTHONY BRAXTON' (DISCUSS MUSIC/UK IMPORT)
This new CD is featuring a live performance recorded at the Konfrontation Festival, Ulrichsberg in 2006, featuring six early compositions by ANTHONY BRAXTON played by PAT THOMAS on piano, melodica, along with clarinet player ALEX WARD, guitarist EVAN THOMAS, bassist DOMINIC LASH and drummer DARREN HASSON-DAVIS. The result is an interesting instrumental affair that fits somewhere between jazz and progrock, with a really great funky approach. It's not sometimes a bit complex, but overall you can feel there was a sparkle between the 3 musicians 15 years ago. More info at: https://discusmusic.bandcamp.com/album/the-locals-play-the-music-of-anthony-braxton-103cd
(Points: 8.0 out of 10)
THE NEW MOON JELLY ROLL FREEDOM ROCKERS 'VOLUME 2' (STONY PLAIN RIGHTS/CANADA IMPORT)
The New Moon Jelly Roll Freedom Rockers Vol. 2 follows likewise volume 1, which was released in 2020. It is an album filled with recordings that took place about 12 years by a so-called supergroup of real blues musicians, who came together and recorded a mix of classic traditionals, cover and own material. The musicians were Bass – Chris Chew,
Drums, Washboard, Vocals – Cody Dickinson, Guitar, Mandolin, Bass, Vocals – Luther Dickinson, Guitar, Mandolin, Vocals – Alvin Youngblood Hart, Guitar, Vocals – Jimbo Mathus, Harmonica, Vocals – Charlie Musselwhite, Piano, Vocals – Jim Dickinson and Washtub Bass – Paul Taylor. Without a doubt they nailed it back then and thankfully STONY PLAIN RIGHTS released it on CD, so we can all enjoy some real classic bluesrock the way it should sound, cool, calm and relaxed from the soul. Check it out for yourself at: https://stonyplainrecords.com/
(Points: 8.5 out of 10)
OJM 'LIVE AT ROCKET CLUB' (GO DOWN RECORDS/ITALY IMPORT)
The Italian stoner rockband OJM has been around for a while and 10 years ago they recorded a live concert they performed at the Rocket Club in Landshut, Germany and this has now been made available on vinyl. I received a promo CD, so I am not sure how it sounds like on vinyl, but from what I heard this is a very raw sounding recording, as mean, dirty and edgy as you can be when you're a stoner rockband. Recommended to the fans of the band for sure, more info at: www.ojmmusic.bandcamp.com
(Points: 7.1 out of 10)
YAWNING MAN 'LIVE AT MAXIMUM FESTIVAL' (GO DOWN RECORDS/ITALY IMPORT)
Although Desert Rock and Stoner Rock are linked to this band YAWNING MAN, I actually think they are more a great instrumental open-minded Progressive Rockband. They played at the Maximum Festival in 2013 and now 8 years later this has been re-issued onto Vinyl and CD by GO DOWN RECORDS. The 3-piece band formed around guitarist GARY ARCE, drummer ALFREDO HERNANDEZ (former QUEENS OF THE STONE AGE, KYUSS) and bassist MARIO LALLI, they played a wonderful concert back then, so it is a good thing to see it available again in physical format. 7 songs in total for you to enjoy and I would say to the progfans out there, check out this great underrated band at: www.yawningman.com
(Points: 8.3 out of 10)
SHAME ON YOUTH! 'HUMAN OBSOLESCENCE' (GO DOWN RECORDS/ITALY IMPORT)
SHAME ON YOUTH! is an Italian band with a sound that fits somewhere between Hardcore Punk and Stoner Rock, sounding quite aggressive and extremely dirty, mean and raw at their debut album Human obsolescence. A song like The show must go wrong is a bit closer to sleazy rock and roll, with a sorta TURBONEGRO meets MOTORHEAD kinda approach, but most of the time the vocals are close to hardcore screams and despite it's not bad at all, this band is interesting to those who like their music to be loud with zero compromise. Check out SHAME ON YOUTH! At: http://shameonyouth.bandcamp.com
(Points: 7.0 out of 10)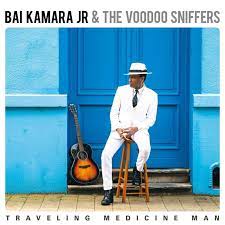 BAI KAMARA JR. & THE VOODOO SNIFFERS 'SALONE' (MIG MUSIC/SUBURBAN)
Originally from Sierra Leone, singer/songwriter BAI KAMARA JR. left Africa at the age of 15 for England where he went to school. Later on he established himself in Brussels, Belgium where he built up a music career. He worked with the band VAYA CON DIOS for a while, but he also released quite a lot solo albums the past 25 years. His most recent album is his early 2020 released Salone, which he recorded with the band THE VOODOO SNIFFERS. This band consists of Patrick Dorcean (percussion, drums, ex-SOULSISTER), Eric Moen (guitar), Tom Beardolee (guitar) and Désiré Somé (bass). Bai has an amazing deep soulful voice, which is perfectly suitable for his laid-back blu1esy music, which here and there also shows influences from country, soul, singer/songwriter and pop/rock. 15 songs are included and there's not a single weak moment to be found here. Highlights are the melodic Homecoming, the MICHAEL KIWANUKA-ish Cold cold love, the short Cry baby (LENNY KRAVITZ-ish, the uptempo countryblues-rocker I ain't lying and the beautiful singer/songwriter piece Don't worry about me (a bit reminding of classic BILL WITHERS). It's unbelievable that Bai is still not a household name, because with such a voice in combination with all these beautiful songs, it should normally speaking reach a wide audience quite easily. Let's hope that after corona, Bai will be able to perform live again, but meanwhile you need to check out this fantastic album of him. More info at: https://baikamara.com/bkj/index.php
(Points: 8.7 out of 10)
NICK TOCZEK & SIGNIA ALPHA/THIES MARSEN 'SHOOTING THE MESSENGER/DEATH & OTHER DESTINATIONS VINYL RECORDS + CDS' (INDEPENDENT/UK IMPORT)
Spoken-Word music is not discussed much in the media, but actually this story-telling music is quite interesting, because it is so different. JELLO BIAFRA is one of the best-known Spoken-Word performers, but also NICK CAVE could be classified as a performer of this genre sometimes. Anyway, out of the UK comes NICK TOCZEK, a real Spoken-Word storyteller (and writer, journalist, magician, vocalist, lyricist and radio broadcaster!), who literally talks about all kinds of stories in the songs on the 2 vinyl records he sent me. The albums were released in 2020 and despite they are both Spoken-Word music orientated, they differ in style, because Shooting the messenger is clearly a mix of laid-back jazz and bluesier rock. Nick is always telling his stories in each and every song, so there's no singing going on here. It's Nick who tells these long stories, of which the one about Titanic is told as if we're watching a BBC documentary, because he has such a poetic voice. The other album Death & other destinations is slightly more rock orientated and also features Nick as a story-teller, but his Spoken-Word performance on this record is slightly shorter in it's stories. Anyway, people who are interested in Spoken-Word music should definitely check out this talented British performer at: https://www.nicktoczek.com/
(Points: 7.0 out of 10)
THE NEW MADNESS 'AFTER HOURS VINYL RECORD' (CRUNCHY FROG RECORDS/DENMARK IMPORT)
Settled in Berlin, Germany comes the talented Danish multi-instrumentalist/singer/songwriter BJARKE SORENSEN, who sings and plays guitars, synth moog, rhodes, drums, percussion on the debut album of his own band/project THE NEW MADNESS. The result is quite sensational actually, sounding like a true rock and roll band, yet with a certain groovy vibe on most of the songs. He got some help here and there from additional musicians on a few songs, such as Brea Robertson (vocals), Simeon Loth (guitar), Monica Antoniucci (vocals), Jesper Reginal (percussion) and Jesper Reginal (synth moog, synthesizer), but he did almost everything on his own. The music is a mixture of heavy blues rock, retro classic hard/heavy rock and modern rock and roll, sounding quite close to THE BLACK KEYS a lot of times after an ARCTIC MONKEYS-ish start of opener Lovesick. I received the vinyl record of the release and I must say it sounds really perfect when playing it loud and proud on the black gold. Side-A opens with 5 hard hitting rockers (Lovesick, Night Watch, Better than That, You'll know my Name and New Madness), while it closes with a calmer soulful ballad titled Go my own Way. Bjarke is not only able to play all the instruments very well, but he also composes strong material and he even is a great singer, so we have to conlude here that Bjarke is a huge talent with a bright future ahead of him. Side-B of the album continues the rock and roll sound of Side-A with many more hard hitting retro groovy classic rock tunes that contain great melodies and soulful vocals in the aforementioned THE BLACK KEYS style, although I also must think of WHITE STRIPES and DE WOLFF when hearing THE NEW MADNESS on such great songs like After Hours, Thru Hard Times and Love me like a bad Girl. Without a doubt, we are dealing here with a sensational classic retro rockband and I am sure when Bjarke will be able to perform live on stage with a band helping him out, THE NEW MADNESS will gather a large following, because this debut album sounds really impressive. More info at: https://thenewmadness.bandcamp.com/album/after-hours-2 and https://www.facebook.com/thenewmadness and https://thenewmadness.club
(Points: 8.5 out of 10)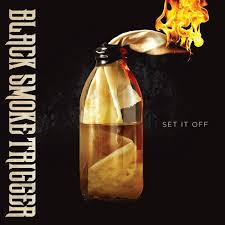 BLACK SMOKE TRIGGER 'SET IT OFF VINYL RECORD' (INDEPENDENT/NEW ZEALAND IMPORT)
We have BLACK STONE CHERRY, BLACKBERRY SMOKE and now there is also BLACK SMOKE TRIGGER from Napier, New Zealand, and they are another Classic Hardrock sounding band on a mission, which is bringing back true classic rock back to the mainstream. When hearing their fantastic debut album Set it off on vinyl, I am safe to say that we are dealing here with a sensational band. The album was produced by the legendary MICHAEL WAGENER (SKID ROW, METALLICA, ACCEPT, DOKKEN, OZZY) in Nashville, USA and it features a guest performance by none-other than MICK MARS (MOTLEY CRUE). The band is formed around vocalist BALDRICK, guitarist CHARLIE WALLACE, bassist DAN FULTON and drummer JOSH TE MARO. 9 songs are included on their first album, which was released in 2019, but is now slowly reaching the rest of the world. Opener Caught in the Undertow is a groovy uptempo late 80s/early 90s sounding Classic Hard rocksong like a mix between BANGALORE CHOIR, BADLANDS and HERICANE ALICE, with a touch of ALTER BRIDGE. Following You can have it All is a massive sounding early 90s influenced Hardrocksong with ALICE IN CHAINS influences. The way I'm Wired is following in a sorta similar style, combining classic hardrock influences from the 80s (guitarsolo) with early 90s grunge/altrock (chorus), like TYKETTO meets ALICE IN CHAINS, while still sounding modern and very melodic. This is upper league high level Hardrock for the future and when hearing a song like this, I am even thinking this band should breakthrough someday soon or otherwise this will become an underrated classic in the future. Side-A of the record closes with Only Human, which is an excellent hard hitting early 90s groovy Hardrocksong that reminds me a bit of WIDOWMAKER (the DEE SNIDER band). Baldrick reminds me of a cross between SEBASTIAN BACH and DEE SNIDER (a lot!), so we have a true Rock God on vocals here. Side-B opens with Paint the World on Fire, a faster catchy uptempo melodic heavy rocker that sounds like a perfect cross between DIO, TWISTED SISTER and SKID ROW. High or Low is a superb midtempo big time 80s sounding Melodic Hardrocksong like HURRICANE, yet with slight ALTER BRIDGE influences slipping through as well. Following Blindfolds & Rattlesnakes is a raw heavy uptempo rock/metal song with a modern approach and closing track Army Of One is the absolute highlight of the album, because this is a superb uptempo classic Melodic Hardrocksong that even has some DOKKEN and HEAVEN'S EDGE similarities, yet with a modern touch. BLACK SMOKE TRIGGER is a band you definitely need to check out if you like the idea of a retro classic Melodic Hardrockband mixing influences of early 90s alt/grunge here and there, while still sounding modern and up-to-date as well. Check them them out at: https://blacksmoketrigger.com
(Points: 8.8 out of 10)
LOS ORIOLES 'VACANCES A MER VINYL RECORD' (CREAKED RECORDS/SWISS IMPORT)
LOS ORIOLES is an interesting Swiss band formed around 7 musicians, Dany DIGLER: vocals, effects, Adrien GUERNE: bass, lead, Charlie BERNATH: telecaster, effects, Bertrand VORPE: telecaster, effects, Valentin LIECHTI: drums, pad, effects, Lukas WEBER: percussion, effects and Félix BERGERON: wave drum, pad, effects, and together they create an exciting original psychedelic summer friendly melodic groovy pop/rock sound that also reveal influences from African rhythms on their latest EP Vacances a Mer, which was sent to me on vinyl record. The 4 included songs are a joy to listen and follow a similar midtempo groovy direction, with as absolute highlight the wonderful Super Con, whcih could easily become a huge radio hit! These guys are connecting a lot of various genres and therefore they should go down well with any audience and if there was a festival season, LOS ORIOLES would definitely be a guarantee for a sensation! Hopefully a full-length record will follow soon, which would then be the follow-up to their debut full-length they release in 2018. Meanwhile, check out this cool EP via https://losorioles.bandcamp.com/album/vacances-mer
(Points: 8.4 out of 10)
SWEET REAPER 'SIDEKICK VINYL RECORD' (ALIEN! SNATCH RECORDS/GERMAN IMPORT)
In 2020 we reviewed the excellent debut album of the Californian band SWEET REAPER and now there is album number 2 Sidekick. The 3-piece band around guitarist/vocalist SETH PETTERSEN, bassist/backing vocalist DANNY GOMEZ and drummer SASHA GREEN, they return with another great full-length record filled with 10 new strong catchy short uptempo rockers. The album starts with a cool short uptempo rock and roll tune titled Reaper's Back, while following titletrack Sidekick is a superb mixture of classic 60s Garage Rock, 1977 Punkrock and early 80s Powerpop, a wonderful catchy chorus driven uptempo rocker that makes you jump all the way throughout the song. The record continues with 8 more uptempo tunes that combine the best of garage, punk and powerpop, with powerful vocals and strong choruses besides razor-sharp guitarwork. Other highlights on the new album are Black Widow, Outta my mind, Spaceship and Same Old Thing (very catchy chorus, a bit like the classic first THE BOYS record), but any of the 10 songs are uptempo, catchy and rocking, so once you put on this record, you will be enjoying it from start to finish. This is a great follow-up to the debut record Closer Still of SWEET REAPER and you can check it out for yourself at: https://aliensnatch.bandcamp.com/album/sweet-reaper-sidekick
(Points: 8.5 out of 10)
MEDICINE MEN 'A DIFFERENT PORT VINYL RECORD' (LAST NIGHT FROM GLASGOW/SCOTLAND IMPORT)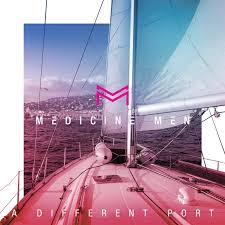 Out of Glasgow, Scotland comes MEDICINE MEN, and A Different Port is their 2nd album so far. This band is formed around singer/songwriter/guitarist IAN MACKINNON, who is assisted by several other musicians on his album releases as MEDICINE MAN, namely Marc MacCallum (Bass), Stephen Forbes (Drums), Michael McGeoch (Keyboards), Calum Mackie Cummins (Saxophone), Jess Hufton (Vocals) and Joni Bennet (Vocals). The band's sound is slightly 80s influenced catchy Melodic Poprock with a focus on strong song orientated material filled with hooks, choruses and melodies to remember like in the good old days. 10 songs are included, of which the highlights are opener We First Met (lovely uptempo melodic 80s aor/poprocker in the style of the Canadian THE ARROWS, CUTTING CREW, BYSTANDER...), Getaway Driver (another 80s influenced tune, although also some modern electronic rock/wave influences a la THE SLOW READERS CLUB can be heard), Back on Board (another lovely catchy uptempo 80s Poprock/New Wave piece), Now... in the Desert (midtempo well-thought Poprock, even a bit reminding of a band like SPLIT ENZ) and the Synthwave ish Necropolis. Side-B is more experimental than side-A, offering some more 'electronic' influences, although still with an 80s kinda feeling. This band melts the past (80s) classic hookladen aor/poprock/new wave and present retro electronic/synth wave/poprock really well and I am somewhat surprised they have not yet had their breakthrough, because they absolutely deliver great material on this new album. Check out more info on this interesting band at: https://www.facebook.com/medicinemenband and you can get their album through: https://shop.lastnightfromglasgow.com
(Points: 8.7 out of 10)
THE MULDOONS 'MADE FOR EACH OTHER VINYL RECORD' (LAST NIGHT FROM GLASGOW/SCOTLAND IMPORT)
1980s Jangle Indie Pop is a genre that never died and has become quite popular again in recent years. The label LAST NIGHT FROM GLASGOW from Scotland is focused on bringing the best Scottish bands in this genre, and one of the latest discoveries must be the happy sounding THE MULDOONS who are making their debut with the vinyl record Made For Each Other. Despite they sound really close to the classic 80s, they are really a new band and recorded this album in 2019 and 2020, with a release in mid 2020. The band's line up consists of GERRY MULLEN (guitar, vocals), BOBBY CORRIGAN (guitar), ANDY MCPAKE (drums), GREG BOLLAND (trumpet, melodica) and DAVY BROOK (bass), and basically you can't go wrong with this album, because it sounds sensational and is the perfect fun summer record in case you like classic Indie bands such as THE SMITHS. As highlights on this first album I would like to point out the catchy uptempo tunes Every Week is the Same, Lonely Things, What do I have to do? and Don't be like that, Girl. The rockiest song on the album is the wonderful closing No pressure, which even reveals some classic Hardrock influences during the chorus and the guitarsolos. THE MULDOONS is a very interesting band and I would like to recommend you to check them out at: https://muldoonsmusic.bandcamp.com/album/made-for-each-other-album and you can purchase their album through https://shop.lastnightfromglasgow.com
(Points: 8.5 out of 10)
THE BLUEBELLS 'SISTERS VINYL RECORD' (LAST NIGHT FROM GLASGOW/SCOTLAND IMPORT)
In the eartly 1980s the Scottish band THE BLUEBELLS had their fifteen minutes of fame when they appeared on Top of the Pops and scored a few massive hits. Their mixture of catchy choruses and Indie/Wave/Jangle guitar orientated melodic poprock was around the mid 1980s a guarantee for success and THE BLUEBELLS managed to secure a large cult following Their sound fitted somewhere between THE SMITHS, SPLIT ENZ and countless other bands that were popular back then. They were formed around 1981 and lasted until 1986, although they did reform several times in the following decades. Their only full-length record from the 1980s, Sisters from 1984, this has been re-issued onto vinyl by the Glasgow based label LAST NIGHT FROM GLASGOW. The band's line up consisted of Bobby Bluebell (born Robert Anthony Hodgens) on guitar, David McCluskey on drums, Ken McCluskey on vocals / harmonica, Lawrence Donegan on bass, Craig Gannon on guitar, Neil Baldwin on bass and Russell Irvine on guitar. Sisters is a typical product of the mid 80s, with a lot of fantastic catchy melodic songs among the 12 included here. Highlights are the uptempo Young at Heart, the midtempo catchy AOR/Poprock-ish I'm Falling (a la 1927/GLASS TIGER), the Indiepop of Some Sweet Day (a la HOUSEMARTINS, with some 60s influences), the rocker Red Guitars (BIG COUNTRY-ish), Syracuse University (lovely pure 80s uptempo melodic poprock, very catchy) and the fantastic uptempo BIG COUNTRY/RUNRIG-ish rocker South Atlantic Way (about the Falklands Islands). Also nice nice to mention is the beautiful calmer close-harmonyvocal sung Aim in life, which is produced by ELVIS COSTELLO (who co-produced more songs along with his bandmember COLIN FAIRLEY). Great to see such a rare piece of music history being presented again in an official high quality re-issued vinyl record, so make sure not to miss this excellent Scottish album, which you can purchase through https://shop.lastnightfromglasgow.com
(Points: 8.6 out of 10)
LIZABETT RUSSO 'WHILE I SIT AND WATCH THIS TREE VOLUME 1 VINYL RECORD' (LAST NIGHT FROM GLASGOW/SCOTLAND IMPORT)
Out of Scotland comes the talented singer/songwriter LIZABETT RUSSO, who also plays charango and guitar on her 3rd album While I sit and watch this tree volume 1, which is her 1st vinyl release on the LAST NIGHT FROM GLASGOW label. It was recorded during lockdown at home, with as additional musicians Graeme Stephen (electric guitar, loops, piano), Aidan O'Rourke (violin), Oene van Geel (viola, cello, percussion) and Udo Demandt (claypot, frame drum, various percussion). The included 8 songs are mostly going into a calmer singer/songwriter Folk direction, with some memories of JONI MITCHELL, although with also here and there modern dreampop moments and a lot of World Music influences as well, which is due to the Romanian roots of Lizabett. Songs like Two hans together, Colo sus pe-un Munte and The water is wide take you on different journeys, but are also like most of the songs connected to singer/songwriter Folk. Fans of that genre who don't mind some experimental moves and flirting with World Music, they absolutely need to check out this interesting release from the talented LIZABETT RUSSO at: https://lizabettrusso.bandcamp.com and https://www.lizabettrusso.com
(Points: 8.0 out of 10)