HOT NEW REVIEWS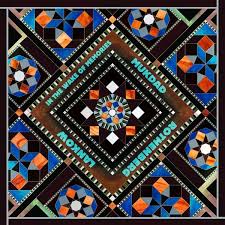 MUKDAD ROTHENBERG LANKOW 'IN THE WAKE OF MEMORIES VINYL RECORD' (CLERMONT MUSIC/USA IMPORT)
Out of Syria comes WASSIM MUKDAD, who plays the old instrument Oud (which has a sorta Middle Eastern guitarsound) and together with clarinet player DAVID ROTHENBERG and percussion player VOLKER LANKOW the trio recorded a wonderful album filled with beautiful melodies as played on just these 3 instruments. Wassim left his home country Syria because he realised it became too dangerous, especially since he is a musician. He's also a doctor and after meeting Volker, who worked as a nurse and project manager for medicine in such difficult warzones like in Syria, they found each other musically speaking in Germany, and thanks to David the three of them recorded in Berlin, Germany this wonderful album titled In the Wake of Memories. The album has been released on black vinyl via the American label CLERMONT MUSIC, which is situated in the small town of Germantown in the state of New York. 8 songs are included and each of them takes you on a trip to different places in the world, because the instrumental music takes it's influences from everywhere, so this is music without borders and that's exactly what is necessary to bring hope for all the people in places where it's not safe. These 3 musicians create melodies and rhythms that make you feel like you're somewhere else in the world, but with no specific place, although the Arabic and African influences are likewise very clear on most of the songs, with as highlights Wait for me, Window to the rain and We cannot leave. Imagine STING or PETER GABRIEL's World Music related songs without vocals or an open-minded progband, because if you like such music, then you will love this record as well. Give it a try and explore the world of these fantastic musicians. More info and availability of the album through: https://www.clermontmusic.com/mrl-memories and https://www.facebook.com/wassim.mukdad.music
(Points: 8.5 out of 10)
MAMADOU KELLY 'LES BATEAUX VINYL RECORD' (CLERMONT MUSIC/USA IMPORT)
MAMADOU KELLY is a talented vocalist/guitarist from Mali, who was born in 1969 and has been active as a performer since the mid 1980s, first under the wings of fellow Mali based musician ALI FARKA TOURE, but eventually he also started a solo career and Les Bateaux is his 4th album so far. Besides Mamadou other involved musicians are Aly Magassa on electric guitar, Kande Sissoko on ngoni, Hamadoun "Afo" Guindo on percussion, Adama Sidibe on balafon, Madou Diabate on violin, Hama Sangho on backup vocal as well as American musicians Jacob Silver on bass, Cindy Cashdollar on lap steel guitar and David Rothenberg on clarinets who recorded a few songs in the USA. The resulting album is a lovely piece of Desert Blues Rock like we know it from other musicians out of Mali, because there have been countless of interesting bands and artists making this kind of 'rock' since the 1970s. They melted Western Blues Rock with African vocals/rhythms and the result is this groovy swinging music that is called Desert Blues. One of the major new bands in the genre is SONHOY BLUES, but this new solo album of MAMADOU KELLY is definitely another one you need to check out. A song like Sinewe, L'Eglise de Tominia is a wonderful example of Mali Desert Rock at it's very best, including great African melodies and western guitarsolos. Any of the 9 included songs are a pleasure to listen to and in case you like SONHOY BLUES or TINARIWEN, then this album is definitely worth exploring as well! The album is available through: https://www.clermontmusic.com/mamadou-kelly and for more info on Mamadou please go to: https://www.facebook.com/MamadouKellyGroup/
(Points: 8.5 out of 10)
SUMRRA '6 MULLERES VINYL RECORD' (CLERMONT MUSIC/USA IMPORT)
SUMRRA is a Spanish trio consisting of Xacobe Martínez Antelo (Double Bass), Luis Alberto Rodríguez (Drums) and Manuel Gutiérrez (Piano), and they deliver their 6th album with this 6 Mullures. Included on this wonderful 2018 released vinyl record are 6 songs (Frida Kahlo, Malala Yousafsai, Rosa Parks, Qiu Jin, Nawal El Sadawi and Rosalía de Castro) that all bring us beautiful relaxed instrumental melodic jazz/fusion. Quite a surprising release and highly recommended to check out if you like for example ESP! More info at: http://www.sumrra.com and the vinyl record is available through https://www.clermontmusic.com
(Points: 8.5 out of 10)
HAMA SANKARE 'BALLEBE VINYL RECORD' (CLERMONT MUSIC/USA IMPORT)
Out of Mali, Africa comes the legendary HAMA SANKARE, who has been in bands since the early 1970s and eventually became one of the most important musicians in Mali. He helped to shape the Desert Bluesrocksound as we know it today and it was back in 2018 when he finally released his first solo-album. The vocalist/percussionist/calabash player performed and recorded with many bands in the past, but it was about time to release a solo record a few years ago, which happened when CLERMONT MUSIC released Ballebe. In fact he delivered quite quickly another solo-album (Niafunke in 2019), which we will hopefully review soon, but tragic struck when Hama died in a car accident in 2020. What he left behind is a lot of musical joy and thankfully this solo-album is available on vinyl to check out, because it easily reaches the high level of much-praised fellow countrymen of SONGHOY BLUES. Although the album starts with a dance orientated piece titled Middo Wara, the rest of the album is filled with classic DesertBluesRock in the best Mali style, with some wonderful songs, such as Banda Lobourou, Ballebe, Goidi Sitti, Hamady Kodda and Kenouna. On vinyl it sounds really impressive and anyone who likes SONGHOY BLUES definitely need to check out this album as well. Hama got help from Grammy-winning guitarist Cindy Cashdollar, young singer Sekou Touré, guitarist Oumar Konaté, bassist Sekou Bah, drummer Mahalmadane Traoré, and Brehima "Yoro" Cissé and Bouba Cissao on traditional stringed instruments. The resulting album is a wonderful piece of Mali/African World Music/Blues Rock that will one day be regarded a classic in this genre. It's quite unbelievable that Hama is no longer with us, but thankfully the music is his legacy and I would therefore recommend anyone to check out this record first. The album is available through: https://www.clermontmusic.com and for more info please go to: https://www.clermontmusic.com/hama-sankare
(Points: 8.5 out of 10)
OUMAR KONATE 'I LOVE YOU INNA' (CLERMONT MUSIC/USA IMPORT)
In recent years the Desert Blues Rock scene in the Sahara region of Western and Northern Africa has been explosive with countless acts breaking through in especially Europe. Bnads like TINARIWEN, TAMIKREST, SONGHOY BLUES and a few others are becoming more and more popular with this African style of groovy 70s Classic Rock/Hardrock. OUMAR KONATE is another singer/songwriter/guitarist who should be possible to breakthrough someday soon, because his album I love you Inna is a great and very strong Desert Blues Rockalbum, with a lot of sensational songs among the 10 included. Besides Oumar on vocals and guitar, other involved musicians are Dramane Touré (bass), Makan Camara (drums, percussion), Fallou Mbaye (sabard wolloof), Adama Sidibé (violin) and John F Dilligent (keyboards). From start to finish we're heading into the swinging African groovy rocksound as if JIMI HENDRIX started jamming with local African musicians. Although it was recorded in Mali, the mastering, mixing and production took place in New York. Each and every song is a highlight, but songs like Houndia, Oumar Bakoi, I love you Inna, the superb heavy guitar riff driven Ni Tchilla Sibara and Mariama are incredible songs that belong to the top of Desert Blues Rock. More info at: https://soundcloud.com/clermontmusic/oumar-konate-i-love-you-inna-1
(Points: 8.7 out of 10)
SEKOU BAH 'SOUKABBE MALI' (CLERMONT MUSIC/USA IMPORT)
Out of Mali comes the talented SEKOU BAH, a musician, arranger, author, composer and singer who formed his own band SEKOU back in 2011. Soukabbe Mali is his latest album, and it is filled with very cheerful African music that reveals all kinds of influences as well, such as groovy Desert Rock (Dogon Oulon, the awesome Nge Mounkila, instrumental proggy/jazzy swinging material (Planete and Wari Tigui), Modern Pop/Hip-Hop (Kalan Ko), Melodic Caribbean/Reggae/Pop (Adamadenw and the lovely guitarsolo driven Doke Doye) and beautiful Melodic Pop/Rock crossed with World Music that has a lot of hit potential (Soukabbe Mali, Fifi and Nourou Chi Bory). The diversity of the music in combination with the African singing is making this a highly recommended album to check out. Without a doubt, this album is a guarantee for a party evening, so go check out more at: https://www.clermontmusic.com/soukabbemali
(Points: 8.3 out of 10)
AL BILALI SOUDAN 'TOMBOUCTOU' (CLERMONT MUSIC/USA IMPORT)
Mali is definitely one of the most productive countries in Africa, with many active artists and bands. A lot of the music represents the so-called Desert Blues Rocksound, which is a mixture of Western Classic Rock and traditional African music/vocals, and that is basically what also happens when listening to the wonderful CD Tombouctou of the Mali based band AL BILALI SOUDAN. Along with SONGHOY BLUES, this album is probably offering some of the finest Desert Blues Rock available at the moment. AL BILALI SOUDAN are slightly rougher, rawer and edgier than most others, which makes them quite interesting, because when you listen to the first couple of songs, such as Khadeidja, Khomeissa and Djaba, and you will be thrilled to check out much more on them due to their raw edgy groovy hard-hitting rocking sound. More info can be found at: https://www.clermontmusic.com/tombouctou
(Points: 8.3 out of 10)
DEFINITION OF INSANITY 'INTO THE ABYSS' (STF RECORDS/GERMAN IMPORT)
Out of Bremerhaven, Germany comes DEFINITION OF INSANITY, a band playing a mix of melodic heavy rock/metal and metalcore, with a focus on song orientated material that sounds quite melodic thanks to their female singer ANNA MARX, but also features cookie-monster screams by DARIO MARCELINO. The rest of the line-up consists of vocalist/guitarist FRERK SEIDE, drummer MAIK TACK, guitarist JAN GRUBE and bassist LUCIEN DITSCHE. Into the abyss is their debut album and there is potential for sure, although I think work needs to improve in the vocal department, because both Anna and Dario are not the strongest singers around and also the production could definitely be better. Nevertheless, you can check out this band if you like a mix between PARAMORE and PARKWAY DRIVE. Check them out at: https://definitionofinsanity.de
(Points: 6.5 out of 10)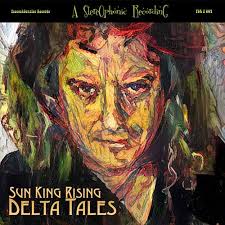 SUN KING RISING 'DELTA TALES' (PEACOCK SUNRISE RECORDS/USA IMPORT)
SUN KING RISING is the solo project by Texas, USA based singer-songwriter JOHN BLANGERO, who is assisted by a list of guest musicians on his solo debut album Delta tales. If not making music, he is a professor in the Department of Human Genetics at the University of Texas Rio Grande Valley (UTRGV) School of Medicine in Brownsville, Texas, and renowned as one of the world's top researchers! However, music is his passion and he wanted to do a sorta Americana/Soulful Rockalbum all his life and now his dream has come true in the shape of this impressive album Delta tales. Opener The snake is a very catchy soulful midtempo pop/rocker in the style of THE IDES OF MARCH crossed with 70s TOM JONES, while following Milkweed and thistle is a catchy uptempo soul/rocker with a sorta BRUCE SPRINGSTEEN touch. Things slow down during the almost country-ish crossover semi-ballad Down the delta road, and the album continues this mixture of various typical American styles, with as other highlights the lovely catchy midtempo AOR/rocker In a State of grace (a la BENNY MARDONES), the beautiful bluesy melodic rockballad Take it down and the Southern Rock semi-ballad Drive me to Nashville. John is a fantastic singer with a raw typical American kinda voice, which fits the music perfectly. Recommended to fans of the Americana/Rock/Roots genre of LEON RUSSELL, BRUCE SPRINGSTEEN, TOM PETTY, JOHN COUGAR and such. More info at: https://sunkingrising.bandcamp.com/album/delta-tales and https://sunkingrising.rocks
(Points: 8.5 out of 10)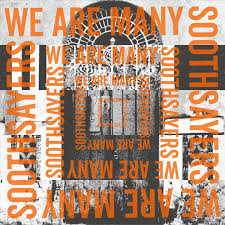 SOOTHSAYERS 'WE ARE MANY' (WAH WAH 45/UK IMPORT)
Out of South London comes SOOTHSAYERS, and We are Many is already their 9th studio-album. The band was formed in 1998 by sax player Idris Rahman and trumpeter Robin Hopcraft, and through the years various line-ups of the band played in SOOTHSAYERS. The new album starts with the summer friendly midtempo reggae ish tune Rat Race, which also has influences of jazz and features lovely melodic harmonyvocals. Following Love and Unity continues this high class lovely relaxing 70s Reggae sound that likewise is not far removed from classic BOB MARLEY, and vocally SOOTHSAYERS are just as good! We are Many is a great funky instrumental jazzy reggae piece, while Move in Silence is back to classic reggae again, and then I mean of a very high level, almost reaching the classic sounds of ASWAD, WAILERS, PETER TOSH, BOB MARLEY, etc. Other highlights on the album are One Step Away, No Sacrifice and Slave (both FANTASTIC!) and the instrumental jazzy reggae of Rolling (Em Barra do Sahy). The song Light the Way introduce African influences in the vocal department, which combined with jazz and reggae is sounding very original. Basically this is one of the finest reggae-ish albums in ages, sounding superstrong and diverse with its jazz/funk influences as well and they are ready for today's world to become a major band, so make sure to check out SOOTHSAYERS a.s.a.p. at: https://soothsayers.bandcamp.com/album/we-are-many-2
(Points: 8.7 out of 10)
LYLE WORKMAN 'UNCOMMON MEASURES' (BLUE CANOE RECORDS/UK IMPORT)
Recorded at the Abbey Road studios with an 63-piece orchestra, the new album of LYLE WORKMAN is a wonderful piece of instrumental music that sounds like a soundtrack to an adventurous movie due to the big orchestral arrangements. Lyle is an American guitarist, composer, session and touring musician, and music producer, who worked with some of the world's greatest musicians and singers, such as STING, ILSE DELANGE, MICHAEL BUBLE, BRYAN ADAMS, JELLYFISH and countless others. He also composed music for a lot of movies and every now and then a new solo CD is released, such as this new album Uncommon measures, which will be released around mid-April 2021 on LP and CD. Lyle is also an excellent guitarist and keyboard player, which you can hear all throughout the album. Besides the cinematic sounds of most of the songs (with opener North Star being one of the finest ones), some of the songs could easily be classified as progrock as well, while some jazz/fusion influences that can also be heard in a great song like Imaginary World. This is high quality instrumental music that combines the sounds of a full orchestra with some very strong guitarwork and a jazzy touch here and there with the sax, trumpet, etc. If you're into STEVE VAI, JEFF BECK, AL DIMEOLA, JERRY GOLDSMITH, STEVE HACKETT and such musicians, then look no further than this new album of LYLE WORKMAN! More info at: www.redsandpr.com
(Points: 8.6 out of 10)
BYLA ROSE 'HOW FAR' (INDEPENDENT/XO PUBLICITY/USA IMPORT)
The American BYLA ROSE is actually singer/songwriter JULIA ROSE CUMMINGS, who is making her debut with the EP How far, which also features David Immergluck on Guitar, Mandolin and Pedal Steel (COUNTING CROWS, JOHN HIATT), Larry Taylor on Bass (CANNED HEAT, TOM WAITS), Stephen Hodges on Drums & Percussion (MAVIS STAPLES, TOM WAITS), Kudisan Kai on Backing vocals (ROGER WATERS, CHAKA KHAN). 5 songs are included, of which opener What Water Does is a great midtempo rocker with strong melodies and a sound that is somewhere between 70s PATTI SMITH and 80s BETTE MIDLER (Beast of Burden), so it is quite original and slightly alternative. The other 5 songs follow the same direction more or less, which is poetic singer/songwriter semi-rock orientated, with as other highlight the bluesy closing track Last Call. More info at: https://www.bylarose.com
(Points: 8.0 out of 10)
STORMHUNTER 'READY FOR BOARDING' (METAL FORCE 24/GERMAN IMPORT)
The German band STORMHUNTER was formed back in 1998, released a demo tape in 2001, broke up for a short while, but they became really active since 2007 with a few official album releases. Ready for Boarding is their latest EP CD release, which consists of 4 songs that are basically True Melodic Metal all the way! The band consists of Frank Urschler (vocals), Andreas Kiechle (drums), Fritz (bass), Burkhard Ulrich (guitar) and Stefan Müller (guitar) and if we have a listen to this new EP CD, opener Crown Of Creation is a superb piece of classic True Metal. This is basically a midtempo melodic anthem to sing-a-long to, along with fantastic guitarwork and a big chorus. Following uptempo Two Beers (Or Not Two Beers) is pure 1980s uptempo Teutonic Metal in the style of such bands like early HELLOWEEN, NOISEHUNTER, ACCEPT, RESTLESS, RUNNING WILD and so on. This song is an earworm the way all the fans of True Metal would like to hear it and the fantastic twin-guitar work makes it a true winner. Next track Sharp Invaders is faster than the speed of light classic melodic Power Metal like HAMMERFALL did in their early days and closing track Antisocial is a great cover of the TRUST classic. Check out this awesome band at: https://stormhunter.bandcamp.com/album/ready-for-boarding
(Points: 8.4 out of 10)
WATERSHED 'VARIOUS ALBUMS' (ON STAGE/GERMAN IMPORT)
3 albums of the South African band WATERSHED were sent to me and I am glad they did, because this Johannesburg based band is quite good actually. They were formed back in 1998, scored a massive hit called Indigo Girl in Germany back in 2002, and have meanwhile released 7 studio-albums so far, of which the last 3 (Watch the Rain (2015), Harbour (2018) and Elephant in the Room (2021)) reached our office. The band's line up changed several times in the past, but at the moment it features Craig Hinds (vocals, acoustic guitar, piano, Hammond, percussion), Howard Combrink (drums, guitars, ukulele, vocals) and Gideon Botes (guitars, programming, vocals). I have to say vocally Craig reminds me a bit of PETER GABRIEL meets MICHAEL STIPE in a country-ish direction somehow, yet musically speaking it's radio friendly 'safe' traditional melodic pop/rock with some Irish/Celtic influences and a tiny bit of KEANE meets MUMFORD AND SONS minus the Bluegrass influences, but also Country-Poprock crossover material is included here and there. WATERSHED also remind me a lot of a band I saw in Liverpool a few years ago, the Irish band KEY WEST and even SUNRISE AVENUE, especially on their new CD Elephant in the Room. The material on the 3 albums is a mix of uptempo rockier pieces and calmer ballad/singer-songwriter/folk orientated songs. The album Watch the Rain starts with a few cheerful country-melodic poprock crossover songs, such as Magical Energy, Drive and The River Song, and overall the record has a strong American orientated polished approach, with even a great Heartland/AOR/Poprocker such as Turn all your pages (BRYAN ADAMS meets THE EAGLES), the 80s influenced catchy melodic poprocker Waiting around and a lot of calmer balladry such as the REMish Tell her and the radioready countrypop ballad From the bottom of my Heart (a duet with BLACKBYRD). The album Harbour is less American orientated and more going for the Irish/Celtic kinda pop/rock direction, with as highlights cheerful uptempo pop/rockers like Drowning, Shoulder to cry on and Mountainside. Out the window is a beautiful calmer ballad with a sorta light prog touch and great additional female vocals by LIRA.
The new album Elephant in the Room is clearly the strongest effort of the last 3 albums of WATERSHED, because this album is rockier, sounding up-to-date and it might even appeal to the melodic rockfans among us. Highlights are Undone (a fantastic uptempo AOR/Poprocker, very catchy!), the tile track Elephant in the Room (great uptempo melodic poprocker a la SUNRISE AVENUE), Love Song (another lovely catchy melodic rocker), Map of my Behaviour (even a bit 00s BON JOVI-ish), the melodic rockballad Stone by Stone and the classic popsong Keep your Eyes on me (in the hands of KEANE it would be a huge hit, so let's hope these South Africans will also be able to score one). Concluded, when you're starting to check out WATERSHED, you need to begin with their great new 2021 album Elephant in the Room. More info on this fun melodic pop/rockband from South Africa at: http://www.watershed.co.za
(Points: 8.4 out of 10)
THE VEITH RICARDO PROJECT 'STORM WARNING' (PURE STEEL RECORDS/GERMAN IMPORT)
THE VEITH RICARDO PROJECT was a short-lived project between lead singer JUAN RICARDO (RITUAL, ATTAXE, WRETCH…) and keyboardist VINCENT VEITH (GHOST SHIP, VELVET VOYAGE) in 2005 and despite they recorded a demo for a full-album, the record was never finished until covid hit the world in 2020. They got back together last year and finished the album Storm Warning, which has now been released on PURE STEEL RECORDS. Other involved musicians are NEIL ZAZA (guitar), JERRY BRIGHTMAN (pedal steel), DOUG JOHNS (bass) and CHRIS CEJA (drums), and 11 songs are included on this first album of THE VEITH RICARDO PROJECT. The music is high quality melodic progressive rock/metal with a clear 1980s/early1990s touch, kinda like SHADOW GALLERY meets RUSH with a touch of SAVATAGE, and as highlights I would like to mention Running Away (excellent progrock with a cool 80s Pomprock ish keyboardsolo), Eruption of Corruption (QUEENSRYCHE meets FATES WARNING Progmetal, with groovy guitarwork and a real late 80s kinda feeling), the uptempo 80s melodic hardrock influenced Anathema Maranatha (a la MARA/PHANTOM'S OPERA if anyone remembers them, crossed with CRIMSON GLORY), the lovely calmer epic melodic rockballads Longing for Home, Lighthouse, Always and I Still Love You (AORish a la early ROBBY VALENTINE), and the epic prog rock/metal of the fantastic Highest Mountain (PSYCHOTIC WALTZ meets SAVATAGE). Keyboards and high pitched vocals were up front when the album started and towards the end during the ballads), but it got heavier in-between, with also clear SAVATAGE similarities during the theatrical The Green Tractor and titletrack Storm Warning. All together this is a very impressive and diverse album that melts progrock, progmetal, theatrical rock/metal and a touch of 80s melodic hardrock quite nicely. If this had been released in 1989, it would have been a classic by now! More info at: https://www.puresteel-records.com/releases/view/703/Storm_Warning
(Points: 8.6 out of 10)
ATTIKA 'METAL LANDS' (PURE STEEL RECORDS/GERMAN IMPORT)
Out of Florida comes ATTIKA, a band with a long past, because they were active between the mid-1980 and mid-1990s and managed to release 2 albums before calling it a day. Recently they reformed and performed in Europe at the HEADBANGERS OPEN AIR festival, and eventually this resulted in a new album titled Metal Lads. This album is filled with high quality classic US Melodic Metal that reminds me a bit of ANVIL, JAG PANZER, ASKA and such. The 4 guys (singer Robert Van War, drummer Jeff Patelski, bassist Glenn Anthony and guitarist Bill Krajewski) are doing a great job here, especially during the best song on the album, which is the excellent The Price. Check them out if the classic US Metal is up your alley at: www.attikametal.com
(Points: 8.1 out of 10)
ANGEL MARTYR 'NOTHING LOUDER THAN SILENCE' (IRON SHIELD/PURE STEEL RECORDS/GERMAN IMPORT)
Nothing Louder than Silence is the 2nd album of the classic True 80s Melodic Metal sounding band ANGEL MARTYR from Italy. The trio is formed around TIZIANO SBARAGLI (vocals, guitar, keys), DARIO ROSTENI (bass) and NICCOLO VANNI (drums), and together they present us a great new record filled with high pitched vocals/shredding guitarwork driven faster uptempo melodic metal right from the start with Legion of the Black Angels. Memories of classic MAIDEN, AGENT STEEL, LIEGE LORD, LORDS OF THE TRIDENT, SAVAGE GRACE, JUDAS PRIEST and such can be heard on this album. Most of the songs follow the same style, with as other highlights Forgotten Metal, Climbing the walls of the Abyss and Marked by the Woodblade. Check them out if you're a dedicated true 80s melodic metalfan! More info at: http://www.angelmartyr.com and https://angelmartyr.bandcamp.com
(Points: 8.2 out of 10)
MYRKVI 'REFLECTIONS' (INDEPENDENT/ICELAND IMPORT)
Out of Reykjavik, Iceland comes MYRKVI, which is a band formed around singer/songwriter MAGNUS THORLACIUS (Vocals, guitars, organ and keyboards) who is assisted by Kári Guðmundsson (Bass and percussion) and drummer Arnór Sigurðarson. The debut album is titled Reflections, and they have already booked some success with a few singles in Iceland and Germany, which is not that strange, because the included material is of a very high level. It's beautiful calmer Indie-Pop/Folk with a focus on lovely melodies, with close-harmony vocals a la SIMON & GARFUNKEL and that Icelandic melancholic dark approach instrumentally speaking. Highlights are Change of Scene (calmer song and really beautiful), Gamechanger (a midtempo piece with its dut-dut keys giving it a happy summer friendly touch that sounds even a bit like a calmer WEEZER), Overlooked (relaxing uptempo melodic folk-indie a la FLEET FOXES/THE WAR ON DRUGS) and the 80s New Wave influenced Ministry Of Love. Definitely a bright hope for the future to come this MYRKVI, and once again showing there is a lot going on within the Icelandic music scene! More info at: https://myrkvi.bandcamp.com/album/reflections
(Points: 8.3 out of 10)
THE MOTHER CROW 'MAGARA' (INDEPENDENT/SPAIN IMPORT)
Out of Barcelona, Spain comes the female fronted band THE MOTHER CROW and their debut album Magara was released back in 2019. The band consists of Karen Asensio: Lead vocals / percussions, Claudia González: Bass guitar/ background vocals/ flute/ sitar/ percussions, Max Eriksson: Electric and acoustic guitars/background vocals/ percussions and Pep Carabante: Drums, with as guest musician Alberto Pérez on Hammond organ. 9 songs are included in total, and opener Revolution is right from the start making sure this is excellent 70s inspired classic hardrock. This song is an uptempo piece that recalls the days of LED ZEPPELIN and DEEP PURPLE, and for a Spanish band they are doing this really well, including strong vocals and superb shredding guitarwork. Retro classic 70s Hardrock at its very best I would say! Other highlights on Magara are the slowtempo Stone (even a bit BETH HART ish), the uptempo classic rocker Swat It! (great tune a la URIAH HEEP) and the epic Forevermore, while the melancholic melodic Spanish sung Gauan (Lo-Kanto) should also be mentioned. Take a bit of BLUES PILLS, URIAH HEEP, BETH HART and DEEP PURPLE, and then you have this strong Spanish band called THE MOTHER CROW. More info at: https://themothercrow.bandcamp.com/album/magara
(Points: 8.2 out of 10)
ROOF BEAMS 'THIS LIFE MUST BE LONG VINYL RECORD' (INDEPENDENT/XO PUBLICITY/USA IMPORT)
ROOF BEAMS is a band from Washington, USA and normally speaking they would record a new album together in the studio, but due to the lockdown and covid restrictions, ROOF BEAMS' new album This Life Must Be Long was tracked and mixed in individual homes in DC, Maryland, and Pennsylvania during the Spring and Summer of 2020. Performers recorded their own tracks and assembled them remotely, and bandleader Nathan did the final mixing at his home. I believe the band is a 5-piece act, but this time around only 3 bandmembers joined these home made recordings, namely Nathan Robinson - Vocals, Acoustic Guitar, Harmonica, Melodica, Keyboards, Percussion, Bill Smyth - Acoustic and Electric Guitars, Pedal Steel, Bass, Keyboards, Percussion and Phillips Saylor Wisor - Electric Guitars, Banjo, Mandolin, Vocals. The resulting album is a true honest and clear authentic album that is of a high level. The included music is a mix of singer/songwriter and melancholic Americana pop/rock, sounding like a cross between BOB DYLAN and NEIL YOUNG, yet with also a few songs going for a slight modern melodic melancholic poprocksound a la R.E.M. crossed with some of the retro 80s synths of THE KILLERS (such as the lovely 6 minutes closing track My Business). The 8 included songs are mostly calm and besides the aforementioned My Business, other highlights are Carry On (with massive synths upfront) and Witness Me (calm acoustic piece a la BOB DYLAN crossed with BRUCE SPRINGSTEEN). I wonder what this band would sound like full-blown with the powerful bass/drums added, because I'll bet they sound even better then. It's nevertheless interesting to see a band doing a record like this in these rare corona lockdown times. More info is available through https://roofbeams.bandcamp.com/album/this-life-must-be-long
(Points: 8.1 out of 10)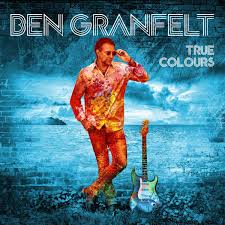 BEN GRANFELT 'TRUE COLOURS VINYL RECORD' (A1 RECORDS/GERMAN IMPORT)
The Finnish guitarist/singer/songwriter BEN GRANFELT has been around in the music business since the mid 80s, first with the legendary Hardrockband GRINGOS LOCOS (remember them?) and from the early 90s onwards solo, releasing his solo debut back in 1994, but he also performed with major bands like WISHBONE ASH, LENINGRAD COWBOYS... Personally speaking I was not familiar with his own material, so when I received his new vinyl record and listened to it, I was overwhelmed by the incredible high level. His guitarplaying is amazing and he should be up right there with JOE BONAMASSA, KENNY WAYNE SHEPHERD, WALTER TROUT and so on. True Colours is his 10th album so far, which also features drummer Jari Salminen, drummer Miri Miettinen, bassist Matti Maijanen, keyboardplayer Magnus Axberg, keyboardplayer Mika Aukio, storyteller Jonathan Hutchings, guest vocalist Bryn Jones, and together they recorded 8 strong impressive diverse songs. Opener Victorious is a superb massive sounding instrumental 80s influenced midtempo Melodic Rock/AOR affair with the splendid melodic soaring guitarwork of Ben upfront. Following song No Turning Back introduces Ben on lead vocals, but also his wife Jasmine joins as backing singer, with as result that this is a pretty good midtempo progressive melodic rocker like a cross between the proggy calmer sounds of PINK FLOYD and the somewhat heavier bluesy melodic rock touch of FM, and it also includes a lovely catchy melodic chorus. At times it reminds me a bit of TONY CAREY, RUSS BALLARD and classic German Melodic Rock like TOKYO, especially during the fantastic catchy 80s inspired melodic rocker Hey Stranger, which has some TOTO similarities as well. Side-A of this excellent sounding vinyl record closes with Arms Around An Angel, a beautiful melodic bluesy guitarsolo driven semi-ballad with some GARY MOORE influences, although the chorus is very melodic and AOR based (MARK SPIRO-ish). Ben surely knows how to play the guitar, and in fact I would easily call him one of the finest guitarists I have heard lately, because he basically makes the guitar sing and that gives me goosebumps all over the place when listening!
Side-B opens with A Moment Of Madness, a midtempo bluesy progrocker with a 1970s approach, once again very PINK FLOYD-ish. Following Oriental Express is an instrumental shuffle groovy blues rocker with a sorta 60s CREAM/JIMI HENDRIX Power Trio approach. The next 2 songs feature the superb guest singer BRYN JONES (LOS BASTARDOS FINLANDESES) on lead vocals. These are the songs Down For The Count (lovely slow melodic bluesy hardrock in the style of WHITESNAKE, XYZ and PAUL SHORTINO) and Love Or Nothing (not on the vinyl, only on the CD version), while the beautiful instrumental 'guitarsolo driven' Late Night In Hamburg closes the album in a bluesier version of classic PINK FLOYD.
Concluded, this is a fantastic and very diverse album that offers something for everyone, with of course as absolute most important factor the sensational guitarwork of Ben! Check out more info at: http://www.bengranfelt.com/page.html
(Points: 8.7 out of 10)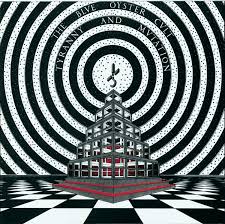 BLUE OYSTER CULT 'TYRANNY AND MUTATION VINYL RECORD' (SPEAKERS CORNER RECORDS/GERMAN IMPORT)
Originally released all the way back in 1973, the 2nd album of BLUE OYSTER CULT saw the band in it's original line-up of ERIC BLOOM (vocals, keyboards, guitar), ALLEN LANIER (keyboards, guitar), DONALD 'BUCK DHARMA' ROESER (guitar, vocals), JOE BOUCHARD (bass, vocals, keyboards) and ALBERT BOUCHARD (drums, vocals) moving to an own identity where there was room for more than just plain straight-forward rock. 8 songs are on this album, which has been carefully re-issued onto high quality vinyl by the German label SPEAKERS CORNER RECORDS. Side-A starts with The Red & the Black, an uptempo somewhat groovy/boogie heavy rocker with blues and prog influences, sounding actually dangerously close to VAN HALEN, but of course BLUE OYSTER CULT's song was way earlier than that, so it must have influenced VAN HALEN to write their classics such as Hot For Teacher. The song also has some nice twin-guitarwork here and there, which would become the trademark of THIN LIZZY a few years later. All together, this opening cut would influence a lot of fellow musicians. O.D.'d On Life Itself is at first sounding like a sorta T-REX ish rocker, but there's some prog and ALICE COOPER influences notable as well, so a melting pot, but on the other hand a clear 1970s classic rocktune. Hot Rails To Hell is a full-blown strong uptempo melodic heavy rocker that is close to biker metal, like a cross between very early JUDAS PRIEST and STEPPENWOLF's Born To Be Wild, an interesting tune for sure, with also biting guitarwork. Closing Side-A is 7 Screaming Diz-Busters, which is another uptempo piece that touches the borders with classic proto metal, yet now with some epic progrock influences as well, but especially the flashy shredding guitarwork makes it a true winner.
Side-B opens with Baby Ice Dog, which was co-written by the legendary PATTI SMITH, and this is basically a great uptempo hardrocker that sounds a bit like early RUSH. Following Wings Wetted Down sounds like a classic 1970s melodic theatrical progressive rock piece with even some DAVID BOWIE similarities, however with the heaviness of ALICE COOPER from the same era. Next track Teen Archer does have a clear late 1960s psychedelic/progressive rock approach, with superb vocals and strong melodies during the catchy chorus, while the groovy guitarwork takes you right back to the late 1960s/early 1970s, kinda like classic LED ZEPPELIN meets URIAH HEEP, including the Hammond. This song showed an innovative band that was ready to take on the world by melting all these different rock styles with variety in structures, but always connecting it with memorable melodies and in general showing an own face. Mistress of the Salmon Salt (Quicklime Girl) is a great closing track, a 70s uptempo rocker with a melodic simple chorus, yet again sounding a bit like classic ALICE COOPER.
Concluded, BLUE OYSTER CULT released an instant classic with this 2nd album Tyranny And Mutation, and despite it might sound a bit dated right now, this re-issue makes it sound better than ever. Besides, it is a part of the classic 1970s rockshow you need to own in your collection. The vinyl album is available through: https://www.jpc.de/?lang=en (Europe) and http://www.acousticsounds.com (USA).
(Points: 8.7 out of 10)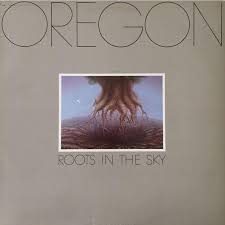 OREGON 'ROOTS IN THE SKY VINYL RECORD' (SPEAKERS CORNER RECORDS/GERMAN IMPORT)
Founded all the way back in 1971, this American band melted Jazz with all kinds of World Music genres through the years and they managed to release a lot of records, including the popular Roots in the Sky album from 1979, which has been re-issued on vinyl by SPEAKERS CORNER RECORDS. Although the music is clearly 70s based and could be very much described as a high class instrumental mixture of jazz, fusion and prog, it also reveals Arabic, African and Asian traditional music influences in each and every song of the album, and this sets them apart from the rest at the time and also even now in 2021, because Roots in the Sky sounds crystal clear and up-to-date. Sometimes a bit more experimental and groovy, while at other times melodic and smooth, but all together these 9 songs take you into an enjoyable journey and the album itself is now regarded a classic 40+ years later. The band's line up consisted of bassist Glen Moore, clarinet/oboe/horn player Paul McCandless, flugelhorn player/guitarist/pianist/percussionist Ralph Towner and guitarist/percussionist Collin Walcott. Mastered by the legendary Bob Ludwig (QUEEN, U2, JIMI HENDRIX, MOTLEY CRUE, GUNS'N'ROSES...), this fantastic album sounds massive and has all the ingredients to make it attractive enough to listen to from start to finish, with as absolute highlight the wonderful epic Ogden Road. Even if you're not a jazz or progfan, then you would still be impressed by this record that offers so much variety for an instrumental record. The vinyl album is available through: https://www.jpc.de/?lang=en (Europe) and http://www.acousticsounds.com (USA).
(Points: 8.7 out of 10)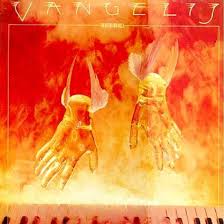 VANGELIS 'HEAVEN AND HELL VINYL RECORD' (SPEAKERS CORNER RECORDS/GERMAN IMPORT)
Of course VANGELIS is best known for his soundtrack theme songs for the movies Chariots Of Fire, Blade Runner and 1492: Conquest Of Paradise as well as a few major hits he recorded with YES singer JON ANDERSON and his involvement in the legendary Greek band APHRODITE'S CHILD, but the Greek musician made a total of 30+ albums with his own music. His album Heaven and Hell dates back to 1975 and it was recently carefully re-issued onto vinyl by SPEAKERS CORNER RECORDS. The result is a fresh sounding album that stood the test of time for sure, creating a modern mixture of classical music, symphonic/progrock, ancient Gregorian Choirs and Electronic Music. VANGELIS was a pioneer and his thinking was far removed from what was common back in the 1970s, as he did not accept to make compromises and his music had no boundaries, which resulted in such a legendary classic album such as this Heaven and Hell vinyl record. Together with The English Chamber Choir, conductor Guy Protheroe and Vangelis himself on keyboards, along with a few guest singers (such as JON ANDERSON of YES on the song So Long Ago, So Clear), VANGELIS created an epic masterpiece that brought a different twist in the Popmusicworld back then and even now 45 years later it still holds up for sure. The album was divded into Heaven and Hell part 1 and Heaven and Hell part 2, each on 1 side of the vinyl record, with as only other song the aforementioned So Long Ago, So Clear. In the 1970s these kinda experiments on a major label were accepted, but now in 2021 it would be unthinkable that such an album was released on a major label such as RCA RECORDS! Glad it was done back then, because therefore we can now enjoy this album after so many years! The vinyl album is available through: https://www.jpc.de/?lang=en (Europe) and http://www.acousticsounds.com (USA).
(Points: 8.5 out of 10)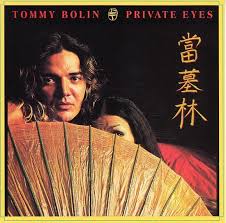 TOMMY BOLIN 'PRIVATE EYES VINYL RECORD' SPEAKERS CORNER RECORDS/GERMAN IMPORT)
Like every vinyl release on the SPEAKERS CORNER RECORDS label from Germany, it's releases are remastered using pure analogue components only, from the master tapes through to the cutting head. This makes the album sounds absolutely crystal clear with a fantastic authentic sound as if it was recorded yesterday! However, their releases are mostly classic 70s albums that have now been made available on vinyl again, sounding even better than the original records, which is well-done, because most of the time re-issues on vinyl sound like they were overproduced. Anyway, TOMMY BOLIN's solo record Private Eyes from 1976 is one of the fine examples how carefully the re-issue has been done by this label, because this particular record sound really amazing 45 years after it's original recording. It is also the final recording of this legendary American guitarist/singer/songwriter, who played previously in the bands ZEPHYR, JAMES GANG and of course DEEP PURPLE. Private Eyes was his 2nd solo-album and more or less marked the beginning of a long solo career, which abruptly ended the same year when it was released, because Tommy died of a drug overdose at the age of 25 in December of 1976. Thankfully, he left behind a legacy of recordings and especially this 2nd album Private Eyes is an enjoyable piece of classic 70s rock music. Opener Bustin' Out for Rosey is a wonderful groovy 70s midtempo rocker with a certain Funk vibe and a lovely classic 70s Guitarsound, while the vocals and chorus do reflect a sorta Soul touch. Next track Sweet Burgundy is a 70s Pop/Rock ballad orientated song at first sight, but develops into a cheerful late 1960s THE BEATLESish sounding instrumental. Closing Side-A of the vinyl record is the classic 70s rocker Post Toastee, a 9 minutes counting tune that sounds like a stretched rockier version of the classic written by JJ CALE (Cocaine) crossed with HERMAN BROOD, with some amazing guitarsolos by Tommy, which showed he was as good as for example JIMI HENDRIX.
Side-B of the vinyl record starts with Shake The Devil, an exciting diverse classic rock tune with a great groovy guitar riff and a lovely uptempo rockin' guitarsolo. Gypsy Soul and Someday will bring our Love Home are both smoother and much more melodic, with a sorta melancholic feeling, and both feature a more traditional 70s pop chorus. Hello Again is an acoustic/strings driven 70s ballad and closing track You told me that you loved me is a great midtempo catchy melodic bluesy poprocker with a slight FREE-ish vibe.
Concluded, it was way too early for Tommy to go and leave us with this album as final release 35 years ago, but thankfully the included material was quite good despite it might not be a masterpiece. However, thanks to the wonderful efforts by SPEAKERS CORNER RECORDS, this album sounds now better than it has ever been! The vinyl album is available through: https://www.jpc.de/?lang=en (Europe) and http://www.acousticsounds.com (USA).
(Points: 8.7 out of 10)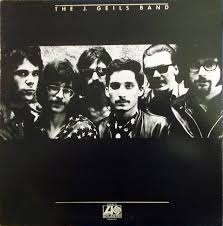 THE J. GEILS BAND 'THE J. GEILS BAND VINYL RECORD' SPEAKERS CORNER RECORDS/GERMAN IMPORT)
The American band THE J. GEILS BAND is best known for their 80s hitsingle Centerfold, but they go back much further in time with a slightly different sound on their earlier albums. Thanks to SPEAKERS CORNER RECORDS, this lovely sounding re-issued vinyl release of their 1970 same titled debut album is a great way to learn about this legendary band from Worcester, Massachusetts, USA. They were formed back in 1965, disbanded in 1985, but reformed in 2009. The original members featured Peter Wolf (vocals), Jay Geils (guitar), Richard (Magic Dick) Salwitz (harmonica), Danny "D.K." Klein (bass, saxophone), Stephen Jo Bladd (drums, percussion) and Seth Justman (keyboards, vocals), and in 1970 they released their same titled debut album. The included music was late 1960s mature rock with a sorta singer-songwriter touch like a cross between a bluesy rockband a la TEN YEARS AFTER melted with VAN MORRISON and BOB DYLAN, with an important part for the raw dirty mean vocals of Peter, the groovy guitar licks of Jay, the hammond sounds of Seth and the harmonica of Magic Dick. The resulting 11 songs counting album was a great classic rock kinda record, with many highlights, such as Wait, Cruisin' for a Love, ROLLING STONES-ish Hard Drivin' man and the sensational uptempo THEM-ish rockers Homework and First I look at the Purse (both covers). Great to see such an underrated band being brought to life again with this wonderful re-issue of their very first album. The vinyl album is available through: https://www.jpc.de/?lang=en (Europe) and http://www.acousticsounds.com (USA).
(Points: 8.3 out of 10)
YA TSEEN 'INDIAN YARD' (SUBPOP RECORDS/KONKURRENT)
NICHOLAS GALANIN from Alaska, USA has already released a number of records under different names, but this SUB POP RECORDS release is his first by the name of YA TSEEN ("be alive," and a reference to his Tlingit name Yeil Ya Tseen). The included music is diverse and very modern, with calmer and up-tempo pieces, and a somewhat melancholic electro-indie approach, with sadly some songs featuring the auto tune-vocal, which is not necessary, because Nicholas has a great natural voice. I'll bet this could be a record PRINCE could have made if he was still alive. The best songs are the up-tempo Light the Torch, the soulful groovy midtempo get yourself Together (like BLACK PUMAS meets LEON BRIDGES) and A Feeling Undefined (feat. NICK HAKIM and ISKA DHAAF). The album features a lot of guests by the way, because we can also welcome PORTUGAL THE MAN, QUACUNG and several others, and you really have to appreciate the modern way of auto-tune vocal/electronics/rap mixture to like this. More info at: https://www.subpop.com/artists/ya_tseen
(Points: -)
FLOCK OF DIMES 'HEAD OF ROSES' (SUB POP RECORDS/KONKURRENT)
FLOCK OF DIMES is the solo-project of JENN WASNER, a musician from Baltimore, Maryland, USA who is best known for her other band WYE OAK. She started this solo-project back in 2011, released the debut album in 2016 and now returns with Head of Roses. Musically speaking it is quite experimental, but also very melodic here and there, with Jenn playing most of the instruments by herself as well as writing and singing all of the 10 included songs. The music is mostly a mixture of Alternative Pop/Rock, Dreampop and Indie, and as mentioned, it is quite experimental sometimes, but when going for a more melodic direction, we get to hear some great songs, such as the midtempo rocking Price of Blue, Two and the emotional . Some similarities to PATTI SMITH, TORI AMOS and such alternative female singers is possible, but on the other hand FLOCK OF DIMES has an own identity. Check out more info at: https://flockofdimes.bandcamp.com/album/head-of-roses
(Points: 8.1 out of 10)
CITIZEN 'LIFE IN YOUR GLASS WORLD' (RUN FOR COVER RECORDS/KONKURRENT)
The Toledo, Ohio, USA based band CITIZEN (vocalist/drummer Mat Kerekes, guitarist Nick Hamm, guitarist Ryland Oehlers and bassist Eric Hamm) started as a Hardcore band during the 2000s, but on their 4th album Life in your Glass World not much is left from their aggressive heavy past, because despite opener Death Dance Approximately starts a bit noisy, it develops into a fantastic catchy uptempo modern rocker filled with strong melodies and great clean vocal work. It might not be really original the kinda music we get to hear, but the song itself is a radio-ready hit for sure. If that isn't enough, also the following I Want to Kill You is a catchy uptempo rocker, and actually the whole album feels like a great modern rock record that is focused in each and every song around catchy melodies all over the place, with as other highlights Blue Sunday, Thin Air, Call your Bluff (excellent tune a la THE KILLERS) and Black and Red (superb 80s-ish chorus). Although it's a short record, the included energetic dynamic songs are very strong and therefore this album is highly recommended album for sure, especially if you like THE KILLERS, KINGS OF LEON, PANIC AT THE DISCO, WHITE LIES and such! More info can be found at: https://citizenmi.bandcamp.com/album/life-in-your-glass-world
(Points: 8.6 out of 10)
MARINERO 'HELLA LOVE' (HARDLY ANT RECORDS/KONKURRENT)
When listening to the album Hella Love of the Californian musician JESS SYLVESTER, we get to hear a sensational ode to the classic 70s relaxing smooth latin jazz/westcoast sound. The album was written, played, and produced entirely by Jess himself, with the help from Bay Area engineer Jason Kick (Mild High Club's Skiptracing) at Tunnel Vision and Santo Recording in Oakland, California. The resulting record Hella Love is as mentioned a high class record from start to finish, with in total 11 lovely tunes that sound very laid-back and melodic, but also really authentic and soulful as if we're listening to a 50 year old recording. One of the standout tracks is the amazing Nuestra Victoria, which could easily become a huge hit, but every song is a pleasure to listen to. Check out this sensational album for yourself at: https://maringuero.bandcamp.com/
(Points: 8.6 out of 10)
RAY VERNON 'ALWAYS LEADS TO ROCK - THE LINK WRAY CONNECTION' (BEAR FAMILY RECORDS/GERMAN IMPORT)
RAY VERNON WRAY was the brother of the legendary rocker LINK WRAY and despite he never achieved the same success, his recordings from the 1950s and 1960s are timesless pieces of music. Some of it has now been released on this compilation CD, which also contains songs he wrote for other unknown acts, including a few LINK RWAY sung songs. The result is an impressive 34 songs counting CD, which musically speaking is a mix of all the musicstyles from the 1960s and 1960s. Imagine a mixture of sweet sugarcandy 50s pop balladry to 50s rockabilly ELVISish rock and roll to raw LITTLE RICHARD rock and roll, and everything in between, recorded by acts like BUNKER HILL, THE WRAYMEN, THE BRITISH WALKERS, THE MOON MEN, THE WRAY BROTHERS, THE DIAL TONES, THE AMERICAN TEENS and LINK WRAY and RAY VERNON solo or together. It's quite diverse, although always in that ELVIS meets LITTLE RICHARD kinda direction, so basically classic rock and roll! Done very well and along with extensive liner notes in the CD booklet, this is quite an enjoyable piece of music history. It's available through: www.bear-family.com
(Points: 8.1 out of 10)
CLIFFIE STONE 'BARRACUDA' (BEAR FAMILY RECORDS/GERMAN IMPORT)
Classic 50s Rockabilly rock and roll, Country and some 1940s Bar-Room Jazzy Blues/New Orleans Big Band music (like JOOLS HOLLAND) are melted together on the CD Barracuda of CLIFFIE STONE, which is not so strange, because the included music on this CD is a compilation of songs recorded in the 1940s and 1950s, so it is almost 70+ year old music! 31 tracks are included on the CD of singer/songwriter CLIFFORD G. SNYDER (aka CLIFFIE STONE), who recorded the material with different musicians and orchestra. It's a joy to go through the liner notes and listen to the timeless music from the era after World War 2 when people discovered entertainment again. It is also nice to hear the early development of rockmusic in here, because the songs from 1947 were clearly going in the New Orleans Big Band Jazz direction of the 1930s, while the late 1950s songs moved closer to the Rock and Roll sound of the 1950s/1960s. On the other hand, most of the material is basically Country orientated and that is also the direction where Cliffie found fame and fortune when he helped to launch the career of classic Country singers like HANK THOMPSON, TENNESSEE ERNIE FORD and even JOHNNY CASH. Anyone into Country music should therefore check out this lovely compilation CD, which is available through: www.bear-family.com
(Points: 8.2 out of 10)
REVEREND ROBERT BALLINGER FEAT. WILLIE DIXON 'THE KING'S HIGHWAY' (BEAR FAMILY RECORDS/GERMAN IMPORT)
Although ROBERT BALLINGER only released a couple of albums and singles 60 years ago, this compilation CD contains 2 full CDs with in total 35 tracks that all feature the amazing rock and roll vocals of this legendary vocalist/musician. He came out of the Gospel World and despite the material he recorded is Gospel Music related, this is actually excellent classic 60s rock and roll that would make LITTLE RICHARD jealous! This man's voice was amazing and it is such a pity he died way too young, already back in 1965 at the age of 43! Anyway, thankfully his small catalogue has been carefully looked after and therefore we can listen to his 1960s early Gospel Rock material on this lovely double CD set which has been released by BEAR FAMILY RECORDS. It's available through www.bear-family.com
(Points: 8.1 out of 10)
MAGNET ANIMALS 'FAKE DUDES' (RARENOISE RECORDS/UK IMPORT)
The band MAGNET ANIMALS is formed around guitarist-composer-poet Todd Clouser (Minneapolis-born, Mexico City-based), Mexican drummer Jorge Servin, Israeli-born American guitarist, bandleader, solo performer and composer Eyal Maoz (guitar) (who played with JOHN ZORN) and Shanir Ezra Blumenkranz (bass) (also a JOHN ZORN ABRAXAS member). Together they recorded their debut in 2016 and now follow it up with Fake Dudes. Musically speaking it is a great adventure that is mostly instrumental based and combines elements of jazz, progressive rock, fusion, avant-garde and other experimental music. There is a lot to explore here and among the 10 included songs the absolute highlights are Believe, Burn the Whole Thing Down, Freaks and Hell is an empty Place, but the whole album feels like a great trip you don't want to escape. Check out more info at: https://www.rarenoiserecords.com/artists/magnet-animals/
(Points: 8.4 out of 10)
THE WALK-A-BOUT 'AFTERGLOW' (SHRED THE EVIDENCE MUSIC/USA IMPORT)
We reviewed the latest album of the American band THE WALK-A-BOUT recently, and now they deliver a new CD single titled Afterglow, which is a cover of the legendary INXS tribute song to their singer MICHAEL HUTCHENCE. Done very well here, the single also includes a song titled Hero, which is a live acoustic version of the band's own original song. More info at: https://www.walkaboutband.com/
(Points: 8.0 out of 10)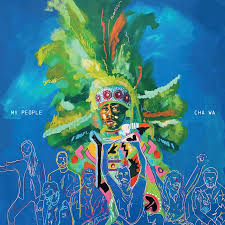 CHA WA 'MY PEOPLE' (SINGLE LOCK RECORDS/KONKURRENT)
Out of New Orleans comes the exciting sensational band CHA WA, who combine Brass Music, Mardi Gras and all things that make their hometown such a beautiful place to discover new music talents in all possible genres, although blues, soul, rock, jazz and the aforementioned brass and mardi grass being the main directions you will hear on the streets of New Orleans. My People is the 4th album of the band, which is formed around Joe Gelini - Drums & Percussion, Backing Vocals, Joseph Boudreaux Jr. - Lead & Backing Vocals, Tambourine, J'wan Boudreaux - Lead & Backing Vocals, Tambourine, Ari Teitel - Guitar, Backing Vocals, Bass, Percussion, Joseph Maize Jr. - Trombone, Lead & Backing Vocals, Aurélien Barnes - Trumpet, Lead & Backing Vocals, Percussion, Andriu Yanovski - Fender Rhodes, Piano, Hammond Organ, Clavinet, Wurlitzer, Moog, Backing Vocals, Percussion and Isaac Eady – Bass. When listening to this album, it's like we are back in time to the classic 1970s New Orleans Funk music sound, with also influences from jazz, R&B, hip-hop, rock, soul, 70s EARTH, WIND & FIRE and some African-inspired arrangements, such as can be heard during the BOB DYLAN cover Masters Of War. Without a doubt, this is an album that makes you happy all over during these corona times. Just put on songs like My People, Wildman, Firewater, Love in your Heart (featuring Anjelika Jelly Joseph), and Masters of War (featuring Alvin Youngblood Hart), then you will hear future classics in the world of this beautiful authentic 70s mixture of funk, rock, soul and jazz. More info at: www.chawaband.com and https://chawaband.bandcamp.com/album/my-people
(Points: 8.7 out of 10)